Over time, Instagram has continuously introduced new features and updates to provide a fresh structure. One of these valuable additions is the 'reply message' feature which is useful, but most people don't know how to reply to a message on Instagram.
Imagine that you're chatting with someone on Instagram DMs, and you suddenly lose context in a number of texts. When it happens, it's probably hard to respond to these large groups of texts one by one and maintain coherency while chatting. In this case, all you need to do to avoid confusion while responding to older specific messages is to use "Instagram reply message."

However, Instagram was a little late in adding this feature, but it's still worth it. Alongside Instagram reply messages, numerous new features have already been introduced. To use them correctly, you'll need the ultimate guide to the Instagram algorithm. If you're curious to learn how to reply to a message on Instagram, we've got you covered with simple instructions. So, stay with us!
How to Reply to a Message on Instagram?
Using the reply option on Instagram means you're directly responding to a specific message. It helps the user to chat easily and also mentions older messages quickly. There are two different ways to do it, so let's see how to reply to a specific message on Instagram through iPhone, Android, and PC devices.
How To Reply To A Specific Message On Instagram iPhone
To reply to Instagram messages on your iPhone, follow the steps below:
Instruction 1:
Open your Instagram and tap the three lines icon in the top-right.
Tap 'Settings' and then tap 'Update Messaging.'
Hit the 'Update' button, and wait until it completes the process.
Now, the DM icon switches to the Facebook Messenger icon.
From the feed, tap on the 'Messanger' icon in the top-right.
Choose a chat you want to respond to in your direct messages list.
Hold a message and swipe it right to see a reply button.
To reply to your own message, you should swipe left.
Instruction 2:
Click on the 'Messanger' icon at the upper right corner of your screen.
Choose a chat you want to reply to their messages.
Tap and hold the specific message.
At the bottom there, the 'Reply' option shows up.
Tap 'Reply' to respond to that message.
These workarounds are compatible with both iPhone and Android devices. Also, you can reply to images, texts, and anything in your chat.
To be added: You should update your Instagram app to the latest version because the old version might be expired or have bugs.
How To Reply To A Specific Message On Instagram PC
You can use the web version of Instagram on your PC. In fact, it works the same as other versions on any device. For instance, you can upload posts, stories, and reels or have a call on your pc and enjoy it. Here you can learn how to call on Instagram on PC. But how do you reply to a specific message on Instagram PC?
Here's how to do it:
Open Instagram on your browser and log in to your account.
Click on the 'Messenger' icon in the top-right of your screen.
Select the chat and the message you want to reply to.
Then tap the horizontal dots icon beside the message
Now from the options there, choose 'Reply.'
Now that you know how to reply to a message on Instagram, you can have an understandable conversation with your friends.
How To Reply Faster With Quick Replies On Instagram?
Another functional and new feature on Instagram is the quick reply. Instagram quick replies are the saved text shortcuts that help users respond immediately. If you're a business, you may have frequently seen that most customers ask the same questions. In this case, to save your golden time and respect your customers, you need to use Saved Replies or enable Frequently asked questions.
It helps you manage your time and respond faster to satisfy your clients. So, if you have an Instagram business account, you shouldn't underestimate the power of this feature.
Here you can read more about personal accounts vs. business accounts on Instagram to understand which account suits you.
Further on, we want to show you how to reply to a message on Instagram with quick replies in two different ways.
Enable Instagram Saved Reply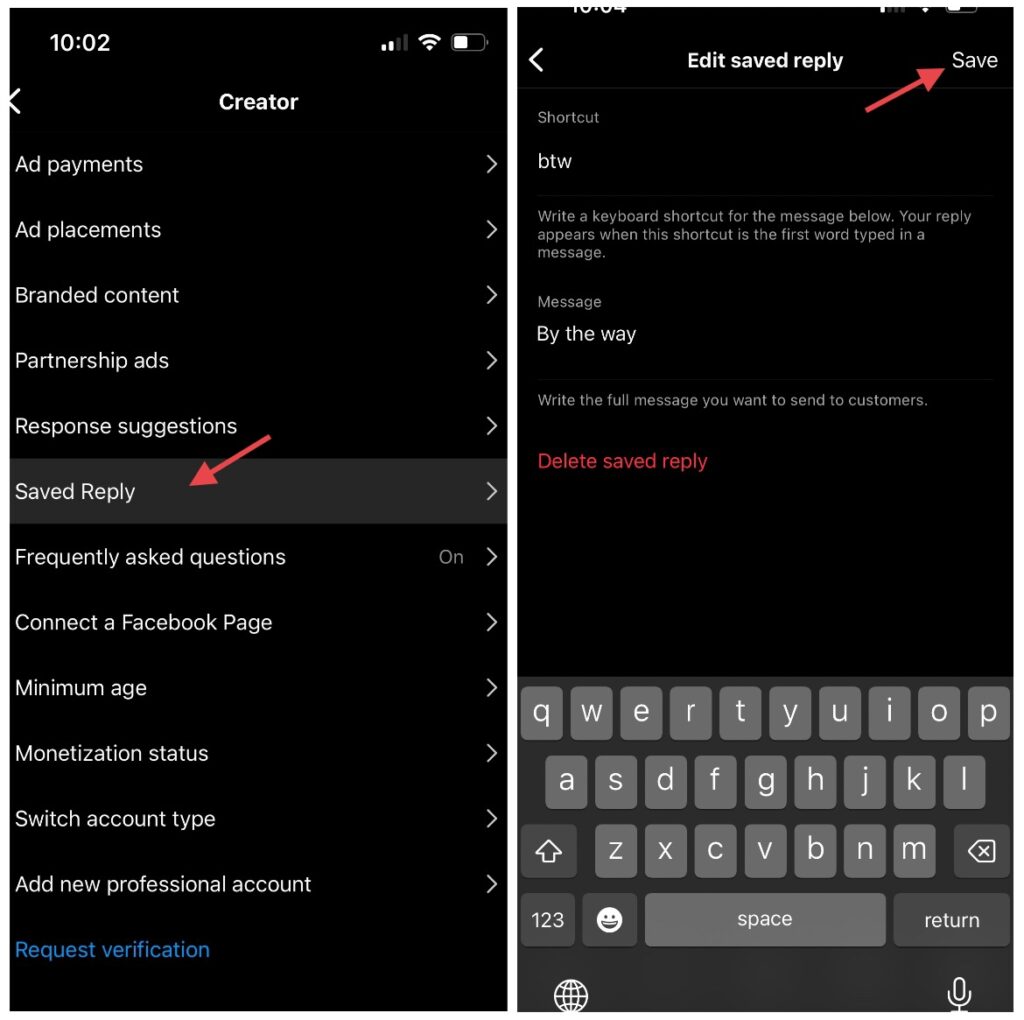 Go to your Instagram profile and tap the three lines icon.
Click 'Settings and privacy.'
Tap 'Creator tools and controls' in For Professionals section.
Select 'Saved replies.'
Now hit the + icon to add your shortcuts
Afterward, tap 'Save.'
Enable Instagram Frequently Asked Questions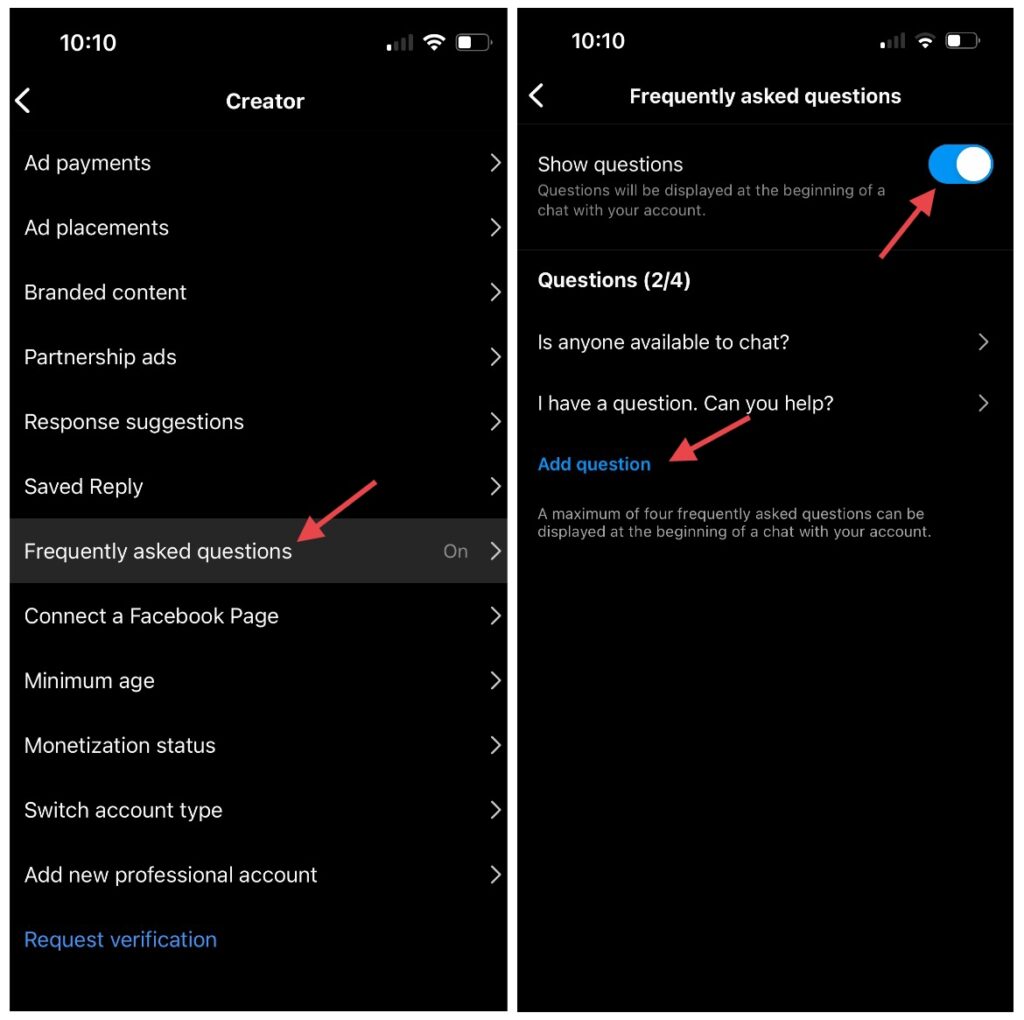 Navigate to your profile and click the three lines icon in the top-right.
Tap "Settings and privacy."
Then tap "Creator tools and controls."
Click on the "Frequently asked questions" option.
On the questions part, tap "Add question" to create new questions.
Finally, enable the "Show questions" button.
This great option lets you have a quick and direct answer to repeated questions. For example, whenever customers, influencers, and other users text you, they get their answers immediately without wasting time. This way attracts audiences and drives more customers.
But besides this one, you can charm audiences and get viewers on your side by catching influencers' attention and encouraging them to glance at your products. Therefore make deals with them and introduce your products through them.
Isn't it wonderful? Ainfluencer is here to help you have a direct conversation with influencers from many social media and introduce your brand through them.
You need to trouble yourself to find the proper guy to converse with and ensure if it's the one you were looking for. From now on, all you need to do is create your Free campaign, send the invitation to influencers, and wait for their response. You see how easy it is.
Why Can't I Reply To Messages On Instagram?
Until here, we've provided guidance on how to reply to a message on Instagram in detail.
But what if it doesn't work for you or if some glitches appear and prevent you from using it?
If you find yourself getting frustrated with using this feature but still not getting any results, don't worry. There are many reasons why you can't use this tool.
Here we want to discover the reasons that cause this error and explore a few solutions to resolve this problem.
1. App Issue Or Software Bug
One of the common reasons that almost every Instagram user may face is a bug or glitch in the software or app. What causes this breakdown can be your poor internet connection, VPN connectivity, or a technical issue. However, various factors may cause this. To resolve this problem and access the Reply option, you need to do this:
Try updating your Instagram app to the latest version.
Restart your phone.
Uninstall or remove the app and re-download it to make sure this removes the issue.
Clear your Instagram cache.
Sometimes, Instagram makes an unexpected error caused by cache and data. In this case, you need to clear them. Here you can learn how to clear your Instagram cache quickly.
2. Connectivity Issues
Another reason that causes this error and prevents you from using Instagram reply messages may be your connection issues. Whenever your Internet connection is poor or not stable, you should try connecting to another network. Another way that you can try is to reboot your router.
Unplug the router for minutes and then restart to see if it helps.
3. Restrictions
Every active user should read Instagram community guidelines to know how to use Instagram and avoid getting banned. Once you violate Instagram rules or terms of service, your account may be restricted from using some features. You might lose the ability to reply to specific messages through account restrictions. That's why we emphasize following Instagram rules.
4. Privacy Settings
If you have set your Message Controls to 'Don't receive requests', people who don't follow you won't be able to send you messages. You won't receive any messages or replies from them. To resolve this issue follow these steps.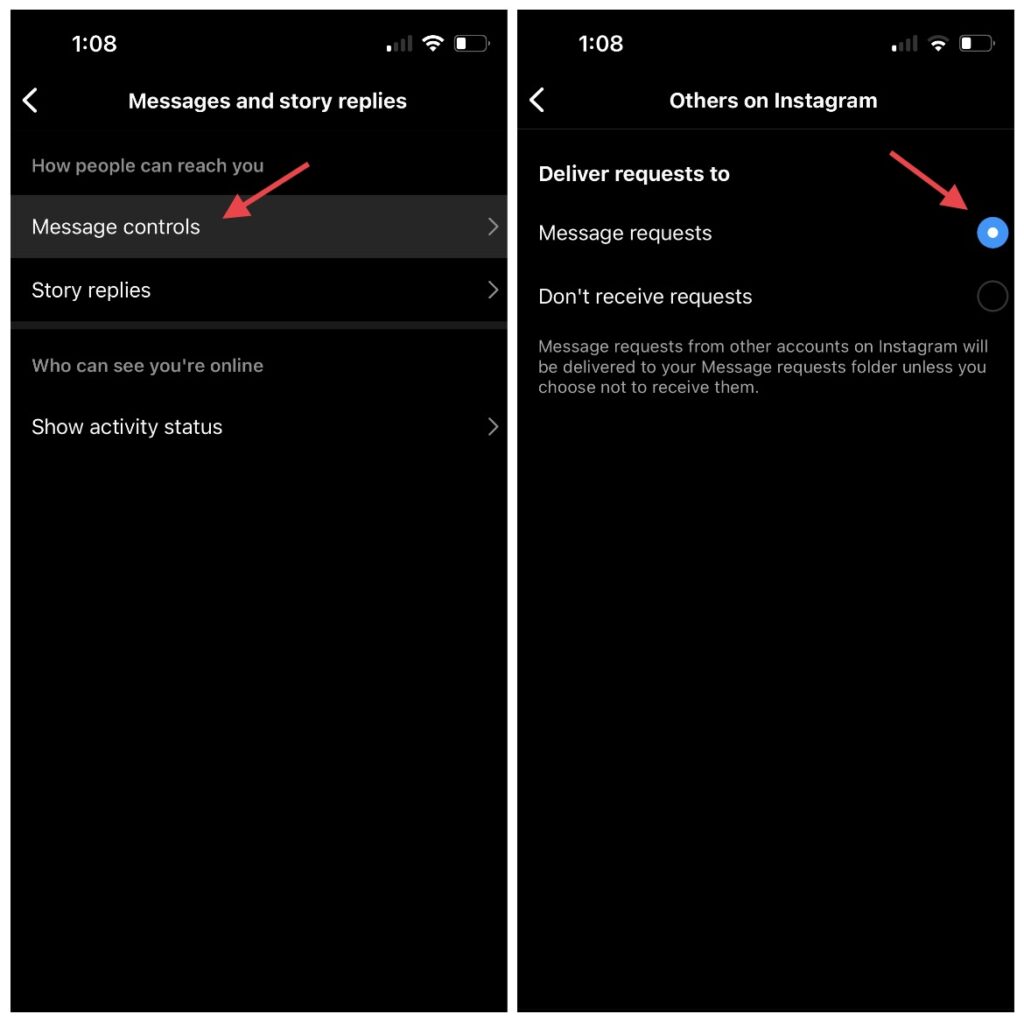 Go to Instagram 'Settings and privacy.'
Tap 'Messages and story replies.'
Then click on the "Message controls" option.
Tap 'Others on Instagram.'
Set the Deliver requests to 'Message requests.'
5. General Limitations
If you still have this error and it hasn't been resolved yet, don't worry. The Instagram reply message is not available to everyone. In the near future, Instagram will make it accessible to a wider user base.
Conclusion
In this article, we've discussed how to reply to a message on Instagram and have an understandable chat with all users. This great feature is available for some users, but you can still see it in action if the person you're chatting with has enabled it during your conversation. However, there might be some errors while using the Instagram reply option that could prevent you from using it. You need to recognize what caused this breakdown and figure out ways to get rid of them.
However, If you're constantly asking yourself how to reply to a message on Instagram but still encounter errors, it's better to contact the Instagram support team.
FAQs
Is Instagram Reply Message Available For Everyone On Instagram?
Currently, this tool is only available for some users, especially those who have a business account.
How Do You Reply To A Message On Instagram?
If you want to know how to reply to a message on Instagram, you need to do this:
hold a message and then swipe left.
Another way is to hold a message for seconds and then tap the Reply button.