With the rise of social media and online platforms, user-generated content (UGC) has become more noticed by brands and businesses. But why it's so important for them and how does it help their growth?
In this article, we will introduce you to UGC, why they are important, and how they can help your brand visibility. As a result, you can find out why you need to start collecting user-generated content if you are running your business online.
What Is User Generated Content?
One of the most valuable forms of content for any website, brand, or business is user-generated content. User-generated content refers to any form of content that is created and shared by customers or users of a product, service, or brand.
In simple terms, user-generated content is the content that everyday people create and share online about the things they love such as their favorite products or opinions on a specific brand. You can find user-generated content on different platforms such as Facebook, Instagram, Twitter, and YouTube.
Why Is User-Generated Content Important?
So, you know what UGC is but why every brand is focusing on it these days? To have an overall look at UGC benefits, we can mention two reports and studies. According to a 2021 State of UGC report by Tintup, "93% of marketers agree that consumers trust content created by customers more than content created by brands. Also, based on another report by Nosto  "79% of people say UGC highly impacts their purchasing decisions." 
So, this type of content can help your brand in different aspects. Here are some of its benefits:
1. Authenticity
One of the most important reasons why user-generated content is getting noticed for businesses is its authenticity. Unlike traditional marketing content, UGC comes directly from the users themselves. So, it provides a genuine perspective on the brand or product which makes it more trustworthy to potential customers.
2. Cost-Effectiveness
User-generated content is a valuable and cost-effective type of content for brands.  Instead of investing in high-cost resources ( such as promotions and TV commercials), businesses can use the creativity of their unpaid customers. 
3. SEO Boost
User-generated content can have a positive impact on a brand's search engine optimization (SEO) efforts. When customers create content related to a brand, they use relevant keywords and phrases which helps improve the brand's visibility in search engine results. Search engines value fresh and relevant content, and user-generated content exactly provides that.
4. Build Trust
Many customers don't trust online marketers and brands for purchasing what they need. User-generated content acts as a digital version of word-of-mouth advertising helping you to establish a connection through personal recommendations.
Types Of User-Generated Content
Now that you know what is user-generated content and how it can help your brands, let's see its different formats. You can choose the best one for your content strategy. 
1. Social Media Posts
Customers often share their experiences with a brand or product on their social media platforms like Facebook, Instagram, Twitter, or LinkedIn. These posts can include photos, videos, or written content in the captions.
2. Testimonials And Product Reviews
One common way users determine whether a service or product is worth trying is by reading customer reviews on platforms like Trustpilot, G2, or Google.
3. Live streams
Many users prefer live streams as they can have real-time interactions with others. YouTube, Twitch, Instagram, and TikTok live feature is perfect for unboxing hauls and quick Q&A sessions about products.
4. Blog posts
Some customers take their experiences to the next level by writing detailed blog posts about a brand, its products, or their overall experiences. These blog posts can attract a wider audience and generate organic traffic for the brand.
5. YouTube content
YouTube is one of the top platforms for sharing video content because it pays creators based on the number of views they receive. That's why many creators use this platform to share YouTube videos and talk about their experiences and review products. 
Examples Of User Generated Content
Brands don't need to hire someone as a UGC content creator. Once customers are happy with their products, they will show their satisfaction by creating photos and videos. Let's take a look at some of the best user-generated content examples in different industries. 
1. Huda Kattan
If you are a fan of makeup and skincare, you have definitely seen Huda's face everywhere. Huda Kattan (known as Huda Beauty) is one of the most famous makeup influencers that has over 50M followers on her Instagram page. She is the founder of "Huda Beauty" makeup brand and on her official page, she mostly shares user-generated content of other influencers using her products.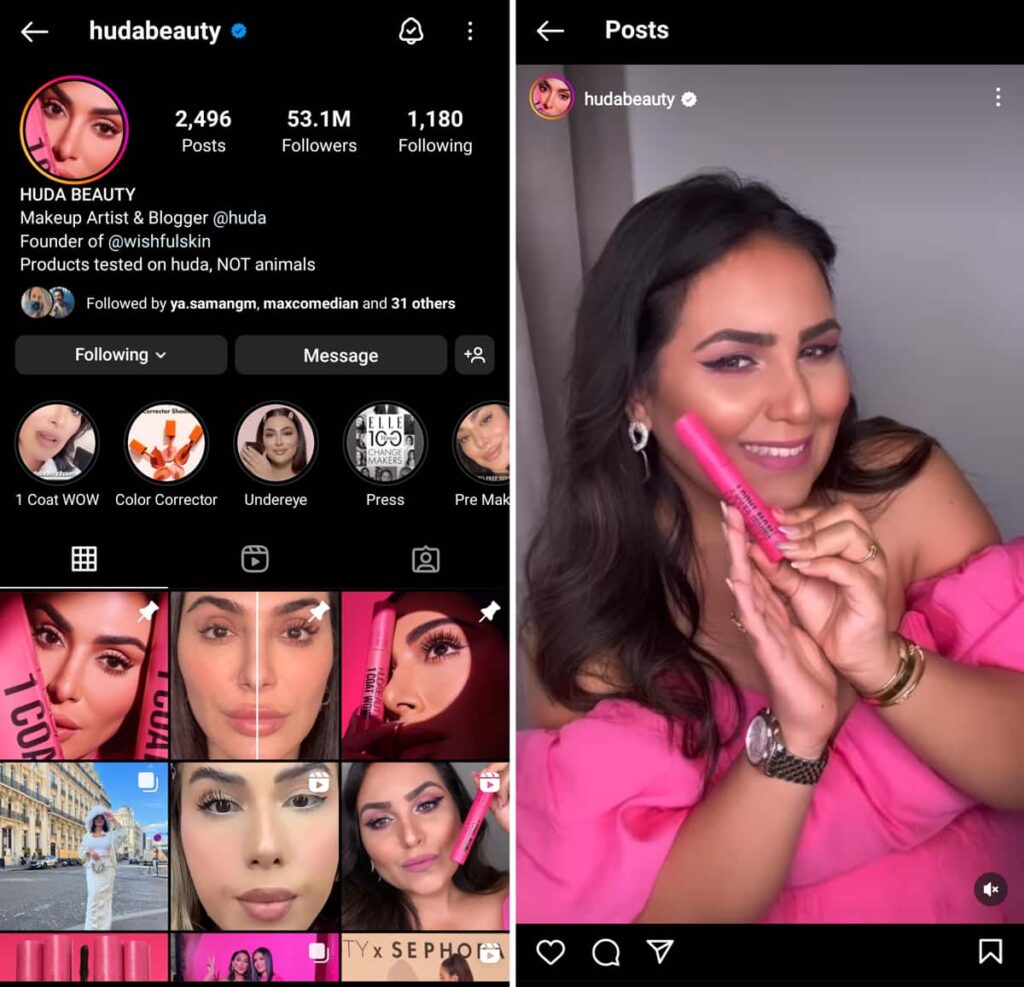 2. Starbucks
Are you a coffee lover? Starbucks Corporation is an American multinational chain of coffeehouses with over 33,833 stores in 80 countries. On their official Instagram page, you can see videos of UGC content creators around the world testing different drinks and sharing their opinion.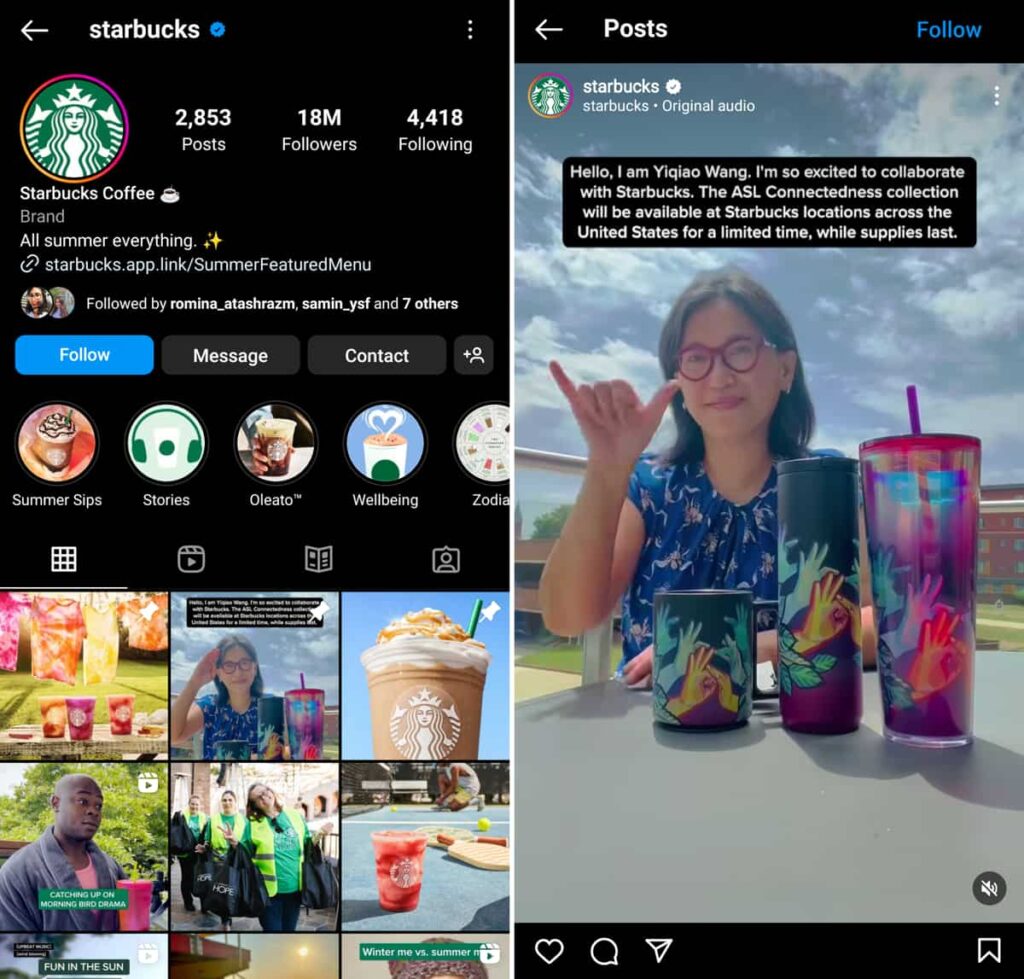 3. Lululemon
One of the best user-generated content examples belongs to Lululemon. If you are a fan of high-quality or even luxury fitness brands, you have probably heard this name. Lululemon is a Canadian multinational athletic apparel retailer headquartered in British Columbia. Checking their social media pages and their website, you can see hundreds of reviews made by UGC content creators.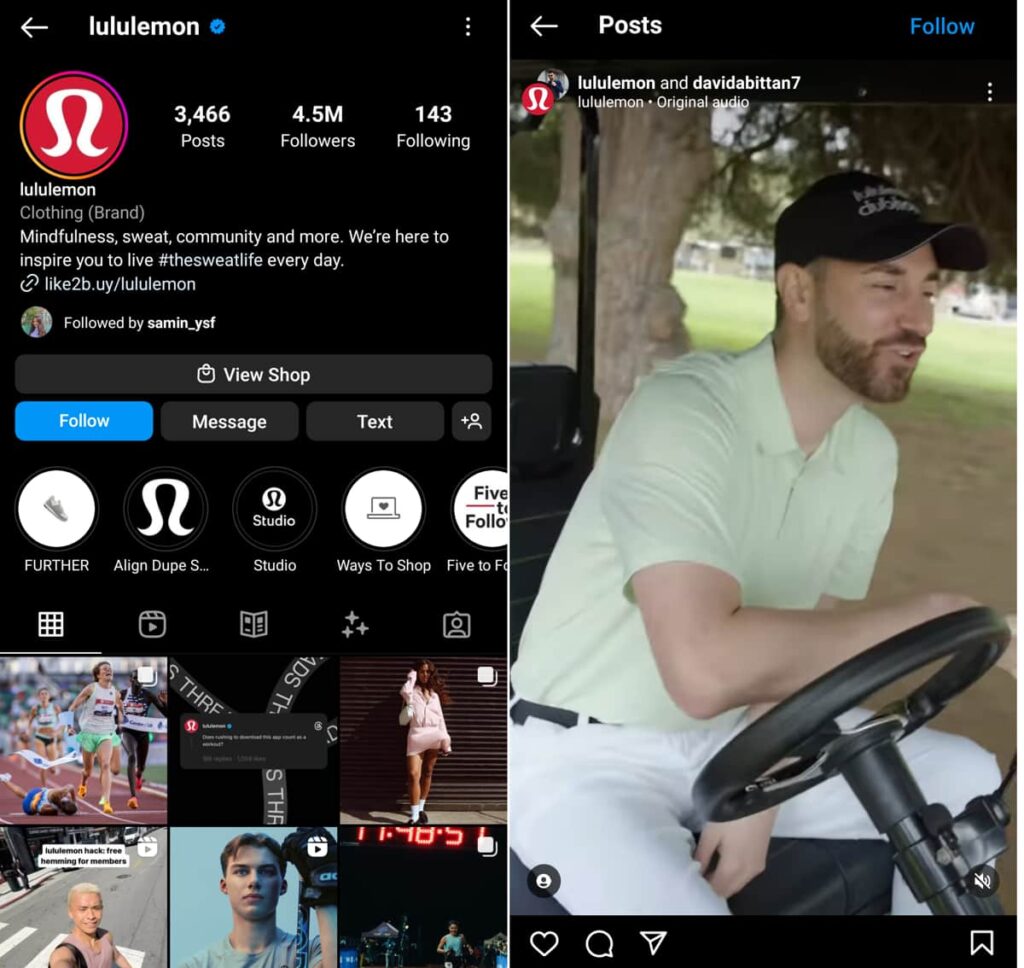 Influencer Marketing – New Type Of UGC Content
Influencers are social media creators who have established credibility and a dedicated following in specific niches. They have the power to sway consumer opinions, drive engagement, and create authentic content by sharing their experiences, insights, and recommendations.
With the rise of influencers on different platforms, brands can tap into this influential network by collaborating with influencers to generate UGC that resonates with their target audience. By sending products or sponsoring events, brands can encourage influencers to create UGC that showcases their offerings in an organic and way. But how to find influencers for collaborations?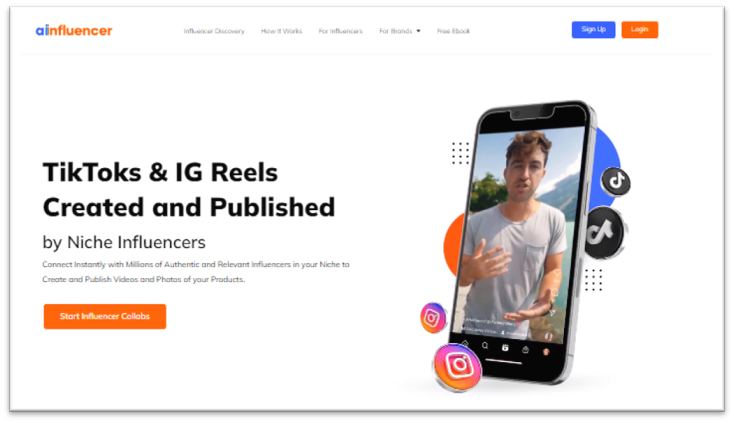 When it comes to finding the right influencers for a specific brand or industry, Ainfluencer is the best option. Ainfluencer is an influencer marketing platform with a network of more than 500,000 active influencers across different niches.
With advanced search targeting tools (based on hashtags, niche, location, budget, language, engagement rate, etc) brands can find their best match for collaborations. After finding your best match, you can contact them inside the platform, send them products, and even make payments. And the best part is that it's all free.
Conclusion
With the rise of social media creators these days, user-generated content has become as a powerful tool for businesses. Its authenticity, ability to build brand loyalty, cost-effectiveness, and SEO benefits make it an essential part of any successful marketing strategy.
In this article, we've shown you how can user-generated content helps your business and why you need to invest in it. 
FAQs
1. Is User-Generated Content Only Suitable For Certain Industries? 
User-generated content can benefit businesses across various industries. From fashion and beauty to technology and travel, any brand can leverage user-generated content to engage with their audience effectively.

2. How Can Businesses Encourage Customers To Create User-Generated Content?
Businesses can encourage customers to create user-generated content by running contests, providing incentives or rewards, showcasing customer stories, and actively engaging with their audience on social media.

3. Does UGC Always Have A Positive Impact On A Brand?
While user-generated content is generally beneficial, there may be instances where negative content surfaces. It is crucial for brands to monitor and address any negative feedback or concerns promptly to maintain a positive brand image.

4. Can User-Generated Content Replace Traditional Marketing Content Entirely?
User-generated content complements traditional marketing content but doesn't necessarily replace it. A well-rounded marketing strategy incorporates both brand-generated and user-generated content to create a comprehensive and engaging brand narrative.