When it comes to Instagram business accounts, everyone might remember brands and Instagram pages that want to take advantage of this opportunity to attract more Instagram users and drive the best marketing results.
Today with more than 25 million available business accounts on Instagram, many users found Instagram business accounts more useful and effective to discover new products and experience the easy purchasing process.
Meanwhile, personal Instagram accounts still have fans because privacy is one of the most important things for users to have a safe Instagram activity.
This article clarifies the differences between a personal account vs. business account on Instagram.
Types of business Instagram accounts
Switching to a business account on Instagram is a must when you want to carry out official marketing activities. Marketing starts with public activities by increasing exposure on the network to meet its marketing goal.
Instagram business account
Business accounts on Instagram are suitable for marketers and brands to access a free wide range of data and stats to measure their marketing performance in a low-cost format.
Instagram creator account
It is a great choice for content creators with more than 10 K followers to access influencers and creators who are not attached to specific business models. Indeed creator accounts are designed for users to efficiently get into their insights and easily connect with their audience.
5 Amazing benefits of business account Instagram
Creating an Instagram business profile is essential for marketers to begin leveraging their brand personality and reaching their target audience. It delivers several different features and capabilities that help them run the most engaging Instagram marketing strategy.
You need to establish an Instagram business account to benefit from its biggest abilities:
A newly established Instagram business account should be discoverable on the vast Instagram globe to become well-known after a period of time and present its brand authority. So, to make a large following size switching to a business account is the first and best choice to start benefiting from the business account Instagram.
Gives in detail Instagram analytics
Accessing Instagram analytics is the second most important factor in switching to a business account; business owners need to Instagram business tools to view and track their business success and determine which kind of content types get the most interactions, such as views, comments, likes, and saves.
Drive more traffic to your page via Instagram stories
Instagram story is a great way to share your links and drive your followers to the destination you want including blog posts, your website store, and a landing page with your social kit. Separate from the Instagram bio link that mostly refers to a website, Instagram stories swipe-up links can help brands run a successful Instagram strategy. However, business accounts with +10 K followers can access swipe-up links within Instagram Stories.
Take advantage of Instagram advertising
Instagram advertising can boost your brand awareness to become memorable and track your campaign's success, but before that, your Facebook page must have attached to your Instagram business account to run your Instagram advertising. If you are finding a way to beat the Instagram algorithm to generate leads and build an organic connection, it would be effective to grow your Instagram marketing by having a business Instagram page.
Save more energy in managing your marketing efforts
Creating a business Instagram account can save you more time and energy when there are many Instagram marketing tools to help brands with their daily marketing efforts to grow their followers and generate more revenue. Instagram management service can deliver different tools such as repost scheduling, DMs, social listening, URL bio linking, etc. As a result, it is the fifth benefit of creating a business profile.
Get more out of Instagram shopping
Instagram shopping is the last but the most useful marketing tool that is easy for the audience to shop right in the moment of discovery. Using Instagram shopping features can allow your followers to shop your photos and videos to increase product sales and showcase visually appealing content that attracts attention. It is the only feature that makes purchasing with one click that an Instagram business account has to come up with.
How to create an Instagram business account?
Let's walk you through the steps of creating a business account on Instagram to take advantage of its all capabilities to grow your business as well as possible.
Step 1
Go to your Instagram profile, then tap the three-line button in the app's top right corner.
Tap Settings and then tap Account to start.
Step 2
In the account settings, scroll down to see the blue Switch to Professional Account.
Tap that to the select creator or business account
Step 3
Choosing a business account will allow you to access your followers' insight, reach your customers and get a new contact option.
Tap on the blue button "Continue" 4 times to pass the information to select a category and then tap on next.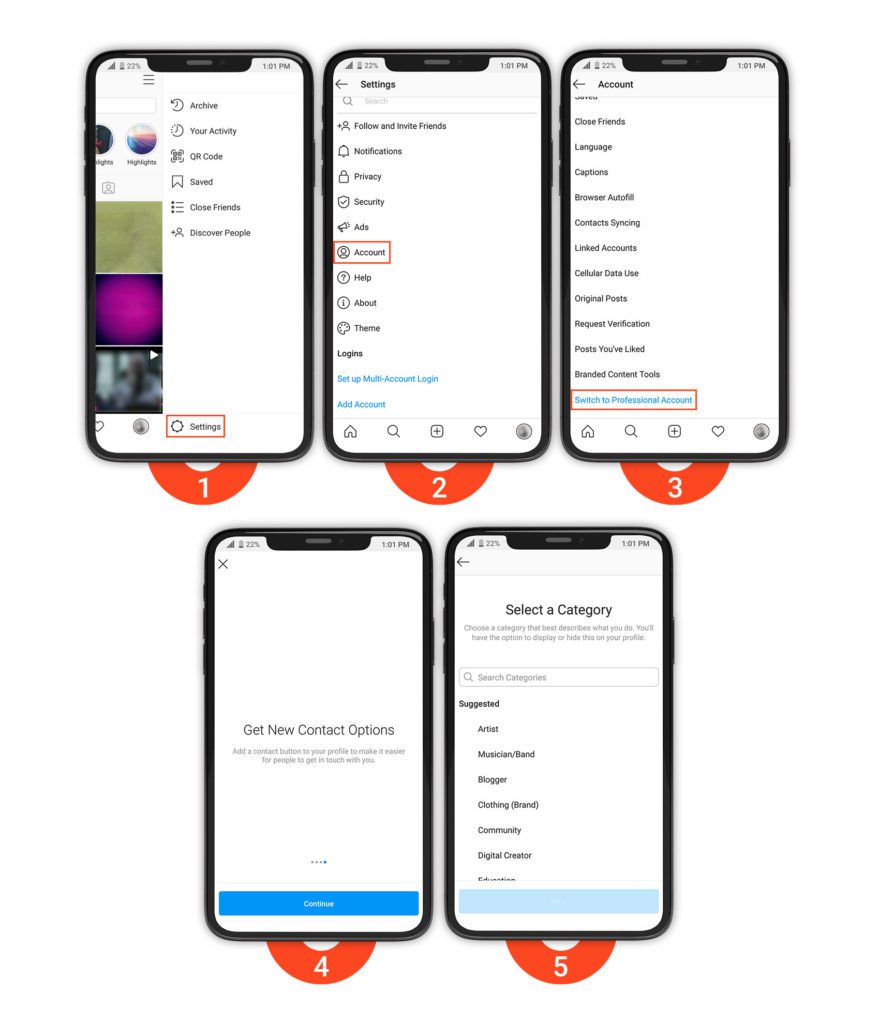 Personal Instagram account benefits
A personal Instagram account is useful for those who want to keep their privacy and personalize their content. They share their own photos and videos with only people who follow them to see and engage with their content.
You can better manage your Instagram page
Having an Instagram private page gives you more control over your content and the kind of followers and fans you want to have. This type of account can make a genuine connection by the intimacy that can build around their community.
Also, brands can take advantage of switching to a private Instagram account by managing a small, personal space to offer value to their fans.
You can minimize the risk of stealing content
You can hide your sensitive private activities that include content. This option works best for those who are more cautious about their personal content, so it is the most recommended way to protect your Instagram content if you don't have some reason to focus on growth.
It can help you to get more followers
When people come across a closed door, they are more likely to knock on the door to unlock it. An Instagram personal account is a great way to use it as an attention-grabbing method to get more followers provided that you have already created a strong brand image behind the closed door, but here the point is that switching to a private Instagram profile is known as a navigate way against the Instagram algorithm in 2021.
All in all
Both types of Instagram accounts are valuable to your Instagram business, but you need to be aware of the pros and cons of each Instagram account type individually to notice whether the personal account best fits your activities or business account. Whatever it is, I recommend you to go on with an Instagram business account or creator account to better appear on Instagram explore page.