If you are thinking about starting an eCommerce business, and are among the millions of people who use Instagram monthly, bear in mind that Instagram presents a fantastic chance for your company to network with potential customers who are actively searching for what you have to offer.
You may expand your business's reach and potential customers with Instagram commercials.
Instagram advertisements are designed for specific audiences and may be adjusted to fit the needs of any company. Promote your products and services on Instagram by creating Instagram ads if you find that your target audience frequently uses this visual platform.
What is Instagram advertising?
Running Instagram ads can feature different call-to-action buttons, direct viewers to your website, and even let them make in-app purchases or download apps from the app store.
Creating Instagram ads means sharing sponsored posts that show up in users' feeds and Stories. Advertisements on Instagram are shown only to users who are likely to be interested in what you have to offer.
Instagram ads target specific audiences based on their interests and demographic information. These advertisements are designed to be so subtle that their viewers will hardly even notice that they are advertisements at all.
There are two clear indicators that specific material is advertising. The term "sponsored," placed underneath the firm's name, is the first indicator.
The second symbol is the CTA displayed at the image's base. These often include calls to action like "shop now" or "learn more," depending on the nature of the campaign.
How does Instagram advertising work?
To use Instagram for marketing purposes, you need not even have an account there. Given that Facebook itself is the parent company, all you need is a Business Page on Facebook.
A business may supplement and magnify its organic Instagram marketing efforts by creating an account on the platform and becoming familiar with the type of material that connects most with its target audience.
Facebook's Ads Manager is where you'll do all the heavy work for your Instagram Ads setup, including creating campaigns and ad sets with custom budgets to pay for the Instagram ads, audiences, ad placements, and optimization settings. Your Instagram ad will run for the duration of time, within the budget you designed for the cost to advertise on instagram, to the targeted demographic, and with the desired level of optimization.
Why should you consider including Instagram ads in your marketing mix?
Statista reports that between 18 and 34-year-olds make up roughly 60% of Instagram's user base. Although there are more women than men overall, the gender ratio is more even between the ages of 18 and 34 (51% females to 49% males).
Among all Instagram users, men make up 32.1%, while women make up 29.9%. Teenagers in the United States rank Instagram as the third most popular social network.
Instagram ranked third among teenage social media platforms in the United States in the Fall of 2020, behind only Snapchat (34%) and TikTok (29%). Only 2% of the teens surveyed favored Facebook.
Evidently, if your target demographic consists of individuals under the age of 34, you might think about adding Instagram ads to your strategy. If you're trying to reach a younger demographic than Millennials, such as Generation Z, Instagram ads are a good option to consider.
what makes Instagram advertising worthwhile?
There are several reasons why Instagram ads costs are well worth such as:
#1 Advanced Targeting
Your company can take advantage of Instagram's sophisticated targeting options. The effectiveness of your advertisements can be improved by using the available targeting choices, which range from geographic to interest-based.
When marketing to music fans, you don't have to appeal to everyone who likes music; you can target only those who like the pop genre, for example.
#2 Higher engagement rates
According to the most up-to-date data available (RivalIQ's 2022 Social Media Industry Benchmark Report), the median engagement rate on Facebook is currently at 0.064%, and the median engagement rate on Twitter is 0.037%.
The median engagement rate on Instagram is 0.67%, which is 30% lower than last year but still higher than Twitter and Facebook. Instagram has the highest engagement rates, nearly 10 times higher than those of Facebook and Twitter.
People's participation in a network is crucial to the success of any advertising campaign. Ads that specifically target users are more likely to result in engagement (clicks), likes (on social media), and conversions (purchases).
The engagement rates on Instagram are exceptionally high, both naturally and in response to advertisements. Instagram photos get 23% more engagement, such as likes, comments, and shares, than those posted to Facebook.
#3 External links
At the moment, Instagram's organic postings can't include clickable links. Including a link in a caption or direct message will prompt the recipient to either copy and paste the URL into their browser or check out your Instagram bio.
Links to external websites or landing pages can be specified in Instagram ads. When running Instagram ads, it's best to direct users to a page on your own domain, where you have full control over the permalink structure, so that you can more accurately follow their actions.
How much do Instagram ads cost?
Instagram ads pricing can range in price from $0.20 to $6.70 each day, depending on the bidding methodology(Instagram ads cost calculator). Let's take a look at the average cost per click, cost per engagement, and cost per thousand impressions on Instagram.
Instagram cost per click (CPC)
Cost-per-click (CPC) on Instagram ads typically ranges from 20 cents to $2. Revealbot reports that the average cost per click (CPC) on Instagram in the United States in July of 2021 was $1.28, down from the $1.33 CPC in 2022.
Instagram cost per engagement (CPE)
Cost-per-engagement (CPE) to pay for Instagram ads ranges from $0.01 to $0.05.
As a platform, Instagram has a relatively low CPE, averaging out to just $0.54 for each interaction. From last year's average of $0.32 in CPE, this is a 69% increase.
Instagram cost per thousand impressions (CPM)
Cost-per-thousand impressions (CPM) for Instagram-sponsored posts cost in the United States in July 2021 was $8.51, down from the CPM high of $10.39 in July 2022.
How to lower your Instagram ads costs
Here are some options to consider if you want to lower your Instagram marketing costs:
#1 Get your budget and your plans in sync.
In order to get the most out of your Instagram marketing costs, you should first choose campaign goals that are most applicable to your sales funnel.
Test less expensive campaigns to introduce your brand to audiences with awareness, engagement, or, even better, a website traffic campaign so that these users leave Instagram and arrive at your website, where they will be tagged with the Pixel and can be retargeted if they do not convert on the first visit.
#2 Commence with automated bidding
Automatic bidding can help your campaign succeed if you're new to the story of Instagram marketing costs. It's a painless method of locating the optimal bid for your promotion.
If you don't have any historical data to inform a good CPC to set for your campaign, automatic bidding can help your company save some money on Instagram promotion prices. It will guide you to the optimal bid for your campaign.
With automatic bidding, your company will never pay too much for Instagram commercials. Without historical information, it may be impossible to determine a fair offer price. There's a chance you'll think you have to offer more than you actually have.
Before you have enough data to guide your campaign, automatic bidding can assist you in selecting the optimal bid amount. It's an excellent method for cutting down on Instagram marketing costs.
#3 Make specific targets
Setting up Instagram advertising with the intention of reaching individuals who are likely to be interested in your products or services is essential.
Accurately selecting your desired audience will yield better outcomes from your Instagram marketing costs. You can reach your intended audience on Instagram by:
Location:
People might be targeted specifically based on their location. This might be anything from a country to a more particular identifier, such as a zip code.
Demographics:
Targeting potential customers based on their demographic characteristics are the most prevalent use of demographic data. Gender, age, and racial details are all included.
Interests:
Interactions on social media provide insight into users' underlying passions and interests. It's possible to appeal to certain audiences by catering to their preferences, whether in the realm of crafts or technology.
Lookalike audiences:
A lookalike audience is a group of people who share similar traits to those who have already shown interest in your brand. Thus, you may focus on reaching the people who are most likely to benefit from your offerings but are unaware of them.
More people who might be interested in your goods and services can be reached with pinpoint precision. Since this is the case, your ad copy will be more relevant to them, leading to a higher ad rank and reduced CPC. An additional benefit is that it will boost conversions, which will, in turn, reduce the overall Instagram marketing costs of the campaign.
#4 Put your ads to the test
Different lines of ad copy and creatives (pictures, videos, etc.) should be tested to see how well they perform with target audiences.
By conducting experiments, you may figure out what makes your target audience tick, increasing your engagement and click-through rates (CTR) and decreasing your Instagram marketing costs, stretching your marketing cost to advertise on Instagram further.
#5 Increase output by utilizing automated processes
If you employ automatic placements at the ad set level and serve across both Facebook and Instagram, you can further reduce your Instagram marketing costs. Due to increased placement liquidity, the system is better able to use an algorithm to determine where your ads will perform best across both platforms and a wider variety of ad placements. This reduces competition for Instagram's three existing ad placements and reduces the Instagram ads pricing, which you have to pay for those spots.
#6 Make use of Influencer Marketing, a Low-Cost Strategy
67% of marketers take advantage of influencer marketing to up their marketing strategies. Instagram influencer partnerships are by far the best-performing platform for brands to reach new audiences quickly, with an average 3.21% engagement rate compared to 1.5% across all social networks. To be clear, we are not suggesting that paid Instagram advertising is unnecessary; on the contrary, it remains an excellent method of boosting campaigns and maximizing return on investment. When compared to the efficacy and the benefit of influencer marketing, however, it is much more expensive.
Because of this, influencer marketing can help you save a lot of money on Instagram commercials. It's not easy to identify the ideal influencer to promote your Instagram posts, so what criteria should you use? We encourage you to take advantage of Ainfluencer influencer marketplace. 
Ainfluencer
All of Ainfluencer's tools are free to use, whether you're an influencer or a brand. You may rest assured that all the transactions you intend to conduct within the app will be handled quickly and securely. In the course of building your brand, you may come to realize which influencers are the most useful.
Using Ainfluencer, brands and influencers can find and contact each other to negotiate the terms of influencer marketing campaigns and close deals.
Brands can use Ainfluencer's powerful search options to identify and get in touch with suitable influencers for collaboration based on a variety of criteria, such as geography, gender, language, hashtags, follower count, and more.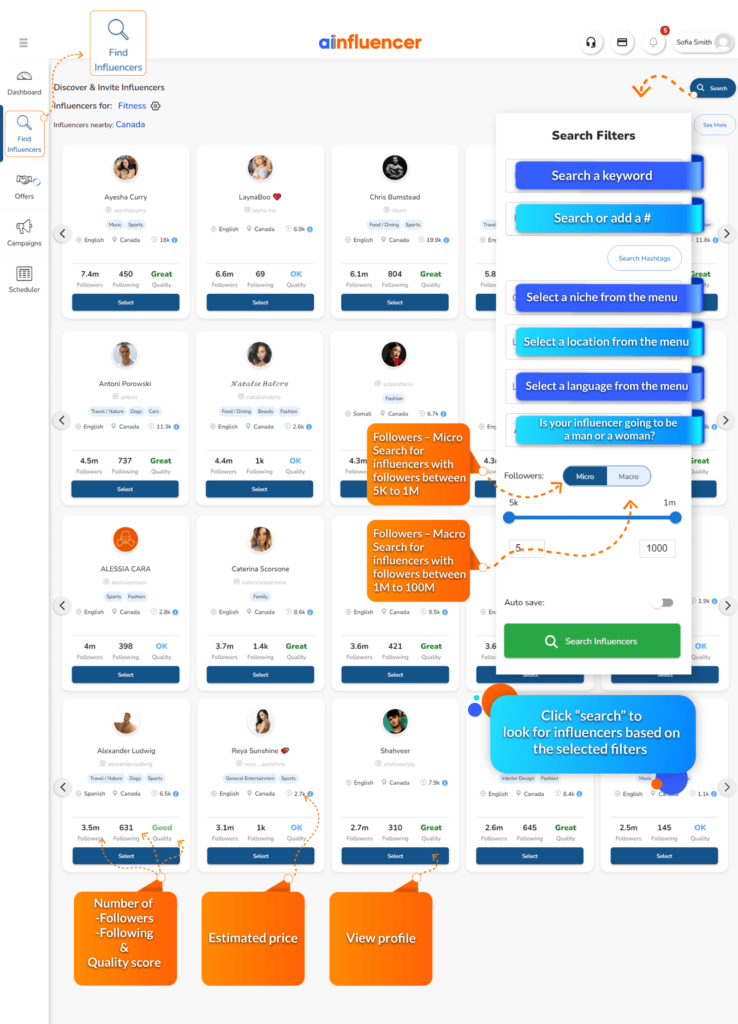 Factors that influence Instagram marketing costs
There are many factors that could influence the Instagram marketing costs, such as;
#1 Campaign objective
Depending on the purpose of your campaign and the stage of the marketing funnel that your target audience is in, you may incur greater or lower advertising costs than you had originally planned.
Advertising campaigns with a higher-value end goal, like conversions, will cost more than those with a lower-funnel end goal, like raising brand recognition. Targeting users farther down the funnel, who are more familiar with your brand and offers and ready to open their wallets or take a higher-value action, is more valuable than having larger, colder audiences view your ad to drive brand awareness.
#2 Audience size
It's more cost-effective to aim for a wide audience because there will be less competition for each individual. Due to increased competition for a smaller pool of viewers, the cost to advertise on Instagram per view may rise if you restrict your audience to targeting a smaller geographic area or younger age group. Campaign expenditures tend to be greater for retargeting initiatives because the audiences are smaller.
#3 Budget
Instagram marketing costs are affected by a number of factors, including the size of the advertiser's budget and the length of time it takes for the campaign or ad package to exit the Learning Phase.
Until the algorithm learns your campaign type, optimization targets, and audience engagement patterns, it may be more expensive to launch a new campaign. Instagram will gradually decrease your ad costs if your Instagram ads are favorably received.
#4 Click-through rate
A low CTR can lead to increased Instagram ad pricing because the system may conclude that your intended audience isn't responding to the content of your advertising. Your advertising CTR is a great sign of how well they're connecting with your ideal customer.
CTRs of 2% are considered to be optimal. Maintaining a good CTR should help decrease Instagram marketing costs.
#5 Estimated action rate
Your Instagram marketing costs will also be affected by the estimated action rates. Instagram ads cost calculator, calculates this fee depending on the number of individuals who are likely to take action after seeing your ad. In essence, they are attempting to determine how interested your target demographic is in your ad.
Interactions like clicking and making a purchase fall under this Instagram marketing cost. Instagram hopes that by advertising your content, more people will view it and interact with it.
The Instagram ads pricing will depend on the expected clickthrough rate.
If Instagram thinks more people would engage with your ad, it will prioritize it. Because of this, you should expect to decrease the pricing amount to pay for Instagram ads, resulting in more clicks and potential customers.
#6 Competition and timing
Instagram marketing costs will always be relative to the competition. It's inevitable that there will be rival businesses also competing for the attention of a specific subset of consumers. The Instagram marketing cost for your campaign may rise or fall depending on the level of competition you face.
There may be a bidding war if several advertisers have their sights set on the same customers. Competition for prime advertising space will require companies to outbid one another. Because of this, your cost-per-click (CPC) may increase as you compete with similar Instagram ads.
Conclusion
Instagram is expanding rapidly, and so is the variety of advertising possibilities available to businesses using the platform. More advertising opportunities should come our way because the market is not yet fully saturated.
Try out Instagram ads and see how they stack up against other advertising platforms like Facebook. Either it will bring in a significant amount of income, or it will increase brand awareness and engagement, making it an integral aspect of your funnel.
1.

How much do Instagram ads cost?
Generally speaking, you can run an Instagram ad campaign for as little as 20 cents per click (CPC) and as much as $2 (CPC). The Instagram marketing cost is only going to increase.
2. How much does it cost to promote your Instagram?
Instagram marketing costs range from about $0.20 to $6.70 each day, depending on the bidding system. Advertisers often pay anywhere from $0.20 to $2 per click using a CPC model. In terms of CPM, or cost per thousand impressions, advertisers shell out $6.7. Cost-per-engagement (CPE) pricing ranges from $0.01 to $0.05 for advertising campaigns.
3. How much does it cost to advertise on Instagram per month?
Cost-per-click (CPC) on Instagram ads costs typically ranges from 20 cents to $2. Revealbot shows that the average cost per click (CPC) on Instagram in the United States in July 2021 was $1.28, down from the $1.33 CPC in 2022.
4. Are Instagram ads worth it in 2023?
Instagram-sponsored posts costs are far less expensive than other forms of marketing. That's why it's a good idea to use this platform to see how well these activities go with your target audience. On the other hand, the daily cost will be merely $1.