Have you ever wondered how brands become 'brands'? How come everyone knows about Samsung and Apple? Succeeding in a competitive market has many challenges, and becoming a known brand on the market is not possible without strategies. That's why brand awareness is important for any business.
It should be noted that creating brand awareness is not only for small businesses. Famous companies still spend millions on different campaigns, especially Instagram marketing, to compete with other brands and make people remember them.   
This essential guide will answer important questions about increasing brand awareness and getting new customers to your door. Let's dive in!
What is brand awareness?
Let's start from the beginning: the brand awareness definition.
Assume you have built a new brand; it has a name, logo, slogan, and at least one group of products. How do your potential customers know you? First, they should know your name, trust you as a reliable business, and finally become your customer. This journey starts with brand awareness.
To define it in the marketing world, brand awareness is a marketing term that shows how recognizable your brand is among your customers. 
However, building brand awareness is not something that can be done overnight. Furthermore, there is no one-size-fits-all solution that works for all businesses. Therefore, you should know how it works and learn about the methods that can help you improve it. Because brand awareness marketing is essential to making a brand popular. 
Knowing how this marketing strategy works can help you build a more successful brand image on the market.
How does brand awareness work?
The main purpose of brand awareness is to create positive association and impression of the brand in the minds of the potential customers, and influencing their purchase decisions and loyalty. However, to reach this goal, businesses should implement different strategies and ideas to introduce their brands to the market and create trust among their customers.
Brand Awareness Vs. Brand Recognition
Now that we have defined brand awareness, you may wonder what brand recognition is or if they are the same.  Let's see how they are different. 
Brand recognition is when your customer knows your brand visually. They can recognize your advertisement by its colors or logo whenever they see it. Therefore, brand recognition is primarily hidden in an advertisement design. 
On the other hand, brand awareness comes after brand recognition. Your customer can now recognize you not only by your ads, but also by your brand's general impression.
When we talk about basketball shoes, most of us remember Nike! That's how this brand has made its name in the world of this sport. So, we are aware that Nike is one of the best shoe brands. That's how well this brand could build brand awareness around its name.
Why is brand awareness important?
In the absence of recognition and trust, no matter how good your product is, you cannot sell anything. In other words, it's the first advantage of investing in brand awareness campaigns.
Here are the main reasons why brands need to build brand awareness: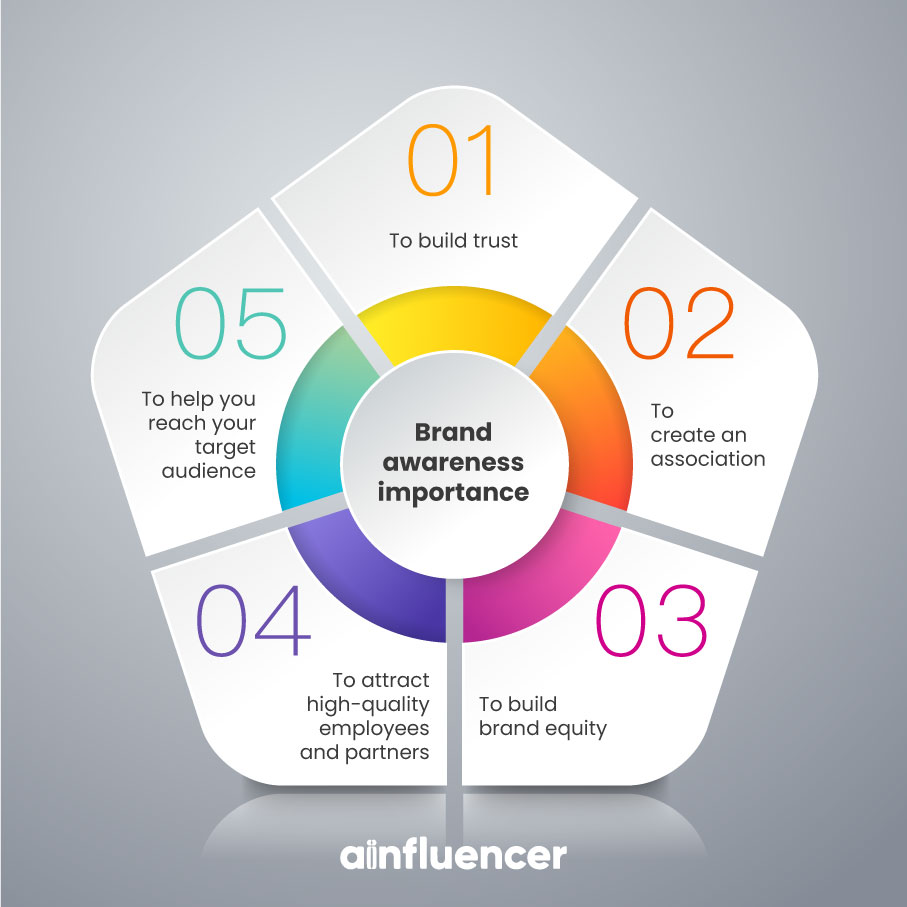 1- To Build trust
Several companies are out there offering the same product as yours, but people choose the one they trust. If performed under great strategies, brand awareness campaigns can help you build customer trust. Once they form a bond with your brand, you can assure that they will return to you for repeated purchases.
2- To create an association
Let's define the association between a brand and customer with an example. When referring to an internet search, we often use 'Googling' instead. Although Google is a search engine, it brings trust and reliability to most people. So whenever they search something on the internet, even on another search engine, they use the word 'googling'! That's how brand awareness can create an association.
3- To build brand equity
Many things can affect customers' buying decision-making, and brand equity is the most important one. When we talk about brand equity, it means the value and strength of a brand in the market, which is based on the perceptions and associations that customers have with the brand, such as awareness, recognition, loyalty, preference, and advocacy.
As mentioned, brand equity can affect the consumer's decision-making process and behavior, making them more likely to choose, buy, and recommend a brand over others.
4- To Reduce Marketing Costs
First, you should note that your marketing costs will never be zero. Regardless of how well-known your brand is, it's still important to promote your business. However, as a beginner, most of your marketing costs might be spent building brand awareness. But, after you gain that, you can rely on word-of-mouth marketing and viral marketing to spread your brand message.
5- To attract high-quality employees and partners
The more you increase your brand popularity, the more people will want the chance to work with you. Then, you'll be able to hire better employees and partner with larger and more reputable companies.
6- To help you reach your target audience
Reaching the right people is the key to success. Brand awareness campaigns help you create a buzz around your brand and target the right audience to build and increase your customer base. You need to know your target audience to understand and connect with the potential customers who are most likely to buy your products.
How to build brand awareness?
Now that we know how important brand awareness is, it's time to discover the methods to build it. However, you should note that it takes time and you might have to test different methods, or run several campaigns or branding ads to build it.
Here are a few strategies to build brand awareness.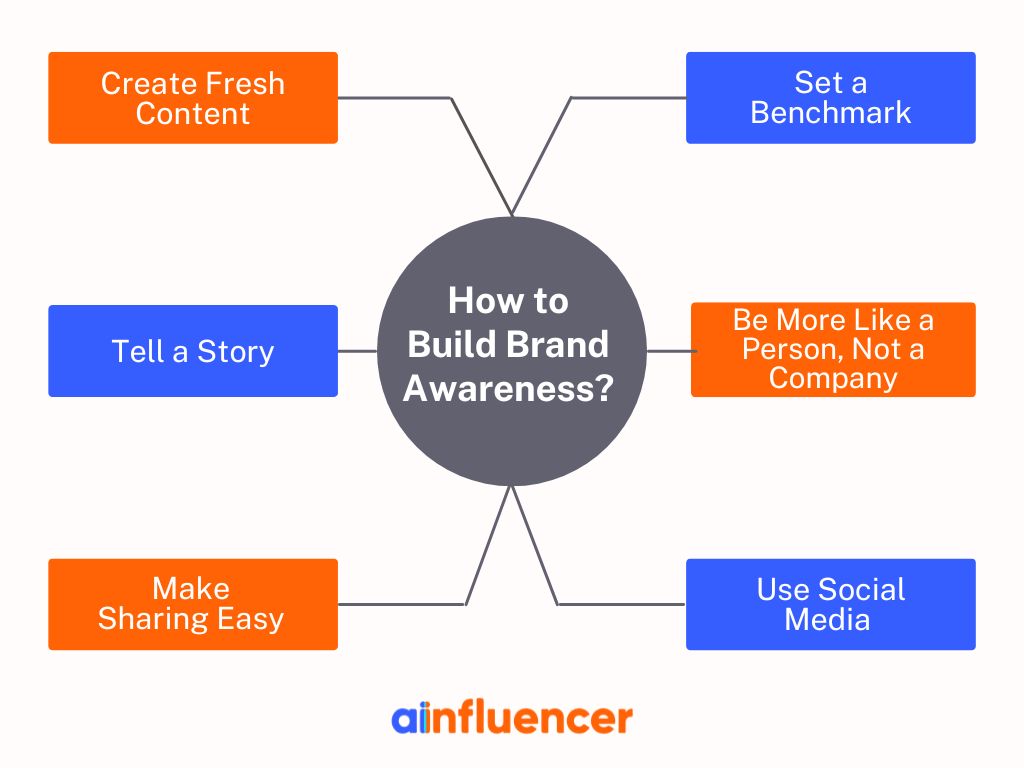 1- Set a benchmark
Set a benchmark before you begin establishing and improving your brand recognition. You should track both your own and your competitors' brand awareness.
2- Be more like a person, not a company
Building brand awareness is not possible if you don't know your customers' hobbies or what excites them. Therefore, you should be able to learn more about your customers to influence them positively. Let's say when you introduce your brand to your customers, try to be like their friend.
To establish a solid brand awareness foundation and make a lasting impact on your audience, you've got to define yourself as more than a company that sells stuff.
3- Use Social Media
To promote your brand, you need to increase your brand's recognition wherever your potential customers are available. So, don't stick to outdoor advertisements or TV ads. Consider social media as a powerful source for building brand awareness. As you may know, staying connected and being social with your audience increases brand popularity.
Research shows that over 50% of brand reputation comes from online interactions. You can even post on social media about things that are not necessarily related to your product or services – just interact with your audience (asking questions, answering their questions, commenting on posts, reposting/sharing content you like, etc.). 
Generally speaking, treat your social media accounts as if you were a person trying to make friends, not just a business trying to make money.
How to Build Brand Awareness on Social Media?
Build a community around your brand: You can use social media platforms like Facebook, Instagram, Twitter, or YouTube to interact with your existing and potential customers, answer their questions, address their concerns, and show appreciation.
Post regularly to social media. Being active on social media is critical to consider while building brand awareness. More followers on social media will bring more recognition.
Create a custom hashtag for Instagram. Have a hashtag strategy for your posts. Hashtags make your posts discoverable to more people. But, you should not stick only to the trending hashtags; try to make a dedicated hashtag for your brand (branded hashtag) and create campaigns around that.
Run Instagram ads. Everyone knows that Instagram is a great place to find potential customers. This platform has advertising tools that allow you to show your ads to more people. So, try Instagram advertising to make more people notice your brand.
Collaborate with Influencers. People trust influencers, and they are more likely to trust whatever they offer. Therefore, partner with trusted influencers to promote your brand and products. They can help you create brand awareness on social media quickly and easily.
Note: Check out brand awareness examples to discover how top brands have used social media to improve their presence on the market.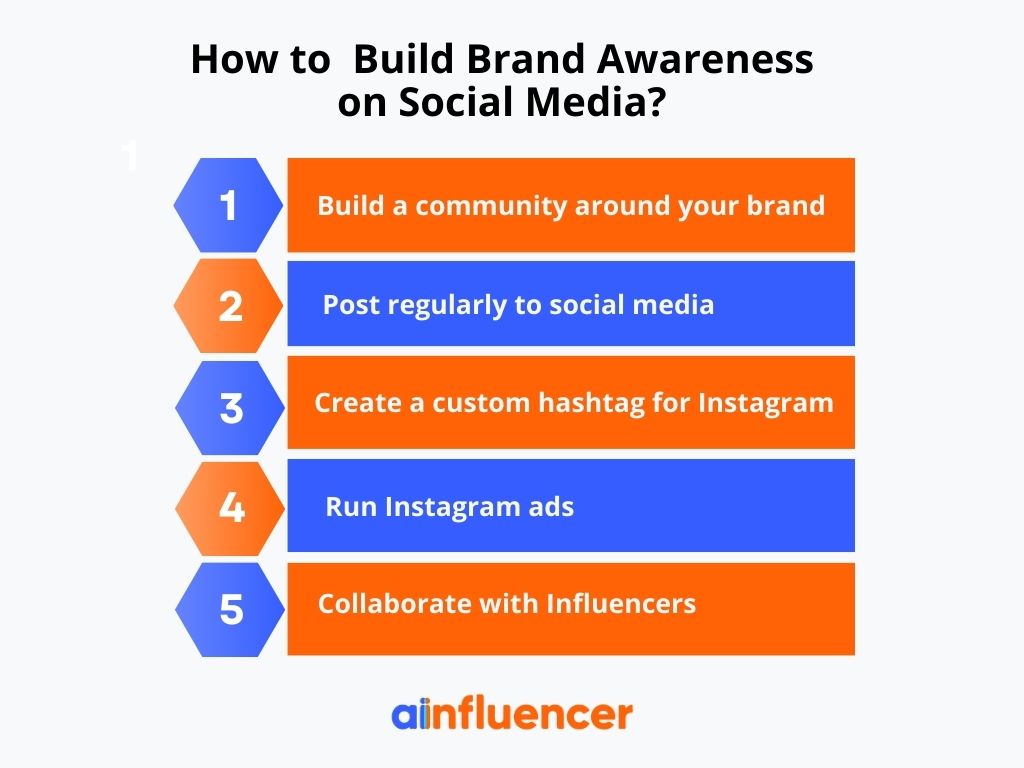 You may wonder how to find influencers to build brand awareness with their help? Well, you are at the right place.
Ainfluencer: The Best Influencer Marketing Platform
Although there are several ways to find influencers, none is as easy and quick as using an influencer marketing platform like Ainfluencer. With the help of Ainfluencer, you can find the proper influencer for your branding purpose with only a few clicks. How is it possible?
Sign up on Ainfluencer now; it's completely free of charge. You can create a campaign to define your objective, who you are looking for, or how much budget you have. On this platform, you can either wait for influencers to find your campaign and send offers or use advanced tools to search for influencers.
The 'Find Influencer' tool on Ainfluencer allows you to search for influencers based on different factors, including their category, language, gender, location, number of followers, and hashtags. Therefore, you can completely define which influencer is right for your business. Additionally, you can select your budget so only the influencers who work with that budget are shown.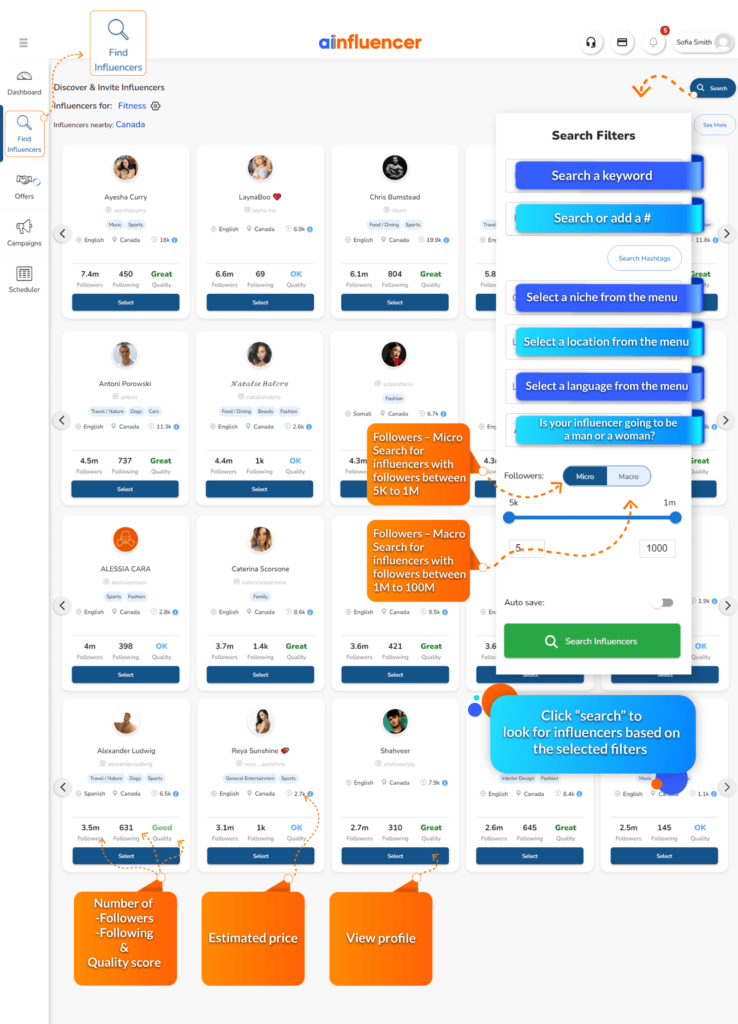 Now, you have a list of the most suitable influencers for your brand awareness campaign. Check them out and send them invitations. It won't take long until you run your first influencer marketing campaign on Instagram or TikTok.
So, do not hesitate, it's all free and enjoyable to test!
4- Create fresh content
Content is everything; it can create a buzz around your brand and attract people to your business. That's one method to build brand awareness. If you give your audience fresh and accurate information, they will be more engaged with your brand. And that's how they become loyal to your name and become your customers.
Furthermore, when people find something interesting, they share it with their friends. So, you get free promotions, and more people will be aware you exist. Accordingly, you will be recognizable to more people without paying for ads.
Note: After you run an ad on Instagram, many people will check your profile to see what you do or how interesting your posts are. Therefore, the content you share on your Instagram or other social media platforms can make them follow your page. But, if they don't see fresh and creative content, they will not find it worth pursuing. So, all your efforts will be a failure.
5- Tell a story
engage with. Therefore, the power of storytelling can change your marketing result.
It provides your audience with something tangible to connect with and gives your brand a depth. 
How do you tell a story about your brand? Well, that also comes with strategies. Your narrative can be about anything as long as it is authentic. It can be a story about your founder, how your small business made it in this big world, etc.
6- Make sharing easy
Ensure that your content can be shared easily, whether it's a video on social media or a blog post on your website.
When people find your content interesting, they would like to share it with others. Therefore, you can distribute your name to a new group of people, a free method to build brand awareness. The only thing you should do is create appealing content and make people share it with their friends.
Note: A brand awareness campaign should not be viewed as a one-time marketing effort. Since it's a competitive world, you should always empower it. Therefore, you may have to use creative methods to increase brand awareness. 
Conclusion
Building brand awareness is crucial for any business to succeed in today's competitive market. By utilizing various marketing strategies and techniques, businesses can effectively reach their target audience and establish a strong brand presence.
Whether it's through social media, advertising, or public relations, building brand awareness can lead to increased customer loyalty, higher sales, and overall business growth. It is important for businesses to continuously evaluate their branding awareness efforts and make necessary adjustments to ensure they are effectively reaching their target audience and staying ahead of the competition.
FAQs
1- What Is Brand Awareness and Why Is It Important?
Brand awareness is important because it is the first step in the marketing funnel. The more you maintain customer relationships and boost your brand awareness, the more you are likely to acquire customers and revenue.
2- How Do You Create Brand Awareness?
There are many ways to build brand awareness, but here are a few you can start with today.
– Create fresh content
– Make sharing your content easy
– Create free content
– Guest blog for other sites
– Improve your SEO
– Start a referral program
– Maximize your organic social media presence
– Consider starting a podcast
– Take part in brand partnerships
– Create shareable infographics

3- What Are the Three Ways to Raise Brand Awareness on Social Media?
First, you should know that by actively sharing innovative content on social media, you can help your brand to grow online. But to speed up this process, the best methods are:
– Use related hashtags, 
– Run contests and giveaway campaigns,
– Collaborate with influencers.
4- How Long Does It Take to Build Brand Awareness?
Depending on your business and your brand awareness strategies, it may take months to build brand awareness. Anyhow, you should know that it is not a one-time tactic; you should do several ads or incorporate different strategies repeatedly to create a credible brand image.