As the world becomes more and more digital, the modeling industry is evolving with it. With the rise of social media platforms, such as Instagram, models are becoming more popular and visible than ever before. And while all types of models are gaining visibility online, black models are leading the pack. Here are 56 of the top black Instagram models who will be making waves in 2023.
How To Find black Instagram models?
Do you wonder how you can find the best Instagram influencers and models for your influencer marketing campaigns? Well, there are different methods that work great when looking for influencers, such as:
1- Using the "Suggested" feature of Instagram to search for similar influencers to those you already have in mind.
2- Going through hashtags that are relevant to your industry and market.
3- Checking out your followers and tagged posts.
4- Searching through "Location" tags to find influencers in a specific location.
5- Googling could help you get a pool of Instagram influencers to choose from.
If you don't have the time and energy to manually search for your relevant influencer through the above-mentioned methods, you can use an influencer marketplaces like Ainfluencer. This way, you can save tons of time, sit back and see how the campaign is going.
Ainfluencer
Ainfluencer makes it easy for businesses and influencers to connect with one another. As a business:
Ainfluencer is designed to assist businesses with their influencer marketing campaigns.
They can create their marketplace campaigns which are published on a marketplace where thousands of qualified influencers can see and make offers. Brands can also find and invite influencers using our advanced search features for location, gender, language, hashtags, number of followers, etc.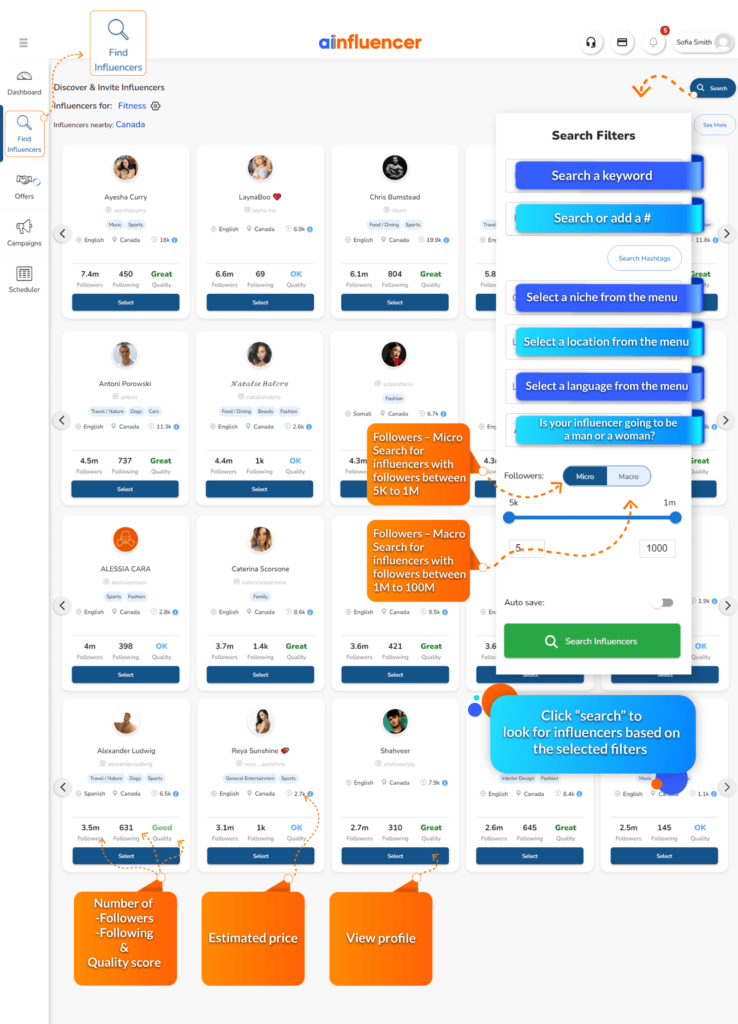 In a nutshell, if you are a brand that doesn't like to pay any platform fees during your full usage of the platform then Ainfluencer is yours. Same for influencers. The main interesting value of Ainfluencer among many others is that you never ever get charged for unlimited usage of the platform forever.
Top 56 Black Models on Instagram in 2023
1- Iman Abdulmajid (@the_real_iman)
Iman Abdulmajid is a black Instagram model who has gained 906K followers on the platform. This entrepreneur and occasional actress rose to fame as the founder of Iman cosmetics.
2- Frantzcesca Casimir (@frantzcesca.casimir)
Frantzcesca Casimir is one of the beautiful black Instagram models and famous fitness trainers. Her Instagram account has earned a lot of attention and 946K followers for highlighting her progress, fitness recommendations, and customer feedback.
3- Nyakim Gatwech (@queennyakimofficial)
Nyakim Gatwech is a famous black Instagram model who has been nicknamed the Queen of the Dark. This Ethiopian-born American model of South Sudanese descent has drawn attention and grown significantly in popularity on Instagram because of her dark skin color.
4- Donnell Blaylock (@therealdonnysavage)
Donnell Blaylock is a famous Instagram black model who has amassed 401K followers on his Instagram account. This real estate agent and model went viral on Facebook and Instagram with a 17-second video of him eating a Hershey's bar titled "Is this too much chocolate, ladies?"
5- Channel Delisser (@chaneldelisser)
Channel Delisser is one of the hottest black models on Instagram. As a fitness trainer and Instagram star, she has gained 1M Instagram followers. She is well-known for posting gorgeous-looking pictures and fitness-related content.
6- Alex Kaufmann (@bahayogi)
Yoga, wellness, and life, in general, are all things Alex loves. Along the way of her yoga journey, she studied and performed Power, Baptiste, Hot, Restorative, Rocket, and Vinyasa Flow Yoga. She has also completed more than 500 hours of yoga teacher training with well-known trainers. Alex specializes in yoga for beginners, flexibility and core training, and cultivating self-love and appreciation through practice and meditation.
7- Adonis Bosso (@septumpapi)
Adonis Bosso was born on 10 July 1990 on Ivory Coast. He is an Ivorian-Canadian male model. He has worked with several modeling agencies like DNA Models, I Love Models Management, IMG Models, etc.
8- Liya Kebede (@liyakebede)
In Addis Ababa, Ethiopia, on March 1, 1978, Liya Kebede was born. She is an actress, model, fashion designer, and advocate for maternal health. She is among the most famous black Instagram models and amassed 260K followers.
9- Beverly Johnson (@iambeverlyjohnson)
Beverly Johnson is one of the black female models on Instagram, an actress, singer, and businesswoman. She made history as the first black woman to grace the cover of American Vogue in 1974.
10- Babeth Lando (@yababeth)
Babeth Lando is one of the popular black Instagram models who is a Congolese actress, model, singer, fitness instructor, and social media influencer. Babeth Lando joined the church choir when she was five years old and started singing gospel music.
11- Lachae Bolds (@lifeaslachae)
Lachae has always been a beauty and fashion maven. While unknowingly building an influencer brand on social media for her original beauty, fashion, and lifestyle video content and postings, she has worked as a makeup artist, hairstylist, and costume designer.
She is one of the most successful black female models on Instagram who has amassed more than 50K followers.
12- ShowMeDmani (@showmedmani)
Dmani is a manager and strategist for social media accounts. She's worked in marketing for almost 8 years on various social media platforms. By involving influencers and communities, she assists companies in increasing brand awareness, loyalty, and advocacy.
This black hottie has nearly 10K followers and is considered one of the micro influencers you can collaborate with.
13- Brittney Q. Hill (@brittneyqhill)
Brittney is the Founder & CEO of FAITH AND FAME®, which is an Entertainment & Media platform dedicated to bridging the gap between Faith and Entertainment, where FAITH and FAME Collide!
This actor, TV host, and producer is one of the beautiful black Instagram models with 16K followers.
14- Jessica C. Andrews (@dressupwithjess)
Jessica C. Andrews is the Fashion Director at Popsugar. She has held previous positions as fashion features editor at Teen Vogue, deputy fashion editor at Bustle, and deputy fashion director at Refinery 29. This cute pretty black girl has gained 27K followers.
15- Arielle (@ari.frcs)
Are you looking for one of the hottest black Instagram models? Arielle is one of them who has gained recognition on Instagram. She has 14.6K followers, and her posts often get tens of thousands of likes.
16- Nessa Sherysse (@nessasherysse)
She started as a makeup artist and then decided to step into body-positive lifestyle blogging. Nessa is one of the most popular black IG models who has 258K followers. She uses her influence to inspire other women that they should love every part of themselves and that they are beautiful.
With over a quarter million followers, this black model is considered one of the macro influencers on this list.
17- Tatyana Joseph (@josephnica)
Tatyana Joseph is one of the hottest black girls on Instagram. As one of the top black Instagram models, she has gained 548K followers. She posts modeling and lifestyle content on her account.
18- Iesha Gilchrist (@ieshathegr8)
Iesha Gilchrist is one of the most followed black models with 426K followers on Instagram. She is also active on other social media platforms like TikTok. Iesha shares photos and videos regarding fashion, family, hair, etc., on her IG account.
19- Denise Osei (@denise.osei)
Denise Osei is a social media strategist with 37.8K followers on her Instagram account. As one of the black IG models, she uses her influence to create and share lifestyle, fashion, and travel content.
20- Isimeme Edeko (@isimemeedeko)
Isimeme Edeko is one of the famous black Instagram models. She shares self-care, fashion, and lifestyle content on her IG account with her 327K followers.
She is also a YouTube star who has achieved recognition there for her Real Talk, Guy Talk web series, personal story times, makeup challenges, and natural haircare tips.
21- lynae vanee (@_lyneezy)
lynae Vanee is one of the best black female Instagram models. She has acquired 735K followers for sharing fashion, lifestyle, and travel photos and short reel videos.
22- Ann Cajour (@cajour)
Ann is a cute pretty black girl on Instagram. She has amassed 264K followers on her Instagram account, thanks to sharing her gorgeous-looking photos.
23- Akinyi Ragwar (@fitsonme)
Akinyi Ragwar is a black Instagram influencer and fashion blogger. She helps you get style ideas for yourself and your friends.
24- Aliya Will (@aliya.will)
Aliya Will is one of the popular black IG models. This beauty influencer and Instagram model has garnered 150K followers.
25- Kelly Augustine (@kellyaugustine)
Kelly Augustine is a plus-sized fashion blogger who shares her personal style with an emphasis on plus-size fashion, beauty, and the NYC lifestyle on her Instagram account.
This black model has inspired many young girls to feel comfortable with their bodies. She is one of the most influential body positive models on Instagram.
26- Goldie (@goldieplusmodel)
Goldie is one of the popular plus-sized black Instagram models who shares everything about fashion and beauty on her Instagram with her 22K followers.
27- Anith Benjamin (@belle_anith)
Anith Benjamin can be one of the best brand ambassadors if you are looking for a micro influencer to promote your products/services. She is one of the most influential black Instagram models who shares fashion and lifestyle content.
28- Tanya Marie (@lifeoftanyamarie)
Tanya Marie who is better known as Life of Tanya Marie, is an Instagram black model based in the Dallas. She is one of the cute African Instagram models. Her African roots run deep, and her culture is a huge part of her identity.
29- Melanin Aesthetics (@itsthemelaninn)
Melanin Aesthetics is one of the black bikini models on Instagram. You can DM for promos and email for collaborations with this cute pretty black girl on Instagram.
30- Melissa A. Henry (@melissaa.h_)
Melissa is a black Instagram influencer with 160K followers. If you are looking for a lifestyle influencer, and beauty and food content, don't miss her account.
31- Angwi Tacho (@angwitacho)
Angwi Tacho is one of the black Instagram girls who has become popular on Instagram for her stunning images. Tacho's photos often show her in natural poses and settings. Her account has amassed over 161K followers.
32- Jade J (@ justjadej)
Jade is a fashion lover, travel enthusiast, and one of the beautiful black Instagram models. She has over 12K followers on her Instagram account, and her posts cover fashion, travel, and lifestyle.
33- Alicia Marie (@ali.mariee_)
Are you looking for one of the cute pretty black girls on Instagram? Then don't miss the chance to take a look at Alicia's IG page and join her 108K followers. Her feed is filled with stunning photos and videos.
34- Rubeiri (@rubeiriplus)
Rubeiri is a plus-size model, and her Instagram account is where she shares plus-size styles, hair and beauty, and travel photos and videos with her 126K followers.
35- Mia (@miatheboss)
Mia is the next plus-size fashion model, lifestyle, and beauty influencer on Instagram on our list of black female Instagram models with 161K followers. Give her a follow and enjoy her stunning photos.
36- Frilancy Hoyle (@frilancy)
Frilancy Hoyle is an Instagram black influencer with 106K followers who produces content about fashion, lifestyle, home, and travel on her Instagram account. She is in love with wearing outfits in vibrant colors.
37- Dominique A (officialdominiquea)
Dominique is a lifestyle, fashion & beauty enthusiast with 126K followers on Instagram. Her Instagram account is a must-follow if you are also enthusiastic about the above-mentioned kinds of content.
38- Rochelle Johnson (@iambeauticurve)
Rochelle Johnson is an American curvy model, YouTuber, and Instagram star with 487K followers. Her modeling, lifestyle, gorgeous photos, and videos helped her gain popularity on social media platforms, especially Instagram.
39- Frankie (@frankietavares)
When Frankie Tavares entered and won a model competition for Monif C., she quickly gained fame as a result of being featured in the designer's 2015 bikini campaign. This popular black Instagram model gained 185K followers on her IG account.
40- Kaila Jenice (@thekailajenice)
This curly fashion blogger provides you with everything you need to know about beauty, lifestyle, and fashion. With more than 113K followers on Instagram, Kali is another macro black influencers on Instagram.
41- Tiffany Nichols (@tiffanynicholsdesign)
Tiffany Nichols is a beauty and lifestyle content creator who has amassed 47.7K followers on her Instagram account. This black influencer is the brand ambassador for OTR Cocktails.
42- Shelcy & Christy (@nycxclothes)
These two sisters were born and raised in Haiti. They are the cofounders of NYCxClothes platform which is a visual storytelling platform exploring New York and fashion through a multicultural lens. Their Instagram account is where these black Instagram models share their modeling photos and videos.
43- Tamu McPherson (@tamumcpherson)
McPherson is a native of Milan who was born in Jamaica. She is an inspiration to follow due to her sense of style and creative eye. Her feed consistently features a splash of elegance and color, and you can tell that she has the guts to look for, try out, and pull off new styles. This black Instagram model has 526K followers on her account.
44- Imani Randolph (@champagnemani)
Imani Randolph is a black model, freelance stylist, and fashion designer. She is a genuine follower of all things fashionable. Therefore, you can always find her experimenting with new clothes, whether it be a leather coat, baggy pants, or just a black t-shirt and black swimsuit.
45- Jason Boateng (@jasonboatengofficial)
Jason Boateng is a fashion creative director, TV stylist, and designer. His Instagram profile makes it clear why he is a black Instagram model to follow with just one glance. He adores wearing hats and has an elegant sense of style.
46- Temiloluwa Otedola (@temiotedola)
Temi Otedola is a fashion, beauty, art, and lifestyle blogger who was born in Nigeria. She has more than 1.8M Instagram fans.
47- Mecca (@meccajw)
Mecca James-Williams is a stylist, editor, consultant, activist, and black influencer on Instagram. She has collaborated with the news, politics, beauty, fashion, and celebrity publication Bustle, where she has helped create stunning looks for stars.
48- Adwoa Aboah (@adwoaaboah)
Adwoa Aboah is a British fashion model. In December 2017 she appeared on the cover of British Vogue. She has also been on the cover of American Vogue, Vogue Italia, Vogue Poland, and i-D. In 2017, the fashion industry voted her as Model of the Year for models.com.
49- Tyson C.Beckford (@tysoncbeckford)
Tyson Beckford is an American model and actor best known as a Ralph Lauren Polo model. He was also the host of both seasons of the Bravo program Make Me a Supermodel. Beckford has been described as one of the most successful black male supermodels of all time.
50- Naomi Campbell (@naomi)
Naomi was born in England in 1970 and has been a professional model for 36 years. Naomi was one of the first people to be considered an elite "supermodel" when the term became popular in the 1980's.
51- Ulises JR (@ulissesworld)
Ulises is a black fitness model that, across TikTok, Instagram and Youtube, earns an estimated 20 million dollars a year. Ulises considered himself to be a skinny teen and started bodybuilding during high school in 1995.
"My overall motivation is to be a part of history and be compared with legends."
52- Tyra Banks (@tyrabanks)
The Californian Tyra Banks was born on December 4th, 1973. Tyra has a whole slew of accolades – one being that she became the first black bikini model to land the cover for Sports Illustrated's Swimsuit Edition. Tyra is the founder of the TV series America's Next Top Model, she has won two Emmy awards, and she started her own successful cosmetics company in 2014.
53- Jeremy Meeks (@jmeeksofficial)
Jeremy got his unlikely start when his mugshot captivated the internet. A former Crip, he was born in Tacoma, Washington, in 1984 and signed a modeling contract with White Cross Management after serving 13 months of his sentence.
54- Adut Akech (@adutakech)
Adut Akech is a black Instaram model that was born in South Sudan in 1999, but she and her family moved to Australia at the age of 7 as refugees. Adut has used her experiences as a refugee to speak on behalf of the United Nations High Commissioner for Refugees.
55- Lira Mercer (@lira_galore)
Lira Mercer is a former exotic dancer, hip hop model, and one of the famous black Instagram models with 4.2M followers. She was born in Houston, Texas, on August 31, 1993. Lira has a great physique and confirmed that she has opt-in on plastic surgery.
56- Imaan Hammam (@imaanhammam)
Imaan Hammam is one of the most famous black Instagram models, with 1.7M followers. This actress and media personality is popular for being on the cover of Vogue more than 18 times, and she is on the Top Sexiest Models list by Models.com.
Conclusion
In conclusion, black models are making a powerful statement on Instagram, and their presence is only going to grow in the years to come. With their undeniable talent, beauty, and drive, these women are sure to leave their mark on the industry. So, if you're looking for some inspiration and motivation, be sure to check out some of the top black Instagram models of 2023!
1- Who has the most followers on Instagram 2023?
Instagram accounts with the most followers worldwide 2023. Cristiano Ronaldo has one of the most popular Instagram accounts, with more than 606M followers.

2- Who is the hottest black model?
Naomi Campbell is one of the most recognizable black models in the world. More than 500 magazine covers featuring Naomi have been published. Additionally, she was the first black model to be featured in TIME.