We now live in a new era thanks to the Internet and technological development. In 2023, businesses will need to collaborate with digital influencers if they want to reach their target audience.
There are many different ways to do this, and some of the most popular methods include paid advertising, content marketing, and social media promotion. By working with digital influencers, businesses can create content that is appealing to their target audience and increase brand awareness.
So digital influencers are one of the biggest talking points amongst marketers in recent times. High-level brands usually prefer to collaborate with mega influencers and celebrities.
But recently, there's been a shift from using celebs, and now we see "smaller" and mid-level brands look to micro influencers and macro influencers due to their strong relationships with their audiences.
Here, we will explore the pros of harnessing digital influencers, how to differentiate the best right ones for your brand, 25 top digital influencers, how a digital influencer can make money, and best practices for finding and interacting with them!
What is a digital influencer?
A digital influencer is someone who has the power to influence others through the social media content they create. They are also referred to as "creators," which means they are successful content creators who have gained a loyal and engaged audience.
Digital influencers have a large following on social media platforms like Instagram, YouTube, and Facebook. They're known for helping to promote and sell products through their social media platforms.
How To Find Top Instagram Influencers?
The world of digital influencer marketing can be intimidating at first, but don't worry. Here are the 5 best ways to find Instagram influencers.
Use influencer marketing tools or influencer marketplaces.
Do relevant Google searches.
Check your competitors' followers to be able to identify influencers who are interested in your industry.
Do relevant hashtag searches to find highly engaged Instagram influencers.
Look at your own followers for potential influencers.
We've got a strategic approach that'll help you nail influencer marketing much more easily and faster. Here it is:
Find The Right Influencers With Ainfluencer
First, you'll need to find the right Instagram digital influencers for your brand. This is dependent on what you're selling and the brand image that you're trying to build. It's always a good idea to use data-driven decisions when it comes to building a business. With Instagram, there are plenty of tools you can use to find the best digital influencers for your brand.
Ainfluencer is a high-quality influencer marketplace that can connect you to a wealth of influencers who are ready to get involved with new, exciting brands like yours. Simply search for the type of influencers you're looking for, using custom search filters such as keywords, locations, hashtags, language, gender, etc., and you'll be presented with a list of high-potential influencers.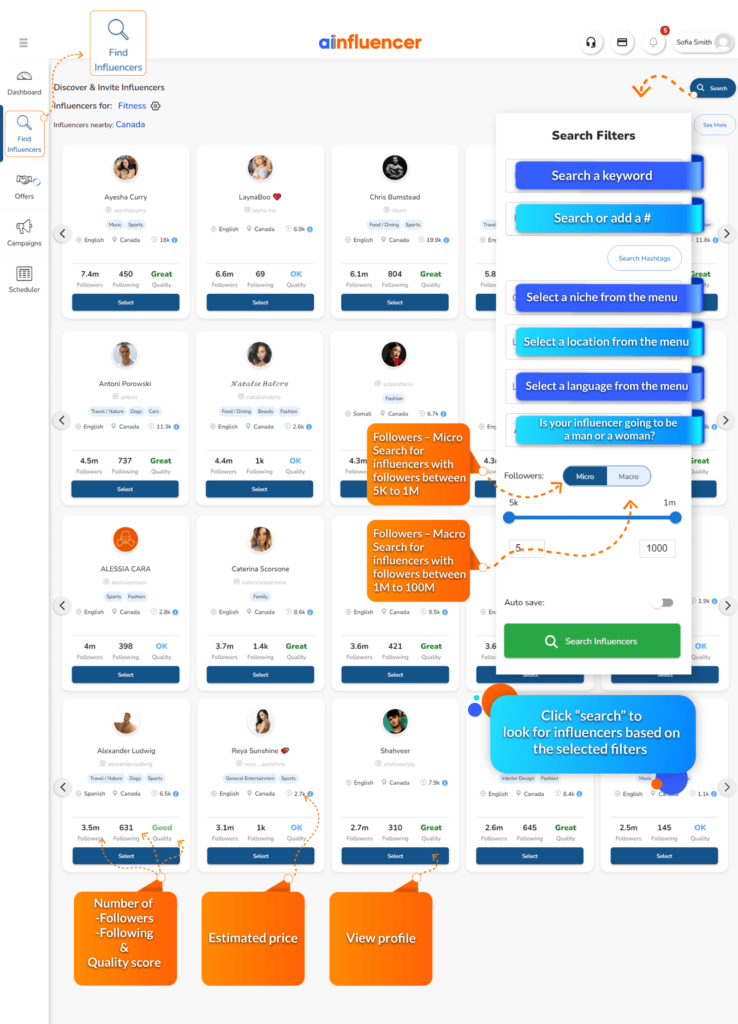 Here are some of the features of Ainfluencer in detail:
Its DIY package is 100% free, and there are pricing plans for those brands that want to leave everything up to Ainfluencer.
The automatic system keeps track of your campaigns and holds funds until you confirm the necessary material, so it's risk-free.
Artificial Intelligence is used on the platform to help brands discover influencers.
Ainfluencer shows your account information like engagement rate, average comments and likes, comments to followers ratio, and likes to followers ratio for influencers.
Brands can create a free marketplace ad that is posted to the marketplace where thousands of qualified influencers can see and make offers.
Brands and influencers can negotiate the marketing terms and close the deal right in the app using the built-in chat box)
Ainfluencer offers you real-time analytics and tracks your performance from start to finish.
Top 25 digital influencers on Instagram
1- Chiara Ferragni (@Chiaraferragn)
Chiara Ferragni is an Italian entrepreneur, fashion influencer, and designer who started her fashion blog, The Blonde Salad, in 2009 and has subsequently used it to launch a successful international retail business. She came in #1 place on Forbes' ranking of the Top Fashion Influencers in 2017.
2- Amanda Essen (@svagtillstark)
EHFA & FISAF personal trainer, model, blogger, and bikini fitness competitor Amanda Essen currently has 54.7k followers on Instagram.
She has transformed from a sick, depressed, and burned-out girl who was anorexic and weak to a confident, joyful, and inspired woman who wants to encourage others to lead healthier lives.
3- Lana Ector (@lanaector_)
The well-known fitness influencer Lana Ector was born in the US. This fitness instructor and social media personality is recognized for having co-founded the Atlanta, GA-based studio Gymnetics Fitness. She also co-created the Ectorcise fitness challenge with her mother.
4- Jin Young Lee (@mowgli.j)
Jin Young Lee is one of the well-known digital influencers who is active on Instagram and TikTok. He has 303K followers on IG and more than 3M followers on TikTok. He shares fun videos and his fitness workout posts and Stories with his followers to motivate them to live healthier and happier lives.
5- Jelena Morkuniene (@lenalenaxx)
If you are looking for a digital influencer who is a model, fashion lover, happily married wife, and mother of two kids, no one is better than one of the ideal lifestyle influencers Jelena Morkuniene who has gained 251K followers on Instagram.
6- Colleen (@colleen.travels)
Colleen is one of the digital influencers who has a passion for travelling and yet, is one of the lifestyle Instagram influencers in the US.
Her 400K Instagram followers may witness what life is like in various regions of this large continent, as well as road trips to several states and treehouses at The Mohicans resort.
7- Toni Olaoye (@toniolaoye1)
Toni is a Canadian fashion blogger with more than 150K followers. She recently started blogging and became addicted right away. She is able to collaborate with brands she adores through her Instagram account and share her opinions on matters about fashion, beauty, and lifestyle.
8- Andru Edwards (@andru)
If you are looking for one of the best digital influencers who is passionate about technology, with more than 222K followers, Andru Edwards is among the most well-liked tech influencers on Instagram.
Edwards also works as a TV personality and presents a number of tech-related programs. He posts information and opinions on the newest technologies and gadgets on his Instagram account.
9- Isaac (@canoopsy)
A well-known Toronto-based tech influencer by the name of Canoopsy, Isaac, hails from that city. By making tech videos, he increased his Instagram following to over 36K. Canoopsy.media, a technological website, was founded by him.
10- Maddie Goetz (@Madzgoetz)
Chicago-based food influencer Maddie has over 30K followers. On her Instagram account, she posts articles on travel, lifestyle, and restaurant and food reviews. Maddie is the ideal choice if you're looking for a food influencer to increase brand engagement.
11- Lucky Lopez (@Luckylopez)
With 417K followers, Lucky Lopez is one of the most popular Instagram car influencers in the automobile industry. This automotive specialist covers all aspects of vehicles, including used cars, rental cars, auto repair, the automotive market, and car dealerships.
12- Sebastian Bach (@Sebastianbach)
Are you looking for one of the digital influencers which is a successful musician? One of the greatest composers and singers of all time is Sebastian Bach, a well-known figure. He tours frequently and has 411K Instagram followers, and is considered one of the top music influencers.
13- Matt Talbert (@talbertart)
Are you searching for a digital influencer who is a professional artist? Matt Talbert is among the well-known art influencers on Instagram. He is a contemporary oil painter living in Southern California. He has had the honor of being named one of the "Top 100 Figurative Artists Working Now" by PoetsArtists Magazine.
14- Candice Huffine (@Candicehuffine)
One of the leading plus-size models and body positive influencers, Candice Huffine, is represented by IMG Models. As a former teenage beauty queen, she signed her first modeling commercial contract in 2000 and has since crossed over from the commercial world into high fashion.
15- Shenaz Treasurywala (@Shenaztreasury)
Shenaz is a digital influencer who has traveled to many locations across the world as an actress, model, and, most importantly, a travel influencer. She produces excellent material about vacation destinations as well as body positivity and mindfulness.
What Is A Virtual influencer?
Virtual influencers are kind of digital influencers. A virtual influencer is a digital character with human characteristics, features, and personalities created in computer graphics software.

With more of them appearing on Instagram every week and more businesses lining up to participate in this cutting-edge form of marketing, virtual influencers are becoming a real force to be reckoned with in the influencer marketing industry.
Here is a list of top 10 virtual influencers you can collaborate:
Top 10 Virtual influencers
1- Lu do Magalu (@magazineluiza)
This virtual influencer was developed in Brazil in 2009. She was created to advertise iBlogTV for Magazine Luiza, which is why she was given the name Magula. On her Instagram account, which has roughly 5.8 million followers, she posts unboxing videos, product reviews, and software tutorials. Since 2020, Magula has received the most global followers as a virtual influencer.
2- Miquela (@lilmiquela)
Virtual robot model Miquela Sousa, also known as Lil Miquela, has collaborated with renowned fashion houses like Prada, Dior, and Calvin Klein. She also released one single, "Not Mine", in 2017 and debuted her first music video, "Hard Feelings", at Lollapalooza's online festival.
This freckled Brazilian-American beauty was made by the Los Angeles-based company Brud. She has more than 30,000 Twitter followers in addition to her 3 million "Miquelites" Instagram followers and 3.6 million TikTok subscribers.
3- Knox Frost (@knoxfrost)
The most famous male virtual influencer on Instagram is Knox Frost. Atlanta is where the 20-year-old is from, according to his Instagram account.
He struggles to fit in, just like so many other young guys do nowadays. Although American men in their early 20s make up the majority of his audience, women actually make up slightly more than a quarter of his total viewership.
4- Guggimon (@guggimon)
This sneaky bunny is the property of Superplastic, the foremost producer of animated synthetic celebrities, apparel, and fashionable toys. Any horror-related topic is one of his interests. Using his own words, he has referred to himself as a "fashion horror artist & mixtape producer with obsessions: handbags, axes, fancy toys, Billie Eilish, & The Shining."
5- Noonoouri (@noonoouri)
Joerg Zuber, the creator of the Munich, Germany-based creative agency Opium Effect created Noonoouri which is another notable virtual influencer.
She is a digital character that is 19 years old and has worked with several of the biggest luxury fashion labels, including Bulgari, Versace, and Lacoste. She has revolutionized the fashion industry.
6- Shudu (@shudu.gram)
Another well-known computer-generated or virtual Instagram influencer and model is Shudu Gram, who was called the first digital supermodel in the world. She was actually made in 2017 by fashion photographer Cameron-James Wilson, who was inspired by the Barbie doll of the South African princess.
7- Imma (@imma.gram)
Imma, who is originally from Tokyo, emerged in July 2018 and holds the honor of becoming Japan's first virtual model. Since then, numerous headlines have mentioned this virtual girl with the recognizable pink bob. She has been chosen as one of the "New 100 Talent to Watch" by Japan Economics Entertainment.
8- Bermuda (@bermudaisbae)
Bermuda is one of the more experienced virtual influencers, despite the fact that her outer appearance belies this. She was born in Los Angeles and first appeared in December 2016.
9- Barbie (@barbie)
No one needs to introduce Barbie. It was just a matter of time before this late 1950s beauty with blond hair turned to social media as a virtual influencer to attract additional admirers. She has a large following across all of the platforms, particularly on YouTube, where she plays the character of a vlogger, but Facebook is where she has the most fans.
10- Thalasya Pov (@thalasya_)
The last digital influencer on our list who is considered a virtual influencer, is Thalasya. Thalasya, who is originally from Jakarta in Indonesia, travels all across her "home country" in search of stores and balconies to explore. Although staycations are currently popular, she nonetheless traveled all the way to the United States to a recording studio in Florida.
Which Digital Influencer Is Best For Your Brand?
It all depends on what your goal is when investing in a digital influencer – ask yourself:
Am I trying to generate more sales or gain more brand exposure?
Do I have an expansive budget or a limited one?
Do I want to work with someone established, or am I willing to work with someone on the rise?
If you want to generate sales and have a limited budget – working with one micro influencer is best for you. Based on the examples provided earlier, the engagement rate of these influencers is much higher, providing more engaged audiences likely benefiting from the sale increase for your product/service.
This is great for start-ups who want to make money right away or for established brands/companies who want to roll out a new product and want to generate cash from it quicker.
If you are focused on brand engagement and getting your name out there to a large niche, the macro influencer is for you. As mentioned before, the macro influencer specialises in growing their followers with grade A content enabling marketers to make use of their high volume, reaching a mass number of users.
Authenticity is Key.
Important considerations when selecting a digital influencer is, do they match your brand values? Are they strong believers in your product or service? Do they use it themselves? These questions are very important because followers like authenticity. They don't want to be tricked into buying a product.
Conclusion
In conclusion, as we move further into the digital age, it is important to keep up with the latest trends and collaborate with the top digital influencers. By 2023, these 25 individuals will be some of the most influential voices in the online world. So make sure to keep an eye on them and consider working with them to help promote your brand or product.
If you want to find more digital influencers easily, you can sign up on Ainfluencer and search for thousands of influencers.
1- What is Digital influencing?
The ability to use social media platforms to influence and inspire behavior regarding decisions, ideas, and ideologies.

2- Who is the most popular virtual influencer?
Lu do Magalu is the most followed virtual influencer.