Digital influencers are one of the biggest talking points amongst marketers in recent times. We've seen high-level brands partner up with Mega influencers like Kim Kardashian, Kylie Jenner, Selena Gomez, Neymar, Cristiano Ronaldo, and much more.
Recently, there's been a shift from using celebs, and now we see "smaller" and mid-level brands look to micro-influencers and macro-influencers due to their strong relationships with their audiences.
Here, we will explore the pros of harnessing digital influencers, how to differentiate the best right ones for your brand, and best practices for finding and interacting with them!
The Effectiveness of a Digital Influencer
You might be wondering, why do these brands pay for digital influencers? Brand association is huge and getting in the heads of the niche audience they are targeting by using the voice and face of someone they look up to, is the whole ideology behind influencer marketing.
This actually makes things much easier for brands in terms of finding their intended target audience. By leveraging an influencer's audience, there's the opportunity to boost sales, increase awareness, and ultimately, influence the audience into purchasing a particular product or service.
Micro-Influencers
A high-level Instagram model, fashion, makeup, and beauty influencer, @stenss is well known for her vibrant look which has caught the eye of many brands. She has 39.6K followers with a whopping 11.3% engagement rate! This makes her a gold mine for brands within her niche.
An example of high-level micro-influencer marketing includes the campaign ran by @stenss and @natalysalonandspa!
The post above received a strong 6174 likes and 88 comments with an engagement rate of an incredible 16%! We can predict that the return on investment for Nataly Salon in terms of sales and new customers was solid as 6262 new users saw the work she had done.
Word of mouth spreads, posts are shared, and so forth, creating interest in the Nataly Salon brand from new audiences and the willingness to purchase based on their unique nail designs.
Engagement Rate is Important
Of course, the more followers the digital influencer has, the more brand awareness, which is what macro-influencers have over micro-influencers. However, the engagement rate is essential as the more engagement, the more receptive the audience is of what they are scrolling through.
The target audience can quickly scroll through your post, not engage with it, meaning they aren't paying attention to the content. Engagement rate is the most reliable indicator of whether your content is effective. The potential for micro-influencer marketing is vast, and many smaller companies looking to grow should take advantage.
Macro Influencers
Nitraab is a high ranked macro-influencer on Instagram with 211k followers and a solid 3.5% engagement rate. She is well-known for being a beauty, makeup, lifestyle, and mommy influencer amongst her audience.
An example of a high-level macro-influencer campaign was one ran by @nitraab – a beauty, makeup, and a mommy influencer – where she promoted a tanning lotion for @sally_hansen.
The above-sponsored post saw an engagement of 2,405 likes and 39 comments with an engagement rate of 1.16%, which is extremely low. This is the downfall of the macro-influencer, but the reach of this post is likely much higher as Nitraab has 211k followers. From my gathering, the whole point of this was to increase product awareness as opposed to direct sales increase.
The number of engaged users was lower than what we saw in the previous micro-influencer case with Stens, who had over 4000 more users engaging with her post yet has 174k fewer followers. It just goes to show you that macro-influencers are used to reach due to follower count and micro-influencers are there to increase sales.
According to a study conducted by Launch Metrics, the most effective tier of digital influencer according to cosmetic, fashion and luxury marketers in the largest markets is the micro-influencer with the mid-tier (macro) influencer not too far off.
The study conducted highlights the value the micro/macro-influencers brought to marketing campaigns with the number one reason being that they have a better connection with their target consumers.
According to the survey respondents, before working with a digital influencer, the most important pillars looked at the included rate of engagement and the content quality.
Which digital influencer is best for your brand?
It all depends on what your goal is when investing in a digital influencer – ask yourself:
Are am I trying to generate more sales or gain more brand exposure?
Do I have an expansive budget or a limited one?
Do I want to work with someone established, or am I willing to work with someone on the rise?
If you want to generate sales and have a limited budget – working with one micro-influencer is best for you. Based on the examples provided earlier, the engagement rate of these influencers is much higher, providing more engaged audiences likely benefiting the sale increase for your product/service.
This is great for start-ups who want to make money right away or for established brands/companies who want to roll out a new product and want to generate cash from it quicker.
If you are focused on brand awareness and getting your name out there to a large niche, the macro-influencer is for you. As mentioned before, the macro influencer specializes in growing their followers with grade A content enabling marketers to make use of their high volume, reaching a mass number of users.
Authenticity is Key
Important considerations when selecting a digital influencer is, do they match with your brand values? Are they strong believers in your product or service? Do they use it themselves? These questions are very important because followers like authenticity, they don't want to be tricked into buying a product.
How to Find Instagram Influencers?
The world of digital influencer marketing can be intimidating at first, but don't worry. We've got a strategic approach that'll help you nail influencer marketing.
1) Find The Right Influencers with Ainfluencer
First, you'll need to find the right Instagram digital influencers for your brand. This is dependent on what you're selling, and the brand image that you're trying to build. It's always a good idea to use data-driven decisions when it comes to building a business. With Instagram, there are plenty of tools you can use to find the best digital influencers for your brand.
AInfluencer can connect you to a wealth of influencers who are ready to get involved with new, exciting brands, like yours. Simply search for the type of influencers you're looking for, using keywords like "women's fashion" for example, and you'll be presented with a list of high-potential influencers.
With Ainfluencer, receive AI-powered recommendations for your brand matching the most relevant digital influencers which will bring you the best results. Whether that be brand awareness or sales, we have the solution!
It's very easy to use! Just set up your brand profileand get started with Ainfluencer as a brand.
Once you create a brand profile, your dashboard will give you access to many things!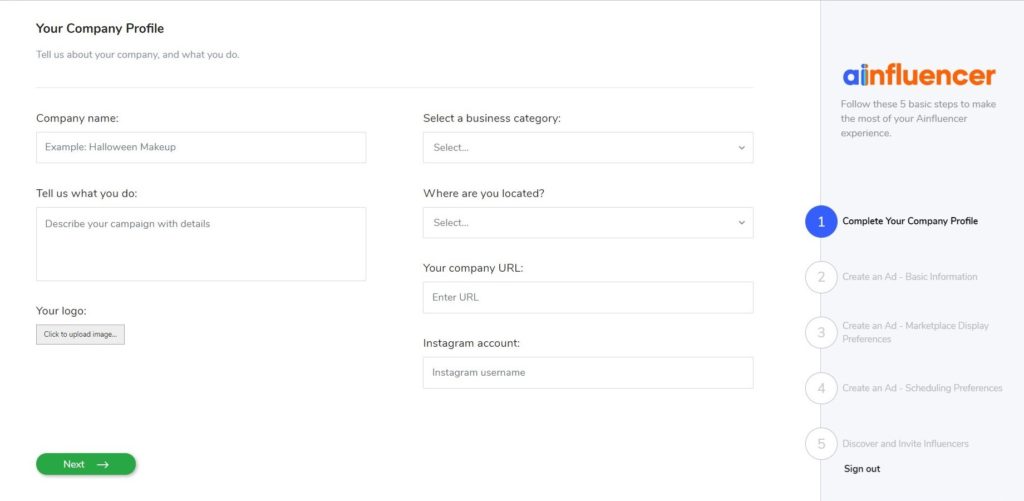 Look at pending offers, outstanding and paid invoices, scheduled content via the publish schedule calendar, messages from influencers. Also, the left-hand pane gives you access to many other options!
Easily filter and find the right influencers for your brand! Our InfluSense AI suggestions feature pairs your brand with the right digital influencers with one click of a button!
Next, create a campaign so influencers can apply to it via our mobile app! Our campaign management tool below allows you to message influencers, post new ads, explore influencers, pay invoices, view campaign reports, and schedule content!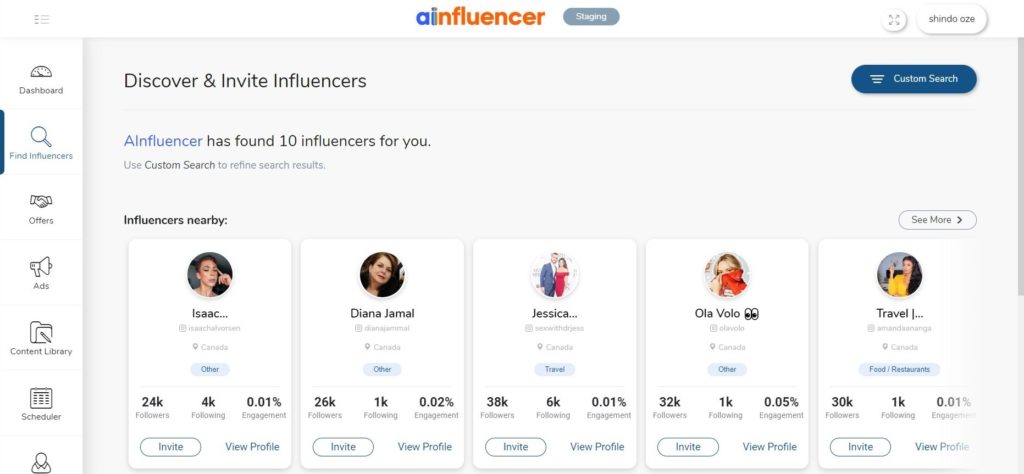 It's an easy setup process and we've made it simple enough for anyone to get the hang of. Many of these other influencer marketing places can be a lot to tackle and get the hang of. We wanted to make it easy for brands and influencers!
For now, Find Influencers with Our Online Database!
You can also search for Instagram influencers manually with tools like Influencer Discovery Database. Search for terms related to your niche, and you'll see which users have the highest engagement. Later, you can reach out to those digital influencers directly.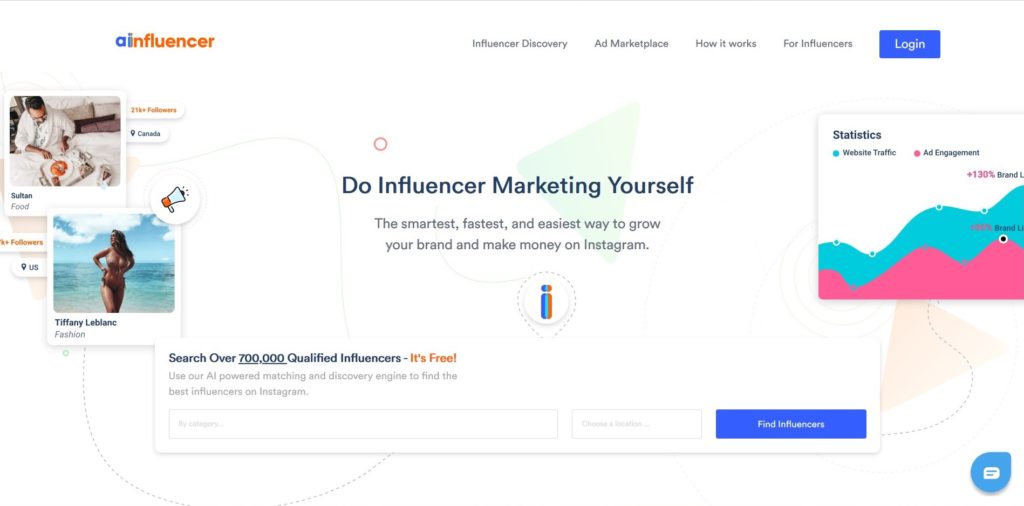 The platform is clean and simplistic offering everything you'd need to understand how well these influencers are performing on a total basis and also on a week by week basis.
You can filter digital influencers via location, followers, tags and estimated media value, and sort by various parameters also.
It is the best way to find various Instagram accounts by different criteria. Discover Ainfluencer's influencer marketing reports show an influencer's engagement rate, average likes, average comments, statistic charts, and much more!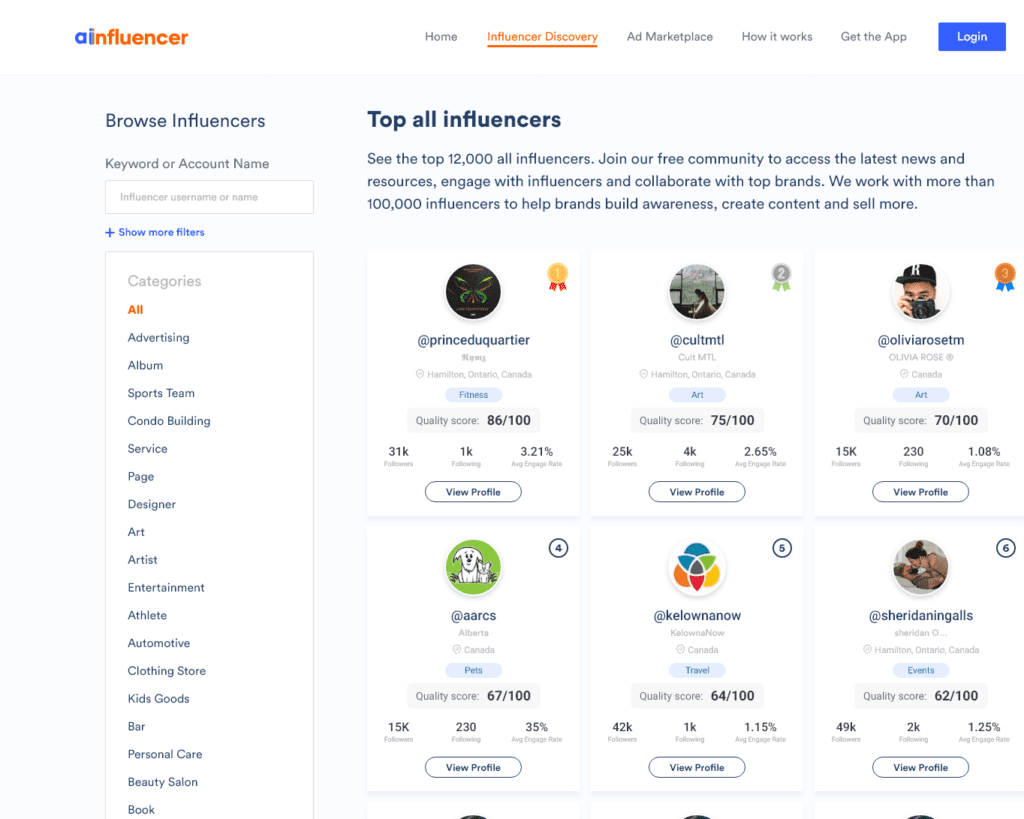 2) Form a partnership with influencers
Once you've found the right influencers for your brand, you'll need to start making steps towards forming a business partnership with them. First, send your chosen influencers a brief introduction to your brand. Give them an idea of the products that you're trying to sell, and provide them with some information about what you're looking for from their posts. You'll also need to compensate influencers for their services. Typically, digital influencers are paid in one of two ways:
By flat monetary compensation (say, $200 for one post promoting your brand)
By a commission-based payment, like 10% of every sale that they bring in.
You can measure the sales a particular digital influencer generates by providing the influencers with a discount code. You can assume that every buyer who enters that discount code came from that influencer, and you'll know how much commission you need to pay. Decide which payment method fits your business best, and include your choice in your initial pitch to influencers.
3) Working with influencers
Once you've agreed with your influencers, it's time for them to get to work by promoting your brand. You'll likely need to send your influencers a couple of products that they can use in their campaigns (you want their followers to notice the influencers wearing or using your products).
In Conclusion
Now you have an understanding of the impact influencer marketing has and what it can do for your brand, ensure you are a VIP member for the AInfluencer launch in January 2020. We are revolutionizing the influencer marketing industry with our marketplace, you don't want to miss out!