Using different types of influencers to promote your business makes sense, right? What isn't there to love about outsourcing your marketing to somebody with an engaged audience that is excited to hear what they have to say. That's when you should find influencers to collaborate with. If you happen to look for Russian Instagram influencers, look no further than this article. 
However, if you want to check out more influencers in Russia, we recommend you use influencer marketing platforms to find the right influencers based on your preferences.
In this article, we'll teach you how to easily find the right influencer. And if your right influencer happens to be Russian, then you're in for another treat.
Because in this edition, we'll also be discussing the top 20 Russian influencers to work with.
Let's get started!
Top 25 Russian Instagram Influencers
If your target audience is in Russia or uses the Russian language, it is better to find a Russian influencer on Instagram for collaboration because they can spread your name in the market you want. Check out the following list of top Russian Instagram influencers. 
1. Vasilisa Volodina
With 1M followers, Vasilisa Volodina is a Russian Instagram influencer and a TV personality on the show 'Let's Get Married'. The majority of her photos are personal and let her fans get a glimpse into her life.
2. Angelica Andreeva
Angelica Andreeva is a Russian Instagram model born on March 27th, 1994. This hot Russian girl is mostly into fashion, so she usually dresses up for her 187K followers.
3. Viktoria Raidos
The 'Russian Witch', Viktoria Raidos, is also known as 'The Elf' among her 1.6M followers. Viktoria is a well-known Russian magician and writer. She believes this power is her gift and wants to share her knowledge about 'magic.' Accordingly, she runs seminars and courses about this subject.
4. Vlad Berenich
Known for his style and fashion, Vlad is a Russian Instagram influencer and model with 760K followers. Therefore, if you look for a male model to market your clothing brand, he is the perfect accompaniment.
5. Alina Zagitova
You may have seen Alina in action during the 2018 Winter Olympics. She is a famous figure skater and Russian Instagram influencer who has won numerous awards in her sport and is beloved in Russia. As a famous Russian girl on Instagram, Alina has 1.1M followers and is currently the brand ambassador for PUMA.
6. Tatiana Korsakova
With 1.1M followers, Tatiana is a famous Russian Instagram model, influencer, and actress. She owns a luxury brand called 'Vaara,' which can be found on her Instagram page. She also likes to create Lifestyle content that gives an insight into her life.
You can see the complete list of lifestyle influencers on Instagram on Ainfluencer.
7. Alla Bruletova
With a love of fashion and travel, Alla Bruletova is an Instagram lifestyle influencer with 1.7M followers. Since she is into fashion, she mostly promotes clothes on her Instagram account.
8. DARIYAA MIR
Dariyaa is a Russian influencer, singer, entrepreneur and among the most followed Russian models on this list with over 2 million followers.
9. Aleksa
Being a mom is the most crucial part of Aleska's life, that's why she frequently posts content about her family and her experiences as a mother. Although she is mostly considered an Instagram mom influencer, she also likes to tie in fashion every now and then. Therefore, her Instagram account, with 713K followers, will be a great place for moms who want to stay fashionable.
10. Elena Kukoyaka
With great talent in comedy, Elena enjoys using her humor and family to create funny content. Although at the beginning it was more for entertainment, she could reach 880K followers and become a famous Russian Instagram influencer. Afterall, it seems more people want social media to make them smile and get them out of the serious world outside!
11. Rustam Kungurov
With the help of his sister, Rustam owns a bakery called 'Tortik Annushka.' His 153K followers stay tuned for his uniquely designed cakes and lifestyle content.
12. Tanya Alkhimova
With 23.5K followers, Tanya is among the Russian girls on Instagram on this list with the fewest followings. However, she has a great engagement rate, which shows how connected she is with her followers. On her profile, you'll find a lifestyle theme and an abundance of cat photos.
13. Khabib Nurmagomedov
Let's meet one of the Russian celebrities on Instagram. Khabib is a former professional mixed martial artist known for being the longest-reigning champion of the UFC lightweight division. His workout and MMA content have attracted over 34M followers.
14. Olga Buzova
As the second most-followed Russian Instagram influencer after Khabib Nurmagomedov, Olga Buzova has 23.2M followers on Instagram. She is one of Russia's most famous singers and entertainers.
15. Timur Ildarovich Yunusov
Hip-Hop is one of the most popular music genres in Russia. That's why singers in this genre have so many followers on social media. Timur, better known by his stage name Timati, is a Russian hip-hop recording artist, record producer, actor, and entrepreneur, with 20M followers on Instagram. His content is based mainly on his brand and lifestyle.
16. Pavel Volya
With 15M followers on Instagram, Pavel is one of the Russian influencers who is mainly famous comedians known for his time on 'The Comedy Club'. Check out snippets of his comedy skits on his Instagram profile.
17. Valeriya Chekalina
Under the handle ler_chek, Valeriya is one of the Russian Instagram influencers who has over 10 million followers. Her Instagram page shows her luxurious lifestyle and family life.
18. Nastya Ivleeva
If you're interested in meme-culture and goofy humor, then consider following Nastya Ivleeva's, a Russian Instagram influencer with 18M followers. She is also well-known on other social channels like youtube and TikTok.
19. Irina Shayk
The Russian model, Irina Shayk, is the first Russian to be featured on the cover of Sports Illustrated. Although she is one of the most famous Instagram models, her popularity increased when she became Chris Ronaldo's partner. As a well-known figure in both Russian and American cinema, Irina has 22.4M followers on her Instagram.
20. Goar Avetisyan
Known as a world-famous makeup artist, Goar is a beauty influencer with 11.7M followers on her Instagram. Check out her Instagram for some amazing tips and tricks.
21. Mikhail Litvin (@mikhail_litvin)
One of the famous Russian influencers is a vlogger called Mikhail Litvin. According to what he usually shares with his 14.4M followers, he likes cars and adventure. Therefore, he can be on the list of Instagram car influencers.
22. Arthur Pirozhkov (@arthurpirozhkov)
Although Arthur has fewer followers as Russian celebrities on Instagram, he is known as a celebrity. This famous actor, singer, and showman has 10M followers on his Instagram. Furthermore, most of his posts are about his family and lifestyle.
23. Helen Yes (@helen_yes1)
Known as a famous Russian girl on Instagram, Helen is a singer and TV host with 10M followers. Most of her fans know her from her music. However, she has a great style too.
Therefore, despite being well-known in the music world, Helen is a Russian influencer who is into fashion too.
24. Victoria Odintcova (@viki_odintcova)
Meet one of the most popular Russian Instagram models, Victoria Odintcova, who has collaborated with several brands, including Guess and Dolce & Gabbana. Furthermore, with 5M followers, she does modeling for clothing brands and fashion publications.
25. Ekaterina Koba (@ekaterinakoba)
This young model is a macro influencer with 585K followers. Ekaterina has an interesting lifestyle which is popular among her fans. She shares her travel photos, photoshoots, and talks about her modeling career.
See the complete list of Instagram influencers in Russia.
How Can I Connect with Influencers?
There are a ton of things that get in the way of finding the right influencer – time, complexity and the options available to you. Plus, you might not even know where to start.
Here are 3 ways to easily connect with influencers: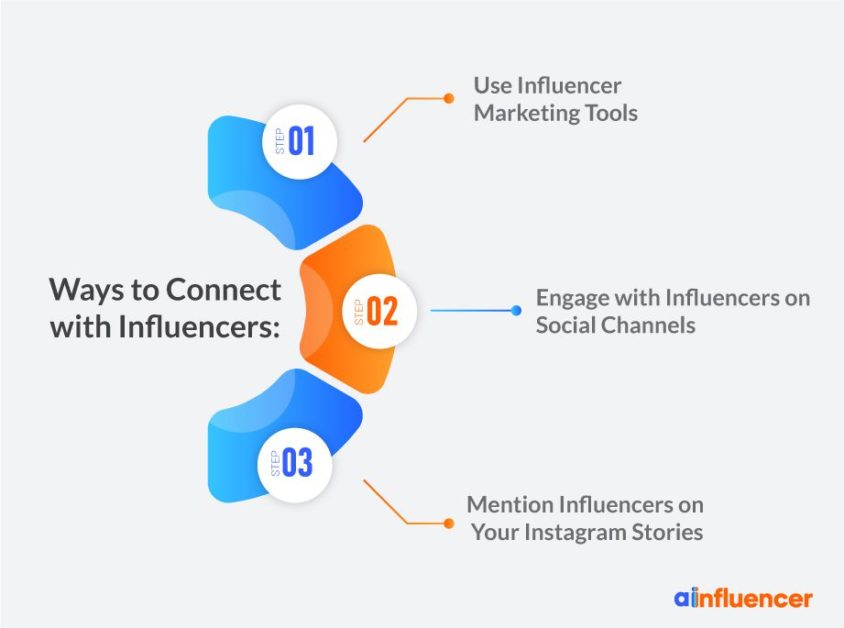 1. Use Influencer Marketing Tools
When it comes to finding influencers, nothing can be as helpful as influencer marketing hubs. With the help of these platforms, you can accelerate the speed of finding the right influencer for your business.
Ainfluencer is an influencer marketplace that does the hard work for you! You can create ads, discover influencers, and collaborate with them for free.
Additionally, you can discover detailed information about your potential influencers like their demographics, their niche, how much they cost, and so on.
Check out how Ainfluencer platform can help you:
2. Engage With Influencers on Social Channels
Follow influencers, comment on their posts and DM them if you feel confident enough.
If Instagram influencers comment on your posts, don't forget to comment back! Try to get a conversation going between the two of you.
3. Mention Influencers on your Instagram Stories
The oldest trick in the book – flattery.
A genuine compliment can potentially create an awesome relationship between you and an influencer. For instance, share their posts on your Stories or mention influencers in your posts, and hopefully, they'll do the same for you.
How to Find Instagram Influencers?
More than 67.9% of U.S marketers currently use influencer marketing to bring their brands to the people to increase brand engagement.
But, admittedly, looking for Instagram influencers can be difficult.
Or at least, it used to be. Because now, there is an easy and fast method marketers can use to find an influencer to collaborate with.
Accordingly, use Ainfluencer to simplify the process of finding influencers. It's easy, fast, and free.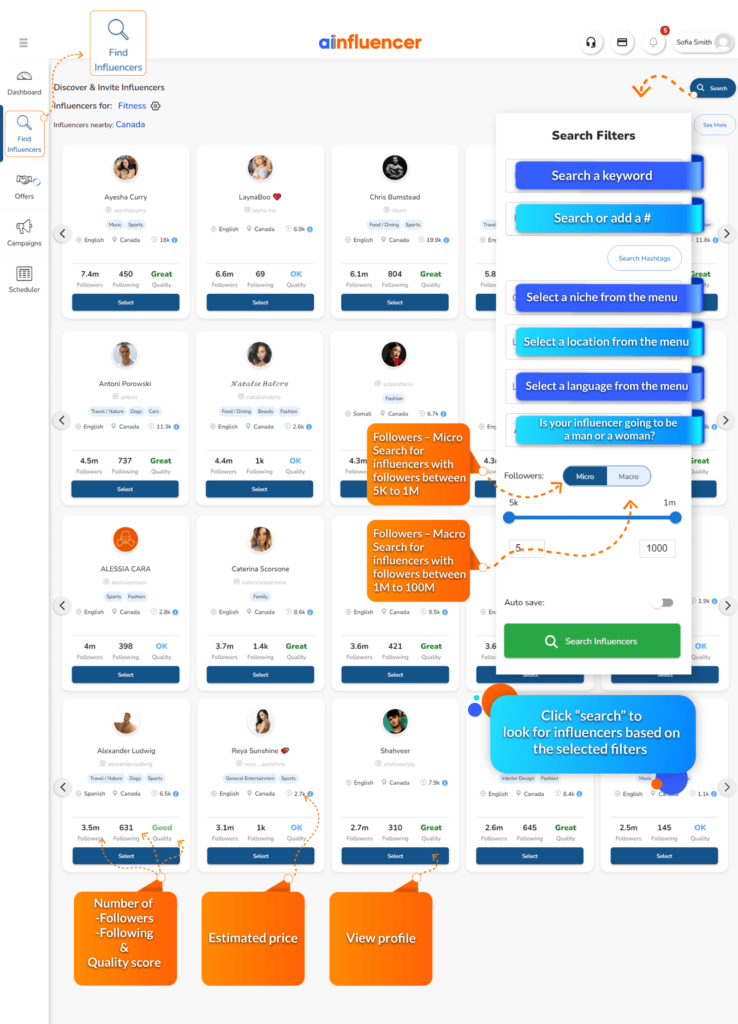 Suitable influencers will show up to the left of the search engine after you set your filters. Choose who you'd like to work with based on metrics like engagement rate, number of followers, or their quality score.
Ainfluencer is 100% DIY and free. Therefore, check it out today to grow your business faster.
Conclusion
Influencers have a lot to gain from sponsored posts, brands too. The influencer's audience is often the perfect group to promote a product to, especially if the audience is engaged and likely to enjoy it.
That said, make sure your target audiences align. Promotion is no good if it falls on deaf ears.
If you are looking for Russian influencers, you can easily connect with them on Ainfluencer.
FAQs
 1- Who Is the Most Successful Instagram Influencer?
Cristiano Ronaldo is the most followed and highly paid Instagram influencer. With over 383M followers, he makes $1.6 million per sponsored post.
 2- Who Is Russia's Biggest Influencer?
НАСТЯ ИВЛЕЕВА (@_agentgirl_), Ольга Бузова (@buzova86), Black Star (@timatiofficial),
Khabib Nurmagomedov( @khabib_nurmagomedov) and Pavel Volya(@pavelvolyaofficial) are among the biggest influencers in Russia.
3- Who Is the Famous Russian Model on Instagram?
Irina Shayk, with 23M followers, is the most famous Russian model. However, since she is a well-known model worldwide, she has many fans around the world. 
4- Who Are Russian Celebrities on Instagram?
The well-known tennis player Maria Sharapova, the famous model Irina Shayk, and the popular MMA champion Khabib Nurmagomedov are some of the famous Russian celebrities on Instagram.