A new trend is taking over Instagram, and it's all about gorgeous redhead influencers. From models and actresses to fashion bloggers, redhead Instagram influencers are proving that they are absolutely gorgeous. With millions of fans, these influencers are quickly becoming some of the most popular girls on Instagram. If you're looking for some cute redheads, be sure to check out our article.
But before starting our list, let's see how we can find influencers on Instagram.
How To Find Redhead Instagram Influencers?
Finding Instagram influencers can be a daunting task, yet crucial for any business. There are so many ways to help you, and here are some of the top ones:
Google: By searching some keywords on the Google search bar, you can find many related blogs and names. For example, you can search for 'top redhead Instagram models' on Google to see a list of models with this gorgeous style.
Hashtags: You can also write the keywords on the hashtag section of Instagram to find some related accounts.
Influencer marketplace: The easiest way to find your targeted influencers is to use influencer marketplaces like Ainfluencer. The process is simple and only takes a few minutes to find the perfect influencer for your campaigns. Let's see how it works.
Ainfluencer: The Best Influencer Marketing Platform
Undoubtedly, finding influencers with other mentioned methods is time-consuming work that may take hours and days to find the right person for your brand. That's why joining a marketplace like Ainfluencer, is a must.
Ainfluencer is a free, safe, and secure marketplace that makes the process of finding and collaborating easy for both influencers and brands. Brands can easily search influencers through Ainfluencer's filters, such as gender, location, number of followers, hashtags, etc., and invite them for cooperation.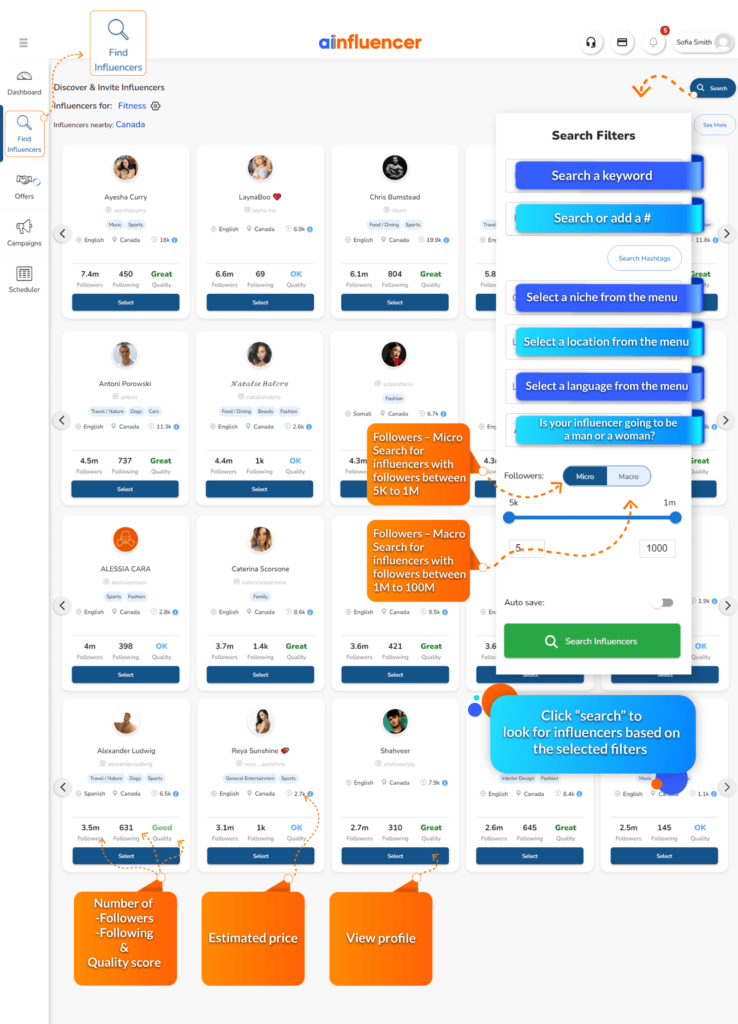 And on the other hand, influencers can see different ads and make offers to any brand ads they want.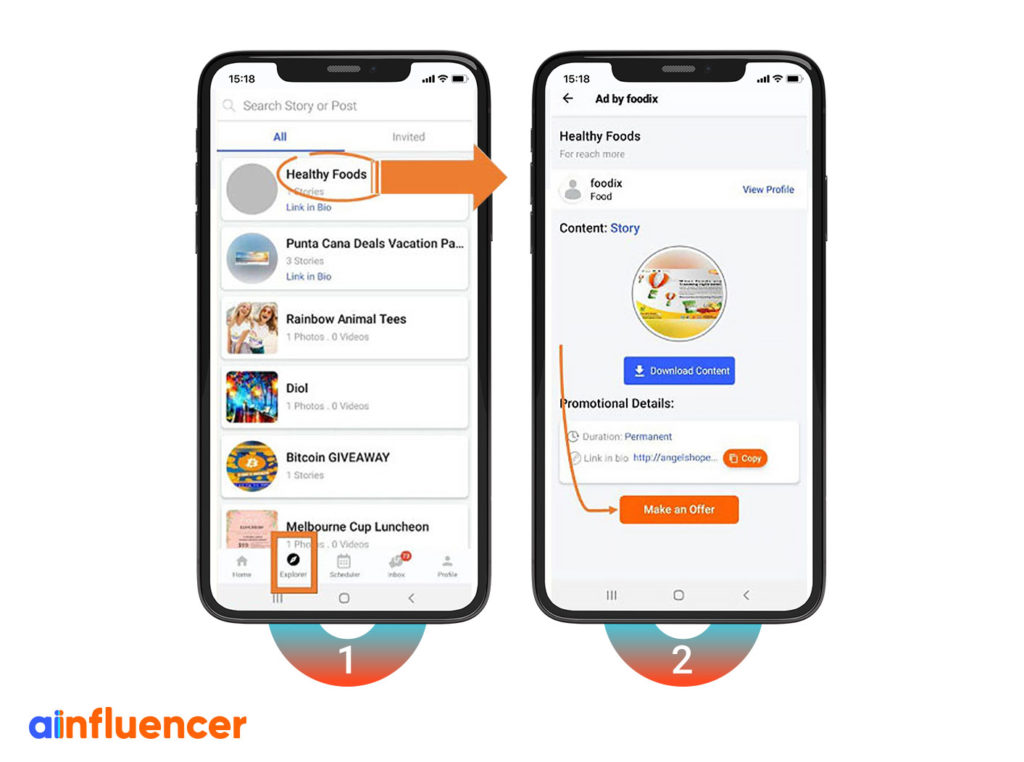 20 Gorgeous Redhead Influencers On Instagram
Red is one of the sexiest hair colors for women. While some dye their hair to this color, there are many influencers on Instagram who are famous for their natural red hair. Here is our list of some top redhead Instagram influencers:
1. Tiffany Herr (@herrliferulez2.0)
Tiffany Herr is one of the thick redheads on Instagram with 92K followers. This micro influencer is a mom and stylist who shares photos and videos of her amazing casual styles as well as the challenges of being a mom.
2. Theodosia Christidou (@Sissychristidou)
One of the other redhead Instagram influencers and YouTubers is Theodosia Christidou, also known as Sissy. This Greek digital creator is an Instagram travel influencer who shares her experiences with her Instagram account, where she could accumulate more than 893K followers. Sissy is also the hostess of "megatvcom" and "xamogelakaipali."
3. Danielle Erickson (@studiofleurette)
As one of the florists, gardeners, and cute redhead Instagram influencers, Danielle Erickson could gain more than 5K followers and make a name in the world of Instagram wedding influencers. Dani is full of energy, and her beautiful account is full of positive vibes. 
4. Paige Christensen (@paigechristensen)
Paige is a redhead influencer living in Arizona. She is among the popular skinny redheads and has about 70K Instagram followers. She shares photos of herself and her blonde family on her account and could gain popularity in a short time.
5. Rebecca Quin (@beckylynchwwe)
Introducing herself as 'The Man' and 'The Legend', Rebecca Quin is among the beautiful sexy redheads on Instagram with 5.7M followers. She is a professional and one of the WWE's most recognizable wrestlers from Ireland, and her ring name is Becky Lynch.
6. Ashley Kuczenski (ashley_kuczenski)
On the list of redhead Instagram influencers is Ashley, who lives in Los Angeles. With 35K followers, she is a fashion and lifestyle influencer and shares her lifestyle and vintage-inspired fashion style on her account.
7. Mandalynn Carlson Sylvester (@mandalynncarlson)
Mandalynn is one of the other hot redhead chicks with nearly 73K fans. She is also an actress and a lovable Award-Winning Redhead. She is mainly known for acting in the movie 'A merry Christmas match.' 
This red hair influencer collaborates with different perfume brands, including Raulph Lauren.
8. Quinn Cove (@qcove)
Here is a natural redhead nano influencer. Quinn Cove is a lifestyle and fashion influencer on Instagram who could gain about 10K followers. Her account is full of beautiful images and a positive vibe.
If you are a nano influencer and want to reach more followers in a quick time, follow these easy ways to get 10K followers on Instagram. 
9. Macy Lewis (@macy_lewis)
Macy is a redhead influencer and funeral director on Instagram. She tries to help people by talking about mental health and grief on her account and could amass nearly 9K followers.
Macy is among the beautiful skinny redheads.
10. Jenn Todryk (@theramblingredhead)
The star of the HGTV series No Demo Reno, Jenn Todryk, is one of the other redhead Instagram influencers. She has 1.2M followers, and her account is full of her behind-the-scenes moments of filming and motherhood.
11. Kayla Kay (@kaylakayyy)
Kayla is one of the prettiest redheads on Instagram. She is a Cosmetologist and posts about beauty and style on her Instagram account. For her natural beauty, her name is on the list of sexy redhead models, and she currently has 119K followers on Instagram.
12. Jackie Oshry Weinreb (@jackieoshry)
As a lifestyle influencer with 315K Instagram followers, Jackie is a redhead Instagram model and magazine editor. Jackie is a bookworm. Accordingly, as a book influencer, she introduces many great books on her Stories.
13. Mirela Janis (@mirelajanis)
One of the top Brazilian red hair celebs and Instagrammers is Mirela Janis. She is a modeling and beauty influencer with 9M Instagram followers and has been a brand ambassador to many top brands, such as "Rosaselvagemacido.ofc."
14. Katherine McNamara (@kat.mcnamara)
Next up, we have Katherine McNamara on the list of red hair models on Instagram. She is an American artist, actress, and among the most beautiful skinny redheads. Katherine currently has 4.1M Instagram fans.
15. Madelaine Grobbelaar Petsch (@madelame)
One of the other red hair celebs is Madelaine, who has 25K followers on Instagram. Madelaine Petsch is among the top American actresses, YouTubers, and redhead Instagram influencers. She gained fame by playing in the CW television series 'Riverdale' and 'F the prom.'
16. Carmen Lee Solomons (@carmen.solomons)
With her curly hair, Carmen can definitely stay on the list of gorgeous redhead Instagram models. She is an African model with 119K followers on Instagram. Her natural look and cute face have made her a popular model for cosmetic products.
17. Courtney Halverson (@prettylittlefawn)
The actress and blogger Courtney is one of the prettiest ginger influencers on Instagram. Her hair color and style have made her an excellent influencer for classical modeling. That's what she usually shares on her Instagram, which has attracted 352K followers.
18. Mari Maria (@marimaria)
Beauty and makeup bloggers have a great chance of gaining millions of followers on their Instagram because their content interests most people. That's how Maria Maria, the Brazilian makeup blogger, has attracted 21.3M followers. However, she owes part of her fame to being a red hair influencer.
19. Sarah Oliveira (@saraholiveirablog)
Brazilian blogger Sarah Oliviera is best known as a lifestyle blogger. This redhead Instagram influencer with cute curly hair occasionally shares her product reviews with her 210K followers. Unsurprisingly, most products she introduces are related to haircare, especially when it comes to curly hair.
20. Alexis May (@alexismaymcmullin)
Checking Alexis May's Instagram shows her love for her family, especially her cute kid. By sharing colorful photos of her lifestyle and family, this redhead Instagram influencer has reached 140K followers. 
Conclusion
In conclusion, these gorgeous redhead Instagram influencers prove that ginger is beautiful. With their unique look and a large group of followers, they are changing the way people think about redheads. If you're looking for some new inspiration, be sure to check out these influencers, and if you need more accounts, you can search on the Ainfluencer marketplace.
FAQs
1- Who Is the Most Famous Redhead?
There are many famous redheads throughout history. From Queen Elizabeth I to Anne of Green Gables, these ladies have made their mark on the world.
Many would say that it is Queen Elizabeth I. She was the Queen of England for over 50 years and helped lead her country through some of its most turbulent times. Her fiery red hair made her stand out from the rest, and she quickly became an icon.
Others would say that the most famous redhead is Anne of Green Gables. This fictional character has been beloved by readers for over 100 years. Anne is known for her bright personality and her wild imagination. She has inspired numerous films and television shows over the years.
2- What Nationality Is Known For Red Hair?
Generally, there are many nationalities that are known for red hair. Among them, Scotland is one of the most well-known places for redheads.
Ireland is another place that is known for its redheads.
England is also a place where you can find many people with red hair. There are even festivals dedicated to celebrating red hair!
Red hair is caused by a mutation in the MC1R gene. The mutation results in less melanin being produced. This causes the skin and hair to be lighter in color, including shades of red.
3- Who Is the Most Famous Red Hair Celebrity on Instagram?
Nicole Kidman is the most popular redhead Hollywood celebrity with an Instagram account with 9M followers. Although she changes her hair color to blond from time to time, her natural hair color is red. However, we still have more ginger actresses like Jessica Chastain and Emma Stone.