Pets have a special place in our hearts, and it's no secret that many of us consider them to be a part of the family. Some of these furry friends have become celebrities on social media, with thousands and even millions of followers. Pet influencers not only provide endless entertainment with their cuteness, but they also promote animal welfare and products.
Pet influencers' accounts are great places for animal-related businesses to promote themselves, from cute outfits to pet foods. So, if you are in this industry, you can find cute petfluencers on influencer marketing platforms. 
Meanwhile, in this article, we've listed the top 40 pet influencers you should be following.
How to find top pet influencers on Instagram?
From food and treats to toys and accessories, pet owners want to find the best products for their cute friends. Therefore, finding the top pet influencers is key to marketing your pet product.
You can try several methods to find influencers, from searching them on Google or using related hashtags on social media, but these methods are time-consuming. Let's find a better way. 
The best way to find pet influencers on Instagram is using an influencer marketplace, like Ainfluencer. Let's take a quick overview of how Ainfluencer can help brands find pet influencers. 
Ainfluencer: The Best Influencer Marketing Platform
Finding influencers gets much easier using Ainfluencer, which is a 100% free platform that connects brands and influencers with only a few clicks. You can easily sign up on Ainfluencer as a brand and create an influencer marketing campaign. Then, search for influencers and invite them for collaboration. 
The following video can walk you through creating a free influencer marketing campaign on Ainfluencer.
The greatest part is that you can find influencers based on category, gender, location, language, hashtags, and number of followers. In this case, to find pet influencers, you only need to change the category to animals, dogs, or cats.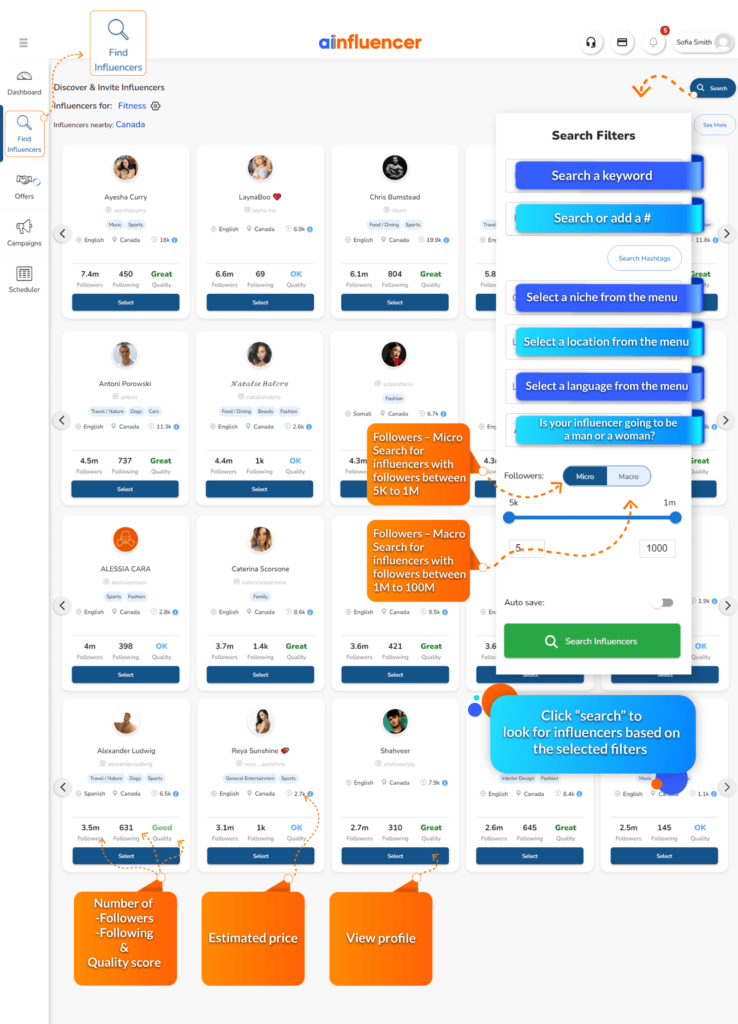 As you can see, if you are one of the pet brands looking for influencers, Ainfluencer is your best choice.
Top 40 pet influencers to follow on Instagram
Whether they're showing off their tricks, or simply lounging around, here's the list of pet influencers that capture the hearts of people worldwide!
1. Liam (@liam_the_everyday_cat)
You will not get enough of the cute photos and videos this cat influencer has on Instagram. Liam isn't only famous for his adorable looks, he is a famous cat actor who is always stylish! His 29.8K followers admire him for his advocacy, useful brand partnerships, and of course his lovely figures.
2. Frenchie (@wtfrenchie)
Looking for a cute pet influencer in LA? Frenchie is an amazing dog influencer with 146K followers who has a lifestyle that is interesting to many people!
Frenchie's IG account is all about dog-friendly city guides, lifestyle, and travel. You can see a ton of playfulness and a unique personality in Frenchie. Furthermore, he has recently hosted another cute pet named Fira.
3. Sydney (@sydney_themini)
There are 15.5K followers on Sydney's Instagram who love to know more about his life and daily antics. Sydney is another awesome pet influencer who has an interesting life to share!
This mini blue merle Aussie loves to go out on adventures and enjoy hobbies like hiking and swimming. This great dog influencer, with his amazing skills and hobbies, has gotten a lot of brand deals.
4. Summer Rae (@zigglerandsummer)
The English bulldog, Summer, with 28.8K engaged followers is one of the cutest pet influencers on Instagram.
You'll find he's a stylish dog taking long naps in his Instagram posts. With his fame and viral videos, he's gotten deals with brands and shared amazing sponsored posts.
5. Snow (@snowtheshepherd)
Based in Los Angeles, Snow is a shelter-rejected and belly rub addict with more than 58K followers. This great pet influencer is cute, very playful, and now works with huge businesses. If you want to see how big dogs get along with little kids, you should definitely follow Snow.
6. Barney Bullterier (@barney_bullterier)
Even animals compete on social media to get more followers and turn into mega influencers. At the moment, Barney is a micro influencer and one of the funniest Instagram pet influencers, who has around 23K fans.
His appearance is a bit different from other dogs, but that's what has made him famous all around the world, especially with his funny facial expressions in every photo. It's led him to partnerships with huge brands.
7. Hudson (@hudsonthefluffycorgi)
Another unique pet influencer out there is Hudson. This fluffy corgi is based in Toronto and has 121K Instagram fans. He has a ton of hobbies he loves to share with the world, from modeling to swimming.
Because of his popularity and love for what he does, he's landed a ton of sponsorships with companies.
8. Samantha, Elvis, Magnolia (thewanderlustdogs)
Here's a team of two adorable dogs! These Seattle-based pet influencers love adventure and have 32K followers on Instagram.
They all love to snuggle together and hang out without the huge fights at home! Their Instagram feeds show them cuddling and having fun outdoors!
9. Shannon Green (@circus_pugs)
It's been so long since Shannon joined Instagram. Now she is the owner of one of the top pet influencers, having more than 104K followers. Shannon is a young girl who loves training pug dogs, and she has four of them. She also collaborates with other companies and trainers, and it's inspiring how she's now a huge success.
10. Tinkerbelle (@tinkerbellethedog)
Pet owners know that it's impossible to have a dog or cat and don't want to add another adorable pet to their family. As a result, most pet influencers have a fluffy friend who can be an asset to their cuteness.
Tinkerbelle is a dog influencer, model, and traveler with over 462K Instagram fans. However, she is no longer alone as Belle, another small dog model, is here to double the fun on this account.
Together, they dress up for different occasions and play, which gets the best clicks. With their cute colorful shots, there's no doubt as to why she's so popular and among the best pet influencers on IG.
11. Ripley & Rue (@ripleyandrue)
Jeannie is the owner of this account who has two dogs, Ripley and Rue, and shares their cutest moments with their 144K fans. The life of these dogs made them popular among dog lovers, that's how they could get so many followers and become one of the pet influencers.
Ripely and Rue have their own pet shop on ripleyandrue.com where you can shop cool stuff for your dog and also yourself! 
12. Mochi & Miso (@orkyeh)
The world's happiest dogs, Mochi and Miso, share their travel photos and amazing photoshoots with their 57K followers. They are also cute models at Pandalooncom.  
The account first belonged to Mochi, a funny fluffy white dog who looked like a snowball! After becoming popular online, Miso joined her. Now, these cute puppies travel together and melt the hearts of dog lovers with their lovely photos. 
13. Luca and Alera (@lucathesheltie)
Pet influencers from Norway, Luca, and Alera are on the list of most engaging dog influencers with over 121K followers.
Their posts make you want to hold them up like a furry ball! And just like many pet influencers, they work with many top dog-related products.
14. Clover Rose (@four.legged.clover)
Did you know even pets can become brand ambassadors? Meet Clover, who is the ambassador dog for Jollytails brand. Clover is a half golden girl, half Irish beauty with 27K followers based in Canada. Her posts are all about going to nature, promoting products, dressing up well, and loving humans!
15. Scooty (@super_scooty)
Mexico and taken care of. Although he was fully paralyzed he can now walk and run with the help of wheels that are attached to him. This pet influencer is also known as the happiest dog on the planet with 134K followers on Instagram.
16. Harvey the dog (@harveytzu)
With almost 73K followers on Instagram, you can see why Harvey has become such a large pet influencer and partnered with a lot of brands already! This cute dog influencer was rescued ten years ago and now lives happily in Seattle.
17. Jiffpom (@Jiffpom)
It might be hard to distinguish this cute dog from the fluffy dolls on the market! Jiffpom is one of the most popular Instagram pet influencers. As an animal influencer, Jiffpom has nearly 9M followers on Instagram and holds three Guinness World Records. 
18. Glee (@goldens_glee)
Goldens Glee's Instagram account has an amusing story. When creating Goldens Glee, the account manager did not have animals. So, this Instagram account was just for sharing and reposting the cutest pictures of golden retrievers. But Goldens Glee is now a part of Instagram's most famous dog influencers with 275K followers.
19. Albert (@albertbabycat)
Unsurprisingly, cats have taken over Instagram and other social media platforms. They mesmerize people with their cuteness and playfulness. People who love cats will fall in love with Albert! A unique cat with a black patch on its face and a goofy appearance. Albert is featured on the 'Animal Planet channel.' With over 398K followers on Instagram, he is one of the cutest and most well-known cat influencers.
20. Boo (@buddyboowaggytails)
This account first belonged to Boo, a super cute Pomeranian dog who met many celebrities, including the likes of Anderson Cooper and Seth Rogen, due to his reputation and popularity. Now with almost 506K followers on Instagram, he is not the only fluffy influencer on this account, Buddy is another cute dog who is influencing people's lives.
If you are an animal-related brand looking for pet influencers with a high engagement rate, then Boo is a great choice.
21. Prissy And Pop (@prissy_pig)
Well, if you think that only dogs and cats can become influencers on Instagram, you're wrong! This time, we have a pig influencer! 
Prissy and Pop are two popular pigs with almost 669K followers on Instagram. They love camping and have lots of cute farm friends. These two pet influencers have hoodies, shirts, mugs, and many other accessories with printed photos of them that their followers can easily buy.
22. Crusoe The Dachshund (@crusoe_dachshund)
People define Crusoe as 'a strange, quirky, and greater-than-life character traveling and experiencing the world from its own distinctive, comical view.' Therefore, Crusoe is a people's Choice Award Winner animal influencer. With around 883K IG followers, this pet influencer is among the most followed dogs on Instagram.
23. Waffles (@waffles_the_cat)
A Scottish cat is one of the most famous cats in the world. You'll be surprised that he's got a rough past because nobody wanted him due to his unattractiveness; many saw him as "ugly, strange, and sick." Now he has 848k followers on Instagram. Waffles is also on the list of Forbes's top ten pet Influencers.
24. Manny (@manny_the_frenchie)
The world's most-followed bulldog, the French Bulldog, is one of the best pets in our top pet influencers list. He is popular because of his lovely photographs on different social media platforms. With 1M IG followers, he is among the most popular Instagram dogs.
25. Pokee (mr.pokee)
Another surprise in the world of pet influencers is Mr. Pokee. He's an African Hedgehog Pygmy and has 1.6M followers on Instagram. His page can be useful for hedgehog owners because of its content about taking care of hedgehogs. Mr. Pokee takes you to the world's cutest adventures with a smile on his face.
26. Marnie The Dog (@marniethedog)
There is something extraordinary about Venus; his face, which is half black and half orange-brown. This unusual look has made him one of the most famous pet influencers on social media, known as the two-faced cat. 
Venus, the two-faced cat, is one of the well-known cat influencers with 2.2M followers on Instagram.
27. Venus (@venustwofacecat)
Venus, the two-faced cat, is one of the well-known cat influencers because of its two faces. One side of his face is black with a green eye, and the other has an orange-brown color with one blue eye.
This feature makes him one of the most famous special pet influencers on social media.
28. Loki The Wolfdog (@loki)
A fabulous wolf-dog, Loki has around 1.9M followers and is a macro influencer on Instagram. Toyota and Mercedes Benz collaborate with this pet. Loki is on the list of top 5 dog influencers to collaborate with. 
29. Tuna (@tunameltsmyheart)
One of the best Instagram dogs to follow is Tuna; a cute goofy Chiweenie with an artificial overbite. In 2010 he was saved at a farmer's market and is now an animal rescue officer. With 1.9M followers on Instagram he has collaborated with brands such as Petfinder and Zappos.
If you want to use a little bit of joy and laughter, you've come to the right place!
30. Lil Bub (@iamlilbub)
Presenting at a documentary named Lil Bub & Friendz, which won Best Feature Film at the 2013 Tribeca Online Festival, makes her a real celebrity. Bub is on the list of the finest cat influencers with 2.5M followers.
31. Shinjiro (@Marutaro)
With a sweet smile that never leaves his face, Marutaro is a cute Japanese dog with 2.5M followers on Instagram. His followers are waiting every day for a post of his "goodnight." Indeed, this animal influencer is known to be Japan's happiest dog! His pictures are full of his funny actions or his smiling, giggly face.
32. Grumpy Cat (@realgrumpycat)
Some pets seem to be happy all the time, others look grumpy! That's how Grumpy got his name! The world's grumpiest cat, Grumpy is a cat influencer with 2.6M followers.
Her permanently "grumpy" facial expression has made her one of the most famous pet influencers on Instagram.
33. Juniper (@Juniperfoxx)
It's so exciting to have a fox on our top pet influencers list. Juniper has got a book showing his life all about him. With 2.9M fans, he is one of the best dog influencers on Instagram.
34. Doug The Pug (@itsdougthepug)
This one is a celebrity dog with 3.6M followers on Instagram, also known as the 'King of Pop Culture'. 
Doug The Pug began posting on social media when his followers were only a few family and friends, but now he has millions of followers on Instagram. This makes him one of the greatest pet influencers on Instagram, as he started from the bottom and grew organically.
35. Nala (@nala_cat)
The Guinness world record holder, Nala, with around 4.5M followers on Instagram, is a top cat influencer. She promotes various brands like Petfinder, Friskies, PureVax, and Persil. With a lot of advertisements, she is one of the top pet influencers. 
36- Popeye (@popeyethefoodie)
Even pets have food bloggers! In the pet's world, Popeye is known as 'the Foodie Dog'. Popeye loves traveling and eating out with his human friend. However, pets should find their own restaurants, and Popeye introduces the pet-friendly restaurants to his 384K followers.
37- Jill (@this_girl_is_a_squirrel)
We had different animal influencers on this list, from the top dog influencers on Instagram to pigs and even hedgehogs. What did we miss? A squirrel!
Although many believe that squirrels are not pets, there are people who love these adorable animals and want to take care of them. In this case, Jill's Instagram account can be a great place to tell them what are the challenges of having a squirrel at home.
Jill The Squirrel has 671K followers on Instagram, where her owner shares her lifestyle as a pet!
38- Pumpkin The Raccoon (@pumpkintheraccoon)
We know that cats and dogs can get along, but how about a raccoon? Pumpkin is a rescued Bahamian raccoon who is now living with a family who has two dogs. The photos of his Instagram account can show what a strong friendship they have made. Pumpkin's lifestyle seems interesting to many people, and now he has 1.1M followers on Instagram.
39- Hosico Cat (@hosico_ca)
Who doesn't love this cute fat cat? Hosico is a ginger Scottish cat who may be known for his laziness! He is a calm and quiet cat who shows the world that being a cat is like ruling the world! Hosico has 1.8M followers on Instagram and sells pet products with his own discounts.
40. Mr. White (@white_coffee_cat)
We can never get enough of cats on Instagram because each cat has its own acts and cuteness. Mr.White is another cat influencer on Instagram who has 2.2M fans watching his videos and liking his posts. Mr.White, also known as Coffee, is a white cat with great gestures. He always has the best, so most cat brands collaborate with this pet influencer to promote their products.
Conclusion
The bond between humans and animals is undeniable, and it's no surprise that many of us consider our pets to be part of the family. Pet owners want the best for their furry friends, whether it's a cozy bed for them to sleep in or a durable leash for walks, or healthy food, they always want to enhance the quality of their lives. Following pet influencers is a great way to stay up-to-date on the latest pet trends and learn new tips and tricks.
Therefore, collaborating with pet influencers will be so beneficial for pet brands to introduce their products to people who look for the bests. So, if you are in this industry, don't waste your time.
Join Ainfluencer and find a celebrity pet for collaboration.
FAQs
1- What Is a Pet Influencer?
Some people might think of celebrities who have pets as pet influencers, but that's not the only type of pet influencer out there. There are people who create content and videos about their own pets and those who help promote animal-related products. 

2- Who Is the Most Famous Dog Influencer?
Jiffpom is the most popular and famous dog influencer with 10M followers.

3- How Do Pet Influencers Make Money?
Like other influencers, pet influencers can also collaborate with brands for influencer marketing campaigns. They usually promote various products or services related to animals. 
4- How Do Brands Use Pet Influencers?
Since Instagram pets usually have many followers who are mostly pet owners, their accounts are great places for pet brands looking for influencers. Brands use pet influencers to reach new customers, increase engagement, and humanize their products or services.
5- Who Can Collaborate with Pet Influencers? 
The animal world is so vast. They need special food, accessories, clothes, and toys. They also have their own doctors and medical needs. Therefore, whether you have a pet clinic, produce pet foods, or create lovely clothes for these furry customers, you have a chance to increase your sales and build brand awareness via pet influencers. Even hotels and restaurants that are pet-friendly can promote their brands via these lovely animals.