Now with the internet at everyone's fingertips and the fame and revenue that comes with it, influencer culture has become widespread, and being a social media influencer is one of those jobs that people are dreaming about. In the age of social media, there are different types of influencers, including Macro influencers, Nano influencers, Mega influencers, Advocates, Referrers, Celebrities, etc.
This diversity of social media influencers helps online marketers better interact with influencer marketing to generate traffic, leads, and sales.
Mico influencers, like other kinds of social media influencers, can have a great deal of influence over a large audience that dedicates a big part of the influencer's community.
This article will outline some essential tips about finding micro influencers, how to use them, and every detail about them to help you effectively promote your brands with spending a small budget on micro influencer campaigns.
What Is A Micro Influencer?
Micro influencers are social media users with relatively 1000 to 100K followers, usually revolving around a particular passion or niche. They could be anything from a food blogger to a fitness guru, and everything in between.
Why micro influencers?
Micro influencers are well-known in a specific niche or industry that can impact and change their target audience's tastes and behaviors due to the strong and trusted relationship established.
Micro influencers, in comparison to other influencer types, are more effective and can make very high engagement rates from their audiences.
They are generally cost-effective influencers that can generate better marketing results and be more affordable for marketing campaigns.
Therefore, new brands can grow their marketing performance by extending the new reach that micro influencers are responsible for. These individuals work as topic specialists that frequently share social media content about their interests to change their followers' behavior and lifestyle.
How to find micro influencers?
Are you looking for a way to find the best micro influencers and collaborate with them to spread the word about your brand? Here are different ways to find influencers for your next micro influencer campaign.
1- Check the most popular posts and search through their hashtags.
2- Look at your followers' list and tagged posts.
3- Search Instagram influencers on the explore page.
4- Use an influencer marketplace.
5- Conduct a search on Google.
Conducting a manual search to find influencers is a time-consuming and tedious process. So the fastest and easiest way that helps you save a lot of time and energy to find influencers is by taking advantage of an influencer marketplace like Ainfluencer.
Ainfluencer
Ainfluencer, as a free DIY influencer marketplace packed with lots of useful features, is the easiest way to reach out to influencers. Actually, this DIY marketplace makes it easy for both influencers and brands to collaborate with each other.
Watch the YouTube video below to figure out how Ainfluencer can help Instagram marketing.
The platform lets you either create ads on the marketplace and encourage influencers to reach out to you or invite targeted influencers yourself. You don't need to worry about the details while creating your ad since you have the possibility to eventually negotiate the specifics of your ad with your influencer in our built-in chatbox.
Exploring and inviting influencers is super easy thanks to advanced search features for location, hashtag, gender, language, number of followers, etc.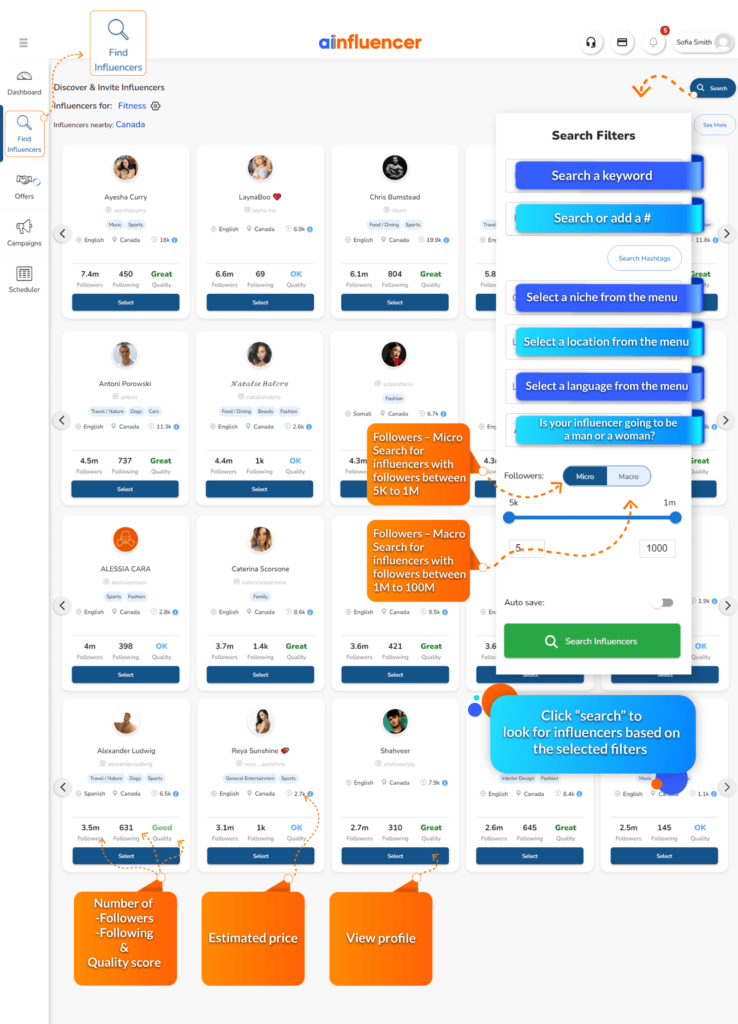 Influencers themselves can also reach out to you with offers. You can check your offers to see which influencers have made offers to compete for your business and choose the desired one.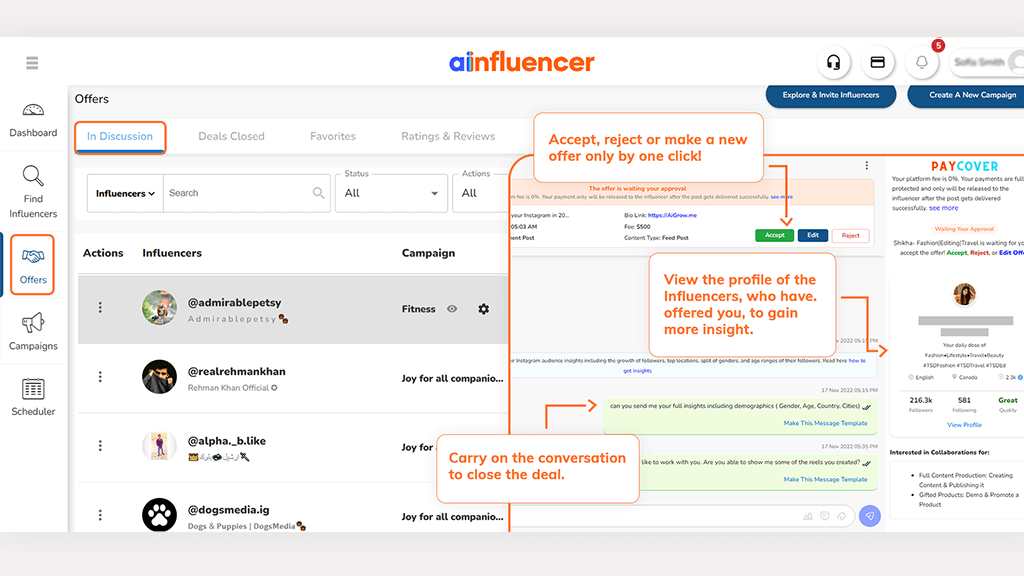 Once you close the deal, you can stay up-to-date with real-time analytics.
Pro tip: Influencers can install the Ainfluencer app, which is available on both Android and iOS, to explore brands to work with.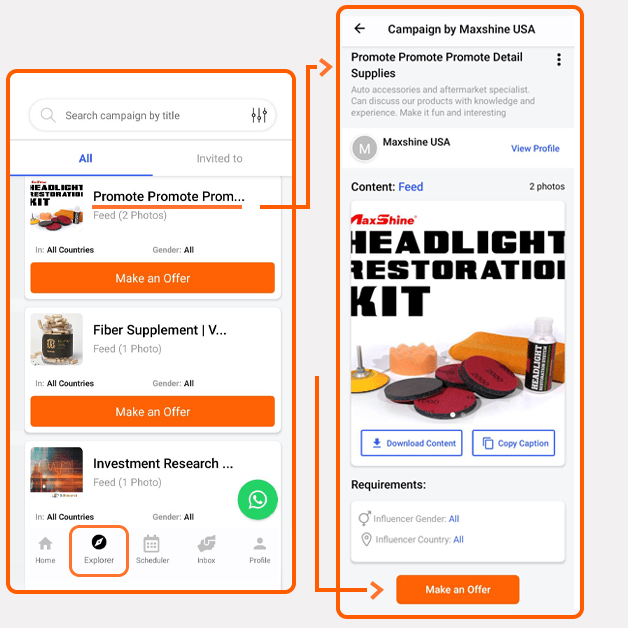 Different Types Of Influencers
There are four types of influencers based on follower count, including mega, macro, micro, and nano influencers. Mega influencers are celebrities (actors, musicians, singers, athletes, etc.) with more than one million followers. Macro influencers have 100,000 to 1 million followers. Instagram Micro influencers have between 1,000-100,000 followers, and Nano influencers have between 1,000 and 10,000 followers.
How to use micro influencers to grow your business?
Now that you know how micro influencers marketing can help drive traffic and sales to your business, it's time to see how to work with micro influencers and take advantage of micro influencer campaigns to grow your brand. Let's get started.
#1 Clarify your expectations and goals
This step is essential while working on your micro influencers campaign. Think of the following questions and try to find answers before going any further.
What is the goal of this micro influencers marketing strategy?
Do you want to increase traffic to your website?
Are you looking forward to raising brand awareness and brand engagement?
Do you want to drive sales with a promo code or an affiliate link?
So make sure you spend enough time outlining your goals and defining what metrics will be essential to measuring success.
#2 Find micro influencers to work with
As we mentioned earlier, there are different ways to find Instagram influencers. Use the mentioned ways to explore and choose a micro influencer. Make sure you choose micro influencers who align with your niche, target audience, and brand and have high engagement rates, post consistently, and have a distinct personality or voice.
#3 Negotiate fees and draft a contract for an influencer agreement
After identifying a few micro influencers you'd like to work with, you need to negotiate fees and create a contract that includes all relevant information.
After being connected with the right micro influencers, it's time to see how to use them to win customers and grow your business. We'll show you how to do it now.
#4 Use campaign specific hashtags
Hashtags that are relevant to a campaign improve brand recognition and boost conversion rates. Ask the micro influencer you are collaborating with to use your campaign-specific hashtag.
#5 Use user-generated content (UGC)
The best UGC campaigns work with micro influencers. When making a buying decision, 93% of all consumers are impacted by UGC (User-Generated Content). With UGC, you can increase the conversion rate of your campaign by up to 29%.
People frequently ask their friends and relatives for recommendations while making purchasing decisions. In the absence of those, people turn to social proof in the form of client Stories, reviews, or testimonials.
The great thing is that employing user-generated content works just as well to achieve this as micro influencers' marketing.
For instance, lifestyle brand GILI Sports is aware of what its target audience of watersports lovers is concerned with. For this reason, the business continually features UGC on both its website and its social media channels to make sure that potential customers understand that GILI boards offer the ideal segue into a life of adventure.
However, GILI goes one step further on its Instagram page. In order to show off the lifestyle that its products can enable prospective customers to experience, it reposts user-generated content.
#6 Place sponsored posts
Sponsored posts are kinds of posts that influencers share on their profiles to encourage engagement and strengthen a brand image. For instance, the influencer might produce videos or other content about your product to promote your brand, drive traffic to your website, increase users' interest in your offer, etc. Sponsored posts can be used to launch a successful micro influencer campaign.
#7 Ask micro influencers to review your product or service
Get micro influencers to review your product or service and share their recommendation of your product or service. A big percentage of consumers are very likely to trust and follow a recommendation from an influencer.
#8 Start guest blogging
Another way to make the most of micro influencer marketing is guest blogging. This way helps you reach micro influencers' blog audience as well. So make a list of each micro influencer's blog and then look to see if they have any guest blogging guidelines.
What Makes You A Micro Influencer?
Although influencer marketing is the right expensive strategy for brands to promote their brand awareness on Instagram, micro influencers best fit with small business marketing to better share a huge opportunity for brands to extend their reach in the niche area.
The thing that makes you a micro influencer is that you are not typical celebrities or public figures to be famous enough to increase your followers at a glance; you are a topic expert that helps the audience to be engaged around a particular passion or niche. That is the accomplishment of a micro influencer.
For instance, a makeup micro influencer with only several thousand followers can generate more social media engagement by building engaging content types based on their followers' interests and also take brands' product promotion to the next level.
#1 Authentic Relationship
Micro influencers are real people that can create a genuine following and a trusted, loyal community in recommendations from new or strange brands' product advantages when using them. So, authentic relationships and trust are among the best benefits of working with micro influencers because none of them will agree to work with a product they do not believe in.
#2 Passion
Passion is the major thing that motivates a micro influencer to advertise a particular brand or product. When micro influencers are not as famous as macro influencers, they definitely work for their interests and niche to promote their business account. This passion makes their social media content more amazing, authentic, and awesome, attracting more followers and gaining trust.
#3 Ad-Blocking
The use of ad-blocking technologies is growing, but the recent stat shows ad-blocking online advertising is annoying people as they act as a constant interruption with too many ads on web pages. Influencers seem highly effective and necessary for online advertising rather than ad-blocking because influencers are people that interact with their audience, and every user chooses to follow an influencer profile or not, and there is no obligation.
#4 Higher Audience Engagement Rates
High levels of engagement and superior marketing performance indicators are frequently observed in micro influencer campaigns. Why? Micro influencers and their followers have strong relationships. When their followers contact them, they reply quickly with personalized responses.
As a result, their target audience trust them, their ideas, and the goods and services they promote.
5- Willing To Work With New or Small Brands
Influencers tend to become particular about the brands for which they produce content as their following grows, restricting campaigns and sponsorships to reputable companies with a lot of social proof.
Micro influencers, on the other hand, are more open to collaborating with new brands, products, and services. They're still developing their fan base, just like your business is.
Conclusion
Micro influencers are more appropriate ones to tell stories to their followers daily. Then they are more successful about some particular topics or in sharing what they know and helping others learn with them.
As a result, they receive more compliment and respect from their audience when facing their content or viewing their videos that keep creating highly engaging marketing campaigns.
1- What does a micro influencer do?
 A micro influencer is someone with anywhere from 10,000-50,000 followers. They are well-known in their niche and have very high rates of engagement from their audiences. They use their following to promote products relevant to their particular area of interest, either for money or just because they like them.

2- Why do brands work with micro influencers?
One of the most strategic reasons is that they usually have a concentrated audience, and micro influencer marketing helps them reach a specific target audience.

3- What are the benefits of using micro influencers?
A- Despite having a smaller following, they have a higher engagement rate than other influencers. B- They increase conversion rates. C- They are more affordable than big names.