The holiday marketing season is typically the busiest time of year for online retailers.
There always appears to be more work, from updating landing pages to increasing brand awareness through seasonal marketing campaigns to discovering new ways to target clients.
Now is the last chance to raise sales before the new year, but business owners and marketers know it's a chance to strike it big. Black Friday and Cyber Monday start the holiday shopping season, which continues through the many December holidays (Christmas included). It's never too soon to begin making preparations.
Keep your competition from beating you to the punch regarding seasonal promotions and holiday sales ideas. With more and more people doing their holiday shopping online, preparation is key to a successful season.
To make your holiday ads stand out, we have provided some strategies and examples for your brand to use.
How Do You Start a Holiday Marketing Campaign?
Following these guidelines will help ensure that your brand's holiday marketing campaign is successful, even if you need to learn more about running such a campaign.
Decide on a critical subject for the campaign; this is essential for a prosperous holiday advertising push. You need to choose a message that fits with your brand's identity and the objectives of your campaign.
To determine the best marketing channels and holiday deals for your brand, you must first determine who you are trying to reach.
The third step is to select the appropriate marketing channels, which will determine the objectives of the campaign and the intended consumers of the brand's concept. Do you spend a lot of time online? Do you prefer a desktop computer or a mobile device? Put these into consideration before you launch your holiday advertising campaign.
14 Clever Holiday Marketing Strategies To Grow Your Brand In 2023
To maximize your sales during the most lucrative time of this year, you can use the following holiday marketing tips and promotion ideas to fine-tune your current strategies. You can also get inspired for new year promotion ideas, which will soon be around again.
1. Consider an influencer strategy.
More and more individuals are spending time online, making influencer marketing a required method of reaching them as they do their holiday shopping. Whether they're browsing for fun or gifts, a strategic influencer engagement can help them remember your brand long after the holidays.
As a result of the development of social commerce, it is common knowledge that social media plays a significant role in both finding new products to try and influencing consumer decisions. 60% of Generation Zers said they would use social media to make holiday purchases. Therefore brands hoping to reach this demographic should take advantage of social networks in their holiday promotions.
To put it mildly, shopping over the holidays is stressful. For this reason, when shopping for those notoriously difficult-to-please relatives and friends, we frequently seek advice from individuals we know, consult gift guides and check online for ideas. Therefore, as a company, you can leverage partnerships with influencers to provide this benefit to customers.
After all, a genuine influencer can be a reliable confidant, an expert shopper, or just a supporter of a hassle-free holiday gifting option. Deloitte found that 30% of holiday customers follow influencers, making creative campaigns an essential aspect of any holiday marketing strategy.
How to find the Perfect Influencer?
In case you hadn't guessed, influencer marketing is a fantastic alternative for any marketing strategy, including holiday marketing ideas.
However, there is a significant issue that brands should consider. The question is, where do you look to discover the ideal influencer for your holiday marketing?
Some ways include spending hours on Instagram checking out users' preferred Instagram influencers or even searching on google in the hope of finding something useful. In any case, utilizing a top-tier marketplace is one of the most time-efficient ways to connect with influential people in your industry. With the help of an influencer marketplace, like Ainfluencer, that might be a minor deal now.
Ainfluencer is one of the top influencer marketplaces that makes it easier for brands to find prominent people on that platform.
Ainfluencer
To find the most relevant influencers to market your company, you need to select a platform that is packed with useful features. To acquire access to its huge database of influencers, Ainfluencer does not demand any money in advance, in contrast to its competitors, who do request such payments.
In addition, influencers might speak with brands in the in-app chat box to come up with a price agreeable to both parties.
Because of this, Ainfluencer does not have standard pricing and instead encourages brands and influencers to negotiate a fee that satisfies both parties. The following is an overview of the dashboard for Ainfluencer: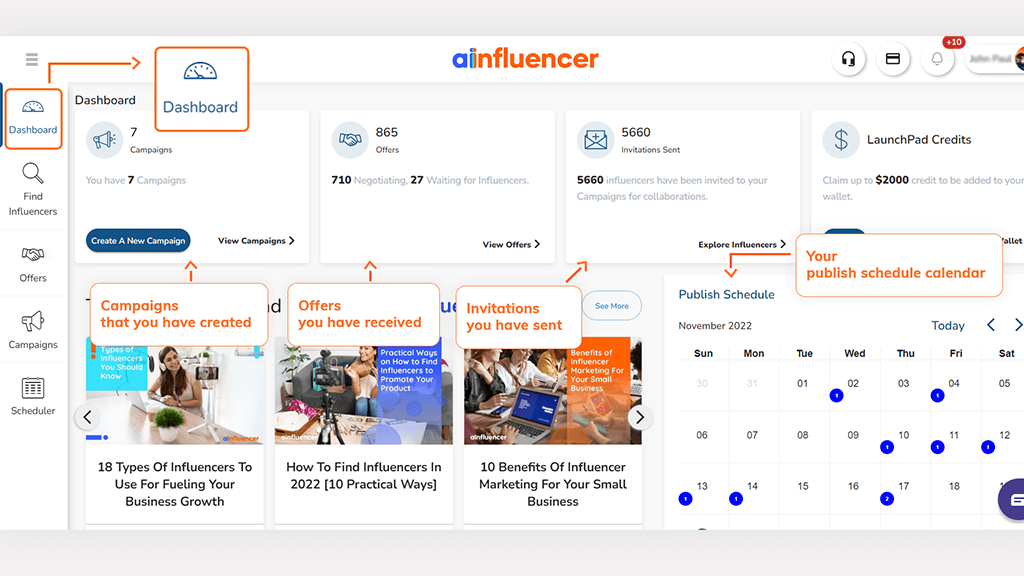 As can be seen, its operation is uncomplicated and straightforward. A further feature of Ainfluencer is that it enables users to create campaigns and either invite certain influencers or have influencers contact them directly.
See this video for more information on Ainfluencer and how to start finding influential people to follow on Instagram.
2. Be prepared for more competition than ever.
Email marketing is more vital than ever to bring clients to your online store during the holidays and Christmas when there are so many deals to choose from. Create email marketing campaigns that set you apart from the competition and make it easy for customers to see why they should choose to buy from you.
Nonetheless, luring new clients is only half the struggle. The holidays can be challenging for companies struggling to stay up with customers' ever-evolving shopping habits due to cart abandonment and increased competition.
3. Appeal to consumers' emotions.
The holidays bring out a wide range of feelings, from joy to melancholy. Users may be persuaded to include your business in their holiday purchasing plans if your holiday marketing campaign successfully taps into their sentiments.
Consider the content's emotional impact when planning your holiday marketing strategy. Use social media to spread motivational messages or give an inside look at the company's holiday celebrations to make an impact.
4. Be ready to react and adapt quickly.
In retail, "all hands on deck" is never more appropriate than during the holiday season. No matter how small, every website needs a quick response staff ready to fix any problems that crop up with their marketing campaigns.
The process extends much beyond just digital and content planning. To accommodate the influx of customers and orders, you may need to expand your customer service, shipping, fulfillment, and operations departments.
In addition, you need to be quick on your feet when things are going differently than planned.
5. Plan Ahead of Time.
If you're familiar with working with influencers, you know it can take a while before a campaign launches. This is the case, particularly during the holiday season when businesses of all sizes scramble to connect with influencers to form a working partnership. Because of this, it is essential to start early in the year to recruit influencers and design your holiday influencer marketing campaign. Marketers should schedule content from influential people and the release of new products around holidays like Halloween, Thanksgiving, and Black Friday.
6. Don't forget about your existing customers.
There's a good chance that the holiday visitors to your website will be a balanced mix of new and returning clients. Remember that a new customer's path to purchase will appear significantly different from a returning customer's buying as you develop your strategy.
7. Partner with a non-profit.
The holiday season is a beautiful time for your company to support charities that are important to you and your clientele.
Many see this as an opportunity to do good in the world, which can help to make a purchase more meaningful. Getting into the holiday spirit and communicating your brand's objective to clients could be aided by forming a partnership with a charitable organization.
If you need help deciding where to begin, you may partner with a local influencer or organization or survey your clientele to find out which causes are most important to them.
8. Use hashtags.
Not using social media to reach new customers and persuade current ones would be a mistake, as 81% of adults now have at least one. Remember to holiday-proof your social media marketing strategy if you already use it!
Can social media promote a product or service during the holidays?
Use hashtags on social media sites like Twitter and Instagram. Although hashtags are available on Facebook, they are less widely used or helpful. For this reason, it's best to utilize hashtags only on services that support them.
Hashtags are a great way to get the word out about your latest deals and specials. A hashtag that consumers can use when sharing information like product photos or status updates is another way to inspire user-generated content.
One further benefit of using hashtags to promote your business is that they aid in brand recall and retention among potential customers. Using the correct hashtags, you can broaden your exposure to potential customers searching for the ideal holiday present.
To see the best outcomes, you need to keep up with consumer spending patterns that matter to your field. As the holidays approach, what do your customers desire most from you? Create more interest in your company by employing hashtags in your social media posts (Twitter, Instagram, etc.).
9. Make long-term influencer collaboration.
In the end, long-term relationships prove to be the most valuable. Therefore, that's the one everyone strives for. To weather the economic storm, businesses must ramp up successful marketing methods and invest in creator relationships inside those proven profitable models. Consider which holiday marketing influencers can be activated for future initiatives in light of upcoming seasonal holidays like Valentine's Day and Mother's Day. After all, the most significant benefit of collaborating with enthusiastic influencers about your company is that they will promote your goods throughout the year.
10. Launch a video marketing campaign.
Since a minute of video is equivalent to eight million words, video marketing has emerged as a game-changing approach to advertising during the holidays. 90% of viewers also say that videos influence their final purchase decision, which is excellent news for your business.
Including a video on your website, emails, or social media account is a great way to introduce your business and get people interested in learning more. Videos are not only simple to utilize, but they also facilitate customer education about your products.
Start promoting your company and uploading videos on YouTube if this is your first time.
11. Be ready for holly jolly customer care.
It didn't take long for the internet to explode with reactions to Starbucks' announcement of the 2022 holiday cups. After the launch, their social media team quickly responded to user concerns and interacted with new-look admirers.
Campaigns for the holidays are starting earlier than ever, so brands should start getting ready for the influx of customers as soon as feasible. Be prepared to address the most often asked questions, maintain interest, and deflect attention from the most challenging problems.
12. Find Ways To Make Holidays Less Stressful.
Despite appearances, the holidays may be stressful due to the pressure of finding the perfect gifts for loved ones. As a marketer, you are responsible for delivering a seamless online and offline experience that helps the customer make an informed choice. More interactive marketing can keep customers interested and reduce the hassle of holiday buying.
Take measures to ease the burden on your clients. Brands should help customers select the perfect presents for their loved ones as an example by giving them a personality quiz or a holiday list of curated products.
13. Run holiday giveaways on social media.
Engaging your audience, gaining new ones, and generating buzz about an upcoming event can all be done with relatively little outlay of money, thanks to the power of giveaways. The best method to increase interest in your giveaway is to encourage participation from your followers by having them remark, share, like, etc.
Companies have been using freebies to promote their products and attract new customers. Your target group can be readily stoked for the impending holidays and your business by using promotional contests and gifts as prizes.
You can choose from a wide variety of content types, such as a Twitter hashtag contest, a photo caption contest on your Facebook account, a merry quiz, or a make-a-wish contest, depending on the size of your team and budget.
14. Extend your holiday campaigns deals for late shoppers.
For whatever reason, some shoppers can't seem to take advantage of the sales. To attract these buyers, many retailers are extending special holiday promotions through the end of the year.
Last-minute shoppers always worry that their presents will miss the holiday. Use their fears to your advantage by offering express shipping that is entirely risk-free and guaranteed to arrive on time.
One way brands can benefit indirectly from extending holiday campaign deals is through:
Strengthen customer attachment by giving new customers a chance to warm up to your brand.
Relationship building by focusing on customers who are too late to take advantage of holiday sales.
Attract new buyers by luring them in with irresistible, time-sensitive deals.
10 Great Examples of Holiday Marketing Campaigns
1. Apple: Make Someone's Holiday
The first-holiday shopping ad to talk about is Apple's Christmas commercial in 2021. The commercial successfully evokes an array of emotions.
The story opens invitingly, with a family on their way to spend the holidays with relatives.
This commercial is particularly effective because the iPad is the only reliable element of an otherwise chaotic journey.
Don't think that this is the whole aim of the campaign because it takes a melancholy turn when the product is used to produce a present for a loved one.
Apple's advertisements are successful because they highlight the product's functionalities rather than aesthetics. The commercial uses the product as a story device to appeal to the audience's emotions.
2. Coca-Cola Canada: Give Something Only You Can Give
One of the other holiday shopping ads to mention is Coca-Cola's "Give something only you can give" ad. In a recent advertisement, Coca-Cola tells the story of a father who goes above and beyond to ensure his daughter's letter to Santa makes it to the North Pole. While deliberating what to do with the letter, the father savors a Coke. You can tell he's worried about making it on time.
As he looks for Santa, we watch him through oceans, forests, deserts, and icy mountains. The holiday season has ended, and Santa isn't there to greet him. When all seems lost, Santa Claus arrives in a Coca-Cola-branded truck to whisk away the dad and turn the situation around.
His daughter's holiday desire was for him to be with the family this year. (You can count on tears from this commercial.)
We're all tempted to shower our loved ones with pricey presents, but the finest gift you can offer is your time and attention.
The Coca-Cola Company has a long history of renowned seasonal advertising campaigns; this is only the most recent iteration. After all, who doesn't look forward to the annual debut of the Coke-drinking polar bears?
3. Microsoft: Find Your Joy
A lot of us had a rough time in the year 2020. During the height of the COVID-19 pandemic, we depended extensively on technology to take our minds off of things, including spending more time than ever on Zoom. Still, that shouldn't stop us from enjoying the season with our families and furry friends.
Microsoft's holiday ad throws a quirky spin on this concept. The commercial begins with a puppy named Rufus. When Rufus, in search of playmates, approaches each family member, from mom to pop, they're all too engrossed in their respective Microsoft products to notice him.
Rufus goes next door and gets his greatest friend, a dog. The group then goes on a fantastical journey together, revolving around the games and pursuits their human caretakers were participating in. Besides promoting Microsoft's products, the commercial is a gentle reminder to value family and friends (and pets, too!).
4. Macy's: In Dad's Shoes
An old standby, socks, get a fresh take in Macy's latest ad campaign.
A young girl goes on a "Freaky Friday"-style journey in "In Dad's Shoes," where she spends the day putting on her father's shoes and experiencing the world through his eyes. While we recognize her as the daughter, the neighbors and random passers-by treat her as though she were the father.
As the commercial progresses, she gains an appreciation for her father's busy schedule and the many locations he visits daily. The majority of his time is spent on foot. From that, she derives the inspiration for his present: a pair of socks. It's common knowledge that a respectable pair of socks is essential to travel gear.
We appreciate Macy's highlighting a kind gesture as simple as a gift. This commercial says giving presents can be something other than a major production.
5. Airbnb: Airbnb Hosts Ring Our Opening Bell
One of the other brand holiday advertisement examples on the list is Airbnb's. This is an excellent example of a commercial that doesn't focus on Christmas or Hanukkah but does focus on the importance of family and thanksgiving.
Airbnb celebrates the holiday season by expressing gratitude to its four million hosts worldwide. The film depicts hosts from various countries answering the doorbell and welcoming guests. We travel as far as Japan, Kenya, and New Zealand, and as far as Brazil and Spain. (It is very appreciated that the names of these nations appear in their native tongues.)
Outstanding campaigns that capture the season's spirit may be made without resorting to gimmicky elements like Christmas trees strung with lights. To do this, you can encourage the company's principles, highlight its successes, and show gratitude to people who have contributed to its growth.
6. Hinge: See What We're Thankful For
What are you most grateful for this year? Dating app Hinge recently emailed its subscribers with the same question, utilizing the opportunity to discuss its recent makeover and accompanying growth, for which Hinge expresses "enormous thanks."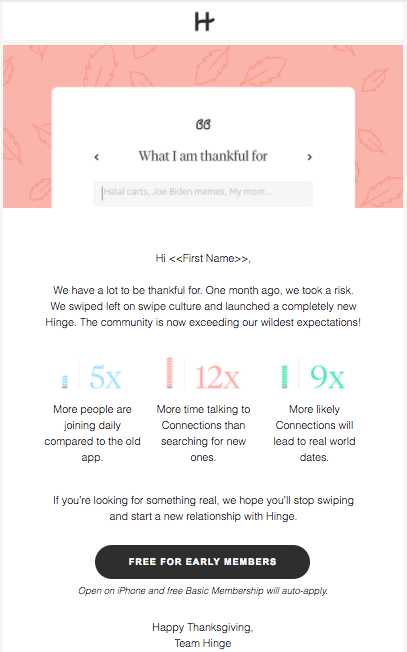 It's hard to beat the timing of this kind of advertising. Many people strongly need to spend the holidays with "someone special" because of the sentiment they evoke.
Hinge sent this email to capitalize on the season of giving and draw attention away from "short-term alternatives" toward an app that helps people establish genuine relationships.
7. Kool-Aid: All I Really Want for Christmas feat. Lil John
Music video-style commercial featuring rapper Lil John sipping Kool-Aid while the Kool-Aid man crashes through his wall.
At that point, the bass lowers, and a festive music video showcases Lil John rapping in front of a family Christmas celebration. The video shows Lil John, the Kool-Aid Man, and Santa dancing and views of holiday food, presents, and Lil John's Christmas list.
Kool-Aid launches a full-fledged music video with a famous rapper to engage potential customers and show off how "Kool" their product is. When you're craving something warm to drink, this ad will serve as a witty and entertaining reminder that you can still have some Kool-Aid.
8. Erste Group Bank: #EdgarsChristmas #believeinlove #believeinchristmas
Although you may be unfamiliar with this firm, you have no doubt seen their 2018 Christmas commercial. Recall the endearing porcupine who his fellow animals shunned because of his… spikes?
Over fifty million views of the short film on YouTube have been shared widely across other social media platforms, touching the hearts of tens of millions more people.
During the holiday advertising campaign of 2020, Erste Group Bank succeeded once again. Loans to help you afford something that seems out of reach but has the potential to bring your family closer together is what they're offering this time around, and they made that a little more apparent.
In the first scene of the commercial, a granddaughter gives her granddad his hearing aids. The grandfather seems miserable throughout the entire clip. We subsequently learn that this is because he has always wanted to play music but has never had the opportunity because he has never owned a piano.
The grandchild buys him a piano as a gift. The granddad finishes by performing a song he wrote for his mom. Everyone in the household participates in playing the song.
9. Disney: From Our Family to Yours
This Disney commercial for the holidays combines cultural relevance, historical context, and seasonal spirit. The media conglomerate capitalizes on its storied history to transport us to 1940 when a small girl receives her very own Mickey Mouse stuffed animal.
The young girl in the film ages before our eyes until she is a grandmother. She eventually passes the stuffed animal on to her granddaughter, who no longer finds much joy playing with it as she grows up.
When the granddaughter sees how much her grandmother loves the toy, she decides to fix it up. After fixing grandma's old toy for the holidays, we weren't the least emotional about it.
Having come to expect moving stories from Disney, this one did not disappoint us. It's excellent that Filipino culture has been shared with over three million viewers, and the number keeps growing.
10. Walkers: All Mariah Carey Wants for Christmas
Walkers depict singer Mariah Carey acting selfishly and greedily throughout the holiday season.
While making the music video for her hit single "All I Want for Christmas Is You," singer Mariah Carey became enraged with an elf who had stolen her Walkers chips.
She uses a high note in her song as a distraction, and he gives up his grip on the chips after covering his ears. This commercial is humorous because it highlights the fact that Walker's products are the one gift some people might rather keep to themselves on Christmas. It also demonstrates that celebrities like Carey appreciate the product.
Conclusion
Make the most of your creative collaborations by using these holiday marketing tactics in your campaign. Following these holiday marketing strategies will help you adjust to the specifics of the upcoming holiday season in the year 2023. The fact that the brands restore merriment to the holiday season is our favorite aspect of these holiday marketing campaigns. Don't allow the holiday pressure to get to you this year. 
1. How do you do holiday marketing?
1. Consider an influencer strategy.
2. Be prepared for more competition than ever.
3. Appeal to shopper emotions.
4. Be ready to react and adapt quickly.
5. Plan Ahead of Time.
6. Remember your existing customers.
7. Partner with a non-profit.
2. What makes a great holiday marketing strategy?
Knowing who you're trying to reach before, during, and after the holidays is crucial to launching an effective marketing campaign. Increase your social commerce efforts to share seasonal promotions and discounts with younger customers, such as Gen Z and Millennials.
3. Why is holiday marketing important to a business?
By promoting sales and freebies during the holiday season, businesses can increase their revenue and boost their standing with consumers while also satisfying their shopping needs. It puts the company's adaptability and expansion capabilities to the test. The excitement of Black Friday and Cyber Monday is an actual test for businesses.