Are you trying to find the best Twitch influencers to work with? Look no further! This article will provide an overview of some of the top Twitch influencers who can help take your business or project to new heights. With the ever-growing popularity of streaming services, it has become increasingly important for businesses and brands to consider working with Twitch influencers.
There are no links in your article. Try adding some of our anchors and link to them, please.
Best Reasons to Hire Twitch Influencers
Are you looking for ways to reach a larger audience? Hiring Twitch influencers is the perfect way to boost your brand's presence and promote products or services. With the rise of gaming and streaming, Twitch influencers are becoming increasingly popular among brands. Here are the best reasons why you should hire Twitch influencers for your brand:
1- Users Love Live Content
The evolution of social media has paved the way for the success of Twitch influencers. With streaming services like Twitch, users are able to watch and interact with different types of Twitch streamers while they broadcast their gameplay or other activities in real-time. Not only can influencers reach a broader audience through these platforms but they also create an engaged community that brands love to tap into.
Studies have shown that live content is quickly becoming one of the most popular forms of media consumption among viewers today. This is why hiring Twitch influencers may be a great option when it comes to promoting your brand online.
Influencers offer unique insight and authenticity that resonates with followers on a deeper level than traditional advertising methods do. Plus, due to their already established fan base, you can guarantee your message will reach a larger number of potential customers than ever before.
2- Brands Can Diversify Their Audience
As the streaming platform Twitch continues to explode in popularity, brands have found a unique way to capture a whole new audience. By working with Twitch influencers, companies can tap into an engaged and passionate fan base that is well-positioned within the young generation of digital natives.
Twitch influencers are content creators who specialize in creating gaming-related content on the streaming platform and have a large online presence with thousands of followers. These influencers have a powerful ability to connect directly with their fans on a personal level and create highly engaging content that entices viewers to stay tuned in for hours. Brands now recognize this potential and are beginning to reap the benefits of using Twitch influencers for their products or services.
3- Twitch Influencers Have Credibility
As businesses explore different digital marketing channels, Twitch influencers come to the forefront as a viable source of promotion. Many brands are now partnering with Twitch influencers to reach broader audiences and create more engagement for their business.
Twitch influencers have strong credibility in the gaming community. With their loyal following, these influencers can help spread your brand's message and increase its visibility. Their endorsement carries weight because they have an audience that trusts them – making their messages about your brand more believable and credible than a traditional advertisement. This trustworthiness can also lead to better conversion rates for your brand as well.
When using Twitch influencers to promote your business, it's important that you choose someone who aligns well with your values and products/services (as opposed to anyone who has a high follower count).
4- Twitch Marketing is Growing Rapidly
The influence of Twitch influencer marketing is growing rapidly. This is due to their ability to reach millions of viewers and promote products or services, making them an attractive option for brands looking to expand their marketing efforts.
Twitch content creators have complete control over what they produce, allowing them to tailor it specifically to their audience. Brands are able to collaborate with these influencers in various ways such as sponsoring videos, hosting live-streaming events, or creating custom content. With this approach, brands can directly target a specific demographic that is already interested in their product or service.
Twitch influencers also offer a high ROI for brands who choose to work with them because of the vast amount of viewers they can reach within a short period of time.
5- Businesses Can Leverage Native Advertising
Native advertising is an effective way for businesses to get their message out there without being intrusive. By leveraging Twitch influencers, brands can create even more targeted content that resonates with their target audience.
Twitch influencers have a large following, making them the perfect choice for brands looking to tap into the native advertising realm. These influencers are active and engaged on the platform, often streaming multiple times a week, giving businesses more opportunities to get involved in the conversation. Plus, they understand the platform better than anyone else which makes them perfect for crafting engaging campaigns and connecting with viewers.
By partnering with Twitch influencers, brands can create authentic content — such as product reviews or tutorials — that connects directly with their target audience. This kind of native advertising allows businesses to reach wider audiences while also creating meaningful engagement and increasing brand awareness.
How to Find Twitch Influencers?
In terms of twitch advertising, finding the right Twitch influencer for your brand can be a daunting task. With so many to choose from, it may seem like an overwhelming process. But with a few tips and tricks, you can quickly narrow down your search and find the perfect influencers for your project.
The first step is to determine what type of Twitch influencer is best suited for your needs. Are you looking for someone who specializes in gaming? Or is someone more focused on streaming music or other types of content? Knowing this ahead of time will help you focus your search on finding those who have experience in that specific area.
Next, start researching potential Twitch influencers based on their followers and engagement levels. Look at how often they post, how responsive their audience is to their content, and whether or not they're active on other social media channels as well.
On the other hand, you can use some Twitch influencer marketing platforms like Grin or Upfluence to find the best and most relevant Twitch influencers.
Top Twitch Influencers
Twitch, the live streaming platform, has become a household name for gamers and influencers alike. It's no surprise that some of the top Twitch influencers have amassed loyal followings since they began broadcasting.
These talented Twitch streamers are creating content that is both entertaining and educational. Their streams offer viewers an opportunity to learn tricks, tips, and strategies to improve their gaming skills, as well as engage with their favorite influencers in real time.
1. Shroud
Shroud, a streaming celebrity, is one of the most popular Twitch influencers in the industry. Shroud's real name is Michael Grzesiek and he rose to fame after playing Counter-Strike: Global Offensive professionally. His content draws millions of viewers every month and he has over 10M followers on his Twitch channel.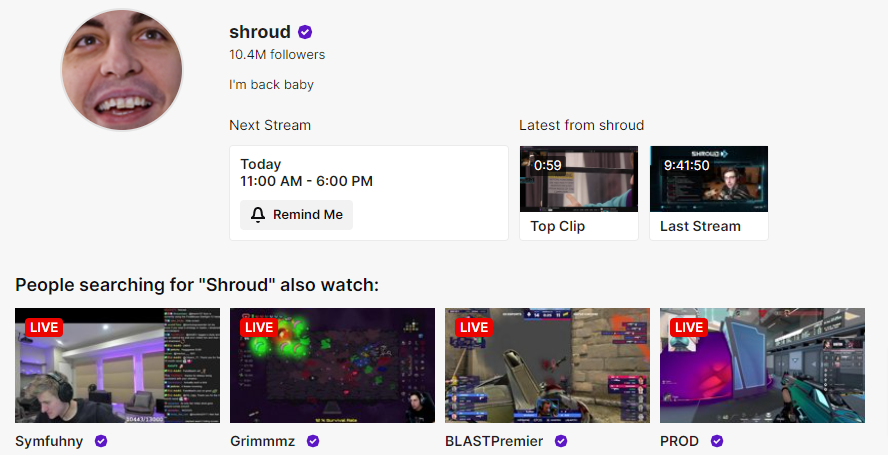 Shroud is well known for his entertaining streams and gameplay featuring various games such as Fortnite, Apex Legends, Call of Duty Warzone and Escape from Tarkov. His unique brand of humor makes him extremely popular with viewers, who tune in to watch him play their favorite games alongside other streamers. In addition to his gaming streams, Shroud also does live Q&A sessions with fans which gives them an opportunity to engage directly with him.
2. Ninja
Ninja, also known as Tyler Blevins, is one of the world's biggest Twitch influencers. He is renowned for his gaming streams and has made a huge impact on the Twitch community since he started streaming in 2011.
The most popular game Ninja regularly streams is Fortnite Battle Royale. As a result of this, he has become one of the most influential Twitch streamers in our generation with over 18M followers on his channel. He also makes money through donations and sponsorships from various brands and companies.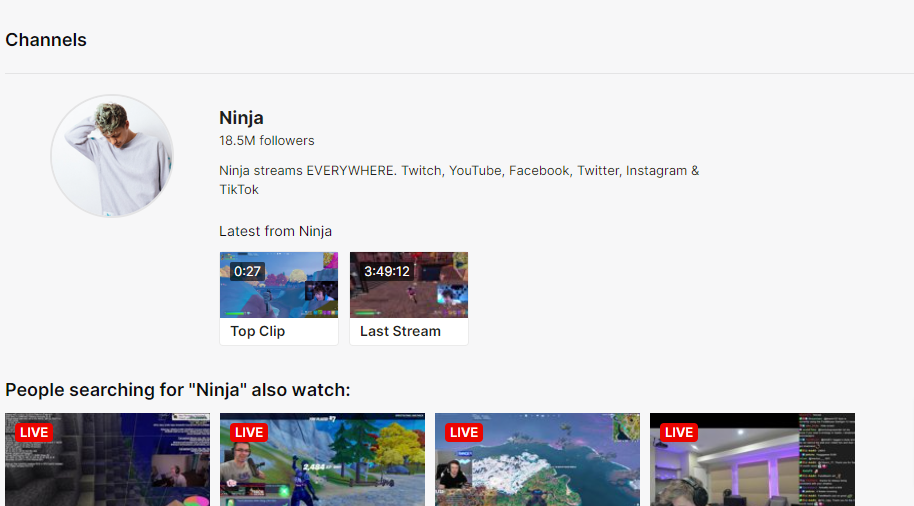 Ninja's success comes from his commitment to providing high-quality content to viewers around the world while staying true to himself at all times. Whether it is through comedy or gameplay, Ninja never fails to entertain his fans and continues to be one of the best Twitch influencers today!
3. Summit1g
One Twitch influencer, Summit1g, is one of the top earners on the platform and has gained millions of followers over his career.
Summit1g's success can be attributed to its entertaining and educational content. He began by creating gaming videos with a focus on first-person shooters such as Counter-Strike: Global Offensive and Call of Duty. As his channel grew in popularity, he began producing variety shows that featured guests from all walks of life. His informative commentary and engaging personality make him one of Twitch's favorite personalities.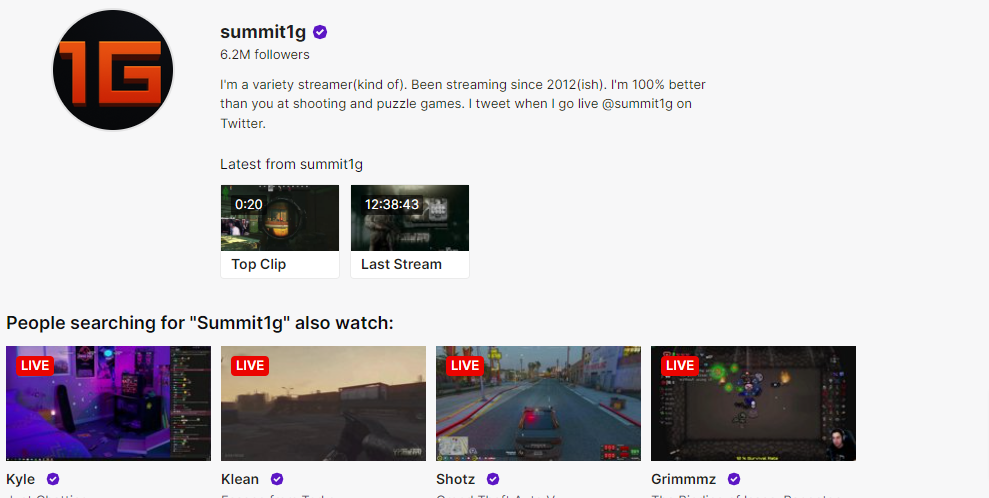 Summit1g is an example of how streaming platforms have provided individuals with unique opportunities to build successful careers around their passions while also providing viewers with entertainment they may not find anywhere else.
4. Syndicate
Syndicate is one of the most popular Twitch influencers out there. His real name is Thomas Cassell, but his gaming handle 'Syndicate' has become a household name amongst gamers.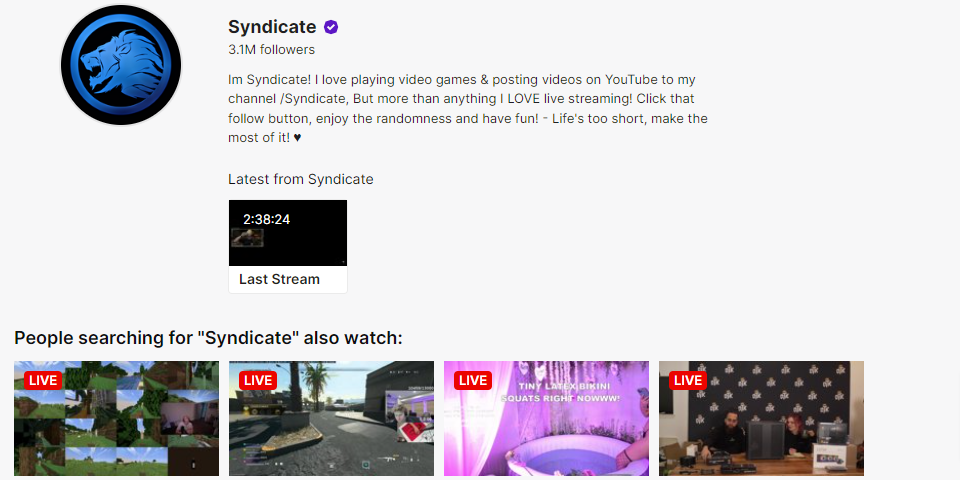 As an avid gamer with a genuine passion for making people laugh, Syndicate quickly caught the attention of the online gaming community due to his wit and charm as well as his skillful gameplay. He streams live gameplay from various genres including shooter games such as Counter-Strike: Global Offensive, sandbox games like Minecraft, and story-driven titles like The Witcher 3: Wild Hunt.
5. Nightblue3
Nightblue3 is a rising star in the Twitch influencer space. He is truly an inspiration to anyone looking to make it big as a Twitch influencer.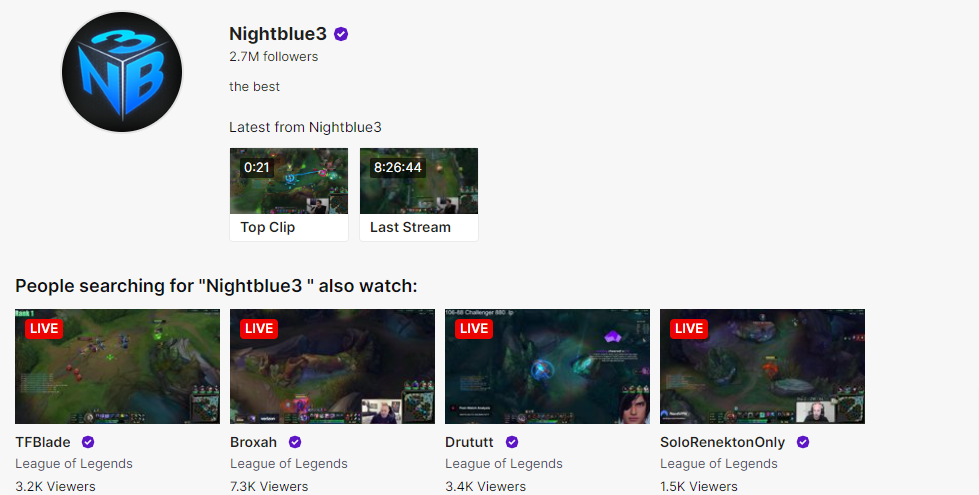 As well as streaming content such as League of Legends and Fortnite, Nightblue3 also creates content across multiple genres, including vlogs and podcasts about gaming culture. His overall reach across social media platforms such as YouTube, Twitter, and Instagram is huge, with millions of followers tuning in each month from all around the world. Nightblue3 has been able to monetize his influence through sponsorships and partnerships with major brands, further cementing his success.
6. Valkia
Generally, he is one of the Twitch influential streamers who has quickly built up a dedicated fanbase over the last few years.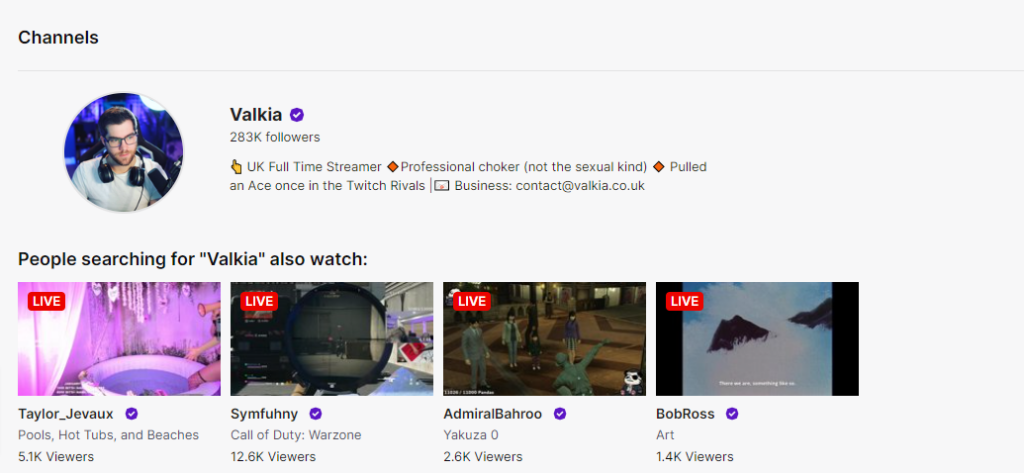 Valkia streams a variety of games from Fortnite to League of Legends, as well as hosts multiple types of interactive game shows and tournaments. He also participates in giveaways, Q&A sessions, and other activities that keep his viewers engaged and entertained. His personality and skill have helped him amass more than 200K subscribers on Twitch, making him one of the most popular influencers on the platform.
7. Sodapoppin
Sodapoppin is one of the biggest Twitch influencers in the streaming community. Within this twitch influencer gaming career, he has earned himself over 8M subscribers.
Sodapoppin streams a variety of games from Overwatch to World of Warcraft, and even creates his own content for his viewers such as comedic sketches and prank videos. This influencer's entertaining personality continues to keep people engaged with the channel as well as draw in new viewers each day.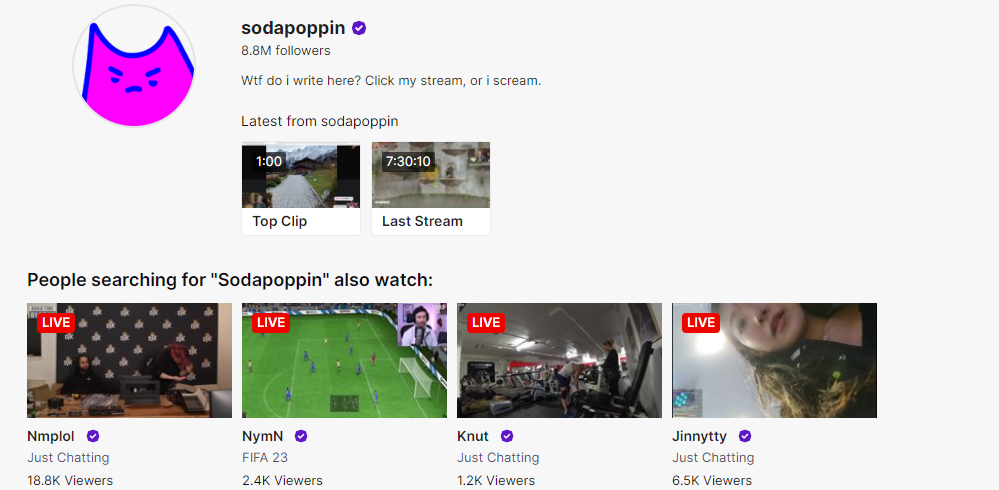 He continues to be a major influencer within the online streaming community and with that comes great responsibility. Sodapoppin provides an example for other Twitch influencers by building a safe environment where everyone can feel comfortable while enjoying entertainment through live streaming.
8. Imaqtpie
Imaqtpie, a well-known Twitch influencer, has been making waves in the streaming industry. This influencer is the online pseudonym of Michael Santana who rose to fame as a League of Legends player and streamer. He was one of the first streamers on Twitch which made him a popular figure among gamers across the world.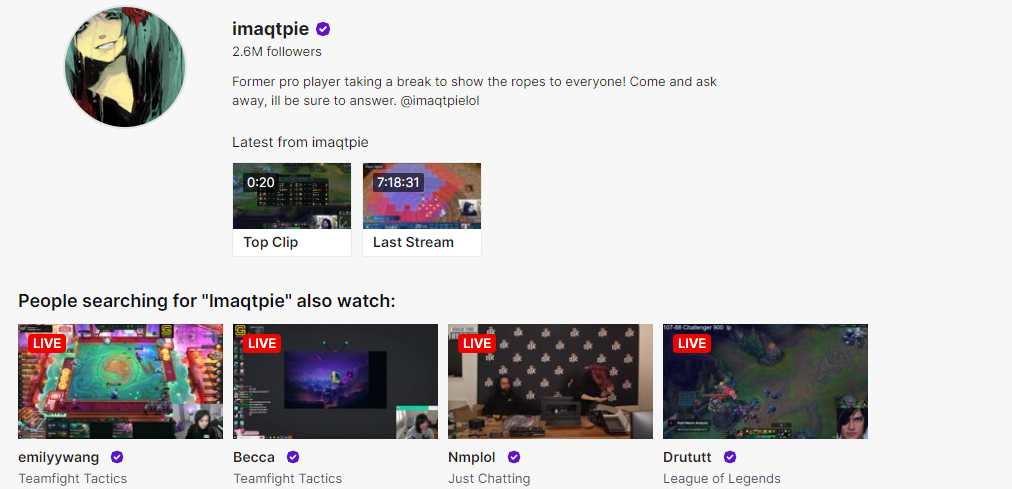 As a Twitch influencer, Imaqtpie has gained immense popularity over time due to his entertaining streams and content. He is an expert at creating engaging streams which keep his viewers hooked to his channel.
His witty repartee, analytical knowledge of games, and relaxed attitude have helped him garner millions of followers over time. In addition to this, he also delivers powerful messages about staying motivated and positive when gaming or streaming on social media platforms like Twitter and Reddit.
9. LoserFruit
LoserFruit is a Twitch influencer who has been creating content for the gaming platform for over six years. She is known for her interactive streams and unique content, which have attracted millions of followers from around the world.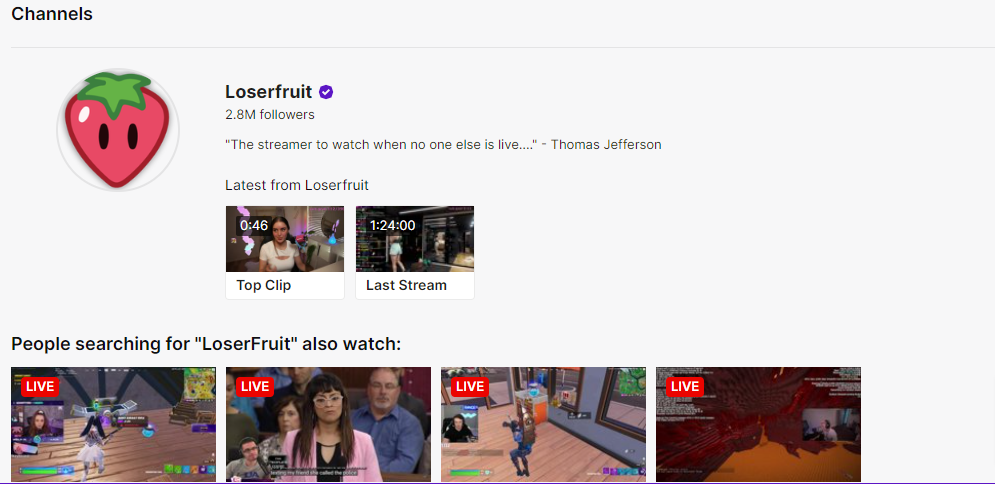 The Australian streamer began her journey as an online gamer in 2013, when she started playing League of Legends and Minecraft. It wasn't long before LoserFruit was streaming her gameplay on Twitch and building up a loyal fan base.
As time went on, she diversified her content to include a variety of genres, such as creative art streams and lifestyle vlogs.
Today, LoserFruit is one of the most celebrated Twitch influencers around with over 2M followers across all platforms. Her success has also earned her endorsements from well-known brands like Amazon Prime Video and Xbox Australia.
10. JoshOG
JoshOG is one of the most successful Twitch influencers with millions of followers tuning into his streams and videos. He's been streaming since 2013, first on Justin.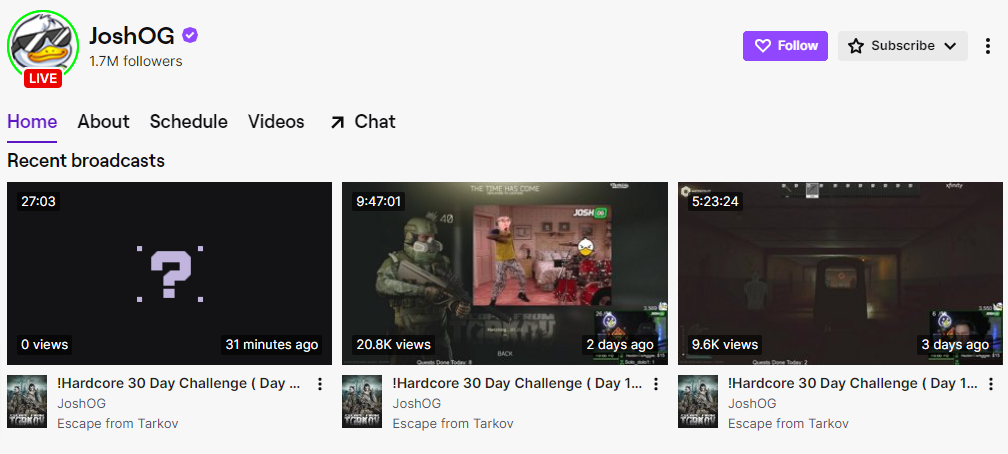 His success has helped him become an official brand ambassador for companies such as HyperX and G Fuel Energy Drinks alongside other major names in gaming and streaming culture.
He also runs a highly successful YouTube channel where he uploads highlights from his streams that have gained millions of views over time. JoshOG also hosts charity events every year to help raise money for causes like cancer research and animal welfare organizations.
Conclusion
All in all, it's clear that Twitch influencers are a powerful force in the world of gaming and entertainment. They have the power to influence how content is consumed and create meaningful connections with their followers.
It's no surprise why so many people, from professional gaming organizations to casual gamers, turn to these influencers for guidance and inspiration. The future of Twitch influencer culture looks bright, with plenty of opportunities for those who want to build a career or business in this space.
Who is the Top 1 Streamer on Twitch?
Now Ninja is a household name and Twitch's current #1 streamer. His streams consistently draw millions of viewers each week and he boasts one of the largest social media followings among gamers today. He's even managed to attract some celebrity attention along the way, with Drake joining him in 2018 for a record-breaking session that drew 635k viewers!