Are you an avid Amazon shopper looking to discover new products and trends from trusted sources? You may also be a brand wanting to reach a wider audience and promote your products. That's why it's important to know how to find Amazon influencer storefronts for collaboration. 
Before getting into finding Amazon storefront influencers, you should know how Amazon influencer marketing can boost your business. Therefore, read all about this type of marketing to discover if it is suitable for your business. 
In this guide, we'll explain what an Amazon influencer storefront is and take you through the steps of finding and following an Amazon storefront influencer. Let's get started!
What is an Amazon Influencer Storefront?
An Amazon influencer storefront is a page on Amazon where influencers can showcase their favorite products and make product recommendations to their followers. The store is curated by the influencers, who select the products they endorse and deem worthy of their followers' attention.
After becoming an Amazon influencer, they can earn a commission from purchases made through their storefronts, allowing them to monetize their content and earn a living through their recommendations.
For followers, the influencer storefront provides a convenient and personalized way to explore new products and brands. As such, Amazon influencer storefronts are a popular way for influencers to connect with their audience and for followers to discover new products that align with their interests.
Best ways to find Amazon influencer storefronts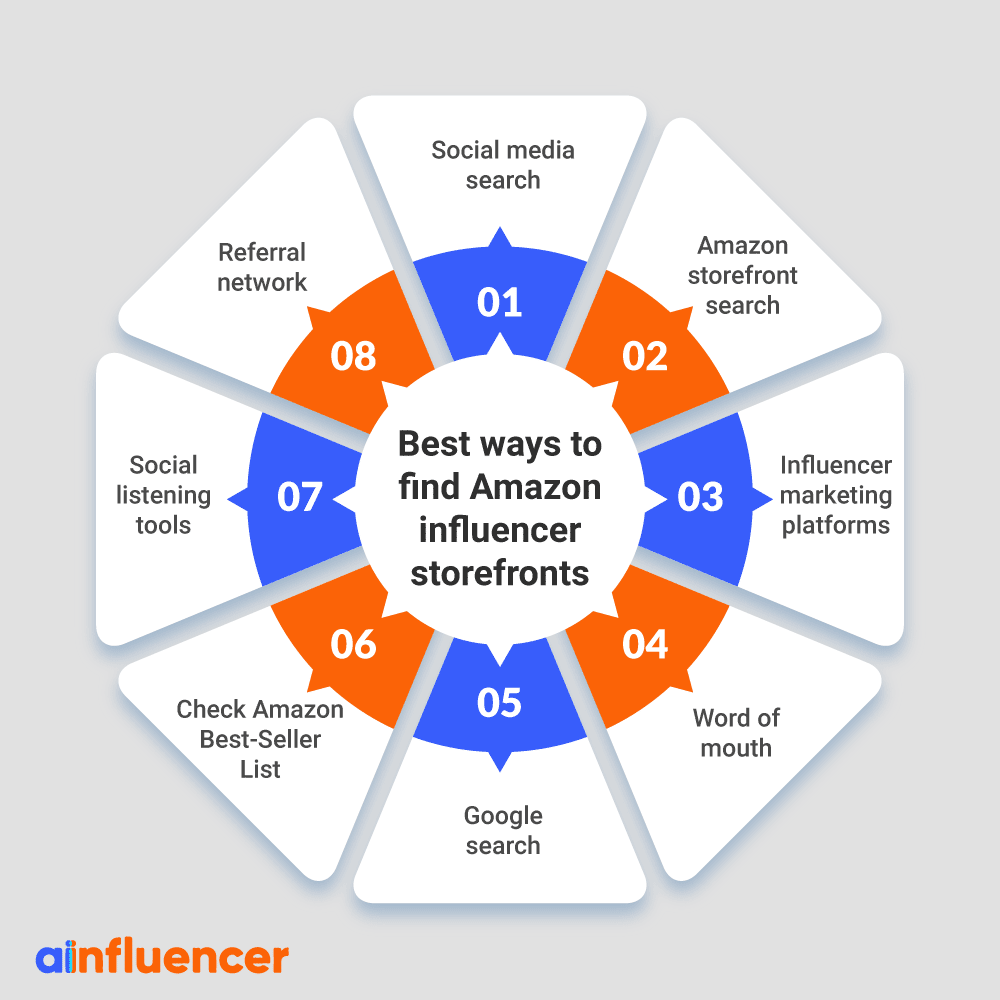 Although the process of doing search Amazon storefronts is daunting and time-consuming, here are some of the easiest and most effective ways to find Amazon influencer storefronts:
1. Social media search
Many influencers with Amazon storefronts promote their shop through social media platforms. You can use social media search to find these influencers by looking for relevant hashtags, product tags, industry-specific tags, or search using keywords. Follow conversations and posts from influencers and keep track of their posting frequency, engagement rates, and follower count.
Therefore, if you find Instagram influencers, you can find their storefront too. But, how to find influencers? 
The easiest method is to use influencer marketplaces, like Ainfluencer, where you can search for Influencers based on category, gender, location, number of followers, and hashtags. 
Ainfluencer is a 100% DIY and free marketplace that takes advantage of its AI search engine to identify and find influencers in your desired niche.
2. Amazon storefront search
You can also use the Amazon storefront search feature to find influencers in your niche. Have an idea of what kind of product category your influencer or target audience would be interested in, then search for a relevant keyword.
Scroll through the Amazon influencer lists and look for storefronts that have high-quality items, host deals, and have a sizeable positive review count. Influencers with Amazon storefronts are likely to have an "Influencer referral program," "Contact" tab, mailbox, or chatbot on their storefront page. Use these ways to contact them and initiate a relationship.
3. Influencer marketing platforms
As the Influencer marketing platforms come into play, it is now easier for brands and influencers to connect. These platforms work by matching influencers with brands based on various criteria such as demographics, location, content categories, and audience size. 
Many of these platforms have built-in search engines that allow you to search for influencers by location, audience demographics, social media reach, and keywords. You can also filter your search by platform, making it easier to find influencers on the Amazon storefront with a maximum level of reach.
4. Word of mouth
Another powerful way to find Amazon influencer storefronts is incorporating word of mouth marketing. It involves people sharing their experiences and recommendations with others through verbal communication. This could be from family, friends, or colleagues who have purchased products from an influencer on Amazon and are impressed with the quality and effectiveness of the product.
When someone recommends an influencer storefront to you through word of mouth, you can search for that storefront on Amazon and then read reviews from other customers to determine if it fits your needs.
Word of mouth is often seen as a more trustworthy source of information than other forms of advertising because it comes from someone you know and trust.
5. Google search
You can also try Google search by using keywords relevant to your product and include phrases like "Amazon storefront influencer" or "influencers on Amazon" to help narrow down your results. 
You may be able to find several blogs or articles that list popular Amazon storefront influencers in your niche.
6. Check Amazon Best-Seller List
Another way to find Amazon influencer storefronts is by checking the best-seller list for your product category. If you see an influencer or two repeatedly appearing on the list, chances are they have a large following and a lot of influence on Amazon. You can reach out to them and ask if they would be willing to collaborate or promote your products.
7. Social listening tools
Social listening tools like Hootsuite Insights and Brand24 can help you identify influencers who are already talking about your products or your industry. These tools allow you to track specific keywords, hashtags, or brand mentions on all major social media platforms. When you find influencers who are already talking about your products, you can reach out to them directly and ask if they would like to promote your brand.
8. Referral network
You can also use your existing network of contacts to find Amazon storefront influencers. Ask your customers, employees, business partners, and industry contacts for referrals. They may know of someone who has a storefront on Amazon and could connect you with potential influencers.
Overall, finding Amazon storefront influencers requires some research and patience. However, once you find the right influencers, the payoff can be significant in terms of sales and brand exposure.
Tips for finding Amazon influencer storefronts
Here are some tips you need to pay attention to when finding Amazon influencer storefronts:
1- Use Amazon's influencer page
Amazon has a dedicated page where you can browse through different influencer storefronts. This is an excellent place to start your search as it provides access to a variety of influencers that cater to different interests.
2- Check influencers' social media accounts
Many Amazon influencers promote their storefronts on social media and have a significant following. You can search for Amazon influencers on social media platforms like Instagram, Twitter, and Facebook.
3- Read reviews
If you're interested in purchasing a product from an influencer storefront, make sure to read reviews from other customers first. This can help you get an idea of the product's quality and effectiveness.
4- Look for influencers in your niche
Depending on what you're looking for, it's a good idea to find influencers that cater to your interests or needs. Amazon influencers cover a broad range of topics, from beauty and fashion to tech and gaming.
5- Use search terms
Use specific search terms to find influencer storefronts on Amazon. For example, if you're looking for natural skincare products, you can search for "natural skincare Amazon influencer" to find relevant storefronts.
Overall, finding Amazon influencer storefronts requires a bit of research and effort. By following these tips, you can find reliable influencers that offer quality products that meet your needs.
Conclusion
In conclusion, learning how to find Amazon influencer storefronts can be a valuable tool for both customers and influencers. By searching for influencers on social media platforms or using Amazon's influencer search, you can easily find their storefront and discover products that they endorse.
Additionally, influencers can benefit from having a storefront on Amazon by gaining increased visibility and sales, while customers can enjoy the convenience of shopping for endorsed products on a trusted platform. With these tips and strategies, anyone can easily find and explore Amazon influencer storefronts.
If you want to find Instagram influencers to promote your Amazon stores, you can join Ainfluencer for free. 
FAQs:
1. How Many Followers Do You Need for the Amazon Influencer Storefront?
To qualify for an Amazon influencer storefront, Amazon requires that an influencer should have:
-At least 1,000 followers on one social media platform such as Instagram, YouTube, Twitter, or Facebook.
-A high engagement rate with their audience.
-The influencer should fall within the categories available for the Amazon influencer program.
Once an influencer meets the above criteria, they can apply to the program and start creating their own storefront by curating a list of recommended products that they endorse.
2. How Do I Open an Amazon Storefront?
To open an Amazon storefront, follow these steps:

– Meet the eligibility requirements for Amazon influencers.
– Log in to your Amazon account and go to the Amazon Influencer Program page.
– Apply for the program by filling out an application and providing information about your
social media presence and metrics.
– If approved, you will receive access to your own influencer dashboard, where you can create your storefront, curate products to recommend and earn commissions on sales made through your storefront.
– Customize your storefront by choosing a name, profile picture, and banner image.
– Curate your product recommendations based on your personal brand and your followers' interests.
– Share your storefront with your social media followers, website visitors, and email subscribers to drive traffic and increase sales.

Overall, opening an Amazon storefront is a great way to monetize your social media influence and recommend products you believe in to your followers while earning commissions on sales.

3. Can Everyone Have an Amazon Storefront?
Not actually everyone can have an Amazon storefront. It is dedicated to sellers with Brand Registry approval. Creating an Amazon Storefront is free for brands and businesses who have specific products to sell on this platform.
[hubspot portal="21389161″ id="3e2e07b0-2a8c-4e4a-a026-716009e04638″ type="form"]