If you're an influencer or content creator, you might want to take advantage of the Amazon Influencer Program. This program is designed to help you earn commissions while promoting products on Amazon. But what exactly is the Amazon Influencer Program, and how does it work?
It's noteworthy to mention that there are other methods to make money on Amazon as well. Therefore, if you are not eligible to participate in this program, you still have a chance to increase your income by joining Amazon. 
In this ultimate guide, you'll learn everything you need to know about this program; from how to join to tips for success. So, get ready to discover how you can make the most of your Amazon earning potential by becoming an Amazon Influencer!
What is the Amazon Influencer Program?
Influencers can benefit from joining the Amazon influencer program, which is designed by Amazon to help influencers and content creators monetize their social media presence by earning commissions from promoting Amazon products. 
Once you become a part of the program, you can create your personalized Amazon influencer storefront to promote the products you love on Amazon. When your followers click on the unique product links you share and make purchases, you can earn a commission on those sales.
Therefore, the Amazon Influencer Program is a win-win for both influencers and Amazon, as it allows influencers to earn money while promoting products, and Amazon gets to reach a wider audience. You should note that the Amazon influencer program is different from Amazon affiliation. Read about their differences to find out which one better suits you.
Who can join the Amazon Influencer Program?
Do you know how you can become an Amazon influencer? To join the Amazon Influencer Program, you need to meet the following criteria: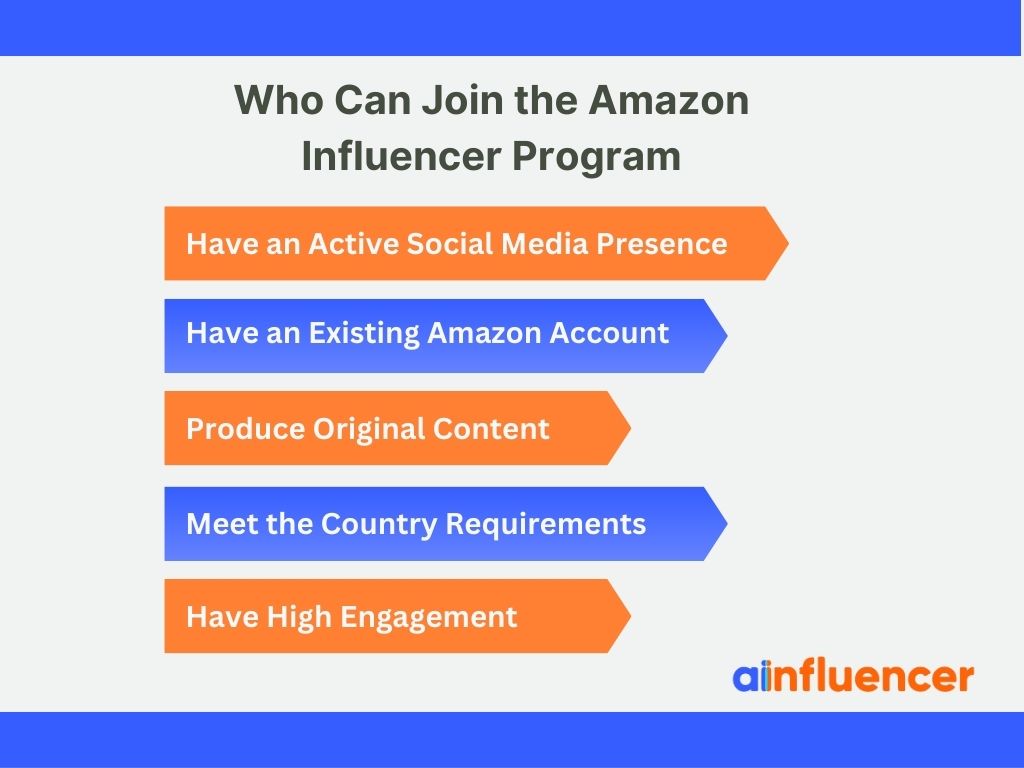 Have an Active Social Media Presence: You must have a significant social media following on platforms like Instagram, YouTube, or Twitter, where you can promote products to your followers.
Produce Original Content: You must create and post your unique content, such as videos, photos, or posts, to engage and retain your followers. Additionally, creating Instagram reels can help you get more views. So, don't forget to learn more about this feature. 
High Engagement: Your social media presence should generate high engagement to show that you have an active and engaged community. However, there are some tricks that can help you increase your engagement rate.
Meet the Country Requirements: The program is currently available in the United States, the United Kingdom, Canada, France, Germany, Italy, Spain, Japan, Mexico, and India. You must be a resident of one of these countries and have a valid government-issued ID. Therefore, if you are not in these countries, check out other methods to make money on Amazon. 
Have an Existing Amazon Account: You must also have an existing Amazon account and be able to comply with their terms and conditions.
Overall, the Amazon Influencer Program is designed for individuals who have built a significant social media presence within a particular niche, and their followers trust their product recommendations.
How to Find Amazon Influencers? 
There are several methods you can choose to find Amazon influencers, including: 
Note: Apart from Amazon influencer marketing, you can collaborate with Instagram and TikTok influencers to promote your store on social media. In this case, you can run different types of collaborations, such as viral marketing, reviews, or giveaways. 
Furthermore, most of these influencers are available on Amazon too. So, you can ask them to put your product on their recommendations on the Amazon storefront.
Google Search, where you can search for Amazon influencers in your niche. 
Amazon Storefront Search, where all the Amazon influencers are available. 
Join Ainfluencer: the Best Influencer Marketing Platform
With more than 500k influencers on its marketplace, Ainfluencer is a free influencer marketing platform where brands and influencers connect. You can narrow down the list by selecting the factors that are important to your business, such as category, gender, location, number of followers, and even hashtags they use.
Thus, with only a few clicks, you will get to the list of influencers where you can send your campaign invitation and start negotiations. Therefore, join Ainfluencer for free to find the proper influencer who can promote your brand on social media.
What are the differences between the Amazon Influencer Program and Amazon Associates?
The Amazon Influencer Program is a new program that allows social media influencers to earn commissions on Amazon products they recommend to their followers.
On the other hand, Amazon Associates is an affiliate marketing program that enables website and blog owners to earn commissions by promoting Amazon products on their websites.
The main differences between Amazon Influencer Program and Amazon Associates are:
1- Eligibility
The Amazon Influencer Program is open to social media influencers with a large following, whereas Amazon Associates is open to anyone with a website or blog.
2- Commission rates
The commission rates for the Amazon Influencer Program are typically higher than those for Amazon Associates.
3- Payment options
Amazon Influencer Program payments are made through Amazon gift cards, whereas Amazon Associates payments can be made through direct deposit or checks.
4- Product recommendations
Top Amazon influencers can only recommend products that are part of the program, whereas Amazon Associates can promote any Amazon product.
5- Marketing options
Amazon Influencer Program members can use their own Amazon storefront, whereas Amazon Associates can choose from various marketing tools like widgets, banners, and links to promote products.
How can you create an Amazon store?
 Follow these steps to create an Amazon store:
Go to Amazon's website and sign up for a seller account if you haven't already.
Once you've signed up, go to your seller account dashboard's "Stores" section and click "Create Store."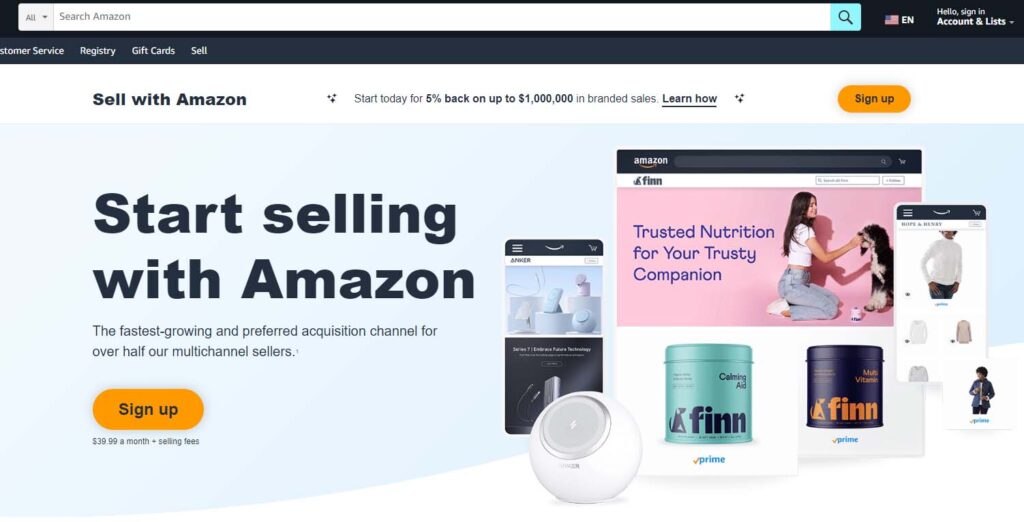 Choose the template you want to use for your store from the options available.
Customize your store by adding images, logos, and descriptions that match your branding.
Add products to your store by uploading product listings.
Promote your store.
After setting up the store, make sure to keep it updated by adding new products, updating descriptions, offering promotions, and responding to customer feedback to ensure a positive shopping experience.
Note that there are certain Amazon influencer requirements, fees, and rules governing Amazon stores that you need to follow, so make sure you read and understand them before launching your store.
How can you promote your Amazon store?
Now that you have created your Amazon Store, it's time to use different methods to promote your store and sell more products. Here are some examples: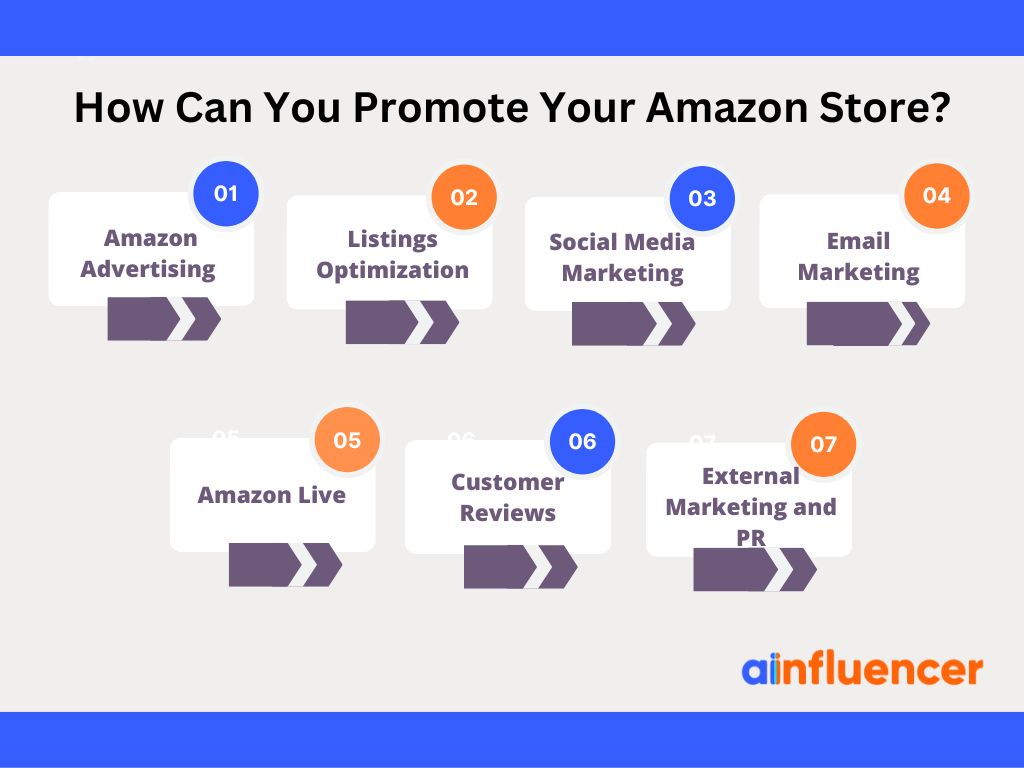 1- Amazon Advertising
Amazon offers several advertising solutions to help you reach potential customers, including Sponsored Products, Sponsored Brands, and Sponsored Display Ads. You can also use Amazon DSP to display ads across different websites and apps.
2- Optimize your listings
Make sure your product titles, descriptions, and images are high-quality and optimized for search engines to increase your visibility on Amazon. Use relevant keywords and include as much detail as possible to make your listings stand out.
3- Social media
Promote your Amazon store on your social media channels by posting links to your products or sharing customer reviews. You can also collaborate with influencers to promote your products to their followers.
Note: You can search for your desired influencers on influencer marketplaces, such as Ainfluencer. As mentioned, Ainfluencer is a DIY marketplace full of brands and influencers who want to do Instagram influencer marketing and collab.
4- Email marketing
Use email marketing to keep your customers updated on new products, sales, and promotions. You can also use email marketing to gather customer feedback and improve your store.
5- Amazon Live
Use Amazon Live to create videos to showcase your products, answer customer questions, and promote your brand.
6- Customer reviews
Encourage your customers to leave an Amazon influencer program review on your products, as this can help boost your visibility on Amazon and increase your credibility.
7- Use external marketing and PR
You can also use external marketing techniques like press releases, influencer marketing, and content marketing to promote your Amazon store and increase your brand awareness.
Remember that building a successful Amazon store requires patience, persistence, and hard work. Use a combination of these techniques and always look for ways to improve your store to ensure success over the long run.
Meanwhile, if you want to design an ad, read these tips about advertisement design to create more engaging ads.
Essential tips for success with Amazon Influencer Program
Here are some essential Amazon influencer tips to help you when working with Amazon Influencer Program:
1- Build your brand
Establish a clear and consistent personal brand that aligns with the products you promote. Use high-quality photos and engaging content to showcase your unique style and personality.
2- Grow your audience
Focus on building a loyal following on social media platforms where your target audience is most active, such as Instagram or YouTube. Share your Amazon influencer page with your followers and encourage them to browse and shop your recommendations.
3- Choose the right products
Select products that align with your niche and resonate with your audience. Keep up with industry trends and hot products to stay relevant.
4- Create quality content
Produce high-quality content, such as product reviews, tutorials, and demos. Provide valuable information and showcase the benefits of each product to your followers.
5- Be authentic
Honesty and authenticity are key to building trust with your audience. Only promote products that you genuinely believe in and use yourself.
6- Analyze your results
Use the Amazon Influencer Program dashboard to track your earnings and analyze which products are performing well. Use this information to tweak your strategy and optimize your earnings.
By following these tips, you can successfully utilize the Amazon Influencer Program to earn income and build a loyal following.
Conclusion
As described in this article, the Amazon Influencer Program a platform to help influencers promote products on Amazon and receive commission. The program offers many benefits, including a personalized storefront, analytics, and a wide range of products to promote.
However, to be eligible, you must meet the amazon influencer program requirements, which are a certain number of followers, being active on social media, and living in the countries where this program is available. So, if you're an influencer looking forward to making a lucrative income from your influence, the Amazon Influencer Program is an excellent opportunity to expand your influence and income.
Furthermore, as an influencer, even with the minimum number of followers, you can still make money on social media. No matter in which niche you create content, Join Ainfluencer for free and make yourself discoverable to more businesses. This way, you can increase your chance of making money via influencer marketing.
FAQs
Do You Get Paid for Amazon Influencer?
Yes, you can earn money through the Amazon Influencer Program. As an influencer, you can earn a commission for every sale made through your Amazon Influencer link. The commission percentage differs depending on the product category, typically from 1% to 10% of the product's selling price. Additionally, you can earn bonuses for promoting Amazon's private-label products.
How Can I Get Free Amazon Products?
Unfortunately, there is no reliable way to get free Amazon products. However, you can join Amazon review programs such as Amazon Vine or other review groups, but you need to write honest and detailed reviews for the products. Keep in mind that these programs are selective and often require an invitation. Some websites and social media pages also host giveaways and contests for Amazon products that you can try to participate in. However, be cautious of scams and shady sites offering free Amazon products, as they may end up being fraudulent schemes.