Did you know Instagram reels help you increase engagement by up to %22? Reels on Instagram are getting more popular each day. Users enjoy viewing short videos on this platform. Thus, whether you are a brand or an influencer, you should be able to create fun short videos for your audiences. In this post, we explain how to make a reel on Instagram step by step.
What Are Instagram Reels?
Instagram Reels are short, entertaining and easily-discoverable videos that let you bring your brand to life on Instagram. They're a great way to promote your products, introduce yourself to new customers and show off your creativity.
However, to speed up this growth and engagement on Instagram, influencer marketing can help. You can also create short videos with a collaboration of influences. Thus, sign up on Ainfluencer as a brand to see the list of top influencers and find the one that is the right person for your market. The method is easy, search for influencers based on their category, gender, or location. Create your marketing strategy with the help of influencers.
How Instagram Reels Can Help Brands
Here are some ways that Instagram Reels can help businesses:
Increase your reach and visibility
Reels can be shared in Feed, and reels from public accounts are eligible to be discovered through a new space on the Reels Tab. Sharing the Reels tab means they may be visible to a larger audience.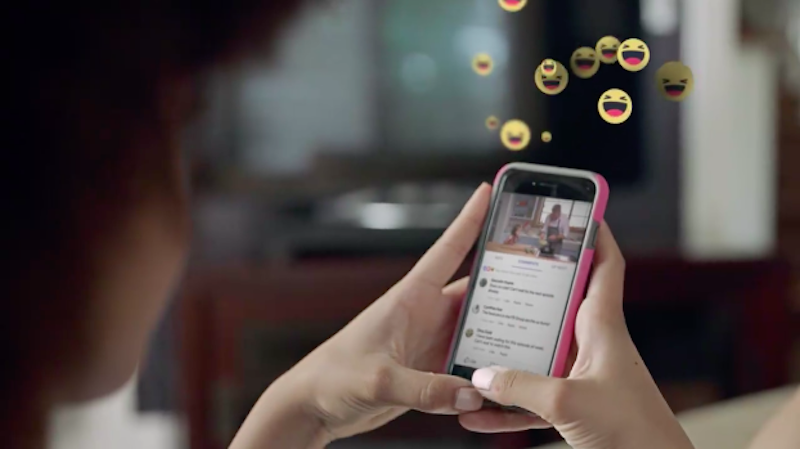 Reels can also appear on the Explore page
Almost 50% of Instagram accounts surf the Explore Page to discover new content. By making your content available on this place, you will have the opportunity to reach a wider audience and potentially gain more views, likes, and followers.
Showcase your products or services
Short videos of reels allow you to create catchy and engaging videos that highlight your products or services. You can use audio, effects and creative tools to showcase your features, benefits, use cases, reviews, tutorials, etc.
Build your brand identity and personality
This type of content enables you to show more dimension to your brand identity than a 2D static image. You can use reels to share your story, values, mission, behind-the-scenes, team members, etc. Users can more easily relate to a brand when they can interact with the faces behind it.
Leverage trends and viral content
Reels allow you to tap into the latest trends, challenges, memes, songs, and hashtags, which are popular on Instagram and beyond. You can use reels to create fun and relevant content that resonates with your audience and showcases your brand's unique voice.
Collaborate with influencers or content creators
On Instagram, using Reels enables you to collaborate with influencers or creators who have a significant number of followers and high engagement. You can co-create reels with them to promote your brand, products or services. Additionally, you can take inspiration from other people's original audio or content to create your own Reels.
Are you an influencer? You can increase your chance of being discovered by top brands by joining Ainfluencer. It's all free. Hence, don't lose your chance of gaining more income through influencer marketing.
How To Create Instagram Reels?
Making a reel on Instagram is very simple. You can easily do this in few steps:
Tap the plus icon at the bottom of the page
You can make a reel on Instagram from Instagram Story. Therefore, either directly go to your Story or tap the plus icon at the bottom of the page. This will also lead you to your Story.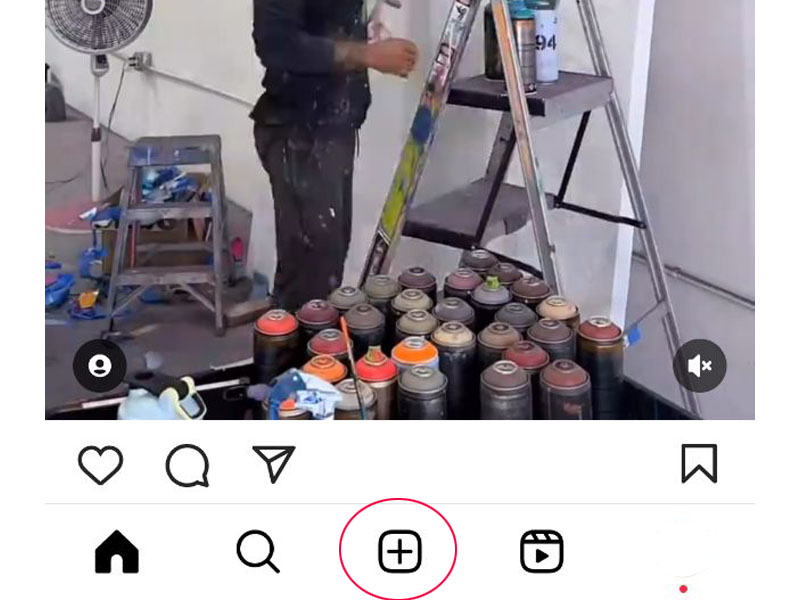 Select Reels from the different options available on this page.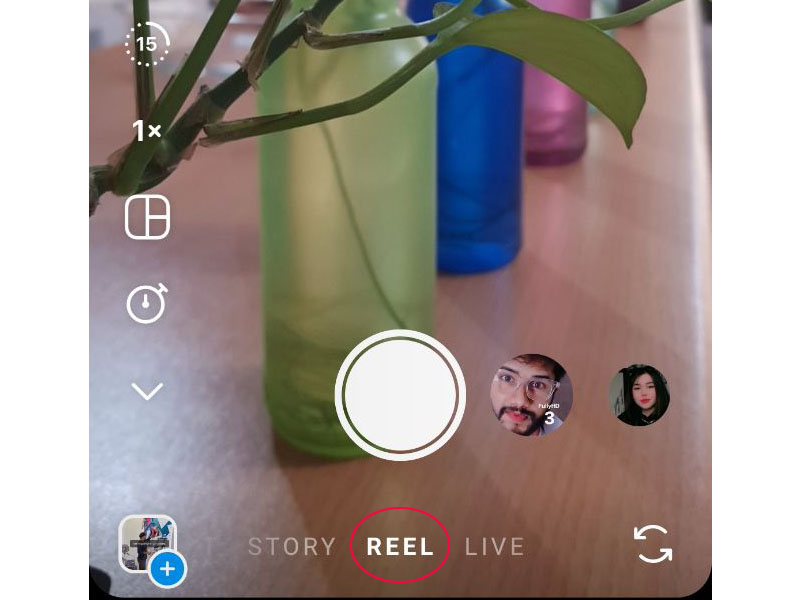 Record or upload your video clip
You have two options for creating the video: you either have the video in your camera roll or want to shoot one on this page. For the first one, you will have more options to create a fun and high-quality video. However, there are still lots of people who create reels video directly on Instagram Story.
If you want to add video from your camera roll, tap the plus icon on the bottom-left of the page. Then, select the video you want to share. You can also create reels with photos. But you need to know that one photo will not work. For a more coherent reel video, it's best to choose at least two photos.
If you want to create the video directly on your story, select one of the filters if you want and start shooting the video by taping the circle at the bottom of the page. Then, you can tap again to stop the video, change your location, and tap again to continue. Additionally, you can mix your video with a video or photo from your camera roll.
Add a music
Although Instagram music stickers might not be available for all users to add music to their stories, Instagram made it available for users who want to create a reel. Thus, you can access a large collection of songs to add to your video. However, if your video already has music, you can skip this step.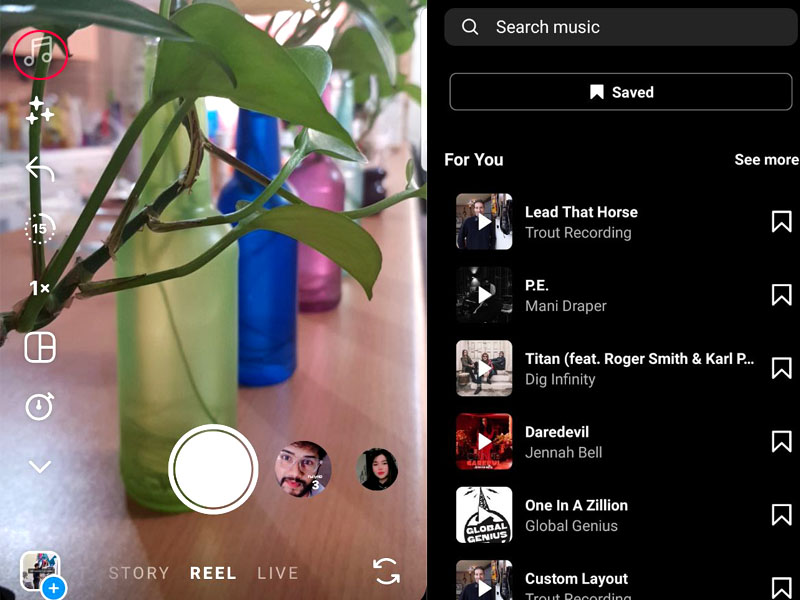 Edit your Reel
You can edit your video before publishing it. However, this step is optional, but you can design your reel with effects, stickers, captions and more. To do this, you should tap Next to preview the video you created. Edit is available at the bottom of the page. In the edit area, you can shorten the video, replace or relocate the photos, delete one part of the video, and so on. After you have done editing the reel, tap Next to go to the next step.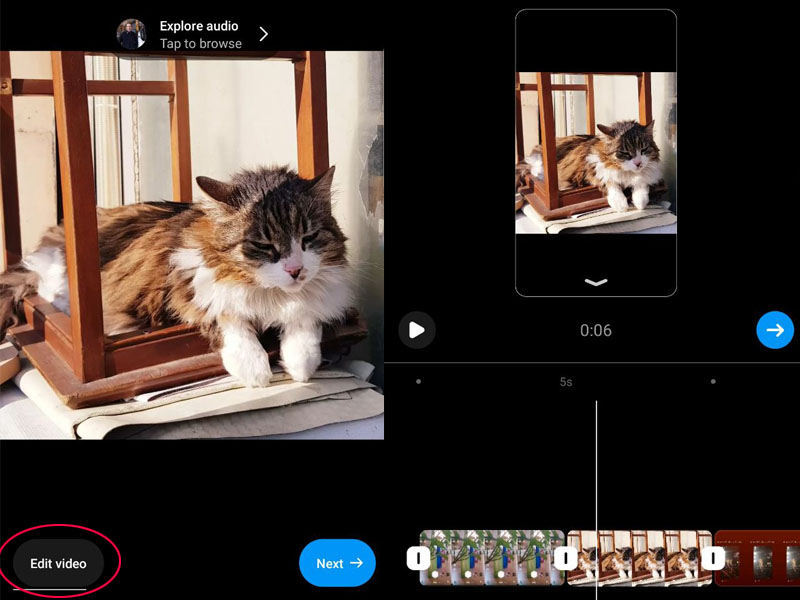 Adjust your Reel's settings
You can choose a cover image to make your video more appealing to watch for your audience. Tap on Edit Cover and select a cover from different section of the video. Furthermore, you can also create a cover for your reel and add it from your device.
Select who can see this reel and where you want to share it. If you don't want your audiences to see your reel on the home page, unselect the option that says "Also share to Feed."
Furthermore, do not forget to add hashtags while writing a caption. If you don't know which hashtags can work better for your short video, read our article about how to use hashtags for Instagram reels.
The other options you have on this step are:
Tag people: you can tag the person in the video or tag whoever you have participated with.
Add message button: this option will let your audiences react to your Reel by sending you a message. It can improve your conversion rate.
Add topics: this step will make your short video more meaningful to the Instagram algorithm. You can select up to 3 topics that are related to your business or the reel you share. Therefore, Instagram will know who may be more interested in this video. It will increase your chance to reach more views.
Add location: this option is clear. But never forget the power of being discovered by location search. Therefore, always add a real location for your posts.
Post your Reel
After finalizing your video setting, tap Next and then Share your reel to your audiences.
You should note that Instagram categorizes content on your account. Therefore, your photos and Reels will not be in the same place. To watch the reels on a specific account you should go to their profile and tap the Reels icon.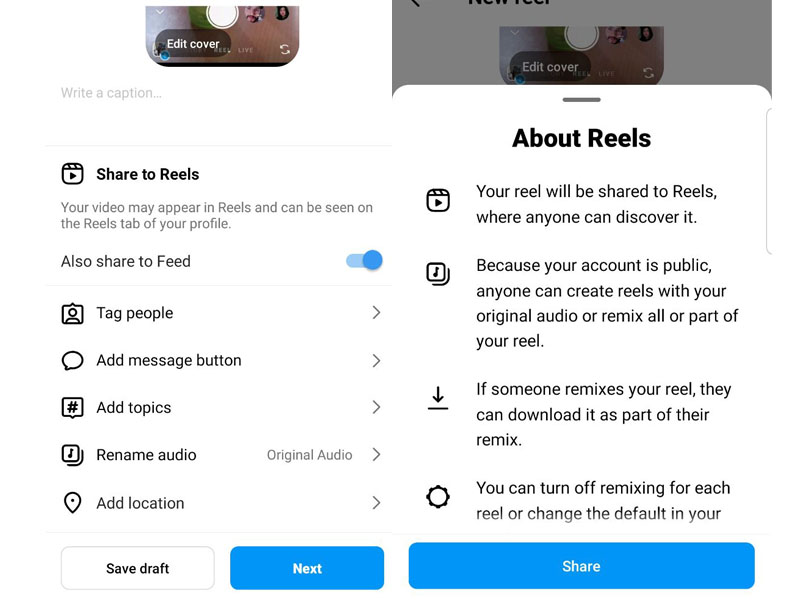 Tips About Creating A Reel On Instagram
Creating a Reel on Instagram can be a fun and effective way to showcase your brand, products, or services. Here are some tips to help you create a Reel that engages your audience:
It is better to have a storyboard for your clip to make it easier to create. Think about these questions: what is the concept of your clip? Who do you want to target? What do you want to achieve from this video? Add as many questions as you can to make it clearer for you to know what exactly you want to create.
Use original audio or music from the Instagram library to add sound to your Reel. Learn about how to add music to Instagram Story.
Add text, stickers, filters, and effects to make your Reel more eye-catching and informative.
Use transitions, time-lapses, voiceovers, remixes, and green screen effects to add variety and creativity to your Reel.
Choose a cover photo that represents your Reel and attracts viewers.
Use Reels templates or tools like Later to schedule your Reels in advance
Always check the insights of your reels. This will show you how good your performance is and help you create better content. 
Never forget the power of hashtags. Do whatever you can to make your reel more discoverable. 
Trends can help you go to the Explore Page. Therefore, it is better to know about top Instagram Reels trends. 
You can download Instagram Reels too. If you want to do so, here is the list of top tools to download Instagram Reels. 
Bottom Line
If you know the impact of Instagram Reels on influencer marketing, you will understand the importance of learning all about how to make a Reel on Instagram and what to do to make it more discoverable to your target audiences. As you read in this post, it is so easy to create an Instagram Reel. You can also make your reels reach more views by participating with other users, especially influencers. Therefore, start your influencer marketing now by signing up on Ainfluencer as a brand. 
FAQ
Why can't I watch reels on Instagram?
First, ensure you have the latest version of Instagram on your mobile. Instagram may change different things in its newest version. That makes you not see new features on your outdated version of Instagram. You may also have a problem with your internet connection. Check and ensure you are connected, then reload the reel.
Where did my reel go when I posted it?
Reels are saved in the Reels tab. If you haven't selected to share your reels on your Feed, you can only find the reels under the Reels tab. But if you decide to share the reels to your Feed, your audiences will view your reel on their home feed, but you can still see that under the related tab.
Why does Instagram remove my reels?
Instagram will remove posts, stories or reels that are against its rules. If you've added music to a video on your device and then uploaded it to Instagram, you may have violated copyright rules regarding music. Therefore, we recommend adding music to your reels when creating the clip on your Story.
Why my reel is not uploading on Instagram?
If you have a problem uploading reels to your Instagram, you may need an internet connection with a higher-speed. Therefore, if you are using your cellular network connection, we suggest you switch to Wi-Fi and try to upload the reels again.