Instagram models are the luxurious eye candy of the 21st century. Many have built their names mainly using social media while others have been in the game for a long time modeling for top brands like Marc Jacobs, Roberto Cavalli, Dolce & Gabanna, and more.
Here we've listed the top Instagram models to follow, starting from the lowest followers to the most, giving you some history on their work and any influencer deals they've done in the past!

HERE ARE THE TOP INSTAGRAM MODELS OF 2020
20. CINDY KIMBERLY – @WOLFIECINDY
Wolfie Cindy is an Instagram fashion model who gained fame from a Justin Bieber "Who is this???" post. She made the cover for Cosmopolitan Espana for their August 2019 edition!
19. JOSEPHINE SKRIVER – @JOSEPHINESKRIVER

This Danish model is Victoria's Secret Angel has made her modeling debut in 2011 and walked over 300 runways! Just a few of the name's she has walked for include: Chanel, Oscar de la Renta, Dolce & Gabbana, Donna Karan, Giorgio Armani, Marc Jacobs, Diane von Fürstenberg, Michael Kors, Ralph Lauren, Versace, Tommy Hilfiger, Elie Saab, Vera Wang, and Balmain. Her unique makeup style gives her many plaudits, you can even say she is within the makeup models category!
18. TYRA BANKS – @TYRABANKS

One of the most popular models in the world, Tyra began her career as a model at the age of just 15. Most notably, she was the first African-American woman to be featured on the covers of GQ and the Sports Illustrated Swimsuit Issue. In 2003, she started and ran the very popular TV show, America's Next Top Model. Tyra has walked in fashion shows for Chanel, Oscar de la Renta, Yves Saint Laurent, Christian Dior, Donna Karan, Calvin Klein, Perry Ellis, Marc Jacobs, Givenchy, Valentino, Fendi, Giorgio Armani, and Michael Kors – that's just to name a few!
17. NAOMI CAMPBELL – @NAOMI
Naomi Campbell is one of the most well-regarded models over the last 25 years. She was one of the most in-demand models in the 80's and 90's; she was 1 of 6 models dubbed a 'Super Model' during this time. Naomi has walked runways for and been in campaigns for almost every high-end brand in the world including the likes of Louis Vuitton, Givenchy, Dolce & Gabanna, Valentino, Roberto Cavalli. She is one of the more popular Instagram models in the 21st century due to her past success.
16. KARLIE KLOSS – @KARLIEKLOSS

At just 17, Karlie Kloss was declared by Vogue Paris as one of the top 30 models of the 2000s. She was a Victoria's Secret Angel from 2013 until 2015. Karlie the face of the Marc Jacobs fragrance Lola and has walked for numerous designers in New York, London, Milan, and Paris, including Calvin Klein, Karl Lagerfeld, Marc Jacobs, Givenchy, Gucci, Valentino, Louis Vuitton, Versace, and more!
15. ASHLEY GRAHAM – @ASHLEYGRAHAM

Ashley is a beautiful plus-sized model well known for her curvy figure. She has appeared on the cover of fashion magazines such as Vogue, Harper's Bazaar, Glamour, Elle, and the Sports Illustrated Swimsuit Issue! Ashley was the first plus-sized model to appear in the Swimsuit Issue Sports Illustrated magazine appearing on the cover!
14. JORDYN WOODS – @JORDYNWOODS

Jordyn Woods is an Instagram model well known for being friends with the Kardashian family in the past. Her social media brand labeled SECNDNTURE is a collection of stylish sports bras, bodysuits, biker shorts, high-waisted leggings, and layering pieces including tops, jackets, and much more.
13. MIRANDA KERR – @MIRANDAKERR

Kerr was the first Australian Victoria's Secret model. Since 2008, Kerr has always ranked on the Forbes list of highest-earning models. Also, she launched her own brand of organic skincare products labeled KORA Organics.
12. ADRIANA LIMA – @ADRIANALIMA
Adriana is a Brazilian model known for being a Victoria Secret Angel for almost 20 years. Lima became a GUESS girl, appearing in the 2000 fall ad campaign. She has walked on the runway for Fendi, Baby Phat, Giorgio Armani, Balmain, Vera Wang, Valentino, Givenchy, Versace, Marc Jacobs, Christian Dior, Victoria's Secret, Sean John, Prada, Louis Vuitton, Alexander McQueen, Ralph Lauren, and a host of others!
11. BARBARA PALVIN – @REALBARBARAPALVIN

Barbara Palvin made her runway debut in February 2010 for Prada during Milan Fashion Week. She has also walked for Louis Vuitton, and opened the pre-Fall 2011 Chanel show. She became the 2016 Sports Illustrated Swimsuit Issue Rookie of the Year and more recently became the first Hungarian to earn the title of Victoria's Secret Angel in 2019!
10. CANDICE SWANEPOEL – @ANGELCANDICES

Candice is well known for her work with Victoria Secret. in 2010, Swanepoel modeled for the Kardashians' swimwear line. In 2016, she was ranked at 8th on the Forbes top-earning models list. Candice has walked the runway and been in advertising campaigns for Fendi, Chanel, Tommy Hilfiger, Dolce and Gabbana, Michael Kors, Donna Karan, Jag & Bone, Oscar de la Renta, Givenchy, Christian Dior, Ralph Lauren, and many others!
9. GISELE BUNDCHEN – @GISELE

Since 2004, the Brazilian model has been among the highest-paid models in the world, and as of 2007 was the 16th richest woman in the entertainment industry. In 2012, she placed first on the Forbes top-earning models list. Her ability to walk in high heels on a slippery runway for Alexander McQueen's spring 1998 "rain" ready-to-wear show implemented herself in the fashion modeling world. That same year, she posed for Dolce & Gabbana, Valentino, Ralph Lauren, and Versace campaigns. She then made the cover of the French edition of Vogue!
8. HAILEY RHODE BIEBER – @HAILEYBIEBER

Fashion model and Instagram model sensation Hailey Bieber is the wife of Justin Bieber and daughter of actor Stephen Baldwin. Her first commercial campaign was for the clothing brand French Connection in the winter of 2014 then making her runway debut for Topshop soon after. She has walked and done campaigns for Moschino, Tommy Hilfiger, Ralph Lauren, GUESS, Dolce & Gabanna, H&M, and more.
7. SOMMER RAY – @SOMMERRAY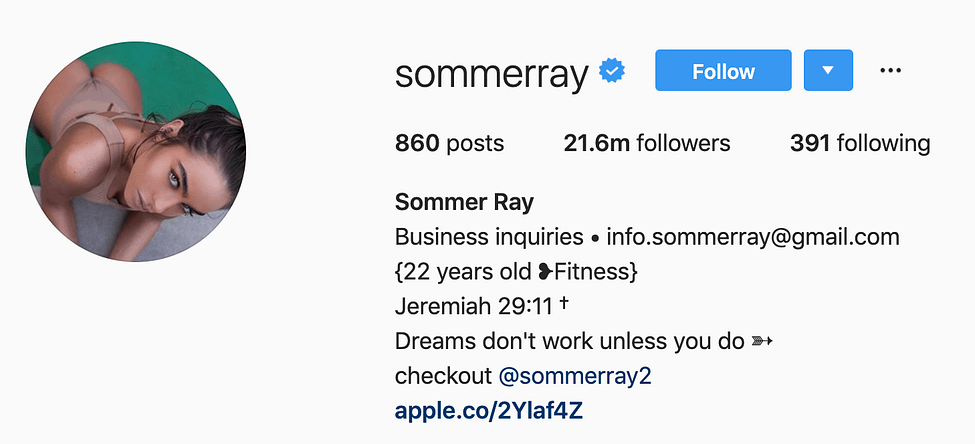 Sommer Ray is known for her sexy images and working out. She is one of several Instagram models who have made it as a big name just by leveraging Instagram. She now has her own Sommer Ray Collection which can be purchased online and often works for major brands out of LA.
6. EMILY RATAJKOWSKI – @EMRATA
Emily is an American model and actress. She joined the Ford Models agency at just 14 and went on to do teen print catalog modeling for Kohl's and Nordstrom! She is well known for her appearance in the 2013 music video, "Blurred Lines" by Robin Thicke, T.I., and Pharrell Williams. She has appeared in films such as Gone Girl, Entourage, and in a movie with Zach Efron titled "We Are Your Friends", as well as many others.
5. CHRISSY TEIGEN – @CHRISSYTEIGEN
Chrissy Teigen appeared on the Sports Illustrated Swimsuit Issue cover in 2014. She has been on America's Next Top Model and appeared in a few music videos for her husband, John Legend.
4. BELLA HADID – @BELLAHADID

Bella Hadid is one of the most popular Instagram models in the world. She signed to IMG models in 2014 and later, the Industry voted her "Model of the Year" for Model.com's Model of the Year 2016 Award. She has walked for Tom Ford, Jeremy Scott, Marc Jacobs, Tommy Hilfiger, Top Shop, Moschino, Balmain, Chanel, and more! Also, she has appeared at the London, New York, Paris, and Milan Fashion Weeks. She is well known for her past relationship with One Direction's Zayn Malik and most recent relationship with RnB singer The Weeknd.
3. CARA DELEVIGNE – @CARADELEVINGNE

Delevingne is well known for winning Model of the Year at the British Fashion Awards in 2012 and 2014. She had her first modeling job at the tender age of 10 in an editorial shoot for Vogue Italy. Cara's first catwalk appearance was at the February 2011 London Fashion Week, walking for the Burberry Prorsum A/W collection. Later that year, she opened and closed the Burberry Prorsum S/S 2012 collection. She appeared at all 4 big fashion weeks in 2012 on the runway for Donna Karan, Oscar de la Renta, Chanel, Stella McCartney, Fendi, Trussardi, Moschino, Blumarine, DSquared, and Dolce & Gabbana.
2. GIGI HADID – @GIGIHADID
Gigi is the older sister of Bella Hadid. In November 2014, Gigi made her debut in the Top 50 Models ranking at Models.com. In 2016, she was named International Model of the Year by the British Fashion Council. She was named in 2015 a Maybelline brand ambassador and by May of that year, she had walked for designers including Marc Jacobs, Chanel, Michael Kors, Jean-Paul Gaultier, and Max Mara. Hadid has appeared on all Vogue magazine covers worldwide including the United States, Paris, Italy, Britain, Japan, Spain, Australia, Brazil, the Netherlands, Germany, Italy, and China!
1. KENDALL JENNER – @KENDALLJENNERz

Kendall Jenner is number 1! She is the sister of Kylie, Kourtney, Khloe, and Kim Kardashian. She has been apart of the New York, Paris, and Milan fashion weeks. Jenner has walked for Marc Jacobs, Giles Deacon, Givenchy, Chanel, Donna Karan, Tommy Hilfiger, Fendi, Dolce & Gabbana, and Balmain. She was a big figure in the Balmain x H&M collab. She is now a brand ambassador for Proactiv and is often seen promoting on her Instagram brands: Adidas Originals, Calvin Klein, Yeezy, Formawell Beauty, Tiffany and Co, Chanel, and many others. She is the ultimate Mega influencer for females on social media.