As social media becomes an increasingly important tool for marketing, businesses are looking to find Instagram influencers in their region to help promote their products and services to their target audience. through influencer marketing campaigns. Canada is home to a number of talented Instagram influencers with a large following. Therefore, for companies that want to promote their brand in this country, it is essential to find Canadian influencers to collaborate with.
Since businesses are in different niches and want to find the most suitable influencer for collaboration, it is recommended to use an influencer marketing platform like Ainfluencer to find influencers based on their preferences effortlessly.
To make it easier for you to know the top influencers in this country, we've created a list of top influencers in Canada and the possible ways to collaborate with them.
Top 30 Canadian influencers on instagram
If you want to promote your brand in Canada, these influencers can help you have a better influencer marketing campaign.
1- Audrey Annej (@audreyannej)
Known as an Instagram hair influencer with her beautiful hairstyles, Audry is a famous blogger and a well-known Canadian influencers who has amassed 977k followers. On her Instagram, she shares a glimpse of her lifestyle and creative ideas to style your hair for different occasions.
2- Emma Rose (@emmaleger)
With over 614K followers on Instagram and over 100k subscribers on YouTube, Emma Rose Leger is one of the famous Canadian influencers and the founder of The Scout App, a platform that many fans flock to when seeking style inspiration, travel tips, or just pure entertainment.
3- Audrey Rivet (@audreyrivet)
This content creator, and graphic designer is considered one of the well-recognized Canadian Instagram influencers with 213k followers. Living in Montreal, Audrey shares beauty, fashion, and lifestyle content on her IG account. Therefore, she can be one of the Canada influencers that suits cosmetic and fashion brands. 
Furthermore, she is known as one of the Canadian bloggers since she launched a popular blog on her Squarespace page.
4- Bret Mossing (@bretmossing)
As a well-known fitness influencer and bodybuilder from Canada, Bret is best known for the fitness tips that he posts on his various social media platforms, such as TikTok, YouTube, Instagram, Twitter, and other social apps.
This Instagram fitness influencer has gained 332k followers on his IG account, by posting content about fitness training, workouts, tips, and the gym. He loves traveling too. Therefore, sometimes he shares posts and vlogs about traveling, lifestyle, and other amazing scopes, which were loved by his fanatics.
5- Makayla Anisa (@makaylaanisa)
With 537K followers, Makayla Anisa is one of the known Canadian female fitness influencers on Instagram. As one of the Canadian influencers, she is known for sharing fitness-related content, different workout programs, and diet plans for her audience.
6- Simon Marcus (@simonmarcusno1)
Commonly known as 'The One', Simon Marcus, is a Canadian mixed martial artist and former Muay Thai kickboxer who fights in the Light Heavyweight and Cruiserweight weight classes. He is currently signed with Unified MMA. Furthermore, he was formerly signed with Glory, where he was the former two-time Glory Middleweight champion.
In addition, Simon has 116k followers on his Instagram account, where he posts kickboxing videos and tips.
7- Beverley Cheng (@beverleycheng)
Let's meet one of the successful Canadian bloggers, Beverly Cheng, who runs the blog 'Born to Sweat.' This fitness influencer and blogger shares workout routines, health-conscious recipes, and thoughts on general wellness. Additionally, she has 231k followers on Instagram, where she often posts body shots and workout videos. With her sexy body shape, Beverley can be a hot bikini model.
8- Seon Holmes (@holmeselite)
With 44k followers, Seon Holmes is a Canadian black fitness influencer is known for his dedication to his workout routine and healthy diet, both of which he regularly posts about on his account.
9- Alain Gosselin (@alain.gosselin)
Meet this handsome Canadian fitness model with 20K followers on Instagram. Due to his unique style of working out and his dedication to helping others achieve their fitness goals, Alain is a known figure on Instagram where he gives his followers fitness and health tips.
10- Leigh Dickson (@leighdickson)
Photographer, makeup artist, and model, Leign Dickson, is one of the best Canadian influencers on Instagram, with 246k followers. Besides being known for her distinctive hair colors, she also posts a range of artwork that features her lipstick and nails.
11- Karina Cabiling (@karinacabiling)
If you are looking for a macro influencer who covers all beauty, lifestyle, motherhood, Canadian clothing style, and fun content in one IG account, take a look at Katrina's IG account look. With 246K followers on Instagram, she is a well-known Canadian artist.
12- Toni Olaoye (@toniolaoye1)
As a digital creator with 196k followers, Toni is one of the well-known Canadian influencers, mainly known as a beauty influencer who shares great content about beauty and fashion. Moreover, she has gained widespread popularity on YouTube (494K subscribers) for her frequent themed makeup tutorials, challenge completions, and personal vlog entries.
13- Liraz Jacoby (@lirazjacoby)
Master makeup artist, beauty influencer, and instructor Liraz Jacoby has a long list of private clients. This Toronto-based influencer shares not only beauty content with her 108K followers but also covers lifestyle and fashion content from time to time.
14- Brayden Hall (@braybraywoowoo)
With the love of travelling, Brayden is one of the Canadian influencers who enjoys sharing his moments with his followers. Since he has a voracious appetite for discovery, you can always find him looking for the next adventure, whether it is on the majestic peaks of Patagonia or the beautiful tropical beaches of Mauritius.
He is one of the best Instagram photographers who has gained 459k followers.
15- Gigi & Dan Chierighini (@youmeandthesaltysea)
With 298k followers, Gigi and Dan aka, @youmeandthesaltysea, are Canadian influencers that met in New Zealand in 2015 whilst traveling, and they have the travel bug. Since then, they have been exploring the world, blogging, and documenting their journey through pictures as a couple, and have become famous Instagram travel influencers.
16- Brooke Pierson (@brookewillson)
Most influencers focus on one niche, but Brooke Pierson is one of the Canadian bloggers who is in love with running, traveling, hiking, and biking. If you like to collaborate with one of the Canadian influencers on Instagram that provides you with all these types of content. With 182k followers, Brooke can be one of the best choices.
17- Errin Casano (@errincasa)
Canada has wonderful locations for photography, and people love seeing these out-of-world photos. That's why they love Errin's Instagram because she is one of the Canadian influencers who spends her free time photographing the world and hiking mountains all over British Columbia. Hence, she uses social media, particularly Instagram, to share her love of photography, the outdoors, and exploring new places.
As one of the Canadian bloggers who is into adventure, travel, and photography, she has accumulated 168K followers on her IG account.
18- Jenelle Nicole (@nellecreations)
From sharing her pregnancy journey to cooking and talking about her daily life, Jenelle Nicole is a mom blogger with 43k followers on her Instagram account thanks to sharing her pregnancy journey, mom life, and travels. She loves her two daughters and her lifestyle is interesting to her followers.
19- Anthea (@wing.it.beauty)
Makeup artists dedicate a huge world in social media to themselves. Anthea's Instagram account is all about makeup tutorials, beauty reviews, and fashion. In particular, her account features a deeper look into her beauty secrets. Furthermore, she won't hold back any of her beauty secrets and is excited to teach her 131k followers all useful techniques.
20- Shanique Buntyn (@shaniquebuntyn)
With 99.6k followers, Shanique Buntyn is a natural beauty and Instagram hair influencer who usually promotes tools and products for styling hair. Apart from being a famous digital creator on Instagram, she is active on other social media platforms, especially YouTube, where she has 530K subscribers.
21- Erin (@rawbeautytalks)
Following a healthy and positive life is what most people enjoy. In that case, Erin is one of the Canadian influencers on our list who is known for being a health, wellness, and life coach. With 115k followers, this wellness influencer provides you with tips and techniques to reset your body.
22- Kirby (@eatingwithkirby)
When it comes to food, Kirby is one of the well-known Canadian influencers. She started her blog in 2011 and her Instagram in 2012. In a short period of time, she gained 162k followers, and became one of the top travel and food influencers in Vancouver, as well as a trusted source of information for people wanting to discover the next best thing in food and travel.
23- Koleen Diaz (@koleendz)
If you are looking for a Canadian clothing style and one of the best Canadian fashion blogs, Koleen Diaz, a makeup and fashion specialist, is the best choice for you. As one of the Canadian fashion bloggers, she has 729k followers on her Instagram account and more than a million subscribers on her YouTube channel.
24- Andreane Chamberland (@andreanec)
As one of the hot Instagram influencers, Andreane Chamberland is a Canadian model and social media star with 609k followers on her Instagram account. She loves sharing her curvy hot shots with her followers.
25- Katrina Lebar (@katrinalebar)
The other Canadian influencer on our list is a business influencer. Katrina is an online business and social media coach for brands and business owners looking to step out of their comfort zone. Additionally, this business coach has 32k followers on her Instagram account.
26- Chloe Bow (@chlobow_to)
As a micro-influencer with 14k followers, Chloe is a Canadian influencer who loves shopping. Furthermore, she has a passion for doing social work and helping others. Accordingly, she is a positive figure among her fans.
27- Ruby Gillett (@rubygillett)
You may think that businesses always look for influencers who have the highest number of followers. But for some companies, micro influencers are better options because they engage more with their followers. Regarding this fact, Ruby, a redhead influencer in Canada with almost 10k followers, can be a great option for companies looking for a beautiful micro influencer in Canada to promote their products.
28- Chris (@may.eighty.five)
From making delicious cakes to healthy foods, you can find many great recipes on Chris's Instagram account. Since this Canadian influencer is a chef with 13k followers, he loves sharing recipes of his favorite cuisines and cakes with his followers. Furthermore, he can be a great option for companies that provide different cooking ingredients.
29- Cassandra (@cassolive)
What are the challenges of being a mom to three kids? Can't moms be stylish? That's all you can discover on Cassandra's Instagram account. This Canadian influencer shares her daily life with her 99k followers.
30- Natalie Ast (@natalieast)
Who doesn't enjoy seeing colorful photos? That's why Natalie is popular among her fans. With 20k followers, she is a fashion blogger in Canada who loves to share her lifestyle and fashion attitudes with her fans.
Want to know more Canadian influencers? Check out the complete list of Instagram Influencers in Canada on Ainfluencer.
How to Find the Top Canadian Influencers?
As social media usage continues to grow in Canada, influencer marketing has become an increasingly popular way for brands to reach their target audiences. But with so many accounts out there, how can you find the right influencer for your business?
Here are some ways to find top Canadian Instagram influencers: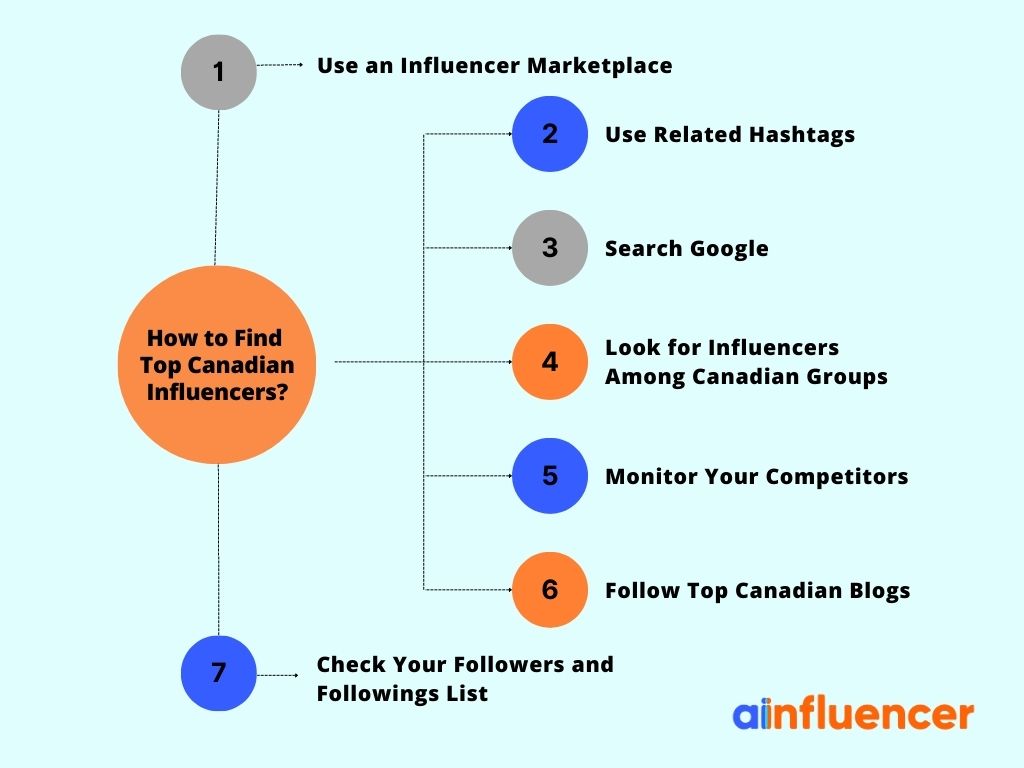 1. Use an influencer marketplace.
2. Use related hashtags to find Canadian influencers.
3. Look for influencers who are active among Canadian groups and forums.
4. Search Google to find influencers.
5. Look at your followers and followings list.
6. Monitor your competitors' social media followers, mentions, and tags.
7. Start following top Canadian blogs and bloggers.
The majority of people prefer to use a trustworthy influencer marketplace like Ainfluencer to speed up and simplify this process because manually finding influencers may be tedious and time-consuming.
Brands and influencers may connect and collaborate for free, thanks to Ainfluencer. Furthermore, using its advanced AI-powered search engine, brands may use a range of filters to find their target influencers, including location, gender, language, number of followers, hashtags, etc.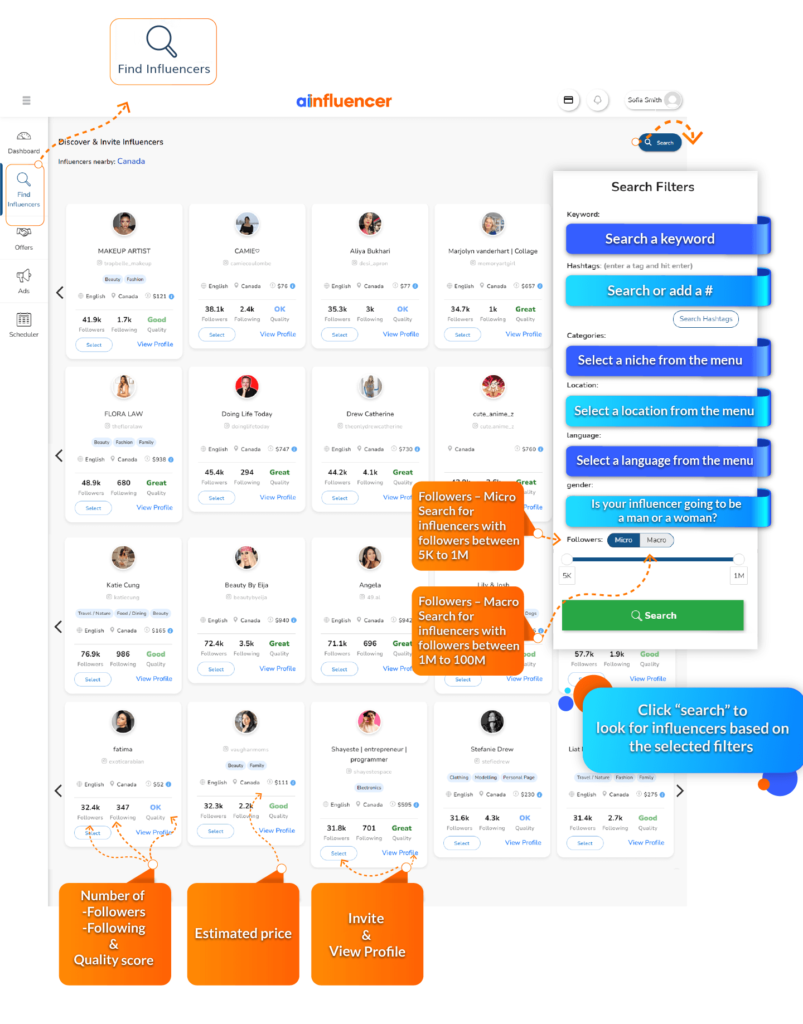 Conclusion
Marketers know it's essential to find their target audience on social media. That's why they use different influencer marketing strategies to promote their brand to their target audience. Furthermore, your target customers might be in a specific location. Therefore, finding influencers in that location can be helpful. Accordingly, if you look for top Canadian influencers on Instagram, you can always count on Ainfluencer.
Furthermore, Ainfluencer is not only for brands, the influencers can join this marketplace and increase their discoverability to more brands and businesses. Therefore, if you are an influencer in Canada, even with the minimum number of followers, you can sign up on Ainfluencer for free and see the offers the brand leaves on this platform.
fAQs
Who Is the Biggest Canadian Influencer?
Here is the list of top 5 Canada celebrities on Instagram:
1. Justin Trudeau (@justinpjtrudeau)- 4M followers.
2. Faycal Mignon Officiel (@faycal_mignon_officiel)- 2.1M followers.
3. CAROL CASTRO (@carol_icastro)- 3.2M followers.
4. Shina Nova (@shinanova)- 2M followers.
5. Lauren Burch♡ (@laurenxburch)- 1.8M followers.

2- How do I find influencers in Canada?
1. Use an influencer marketplace.
2. Use related hashtags to find Canadian influencers.
3. Look for influencers who are active among Canadian groups and forums.
4. Search Google to find influencers.
5. Look at your followers and followings list.
6. Monitor your competitors' social media followers, mentions, and tags.
7. Start following top Canadian blogs and bloggers.

How Many Canadians Have Instagram?
According to a survey, Instagram is the second most popular social media platform in Canada after Facebook. Moreover, the statistics about Instagram usage in Canada show almost 14 million Canadians have Instagram accounts. Furthermore, it is believed that nearly 53% of Canadians check their Instagram on a daily basis. 
Who Are Some Famous Canadian Celebrities on Instagram?
From top singer Celine Dion to the friends' character 'Matthew Perry', there are many Canadian celebrities on Instagram, including Ryan Raynolds, Jim Carrey, Ryan Gosling, Keanu Reeves, and Shawn Mendez.