The last decade has seen a huge surge in the influence of social media platforms such as Instagram and TikTok. As these platforms have become increasingly popular, more and more people are joining them with the goal of following different influencers, especially those who share naughty behavior, which can be known as the 'influencers gone wild' category. These most-viewed accounts on social media mostly share content that borders on adult content.
Nonetheless, there are many products in this category that brands and small businesses would like to promote with these influencers on Instagram or TikTok. They can find the right influencers using influencer marketing platforms, such as Ainfluencer.
Let's get to know some of the naughty and sexy influencers on TikTok and Instagram.
Are you a Business Looking to Collaborate with Influencers Gone Wild?
No matter what product or service you offer, influencer marketing is one of the best ways to promote your business and increase sales. That's why finding social media influencers, especially on Instagram and TikTok, is crucial. Here is how you can discover suitable influencers for collaboration:
Ainfluencer is a 100% free DIY marketplace for businesses and brands to connect with social media influencers gone wild on Instagram and TikTok. It connects eCommerce and small businesses with influencers of all niches and categories across the world to get them to create amazing content to promote their products to more people or bring them more followers.
The platform allows businesses to set up a campaign and invite 1000s of the influencers who match their brand values and audience to it. Then, based on their negotiations, they can create sponsored content, which can be an Instagram Reel or longer video that the influencer makes to introduce the brand to her followers.
The best part is that Influencers can also connect with brands on this platform to create content and publish them on their Instagram or TikTok pages.
Ainfluencer offers a variety of tools and features to help influencers and businesses manage their partnerships, such as payment systems, escrowing payments in trust, review and rating, AI-based pricing, and tracking campaign success, among many other ones that make a campaign safe, fast, and smart.
TikTok nude accounts
Here is our list of top TikTok influencers gone wild:
1. Madina Jade (@yourhubbysgirlfriend)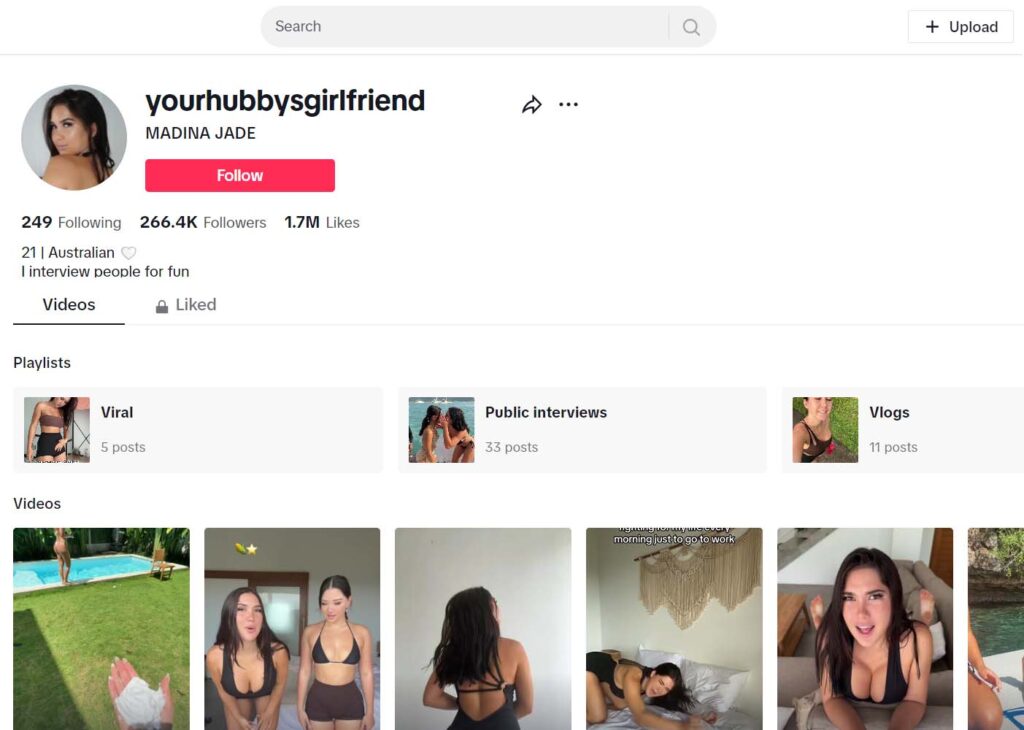 This Australian girl combines being fun and sexy on her TikTok videos. Madina Jade is an influencer gone wild on TikTok who has gained 266K followers for posting perky content on TikTok where she predominantly appears to be modeling swimwear and lingerie.
It has been noted by some audiences that she has even posted explicit or nude content and is considered among the top influencers gone wild.
2. Anny Tejada (@annyescorpion70)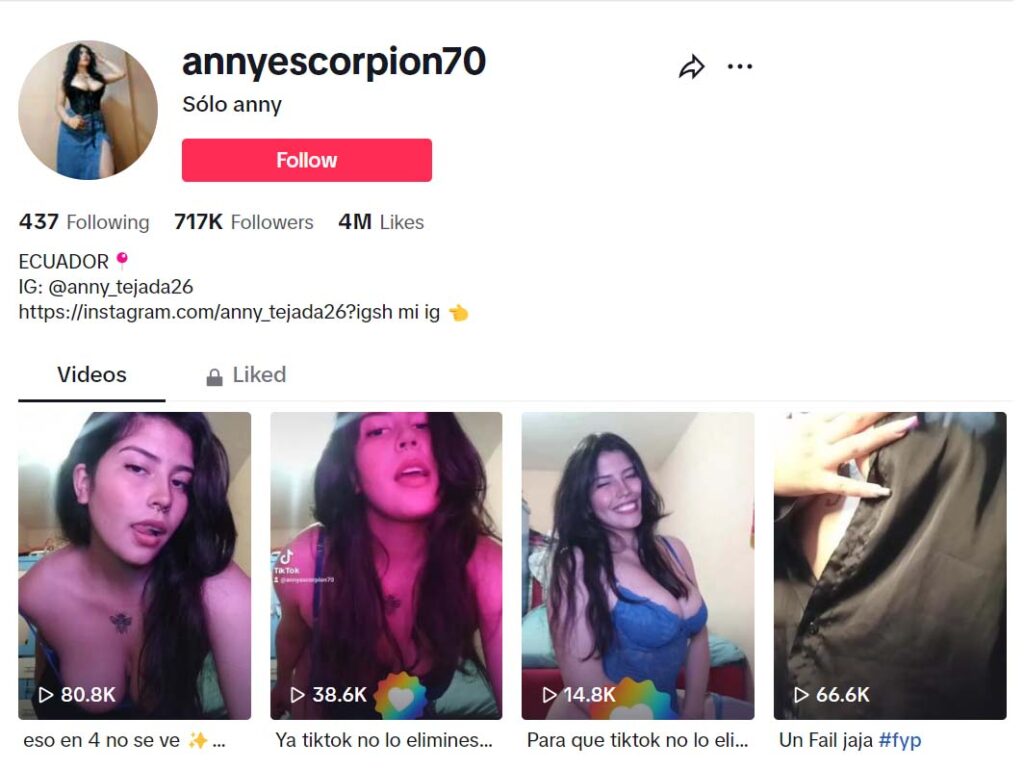 Anny is among the other influencers gone wild and TikTok nude influencers, who has about 717K followers. Her account is great for those who are looking for sexy videos. You can also find her on Instagram under the username "anny_tejada26".
3. Pía Sweet (@piasweet_)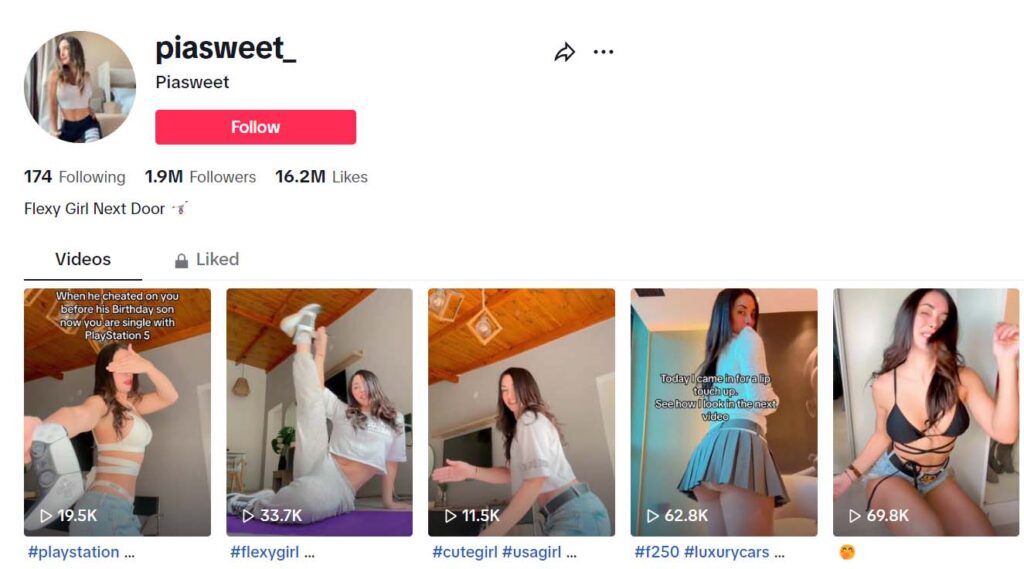 Another TikToker who shares sexy photos and videos on this platform is Pía Sweet. By sharing nude yoga or posing with bikinis on this platform, and performing exercises while wearing minimal clothing. Pía Sweet could potentially attract up to 1.9M followers on TikTok.
4. Angela White (@angelawhite)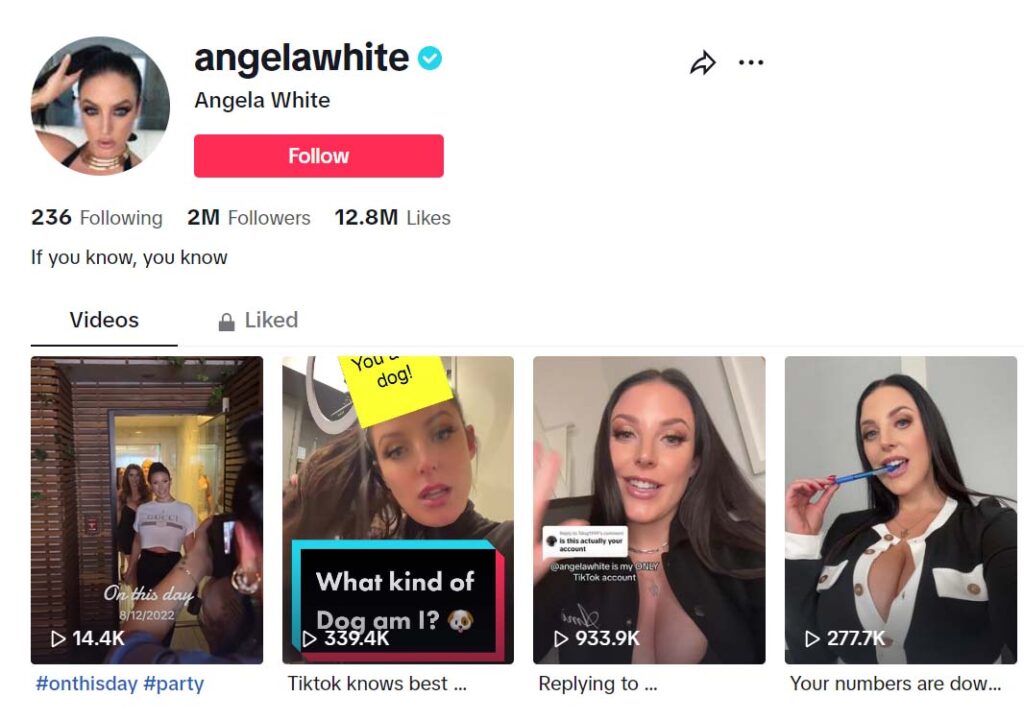 With 2M followers on TikTok, Angela White is an Australian nude and porn influencer, adult film actress, and director who has won multiple awards for her work in the adult entertainment industry. She has also been a strong advocate for the rights of adult performers and has spoken out about issues such as discrimination and stigma surrounding the industry.
5. Kendra Sunderland (@bendrasunderland)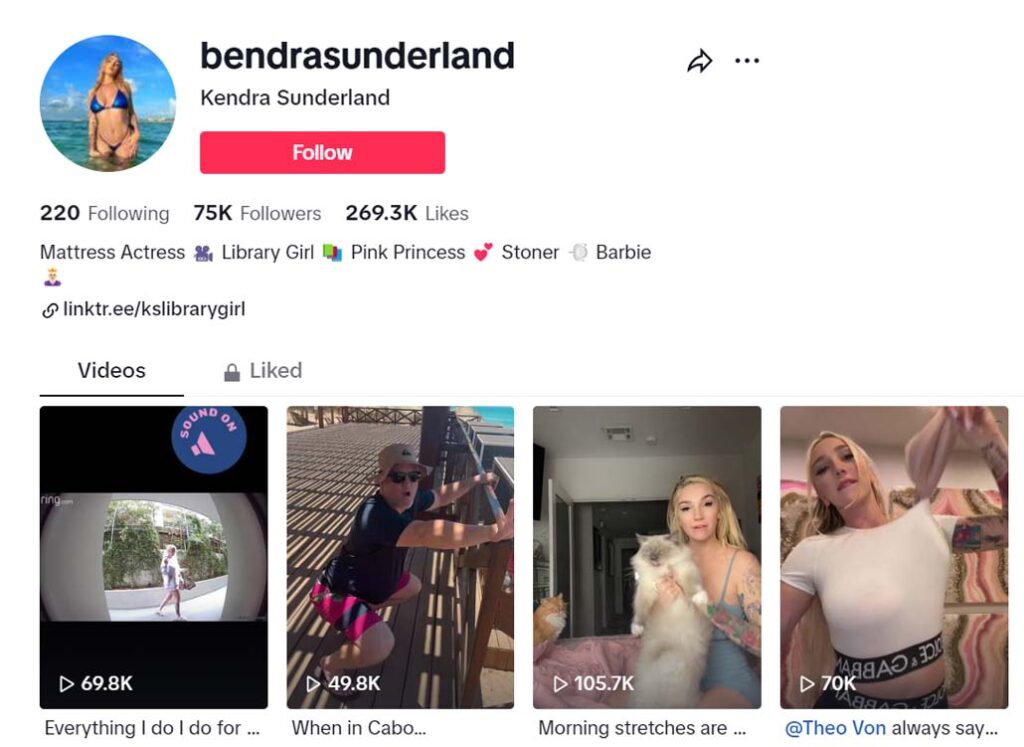 The former webcam model, Kendra Sunderland is an influencer gone wild with 75K followers on TikTok. In 2015, she gained national attention for filming an explicit video in the Oregon State University library. However, she was charged with public indecency after the video went viral. But she later became known as the "Library Girl" and began her career as a pornographic actress.
6. Abella Danger (@abelladangerxo)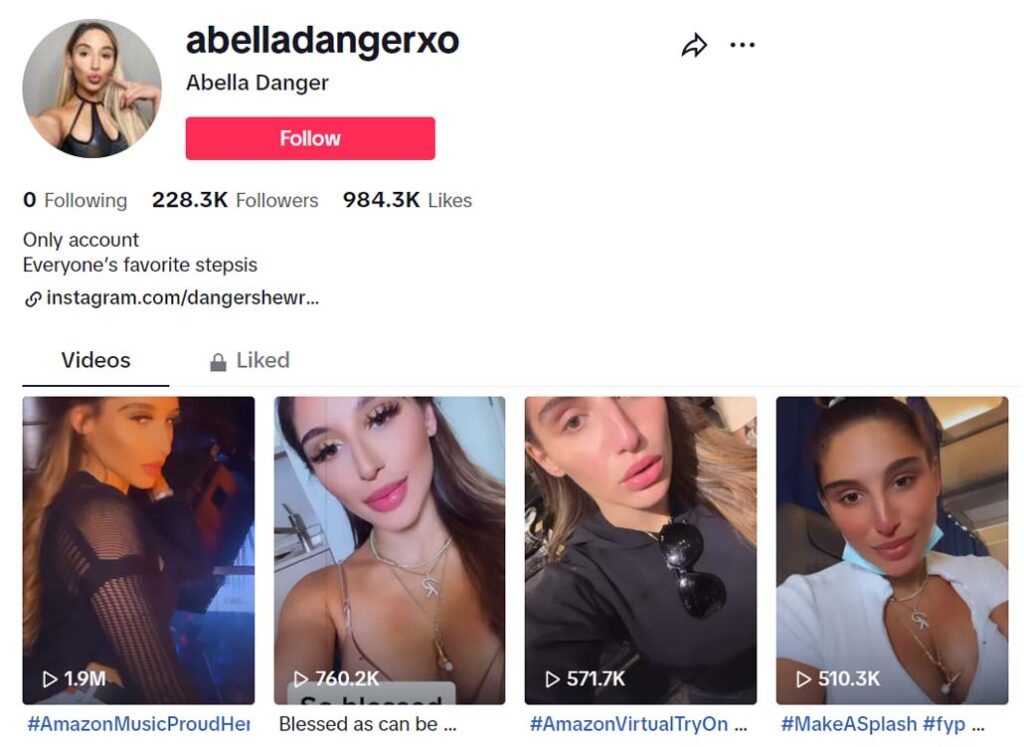 Next on our list of influencers gone wild is Abella Danger. She is an American pornographic actress and model with 228K followers on TikTok. She also has been one of the most prominent and popular performers in the adult film industry. Abella Danger has won several awards for her work, including the AVN Award for Female Performer of the Year. She is also known for her presence on social media platforms such as TikTok, where she frequently shares leaked nude content.
7. Reya Sunshine (@reyasunshinetv)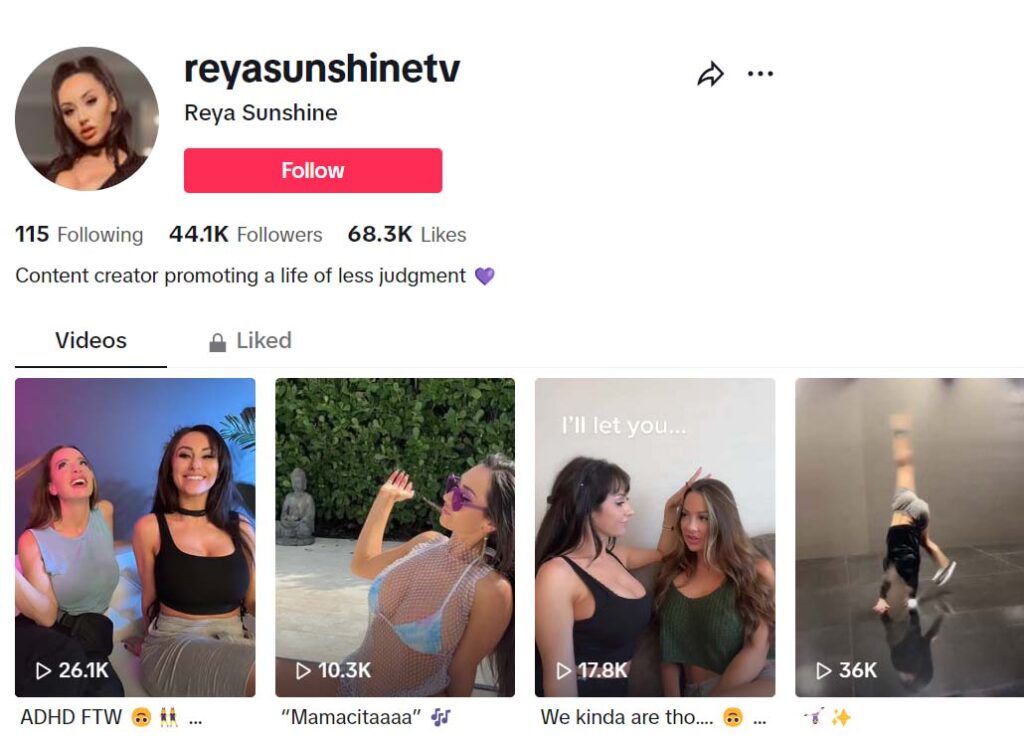 This Canadian nude influencer on TikTok is also a model, entrepreneur, and social media personality. Due to her provocative and nude posts she has gained 44K followers on her TikTok channel. Additionally, Reya's engaging personality on her social media platforms, such as TikTok, Instagram, and OnlyFans, has made her more popular among her followers.
Reya has won several awards for her work, including the AVN Award for Favorite Webcam Girl, and has been named as one of the top influencers gone wild and webcam models in the industry.
8. AJ Applegate (@ajapplegatetv)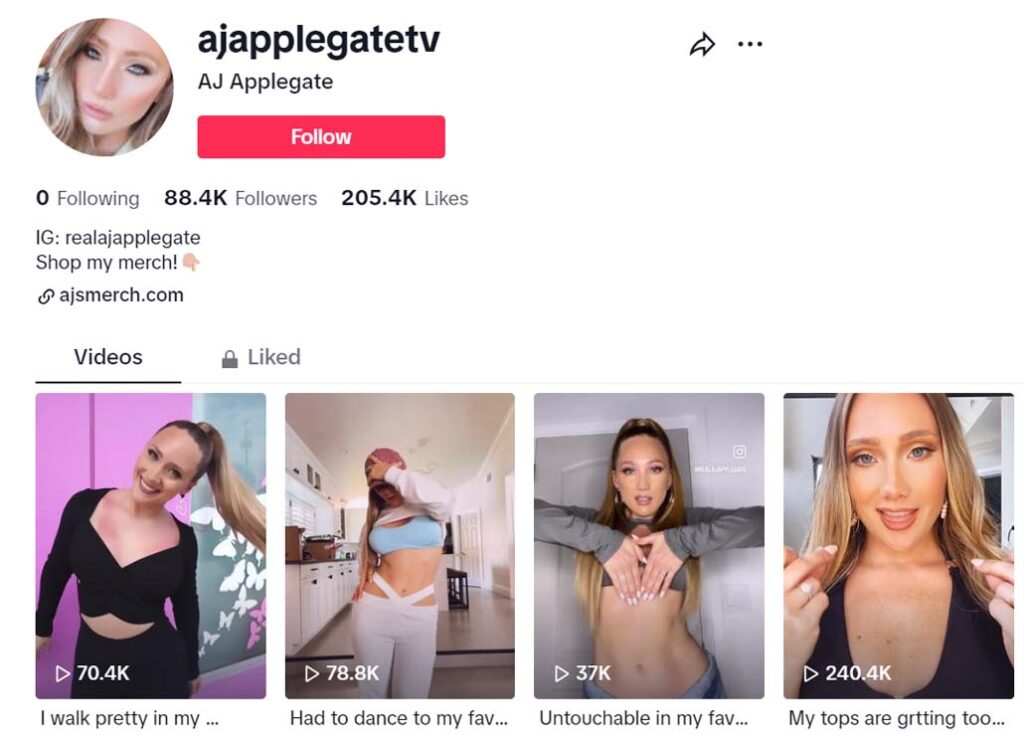 The American pornographic actress and director, AJ Applegate is another gone wild influencer who began her career in the adult industry in 2010. Since then, she has become a popular performer known for her curvy figure and performance skills. She has worked for several major adult film studios, including Evil Angel, Bang Bros, and Brazzers. In addition to performing, Applegate has also directed several adult films.
AJ has 205K followers on her TikTok. Apart from the nudes and sexy poses she shares with her followers, she participates with different ads in the fashion industry as well.
9. Mia Malkova (@miamalkova)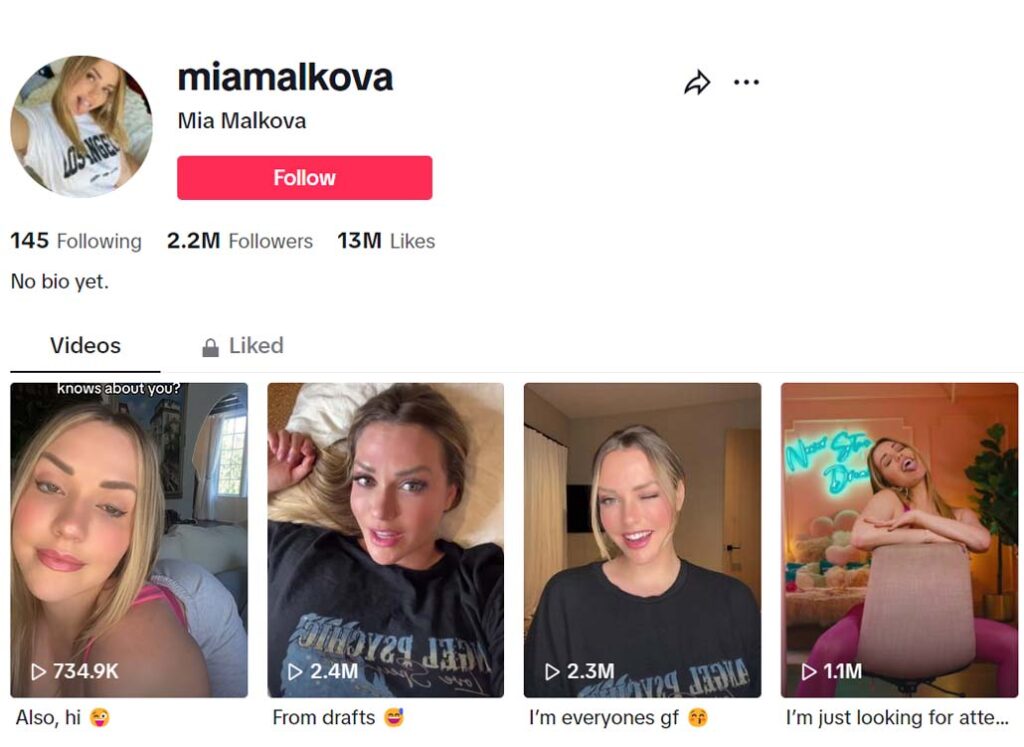 Another American pornographic actress and influencer gone wild is Mia Malkova. She has been working in the adult industry and has been able to gain 2.2M TikTok followers due to her stunning looks and notable performances. She has worked for several major adult film studios and has won several awards for her work.
10. Kim Kardashian (@kimkardashian)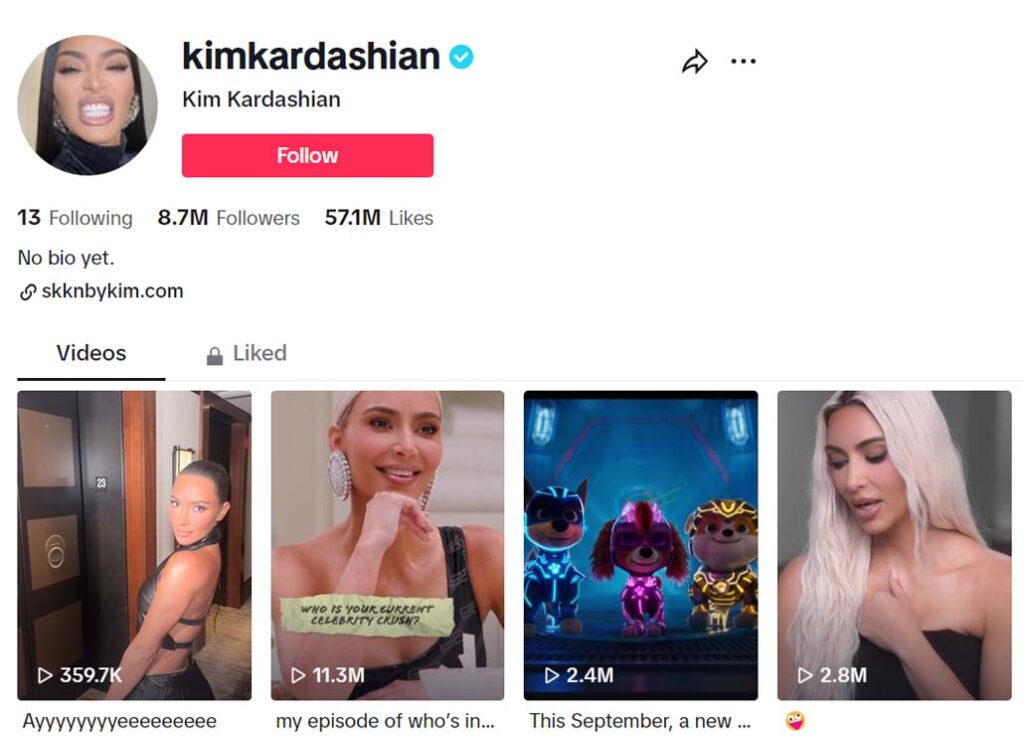 Kim Kardashian is a well-known American media personality, businesswoman, and socialite. She has also been known for her bold and provocative photos and videos on social media platforms. She has been active on TikTok and has amassed more than 8M followers.
Instagram nude accounts
Here is our list of top Instagram influencers gone wild:
1- Kiana Medeiros (@kianamedeiros)
One of the most sizzling angels on Instagram is Kiana Medeiros. This sexy bombshell has more than 22K followers and posts multiple times per week. Her followers enjoy her photos, videos, Reels, Stories, and many other content types.
Kiana, like Chloe Mercy, enjoys revealing almost everything to her followers, with bikini photos being her "go-to" content. Notwithstanding, Kiana won't hesitate to stir it up and frequently posts hot cosplay content, close naked selfies, and professional lingerie photoshoots.
2- Vanessa Serros (@vanessa_serros)
With 299K followers, Venessa Serros is an attractive underwear model on Instagram who shares nude photos with sexy poses. Additionally, having a curvy body doesn't come without workout. That's why Venessa is also considered a fitness model.
She has about 300K followers on Instagram, where they can view her gorgeous sexy photos. She is among the top influencers gone wild on Instagram whose gorgeous sexy photos have been captured by famous Instagram photographers.
3- Eri Anton (@Erianton_)
If you're looking for Instagram influencers gone wild, Eri Anton's account is what you need. Eri quickly rose to prominence as an entrepreneur, female fitness influencer, and nude blogger. She started the Twitter account "inspirebyerianton" and now works in medical aesthetics to help women focus on acceptance, inspiration, and motivation. She has 3.4M devotees.
4- Grace Boor (@graceboor)
From the list of influencers gone wild on Instagram, let's meet Grace Boor, who has attracted 2M followers on her Instagram with her hot and sexy poses with bikini. Grace Boor is one of those hot Instagram models who shows off almost every day in new bikini photoshoots.
Fans can also check out Grace's daily story uploads for even more content, as most (if not all) of her photos feature her stunning abs. In addition, Grace is tagged in a lot of pictures that don't show up in her own feed, so fans can find raunchy behind-the-scenes photos in the "Tagged" section.
5. Summer Soderstrom (@summersoderstrom)
This influencer gonewild account is for the gorgeous actor Summer Soderstorm. Although not all her photos are nude, she is considered chiefly sexy, sharing pictures of her wearing colorful underwear and bikinis. That's how she collaborates with brands in this field. 
6- Emily Ratajkowski (@emrata)
The well-known model, Emily, has 30M Instagram followers. She is known as a fashion blogger who shares nude arts from time to time. However, on her Instagram profile, she mostly posts about her day-to-day life. As a result, she isn't exactly one of the Instagram nude influencers that most people would like to follow because she doesn't always post naked photos. But her artistic nude photos are also available on her account.
7- Hannah Sisler (@Woodspine)
With 39K followers, Hannah is one of the nude and gone wild influencers whose account features nude yoga poses. In her photographs, she displays her nude curves, shape, and flexibility. She usually takes photos of nature. 
8- Aline Campos (@Soualinecampos)
Aline Campos is one of the other artists and nude influencers. She has 12.2M Instagram followers and is an actress and dancer from Brazil. Moreover, Aline is "nuravitta.oficial's" brand ambassador, and she could also be a great one for yours.
9- Sky (@realskybri)
Most influencers gonewild on this list are bikini or underwear models promoting seductive underwear clothes. Sky is also one of these influencers who shares photos with lingerie and other sexy underwear. With her alluring nude photos, she has grabbed the attention of 2M followers.
10- Natalie Roush (@Natalieroush)
With 1.4M Instagram followers, Natalie Roush is a hot famous bikini and nude influencer. This macro influencer is also popular on YouTube and TikTok.
Are You a Creator or Influencer Looking to Collaborate with Brands?
There is an over $100 Billion market for brands and businesses such as underwear, bikini, lingerie brands, toys, and many other brands. Therefore, you can promote these products on your Instagram and make money on this platform.
The best way to connect directly with brands and businesses in different industries is by joining Ainfluencer. As influencers gone wild you can download Ainfluencer App to join the marketplace for collaborations.
Ainfluencer is a free, do-it-yourself marketplace that connects influencers with brands to create and publish content on social media platforms like Instagram and TikTok. It's open to influencers from all niches and categories worldwide, and signing up is completely free.
Once your account and social media handles have been approved, you'll receive hundreds of invites from brands. You can also browse campaigns and make offers to brands that interest you. In total, there are over 10,000 brands on the platform to choose from.
Ainfluencer provides a range of tools and features to assist influencers in managing their collaborations and partnerships. The platform ensures that influencers always receive payment for their work, and in the event of any disputes, they will take care of you.
The Explore page enables you to browse over 10,000 ever-growing campaigns and select the ones you'd like to make offers on. Additionally, you can set up your profile to be visible to brands. This includes showcasing your insights, past collaborations, hashtags, interests, and other information so that you can be matched with brands that align with your values and interest.
Conclusion
In conclusion, it is evident that social media influencers are taking the liberty to increasingly post suggestive content to attract more views and followers, which is perfectly great. Many of their followers are still supporting them and would like to see more of those content. It is essential for viewers to be aware of the potential long-term effects, take responsibility and have fun.
On a positive note, many companies and brands align themselves and their products with this content and support influencers gone wild with their sponsored collaborations. Unique free platforms such as Ainfluencer also create a marketplace for both sides of the aisle to connect and make deals. We all should also strive to create an online environment that encourages responsible behavior and a fun place for everyone to be present on.
So, don't hesitate, and sign up on Ainfluencer right now to start walking the path of success now! It's 100% FREE!
FAQs
What Is Instagram Nudity Policy?
Instagram has strict censorship against nudity and sexual photos and videos. Therefore, it may remove content that is considered inappropriate. Therefore, no one can actually share complete nudes on this platform, even on private accounts. However, only nudity in paintings and sculptures is allowed.