According to Instagram rules, nudity is not allowed on this platform. But some exceptions let people share their semi-nude photos. Most nude Instagram influencers are models and people who believe in body positivity and want to show their confidence by sharing photos that show their body shape.
These people share nude images based on Instagram guidelines and sometimes try to make these photos more artistic. Here is the list of 25 nude influencers who post nude photos from time to time.
How to find Instagram influencers for collaboration
Your marketing efforts will have the best ROI if you use the hottest Instagram and TikTok influencers for your influencer marketing campaigns. But how can you find and talk to them? With the help of an influencer marketing platform like Ainfluencer.
Ainfluencer is a 100% free influencer marketplace that helps you find the best influencers for your social media marketing campaigns. You can use its multiple filters and find influencers based on their niche, gender, location, language, number of followers, audience type, and many other criteria.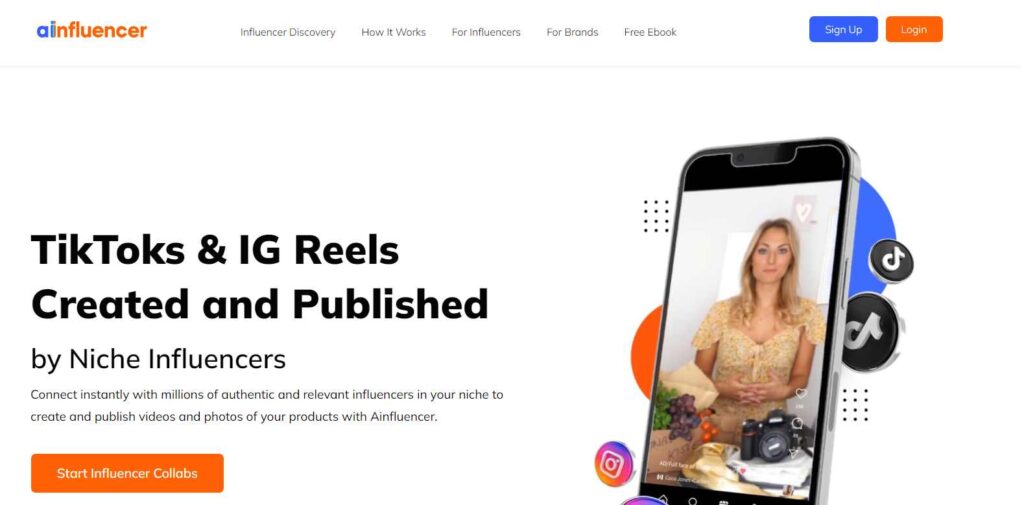 Ainfluencer marketplace has been built with smaller brands and businesses as well as nano-, and micro-influencers (5000 to 1 million followers) in mind. That is why the free platform is certainly the very first DIY (Do-it-Yourself) and 100% free-to-use influencer marketplace, allowing small- to medium-sized brands to collaborate with nano-, micro-, and macro-influencers on Instagram and TikTok.
So, you are looking for nude influencers on Instagram or TikTok? Let Ainfluencer do the searching for you!
Hot Nude Influencers on Instagram 
Are you looking for influencers' nude photos? Here are 25 Instagram nude influencers to follow.
1. Nude Yoga Girl (@nude_yogagirl)
Nude Yoga Girl is an account that belongs to a girl who loves yoga and shares artistic nude photos with her yoga poses. Naked yoga is so popular these days. However, it might not be something that all yoga practitioners do. Still, on this account, you can find very artistic nude curves. Nude Yoga Girl is so popular on Instagram and doesn't cross any Instagram rules. That might be the reason she has 1.4M followers on this platform.
Pro Tip: If you're looking for the most creative nude influencers, it'd probably be a good idea to have a look at some OnlyFans creators as well since they have passed their tests in attracting a lot of audiences. Here, we have provided a list of the hottest ones so that you can have a quick access to their pages:
Now, let's get to the rest of our list!
2. Nude Art (@nighttwisshh)
Nude Art, as its name indicates, gathers photos taken by nude photographers. These photos show nudity with art. This account usually mentions the model and photographer so you can find your favorite nude Instagram influencers and models to follow.
3. Alexandra Leese (@alexleese)
Alexandra is a photographer with 51.5K followers. Apart from being a portrait photographer, he also captures artistic nude photos and shares them on his account. If you are a fan of nude art, you can follow this account to see more creative photography. Most of his models are regular people who are not even models. But their photos are artistic and fabulous.
4. Zoe Natale Mannella (@zoenatalemannella)
Natale is a photographer who merges nudity with art and takes incredible nude photos, especially rare underwater ones.
5. Camille Vivier (@camille_vivier)
Camila is a photographer with 30.6K followers. People don't follow this account only for nude curves. That's mostly because of the creativity she adds to her photography.  
6. Clara Eon (@claraeon2)
Clara is a French model and choreographer. She doesn't have as many followers as most nude Instagram influencers, but if you like artistic photos, you can find them here.
7. Jennifer Gold (@jennifergold__)
Jennifer is an art performer and comedian who shares nudity to present the body-positive movement. She is one of the Instagram nude influencers that tries to improve women's confidence. 
8. Emily Ratajkowski (@emrata)
Emily is a popular model with 29.5M followers on Instagram. She mostly shares her daily life and is known as a fashion blogger. Therefore, she is not exactly one of the nude influencers on Instagram who always share naked photos, which most people might like to follow. But Emily shared nude photos during her pregnancy to show how beautiful a woman's body is formed when she becomes a mom.
9. Lolita (@lanymphette)
Lolita is a young Ukrainian model who shares her daily life. She is not exactly a nude artist but shares nude photos of herself merged with fashion.
10. Veronika (@vero.kratka)
We talked about naked yoga at the beginning of this blog. It's getting more popular each day, and more yoga influencers start sharing nude pics of themselves with yoga poses. Veronika is one of them. She is a portrait model who shares her nude photos from time to time.
11. Hannah Sisler (@woodspine)
Hannah is one of the nude influencers that shares nude yoga poses on her account. She shows her nude curves, shape, and flexibility in her photos. She usually takes pictures in nature.
12. Joanna Krupa (@Joanna Krupa)
Joana is an underwear model with 1.8M followers. She is not exactly in the list of nude influencers . Still, she is among the popular influencers who share nude photos on her account. Meanwhile, she usually shares posts about daily life.
13. irina shayk (@irinashayk)
Irina Shayk is a top model with 19.8M followers. She is mainly known as a fashion blogger who is a well-known model of Versace. Irina is one of the Instagram influencers that doesn't have body shame. To share her confidence with others, she sometimes posts nude photos.
14. Tatiana (@tatianapanakal)
Tatiana, or Tati as she claims, is a fashion model and yoga teacher in Bali. She is a swimsuit and bikini model with sexy poses and shares nude photos on her Instagram account. Tati is one of the Instagram nude influencers with 107K followers.
15. Kens (@_kenssss)
With 120K followers, Kens is the model of sexy underwear. Although she doesn't share nudity on her account like other nude influencers,  she has outstanding sexy poses in front of the camera. 
16. Kahili Blundell (@kahiliblundell)
Kahili May Blundell is an Australian nude influencer and swimmer model. She gained fame by becoming Ralph Australian Swimwear Model of the Year 2011 and now has got about 170K followers on her Instagram account.
17. Aline Campos (@soualinecampos)
One of the other artists and nude influencers is Aline Campos. She is a Spanish dancer and actress with 12.2M Instagram followers. Aline is the brand ambassador of "nuravitta.oficial" and can also be a great one for your brand.
18. Felicia Hardon (@lizahardytv)
Felicia is one of the other nude Instagram influencers and bikini models. She could gain more than 13.2K followers on Instagram by sharing photos of her body and encouraging other women to love their bodies as it is.
19. Lily Adrianne (@lily.adrianne)
Lily Adranne is among the most famous nude influencers on Instagram. She is from New Zealand and currently has more than 7M followers. Lily is also a model and Instagram star who appeared in promotions of many brands and ads.
20. Natalie Roush (@natalieroush)
Blogger Natalie Roush is a hot famous bikini and nude model on Instagram with 1.3M followers. This macro influencer is also famous on YouTube and TikTok and can be a great option for promoting your brand.
21. Eri Anton (@erianton_)
Eri is an entrepreneur, female fitness influencer, and nude blogger who gained fame in a short time. She is the founder of "@inspirebyerianton," and currently works in the field of medical aesthetics to help women focus on acceptance, inspiration, and motivation. She has got 3.1M followers.
22. Bruna Lima (@xoobruna)
Bruna Lima is a mom blogger who shares photos and videos of her body, workouts, and daily lifestyle. This nude influencer is active on Instagram and TikTok and has gained 4.5M Instagram followers and 3.5M TikTok followers.
23. Yazmin Morales (@yazminmoralesoficial)
Yazmin Morales is among the top nude influencers on Instagram, with nearly 70K followers. She is also a sportswoman and activist and was nominated as Miss Cost Rica in 1994. Yazmin is also the creator of "@adorofelinaby."
24. Vanessa Serros (@vanessa_serros)
Fitness, lifestyle, nude, and health influencer, Venessa Serros, is among the top influencers and Instagram ambassadors. About 300K people follow her on Instagram to see her beautiful sexy photos.
25. Angelica Anderson (@angelica_anderson_im)
And the last hot nude influencer on our list is Angelica Anderson. She is also a designer and founder of "@by__anders." Angelica has gained 143K followers by sharing photos of her beautiful body.
Conclusion
As mentioned at the beginning of this blog post, nudity is not allowed on Instagram, and anything against the guidelines of this platform will be removed. But that is not against body confidence and positivity. You can still find Instagram nude influencers that are not against the rules of this platform. That means nudity is not all about sexy photos. That can lead to something more critical and practical, like art or body positivity.
Is NSFW stuff allowed on Instagram?
Some argue that NSFW (not safe/suitable for work) content has a place on Instagram, as the platform is primarily for artists and photographers to share their work. Others say that NSFW content is not appropriate for the platform, as there are many young users who could be exposed to it.
Instagram has a strict policy against nudity and other sexually explicit content. If an account is found to be sharing this type of content, it will be removed. However, some accounts have found ways to get around this by using creative hashtags and hiding their content behind images that do not appear to be NSFW.