With the rise of social media platforms and influencer marketing, the tourism and hospitality industry is increasingly turning toward influencers as a way to reach a wider audience and gain more exposure.
If you're in the hospitality or travel industry, partnering with top hotel influencers can be a great way to increase your brand reach and exposure. But who should you collaborate with in 2023?
In this blog, we will highlight some of the most influential names in the industry who have amassed a substantial following and can help you create and promote your hotel brand. So, first, let's check how you can find these influencers and then dive into our list of top hotel influencers to collaborate with in 2023.
Note: Browsing Furnished Condos in Downtown Toronto can be an exciting yet challenging task since there are many options available to choose from. Downtown Toronto is a thriving hub of business, entertainment, culture, and beauty, and therefore, it's highly sought after area for both short-term and long-term stays.
If you are looking for Short time rentals in Toronto, find cheap, furnished and luxorious places to stay for your trip to Toronto on Tirbnb.
How to find hotel influencers?
There are several effective ways to find influencers related to your niche.
One of the common ways is to search on Google. Using Google, you can search for hotel influencers by using specific keywords related to the hospitality industry. By doing this, relevant results will appear, including influencer profiles, best hotel blog articles, and social media posts related to hotels.
Another way to find hotel bloggers is by exploring hashtags on Instagram. By searching for keywords like #hotels or #travel, you can identify individuals or travel influencers who have a significant following and engage with hotel-related content.
Another easy way is to use an influencer marketplace like Ainfluencer, which is a tool designed to connect businesses with micro influencers on TikTok and Instagram. This DIY marketplace allows small to medium-sized businesses to access a curated list of influencers and create high-quality content in order to reach millions of potential customers.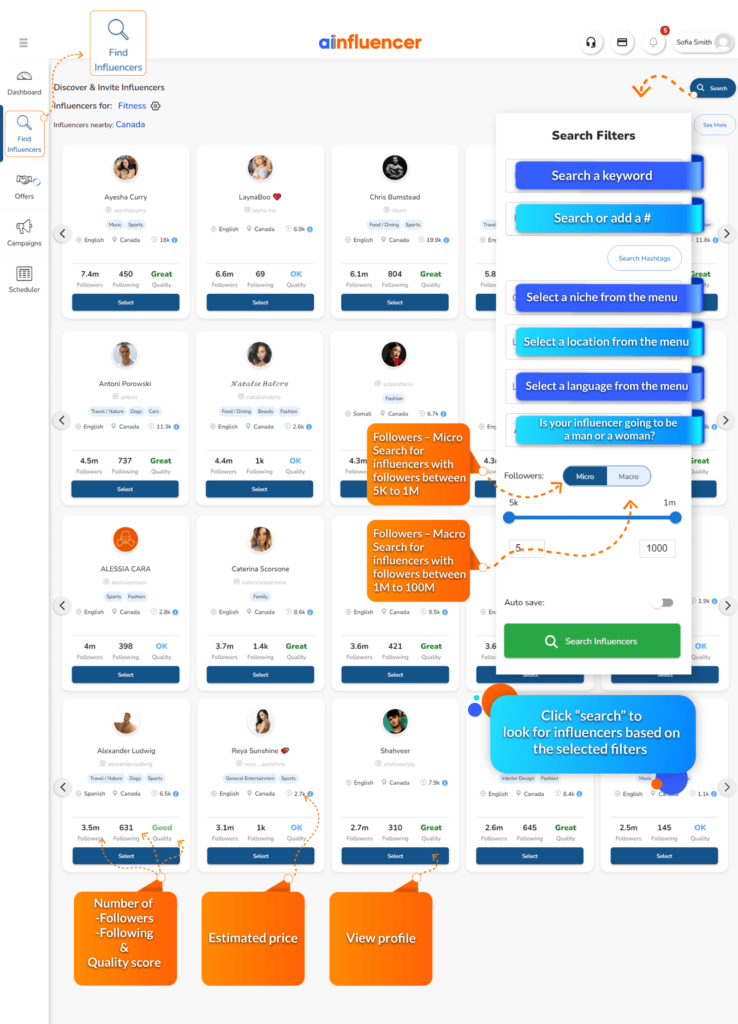 Sign up on Ainfluencer, use its AI search engine to find your desired influencers, and boost your brand awareness.
Top hotel influencers in 2023
Here is a list of top hotel influencers to help you promote your business. You can also find hotels that work with influencers by reviewing their accounts.
1. Brian Kelly (@thepointsguy)
Brian Kelly started his journey as a financial consultant before starting The Points Guy website. He's become one of the most influential voices in the travel industry over the years. His website and social media channels provide invaluable advice to travelers looking to save money on flights, hotels, and other travel expenses. Many hotel chains and travel companies collaborate with Brian to promote their brands and products to his audience, making him one of the most successful hotel influencers in the world.
2. Erica Firpo (@ericafirpo)
Erica is a seasoned journalist based in Rome, Italy. She's written for many notable publications, including Condé Nast Traveler, Travel+Leisure, and Washington Post. Her expertise in hospitality, design, and culture makes her one of the most unique and comprehensive voices in the travel industry. She shares her experiences and insights with her audience through her Instagram channel, which showcases spectacular hotels and resorts and trendy dining spots.
3. Johnny Jet (@Johnnyjet)
Johnny Jet is a well-known travel influencer and journalist who shares his travel experiences and tips with his followers via Instagram. As a hotel influencer, he also reviews and showcases different hotels and resorts he stays at. He could gain about 29K followers on Instagram by sharing hotels and resorts he visits and offering helpful travel advice and recommendations.
4. Christina Vidal (@Jetsetchristina)
Christina shares carefully curated collections of luxury hotels and resorts worldwide on Instagram and could amass about 100K followers. This macro influencer gives her audience a chance to experience unique accommodations with individual offerings, including private hot tubs and bespoke tours. Her captioning and photos combine to create dreamy vacation ideas and remarkable experiences.
5. Nastasia Yakoub (@Dametraveler)
Nastasia Yakoub is a traveler, photographer, and influencer on Instagram. She started the @dametraveler community in 2014 to inspire and empower women to travel more and start their own boutique hotels. Nastasia beautifully features decorated boutique hotels worldwide and shares the stories of her journeys and the journeys of other women in her community.
6. Sasha Juliard (@sashajuliard)
Sasha is another hotel influencer who pursued her passion for travel and hospitality. His Instagram account, with 121K followers, is full of stunning photos of world-renowned hotels and resorts, making him one of the most sought-after hotel and travel influencers around the globe.
7. Nige LevantErman (@Levanterman)
Nige is a hotel influencer who showcases some of the best hotels in Europe. He lives in London and has a keen eye for unique architecture and exquisite interior design that exudes elegance and sophistication. Levant's feed provides not only inspiration for luxury accommodations but also gorgeous travel photographs to make you fall in love with Europe.
8. Lucy Laucht (@Lucylaucht)
One of the other top hotel Instagram influencers is Lucy Laucht. She is a powerhouse travel photographer who's passionate about unique and boutique hotels worldwide. Her Instagram feed is filled with stunning photographs of some of the most beautiful hotels, and her captioning style gives you a comprehensive view of each destination. Lucy's style is warm with passion and makes you feel as if you're with her on the travels.
9. Louis Cole (@louiscole)
Louis Cole is a British-born YouTuber, filmmaker, and content creator who has been traveling the world for years. He has over 2.4 million followers on Instagram, where he shares his experiences staying in unique hotels and luxurious resorts, as well as documenting his other travel adventures, such as skydiving and paragliding. His down-to-earth personality and honest approach to sharing his travel experiences have made him a popular influencer with a loyal following.
10. Katie Dillon (@lajollamom)
Katie Dillon is a family travel blogger and hotel influencer on Instagram with over 63K followers. She often travels with her family and shares their experiences staying in luxury hotels, resorts, and vacation rentals. Her content is geared towards families seeking high-end travel experiences with children.
11. Christina Tan (@sassychris1)
Christina Tan is a hotel blogger and content creator with 522K followers on Instagram. She has traveled to many countries and stayed in luxurious hotels and resorts, highlighting the unique features and experiences offered by each property. She also shares lifestyle content with her followers, including fashion and beauty advice.
12. Timo Kiviluoma (@Travelwithtimo)
Timo Kiviluoma is a Finnish travel blogger, influencer, and content creator with more than 13K Instagram followers. He has collaborated with luxury hotel brands, showcasing their hotel amenities and services. He also documents his travels to lesser-known destinations, offering his followers a fresh perspective on travel.
13. Kate McCulley (@adventurouskate)
Kate McCulley is a hotel blogger, influencer, and solo traveler who has 100K followers on Instagram. She often stays in budget-friendly yet comfortable hotels and hostels, sharing her experiences with her followers who may be seeking more affordable travel options. She also covers a wide range of destinations, documenting her travel experiences in regions like Southeast Asia, Europe, and Central America.
14. Kiersten Rich (@theblondeabroad)
Kiersten Rich, aka Kiki, is among the other Instagram hotels influencers. With 513K followers, Kierten shares her travel tips and advice, covering topics like travel safety, wellness, and exploring new cultures.
She has traveled to different countries and often stays in luxurious hotels and resorts. As she recently became a mom, she also shares her experiences of traveling with a kid.
15. Eric Stoen (@travelbabbo)
Eric Stoen is a family travel blogger, hotel influencer, and content creator with over 341K Instagram followers. He often travels with his young children and stays at luxury hotels that cater to families. He posts about his experiences and gives advice for traveling with kids, such as ways to keep kids entertained during long flights or road trips and how to make the most of family-friendly destinations.
16. Callum Snape (@calsnape)
Travel photographer, Callum Snape, has made a name for himself as a hotel influencer on Instagram thanks to his incredible images of epic landscapes, sweeping coastlines, and awe-inspiring mountains. The Canadian-based photographer has a following of 783K on the platform and has worked with many brands in the travel and hospitality space, including Westin Hotels.
17. Georgia Hopkins (@_itsbeautifulhere)
Georgia Hopkins is a full-time travel and hotel influencer who has a following of 75K followers on Instagram. Based in Australia, Hopkins regularly collaborates with luxury brands to showcase their hotels and unique experiences on her feed. From luxurious suites to infinity pools overlooking picturesque landscapes, her feed is a dreamy getaway for the wanderlust traveler.
18. Naomi-Jane Adams (@naomijaneadams)
Naomi-Jane Adams is a freelance travel writer and luxury hotel reviewer. She has a following of 928K on Instagram, and her feed showcases her stunning travel photography. She shares her experiences while staying in bespoke hotels around the world. Her content is elegant and aspirational, designed to enthrall followers with breathtaking imagery and intimate storytelling.
19. Clint Johnston (@triphackr)
Clint Johnston is a travel photographer and hotel blogger who has a following of 155K on Instagram. He is known for his adventurous adventures, such as hiking famous trails and cliff diving. As a blogger, he collaborates with hotel brands and shares his journey with his followers. His feed is both thrilling and informative for travelers.
20. Tiffany Dowd (@LuxeTiffany)
Tiffany Dowd is a hotel influencer and global luxury travel expert. As an influencer, she has built a significant following of people interested in her travels and experiences of various hotels worldwide. Her Instagram account has over 86K followers as of march 2023.
21. Jennifer Tuffen (@izkiz)
Jennifer Tuffen, known online as izkiz, is a UK-based photographer and social media influencer. She has over 2.7M followers on Instagram and has traveled to some of the world's most beautiful locations, staying in luxurious hotels along the way. Her feed showcases her travels, often with hotels integrated into her posts to highlight their unique features and stunning views. You can find the best hotel blogs on her feed.
22. Jack Morris (@Jackmorris)
One of the other top hotel bloggers is Jack Morris. He is a British influencer and entrepreneur who has a following of 2.6M followers on Instagram. He gained popularity for his travel posts and breathtaking photography. Morris frequently stays in amazing hotels and showcases their amenities to his followers. His feed is filled with colorful skyscapes and ocean vistas, which fit perfectly with his highly stylized aesthetic.
If you're looking for hotels that work with influencers, his account can be a good choice.
23. Emilie Ristevski (@helloemilie)
Emilie Ristevski, aka Hello Emilie, is an Australian photographer, travel blogger, and luxury hotel reviewer with over 1.3M followers on Instagram. She stays in breathtaking hotels and resorts all over the world and shares her experiences with her followers, showcasing stunning views and her experiences. She also shares tips on how to capture the perfect picture while traveling.
24. Louis Cole (@Louiscole)
Louis Cole is a British-born YouTuber, filmmaker, and content creator who has been traveling the world for years. He has over 1M followers on Instagram, where he shares his experiences staying in unique hotels and luxurious resorts, as well as documenting his other travel adventures, such as skydiving and paragliding. His down-to-earth personality and honest approach to sharing his travel experiences have made him a popular influencer with a loyal following.
25. Murad Osmann (@muradosmann)
Murad is a Russian Instagram photographer and filmmaker who started his Instagram sensation in 2011, featuring his then-girlfriend (now wife) leading him around the globe for his iconic #FollowMeTo photo series. He's photographed in some of the world's most exotic and luxurious hotels, offering his audience a glimpse of the high life of luxury travel. His photography skills have been recognized with numerous accolades, and he has collaborated with several travel and hotel brands.
Conclusion
In conclusion, collaborating with hotel influencers has become a vital component of marketing strategy for hotels worldwide. Hotel influencers have an excellent ability to drive engagement, increase brand awareness, and drive bookings. With the rise of influencer marketing, it's critical for hotels to know the top hotel influencers to collaborate with to reach a targeted audience You can also find more hotel influencers on the Ainfluencer marketplace.
FAQs
1. Do hotels work with influencers?
Yes, hotels work with influencers. In recent years, influencer marketing has become an effective strategy for hotels to promote their brand and increase bookings. Many hotels collaborate with influencers to showcase their properties, amenities, and experiences to a targeted audience. By partnering with influential individuals who have a large and engaged following on social media platforms, hotels can reach a wider audience and drive revenue. Influencers, in turn, receive compensation or complimentary stays for their posts, photos, and stories promoting the hotel. It's a mutually beneficial collaboration that has become an integral part of hotel marketing strategies.
2. How do you ask for collaboration with hotels?
To ask for a collaboration with hotels as an influencer, research potential hotels and create a personalized pitch highlighting your social media presence and ideas for the collaboration. Contact the hotel's marketing department, follow up if necessary, and deliver quality content to ensure a successful partnership.