There are a lot of influencer apps whose sole purpose is to help influencers find brand ambassador apps to work with and make money off of their followers.
Influencer marketing is well-known as one of the best ways for brands to build relationships with their target audiences and clients.
But it may be hard for influencers to find the right brand.
So, the market is full of "influencer marketing apps" that connect influencers with brands. If you are looking for apps for influencers to make money, these software influencers can have a huge impact on you.
It is important to mention that there are also websites for influencers that helps to connect influencers with brands as well.
15 Best Influencer Apps For Brand Collaboration
Even though there could be hundreds of influencer marketing apps, we've narrowed it down to the top 15 influencer apps Its main goal is to connect influencers with brands and set up a collaboration between influencers and brand ambassadors:
1. Ainfluencer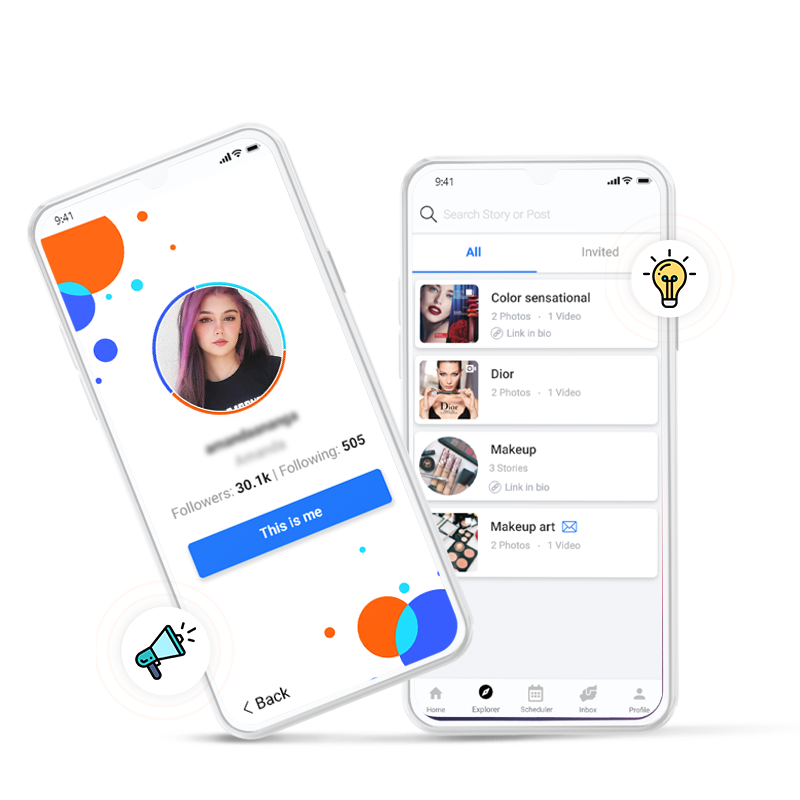 When looking to connect influencers with brands, Ainfluencer is one of the greatest (and free!) influencer apps.
No matter how big or tiny your following is, Ainfluencer can help you expand your business using the power of Instagram's marketing platform.
The Ainfluencer app has fantastic features like a chat box that enables a connection between influencers and brands; this is a two-way road, as brands can look through the list of influencers and invite them to take their deal to the next level, and influencers can do the same.
Brands post a "marketplace ad," a video or image with captions and their campaign specifics, and then you, as an influencer, can offer to participate.
2. Tribe
Also worth mentioning is Tribe, another influencer application popular on both Facebook and Instagram.
It has two ways in which brands may seek to work with you within Tribe.
It could be a short-term gig in which they ask you to create content for them to publish on their social media, or it could be a more permanent arrangement in which they pay you to post sponsored content on your social media accounts and then send the money to you through an escrow system once they've reviewed and approved your work.
The first choice is a short-term contract, while the second is a more permanent influencer marketing service.
3. Neoreach
Neoreach is another influencer app to mention, which was developed and first created by a student at Stanford who is now recognized as an experienced veteran in the field of influencer marketing apps.
In addition to having a large amount of data, Neoreach currently has more than 3 million users using its influencer marketing service. You can search for any topic you choose when you're an influencer, and it will find you an appropriate match.
However, it is a paid app, and you will need to pay an annual subscription to use it. Many influencer marketing service levels are available, depending on the number of users and other considerations; they are not limited to small, medium, or big subscription plans. Their fees could run anywhere from 50k to 500k.
4. Klear
Klear is an advanced influencer marketing app that is also incredibly user-friendly and satisfying, and you can do even the most complex requirements with ease and brilliance.
Whether your business is a startup or an established industry leader, Klear has a monthly subscription option to fit your needs.
The program provides numerous graphs visually representing the data and simplifying the information so that anyone may understand it.
The kind of content being shared will become apparent to you. It's important to note that they employ AL to comprehend your actions so you can browse any content with the tags and keep up with trends.
Those who enjoy working with large amounts of data and analysis will enjoy this software.
5. Izea
Before the popularity of influencer marketing services, there was IZEA, an influencer software for connecting influencers with brands. By enabling connections between influencers and relevant brands, they aid in expanding influencer marketing services.
Make an account and start using the app to your advantage right away. As an intermediary between influencers and marketers, IZEA facilitates communication between the parties.
While you should remember that the software is a bit complicated to operate, you will eventually get the hang of it. There was an option for $149/monthly or a price customized to the customer's needs.
6. Intellifluence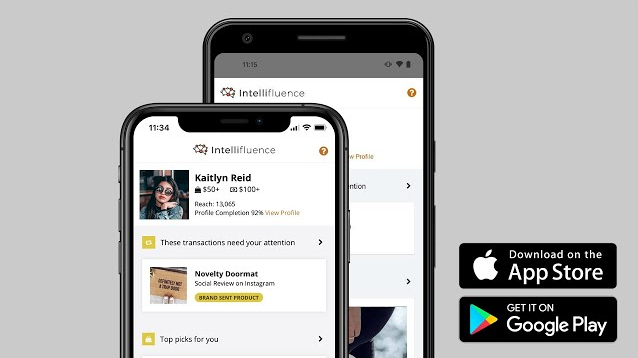 A unique influencer app for when it comes to connecting influencers with brands is Intellifluence. You can network with other influencers in your field to further expand your reach.
Because Instagram, TikTok, Facebook, and YouTube are all compatible with this platform, you won't need any other tools to handle your campaigns on Intellifluence's platform.
Sometimes, the payments may take longer than expected, but the company offers excellent service. The monthly cost of the app ranges from $99 to $599, depending on your specific requirements.
7. Collabor8
Known as the "tinder of influencer marketing," Collabor8 is an influencer app that facilitates partnerships between brands and influencers.
Collabor8 is an influencer marketing tool that enables two-way contact between brands and influencers. A free trial is available so you may evaluate the service and determine whether it meets your needs.
f you're interested in accessing additional features, a paid upgrade is also an option.
All sizes of influencers are welcome on the app. It doesn't matter if you are a micro influencer with as few as 2000 followers or a macro influencer with millions of followers. What counts is how engaged your audience is.
8. Boostinsider / SocialBook
This particular influencer app is an example of an influencer marketing app, the purpose of which is to promote contact between brands and influencers who are most closely related to the things that those brands sell.
Anyone with a social media presence, such as a blogger or a YouTuber, is welcome to use Boostinsider.
Becoming an influencer and promoting any brand you choose on social media to earn money does not require any financial investment.
9. Octoly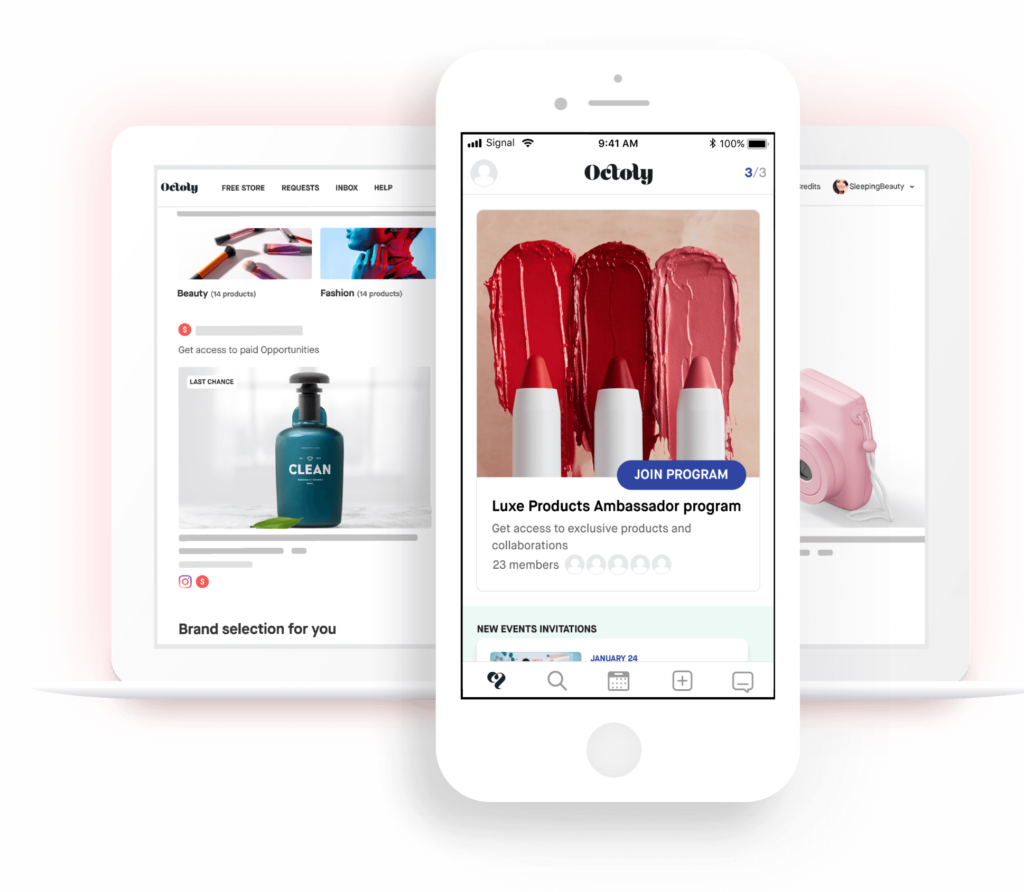 More than 300 businesses and 40,000 influencers in lifestyle, beauty, fashion and wellness are linked through Octoly, making it a fantastic influencer marketing software.
The app's user interface is uncomplicated, and getting in touch with support takes little time and effort.
Currently, Octoly is claiming to work on TikTok, Instagram, and youtube.
Note that each social media platform has guidelines for accepting influencers into its community; before applying, you should familiarize yourself with these.
The subscription model is utilized for pricing.
10. IndaHash
The IndaHash influencer app is a no-cost way for social media influencers and content creators to get paid for promoting products.
After signing into the app, you'll be able to view a list of filtered campaigns depending on the companies you've indicated an interest in.
Over a million influencers and 500+ businesses in 80+ countries are connected thanks to IndaHash and its particular emphasis on the social media platforms of Facebook, Instagram, and Snapchat,.
Nonetheless, before proceeding, you should learn about the requirements.
11. Grin
According to Grin, concentrating on the influencers themselves is the most crucial factor in determining whether or not an influencer marketing campaign would be successful.
If you can build a reliable connection with them, everything else will work out perfectly. Because everything is so well organized into workflows, navigating this influencer app is a breeze.
In this context, it is essential to keep in mind that the cost of Grin is completely individualized to each client. Grin is a real-time messaging application similar to slack and SMS.
12. Indi
One app for influencers to make money is the Indi influencer app, which allows those with expertise to offer their services to others.
In other words, they assist people to make money off of more than just their influence, such as their guitar playing or painting abilities.
However, they also allow brands to pay for "sponsored content." In addition, they provide customers with the option to earn rebates or receive price reductions when they shop online.
This is to say; you have a lot of alternatives to consider.
13. Popular pays
Check this out if you want an app specifically for influencers to make money off your blog or your influence on a lesser-known platform. Over 60,000 niche-specific influencers are part of Popular Pays' network.
In other words, they can locate your work with anything from a tiny, specialized company to a large, well-known one (some are listed).
This means that you will be able to identify suitable collaboration partners even after your presence has expanded dramatically.
In addition, you can sell the rights to your social media posts to brands that want you to make content for them to use. Take charge of the relationship management or allow them to handle everything.
How you want to proceed is up to you.
14. TapInfluence
The app version of Tapinfluencer eliminates the tedious, time-consuming, and complicated processes often associated with influencer marketing.
After registering, influencers will have access to the brand's marketplace, where they can create a public profile that includes information about themselves and their areas of expertise.
Your application will have a greater chance of being considered for open positions than the amount of material you include.
You will increase your chances of successfully concluding a deal with the companies if you handle all of the communication with them on your own.
15. Shoutcart
You should look into using Shoutcart if you want to locate influencers in your field willing to promote you and give you a shoutout.
It has the potential to be an effective method for attracting additional followers.
On this platform, in contrast to those offered by competitors, you won't have to go through the tiresome procedure of first contacting influencers and then haggling over fees with them. Their method is quite simple and uncomplicated.
With this software's help, influencers can determine their fees for each shoutout. The price can range from ten to one thousand dollars for a two-hour shoutout.
Our pick for best influencer apps
Knowing what you want is crucial before you start exploring influencer marketing software.
Some things to think about are the brands you want to collaborate with, how simple it is to reach out to them, how you'll be paid, and how much you'll be charged.
Checking out competitive alternatives to the app you're considering using as a brand ambassador can be a helpful additional step.
Here's why we chose the Ainfluencer app:
Simply told, Ainfluencer is simple enough that anyone can pick it up and start using it right away. The structure is uncomplicated and easy to understand. When it comes to how you connect with brands, the decision is entirely up to you.
One of the most significant advantages of using it is that there is no financial investment required on the part of the user.
A tutorial session to assist you in getting started with Ainfluencer is also included, and you will have access to knowledgeable customer service.
Both micro- and nano-influencers are encouraged to sign up for and participate in the platform. In addition to this, you'll have the opportunity to work with well-known brands. You should totally give it a shot and see what happens.
You can use the quick approval time to your advantage by clicking the button below, filling out the form, and getting started with your influencer marketing right now.
Conclusion
There's little doubt that the influencer industry will keep expanding. Even though many options boast the title of "best influencer marketplace," only a selected number have earned that title.
As both companies and influencers get to become more aware of the value of these platforms, their popularity is projected to rise further over the coming years.
Our list is worth perusing if you want to network with influencers or discover new content creators.
1- What apps do influencers use?
There are a ton of influencer apps out there, but the following are the ones I think are worth signing up for because of the importance of those brands in the influencer marketing sector and the ties those brands have with other brands:
– IZEA
– Ainfluencer
– Grin
– Neoreach
– Klear
2- How do influencers get paid?
Influencer earnings can take the form of a cut of sales or a one-time payment for the partnership (similar to a brand ambassador app).

3- Are influencer apps legit?
While there are undoubtedly many other legitimate influencer applications out there, you can rest assured that the ones we've included here are all tried and true.