Small businesses are often faced with the challenge of advertising effectively because of their limited budgets. You need to advertise to get noticed, grow your business and keep growing. But unlike most people's belief, small business advertising doesn't necessarily need a huge budget.
Small businesses can take advantage of free and low-budget advertising ideas.
They should invest in the best small business advertising ideas to build brand awareness among a larger audience.
What Is Small Business Advertising?
Small business advertising is a kind of brand advertising. It means putting your brand before your target audience and using cost-effective methods, especially online advertising methods. By knowing different ways to advertise and choosing the most suitable one for your brand, you will save your budget and escape from mistakes small businesses make.
There are different types of advertising approaches that your small business can take. You can focus on digital ad platforms, or choose more traditional ways to run ads for your small business. Investing strategically in advertising for small businesses can result in a high return on investment, bringing valuable new business to your company.
25 top small business advertising ideas
If you're looking for small business advertising ideas on a shoestring budget or free business advertising ideas, here are some ideas you should give a try:
1. Social media marketing
Social media marketing is a tool used by businesses of all sizes to reach out to their target audience. It allows businesses to connect with customers, create a relationship with them, and sell more products or services.
There are many reasons why people are on social media; 21% of people use social media just to follow celebrities or influencers. Therefore influencer marketing is a great tool you can't ignore.
Here are three of the most popular social media methods that you can use for your small business advertising:
a) Instagram marketing:
As Instagram is one of the most popular platforms, using it to do influencer marketing is one of the best small business advertising ideas. You can connect with influencers in your niche on Instagram and ask them to promote your products or services. Instagram influencers, especially nano influencers and micro influencers are the best choices for small business online advertising.
But how can you find Instagram influencers for advertising a small business??
There are many different ways to find influencers on Instagram. But the easiest and fastest way to find the right fit for your brand is to use influencer marketplaces. One of the best free marketplaces available is Ainfluencer.
Ainfluencer
Ainfluencer is an influencer marketplace that connects brands and influencers. Also, it makes Instagram influencer marketing and running campaigns on the marketplace easy and fast. This marketplace stands out among all types of online advertising for small businesses because all its features are 100% free to use with no hidden fees.
Brand's campaign will be shown in the marketplace, where thousands of qualified influencers are looking for a brand to collaborate with.
Brands can also invite influencers on their own. Ainfluencer's AI engine finds influencers for them based on location, language, gender, hashtag, and more.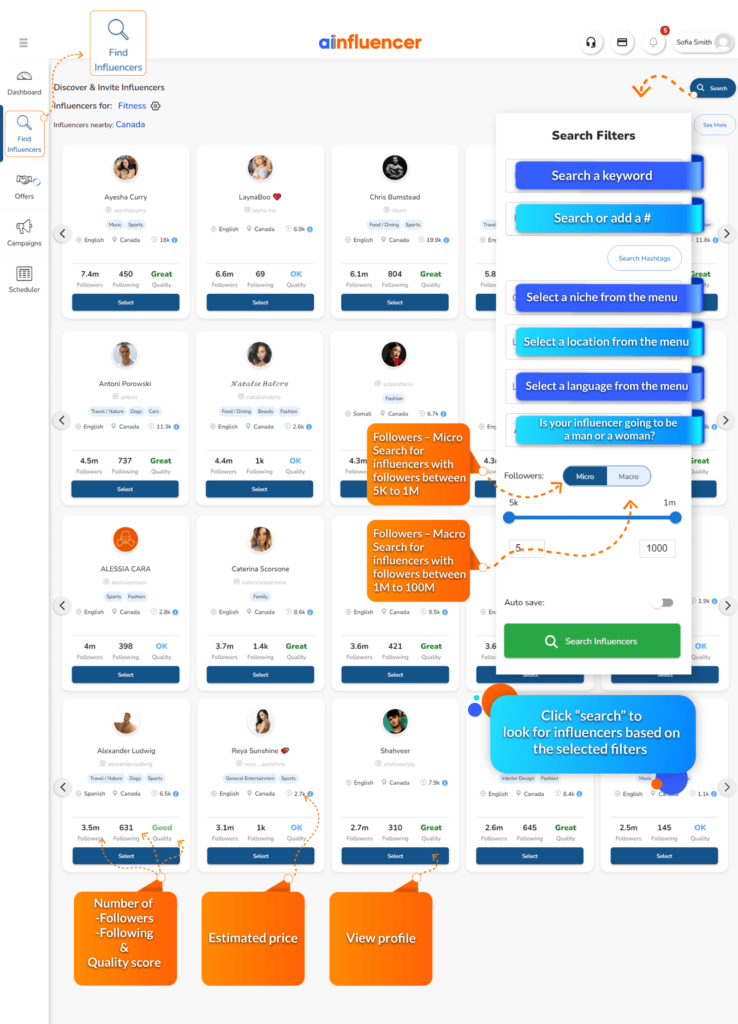 With Ainfluncer, you have the opportunity to manage the offers you have made or received, chat with influencers, and finally get real-time analytics to track your campaign performance from start to finish.
b) Facebook marketing
93% of social media marketers use Facebook to promote their businesses. It's among the other best small business advertising methods. You can do either organic (free) posting or paid (boosted) posts. Just start with setting up your Facebook business page.
c) LinkedIn marketing
LinkedIn has become much more than a means of finding another job. The world's largest professional social network is now a valuable publishing platform in its own right, which means you should be posting content to LinkedIn on a regular basis. Doing so can be one of the best advertising for small business methods, as it can boost traffic to your site and increase your profile within your industry.
Note: Explore lesser-known or niche platforms like Foursquare, Pinterest, and Reddit. If you want to reach a younger crowd, you can also make videos on TikTok.
2. Email Marketing
Email marketing is considered to be one of the most effective ways of online advertising for small businesses for free. You should strategize email funnels, collect emails and use them when you launch a new product, post a new blog or have a discount.
Email marketing is also great for retargeting. Brands can use retargeting as a great small business advertising tool to keep their customers coming back and revisiting them. Just be careful not to bombard people with emails about every single update in your business.
Mailchimp is a great email marketing tool to start with.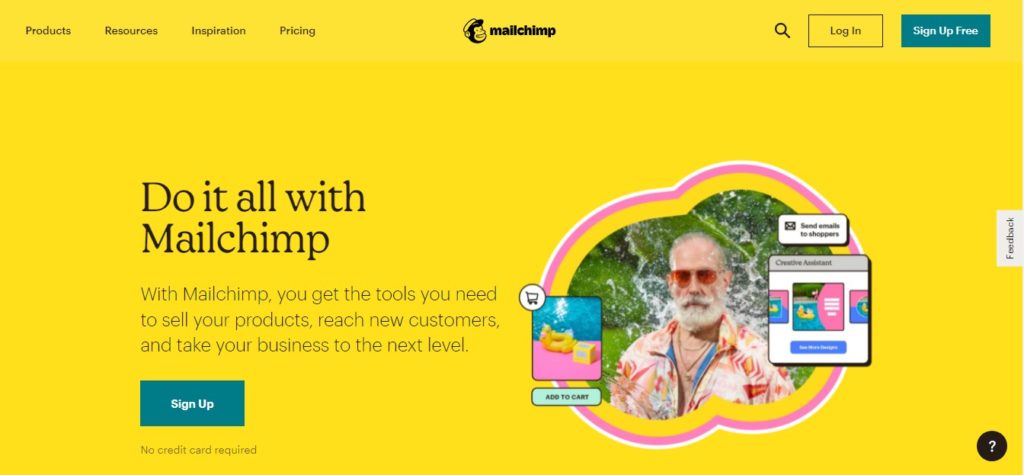 3. Local ads
Local business advertising can be one of the best small business advertising ideas. In this type of advertising, you strategically place advertisements in high-traffic areas near and around your business and where your immediate customers live. Local business advertising is important to create awareness of small businesses.
As a business owner, you need to stand out from your competitors and connect with your local consumers. But targeting local customers needs a strategy. Follow these marketing strategies to better promote your business locally:
a) Work with Local Influencers
Brands that want to reach a target group in a specific region can get the most out of working with local influencers. This can actually be a better small business advertising tactic because the audience is more likely to take action since the content is very relevant to them.
Advertising on Instagram with local influencers can position your product with better wording. There's far less convincing work to do and less risk involved.
b) Sponsor a Local Event
Contribute financially toward local charitable or community events. You'll likely get your business in front of participants, and get the satisfaction of supporting a community.
4. Google My Business Account
Having a Google Business profile is also one of the most effective small business advertising strategies available. This free new business advertising tool, with its listing feature, allows your business to show up on Google Maps, the local section of Google Search, and the right-side Knowledge Panel for branded searches.
5. Referrals
Referral programs can bring huge wins for businesses, whether large or small, but you must ensure your customers that they can benefit by telling their friends about your brand.
In referral tactics, customers are essentially doing marketing for you! They are promoting straight to their network, usually in person or on social media, which makes word of mouth not only cost-effective but also highly valuable.
Tesla is a successful example of referral promotion. To this day, Elon Musk and Tesla are never out of the news.
Tesla's customer satisfaction rate is 89 out of 100, putting it ahead of all other car manufacturers around the globe. In 2016, Musk capitalized on his customers' loyalty and launched a referral program that provides a great example of rewarding referrals with something other than pure product discounts. Since 2019, Tesla's switched up their referral program to allow successful referrers to earn 1,000 miles (1,500 kilometers) of free Supercharging with the purchase of a new Tesla car by anyone using their referral code. But, if that wasn't tempting enough, Tesla is also giving successful referrers a chance to win a Model Y every month or Roadster supercar every quarter based on the number of successful referrals.
Each Tesla owner can give friends up to 10, US$1,000 discounts.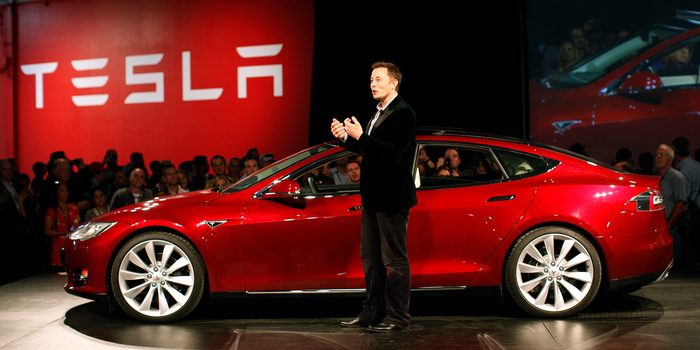 6. Building Relationships
If your business is primarily online, consider adding networking to your marketing tactics. Remember, business success is about relationships, and networking allows you to make the types of relationships that lead to sales, referrals, and other significant business growth. Some types of relationship-building for your small business online advertising are:
a) Interviewing
For your small business advertising goals, you need to interview the leaders in the industry, and you'd be shocked by the number of thought leaders in your industry that are willing to talk to you and get their interviews published on your blog. You just need to send them some interview requesting emails.
Not only will the name recognition boost your credibility and increase traffic to your website, but the interviewee will also probably share the content too, further expanding its reach.
b) networking events
Using social media and building up your digital networks as a type of commercial for small businesses is essential, but don't forget about traditional "face-to-face" networking as well! You don't even have to look at pricey, membership-only groups, as there are a host of smaller, more affordable events on sites like meetup.com to consider.
Attending a networking event can be a great way of growing your reputation, building relationships, and finding new business opportunities, so bring a stack of business cards and become one with your elevator pitch before you go.
c) Joining business organizations
This is just a more specific way of networking and a great way to make business contacts.
7. Content marketing
Content marketing for small businesses, if done with a good strategy, can add great value to your business over a long time. It's a free advertising for small business strategy but practical with more needed time.
User-Generated Content is the new word-of-mouth strategy. Do your customers share their reviews about your product with their friends?
If yes, you should make the most of UGC with good strategies.
Share the love, let them know they are appreciated, and be sure to get permission from the person who posted the photo first. Don't underestimate happy customers.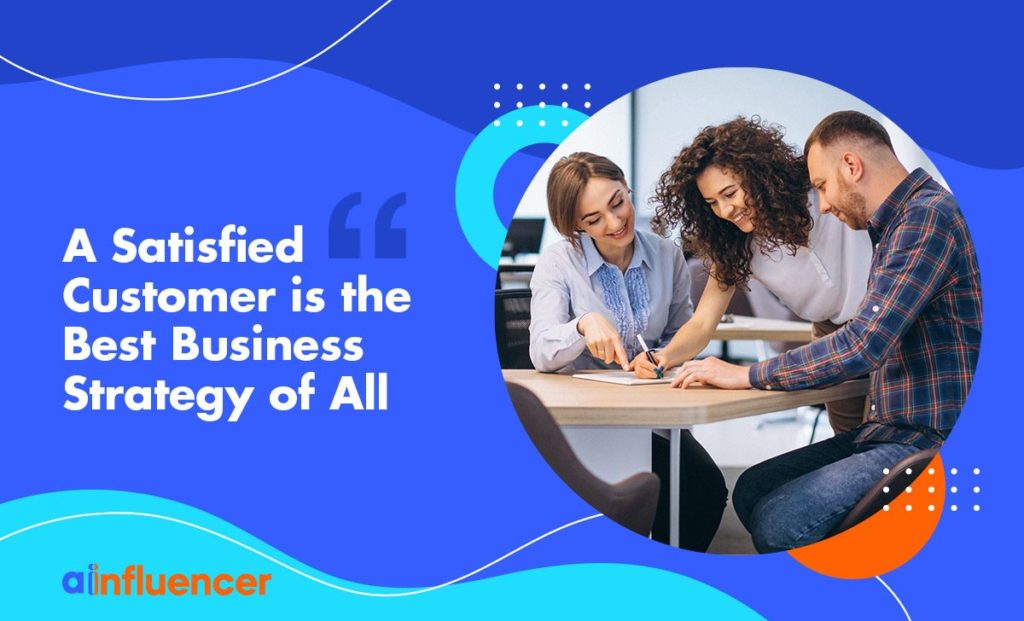 Here is how "Gisou," a haircare brand, uses UGC content:
Gisou relies on social media platforms to get in front of consumers by showcasing its product through a candid video that showcases the before and after results of a model influencer.
Doing what Gisou does is a great way for brands to showcase the value of their product in a real way. If you do this, you can't help but level up how relatable and usable your brand comes across.
8. Video ads
As consumer preferences change, simply posting images or writing copy won't always get you the results you're looking for. 92% of marketers say videos are an important part of their marketing strategy.
For your small business advertising journey, video can be a great idea. Video is a highly effective form of content, and it's getting more popular with the rise of social media. And Moreover, you don't need tons of dollars if you are creative with your video advertising.
"Dollar Shave Club" is an excellent example of a viral video with no weird budget spent on it. With its grand storytelling and being direct and to the point, the founder of DSC could build trust. This video has over a 27million views!
9. Online webinars
If reaching a potential audience in person doesn't sound like one of the best advertising for small business ideas, you can host an online webinar. Webinars are free advertising ideas to promote your business by providing helpful information to interested customers.
Webinar platforms such as Webex and GoToMeeting allow you to broadcast your webinars with just a few button clicks. Make sure to promote your webinar on social media or through an email newsletter one to two weeks before the event, and include reminders to registrants so that they don't miss it.
10. Pay Per Click advertising
Pay Per Click advertising is a type of online advertising where advertisers pay a fee every time a user clicks on one of their ads, usually through a search engine. Advertisers bid on ad placements within the search engine, meaning they set a maximum price they're willing to pay for a user to click on their ads. If a person sees your ad but doesn't click on it, you aren't charged anything. The most common platforms for PPC advertising are Google Ads and Bing Ads.
PPC advertising is a form of search engine marketing (SEM), and it can be a great option for small business advertising with minimal budgets.
11. Giveaways
One of the best free business advertising types is giving away something for free. You can run giveaways and contests and set something valuable as a price. There are a number of different social media contest types out there, but the main idea is to ask your followers to like your post, follow your account, tag your business, or tag someone else on your post, to get your name out there and introduce potential clients to your services.
12. business partnership
Start doing cross-promotion with other businesses. Business partnership keeps things cheap by sharing advertising costs, and it can create valuable synergies that benefit all the partners. So, it's named one of the best small business advertising types.
13. joint venture
Here is another perfect small business advertising idea to lower your advertising costs.
A joint venture is a temporary partnership between two companies to gain mutual benefits by sharing costs, risks, and rewards. You can use a joint venture partnership to speed up the expansion of your business by gaining access to scarce skills or entry into new markets.
14. Native advertising
Native advertising is an excellent small business advertising method. It enables advertisers to promote their brand, products, or services in a non-intrusive way on websites where their target audience likes to visit. As opposed to banners and other traditional ads, native advertising does not interrupt users' web experiences; instead, it fits seamlessly within the context.
This is how native ads appear on web pages: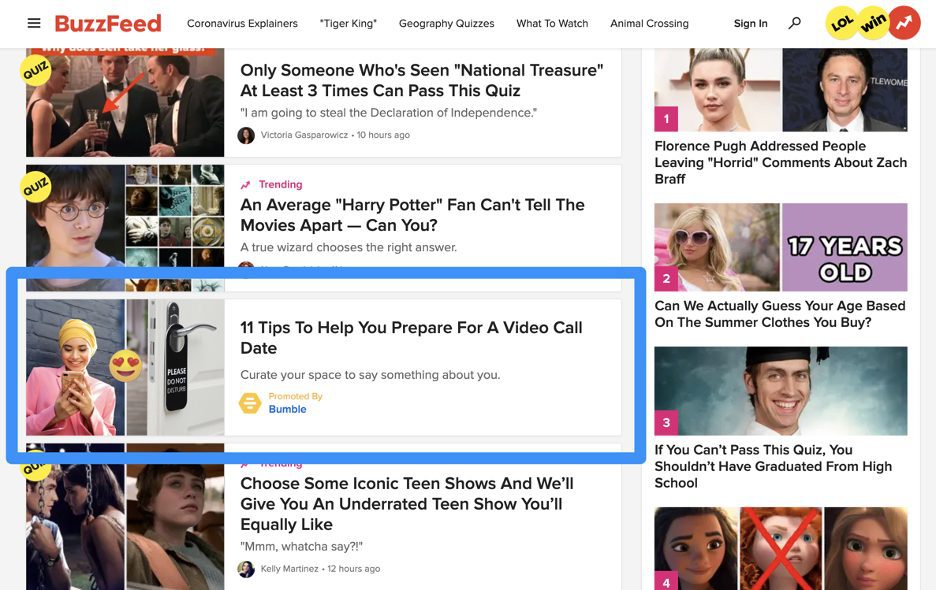 15. Mobile advertising
Mobile advertising is a type of digital advertising in which ads are served only on mobile devices, including smartphones and tablets. Mobile advertising can include:
Mobile display ads
Mobile search ads
Mobile videos
Mobile app ads are meant to drive downloads of a brand's app
Social media ads served on mobile devices only
Having a mobile advertising strategy is a new business advertising type that can pay off for your small business, as 84% of adult customers under 30 are most likely to shop online using a mobile device.
16. Guerilla marketing
Guerilla marketing emphasizes creativity over budget, and its strategies are often cheap and easy to implement, especially when localized. Broadcast your Twitter handle with sidewalk chalk, use an abandoned storefront as a canvas for street art, or plaster custom stickers on urban décor to catch the attention of those who stroll by.
There's a ton of room for invention here, and you don't need a big budget to succeed.
Check out Frontline's campaign, and yes! It's people, not fleas!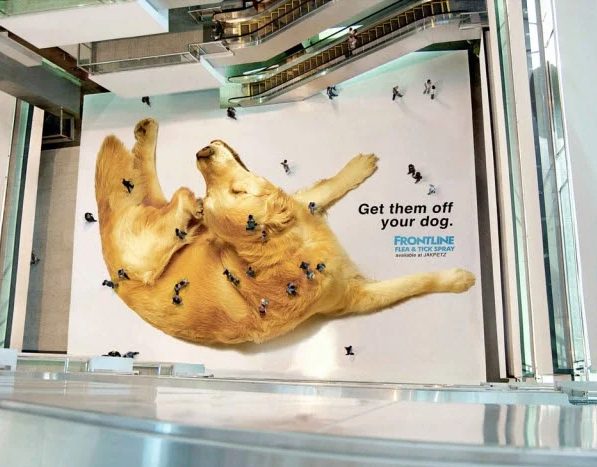 17. Google ads
Google Ads is an effective business advertising type to reach new customers for your small business. By targeting your ads to specific keywords, you can ensure that your ad reaches people who are already interested in what you have to offer. Google Ads can be a cost-effective way to get new customers and grow your business.
18. Print ads
Small businesses have a lot to gain from advertising in print. For one, print ads are more personal than online ads and can help you connect with your customers on a deeper level. Additionally, print ads are less expensive than online ads and can be targeted to specific demographics more easily.
If you're thinking of using print ads for your small business advertising, first, decide what type of print ad you want to use. There are many different types of print ads, so it's essential to determine which one will work best for your business.
Do you want to place an advertisement in the local newspaper? Or send out direct mailers? There are many options to choose from, so take some time to research what will work best for your business.
19. Street Ads
Another option for your small business advertising that you may not have considered is street advertising.
Street ads can be a great way to increase your community's brand awareness and credibility. It can be especially effective for businesses that are targeting a local market. You can put up posters or flyers in busy areas. Or you can hand out flyers to people walking by.
20. Do some local SEO
The most advantageous aspect of Google's algorithm is that it is made to deliver the most accurate, quality, and relevant content for each given search query. It's not pay to play, so this levels the playing field and enables small businesses to compete with large competitors.
Local SEO is free, but it can take some time. Here are some local SEO must-dos to help you make the most of the benefits over time.
1- Include geographic keywords in the names, titles, headings, and body content of your main website pages.
2- Join online directories, making sure that all of your information is consistent and identical across platforms.
3- Create web pages or blog posts that are tailored to the neighborhoods you serve.
21- Sponsor products on Etsy & Amazon
One of the best small business advertising ideas is to set up shop on Amazon, you can give your products a boost by participating in their sponsored products program.
This cost-per-click ad program is a great choice if you've never launched a campaign because it generates ads from your product listings and automatically targets your ads.
If you're a manufacturer and sell your goods on Etsy, you might want to use Etsy Ads to promote your offerings. This is a cost-per-click model with a default daily budget of $1, similar to Amazon.
22- Jump on trending topics
The fuel behind social media is trends. Consider this: TikTok is credited for making songs go viral; when a dance trend starts, artists see record-breaking streams. Videos of everyone dancing to the same music are posted online.
How do you identify trending topics before your small company's social media posts are grouped with those of other businesses that have jumped on trends? Spot them before the crowd does by:
1- Consulting your clients
2- Observing conversations in forums
3- Performing a competitive analysis
4- Celebrating annual events
23- Guest blogging
Guest blogging is also one of the best small business advertising ideas to improve your authority and trust. The idea is to publish a blog article on an authoritative website that increases your or your business's credibility. Additionally, it enables you to benefit someone else's audience.
24- Create a newsletter of useful ideas or jobs
Advertising doesn't always have to look like advertising. Instead of just advertising your company, think about leveraging content marketing by developing an industry-specific newsletter where you can inform your audience about helpful resources, tactics, or even job vacancies.
The SEO consultant and speaker Aleyda Solis provided one of my favorite examples. She sends out a collection of industry news once a week that covers hot issues, recent developments in the SEO industry, and some of her favorite resources.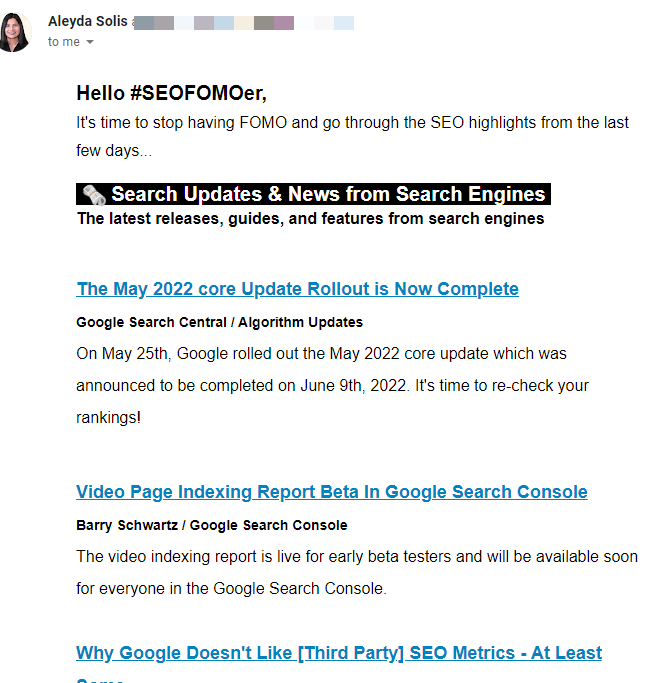 25- Offer a free sample
Offer free product samples to visitors who visit your pop-up store or market stall if you can afford the cost of doing so (with the hope that those people may subsequently become paying customers).
You can even give samples to customers who've purchased a product from you as an incentive to buy again.
Our pick on small business advertising
As mentioned in this article, there are a number of different types of small business advertising, but one that is particularly effective and more cost-effective than others is influencer marketing. Studies show that businesses that use influencer marketing make $6.50 for every dollar they spend on this type of advertising.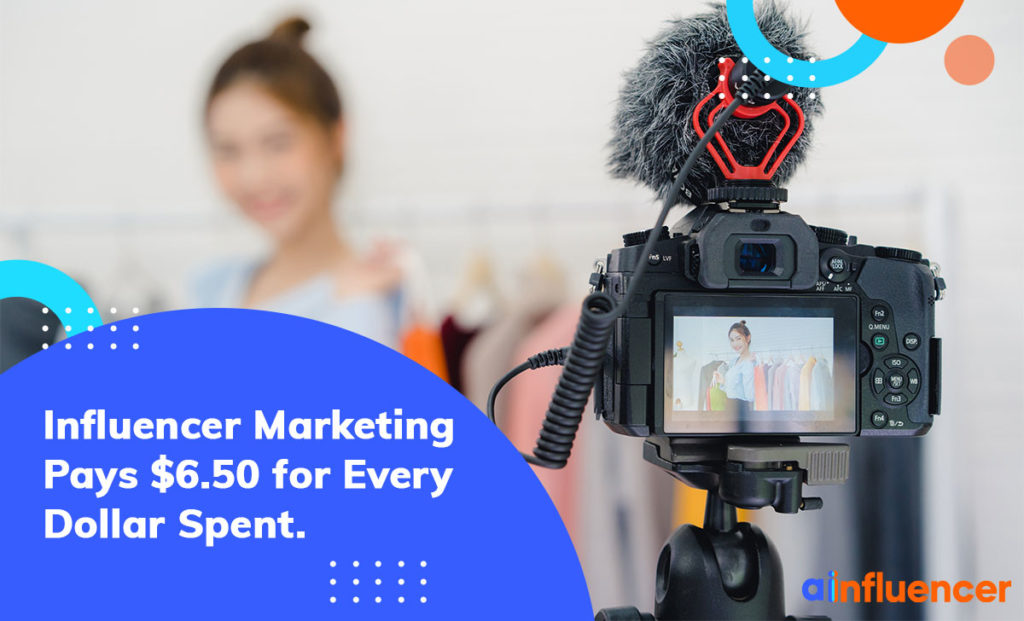 There are several influencer marketplaces that help you make your influencer marketing journey easier and faster. Ainfluencer is such a marketplace that connects businesses with influencers. Use it to start your small business online advertising and grow your brand.
Conclusion
Today more than ever, small business advertising strategies are essential. Small businesses can achieve remarkable results with free or low-budget advertising ideas. It's a matter of exploring all the available opportunities offline and online. No matter how big or small your business is, online ads are necessary, especially for small businesses, as their resources are limited. But with the right strategies and identifying the goals and target audience, you can drive leads and sales and boost revenue.
With different types of business advertising, from TV commercials, magazine ads, and billboards to social media ads, mobile marketing, etc., you have to manage your budget and save as much as you can. Use free online marketplaces to start generating leads and get the most out of your resources.
1- How Much Should a Small Business Spend on Advertising?

The U.S. Small Business Administration recommends spending 7 to 8 percent of your gross revenue on marketing and advertising.

2- What is the most affordable type of advertising?

The cheapest way to advertise is social media ads, generally speaking. These kinds of ads can be placed starting as little as $20