In the UK, there is a growing number of Instagram influencers who can help your business grow. While there are many different types of influencers, you'll want to work with those who are relevant to your industry and have a similar target audience as your business.
As social media platforms grow, so does the need for businesses to connect with consumers through them. Instagram is one of the most popular social media platforms, with over 2.3B monthly active users. In order to reach these users, businesses are turning to influencers to promote their brands.
The use of influencers is growing in popularity in the UK. Studies show that influencer marketing grew by 400% in the UK from 2016-2023 and. This growth is expected to continue as more businesses recognize the value of using influencers to promote their brand.
You may wonder how you can find the best UK influencers on Instagram. Keep reading to find out.
How to find top UK influencers on Instagram?
It's important to find the top Instagram influencers in your targeted niche or area and ask them to help you grow your brand.
Here are some of the easiest ways to find top influencers:
1- Influencer marketplaces
You can use various influencer marketplaces in order to identify and target potential influencers.
Ainfluencer is among the greatest DIY marketplaces that makes finding influencers easy and quick. Ainfluencer is a free, safe, and user-friendly marketplace that lets you search influencers through filters such as gender, location, hashtags, number of followers, etc.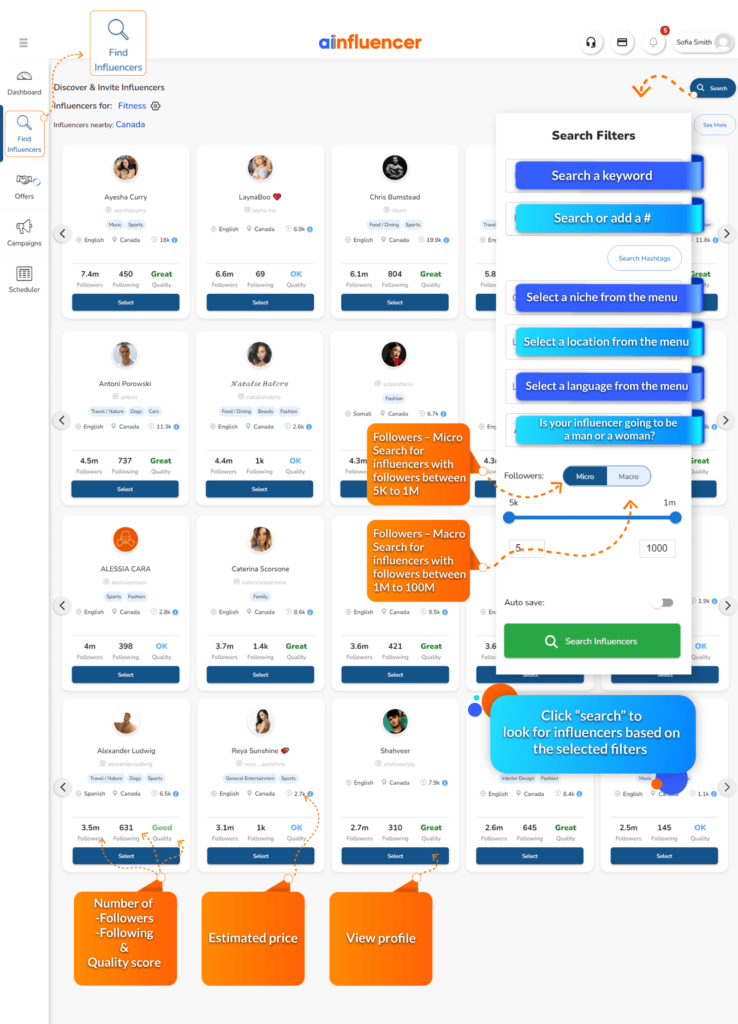 You can then invite them to collaborate with you and make offers.
2- Google
Google is also a great way to find influencers. By typing in the right keywords, Google will provide you with a list of influencers in your targeted area.
You can also use Google's "People also searched for" feature to find additional influencers.
3- Hashtags
Instagram hashtags will also give you the ability to find influencers in any niche or area you want. By searching particular hashtags, you can find your desired influencers to follow and potentially partner with to promote your products or services.
Top 32 Instagram influencers in the UK
Here are the best British influencers on Instagram.
1. Sinead Dolan (@sinead_dolann)
Sinead Dolan is one of the UK influencers with more than 30K followers on Instagram. She is best known for her fashion and beauty content, which she shares with her fans on a regular basis. This micro influencer also posts travel and lifestyle content as well.
2. Melissa Sophia (@mellysophiamua)
Melissa Sophia is a UK Instagram influencer with 396K fans. She is known for her fashion and beauty advice, and often collaborates with brands to promote their products. Melissa is also the founder of "mellysophia_cosmetics."
3. Jorgie Porter (@themissyporter)
After playing the role of Theresa McQueen, a fictional character from the British Channel 4 soap opera Hollyoaks, Jorgie Porter has become one of the UK's most famous actors and Instagram influencers. With almost 755K followers, Porter has used her influence to build a brand for herself as a lifestyle and travel blogger.
Porter's success can be attributed to her willingness to be candid and open with her followers, sharing everything from the highs of her career to the lows of her personal life.
In addition to Instagram, Porter also has a strong presence on other social media platforms, such as Twitter, where she regularly posts content that is relevant to her fans.
4. Alex Gaskarth (@alexgaskarth)
Alex Gaskarth is among the other Instagram UK influencers with 925K followers on this social media platform. This music influencer and songwriter often posts about his work, travels, and lifestyle, providing his followers with an inside look at his life.
5. Sam Holand (@samholland1999)
Sam Holand is a British Instagram influencer who first found fame on social media platforms. Since then, he has amassed over 840K followers and built a successful career as an influencer.
Holand is known for his cooking and lifestyle posts. He has also collaborated with a number of brands and businesses and can be a perfect macro influencer for promoting your brand too.
6. Brandon Myers (@brandonpmyers)
Brandon Myers is a UK Instagram influencer and fashion model. He gained 403K followers by sharing posts about styling, directing, and creating on his Instagram account.
He has worked with many brands as a local influencer.
7. Dominic Lever (@domlever)
Dominic Lever is among the other UK influencers who have amassed about 660K followers on Instagram. Lever's feed is full of fashion inspiration, travel photography, and posts about his everyday life. He often collaborates with brands to promote products and services and is a brand ambassador of "NovaMen."
8. Alice Living (@aliceliveing)
Alice Liveing, also known as Clean Eating Alice, is a UK-based Instagram fitness influencer. She has about 700k followers and often promotes healthy eating habits and lifestyles. In addition to her Instagram account, Alice also has a blog and has released a cookbook.
9. Rebecca Mader (@bexmader)
Rebecca Mader is among the top British influencers on Instagram. She has amassed a following of over 670K people, thanks to her stunning photos and lifestyle insights. In addition to being an influencer, Rebecca also works as a model and actress.
10. Banita Sandhu
One of the other top UK celebrities is Banita Sandhu. She is an actress and influencer with 714K followers on Instagram. Benita is known for acting in Indian movies and posting lifestyle and fashion content on her Instagram account.
11. Otilly Grace (@otillygrace)
Digital creator Otilly Grace is among the top UK influencers and bikini models. She is known for her lifestyle and travel content on YouTube and Instagram. Grace has worked with brands such as Meshki, Shein, Jaded London, and more.
12. Sarah Jane Underwood (@sarah_jane_underwood)
Sarah Jane Underwood is one of the UK's great influencers, with a following of over 133K on Instagram. She is known for her fashion and beauty posts and often collaborates with brands such as Tommy, Shein, and Boohoo.
Sarah Jane also has her own YouTube and Twitter channel. Her honest and down-to-earth attitude has won her many fans, and she is highly respected within the blogging community.
13. Jordon Wilson (@jordwx)
Jordan Wilson is among the best UK influencers with about 75K followers on Instagram. He is known for his lifestyle posts and his fun attitude. He has about 1M subscribers on YouTube and shares his videos there. Jordan also has a strong following among fitness enthusiasts, thanks to his healthy and active lifestyle.
14. Aman Natt (@amannatt)
Aman Natt is an entrepreneur, investor, and travel addict with 168K followers on Instagram. He is a lifestyle and travel influencer who documents his travels around the world on his blog and Instagram. Aman's photos and videos have been featured in various online and print publications, including BBC, Mayfair Magazine, Thrive, and more. Unfortunately, his Instagram account is private right now.
15. Lizzy Turner (@Elizabethkayeturner)
One of the UK's beauty influencers is Lizzy Turner. The girl has 384K followers on her Instagram account, where she shares her eclectic style as well as makeup tutorial and videos. She has also collaborated with some brands as a macro influencer.
16. Mathew Pritchard (@Pritchardswyd)
Mathew Pritchard is one of the UK's most influential people on Instagram. He is a fitness and food influencer with more than 135K followers. Do not miss following his account if you are looking for some inspiration.
17. Ryan Smith (@ryansmithtattooist)
Ryan Smith is one of the UK's leading tattoo influencers, with a client list that includes some of the country's most influential people. Smith is known for his unique style and his ability to create tattoos that are both beautiful and timeless. He has been able to accumulate 162K followers and is considered to be one of the top UK Instagram influencers.
18. Stephanie Davis (@stephaniedavis88)
Stephanie Davis is one of the top Instagram British influencers. She has amassed over 960K fans with her travel and lifestyle photos.
In addition to being an influencer, Stephanie is also an actress, dancer, and singer.
19. Abigail Clarke (@abigail_clarke)
Abigail Clarke is a beauty and wellness influencer from the UK. She gained more than 70K followers and shares recipes, health tips, and lifestyle advice on her account and social media posts.
20. Hollie Bennett (@pheonixb)
Hollie Bennett is a UK-based lifestyle and gaming influencer with more than 37K followers. She is a gamer and often posts gaming and fantasy content on her social media platforms.
21. Hannah Cooper-Dommett (@hannah_cooper_)
Born in Holland, Hannah Cooper-Dommett is a fashion model who has worked with some of the biggest names in the industry. Her unique look and down-to-earth personality have won her a loyal following on social media, where she frequently posts about her work, travels, and everyday life.
Cooper-Dommett is also a brand ambassador of "braintumoursupport," and is considered one of the hot Instagram influencers from the UK.
22. Dr. Kemi Fab (@dr.fab)
Dr. Kemi Fab is one of the top UK influencers who has gained 118K fans on social media for her skincare tips and advice on living a healthy lifestyle. His approach to health and wellness is holistic, and she stresses the importance of eating well, getting enough exercise, and maintaining a positive outlook on life.
Dr. Kemi Fab is quickly becoming one of the UK's most popular health influencers and has been featured in Vogue, Elle, and Harper's Bazaar.
23. Zara McDermott (@zara_mcdermott)
Zara McDermott is a UK influencer who first came to prominence on the show Love Island. Before appearing on Love Island, McDermott had worked as a bikini model.
Since leaving Love Island, McDermott has continued to work as an influencer, with over 1.7M followers on Instagram.
24. Laviai Nielsen (@laviai)
Laviai Nielsen is another UK influencers on Instagram. She is also an Olympian who was born in London in 1996. Nielsen began her track and field career at the early age of 10.
In 2018, she won a gold medal as part of the 4×400 meter relay race team at the Commonwealth Games. She is currently one of the most successful British track athletes of all time.
Laviai is a brand ambassador of Adidas.
25. Kit Connor (@kit.connor)
Kit Connor is one of the top influencers and UK IG models who has amassed over 6M followers on Instagram. He is also an actor and is known for his fashion and lifestyle posts.
Among all UK celebrities, Kit is a great mega influencer to collaborate with.
26. Daniel Asante (@mr.dasante)
Daniel Asante is one of the London influencers who has made a name for himself on social media. His fashion and lifestyle posts have gained him 2.8M Instagram followers. Daniel has worked with major brands, such as "Isaacdewhirstofficial," and has been featured in popular magazines.
27. Trent Alexander-Arnold (@trentarnold66)
One of the top British Instagram influencers is Alexander Arnold. He is a professional footballer who plays for Liverpool and the English national team.
Alexander-Arnold is one of the most popular UK celebrities and currently has 10.2M followers on Instagram.
28. Sebastian Croft (@sebastiancroft)
Sebastian Croft is among the other UK influencers that has been able to successfully grow his online followers. He frequently posts about lifestyle, travel, and fashion topics that interest his audience. By creating high-quality content and engaging with his followers, Sebastian has been able to accumulate 2.2M followers.
His social media platforms have helped him to connect with famous brands, such as Dior and Ralph Lauren. He could be perfect to promote your brand too if you want are searching for local influencers.
29. Stacey Solomon (@staceysolomon)
Stacey Solomon is one of the other British Instagram influencers with 5.8M followers for her amazing and down-to-earth posts about motherhood and lifestyle topics. Solomon has worked with brands such as Coca-Cola, Wilkinson Sword, and Universal Pictures.
She is also the author of "Tap to tidy Pickle Cottage."
30. Molly-Mae Hague (@mollymae)
Molly-Mae Hague is a UK Instagram influencer who has more than 7.8M followers. Hague quickly gained a following for her fashion and beauty posts, which often showcase her luxurious lifestyle. In addition to her Instagram account, Hague also has a YouTube channel, where she shares makeup tutorials and vlogs.
She has collaborated with several high-profile brands and celebrities. Hague's immense online audience has made her a highly sought-after spokesperson for brands looking to reach millennials.
31. Lillie Lexie (@lillielexie)
One of the hottest UK influencers on Instagram is Lillie Lexie. She has more than half a million followers on Instagram and her page is full of her beautiful family. Lillie has a taste in fashion and shares her new outfits on posts and stories.
32. Jessica Rose (@jessica_rose_uk)
Jessica is another British Instagram influencer worth mentioning in this list. She is also very active on TikTok. Jessica's content includes her stunning photos in fancy outfits and photos of her beautiful family. She has more than 1.1M followers on Instagram.
Conclusion
In conclusion, if you're looking to grow your brand in the UK, these are the top 32 Instagram UK influencers to follow. By tapping into their massive audiences, you can reach a large number of potential customers and boost your brand's visibility. So be sure to give them a follow and see how they can help you grow your business.
You can also sign up on Ainfluencer and find more UK influencers to cooperate with.
1. Who is the biggest UK Instagram influencer?
David Beckham is one of the most popular and biggest UK Instagram influencers, with about 83M followers. His popularity on the platform has allowed him to amass an impressive group of fans and brands. Beckham has leveraged his influence on Instagram to promote a number of products and causes, including his own clothing line, H&M, and UNICEF.
2. Where can I find UK Instagram influencers?
If you're looking to work with UK Instagram influencers, there are a few ways to find them. You can use influencer marketplaces like Ainfluencer to find influencers who are interested in working with brands. You can also search hashtags on Instagram to find people who are engaged with your target audience.
When searching for UK Instagram influencers, it's important to consider the number of their followers, engagement rate, and niche. You'll also want to make sure that the influencer has a good understanding of your brand and is aligned with your values.
Once you've found a few potential influencers, reach out to them and ask for their rates and availability. Be sure to clearly outline what you're expecting from them so that there are no misunderstandings.