Weren't it for the video games finding a prominent place in our culture, in particular for gen Z, gaming influencers wouldn't have caught on so immensely.
That said, what do these video game influencers do exactly to be in the public eye, and why should brands collaborate with top gaming influencers?
Speaking of top gaming influencers, we have included 25 big shots in this article.
What's more, you will learn how to find influencers derived from your customized requirements and criteria.
Top Instagram Gaming Influencers To follow in 2023
1- David Steinberg (@Stonemountain64)
Born in the United States on May 22, 1992, Stonemountain64 is a well-known influencer in gaming on both YouTube and Instagram. He is a YouTube gaming commentator that focuses on shooter games and has amassed 2.1M subscribers as a result of his videos from games such as Battlefield, Call of Duty, and Battlefront.
He has also gained popularity on Instagram, which results in attracting 464K Instagram followers.
2- Sceptic (@Sceptic)
Born on April 30, 2004, Sceptic is a famous gamer who became popular on both YouTube and Twitch due to his Fortnite content. He has also amassed 421K followers on Instagram over time.
He doesn't regularly post "Fortnite" montages or walkthroughs, in contrast to other game influencers. Instead, he includes a variety of fascinating aspects that not only make the videos entertaining to watch but also better inform viewers about the game.
3- Zack Lane (@Zlaner)
The prolific Warzone player, Zack Lane, is now one of the best gaming influencers Instagram boasts with 133K followers. This influencer in gaming is a warzone pro and content creator for at opticgaming.
4- ImaEternal (@Imaeternal)
The graphic designer and famous gamer, ImaEternal, with over 100K followers and mostly audiences based in the US, makes him one of the top gaming influencers for brands and businesses.
5- Tom Mulligan (@Tom72hrs)
American gamer, Thomas Mulligan is an online video game influencer known as "72hrs" on all digital platforms. He is a popular streamer and online gamer with a large following on his twitch, YouTube channels, and Instagram account. His Instagram account has 428K followers.
Thomas Mulligan was active in the gaming industry in 2014. But on March 3, 2018, the captain of the FaZe Fortnite Team invited him to join the team and play as a team member on the 3rd of March 2018.
6- Clutch.win Official (@Clutch.Win)
Clutch.win official uses its app so people can record and easily share their game clips to enter challenges. What's more, as one of the top Instagram gaming influencers and YouTube gamers, they have an online shop selling T-shirts and other stuff.
7- Andra (@Andrascorner)
Andra is a PC setup enthusiast based in Germany with 100K followers on her IG account. In addition to her passion for technology and collaborations, she is mostly famous thanks to her Instagram gaming. She is also on the list of top tech influencers.
8- dellor (@Dellor21)
Dellor is a web star and American Twitch decoration. By live-streaming interactive experiences for primarily first-person shooter games on his Twitch account, he has risen himself to an influencer in games with a worldwide fame.
He is considered one of the known Instagram gaming influencers with 282K followers and is on the list of best YouTube gamers.
9- League Alerts (@Esportalerts)
League alerts are a great option for affiliate marketing programs and influencer partnerships. They have varied events, challenges, and streaming for game lovers as well.
10- Garrett (@Fazebloo)
He is a gamer from the United States who joined the popular Call of Duty team FaZe Clan in January 2014. This YouTube gamer has a YouTube channel called "FaZe Bloo."
He is also one of the popular gaming influencers on Instagram with 290K followers.
11- Reid Boehm (@Reidkboehm)
Reid Boehm creates gaming content for his 1.4M followers on TikTok and 20.3K followers on Instagram every day.
His IG account has a high engagement rate and is full of funny videos that only true gamers will relate to.
12- Sommerset (@Sommerset_ig)
Kayla, also known as Sommerset, is a Fortnite content creator and comp player for Luminosity Gaming. She is a partnered Twitch streamer with 1.2M followers. She also rose to fame on Instagram and gained 124K followers.
13- UGN (@Unlocksgamingnetwork)
Ubisoft Canada Guild, Unlocks Gaming Network, is one of the must-follow Instagram gaming influencers with 10.8K followers.
These Canadian creators and streamers seem to spare no effort to make the best streamings, come up with intriguing giveaways, and many more ideas.
14- Nikolarn (@nikolarn)
He grew up with access to a wide variety of board games and video games. He began watching Justin. tv in high school and later decided to attempt streaming himself after hearing that Amazon was going to buy out Twitch.
He is now a partnered Twitch streamer with over 600K followers and is considered one of the Instagram gaming influencers with 206K followers.
15- Joedat Esfahani (@Voyboy)
Joedat Esfahani, aka Voyboy, is a retired professional League of Legends player and currently a professional Twitch personality and a full-time streamer.
As an Instagram gaming influencer, he currently has 118K followers on the platform.
16- EpicSoulcry (@Epicsoulcry)
One of the funniest Instagram gaming influencers is EpicSoulcry from Malaysia. He has 12.6K followers and is eager to bring more joy and fun to them every day. He is also among the best gaming YouTubers on our list.
17- Arvind Saini (@Mr.Arvindsaini)
Don't tell video game influencers to get a life because they already have many!
The famous gamer, Arvind Saini, from India, is one of them, with many lives left to play for his 20.1K followers on Instagram.
18- Overt (@Overflow)
He is a famous gamer and YouTuber who also owns one of the famous gaming Instagram accounts with 431K followers. He is particularly known for his Call of Duty gameplay and for his viral GameStop trips.
19- Jordan Payton (@Jordanroriepayton)
Jordan Payton is an American social media star who has also gained popularity through his Instagram account. He has amassed 100K followers on his Instagram account. This influencer in gaming is also active on TikTok and shares his lifestyle. He is also counted as a lifestyle influencer.
20- Multwoplied (@Multwoplied)
Gaming video creator, Mul-Two-Plied, with 37.7K followers on Instagram is a popular account among video game influencers.
This page is filled with funny gaming memes and lots of other stuff that gaming enthusiasts would love to see.
21- PewDiePie (@Pewdiepie)
Felix Arvid Ulf Kjellberg, popularly known as PewDiePie, is a famous Swedish gamer and YouTuber recognized for his video game and comedy videos.
Regardless of genre, he is one of the most well-known gaming YouTubers and video creators. Also, he has 21.9M followers on his IG account.
He began by creating video game walkthroughs and reviews but now concentrates on more personality-based content such as satirical comments, reaction videos, and meme roundup videos.
22- Rae (@Valkyrae)
Rachell "Rae" Hofstetter (born January 8, 1992), better known as Valkyrae, is one of the most-watched American gaming YouTubers and streamers and among the best gaming influencers on Instagram.
She was named "Gaming Creator of the Year" by Adweek and has received a Game Award.
23- Tyler Ninja Blevins (@Ninja)
Tyler Blevins, better known as Ninja, is a well-known Fortnite player who has amassed millions of fans on Twitter, Twitch, Instagram, and YouTube. He's spent so much time playing Fortnite that he's had the rare opportunity to create custom in-game skins. Ninja has done many successful sponsored posts and worked with brands like Red Bull on a continuous basis for a long time.
24- Pokimane (@Pokimanelol)
Pokimane, sometimes known as Imane Anys, is a 25-year-old Twitch star who is well-known for her massive Twitch following and passion for League of Legends.
She is also passionate about beauty and video games, a rare combination that few gaming influencers possess; that's probably one reason why she has over 6M followers on Instagram.
Being one of two children of hardworking immigrant parents, this Canadian social media influencer has a strong desire to succeed.
She has put enormous pressure on herself to succeed since she was a child, and her efforts have definitely paid off.
25- Matthew Patrick (@Matpatgt)
The Game Theorists YouTube channel, which analyzes prominent video game franchises like Minecraft and Five Nights at Freddy's, is run by Matthew Patrick.
His YouTube videos, such as the one in which he explains why Minecraft is so popular, are popular with gamers and gaming companies wanting to better their own products.
He is one of the best gaming YouTubers and also has over 1.2M followers on his IG account.
Matthew is very enthusiastic about hosting live charity streams. In only one live webcast, he raised more than $3 million for St. Jude's Children's Hospital.

When it comes to promoting your gaming brand, connecting with top gaming influencers can be a highly effective strategy. Whether you're looking to promote new games, gaming accessories, or services, partnering with gaming influencers can help you reach a broader audience and generate more buzz around your brand. Some of the top gaming influencers to consider connecting with include PewDiePie, Ninja, and Shroud, among others. These influencers have millions of followers and can help you expand your brand's reach and visibility. To sweeten the deal, you can offer exclusive perks like early access to new releases or even a modded GTA PS5 account for sale to incentivize their participation in your campaigns. By leveraging the power of gaming influencers and offering unique incentives, you can take your gaming brand to the next level and achieve greater success in the competitive gaming market.
How Do Gaming Influencers Collaborate With Brands?
Thanks to Instagram gaming influencers' growing popularity, large media sources, worldwide investors, and significant businesses are investing in this partnership.
Here are a couple of reasons worthy of mention.
Video game influencers tend to have a higher engagement rate.
They have a specific audience that not everybody has access to.
You can win trust by working with gaming influencers than media companies
How To find Instagram Gaming Influencers?
Striking a fruitful conversation with the right gaming influencer who meets your criteria and requirements such as location, age, gender, and target audience, with a reasonable engagement rate is what's gonna take your influencer marketing campaign to next level.
On top of that, you need to negotiate with them and make a formal contract which leads to a safe payment procedure.
In a nutshell, all you really need is an all-in-one DIY Instagram influencer marketplace.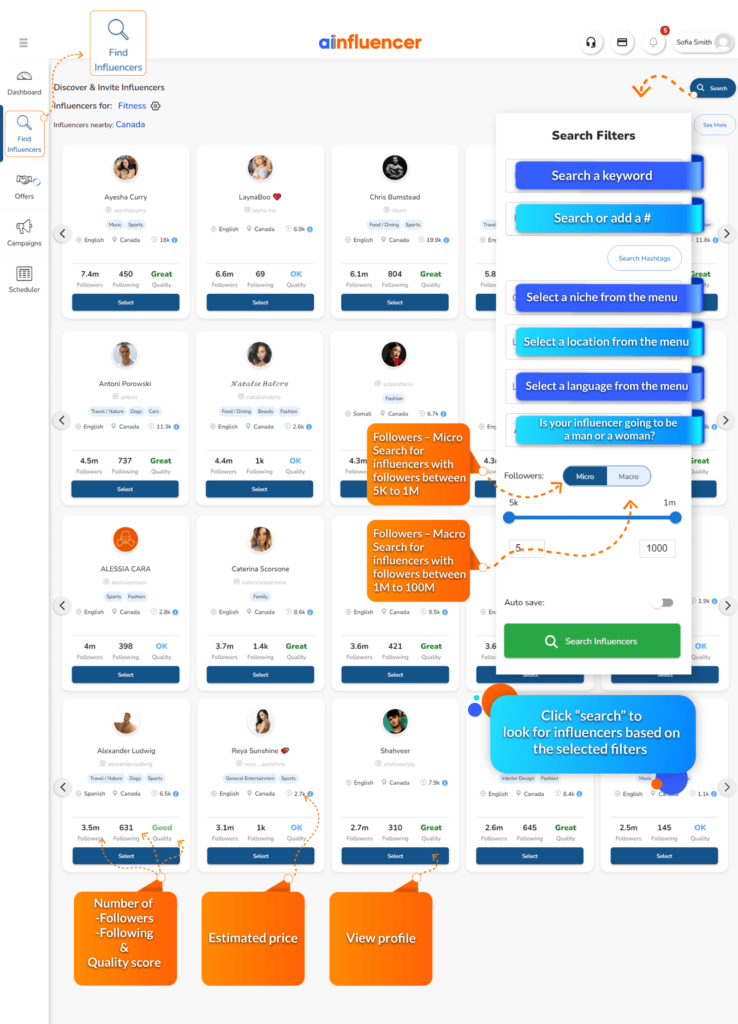 What Is Our Pick?
Ainfluencer is the ultimate marketplace you'll ever use.
You may explore one of the largest influencer databases for partners in any niche, and use a variety of filters to find the ideal person.
Ainfluencer also leads you through developing your marketplace campaign, scheduling it, outlining your objectives, negotiating with influencers, setting up a safe payment system till your demands are met, and managing all of your campaigns from start to finish.
Conclusion
Gaming is a huge industry with a passionate and engaged audience. These 25 gaming influencers are the perfect people to connect with your brand in order to reach this audience. So be sure to reach out and connect with them today!
1- What is a gaming influencer?
A gaming influencer is a person who uses their social media platform to promote video games. Gaming influencers are often thought of as experts in the gaming industry and their followers will often take their recommendations on what games to play and buy. Many gaming influencers have developed a large following by providing helpful tips, tricks, and gameplay footage to their followers. Some of the most popular gaming influencers have even managed to turn their passion for gaming into a full-time career.

2- Who is the most-followed gaming influencer on Instagram?
PewDiePie, or Felix Arvid Ulf Kjellberg, is a well-known YouTuber best known for his video game and comedy videos.
He is also the most followed Instagram gaming influencer with 21.9 million Instagram.