Ecommerce advertising can be a tricky business, but with the right tools and techniques, it can be easy to get your business in front of your target audience.
Ainfluencer is a great tool to create and execute an eCommerce advertising plan. In this guide, we'll outline the basics of eCommerce advertising and give you some examples to get you started. Also, you will learn everything you need to know about Ainfluencer and how to use it to make the most of your eCommerce advertising.
What Is ecommerce Advertising?
Any practice of promoting and selling a product online refers to eCommerce advertising.
Ecommerce ads can appear on a website, search engine, social media network, podcast, newsletters, or other interactive online properties such as chat or instant messaging.
Brands could pay for placement, impressions, clicks, etc. based on their agreement with the influencer they partner with.
So, there are different types of eCommerce marketing that require different types of influencers and techniques.
What Are the Advantages of eCommerce Advertising?
An online marketplace is a wonderful place for eCommerce advertising strategy if you want to expand your company.
By sharing what we know about promoting and selling online, we'll discuss what kinds of eCommerce advertising benefits there exist.
Running affordable advertisement of product
Creating high-quality content to showcase your products and introduce your services
Reducing the cost of maintaining your physical store with online shopping advertising
Reaching more audiences with unprecedented flexibility for customers regarding their location and working hours
Increasing sales as shopping get more convenient for customers by faster delivery, easier comparison between products and prices, several payment methods, and other time-saving advantages of online shopping
Reducing the purchase time process
What Are the Different Types of ecommerce Advertising?
With the right eCommerce advertising strategy, you can expect both instant and long-term results.
Here are different types of online advertisement and their main advantages.
1. Placing Banner Advertisements on Websites
Graphics, audio, video, and textual elements can be used in banner ecommerce ads to encourage online users to click the banner and visit the destination URL.
Banner eCommerce advertising strategy is a great way to raise brand recognition.
2. Influencer Marketing
Influencer marketing is probably the best approach to ecommerce advertising. And this is because you can set any particular targets or multiple objectives for your eCommerce campaigns.
Video advertising, mobile advertising, native advertising, you name it, you can partner with different types of influencers and brand ambassadors to build up a perfect eCommerce advertising strategy.
In fact, all paid ads on Instagram, most of the giveaways, and retargeting (remarketing) strategies you see are considered part of an influencer marketing campaign.
ecommerce on Ainfluencer
Why develop your eCommerce advertising on Ainfluencer?
Guess what! Ainfluencer is a great free platform to connect brands with the right influencers.
As soon as you join Ainfluencer, you will access 5 tabs on Ainfluencer.
Dashboard 
Offers
Ads
Scheduler 
Here is how to create the best ecommerce strategy.
1. Create your ad
To create your ad on Ainfluencer you should set your goals and objectives, provide marketplace details, create your content, and express your publish terms and requirements.
2. Find the right influencer
Either enter a username, or look for the right influencer using the search filter on Ainfluencer – enter hashtags, categories, location, language, gender, and number of followers.
Depending on your goals and objectives, the size of your business, and budget, you can aim to find nano influencers, micro influencers, macro influencers, and celebrities.
Every influencer's profile gives you an insight into their engagement rate, Q-Score, estimated price, and other details you may need before you can pick the right partner.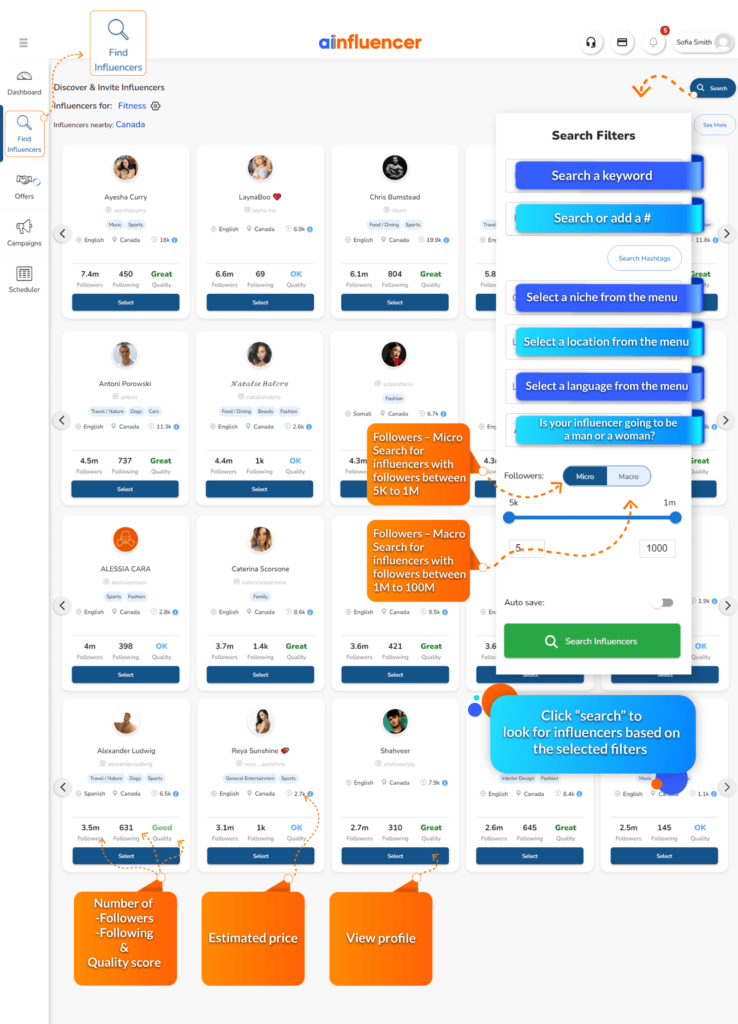 3. Negotiate offers
You will get offers from influencers who you have already found and invited, or influencers who found your eCommerce advertising and sent you an offer to tell you that they are interested in your ecommerce campaigns.
Either way, there is an in-app chat box where you can talk and negotiate your terms. If you hit the "accept" button, that will be your formal contract.
Remember that the money you pay to the influencer will not be released until the influencer meets all the requirements on the contract.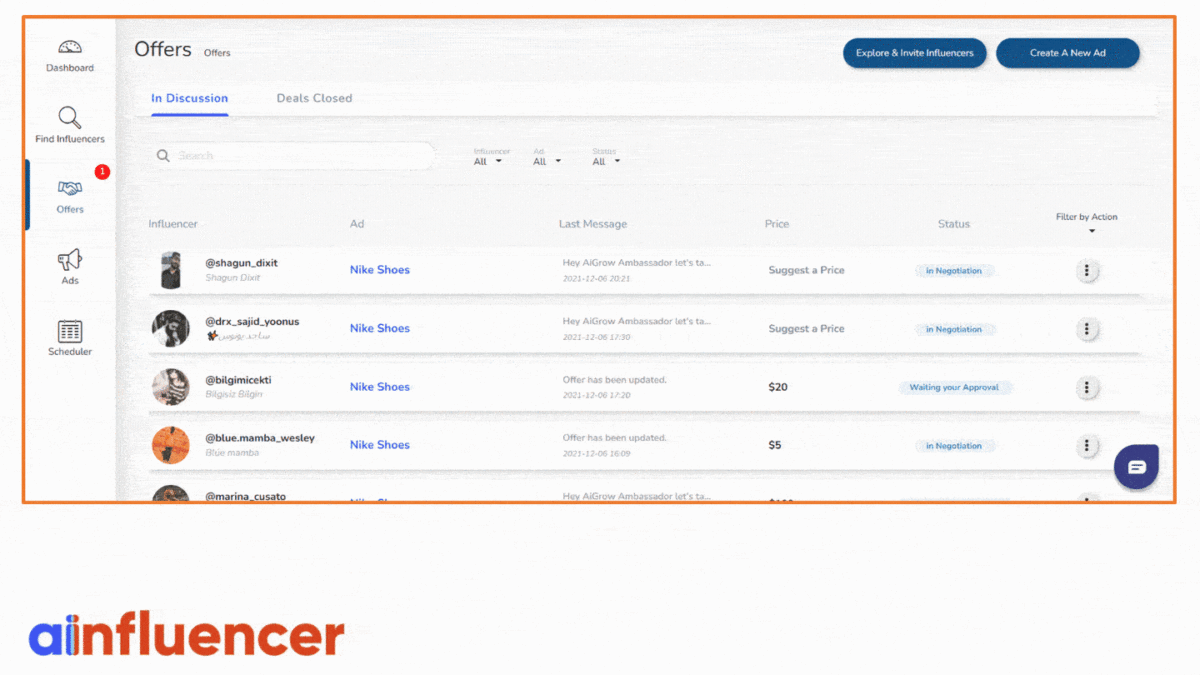 4. Manage your ecommerce advertising strategy
While running an eCommerce advertising, you can continue talking to your influencer, asking for analytics and insights into your campaign, check if the posts are published from your scheduler, and manage everything else, your other campaigns, influencers, and offers from the dashboard.
How much does ecommerce advertising cost?
The cost of your eCommerce ads and the size of your ad budget are determined by your ROI. The ROAS (average return on ad spend) for eCommerce advertising is 4. That means for every $1 spent on advertising, brands are expected to make $4.
Once a brand reaches the ROAS of 5-10%, they can celebrate a profit with a 20% product margin. The good news is that as you explore different techniques and content types, your advertising ROI improves. The more data you collect from your efforts, the better your ROI will be.
One of the advantages of creating your eCommerce advertising on Ainfluencer is the control that you have over spending your budget as you have both access to an extremely large influencer database and the opportunity to negotiate with influencers directly on the Instagram influencer marketing platform. 
ecommerce Advertising Examples and Strategies
Every click and conversion you earn depends on a mix of techniques you use to build the best eCommerce strategy.
Here are some examples of the leading strategies used in ecommerce ads.
1. Show, Don't Tell
A properly crafted visual eCommerce advertising doesn't restate the values of a brand, it actually shows them!
Either in an image or a video, you can show what a brand message, feature, or storytelling is. This is one of the best types of online advertisement that is steeped in creativity.
Native Union, for example, not only takes the advantage of engrossing technology videos but also tells a beautiful story of how its Night cables offers the simplest solution to everyday frustration when charging your electronic devices.
The home, lighting and everything else easily conjures up the image of comfort and convenience.
2. Multiple Photos Are Better Than One Photo
Carousel eCommerce ads can effectively increase engagement rate and improve the performance of your campaign.
You can creatively use a carousel eCommerce advertisement for before and after posts, puzzles, showcasing a product from different angles, and many more ideas.
Starbucks is a good example of a brand that used carousels perfectly to introduce and promote its service for sightless people or the ones with low-vision.
3. Video ecommerce Advertising Strategy
Nike is one of the most famous brands that has adopted the video advertisement of products. In addition to a better opportunity to showcase your products, creative short videos can work perfectly to express your message, say a motivational one, promotional one, etc.
4. Make the most of UGC content
User generated content in eCommerce advertisement strategy is like gold. It is always interesting to see real people unbox or use a product or service.
It could also be a mix of your content and real reviews. These reviews work perfectly as social proof on your eCommerce ad.
Conclusion
Ecommerce advertising is a great way to reach potential customers and increase sales. There are many different types of brand advertising examples and strategies that can be used. 
However, the right tool for your online shopping advertising plays a major role in targeting the right audience, and growing your business. As Ainfluencer provides you with one of the largest and most detailed influencer database, you can create the best eCommerce strategy on the platform using the other features to set your targets, negotiate, analyze, and manage your eCommerce campaigns.
How do I choose an Ecommerce marketplace that's right for me?
Check out what's available before starting to sell online through an eCommerce marketplace. Next, think over the list of ecommerce core benefits, goals, and requirements to help you make a more informed and appropriate decision.
– Think about what you're offering – certain marketplaces specialize in clothing, appliances, and consumer electronics.
– Look over all of the features designed for sellers, such as product listing creation, inventory tracking, and customer feedback, among others.
– Examine all of the customer-facing features – is the marketplace user-friendly, allowing buyers to simply search for things, payment channels, social network integration, and so on?
What is the difference between digital marketing and eCommerce?
Digital marketing is a field that focuses on using digital channels to market products and services. Ecommerce advertising, on the other hand, is all about using the internet to buy and sell products or other online services. These products could be business-to-business, business-to-consumer, or even consumer-to-consumer.
What is the difference between eCommerce and e-business?
Ecommerce refers to online buying and selling, whereas e-business refers to all online transactions.
How to become an eCommerce seller?
You'll need a few ecommerce necessities. On the marketplace, one must first register. You may be asked to create an account and submit the necessary papers. After that, you may upload your goods and start selling them.
– Look for elements like 'Seller Registration.'
– Click this to begin the process of creating your account.
– You may be required to present specific licenses, ID proofs, and proofs of currency transfers, such as your PAN.
– After that, you'll usually be directed to a product listing page, where you can upload the items you're selling.
What is the importance of eCommerce in marketing?
When you sell on an ecommerce marketplace, you stand to reap a variety of benefits. More customers, more control, faster inventory management, and simpler returns and delivery processes are all advantages. There are even ways to provide advantages to your customers.
– You can choose from a variety of payment options.
– You can choose from a variety of delivery options.
– Choose how customers can contact you or make inquiries.
– All you have to do now is upload the necessary IDs, licenses, and product details.