Influencers have taken over social media in many different areas. Influencer marketing has evolved remarkably over the past years, and now influencer marketing strategy is considered a significant part of any digital marketing strategy.
Studies show that the ROI of influencer marketing is 11 times higher than that of traditional advertising.
Notably, about 90% of marketers using influencer marketing believed that it was a very effective form of marketing for their business, reported Influencer Marketing Hub in 2021.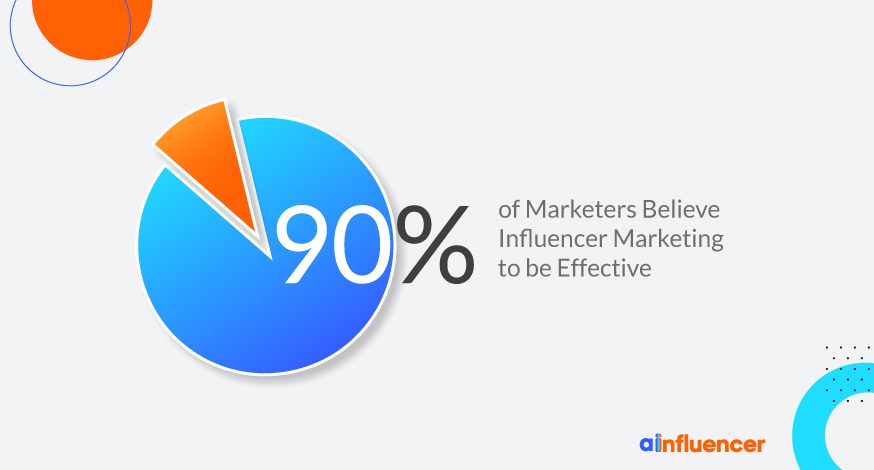 HubSpot reported that 73% of global marketers preferred Instagram for influencer marketing in 2021.
If you want to collaborate with an influencer to improve your business and achieve various marketing goals on social media, you should first pick the right influencer for your brand.
But to do so, it is necessary to get familiar with the different types of influencers and the ways you can find them.
In this post, we will explain the different types of influencers to help you decide which one is the best fit for your brand.
Let's get started!
How to find Instagram influencers
Knowing the different types of influencers is the first step you should take in order to choose the right one for your brand. But how can you find the right influencer among all these types of Instagram influencers?

There are so many ways to do so. Google is an option. Search for influencers in your niche to come up with countless names. You can also do the same on Instagram and find influencers in different niches by their particular hashtags.
Using Influencer marketplaces such as Ainfluencer is another possible way.
Ainfluencer
Ainfluencer is an influencer marketplace that makes the process of finding influencers so easy. It is a free and easy-to-use marketplace that lets you search for different types of influencers through filters such as gender, location, hashtags, number of followers, etc.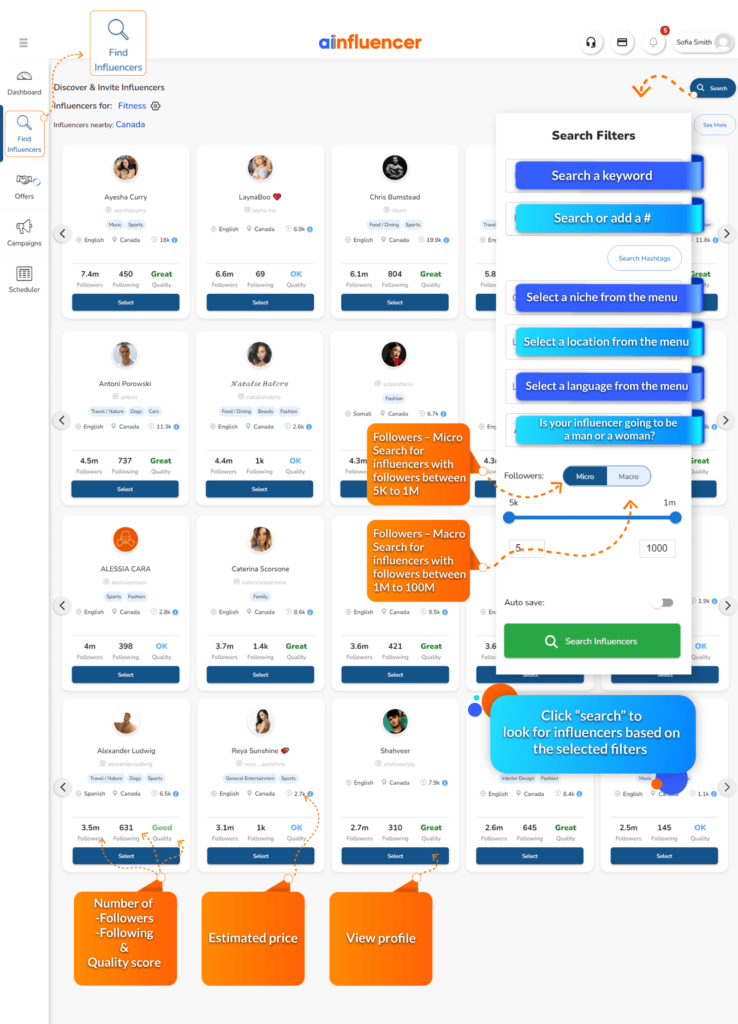 Types of Instagram Influencers Based on Follower Count
There are four types of influencers on Instagram based on their followers, including mega, macro, micro, and nano. Let's define who mega, macro, micro, and nano influencers exactly are.
We will discuss the pros and cons of working with each type of influencer. We will also examine examples of each type to further learn about their differences.
1. Mega Influencer
Mega influencers, with more than 1M followers, have the highest reach among all types of influencers. These influencers have a "mega" impact on society and the marketplace because of their large audience. They can be celebrities or bloggers in any niche.
Pros and cons of working with mega influencers
The most significant advantage of working with mega influencers is their massive reach, which gives brands the most incredible exposure on social media. Their reach is broad, and thousands of people see their Stories and posts. However, there are some disadvantages in working with this type of influencer that you must consider.
Besides being incredibly expensive, mega influencers have an extremely diverse group of followings, which means that if your product belongs to a specific niche, a mega influencer is not the best option. "Mega influencers are not necessarily subject matter experts, but they definitely provide a lot of reach in one hit," said Gil Eyal, CEO & founder of HYPR Brands.
Mega influencer example
Cristiano Ronaldo (@cristiano)
Cristiano Ronaldo is a Portuguese professional footballer and among the top Instagram models. He is a mega influencer with more than 450M followers on his Instagram account. In 2021, he was announced the world's highest-paid athlete by Forbes.
2. Macro Influencer
Macro influencers have 100k to 1M followers. Unlike mega influencers, the popularity of macro influencers on social media stems mainly from their expert and internet-related activities, such as professional blogging or vlogging. If you want a great mix of reach and influence, macro influencers are the best among all types of influencers.
Pros and cons of working with macro influencers
As macro influencers are experts and professionals in specific niches, they have targeted audiences and will be more reliable brand ambassadors for you. 
Although macro influencers cost less than mega influencers, we should note that they charge brands much more than micro influencers. You should also consider the fact that having so many followers makes it increasingly difficult for macro influencers to engage with their followers efficiently. So, they may lack authenticity and credibility.
Macro influencer example
Lauren giraldo (@laurengiraldo)
Lauren Giraldo, an American actress and social media influencer, is an excellent example of a macro influencer. She is active in many fields, especially beauty and skincare. She is on the list of best skincare influencers and can be a great option for many brands for their influencer marketing campaigns.
3. Micro Influencer
Instagram micro influencers are individuals who have 10K-100K followers. They are usually well-known in specific niches and are considered knowledge leaders in their field. In other words, micro influencers are often experts in a particular area, such as beauty, fashion, fitness, gaming, and so on.
Pros and cons of working with micro influencers
Although micro influencers do not have the massive reach of previous types of influencers (mega and macro), their followers care enormously about their posts and Stories. And that's the reason they are much more likely to influence their audience. They have a high engagement rate and do not cost too much. If you are looking to increase brand engagement, these influencers are your go-to option.
Micro influencer example
Jenn (@jennexplores)
Jennifer Fast is a Canadian published travel writer and photographer who is a well-known micro influencer with about 88k followers. She is passionate about inspiring others to expand their horizons and explore as much of the world as possible. She is also a great source if you are looking for ways to make money as a travel influencer.
4. Nano Influencer
Nano influencers are the last category of the four types of influencers. You can easily find nano influencers by the number of their followers. Nano influencers have between 1K and 10K followers.
They are very influential and active within their local neighborhoods or communities and have the highest engagement rates. These local influencers aim to get regular people to share brand products or services with their family and friends.
Pros and cons of working with nano influencers
Among all types of influencers, nano influencers have the fewest followers. So, the main drawback of working with them is their limited number of followers, similar to micro influencers.
However, their highly targeted audience, high engagement rate, and low cost are great reasons for local brands to collaborate with them.
Nano influencer example
Reannoin Jean (@whatwouldreado)
Reannoin Jean is a stylist and fashion blogger. She is a perfect example of a nano influencer with more than 7K followers on her Instagram account. Having a high engagement rate, she has collaborated with many small brands such as Lyft, Dunkin', Target, Evian, and Absolut.
Types of influencers based on types of content or niche
Now that you know the different types of social media influencers based on follower count, it's time to get familiar with them based on category.
#5 Celebrity
Among all types of influencer categories, celebrities are first and foremost. Celebrities are people who have become famous due to their talent or career. They can be actors, singers, athletes, etc., and their fans usually see them as idols or heroes.
Beyoncé (@beyonce)
Beyoncé is an American singer, songwriter, and actress, born in Houston in 1981. She rose to fame in the late 1990s as the lead singer of Destiny's Child, which is one of the best-selling girl groups of all time. She is now one of the most famous celebrities on Instagram, with more than 270M followers.
#6 Lifestyle
Lifestyle influencers are those influencer types who have built their fame and followings basically on social media platforms. They showcase their everyday routine and lifestyle and present themselves as having a perfect life.
Julie Sarinana (@sincerelyjules)
Julie Sarinana is a famous lifestyle influencer. Her Instagram account, with more than 6M followers, is about her everyday life, experiences, and favorite things. Julie loves to share different parts of her life with her followers.
"I hope sharing with you parts of my life and journey can somehow inspire you to live out your own dreams!" – Julie wrote. Her slogan is "Dream, Believe, Achieve."
#7 Fashion
Fashion influencers are one of the so many types of social media influencers. They use their social media accounts to share their personal style and promote brands. Fashion influencers can be people with large followings, like bloggers and celebrities or everyday individuals who post their outfits on social media. Whether big or small, fashion influencers play a crucial role in the fashion world and help create trends and change how people dress.
Chiara Ferragni (@chiaraferragni)
Chiara Ferragni, born in 1987, is an Italian fashion influencer and designer with more than 27M followers on her Instagram account. She launched her fashion blog, The Blonde Salad, in 2009 and has since leveraged it into a global retail business. She was ranked first on the Forbes' Top Fashion Influencers' list in 2017.
#8 Beauty
A beauty influencer is a person who has knowledge and information about the beauty industry. They usually share cosmetic reviews or tutorial videos on makeup, hairstyles, or skincare. Most of the top beauty influencers have launched their own cosmetic brands.
Huda Beauty (@hudabeauty)
One of the top beauty influencers is Huda Kattan with over 50M followers on Instagram. She is a makeup artist, blogger, and the founder of wishfulskin. Don't miss her viral makeup videos!
#9 Sport/ Fitness
Fitness or wellness influencers are athletes, gymnasts, nutritionists, or other individuals who try to inspire their followers to have a healthier lifestyle by posting daily workout routines and mindfulness practices, healthy recipes, herbal treatments, fitness and yoga sessions, etc.
Ece Vahapoglu Alpay (@ecevahapoglu)
Ece Vahapoglu Alpay, born in Istanbul in 1978, is one of the best Instagram fitness influencers, a famous wellness influencer, yoga trainer, and spokesperson for the Sports for All Federation of Turkey.
She has also written so many books, such as "60 Günde İdeal Mutfak."Her Instagram account has more than 1M followers.
#10 Travel
Travel influencers are among the types of social media influencers who have the power to influence and inspire people to pursue their travel goals. They use social media platforms, especially Instagram, to give their followers advice on where to go and what to do while out of the country.
Camila Coelho (@camilacoelho)
Camila Coelho, born in 1988, is a Brazilian fashion, beauty, and travel influencer. Besides sharing fashion and beauty looks and trends, she also shares travel tips on both her blog, Camilacoelho, and her Instagram account, which has more than 9M followers.
#11 Parenting
Parenting influencers are those who could provide parents with advice and information to raise responsible children and can be mommy bloggers, celebrities, pediatricians, etc. Each person is influential for a different reason, but all offer valuable advice to parents.
These influencers provide guidance, advice, and sometimes new ideas on various topics related to parenting and child development.
Sarah Harrison (@sarah.harrison.official)
Sarah Harrison, formerly known as Sarah Nowak, is a German model and a mom blogger on Instagram who posts about her life and children, Mia and Kyla. Sarah and her husband, Dominic Harrison, are founders of mother and baby skincare brand, Samion. She also posts fitness and fashion content on her Instagram account, which has more than 3M followers.
#12 Photography
Photography influencers are individuals who upload photos on social media platforms such as Instagram, hoping they get noticed by many other people. Instagram photographers also share sponsored posts to advertise companies to earn income. These influencers can be anybody from a stay-at-home mom to a celebrity.
Jord Hammond (@jordhammond)
Jord Hammond is a British photography influencer and storyteller. He travels to different countries on different continents and shares his photos and stories on his website and Instagram account, which has attracted more than 800K followers.
He has a new perspective on the world of travel photography and inspires people to voyage more.
#13 Music
One of the other types of influencers is music influencers. A music influencer is someone who has a strong voice and opinion on the newest released songs and albums. They share their opinion on different aspects of songs. Anyone can be a music influencer, but some have been fortunate enough to gain fame.
Conan Gray (@conangray):
Conan Gray is a top music influencer. He is an American singer and songwriter who rose to fame by releasing singles and EPs in 2017. He launched his website and gained more and more followers on YouTube, Instagram, and TikTok.
#14 Food
Food influencers have taken over the internet. They are sources of what's hot in the world of cooking and baking and can change how people feel about a particular food. They share reviews of foods and restaurants besides pictures of delicious meals.
Rosanna Pansino (@rosannapansino)
Rosanna Pansino is an American food influencer on Instagram, YouTuber, baker, actress, and author. She started the cooking series Nerdy Nummies, a famous baking show on YouTube, in 2010.
She has published two cookbooks and has released her baking line with Wilton's cooking company's cooperation.
Her Instagram account has more than 4M followers.
#15 Gaming
Among several types of influencers, gaming influencers are in high demand these days.
They share everything related to games, from playing video games professionally to sharing their opinion on gaming content. Their career lets them play games online while being viewed by thousands of people at once.
Myth (@mythig_)
Ali Kabbani, also known as Myth, is an American gamer and gaming YouTuber born in 1999. In addition to featuring famous games, he is also a gaming video creator. He is a renowned gaming Instagram influencer with 6.4M followers.
#16 Pet
Pet influencers are new influencer types in online marketing. Pets are an integral part of many houses, and more and more pet owners have made an account for their furry friends to put their pictures, videos, and Stories online.
They use their pets' accounts to sell products and services, such as clothes, food, toys, and furniture for pets.
Some pets have also made their way onto TV shows.
Matilda Ferragni (@matildaferragni)
Pet Instagram influencer, Matilda Ferragni rose to fame as the dog of Italian fashion designer and blogger Chiara Ferragni. She shared her dog's first photo in November 2012. Matilda's photos have earned her more than 400K Instagram fans.
#17 Virtual
Virtual influencers are digital characters with human characteristics and features designed to be Instagram influencers. These artificial influencers are created by computer graphics software and have become a significant part of the digital marketing industry.
Aside from other types of influencers, virtual influencers are notable for many businesses as they are far from real people's drama.
Miquela (@lilmiquela)
Lil Miquela, a famous American CGI influencer, was created by Brud, an AI company, in 2016. As well as being an influencer model, she is also a singer and YouTuber. She has more than 3M followers on Instagram and has worked with so many famous campaigns such as Calvin Klein, Dior, and Prada.
#18 Technology
Smartphones, cameras, computers, and other cutting-edge tech gadgets are always on the radar of technology influencers. By testing technology products currently on the market, these influencers share their experiences, knowledge, opinions, and reviews with their audience.
Michael Kukielka (@Detroitborg)
One of the top Instagram tech influencers is Michael Kukielka. His reviews of cutting-edge technology products have earned him 116K followers and increased fame. His YouTube channel has more than 1.3 million subscribers. Michael is regarded as an authority in the tech world, and both buyers and producers value his insights highly.
#19 Entertainment

Influencers in the entertainment industry can be found in a variety of fields, including literature, music, film, and social media stars. They are active on all major social media platforms. With the aid of curated entertainment content on various social media channels, they assist entertainment companies and channels in keeping and reaching a wider audience.
Joe Ando (@joeandohirsh)
An influencer in the entertainment industry, Joe Ando frequently posts funny videos and photos of himself and jumps on trends with his own unique spin.
#20 Real estate
The last among all influencer categories are real estate influencers.
They gain a significant number of followers by posting about the real estate industry and providing homebuyers with information that will help them make the right decision about purchasing a home.
Real estate influencers are not always experts in real estate. They can be architects, designers, or individuals who post valuable content to help future homebuyers.
Ryan Serhant (@ryanserhant)
Ryan Serhant is a well-known real estate influencer, broker, author, and actor. He started his own real estate firm, SERHANT, in 2020, which is now one of the most active real estate companies in the United States. He has more than 1.5M followers on Instagram, and his feed includes inspiring images of luxury properties around New York City and Long Island.
Conclusion
The number of influencers is increasing, and so is the need for influencer marketing. For promoting your business, you should first get familiar with the different types of influencers and then learn how to find them. You can use the Ainfluencer marketplace to find your targeted influencers and invite them to cooperate with you.
1- What is a micro influencer?
Instagram micro influencers are individuals who have 10k-100k followers. They are usually well-known in specific niches and are considered the knowledge leaders in their field. In other words, micro influencers are often experts in a particular area, such as beauty, fashion, fitness, gaming, and so on.
2- What are lifestyle influencers?
Lifestyle influencers are those influencers who have built their fame and followings basically on social media platforms. They showcase their everyday routine and lifestyle and present themselves as having a perfect life.

3- Which Type of Social Media Influencer is Best?
As the social media landscape continues to evolve, so do the types of influencers who populate it. While some platforms may be dominated by a certain type of influencer, it's important to remember that each one has its own unique advantages and disadvantages. It's important to know your audience, campaign goals, and platform expertise.