Travel is one of the most popular hobbies for people all across the globe. People love to go on new adventures and see new places, and many of them turn to travel influencers.
These bloggers usually have a lot of experience traveling and can share their knowledge with their followers in a way that makes it easy to understand. They also tend to have a lot of interesting stories to tell, which can make their followers want to travel as well.
There are many ways for travel influencers to make money while traveling. In this article, you will get to know some of the most popular strategies to make money as a travel influencer and find out about other travel bloggers' salaries.
But first, let's see who you can call a travel influencer!
What is a travel influencer?
For many, it can be difficult to figure out where to start when planning a trip. That's where travel influencers come in.
Travel influencers focus on creating content about traveling, tourism and culture by sharing their experiences on social media, writing articles, or even creating videos.
They usually partner up with airlines, travel agencies, tour companies, and local businesses on said destinations. This helps travel-related brands boost their brand awareness and reach their target market.
By using your skills and knowledge to help others enjoy travel, you can become a well-paid influencer.
There are many different strategies to help you make money as a travel influencer, so find out what works best for you.
Before we jump into strategies, there are a few things you need to keep in mind if you want to make money as a travel influencer:
It's important to have a strong social media presence.
Focus on promoting unique or interesting destinations that haven't been heavily advertised yet.
Be sure to produce high-quality content that is informative and engaging.
9 Strategies to get paid as a travel influencer and travel around the world
1. Brand Partnerships
Brand partnerships offer travel bloggers a chance to collaborate with some of the world's most well-known brands. These partnerships can range from small deals where the brand provides content or a discount on products to full-blown sponsorship agreements that give bloggers access to special events, tours, and more.
Collaborating with a brand can help increase blog traffic, build an audience of loyal followers, and of course have a great impact on a travel influencer salary.
For travel influencers who make money from brand partnerships, it's not as simple as it may sound. It requires negotiating with a brand, clarifying exactly what the expectations are and when those are due to be delivered.
Networking and selecting brands that are a good fit for your followers is a daunting task. Influencer marketing platforms play an important role here.
Ainfluencer is an influencer marketplace that connects brands and influencers 100% FREE with no hidden fees. You can sign up as an influencer in your niche and be discovered by many brands and get the most related offers.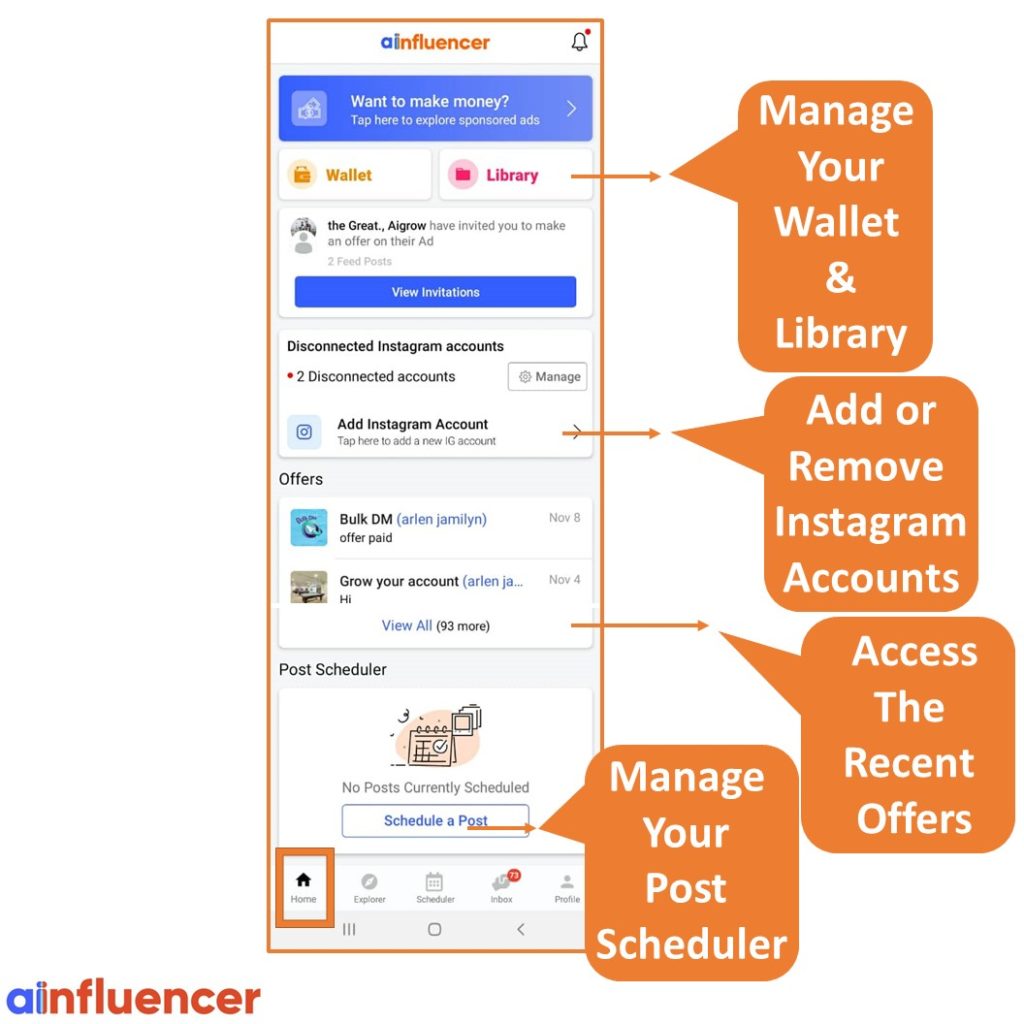 2. Run a Travel Blog
If there's one thing travel bloggers know, it's that having a great blog is essential for promoting your trips. Whether you're documenting your travels with photos and videos, or writing about the places you visit and the people you meet, a blog can be a powerful way to connect with potential travelers and increase brand awareness.
The following five tips will help you get started as a travel blogger:
Choose a niche that interests you. There are many different travel blogging niches, so find one that intrigues you and focus on writing about it.
Get organized. Keep all of your travel documentation in one place, such as airline tickets, hotel reservations, and photos.
If you have a knack for writing and good photography skills, then you could try selling advertising space on your site or working with travel companies to promote their products.
3. Freelance Photography and Videography
Freelance photography is a vital part of any travel blogger's path. Not only does it give you the opportunity to explore new places and capture amazing shots, but it can also be a great way to supplement your income. Whether you're a beginner or an experienced photographer, there are many ways to market your work and make some extra cash.
Check out this video by Lost LeBlanc, a famous travel blogger and videographer giving practical tips on how to improve your videography skills while creating travel content.
4. Become An Affiliate Marketer
As a travel blogger, it is important to get your content out there as widely as possible. One not so risky way to do this is affiliate marketing.
In fact, affiliate marketing is a safe way to increase a travel influencer's salary.
By linking to products or services that you think your audience may find useful, you can earn a commission on sales generated.
This can help cover the costs of your travel blogging activities and give you the financial security to continue writing about your favorite destinations. However, it is important to be careful about how you use affiliate links.
Only include affiliate links where they are relevant and helpful to your audience.
There are so many brands that would love to have a travel blogger on board. From big brands such as Airbnb to local businesses such as coffee shops or restaurants, there's something for everyone interested in trying out this exciting niche.
5. Advertising
If you are a travel blogger who owns a YouTube channel or a blog, you can monetize your passion by using ads. Initially, it can seem out of place to add advertising to your website, as you assume that nobody desires to see it.
Currently, ad networks have extremely accurate quantum key intelligence, so the ads on your website relate directly to you, your content, and your audience.
6. Sponsored Content
Many travel bloggers are now turning to sponsored content as a way to make money. Sponsored posts are when a blogger agrees to write about a product or service in exchange for money, gifts, or paid travel.
It's a common way for brands to reach out to bloggers, and it can be a lucrative source of income, as many brands will pay travel bloggers to write about their products or services.
Sponsored content can also be a great way for bloggers to network and build relationships with potential employers.
For example, in this post, Jennifer Tuffen known as izkiz is promoting a hotel in Turkey and capturing every moment while staying there.
7. Develop courses
As a travel blogger, you can develop courses to teach others how to travel the world like a pro. By teaching others how to save money on flights, hotels, and other expenses, you can help them travel more cheaply and enjoy the experience more.
You can access many courses created by pro travel bloggers on YouTube and Udemy.
8. Copywriting
One of the most popular and well-paid income streams for travel influencers is copywritng. Traveling exposes you to different cultures and lifestyles, making it the perfect fodder for you to write for travel and tourism companies and get paid.
Create a 'work with me' section on your blog to make sure people know that you're in the market for work and you are open to new opportunities.
9. Consulting
Offer to consult in your area of expertise either to your audience or companies. Providing one on one or group sessions at a set hourly rate is possible in person or remotely via video conference.
It's not always just consulting your clients on how to become an influencer, but also travel planning for clients, photography and videography, or even influencer marketing.
How much do travel bloggers make?
A report released by Hopper has cleared travel bloggers' salaries and the money travel influencers make per sponsored post.
Whether it's promoting a hotel or a product, there's big money to be made in exchanging a photo and an Instagram post or Story.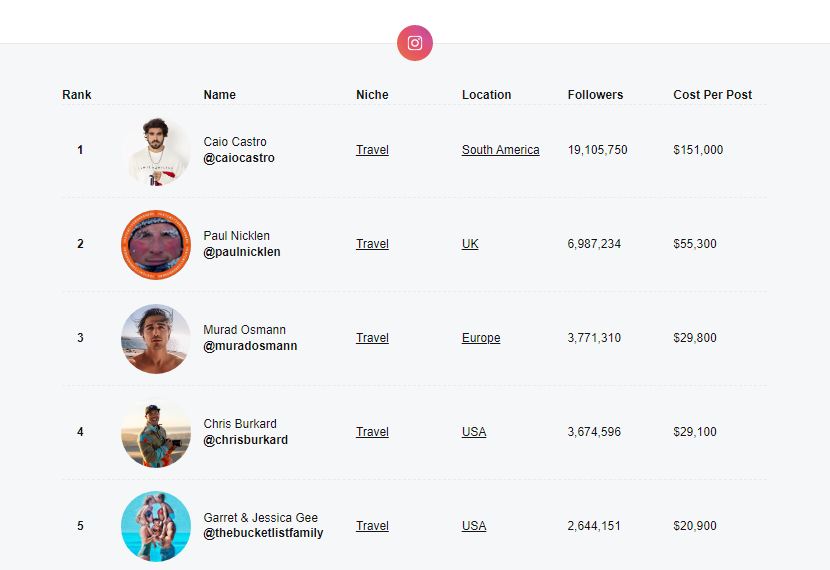 With anywhere from 1M to 4M followers, these influencers can make up to $31,000 per post. If they post just one sponsored photo per week, adds up to $1.6 million over a year.
That's pretty much good money, right?
In May 2022, another report by Ziprecruiter clarified that the average annual travel blogger salary in the United States is $63,173 a year.
While is seeing annual salaries as high as $126,500 and as low as $16,500, the majority of travel blogger salaries currently range between $34,500 to $90,500 with top earners making $110,500 annually across the United States.
The average range for a travel blogger's salary varies greatly based on skill level, location, and years of experience.
Conclusion
Most people are nosy about how travel influencers make money for their time away from home!
As you read in this blog, Travel influencers make money in a variety of ways, and a travel influencer's salary can vary based on the skills, popularity, and the relationship built with the audiences.
But the point is not to concentrate on only one source of revenue, which is always risky.
Select multiple revenue streams on which to focus. Keep on testing new ideas, and give new revenue streams a chance as you never know which is best for you and your audience.
If you are interested in becoming a travel influencer, then start by creating content that is high quality and engaging. Then reach out to brands and other businesses who may be interested in working with you.
1- How do travel influencers make money?

Travel blogging
Brand partnerships
Affiliate links
Advertising
Developing courses
Freelance Photography and Videography
Copywriting
Sponsored posts
Consulting

2- Who is the highest-paid travel influencer?
Murad Osmann, one of the top 3 travel Influencers by Forbes, is among the high-paid travel influencers.