Do you intend to gain revenue from your activities on Instagram? Are you the kind of person who can leverage their charisma to influence people and promote services/products? Then your best option is to become an influencer on Instagram.
Becoming an Instagram influencer is neither difficult nor easy. Similar to other jobs, it requires passion and dedication. In addition to these, you need to be familiar with the nuts and bolts of it. So read through this blog post to learn 12 valuable tips on how to become an influencer on Instagram.
12 Helpful Tips on How to Become an Influencer on Instagram
Thinking to become an influencer on Instagram is indeed an intriguing thought that might have crossed your mind so far. But if you want to nail it as an Instagram influencer, you need to know what steps to take to become one. The 12 tips you'll learn in this article should be enough to help you kickstart the process.
And you should know it doesn't matter what type of influencer you want to be; you'll find the tips helpful regardless. The core difference between nano influencers, micro-influencers, and macro-influencers is their follower count. Therefore the content of this article will benefit anyone with the ambition of becoming an influencer on Instagram.
So let's dive in and see what they are.
1. Sign Up on an Influencer Marketplace
How do you become an Influencer on Instagram? The first thing you need to do before deciding to become an influencer on Instagram is to sign up on an influencer marketplace. But what is an influencer marketplace?
As its name suggests, an influencer marketplace is an online platform that links marketers with social media influencers in comparable industries. You can, for example, find a marketplace dedicated solely to Instagram fashion influencers or other platforms. One of the best influencer marketplaces you can trust is Ainfluencer.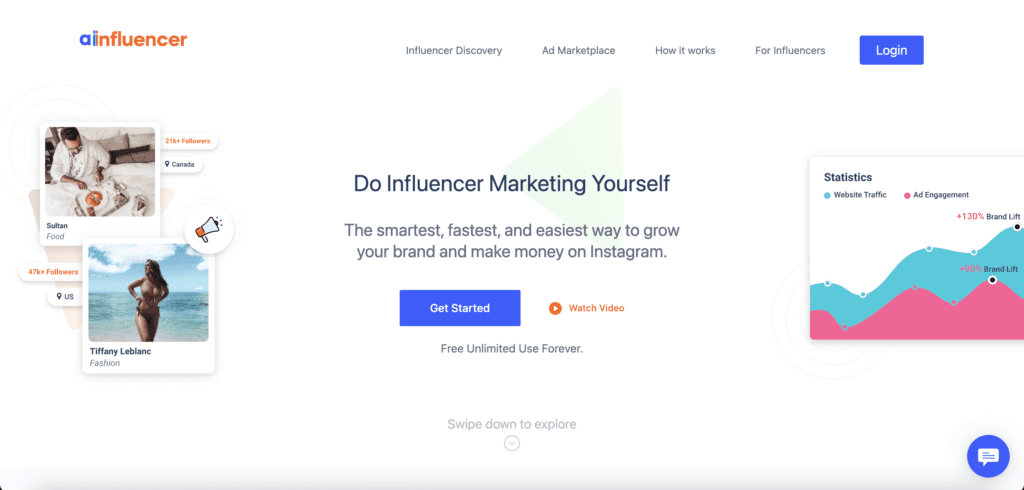 How Does Ainfluencer Work?
It's easy and effective. There are both influencers on this marketplace and those who need to find and collaborate with influencers. So, yes: just like a marketplace, that old factual story of demand and supply.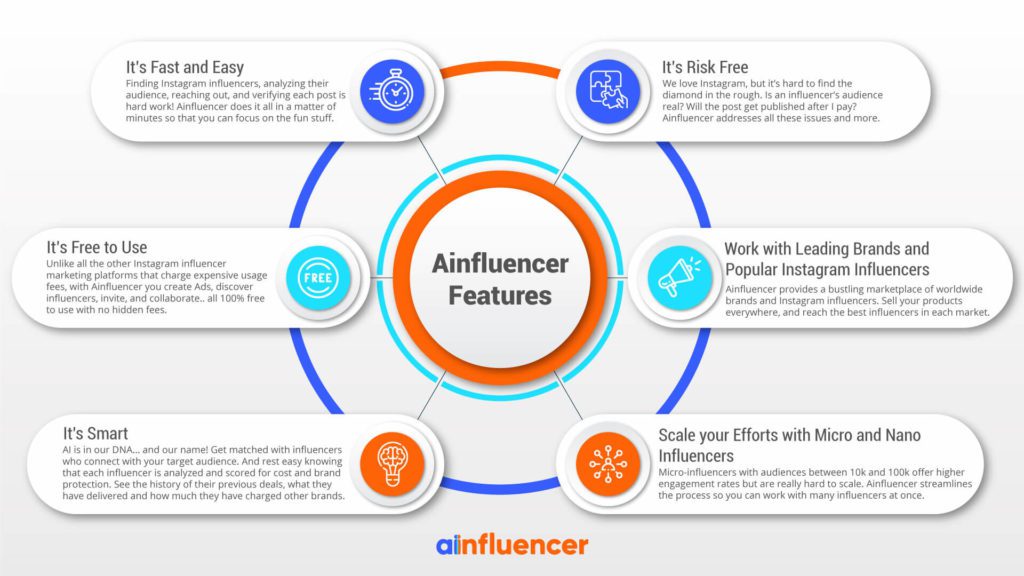 A person who wants to collaborate with an influencer should first sign up for free and create an account on Ainfluencer. Then, they should place an advertisement on this marketplace. There is a wizard instruction to follow, so creating an ad is easy. The ad is where they can upload sample creatives, captions, etc. Then, they can use the AI matching engine to find influencers or customize your search with advanced criteria, which involves 20 metrics to help them decide which influencer is ideal for them. Finally, they can invite potential influencers with a single button click, and Ainfluencer will send emails and notifications to the influencers.
You, as an influencer, can join this marketplace too by creating an account. When ads are launched, you will get notified of invitations through your Ainfluencer App or via email. You can then accept the offer and communicate directly with brands to fine-tune the Ad campaign elements. If everything goes the way you want, Ainfluencer will process the payments, and you will get your money through the platform's safe payment system.
Learn more about influencer marketing: Best Instagram Influencer Calculator to Estimate Earnings
2. Actively Increase your Account Followers
The next step to becoming an influencer on Instagram is to have a large follower base. In other words, you should grow your followers and get more visibility. And we don't mean you should get 10k followers on Instagram overnight to succeed as an influencer. To actively increase your account followers, you should use one of these solutions:
The Best Instagram Growth Services
Many Instagram growth services claim to grow your Instagram account. Using a safe Instagram growth service, you can gain niche-relevant, genuine, and active followers at a reasonable price. Basically, these growth tools help you grow your account followers without violating Instagram rules and limitations.
Instagram Followers Apps
In addition to the best Instagram growth services, you can rely on an Instagram followers app to get followers interested in a particular industry similar to yours. It is essential to have relevant Instagram followers because you need interactive followers who find your content interesting.
A 1000 Free Instagram Followers Trial
There are free solutions for almost everything; you can also try a 1000 free Instagram followers trial to actively increase your account followers on Instagram.
Instagram Contest Picker Apps
Another sure way to increase Instagram followers organically is to organize Instagram contests or giveaways. You can set conditions for those who want to participate in your contest or giveaway. For example, you can ask them to mention one of their friends below your Instagram post in the comments. These friends may find your content interesting by looking at your Instagram profile and may decide to follow you.
This is how you can increase your Instagram followers. To choose a winner for your contest or giveaway, you can use Instagram content picker apps.
3. Clean Up your Account of Old Clutter
If you don't want to start a new account from scratch for your new career as an influencer, you should change your personal account to a professional account. You may have posts from a long time ago that you no longer want to be there on your Instagram profile. As a result, you should mass delete Instagram posts instead of wasting your time doing it manually.
Learn more about influencer marketing: Top 15 Music Influencers on Instagram
4. Curate Engaging Content
Based on the interests of your followers and based on the niche you are active in, you should curate engaging content. The content that you share on your Instagram account should be appealing enough for your followers to interact with it. After all, it is the engagement and interaction that matter on Instagram. The more interactions, the higher the chance for appearing on the 'Explore' section of IG and getting more visibility.
5. Reach Out to Brands and Businesses
On the way to learning how to become an influencer on Instagram, you should know that reaching out to brands and businesses is essential and necessary. You should accept the fact that there are billions of people out there who do not know you. Reaching out to the brands and businesses active in your niche can bring you opportunities.
But how should you reach out to them? Instagram DM is an excellent means of communication between you and your followers or between you and brands and businesses. Since there may be many brands that you want to reach out to, you can learn how to mass DM on Instagram to accelerate the process remarkably.
Learn more about influencer marketing: Blogger, Vlogger, Influencer: What's the Difference?
6. Fix Your Account's Follower to Following Ratio
Understandably, you have followed many accounts in the hope of their follow-backs. However, to make your account look like a worthwhile and credited account, you should decrease the number of the accounts you have followed to a reasonable number.
You no longer need to do it manually and waste your time to get rid of those accounts. Instead, you can use mass unfollow Instagram apps.
7. Post Content in An Organized Fashion
It is also essential to post actively on Instagram and appear on your followers' feeds regularly. Being always there on your followers' post feed or story feed increases their chances of interacting with your content. Plus, they will know that you are spending time and putting effort into running your Instagram account.
If you think posting regularly takes up much of your time, you can automate your Instagram posting. AiSchedul allows you to schedule your posts in advance for a later date and time. You can write the caption of your posts, add multiple relevant hashtags, add links, and then schedule it to be posted later. This way, you can schedule the posts you want to publish in a week or a month, all in one day.

8. Optimize your Account
If you're serious about becoming an influencer on Instagram, you should really care about the first impressions of your Instagram profile. You should set an eye-catching Instagram profile picture, a username that is easy to remember, a bio description that tells a lot about you in a few words, and links to your promo codes, personal blog, other social media platforms, etc. You can optimize your account quickly if you add this data.
Learn more about influencer marketing: 10 Best Free Influencer Marketing Platforms to Grow Your Brand.
9. Choose your Niche
There may be thoughts around your head about which niche to choose before you even start learning how to become an influencer on Instagram. Indeed, you should keep an eye on trends and people's tastes. However, following the trends without knowledge and expertise can lead to unfavorable results. So, when searching to become an Instagram influencer, you should consider your expertise and choose your niche first.
10. Leverage Hashtags
Hashtags are essential as SEO keywords are for search engines. They are gateways to your content for whoever searches them. As a result, it is very fate-determining for your posts to contain relevant hashtags. So having the right hashtag strategy on Instagram and using them consistently is another way to boost your account visibility as an influencer.
Aischedul has an excellent feature that allows you to search for multiple hashtags by only entering your primary keyword. It then lists all the hashtags in your caption, and you can either schedule your post for a later time to be shared with your followers or post it right away.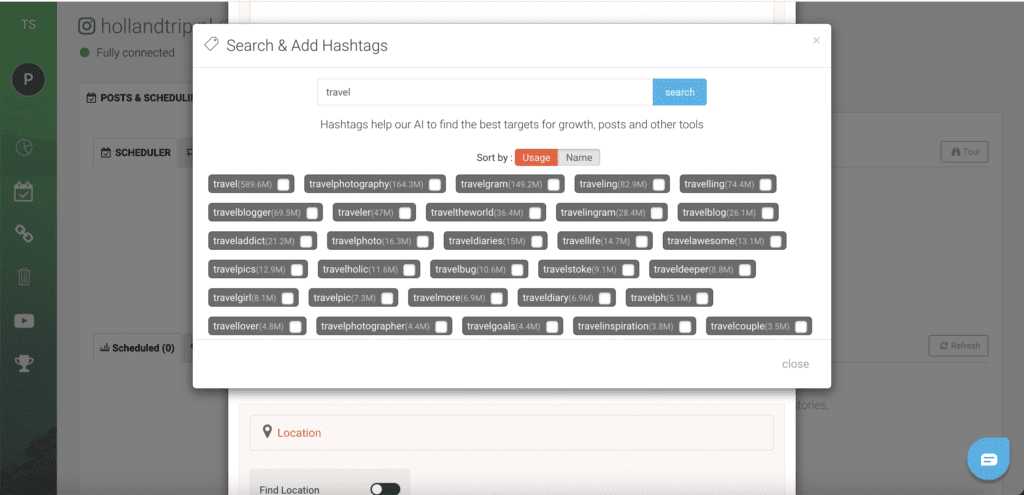 11. Monitor What Goes Around on Instagram
You should always know what is going on on Instagram. You should know about the trends, challenges, and everything that is getting attention. In addition, if you want to work in the beauty or clothing industries, you should know about the new product launches and new collections. In other words, your followers should be fed with fresh content that is going around on Instagram.
Learn more about influencer marketing: Unique Influencer Merch Ideas to Launch Your Online Store.
12. Hold Instagram Live Sessions
Instagram Live is a great feature that can allow you to directly communicate with your followers. It would be great if you had a plan for your Live sessions to add value to your followers within a specific period. This plan would also help you manage time and finish before the one-hour time limit cuts your Live session. Moreover, share your key opinions on subjects relevant to your niche to better establish your authority.
TL;DR – How to Become an Influencer on Instagram
Learning how to become an influencer on Instagram can show you the road to success. Without knowing how to become an influencer, you may end up leaving Instagram as an unknown influencer. There may be many things you already know about becoming an influencer. However, the tips above can give you a better picture of how to become an influencer. Wish you the best of luck!