In 2023, Instagram Live has become a powerful tool for creators, businesses, and individuals to connect with their audiences in real-time. Whether you're a seasoned Instagram user or just getting started, learning how to use IG Live stream can take your social media presence to the next level.
With the right approach and a few best practices, you can engage your followers, showcase your brand, and build your online community like never before.
In this blog, we'll cover everything you need to know about using Instagram Live stream in 2023, from setting up your broadcast to optimizing your content for maximum engagement. So grab your phone, get comfortable, and let's dive into the exciting world of Instagram Live!
What is Instagram live?
Instagram Live is a feature of the social media platform Instagram that allows users to broadcast a live video stream from their account to their followers. When a user goes live, their followers are notified with a push notification, and the live video appears at the top of their followers' Instagram stories feed.
During the live broadcast, viewers can interact with the broadcaster through comments and reactions in real-time, and the broadcaster can respond to them. Instagram Live videos can be up to 60 minutes long, and they can be saved to the broadcaster's Instagram story for 24 hours after the broadcast has ended.
How to go live on Instagram?
Going live on Instagram is a great way to connect with your audience in real-time. Here's how to do it:
Open the Instagram app on your phone. From your profile or feed, tap the plus icon at the bottom of the screen. This will prompt you to choose what type of content you want to create.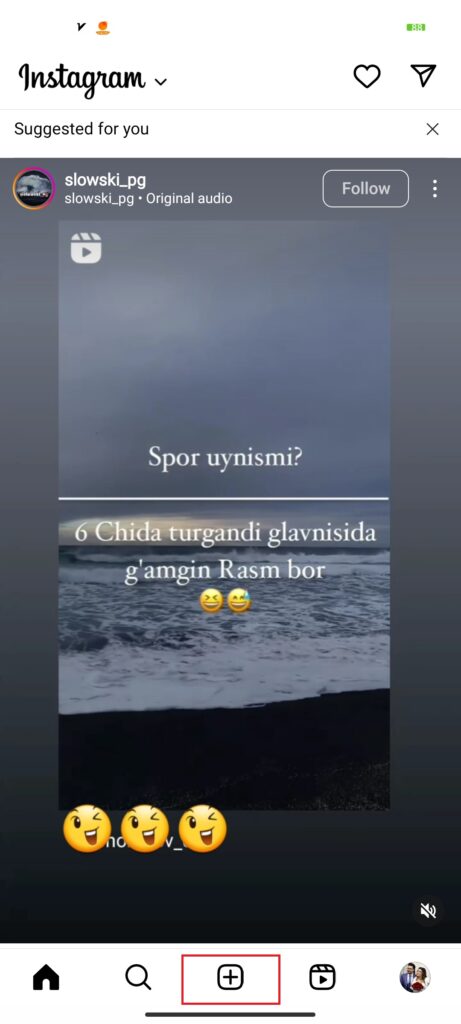 Swipe right or tap the "Live" option at the bottom of the screen. You'll see a "Live" badge on the option.
Before going live, you can add a title for your broadcast or select who you want to see your live video.
Tap on the recording icon to begin your broadcast.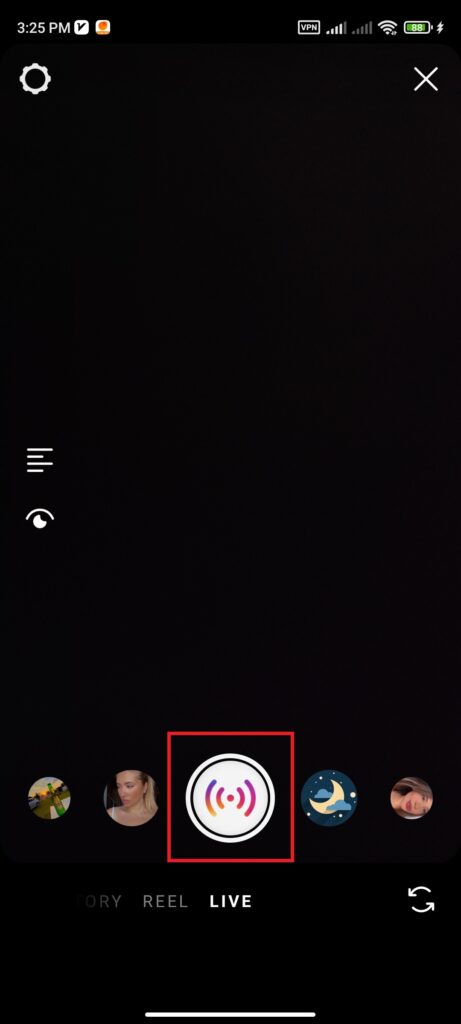 During your Instagram live video, you can interact with your viewers by reading and responding to comments, and you can also invite viewers to join your live video by tapping the "Add" button and selecting a viewer to join.
When you're ready to end your live video, tap the "End" button in the top right corner of the screen.
You can also save your live video to your camera roll by tapping the "Save" button in the top left corner of the screen.
At the bottom and on the top right of your screen, you've got some spicy features you can use to make your livestream even better. Let's break them down:
Send: During a broadcast, you can share your live video with a person on Instagram. Aware that your mother isn't observing your stream? Send it to her immediately!
Add a guest: By doing this, you can share the live video with another person. When you invite a visitor, the two of you will share a split-screen in the video.
Face filters: Want to change your hair color, grow facial hair, or to look like a puppy? Use filters to amuse your followers.
Change camera: Switch the camera from selfie to standard.
Share a photo or video: Grab a photo or video with your live audience by selecting it from your camera roll.
Questions: Before going live, add a question sticker in your Instagram Story to collect questions from your audience. When you join the stream, you can see your viewers' questions.
Add a comment: Use this field to add a comment to your stream.
Instagram Live dimensions, specs, and requirements
There are specific Instagram Live video requirements and specs that you need to follow:
Dimensions: Vertical video displays at a 9:16 aspect ratio.
Resolution: Minimum resolution of 720 pixels.
Frame Rate: Minimum frame rate of 30 FPS (frames per second).
Length: Maximum of four hours. If you plan to pin this live video to your profile once it ends, there's a 15-minute limit.
Content Guidelines: Your video is at risk of being reported and removed if it does not adhere to Instagram's content guidelines.
10 top Instagram live tips
Here are some top tips for using Instagram Live video:
1- Set SMART goals
Setting goals is an essential component of personal and professional growth. However, simply setting a goal isn't enough to ensure success. You need to set SMART goals if you want to achieve your objectives effectively. SMART stands for Specific, Measurable, Achievable, Relevant, and Time-bound.
2- Create a plan
Make a plan for the flow of your video. After that, make a list of the topics you wish to cover and an approximate time frame. The structure will keep you on track, and viewers will appreciate the clarity.
3- Promote the Live in advance
Announce the date and time of your Instagram Live in advance to give your followers time to tune in. You can use Instagram Stories, posts, and captions to promote your Live.
4- Prepare your content
Plan out what you want to talk about or share during your Live. Have an outline or script ready to help you stay on track and avoid awkward pauses.
5- Test your equipment
Before going Live, make sure your camera and microphone are working properly. You can test them by recording a short video or doing a test Live with a friend.
6- Use a strong internet connection
Make sure you have a strong and stable internet connection to prevent any connection issues or disruptions during the Live.
7- Engage with your viewers
Encourage your viewers to interact with you by asking questions, responding to comments, and acknowledging them by name. This will help you build a stronger connection with your audience.
8- Keep it concise
Instagram Lives have a maximum time limit of one hour, but it's recommended to keep them shorter to keep your audience engaged.
9- Save your Live
After your Live has ended, save it to your story or post it to your IGTV channel so that your followers can watch it later.
10- Analyze your performance and results
Take a look at your Live's analytics to see how many people viewed it, how long they stayed, and what engagement metrics you received.
Here are some metrics that can help you analyze your performance.
The total number of Instagram users who watched some (or even all!) of your Instagram Live stream is known as "Accounts Reached."
Peak Concurrent Viewers is the maximum number of people who can simultaneously be viewing a live stream; this number fluctuates as more or fewer people join or leave the stream.
Comments, or how many were left on a particular Live video.
Shares, or the number of times Instagram users have shared your Live video with another user or to their Instagram Stories.
Compare different Live streams using these figures to determine which content generates the most interaction. You can arrange your subsequent Instagram Live event using these insights.
10 top Instagram Live ideas for business
Instagram Live Rooms have become a powerful tool for businesses to engage with their audiences and increase brand awareness. Here are some Instagram Live ideas businesses can use to enhance their social media presence.
1- Q&A session with industry experts
Host a live session with industry experts to discuss and answer questions about your business, products, or services. This can be a great way to engage your audience and provide valuable information.
2- Behind-the-scenes look
Show your followers what goes on behind the scenes at your business. You can give them a tour of your workspace, show them how products are made, or introduce them to your team.
3- Product demonstrations
Use Instagram Live to showcase your products in action. You can demonstrate how they work, show off their features and benefits, and answer questions from your audience.
4- Customer testimonials
Invite satisfied customers to join you on Instagram Live to share their experiences with your business. This can help build trust and credibility with your audience.
5- Collaborate with influencers
Partner with influencers or other businesses in your industry for a live collaboration. This can help you reach a new audience and build relationships with other businesses.
Note: Utilizing an influencer marketplace like Ainfluencer, a software tool created to link brands with micro influencers on TikTok and Instagram, is a simple method to find influencers and collaborate with them. Small and medium-sized businesses may access a curated list of influencers through this DIY marketplace and produce high-quality content to reach millions of potential customers.
Use its Ainfluencer's AI search engine to find your desired influencers, and boost your brand awareness.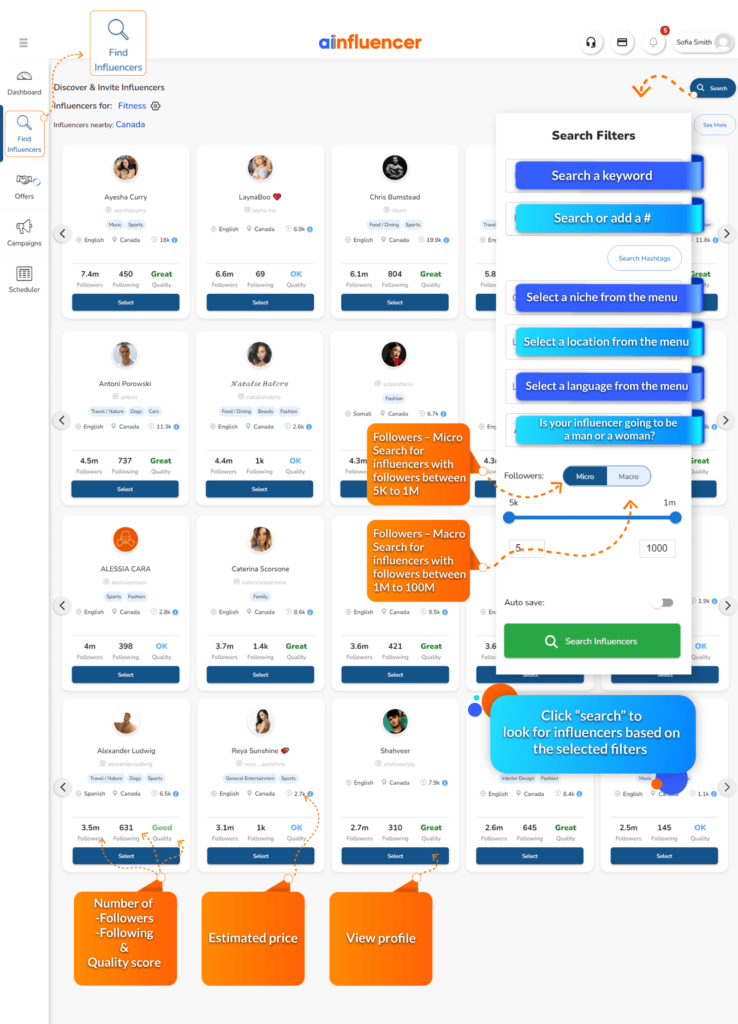 6- Industry news and updates
Use Instagram Live to share the latest news and updates from your industry. This can position you as a thought leader and keep your audience informed about important developments.
7- Host a giveaway
Use Instagram Live to announce and host a giveaway. This can help you generate buzz and engagement, while also rewarding your followers for their loyalty.
8- Share tips and tricks
Use Instagram Live to share tips and tricks related to your business or industry. This can be a great way to provide value to your audience and position yourself as an expert.
9- Showcase user-generated content
Highlight user-generated content on your Instagram Live stream. This can be a great way to show your followers how others use your products or services while building a sense of community.
10- Ask me anything
Use Instagram Live to host an "ask me anything" session. This can be a fun way to engage with your audience, answer their questions, and get to know them better.
Conclusion
In conclusion, Instagram Live is a great way to reach out to your followers in 2023. It has the power to help you build relationships, engage with your audience, and increase sales. As with any other platform, it's important to use Instagram Live strategically and thoughtfully for the best results, including creating engaging and tailored content for specific audiences. With the right approach, you can leverage the full potential of this powerful feature.
FAQs
1- How to go live on Instagram?
1- Open the Instagram app on your mobile device and tap on the plus icon located at the bottom of the screen.
2- Swipe the options at the bottom of the screen to the left until you see the "Live" option.
3- Tap on the "Live" option and then tap on the "Start Live Video" button.
4- Instagram will give you a countdown of three seconds before your live broadcast begins.
5- Once you're live, your followers will receive a notification that you're live and can join your broadcast by tapping on the "Join" button. You can also see who is watching your live video.
6- To end your live video, tap on the "End" button located at the top right corner of the screen.

2- How to join Instagram live?
Open the Instagram app on your smartphone.
Look at the Instagram Stories bar at the top of your feed. If someone you follow is currently live, their profile picture will have a colored ring around it with the word "Live" written on it.
Tap on the profile picture of the person you want to join. This will take you to their live video.
When you join, the person hosting the live video will be able to see that you have joined and may choose to interact with you by reading your comments or bringing you into the video for a live chat.
Alternatively, you can also receive a notification when someone you follow goes live, which will take you directly to their live video when you tap on the notification.