Are you an aspiring social media influencer looking to get verified on Instagram in 2023? The coveted blue checkmark is a sign of influence and authenticity, so it's no surprise that getting verified has become a major goal for many online content creators. Luckily, there are some steps you can take to increase your chances of receiving a verification badge from Instagram. This article will cover the techniques you need to know in order to see how to get verified on Instagram in 2023.
What Does Instagram Verification Mean?
The first step to seeing how to get verified on Instagram is to know exactly what getting verified on Instagram means.
Instagram verification is a process by which the social media platform confirms the identity and authenticity of a user account. This process involves Instagram reviewing the account and ensuring that it meets the platform's verification criteria.
A verified Instagram account is denoted by a blue checkmark next to the user's name, which indicates that the account is authentic and belongs to a public figure, celebrity, or brand. The purpose of Instagram verification is to help users identify authentic accounts and to prevent impersonation or fraudulent accounts from being created.
Overall, Instagram verification is an important feature for users who want to establish themselves as credible influencers who can help brands with their influencer marketing campaigns or companies on the platform that are looking for ways to increase their brand awareness.
Who can get verified on Instagram?
Instagram allows users to apply for verification, also known as the blue tick badge, which is a way to confirm the authenticity of an account. However, not everyone is eligible to get verified on Instagram and get an Instagram verification badge.
Generally, accounts with Instagram verification checks are notable and authentic, including:
Public figures and celebrities
Brands and businesses
Media outlets and journalists
Government officials and politicians
Influencers and content creators with a large following
To apply for verification, the account must meet each of these criteria:
1- Be authentic
One of the very first steps to realizing how to get verified on Instagram is trying to be authentic. You cannot be a meme or a fan page. Firstly, you must be a real person or a registered brand, and your Instagram account should indicate who you are.
2- Follow the Terms of Service and Community Guidelines
The other must-have vital criterion is to follow the Terms of Services and Community Guidelines. Make sure to read them thoroughly.
3- Be Unique
To get Instagram verified, your account must represent a unique person or business to get Instagram verification. It means you should only request verification for one account, with exceptions for language-specific accounts.
4- Create a Public IG account
Private Instagram accounts do not qualify for IG verified check. Only public Instagram accounts can qualify to get verified on Instagram.
5- Finish setting up your account
Having an optimized Instagram bio is vital for your page's validation and identity. Finish setting up your profile. It is crucial to have a complete Instagram bio, profile photo, and more than one post.
6- Be notable
Your Instagram account must represent a notable name. Either your personal or business name should be highly searched for and well-known. Random people are not allowed to get a verified check on Instagram.
7- Be Realistic
Incorrect or misleading information while requesting for Instagram verification badge will get you nowhere. In that case, your verified badge will be removed and go in suspension or even a permanent ban from Instagram.
Considering these factors, it may be difficult for an ordinary person to qualify for an Instagram blue badge.
How To Get Verified On Instagram?
Getting verified on Instagram is a process that involves meeting certain requirements and submitting a verification request to Instagram. The steps are simple for requesting a verified check on Instagram:
1- Meet the requirements
Instagram has specific requirements for accounts to be eligible for verification. You must have a complete bio, a profile picture, at least one post, and a significant following. You must also be a public figure, celebrity, or brand.
2- Go to your profile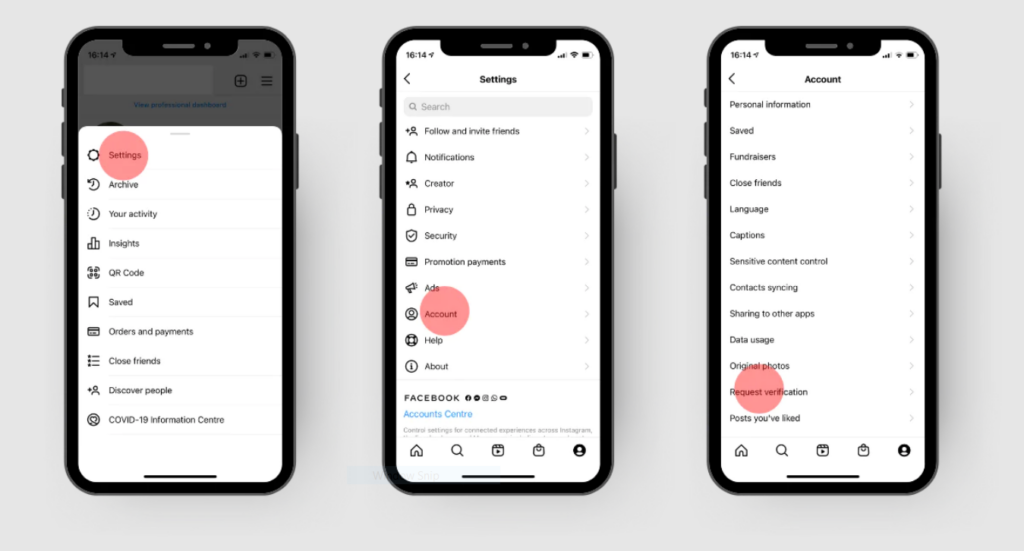 Tap the three horizontal lines in the top right corner of your profile to open the menu, then tap "Settings."
3- Submit a verification request
In the "Settings" menu, scroll down and tap "Account." Then, tap "Request Verification." You will be asked to provide your full name, a photo of your government-issued ID, and other information to prove your identity.
4- Wait for a response
After submitting your verification request, Instagram will review it and send you a notification to let you know whether you've been approved or not.
It's important to note that Instagram's verification process is selective, and not everyone who applies will be approved. If you are not approved, you can try again in 30 days.
10 tips to get verified on Instagram
1- Complete your profile
Make sure your Instagram profile is complete with a profile picture, bio, and link to your website or other social media accounts.
2- Build a strong following
Grow your following by creating high-quality content that resonates with your audience. Use hashtags, engage with other users, and collaborate with other accounts to increase your visibility.
3- Be active on Instagram
Post regularly and consistently to keep your followers engaged. Use Instagram's features such as Stories, Reels, and IGTV to keep your content fresh and engaging.
4- Get featured on other accounts
Get your content featured on other accounts with larger followings. This will help you gain more exposure and followers.
5- Have a strong online presence
Make sure your website and other social media accounts are active and up-to-date. This will show Instagram that you have a strong online presence.
6- Use the right hashtags
Use relevant and popular hashtags to increase your visibility on Instagram. Use a mix of popular and niche hashtags to target your ideal audience.
7- Engage with your followers
Respond to comments and messages, and engage with your followers. This will show Instagram that you are an active and engaged user.
8- Don't buy followers
Instagram has cracked down on fake followers and engagement. Buying followers will not help you get verified and can even hurt your chances.
9- Be patient
Getting verified on Instagram is a process that takes time. Focus on creating great content and building a strong following, and the verification will come naturally.
10- Apply for verification
Finally, when you have met Instagram algorithms and requirements, you can apply for verification through the app. Make sure your profile is complete, and all information is accurate and up-to-date.
How To Stay Verified On Instagram?
Getting verified on Instagram is not the end of the process. It is not difficult to stay verified, though. You are just required to be aware of some simple facts so as not to lose the blue badge.
Once you are verified as notable, not remaining notable or not continuing the activities which had made you notable will not cost you your verification, but here are some rules that doing against them may take the blue tick off your Instagram profile.
1- Do not change your account to private
On no accounts will you be verified or stay verified if your Instagram profile is private.
2- Do not stretch the rules
Instagram may disable or delete an account that does not comply with the Terms of Use and Community Guidelines; however, being a verified account puts a burden of responsibility on you not to be disqualified as a senior member of the community.
3- Do not entirely cease your activities on Instagram
Although it is optional to continue your activity as much as you used to, it is not recommended that you remove your profile photo, bio, posts, etc. Make sure to keep at least one post you shared earlier.
Conclusion
In conclusion, getting verified on Instagram is a coveted achievement that many users aspire to achieve. While Instagram's verification process has evolved over the years, it remains a challenging task to accomplish. However, with the tips and strategies outlined in this article, you can increase your chances of getting verified in 2023.
Some of these strategies include building a strong online presence, following Instagram's community guidelines, and regularly engaging with your followers. You should also ensure that your account is complete, your bio is clear and concise, and your content is original and of high quality. Additionally, you can consider partnering with other verified accounts or hiring a professional to help you with the verification process. With patience and persistence, you can succeed in getting verified on Instagram in 2023.
FAQs
1- How many followers do you need to get verified on Instagram?
The platform does not publicly disclose the exact number of followers required to get verified on Instagram. Instagram's verification process is based on a variety of factors, including the account's authenticity, completeness, public interest, and compliance with the platform's terms of service and community guidelines.
Having a large number of followers is one of many criteria for getting verified on Instagram. In fact, many accounts with a significant following are not verified. The verification process is intended to confirm the identity of notable public figures, celebrities, and brands, rather than to reward popularity.
If you think you qualify for verification on Instagram, you can apply for it through the app's settings. To do so, go to your profile, tap the three horizontal lines in the top right corner, and select "Settings." From there, tap "Account," then "Request Verification." You will be asked to provide your full name, a government-issued photo ID, and information about why you believe you should be verified.
2- Can you buy a blue check on Instagram?
No, you cannot buy a blue check (verified badge) on Instagram. The blue check is a symbol of authenticity that Instagram gives to accounts that are deemed to be of public interest, notable or influential. It is not for sale, and the only way to get verified on Instagram is by meeting their criteria and submitting a verification request through the app.
Instagram has strict guidelines and requirements for getting verified, which include having a complete bio, a profile picture, a certain number of followers, and being a notable public figure or brand. Even if you meet all the criteria, Instagram does not guarantee that you will get verified.
Therefore, any service or individual claiming to sell a blue check on Instagram is likely a scam and should be avoided.