In today's digital age, having a strong online presence is essential, and Instagram is one of the most popular social media platforms out there. Whether you're an influencer, a business owner doing Instagram marketing, or just an avid user, having a memorable and catchy username is crucial to stand out from the crowd and make your account shine.
Your Instagram username is not just a name but a representation of your brand, your personality, and your niche. It's the first thing people see when they visit your profile, and it's what they use to find you on the platform. A good Instagram username can make a lasting impression on your audience, increase your followers, and help you build a strong personal or business brand.
So, if you're looking for inspiration for your Instagram username or want to change your current one to something more creative and unique, you're in the right place!
In this blog post, we'll share the 1000 best Instagram username ideas to make your account glow in 2023. So, let's dive in and find your perfect Instagram username!
Different Instagram username ideas
Here are some of the best username ideas for Instagram. These Instagram username suggestions will help you make the best username for your account:
Aesthetic Instagram username ideas
If you're looking for the perfect Instagram username to match your aesthetic style, we've got you covered. Here are some ideas to help you create a unique and eye-catching username that reflects your personality and captures your audience's attention.
EtherealAura
DelicateDreamer
PoeticPastel
HeavenlyHue
SereneSpectrum
MysticalMosaic
LavenderLuminance
ArtisticAurora
RadiantRealm
EnchantedElegance
WhimsicalWonder
BlissfulBlend
SoftlyShimmer
FloralFinesse
GracefulGlow
DreamyDusk
VibrantVibes
PastelPerfection
CosmicCharm
CelestialShade
OceanicOpulence
MistyMeadows
HeavenlyHorizon
EtherealElixir
GoldenGaze
CelestialChic
SublimeSpectrum
BlossomBouquet
RoseGoldRadiance
EnchantedEuphoria
HeavenlyHaze
PastelParadise
VibrantVerve
EnchantedEscape
GlitteringGlow
MysticMuse
LavenderLuxury
DelightfulDelirium
RadiantRhapsody
HarmoniousHue
Classy Instagram username ideas
Are you looking for classy IG username ideas? Look no further, as we've compiled a list of ideas that will help you create the perfect username.
ElegantEssence
SophisticatedStyle
ChicClass
GracefulGlam
TimelessTrends
LuxeLifestyle
FashionableFinesse
PolishedPerfection
RefinedRhapsody
ClassicCharm
StylishSerenade
RegalRhythm
GlamorousGaze
OpulentOasis
ClassAct
SuaveSoul
DapperDelight
MajesticMode
GrandioseGlow
ImpeccableImpression
CulturedChic
SuaveStyle
LuxeLustre
ClassicCouture
TimelessTastemaker
ElegantEnvy
FashionableFlair
SophisticatedSoul
PolishedPresence
RegalRadiance
RefinedRefinement
OpulentOasis
ChicCharisma
GlamorousGoddess
MajesticMagnificence
DapperDiva
ExquisiteElegance
HighClassHaven
ClassyCove
GracefulGoddess
Cute Instagram username ideas
In this paragraph, you will find some Instagram handle ideas for having a cute username on Instagram.
SweetiePie
CuddleBunny
LittleLuvBug
DarlingDaisy
FluffyFeathers
BabyBear
FuzzyPeach
PurrfectlyCute
CutiePatootie
BouncingBubbles
AdorableAce
PreciousPetal
LovelyLass
SnugglySnail
SassySweetheart
HoneyBee
CharmingChick
DaintyDoll
SnappySnail
FurryFriend
FuzzyFawn
CutesyCactus
TeddyBearHugs
SnugglySquirrel
BunnyHop
SweetheartSweets
AdorableAngel
PuppyLove
KittenKisses
BubbleBee
CuddleCakes
DarlingDumpling
CutieCharm
FurryFluffball
SnappySquirrel
FeatheredFriend
PawsomePals
LittleLamb
CaringCritter
SqueakyClean
Cool Instagram username ideas
This paragraph provides suggestions for cool usernames for Instagram.
EpicEagle
SmoothSensation
FearlessFighter
ChilledChampion
BoldBandit
WildWonder
EdgyEagle
GroovyGorilla
FunkyFalcon
LaidbackLion
WickedWolf
BadassBiker
SharpShooterX
RetroRebel
RadRascal
RadicalRacer
TrendyTiger
StreetwiseSiren
RockinRaven
MagneticMaverick
RadicalRider
MaverickMan
RebelRouser
ToughTrendsetter
ChillChampion
EdgyEagle
SmoothSailor
FunkyFalcon
FearlessFlame
SwaggerSquad
BadassBandit
BoldBoss
WildWolf
WavyWarrior
GroovyGuru
SharpShooter
KickinKangaroo
HardcoreHero
OutlawOasis
CoolCucumber
Lovely Instagram username ideas
This paragraph provides lovely Instagram username suggestions to help you create a memorable and charming profile on the platform.
AngelicAura
TenderTulip
BeautifulBloom
PurePleasure
HeartfeltHugs
EnchantingEmbrace
LovingLight
EndearingEssence
CherishedCharisma
SereneSoul
HeavenlyHarmony
LovelyLullaby
BlissfulBreeze
SweetSerenade
SoftSimplicity
RadiantRose
WarmWhispers
TranquilTides
MagicalMuse
DelightfulDream
EnchantingEmber
BreezyBreeze
SerendipitySoul
DivineDusk
HeartwarmingHarmony
LovingLavender
TenderTouch
PreciousPearls
WarmWhimsy
AdoredAngel
CherishedCharisma
SweetSmile
AngelicAmbrosia
LovelyLuminosity
DelicateDaisy
EnrapturedEssence
DreamyDawn
SoftSimplicity
PoeticPleasure
RadiantRainbow
Rare Instagram username ideas
Here are rare and unique Instagram username ideas in case you want to create a distinct and memorable profile on the platform.
MysticMoonstone
ArcaneAlchemy
OtherworldlyOasis
EnchantedEmpyrean
CrypticCrystal
UnseenUtopia
EsotericEmber
RareRainforest
HiddenHaven
ElusiveEclipse
MysteriousMist
UnknownUniverse
NebulousNirvana
MysticMajesty
SecretSerenity
ShadowySavanna
DreamyDesert
SurrealScape
MysticM
MythicalMystery
MysticMelody
EnigmaticEcho
EsotericEssence
CrypticCharm
SecretSoul
ElusiveEnergy
MysteriousMelody
HiddenHarmony
MysticMirage
UnknownUtopia
ArcaneAura
ObscureOdyssey
OccultOasis
SurrealSymphony
EnigmaticEnclave
ShadowyShade
MysticMeadows
MystifyingMoon
CrypticCove
Spnixo
Funny Instagram username ideas
Let's see suggestions for funny Instagram usernames. A humorous username can help you establish a lighthearted and entertaining online presence and attract more followers who appreciate your sense of humor.
@sillysloth
@comicallycool
@laughingpanda
@funnyfeline
@jokermania
@gigglesnorts
@funnygrape
@hilarioushippo
@humorousowl
@sillyseal
@funnyferret
@chucklesaurus
@lolalpaca
@laughingllama
@funnyemu
@whimsicalweasel
@gigglygazelle
@comicalcrab
@laughinglemur
@sillysalamander
@funnyflamingo
@jesterjaguar
@hilarioushorse
@humoroushamster
@sillysquirrel
@funnyfox
@laughinglion
@comicalcorgi
@jokingjellyfish
@whimsicalwalrus
@gigglygoose
@funnyferret
@chucklesnail
@lolalbatross
@laughinglemming
@funnyfrog
@sillysnail
@hilarioushedgehog
@humoroushyena
@sillyseahorse
Sexy Instagram username ideas
If you want to create a sexy Instagram username, here are the best Instagram username ideas for you.
SultrySiren
SensualSeductress
VoluptuousVixen
TemptingTigress
SeductiveSiren
LusciousLover
NaughtyNymph
FlirtatiousFemme
RavishingRogue
AlluringAngel
SeductionSquad
FieryFatale
PassionatePlaymate
DivineDiva
WickedWoman
SmolderingSiren
SensationalSiren
ExoticEmpress
GorgeousGoddess
EroticEnchantress
SensuousSavage
FoxyLady
SizzlingSiren
FemmeFatale
DivineDesire
BadassBabe
RedHotRomance
SweetSeduction
HotHoney
PlayfulParamour
SensualSirenita
DangerousDame
IntoxicatingIsabella
ExquisiteEnigma
CaramelCutie
BombshellBeauty
ScandalousSiren
FierceFeline
VixenVenus
AngelicAmour
Clever Instagram username ideas
This paragraph provides suggestions for clever Instagram usernames. A clever username can help you showcase your creativity, intelligence, and uniqueness on the platform and make a lasting impression on your followers.
WittyWizard
BrainyBabe
CleverChick
GeniusGuru
QuickwitQueen
CunningConcept
SmartSiren
BrainyBeauty
Intelligenista
QuippyQueen
InsightfulInfluence
IdeaInnovator
SharpScribe
ArticulateAce
InventiveInsight
SavvyScribe
WiseWordsmith
KnowledgeableKnight
InnovativeIdea
ShrewdScholar
WordWiz
QuickQuill
LiteraryLioness
CreativeCraze
BrainstormBabe
CuriousCounsel
DreamerDiva
SmartSoul
MasterMindMuse
IdeaInspiration
ArtisticAce
WondrousWords
VisionaryVixen
BrainyBelle
BrightBrain
IngeniousIcon
NimbleMind
SharpStrategy
IdeaImpression
CreativeConcept
Educational Instagram username ideas
Let's see some good Instagram names related to education. Instagram can be a powerful tool for sharing knowledge and information, and a username that reflects your niche or expertise can help you attract followers who are interested in learning from you.
LearnWithMe
AcademicAce
SmartStudyHub
BrainBoosters
StudySavvy
GeniusGuide
ScholarSquad
MindMelders
IntellectualInsta
EducateInspire
WokeLearning
BrainyBunch
StudySmarts
BrainiacsUnited
StudyHive
ClassroomChronicles
KnowledgeableKrew
CuriousClassroom
BrainstormingBuddies
StudySkills101
StudySupporters
LearningLounge
KnowledgeKorner
TheEducationNation
StudentSuccessStories
BrainFoodies
TheLearnedLeague
TheAcademicAdvocate
WizKidz
BookishBabes
AcademicAspirations
TheStudyStation
BrightMindsCommunity
BrainWaveBoosters
IntellectInspiration
LearnLaughLove
AceAchievers
TutoringTribe
GeniusGoals
StudySuccessStories
Instagram username ideas for brands
Choosing the right username is crucial for creating a strong brand identity on the platform and establishing your online presence. These brand username ideas can help you come up with a unique and effective handle that represents your brand's mission, values, and personality on Instagram.
BoldBrandBuilders
TrendsettingTribe
InspireInnovators
BrandingBuddies
InnovativeIdentities
CreativeCollective
BrandBuildersInc
VisionaryVibes
BrandBurst
BrandGenius
CreativeCrushCo
BrandBloomers
BrandingBuddies
BrandBuildersHQ
CreativeConceptsCo
BrandBoostersInc
CreativeCrewCo
BrandBuildersLab
TheBrandBuildersClub
BrandingBosses
BrandBuildersNation
CreativeConsultCo
BrandingGurus
CreativeCampCo
BrandBuildersUnite
BrandingBeasts
BoldBrandBuildersInc
CreativeCampusCo
BrandingVisionaries
CreativeCoveCo
BrandBuildersGuild
CreativeCuratorsCo
BrandingRockstars
BoldBrandBuildersHQ
CreativeCactusCo
BrandBuildersEmpire
CreativeChampionsCo
BrandingMavericks
CreativeCadetsCo
BoldBrandBuildersNation
Instagram username ideas for boys
Let's check some of the best Instagram username ideas for boys.
AlphaAdventurer
ActionAce
BoldBuddy
BraveBoy
CoolCat
DynamicDude
FearlessFella
GoGetterGuy
HandsomeHunk
HeroicHeart
IntrepidIndividual
JockJourney
KingKong
KnightlyKiddo
MaverickMan
NinjaNate
OutdoorsmanOfficial
PiratePete
PowerPuncher
QuickQuipper
RebelRanger
RuggedRanger
SolidStud
StreetSmart
StrongStrider
SuperSport
ToughTiger
UltimateUsher
UnstoppableUlysses
ValiantVanguard
VigorousViking
WanderingWolf
WildWarrior
XFactorXplorer
YoungYoda
ZipZapZest
ActionPackedAce
BoldBeacon
CourageousCrusader
FearlessFighter
Instagram username ideas for girls
Now, here are Instagram username suggestions for girls.
AngelicAllure
BeautifulBelle
ChicChick
DaringDiva
ElegantEmpress
FashionFierce
GirlBossGoals
HoneyHues
InspiringIcon
JoyfulJourney
KuteKitten
LadylikeLuxe
MindfulMaven
NobleNymph
OptimisticOasis
PrettyPower
QueenQuota
RadiantRaven
SassySiren
SereneSoul
TenderTouch
UniqueUnicorn
VibrantVixen
WonderfulWoman
XquisiteXperience
YouthfulYummy
ZestfulZara
AestheticAva
BoldBeauty
CourageousCurls
DarlingDaisy
EmpoweringElla
FlawlessFeline
GracefulGoddess
HeavenlyHazel
IntelligentInfluencer
JoyousJasmine
KineticKarma
LivelyLilac
MindfulMelody
Instagram username ideas for couples
Here are Instagram username ideas for couples that can be a fun and creative way to showcase your relationship on social media.
ForeverTogether
OurLoveStory
HappilyEverAfter
TogetherForever
CrazyInLove
LoveBirds
CoupleGoals
EndlessLove
ForeverUs
ThePerfectPair
TwoHearts
LoveWins
HeartAndSoul
OneLove
AlwaysAndForever
MrAndMrs
TeamUs
SoulmateConnection
TrueLoveForever
PartnersInLove
TwoPeasInAPod
LoveEnduresAll
OurJourneyTogether
InseparableLove
OneAndOnly
TogetherWeCan
APerfectMatch
LoveIsInTheAir
UnconditionalLove
LovingYouAlways
LoveConquersAll
LoveInTheFastLane
LoveIsMagic
SoulmatesForLife
MyHeartBeatsForYou
AlwaysTogether
TrueLoveConquersAll
LoveIsEternal
TwoSoulsOneHeart
BelovedForever
Instagram username ideas for twins
If you're a twin looking to create an Instagram account, you may want to consider username ideas that reflect your unique bond. Some popular options are mentioned below.
TwiceAsNiceTwins
DoubleTroubleTwins
TwinningTogether
DynamicDuoTwins
TwinningAndGrinning
TheTwinLife
TwoOfAKindTwins
TwinningIsWinning
TwinningGoals
TwinningWithMyTwin
MirrorImageTwins
TwinFlames
TwinningItUp
DoubleTheFunTwins
TwinningAround
TwinningTimesTwo
TwinningTeaTime
TwinningOnPoint
TwinningAndWinning
IdenticalTwinsies
TwinningInStyle
TwoPeasInAPodTwins
TwinningAdventures
TwinningWithMyBestie
TwinningMood
TwinningSoulSisters
TwinningOnTheDaily
TheTwinsAreIn
BestieTwins
TwinningForever
DynamicTwinDuo
TwinningAroundTheWorld
TwinningWithMyOtherHalf
TwinningOnTheGram
DoubleTroubleNoMore
TwinningWithMyTwinny
TwinningOnTheGo
TwoIsBetterThanOneTwins
TwintasticLife
TwinningWithMyBFF
Instagram username ideas for fashion bloggers
If you're a fashion influencer, your Instagram username is an essential element of your branding. See some examples below.
StyleJunkie
FashionistaLife
ChicFashionista
TrendyStyle
HauteCouture
StyleEnvy
FashionObsessed
FashionForward
GlamourousLife
StyleMaven
FashionAddict
CoutureChic
RunwayReady
FashionIsLife
StyleBlogger
FashionGuru
HauteFashion
Trendsetter
FashionEmpire
StyleIcon
TheFashionSpot
FashionFrenzy
TrendyChick
StyleOnPoint
FashionistaChic
ChicAndTrendy
FashionFlair
StyleAndGrace
HauteTrend
FashionistaGuru
TheFashionistaDiaries
StyleAndFashion
FashionQueen
GlamFashionista
FashionSavvy
StyleVogue
FashionElite
HauteStyle
FashionFiesta
StyleFusion
Instagram username ideas for makeup artists
We have gathered some popular ideas for makeup artist usernames in this paragraph.
MakeupMagic
GlamorousGuru
BeautyEnhancer
MakeupAddict
FlawlessBeauty
MakeupArtistLife
BeautyQueen
MakeupObsession
GlamArtist
BeautyEmpire
MakeupGenius
BeautyExpert
GlamOnPoint
BeautyConnoisseur
MakeupEnvy
BeautyArtist
GlamGoddess
MakeupCouture
BeautyAndBeyond
GlamourousLife
MakeupJunkie
BeautyInfluencer
GlamLife
MakeupMaster
BeautyByDesign
GlamorousLooks
MakeupMaven
BeautyByNature
GlamRituals
MakeupEmpress
BeautyEssentials
GlamAndGlow
MakeupCraze
BeautyTransformation
GlamSiren
MakeupChic
BeautyByDesign
GlamVixen
Makeupwithme
Makeupyourself
Instagram username ideas for teachers
Here are some popular ideas for Instagram usernames for teachers, as we know that creating a memorable and professional username is important for educators looking to connect with other professionals and share their knowledge and experiences.
TeachandTell
TheTeachingJourney
TeachInnovateInspire
LearningLivesHere
TeacherTales
EducateWithLove
MindfulTeaching
LearnFromTheBest
WiseWordsTeach
TeacherTalks
PassionatePedagogy
CreativeClassroom
TeachGrowEmpower
ClassyTeaching
InspireEducateMotivate
TheTeachingTribe
TeachFromTheHeart
MasteringTeaching
TheTeachingLife
TeachToTransform
EducationalEmpire
ATeacherWithStyle
PositivePedagogy
EnlightenedEducation
Teach2Inspire
TheTeachingCorner
TeachLoveGrow
LearnLoveLead
ClassroomCulture
TheTeachingLife
EnthusiasticEducation
InnovativeTeachingMethods
TeachingTogether
TeacherThoughts
ClassroomChronicles
TeachAndThrive
MotivateAndEducate
EducateToElevate
TeachImpactful
TeachWithHeartAndSoul
Instagram username ideas for sports players
Let's check some goog Instagram names if you're a sports player or your account is related to sports.
SportsmanSpirit
AthleticAce
FitAndFocused
GameOnPlayer
CompetitiveChamp
StrongAndSteady
GoalGetter
FitFierceAndFabulous
PlaymakerPro
EnduranceExpert
DynamicDribbler
TrainingForSuccess
MuscleMaven
SpeedySprinter
HardHittingHero
VictoryVixen
BallerBoss
SweatinAndSmilin
IronWillAthlete
TeamPlayerTactics
AthleticAdventurer
FitAndFearless
AllAroundAthlete
VictoryVibes
CompetitiveCrusader
GritAndGraceAthlete
StrengthAndStamina
SportsSuperstar
ChampionMindset
EnduranceEnthusiast
HeartOfAHero
AthleticAmbassador
SweatAndSuccess
IronStrength
FitAndFierce
HighIntensityHero
GameChangingGuru
TopTierAthlete
PowerPlayerPro
AthleticAchiever
Instagram username ideas for dancers
If you're a dancer looking to create an Instagram account, a memorable and catchy username can help you showcase your skills and connect with other dancers and fans. Some popular options are listed below.
DancingDivas
DanceWithPassion
GrooveAndMove
RhythmicRoutines
DanceToInspire
ElegantExpressions
EnchantingMoves
DancersDreams
GracefulGestures
DancingDays
TheDancingSoul
FlawlessFootwork
TheDanceFloorQueen
TheRhythmRoom
DanceMovesDaily
DancingDelight
DanceCulture
DanceEmpire
DancerDiaries
DanceLifeGoals
DanceTherapy
BalletAndBeyond
DanceIntoHappiness
DanceYourHeartOut
TheDancingCommunity
MoveAndGroove
DanceWithAttitude
JazzHandsJunction
TheDanceConnection
DanceInspiration
LetTheMusicMoveYou
HipHopHooray
DanceFitnessFrenzy
TheDanceExperience
DanceTillYouDrop
DanceAllDayEveryday
TheDancingSensation
GetYourDanceOn
DanceLikeNoOneIsWatching
TheDanceDiaries
Instagram username ideas for singers
A catchy Instagram username can help singers connect with fans and showcase their talent. Like the following suggestions, use your name or stage name, music-related terms, or puns, and keep it reflective of your style and sound.
VocalVirtuoso
SingingSoulmate
MelodicMusings
SongbirdSoul
TheSingingSpirit
HarmoniousHeart
SerenadeSensation
TheSingingStar
SingingSensation
MelodicMoments
TheSingingSiren
TheSingingScene
VocalVibes
SingingSoul
MusicalMagic
SingingSisters
SongbirdSisters
SingingSirens
TheSingingSoul
TheSingingSiblings
TheMelodicMovement
HarmonizingHearts
TheVocalVibes
TheSoulfulSinger
TheMelodicMuse
TheSingingSession
VocalVibes_
HarmoniousMelodies
TheSingingSoul_
TheMusicMuse
VocalTalent_
MusicianLife_
SoulfulSounds_
SingingSuperstar
TheVoiceWithin_
MelodicNotes_
SerenadingTheWorld
TheSingingStruggle
MusicalJourney_
ChorusQueen_
Instagram username ideas for travelers
If you're a traveler looking for top username ideas, this paragraph is for you.
TravelWithMe
RoamingAroundTheWorld
GlobalVoyageur
TheTravelingGypsy
TheWanderingSoul
JourneyJournal
NomadicWanderlust
WanderingFootsteps
AdventurousEscapades
TravelerTales
ExploreMoreToday
PassportDiaries
TravelBeyondBorders
WorldWanderingWays
DestinationAddict
ExploreEverywhere_
TravelMoreWorryLess
AdventureAwaits
ExploringTheGlobe
GoSeeTheWorld
TravelAndExplore_
GlobetrottingSoul
TravelTherapy_
TravelEnthusiast
TheTravelBlogger
TravelTales_
BackpackerChronicles
TheTravelingNomad
TheJourneyContinues_
TheRoamingExplorer
AroundTheWorldInADay
MyWanderlustJourney
WorldTraveler_
AdventureSeeker_
TravelingLifestyle
LivingForAdventure
TravelInspiration
WorldWanderlust
UnseenWorldAdventures
ReadyForTakeoff_
Instagram username ideas for health influencers
In this paragraph, you can find the best username ideas for Instagram for those whose account is related to health and wellness.
HealthyHabitsHacks
FitAndFabulousLife
WellnessWarrior
BalancedLifeGoals
MindfulLivingTips
NourishedNinja
HolisticHealthCoach
CleanEatingCrusader
HealthyHappiness
VibrantWellness
NutritionNinja
SelfCareSquad
HealthyLivingJourney
PlantBasedPassion
ActiveAndAdventurous
StrongerEveryDay
HealthAndHappiness
FitMindAndBody
HealthyHustle
BodyAndMindWellness
HealthyLivingLifestyle
NutritiousAndDelicious
HealthAndFitnessJunkie
MindBodyBalance
WellnessAndMe
HappyHealthyMe
HealthyLifestyleInspo
MindfulEatingMatters
FitnessAndFoodie
HealthAndHabitat
CleanEatsAndSweat
HealthyHustlerLife
StrongAndSweaty
WellnessWanderlust
WholeBodyWellness
HealthyAndHappyHabits
BalancedLifestyleGoals
HealthAndFitnessFam
FitBodyAndSoul
NourishAndThrive
Instagram username ideas for food lovers
Are you looking for username ideas related to food? Here, we've compiled a perfect list of ideas for you.
TheFoodieLife
GourmetGoodness
FoodFrenzy_
SavorySensations
DeliciousDelights
TasteAndSee_
CulinaryCreations
FlavorFiesta
MouthWateringMoments
FoodLoversUnite_
FeastModeOn
TheHungryCritic
CookingChronicles
TastingTable_
SavoryEats
TheFoodCulture
ForkAndKnifeChronicles
BiteMe_
TheEatingAdventures
BonAppetit_
TheFoodJunkie
TheFoodGuru
FoodieFrenzy_
TheTasteTeller
FoodieFriends
YumYumYummy_
TheFoodExplorer_
TheFoodTraveller
FoodieFiesta_
CulinaryCrush
TasteBudsOnFleek
TheFoodieFeed
EpicureanEats
TheFoodieExperience
SavorTheMoment_
FoodForTheSoul_
TastefullyYours_
FoodSpectacles
FoodieFaves_
FoodJourney_
Instagram username ideas for pet lovers
And this paragraph provides username ideas for Instagram for pet lovers.
PawsomeAdventures
FurEverFriends_
PawfectPals
ThePetLovers
FurryFriendsUnite_
PetPals_
FuzzyWuzzyPets
MyFurBabyLove
PetPerfection_
AnimalAdventures_
ThePetObsessed
PurrfectPals_
FurryFriendsForever
ThePetCommunity_
PawsAndClaws_
ThePetDiaries
PawtasticTimes
ThePetLifestyle
AnimalCrazy_
FurFriends_
ThePetTraveler
FurMoms_
PetLove_
ThePetSquad
PetSittingAdvent
ThePawfectLife_
FourLeggedFriends_
PetLoveAndCuddles
FurryCompanions_
PetFurEver_
AnimalLoversUnite_
PawsitivelyAdorable
PetSquadGoals_
FurBabyAdventures
PurrfectlyHappy_
ThePetWhisperer
FurFriendsForLife_
ThePetLoverLife
FurryFamilyFun
ThePetChronicles_
Tips for choosing an Instagram username
Choosing a perfect Instagram username can be hard, but it's an important one as it is one of the primary ways that other users will identify and interact with you on the platform. Here are some tips for choosing a great Instagram username:
1- Keep it simple and easy to remember
Your username should be easy to spell, easy to remember, and easy to type. Avoid using confusing words, complex spellings, or excessive punctuation.
2- Make it unique
Try to choose a username that is not already taken. To ensure you stand out from the crowd, you can try adding a location, a nickname, or a personal touch.
3- Reflect your brand or personality
Your username should be aligned with your brand or personal identity. Try to choose a name that reflects your interests, style, or profession.
4- Avoid using numbers or underscores
Using numbers or underscores in your username can make it difficult for people to remember or search for you on Instagram.
5- Keep it short and sweet
Shorter usernames tend to be more memorable and easier to type. Aim for a username that is no more than 15 characters.
6- Use keywords
Incorporate keywords related to your niche or interests into your username, which can help attract relevant followers and make your profile more discoverable.
7- Avoid using symbols
While you can use symbols in your username, it's best to avoid them as they can make it difficult to find you and may not appear correctly on all devices.
8- Don't use offensive or inappropriate language
It's important to remember that Instagram is a public platform, so avoid using offensive or inappropriate language in your username or profile.
9- Consider your target audience
If you are using Instagram for business or promoting a brand, consider your target audience and choose a username that will resonate with them.
10- Test it out
Before finalizing your username, try searching for it on Instagram and see if any similar usernames come up. You can also ask friends or family for their feedback on your potential username.
You can search for influencers in your niche and find more username ideas. Influencer marketplaces like Ainfluenecr can help you find your desired influencers by using its category filter. You can use this DIY marketplace for free and find numerous influencers in different niches.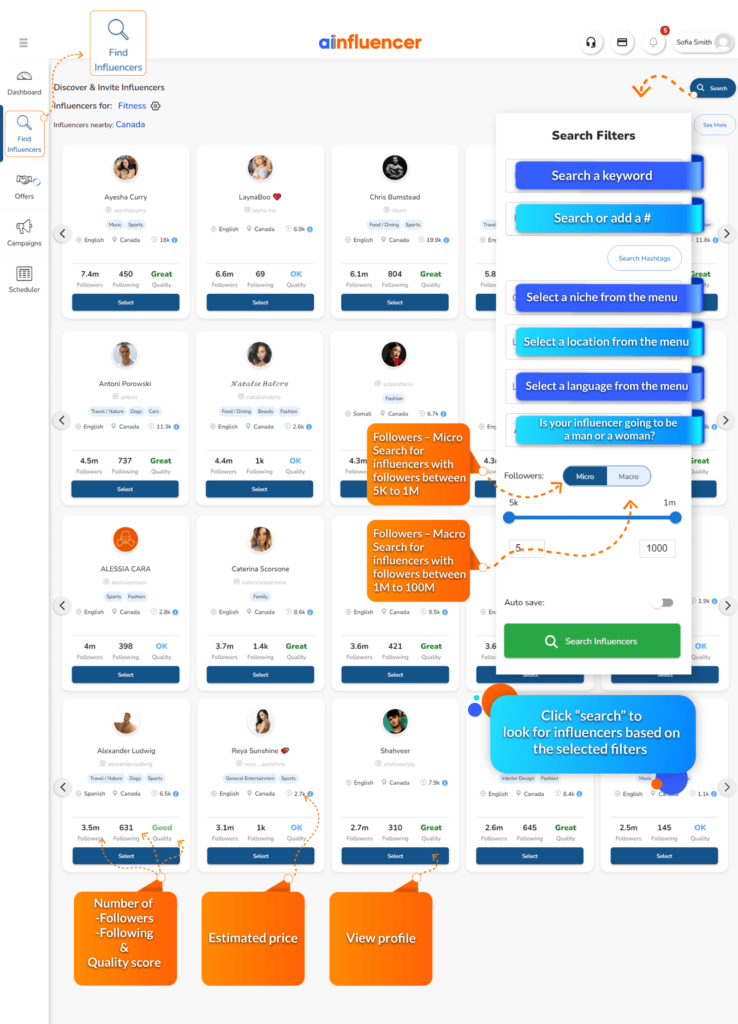 Conclusion
In conclusion, choosing a great Instagram username requires a balance between creativity, simplicity, and relevance to your brand or personality. By following these tips and looking at the Instagram username ideas mentioned above, you can create a memorable and unique username for your account, stand out on Instagram, and attract the right audience.
FAQs
1. How do I get a unique username?
To get a unique username, you can combine words, use a random name generator, incorporate your interests or hobbies, add numbers or symbols, and check for availability on the platform or service you are using.
2. Is IT OK to use the same username?
It's generally okay to use the same username across different platforms, but it's essential to consider the potential security and privacy risks. If you're using social media to build a personal or professional brand, consistency is important.
3. Is username a secret?
A username is not necessarily a secret, as it is usually a publicly visible identifier used to distinguish one user from another on a platform or service. However, usernames can be considered private information if they are used in combination with other personal information, such as passwords, to access a particular account. In that case, it's important to keep your username and associated login credentials confidential to prevent unauthorized access to your account.