Welcome to the world of Instagram filters! Over the years, Instagram has become more than just a photo-sharing platform and has turned into a tool that every eCommerce marketing business looks for. 
It has evolved into a hub for creative expression, allowing users to experiment with various filters to enhance their posts. In 2023, Instagram filters have become even more popular, with millions of users using them daily to create stunning visuals.
In this blog post, we will be exploring the most popular Instagram filters in 2023 and how you can find them. Whether you're an Instagram influencer, a business owner, or just a casual user, understanding how to use these filters can help you take your content to the next level. We'll also be sharing some tips and tricks on how to make the most out of these filters to create engaging and eye-catching content.
So, if you're ready to step up your Instagram game and take advantage of the latest and best Instagram filters, keep reading!
What Are Instagram Filters?
Instagram filters are digital effects that can be applied to photos and videos uploaded on the Instagram app. They are designed to enhance the visual appeal of your content by changing the color, tone, and overall mood of your image or video. Instagram filters can be used to give your content a specific look or feel, such as vintage, retro, or futuristic.
There are several different types of Instagram filters available, including those that adjust brightness, contrast, and saturation levels, as well as those that add special effects, like lens flares or sparkles. Some filters are designed to mimic the look of traditional film photography, while others add a unique twist to your content.
Instagram filters have become an integral part of the platform, and users have come to expect them as part of the overall experience. Using best IG filters can help your content stand out and grab the attention of your followers, making it more likely to be shared and engaged with. With the continued popularity of Instagram filters, it's essential to understand how they work and how to use them effectively to enhance your content.
How to search for filters on Instagram?
Instagram provides several ways to search for filters. Here are some of the ways you can find filters on Instagram.
1- Search using the browse effects option
#1. Open the camera in the Instagram app, swipe left through the bottom-of-the-screen icons, and then select the magnifying glass. (Browse Effects).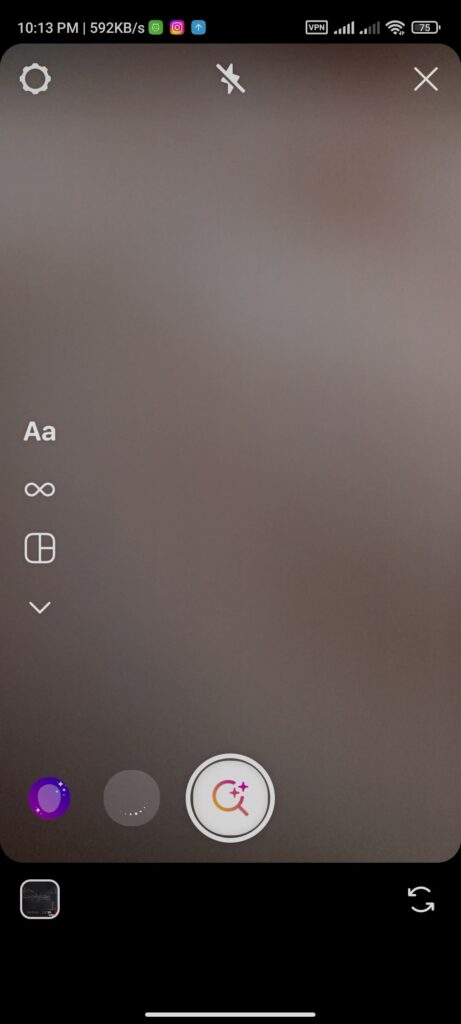 #2. Tap one of the filters you see or swipe through the categories at the top of the app. To search by name/keyword, tap the magnifying glass.
#3. When you tap a filter, you'll see a preview. Here you can save the filter.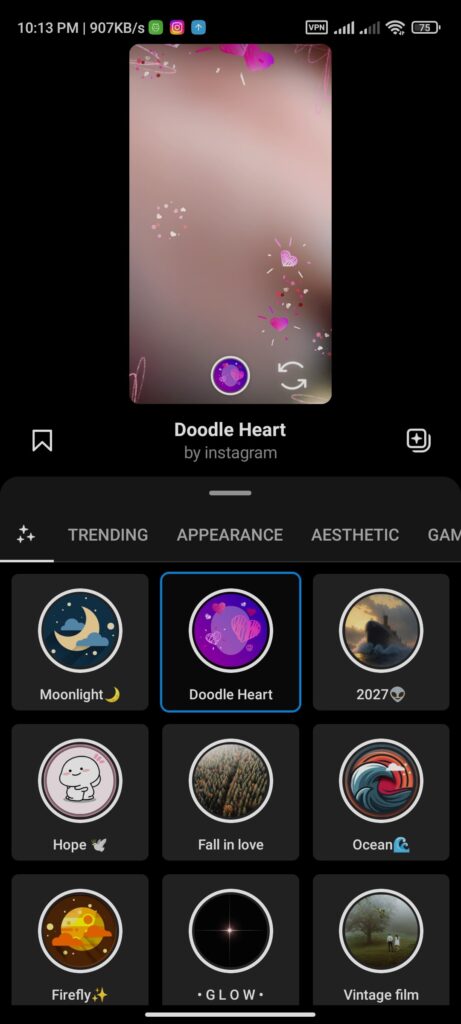 2- Search New Filters on Instagram from the Creators' Profile
Some creators and brands develop and publish their own filters on Instagram. You can find these filters by browsing Instagram profiles. Look for profiles that publish content related to filters, photography, or graphic design. Once you've found a profile, tap on the "Filters" tab to see all the filters available.
#1. Find the creator's profile and tap the smiley above their grid.
#2. You can either touch the down arrow to download the filter or tap the desired filter, then tap "Try It."
#3. Use the filter to take a picture or film a video, then send it to your friends.
3- Get filters from your friend's Stories
#1. Open Instagram. Proceed to the Story whose filter you want to save.
#2. If a Story has been posted with a filter, you will see the name of the filter listed right below the person's name on the Story. Tap on it.
#3. Choose the "Try it" option.
#4. If you want to save the filter and use it later, select the "Save effect" option instead.
How to Find Saved Filters on Instagram?
To find saved filters on Instagram, follow these steps:
1- Open Instagram and go to your profile.
2- Click on the three horizontal lines in the top right corner of the screen.
3- Select "Settings" at the bottom of the menu.
4- Click on "Account" and then "Saved" to view all the posts and filters you have saved on Instagram.
5- You can now scroll through your saved filters and select the one you want to use.
Alternatively, you can also access your saved filters directly from the Instagram camera:
1- Open the Instagram camera by swiping left on your home feed or by clicking the camera icon in the top left corner of the screen.
2- Swipe to the left until you reach the end of the filter carousel.
3- Select "Browse Effects" at the bottom of the screen.
4- Click on "Saved" at the top of the screen to see all your saved filters.
5- Select the filter you want to use, and it will be applied to your camera.
10 popular Instagram Filters in 2023
#1 Lolita v.2 by benjamin30323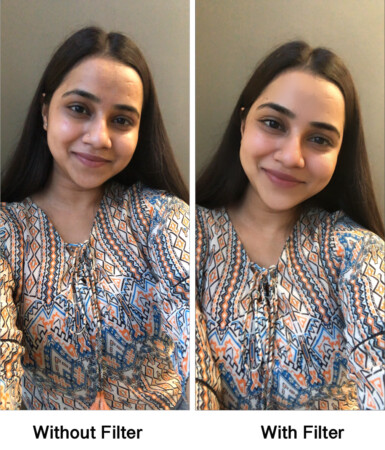 This is one of the best IG filters that doesn't go overboard. The great thing about this makeup filter is that the little mole is very realistic, and the skin smoothing is almost flawless.
#2 Soft-blur by tentangstories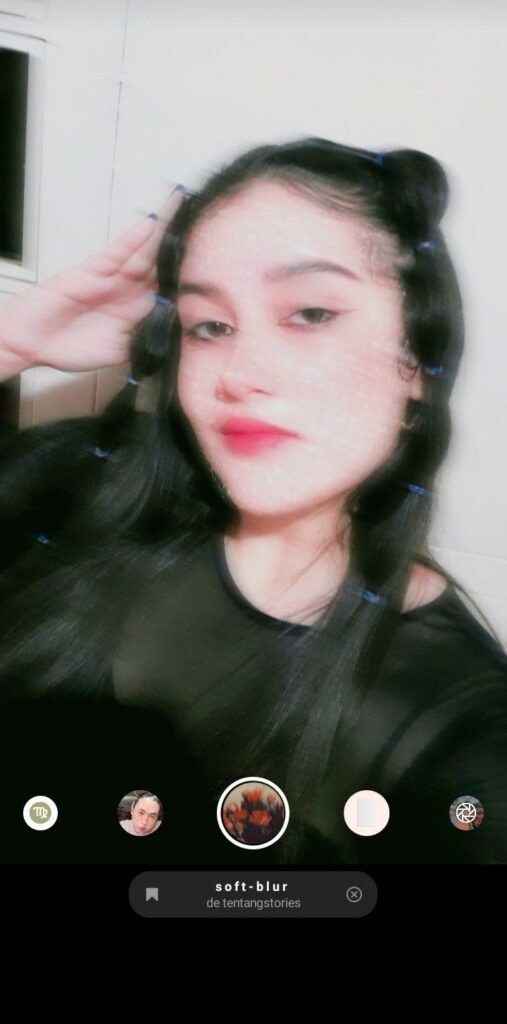 This is one of the best Instagram filters for photos. A defocused softness is sometimes what we need instead of a sharp capture, and this filter does just that by artistically blurring the subject without losing its essence.
#3 Custom Color by Instagram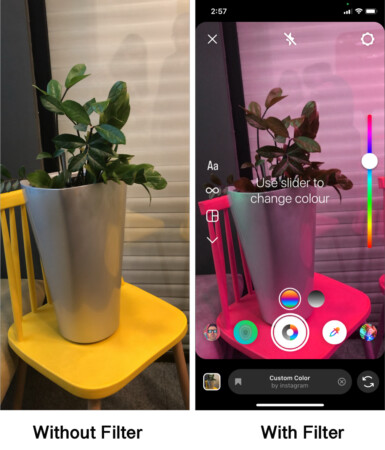 This filter will suit your taste regardless of your aesthetic preferences. Simply choose a color, and it will be overlaid on the entire picture.
#4 Old Film⌃ by _ghosh_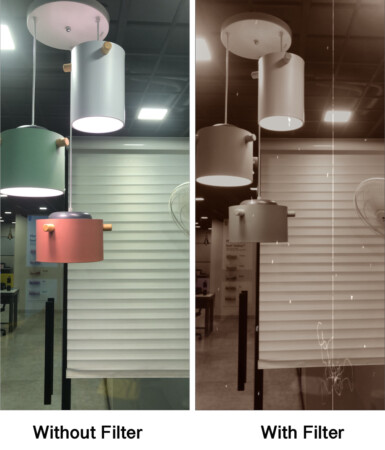 You're reminded of silent black-and-white pictures by this filter. Your movies and pictures are converted to grayscale, and it even includes authentic glitches and scrapes.
#5 That 90s film by shutterangle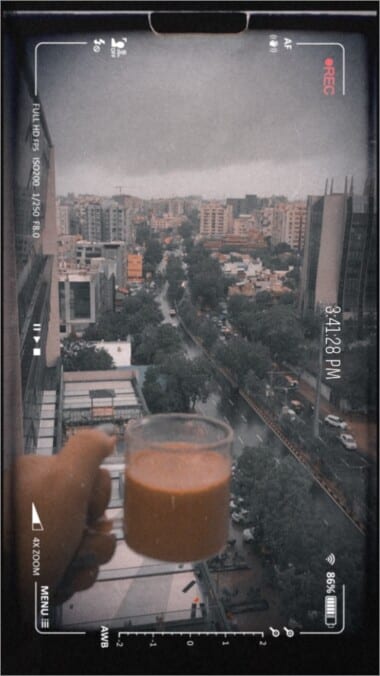 This is one of the best Instagram filters since it nails vintage looks. Pale colors, retro camera details on the border (you can touch it to remove it; there are three styles available), and all the other elements you need to create nostalgia will greet you.
#6 Corpse BLCK by navs.navs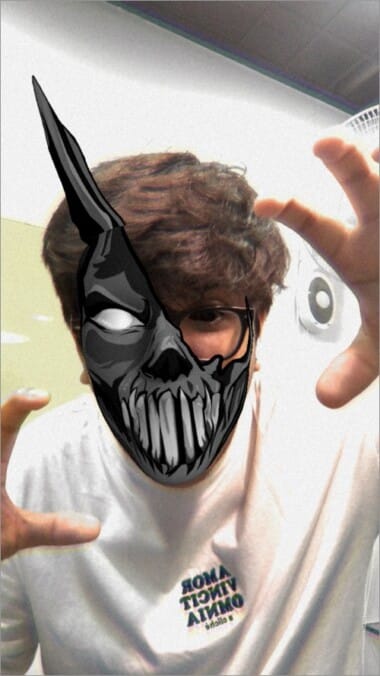 Not really frightening, but definitely enjoyable. If the bad side fits you better, give it a try.
#7 Catch the Snitch by harrypotterfilm
Are you a fan of Harry Potter? The next step is to join a game of Quidditch. Both the front and back cameras can be used to play the game, and interestingly, the gameplay is slightly different in each. In other words, it's like getting two titles for the price of one.
#8 Cartoon face by triutra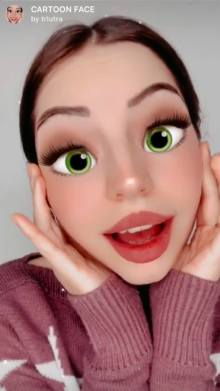 If you like to look as good as a cartoon, give this IG filter a try. Just remember to tap the screen to change your eye color.
#9 FAVX by agusfich
There are many grid-style effects on Instagram, but this one is the best. Majorly because of its frame composition, there are some super-zoomed and some upside-down shots. It works well for taking selfies or shooting scenes from different angles.
#10 Lenticular by Instagram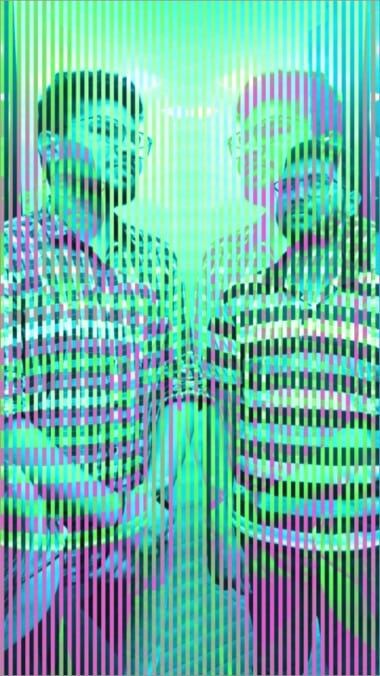 This is a very cool filter that creates a super trippy effect by mirroring the picture and overlaying it with two colored lines.
Conclusion
In conclusion, Instagram filters have become an integral part of the platform's experience, allowing users to transform their photos with just a tap of a button. The popularity of certain filters changes with time, but there are a few that have remained fan favorites for years.
Finding these filters can be a daunting task, but with a little research, it's possible to discover new and exciting options. Whether you're looking for a vintage aesthetic or a modern, colorful look, Instagram's filters have something for everyone. By following the steps outlined in this article, you can easily locate and experiment with popular Instagram filters, adding a unique touch to your posts and engaging with your audience in new and creative ways.
FAQs
1- How do I search Instagram filters 2023?
Open the Instagram app on your mobile device and go to the "Create" tab by tapping the plus icon at the bottom center of the screen.
1- Swipe left on the filters at the bottom of the screen until you reach the end.
2- Tap on the "Browse Effects" button at the end of the filters.
3- This will open the "Effects Gallery," where you can search for filters by name, creator, or category.
4- When you find a filter you like, tap on it to preview it and then tap on the "Try it" button to use it.
2- What are popular Instagram filters?
There are many popular Instagram filters that people use to enhance their photos and videos on the platform. Here are some of the most popular ones:
1- Clarendon: This filter adds a cool, blueish tint to photos and increases contrast.
2- Gingham: This filter gives photos a vintage, washed-out look with a slight blue tint.
3- Juno: This filter adds warmth to photos and enhances colors, giving them a vibrant, summery feel.
4- Lark: This filter brightens photos and enhances their natural colors, giving them a fresh, clean look.
5- Ludwig: This filter adds a subtle glow to photos and enhances their brightness and saturation.
6- Nashville: This filter gives photos a vintage, retro look with a warm, pinkish tint.
7- Valencia: This filter adds warmth to photos and enhances their colors, giving them a soft, romantic feel.
8- X-Pro II: This filter gives photos a bold, high-contrast look with deep shadows and vibrant colors.
9- Lo-fi: This filter adds a grainy texture to photos and enhances their saturation, giving them a retro, grungy feel.
10- Hefe: This filter adds a warm, golden glow to photos and enhances their contrast and saturation.