With a large community of users on Instagram, many brands and businesses try to increase their customers and sales through this app. One important element of your Instagram identity that can impact your online presence is your Instagram handle.
No matter if you are a brand that's looking for how to grow like popular brands on Instagram or an influencer who wants to get more followers, optimizing your handle is a good start. In this article, we will show you what an Instagram handle is and how to choose the best one for your account. 
What Is An Instagram Handle
When you want to join Instagram and create a new account, the first thing you need to do is choose a handle for your account. An Instagram handle, also known as a username, is your unique ID on the platform. The name appears after the "@" symbol in your profile URL.
This handle is different from Instagram name. Your Instagram name can be anything, even similar to other users' names. But your handle is unique and no one else can claim it. Now let's see what it needs and how to change your Instagram handle.
Instagram Handle Requirements
Now that you know the Instagram handle meaning, let's see how to choose one for your account. For choosing the right handle, here are some factors you need to consider:
Your handle can be up to 30 characters long.
This handle can only contain letters, numbers, and periods.
Instagram usernames can't contain symbols or punctuation marks.
Check for Instagram handle availability; this means you need to find a username that is not taken by other users.
Keep in mind that your handle is how users will remember you and is what appears when people tag you in posts. So make sure it shows what your page is about.
How To Change Instagram Handle
It's a common problem that Instagrammers choose a random username when signing up and then decide to change it. If you have the same issue, here's how to change your Instagram handle easily:
Log into your Instagram account and go to your profile.
Tap 'Edit profile.'
Under the 'Username' section, tap on your current handle.
Write your new Instagram handle and save.
Once you change your username successfully, you can't change it again for another 14 days.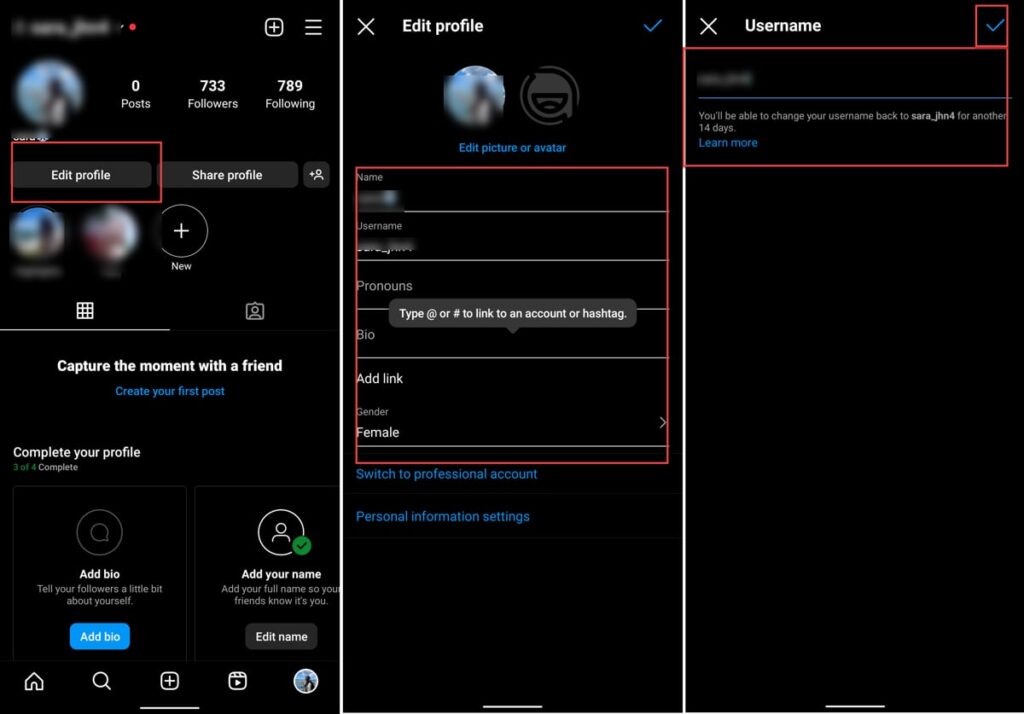 How To Choose A Handle For Your Account
If you have trouble with choosing a handle for your account, don't worry! Here are some factors to consider for choosing your username.
1. Keep It Simple
Lengthy usernames are not easy to remember and can be prone to typos for users who want to find your page. So, choose a short handle that's easy to spell and remember.
2. Avoid Special Characters
While Instagram allows you to use certain special characters in handles( such as numbers, '_', and '.'), it's best to avoid them. Special characters can make your handle look less professional. So, stick to alphanumeric characters for a clean and polished appearance.
3. Relate It To Your Niche
No matter if you are using Instagram as a business owner, influencer, or individual, your Instagram handle should show how you are and what you stand for. So, make sure to use a simple username that reflects your brand or personal identity so your viewers know what your page is about.
4. Consider SEO and Keywords
Think about how you search product names on Instagram to find online shops for purchasing. Instagram search works similarly to other search engines (such as Google, Bing, etc.) to help profile and post discoveribility. So, by adding related keywords and hashtags, you can increase your profile reach and Instagram insights. 
Instagram Handle Ideas
There are some Instagram handle generator tools that can help you find a username with your desired length and characters. In the following, we've provided some Instagram username ideas using tools such as Namecheck to help you find the best handle.
1. Name and Initials
Use your name and initials if they're available as your Instagram handle. If it wasn't available, you can end it with a number like these examples
@AlexSmith23
@SaraBee1
@MikeJr88
@EllaParker42
@ChrisWilson19
2. Brand Name
Want to change your Instagram handle with something that represents your brand? Here are some ideas to promote and increase brand awareness.
@GlamourGoddessCo
@TechTrendsInc
@EcoEleganceShop
@FoodieFindsStore
@AdventureGearHQ
3. Niche or Industry
Are you an Instagram influencer or content creator? Show your niche in the handle so your viewers know what content you share.
@FashionForwardFab
@GamingGuruX
@TravelTalesPro
@FitnessFocusZone
@DigitalMarketingAce
4. Hobbies And Interests
Sharing your hobbies and interests through your Instagram handle adds a personal touch to your profile. Also, it can help you appear on the Instagram search. Here are some examples
@HikingHighlander
@ArtisticExplorer
@CyclingSculptor
@MusicMosaicMaker
@YogaYogiGuru
5. Location-Based
Are you offering a service in a specific location? Or are you one of the Instagram travel influencers who show around the world? Here are some ideas for your Instagram username.
@ParisianPalette
@TokyoTraveler
@NYCFitnessFreak
@BeachBumLA
@LondonLifestyle
6. Initials And Numbers
Those who joined Instagram for personal use and communicating with their friends (It's not recommended for professionals) can personalize their handle using initials.
@JKAdventures7
@LMPhotography42
@ABStyleStudio23
@KLDesigns9
@RPInnovator17
How Can Influencers Earn Money On Instagram?
Up to here, we talked about how you can choose the perfect handle for your Instagram account to look professional and appear on the Instagram search. For personal accounts, considering your handle might not be that necessary. However, for brands and influencers, it's an important element.
If you are a creator on the platform, the next step after choosing your name and creating content is earning money from your talent. One of the most popular methods for that is collaborating with your niche brands and sharing sponsored posts. But how to find these brands that are willing to work with you?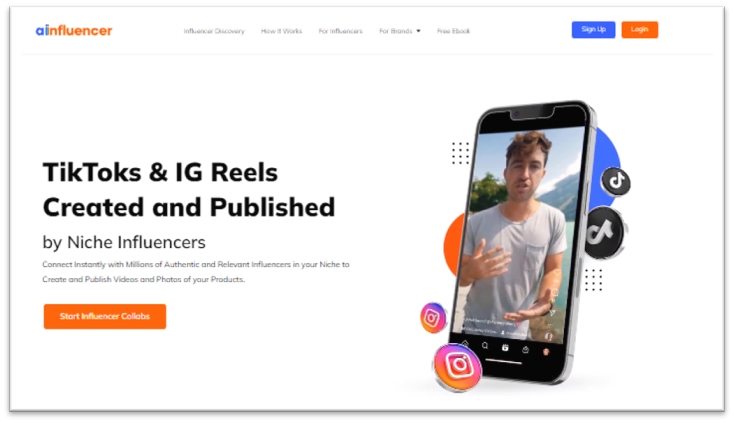 Ainfluencer is a trusted and free influencer marketing platform that connects creators like you to brands for running sponsorships, collaborations, and campaigns. With a powerful AI-powered search engine and targeting options (more than 20 factors such as niche, location, budget, engagement metrics, etc.), you can find your best match in a couple of minutes. 
This service is completely free and you can sign up now and join the community of more than 500,000 creators to earn money!
Conclusion
Your Instagram username is one of the important factors that can help your discoverability on the platform. By considering the factors we mentioned in this article, you can choose the right handle and grow your account on Instagram.
FAQs
1. Does My Instagram Handle Affect My Online Presence?
Yes, your Instagram handle plays a significant role in your online presence. It's how people will remember you, mention you, and tag you in their posts and comments. A well-chosen handle can help in brand recognition and audience engagement.
2. How Do I Check If An Instagram Handle Is Available?
You can check the availability of an Instagram handle when you're setting up your account or when you're changing your handle. Instagram will notify you if the handle is already in use.
3. How Should I Choose The Perfect Instagram Handle?
Choosing the right Instagram handle is essential. Here are some tips:
Reflect on your brand or identity.
Keep it short and memorable.
Avoid special characters for simplicity.
Ensure it's unique and not already in use.
Consider incorporating keywords related to your niche.
Think long-term to avoid trend-based handles.
Check for consistency across other social media platforms.
4. Should I Include Keywords In My Instagram Handle For SEO?
In 2023, incorporating relevant keywords into your Instagram handle can provide SEO advantages. It can help your profile appear in search results when users look for specific topics or interests.