Instagram Reels are probably the most popular feature on the platform. And users are getting really creative in making them. However, sometimes we come across an Instagram Reel that we love and want to keep for later, but Instagram doesn't allow us to download Instagram Reels directly.
So we should forget about downloading Instagram Reels? Of course not! There are many Instagram Reels downloaders and third-party platforms that can help you download trending Reels on Instagram.
In this blog, we will share the best Instagram Reels downloaders available to download IG Reels in 2023. But before that, let's answer primary questions.
Can You Download Instagram Reels?
Yes, it's possible to download Reels on Instagram. And it's very easy and straightforward if you want to download your own reels. You just need to go to the Reel you want to download, click on the three dots, and then click save.
However, if you want to download other users' Reels, you need some help, because Instagram doesn't allow you to download the Reels directly.
But do not panic, there are hundreds of free Instagram Reels downloaders available on the Internet and we are going to introduce the top 10 downloaders to you here.
Yet, let me ask you a question. Do you want to make money by creating Instagram Reels? If yes, keep reading.
Become an Instagram Influencer
Making money with your Instagram and becoming an influencer has never been simpler. You might think that to become an influencer you need thousands of followers. But, you can start as a nano or micro influencer. How? Using an influencer marketing platform like Ainfluencer.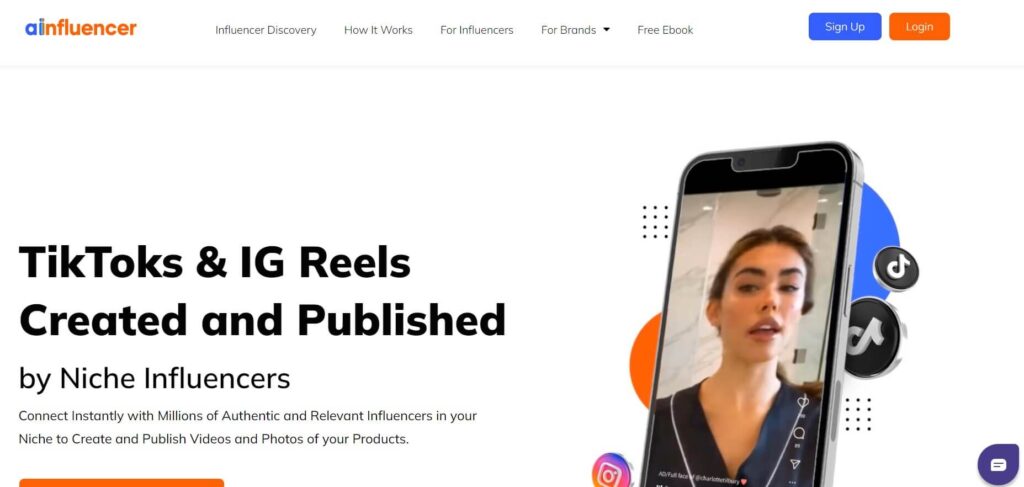 Ainfluencer is a free influencer marketplace that links influencers to brands for sponsored posts. This platform is a DIY influencer marketplace which means you can do everything yourself and you don't need to pay anything at all.
Whether you are a beauty influencer, fitness blogger, etc. you can find the related brands and collaborate with them. And you don't need to be worried about the number of your followers, because many of the brands prefer to work with nano influencers with fewer than 10K followers.
So, what are you waiting for?
Best Instagram Reel downloaders
Alright, we've had our appetizer, now let's get to the main dish! Here is the list of the best tools to download Instagram Reels:
1- iTubeGO

You can download Instagram Reels and videos in a variety of audio and video formats using the software tool iTubeGO. Because it has a built-in video converter, iTubeGO is one of the best Instagram reel downloaders because it can quickly and easily convert videos or reels into MP3, MP4, 4K, and HD MP4 formats. You can also convert videos to MP3 audio format with it.
Additionally, it has a Cutter tool that makes it simple to extract a portion of a video for short video-sharing platforms like WhatsApp, Instagram, Facebook, and TikTok. The only thing you need to do is set the video's start and end times.
2- IGdownloader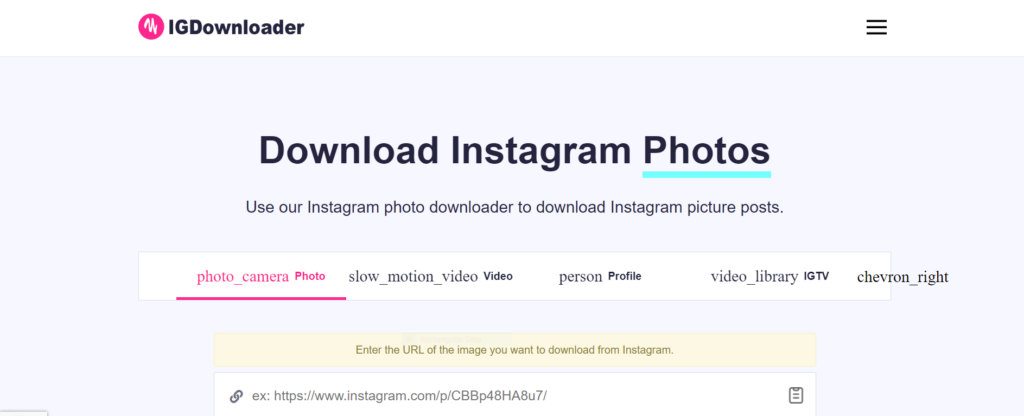 Another way to download Instagram Reels without losing the sound or watermark is with the IGdownloader.
You share your saved Reels on various social media platforms or on other accounts.
Enter the Instagram Reels link that you want to download from Instagram to begin.
The videos can also be downloaded to your PC, Android phone, Apple iPhone, or Google Chrome. As a third-party app, it performs admirably.
3- SnapDownloader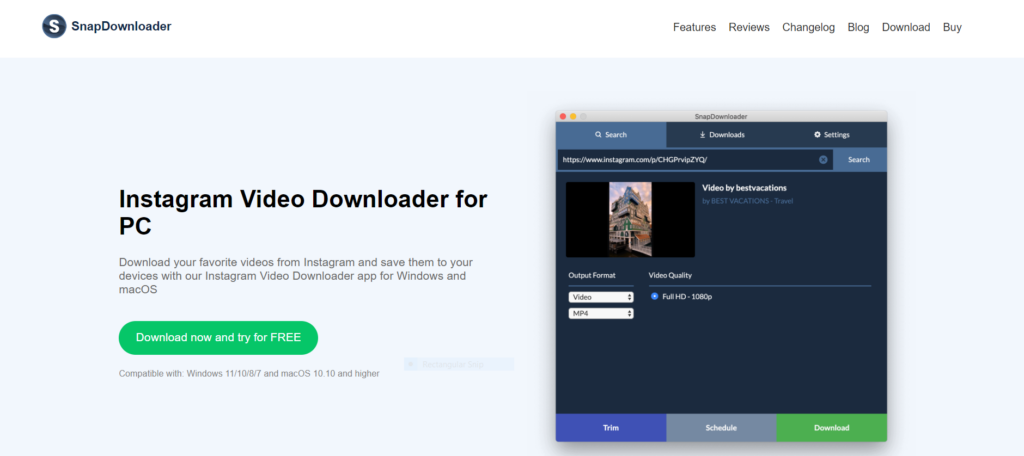 One of the best Instagram Reels downloaders is SnapDownloader which is the best choice for downloading Reels from public Instagram accounts in up to 8K resolution.
The ability to schedule Insta Reel downloads makes it special. The program works with both Windows and Mac OS X and supports a number of file types, including MP4, MP3, M4A, and AAC.
4- 4K Stogram

A cross-platform video downloader for PC, Mac, and Linux is called 4K Stogram. It is a strong and effective Instagram Reel video downloader with many functions.
It allows you to download videos, Reels, and images from any publicly accessible Instagram account as well as hashtags and locations on Instagram. Instagram videos are available for download in MP4 format in original quality from standard Instagram posts, carousel posts, Instagram Stories, and Story Highlights.
5- YT Saver

YT Saver is an IG Reel downloader that allows you to download free videos from your preferred social media platforms. You may download videos from Instagram, Dailymotion, Facebook, TikTok, and thousands of other platforms.
Because it strives for high-quality output, which provides great offline video playback, this downloader is currently becoming a new craze among people who want to download Instagram Reels and videos from the official Instagram app.
It is simple to find and download Instagram Reels videos from video/audio sharing websites thanks to the built-in web browser in YT Saver.
6- VideoProc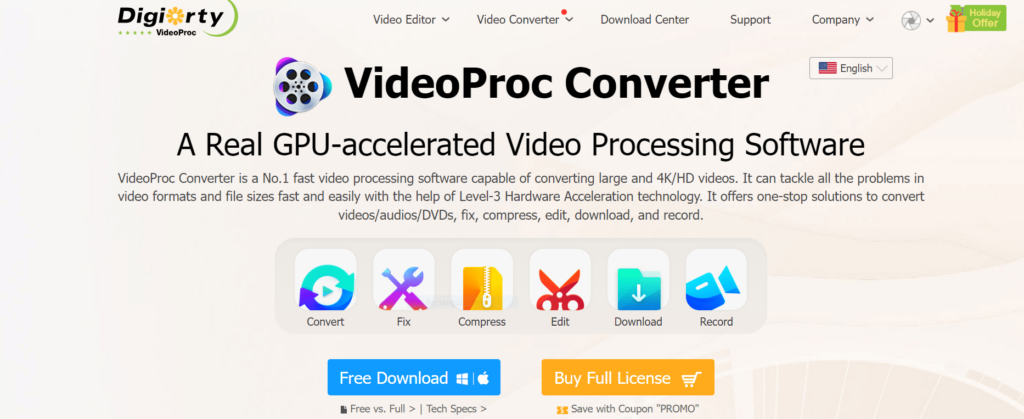 A one-stop shop to download Instagram Reels and perform Reel compression, conversion, editing, repairing, and more is VideoProc, a GPU-accelerated video processing software.
You may download the content from Instagram using this user-friendly downloader on Windows and Mac without losing the original quality. Interesting features of VideoProc include the ability to merge, trim, rotate, flip, clip, and add effects directly from the software.
7- Inflact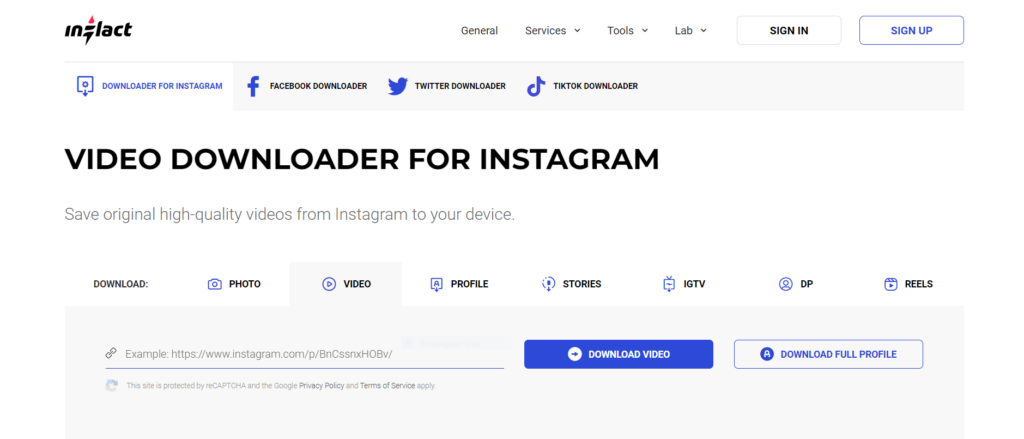 You can download IG Reel videos and any type of Instagram content, including Reels, DP, IGTV, Stories, Profile, and Videos, from Inflact, a cloud-based platform.
The software is simple to use; all you need to do to download Reels in their original quality is enter their URL. It may be accessible from any device and operating system because it is a web-based service.
By pasting URLs one at a time, Inflact allows you to download an endless number of Instagram reels, but you can upgrade to the premium edition to download all the profile content at once!
8- Instaoffline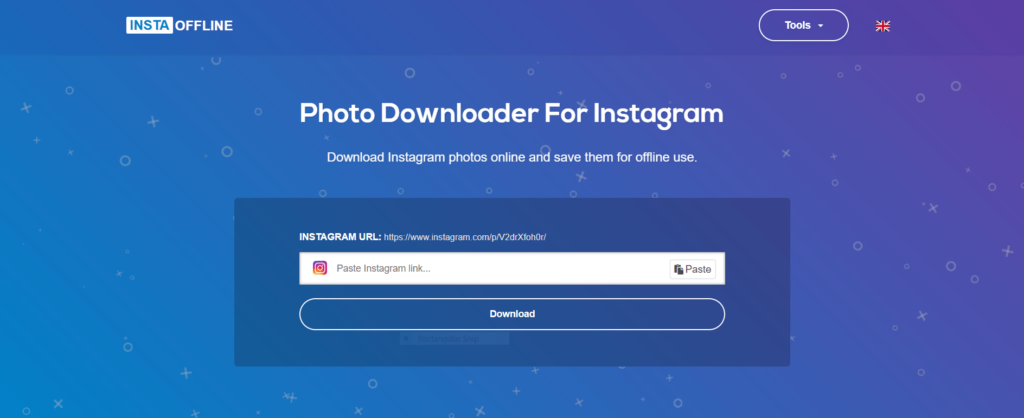 Users can download Instagram Reels, videos, posts, and IGTV content and access it offline from their devices using the user-friendly Instaoffline tool.
The downloader can be accessed from any web browser on Windows, Mac, Linux, and mobile devices, so there is no need to download any software. You can effortlessly save Instagram videos in 720P resolution and MP3 format using this straightforward downloader.
9- Snaptube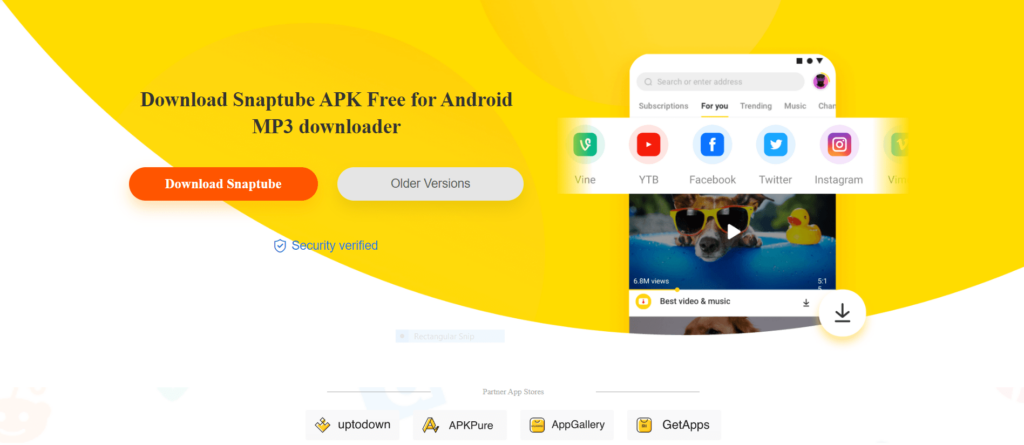 A social media aggregator and free Instagram Reels downloader, Snaptube is an Android app. It supports a variety of video resolutions, including 144p, 720p, 1080p HD, 2K HD, and 4K HD, as well as MP3 and M4A audio formats. With Snaptube, users can search for content across all of their platforms without having to use multiple apps.
10- By Click Downloader

ByClickDownloader is a good tool for downloading Reels on Instagram because it supports downloading videos from over forty platforms, including Instagram. It is a desktop application with a slew of sophisticated features that make it simple to download the reels.
Simply copy and paste the URL of the Instagram Reel you've been looking at into the app. The current download status is displayed in the download tracking section. ByClickDownloader can instantly convert downloaded Insta reels into MP3, MP4, AVI, FLV, WMV, 3GP, WEBM, MKV, WAV, AAC, and M4A. It supports a variety of video resolutions, including 4K and 8K.
How to Make Reels on Instagram
Instagram Reels is a fun and engaging way to create and share short videos with your followers. If you don't know how to make a Reel on Instagram, follow these simple steps:
Open the Instagram app and swipe left to access the camera screen.
Select the "Reels" option at the bottom of the screen.
Use the tools provided to create your video. You can record multiple clips and add music, filters, text, and stickers to enhance your Reel.
Once you're happy with your video, hit the "Share" button to post it to your profile and share it with your followers.
But here's where things get interesting. To make your Reels stand out, try these tips:
Tips on Making Reels on Instagram
Keep it short and sweet: Reels are designed to be short-form videos, so aim for 15-30 seconds in length.
Get creative with music: Instagram has a library of popular songs that you can use to add some personality to your Reel. Choose a song that fits the mood and tone of your video.
Use text and stickers to add context: If your Reel is showcasing a specific product or idea, use text and stickers to help your viewers understand what they're looking at.
Play with filters: Instagram offers a variety of filters to enhance your video's look and feel. Experiment with different filters to find the perfect one for your Reel.
Showcase your personality: Reels are a great way to show off your personality and connect with your followers. Don't be afraid to let your unique voice shine through!
With these tips in mind, you're ready to start creating engaging and entertaining Reels on Instagram to grow your followers. And if you are looking for a way to make money through your Instagram page, pay Ainfluencer a visit. What is Ainfluencer, you ask?
Ainfluencer: the Best Platform for Influencers and Brands to make more money online
Ainfluencer is the ultimate platform for unrivaled growth and success of influencers of all niches. It's a 100% free DIY marketplace where you can connect with top brands and streamline your entire workflow effortlessly. From receiving offers to receiving payments and leaving reviews, Ainfluencer has got you covered.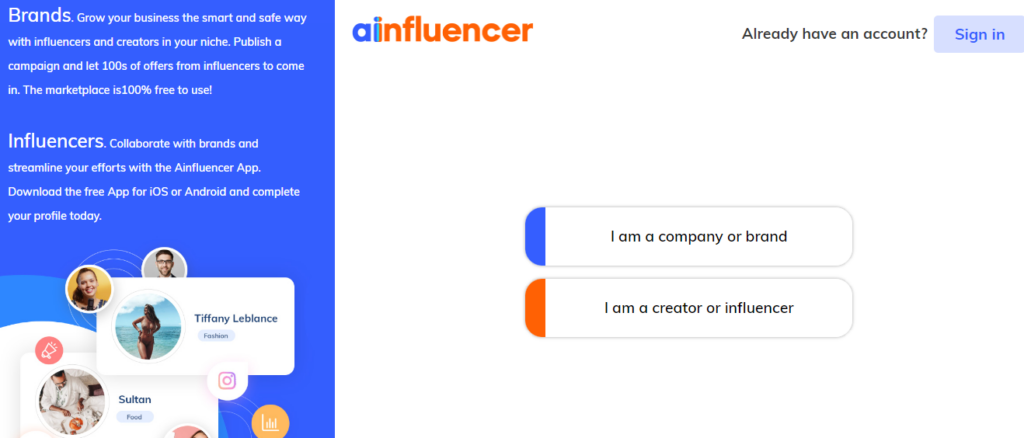 Our vast network of over 500,000 creators who have already achieved incredible milestones ensures that you'll close deals quickly and at scale. You can experience the most efficient, free, transparent, and reliable way to elevate your influence on Instagram and TikTok and showcase your talent to millions of people.
Wait, you own a brand and want to boost your social presence? Don't you worry!
If you're a business owner and are looking to supercharge your brand's presence on Instagram and TikTok, look no further than Ainfluencer; the number one solution that will skyrocket your brand's awareness, leads, and sales. Our platform helps brands connect with top influencers, and make sure your promotion is done rightly. All you need to do is to create a FREE account!
Conclusion
In conclusion, as Instagram Reels continue to gain popularity as a fun and engaging way to share short videos, having the right tools to download them is becoming increasingly important. In 2023, there are a variety of tools available to download Instagram Reels, each with their own unique features and benefits.
From third-party apps to browser extensions, users have plenty of options to choose from based on their needs and preferences. Using these top tools, Instagram users can easily save their favorite Reels to enjoy later or share with friends and followers. So, whether you're an influencer looking to repurpose content or simply a fan of the platform, be sure to explore these tools to make the most of Instagram Reels in 2023.
Also, don't forget to sign up on Ainfluencer if you're looking for ways to make money from Instagram!
FAQs
1- How can I download Instagram Reels?
Downloading Instagram Reels can be done in a few simple steps, but it's important to note that downloading someone else's Reels without their permission could be a violation of their intellectual property rights. Here's how to download a Reel:
Open the Instagram app on your mobile device and find the Reel you want to download.
Tap the three dots in the top right corner of the Reel.
Tap "Save" or "Save Video" to download the Reel to your device's camera roll.
If you don't see the "Save" option, it's possible that the person who uploaded the Reel has disabled downloads.
It's worth noting that some countries or regions have laws regarding the downloading of copyrighted content, so be sure to check your local laws before downloading Reels or any other content from Instagram.

2- What is the highest quality for Instagram Reels?
The highest quality for Instagram Reels is 1080p (1920 x 1080 pixels) with an aspect ratio of 9:16 (vertical). This is the recommended resolution for Instagram Reels as it will give you the best quality video and ensure that your content looks crisp and clear on all devices.