The Instagram Explore tab is an inspiration for many users to find top ideas and posts related to a subject they are interested in. But for some Instagrammers, this page can be filled with irrelevant content. That's when you need to know how to reset Instagram explore page.
In this article, we will show you everything you need to know about the Instagram algorithm for the feed page and explore page. Then we will show you how to reset Explore page on Instagram and avoid unwanted content.
What Is Instagram Explore Page?
The Instagram algorithm tries to show posts that are of interest to each user specifically, especially on the Explore and Reels tabs. So, we can say that the explore page is a collection of posts, videos, and reel videos based on a user's interests.
You can access the Explore page by logging into your account and tapping on the magnify option at the bottom of your screen. In the following parts, we will show you how to reset Instagram Explore page if the content there is not what you like.
Read also: What Is The Best Hashtag Strategy On Instagram In 2023?
How Does The Explore Page Algorithm Works?
As we mentioned in the previous part, the explore page is filled with content you like and is designed to help you discover new ideas. The algorithm it uses for finding photos and videos is similar to the Story sorting and feed page algorithm for showing posts.
The algorithm targets your actions such as liking, commenting, saving, and sharing. For example, if you interact with makeup brands and makeup influencers, the Instagram algorithm starts to find posts related to makeup and shows them to you on your Explore page. 
How To Reset Instagram Explore Page?
In the recent Instagram updates, users can filter the suggested content on both feed and explore pages.
1. Set Specific Filters
So, the first step on how to reset the Instagram Explore page is setting filters for the contents that will appear there. Here is how to reset your Instagram Explore page by adding filters. 
Log into your Instagram account and go to your profile.
Tap on the three-line option at the top of your screen
Choose 'Privacy and Settings'.
Under the 'What you see' box, tap on 'Suggested Content'.
Here you can turn on "Sensitive content", and filter phrases and words.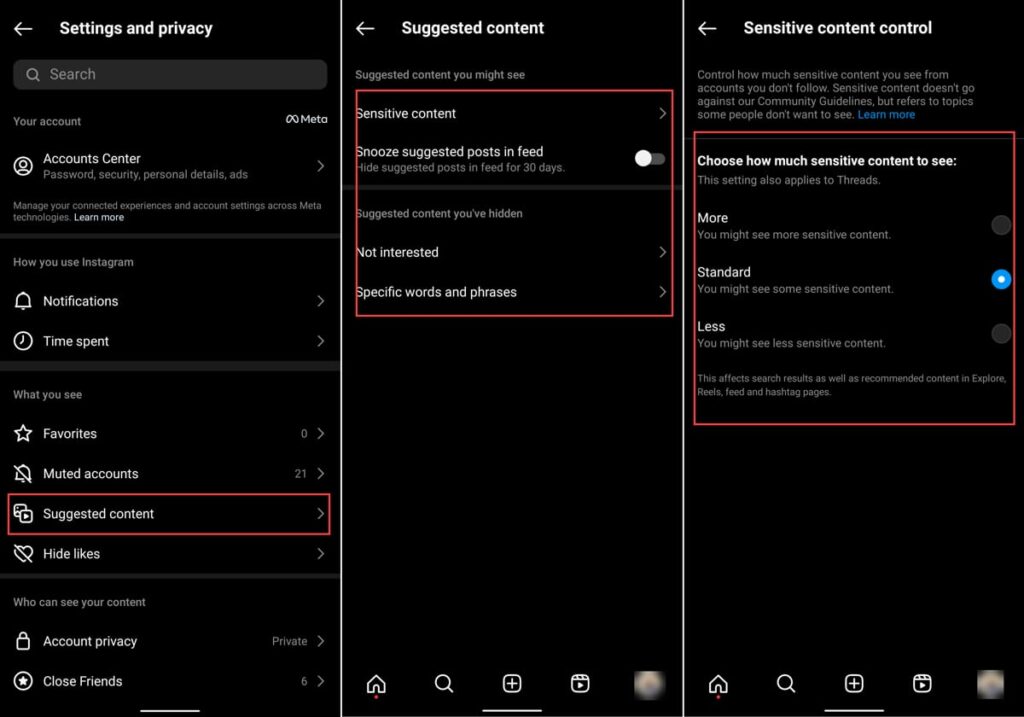 2. Clear Instagram Explore Page
The second step to clear the Instagram Explore page is showing the platform what type of content you are not interested in. Here is how to do it:
Open the Explore page and find a post that you don't like to see.
Tap on the three-dot icon above the post.
Select "Not Interested."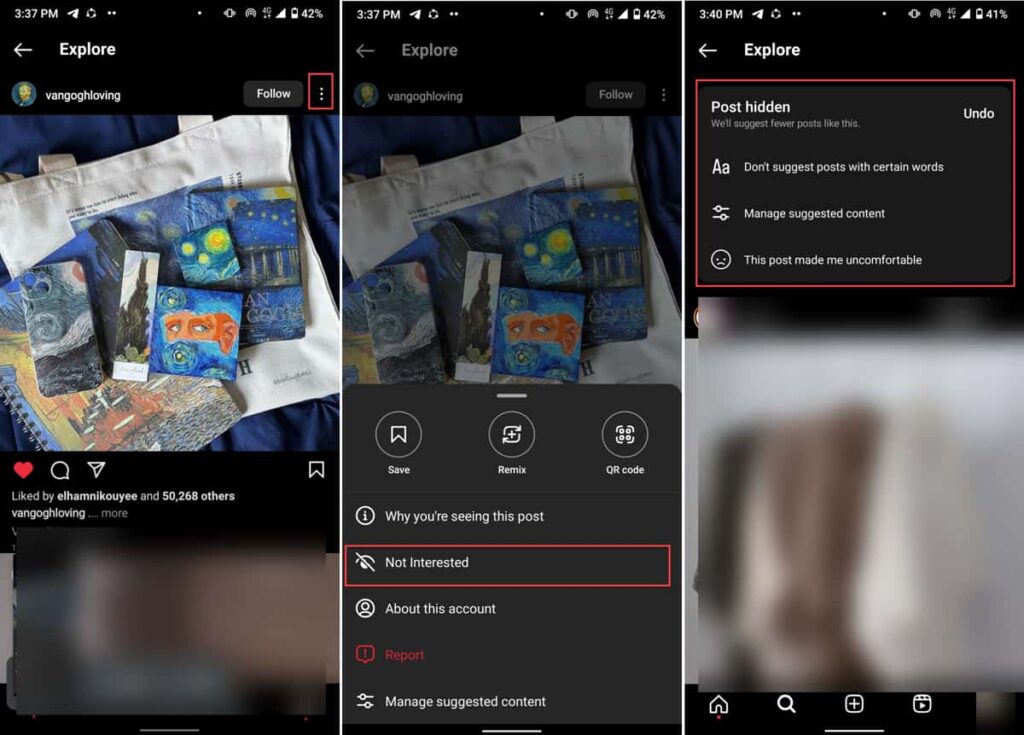 Now the post is hidden from your explore page and if you reset your page, the related content is also removed.
3. Clear Your Search History
Another step in how to reset your explore page on Instagram is clearing your search history. Instagram tracks your search records and tries to show you similar content. Follow these simple steps to clear your search history on Instagram.
Log into your Instagram account and go to your profile.
Tap on the three-line icon at the top right corner of your screen.
Select 'Your Activity' from the dropped menu.
Scroll down and tap 'Recent Searches'.
Here you can view everything you have searched for including hashtags, users, audios, etc.
To delete your history and reset Instagram Explore, tap on the 'Clear all' option at the top of your screen.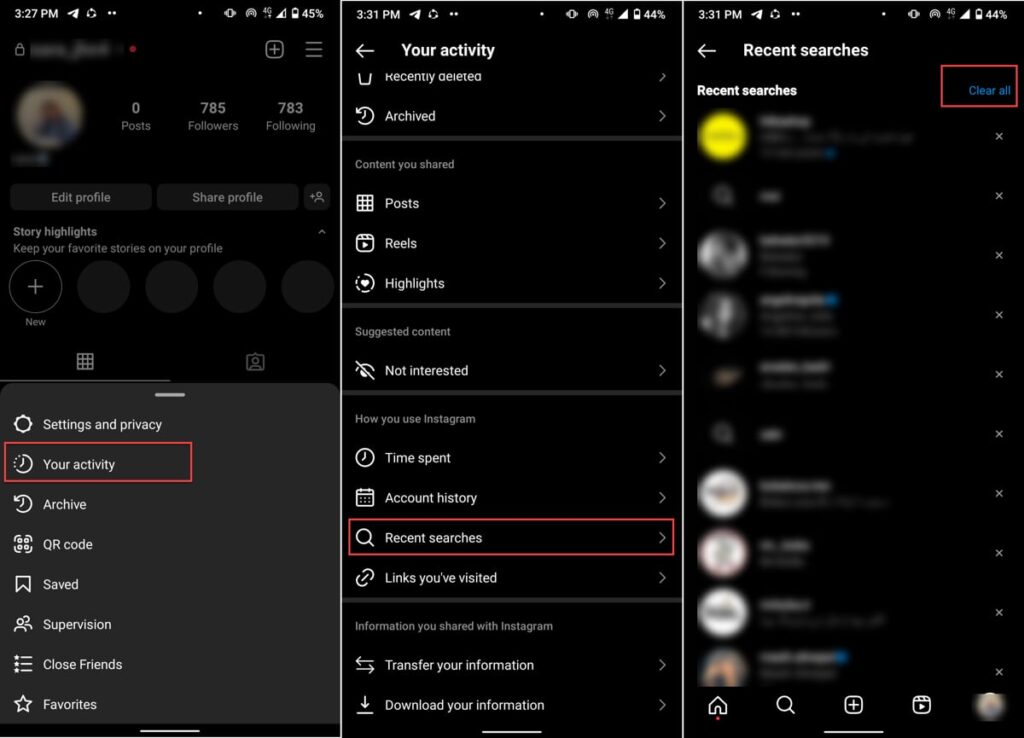 4. Remove Hidden Content
You can also manage these 'Not Interested' content and remove them if you changed your mind. Here is how to do it:
Go to your Instagram profile and tap on the three-line bottom at the top of your screen.
Select 'Your Activity'.
Scroll down and look for the 'Not Interested' option.
Here you can view all the posts you hid and remove them.
Read also: How To React To Messages On Instagram?
How To Earn Money On Instagram?
Now that you know everything about how to reset Instagram Explore page let's talk about how you can earn money from the content you share. If you are an influencer (From micro influencer to mega) collaborating with brands is one of the best ways to earn money.
You don't need a massive following to start your work as an influencer. However, it's important to find the brands in your industry and niche to achieve the best results. Ainfluencer is a free influencer marketing platform that connects creators and brands of different niches.
Once you hit the 5k followers mark, you can create your influencer profile and start searching with brands. With powerful search filters (more than 20 targeting tools) you can find the best brands that align with your audience. Brands can also find your profile and invite you to their campaigns and partnerships. 
Conclusion
Resetting your Instagram Explore page is an effective way to discover fresh and exciting content. By following the step-by-step guide provided in this article, you can personalize your Explore page with your current interests and stay engaged with the platform.
Here, we've shown you how to remove unwanted content, clear your search history, and make a safe platform filled with content you l
FAQs
1. Can I Reset My Explore Page Frequently?
Yes, you can reset your Explore page as often as you like. The algorithm adapts quickly to your interactions, ensuring that you receive relevant content.
2. Will Clearing My Search History Erase My Saved Posts?
No, clearing your search history will only reset your search suggestions and not affect your saved posts or any other account-related data.
3. Will Resetting My Explore Page Affect My Followers Or the Following List? 
No, resetting your Explore page will not affect your followers or the accounts you follow. It only influences the content recommendations on the Explore page.

4. Can I Customize The Content Shown On My Explore Page? 
While you cannot manually customize the Explore page, you can influence its suggestions by engaging with content that aligns with your interests and hiding irrelevant posts.