Have you ever wondered how you can make money from Instagram Reels, especially if you are not an influencer? The great news is that soon it will be possible for Instagram users to get paid for Instagram Reels. Therefore, you will be rewarded for your creativity and intelligence on this platform.
Moreover, creating engaging reels can enhance your chance of becoming an influencer. So you can join influencer marketing platforms and collaborate with top brands and businesses in their influencer marketing campaigns.
Eager to know how to get paid for Reels on Instagram? Read this article to understand what the rules are and how you can benefit from this upcoming feature.
Create Engaging Reels for Companies
One of the methods you can earn money from creating Reels is creating engaging Reels for companies. Since Instagram Reels are used to grow businesses, most companies look for content creators to create stunning videos that go viral. So, if you can make appealing reels, you have the opportunity to make money this way. 
However, you should note that now your Instagram Reels should be more engaging, so first, read more about how to make Reels on Instagram to learn more about the tricks to create a trending Reel that reaches millions of views.
Afterwards, no matter if you are a nano or micro influencer, you can join Ainfluencer for free to become discoverable by more companies and increase your chance of getting paid by creating Instagram Reels for different businesses. 
Join Our Community Now
What Is Instagram Reels Play Bonus Program?
Instagram has been a popular platform for many years, but it lacks something: being able to get paid directly from Instagram. Although some people could earn money as influencers or affiliate programs, most users couldn't achieve anything other than likes and views. No matter how creative they were, they didn't have a chance to earn money from this platform.
But now Instagram comes with a new idea that makes it possible for other users to earn money from this platform. It's a bonus plan that allows Instagram Reels creators to get paid if their videos receive a certain amount of views within a specific period.
However, this bonus program is now only available for U.S. users based on an invitation. It means you will receive a pop-up notification and an invitation, which will appear in your Professional Dashboard. Therefore, you should have a professional or creator account to be eligible to use this bonus program. So, let's take a quick look at how you become eligible for the Instagram Reels Play Bonus Program. You should:
Be a creator or professional user.
Based in the U.S.
Receive the invitation in your Professional Dashboard.
Create an engaging Instagram Reels that receives a certain number of views.
Instagram Reels Play Bonus Program Rules
These are the main factors that make you take a step forward to earn income from Instagram. But that's not all! There are other rules that affect the eligibility of your content for Reels Play bonuses:
You should note that your Reels video should be unique. It means that it should be created by you. If it is claimed by another rights holder, you will lose your chance for this bonus.
Additionally, you can't add branded content to the Reels Play bonus. You won't get paid for this type of reel. Accordingly, Reels with logo and watermark are ineligible too.
Only the Reels that carry the same language as your location are supported. Therefore, at the moment, you can only share Reels in the English language.
Fake views are recognizable! Therefore, if the engagement seems inauthentic, Instagram will assume your views are being boosted by bots.
If you go against the rules of Instagram Reels 3 times, you will lose your chance of making money on a Reels Play bonus for up to 30 days.
Reels should be available for a minimum of 30 days. Therefore, if you delete your Reel permanently, you will lose your chance of earning money on this platform.
Now that you understand the rules of Reels Play bonus, let's take a look at how it works.
How Does the Play Bonus Work?
As mentioned, you need the invitation to take part in this program. But you should also note that each bonus program has an expiry date. So, you should share your content during that period. If it expires, you won't get any bonus, no matter how great your Reels are.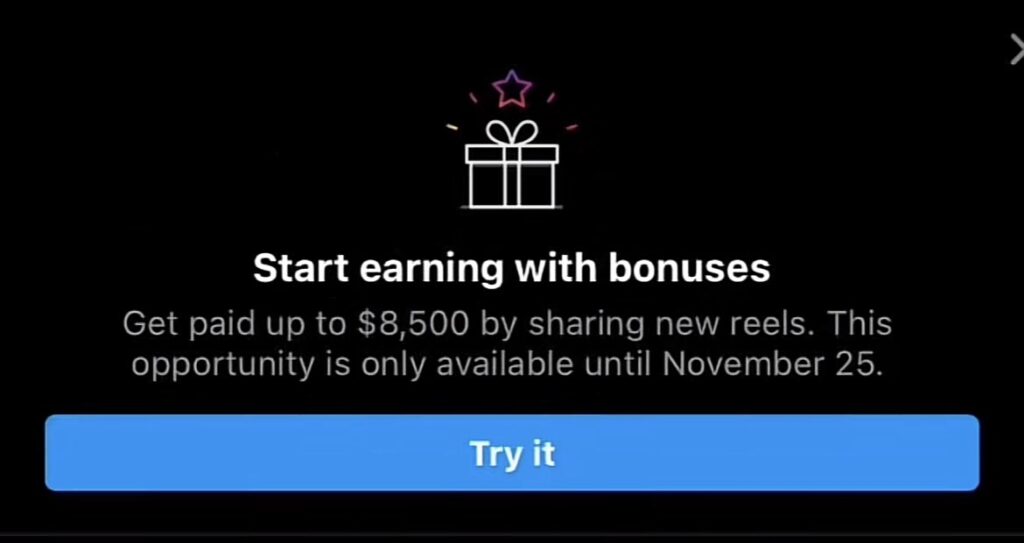 Furthermore, you can add as many reels as you want. But you should know that the number of Reels may affect the bonus rate you receive per reel.
The next thing to consider is that you should have at least 1000 views on your Reels in 30 days. Creating a themed reel for an upcoming holiday may have a better bonus rate.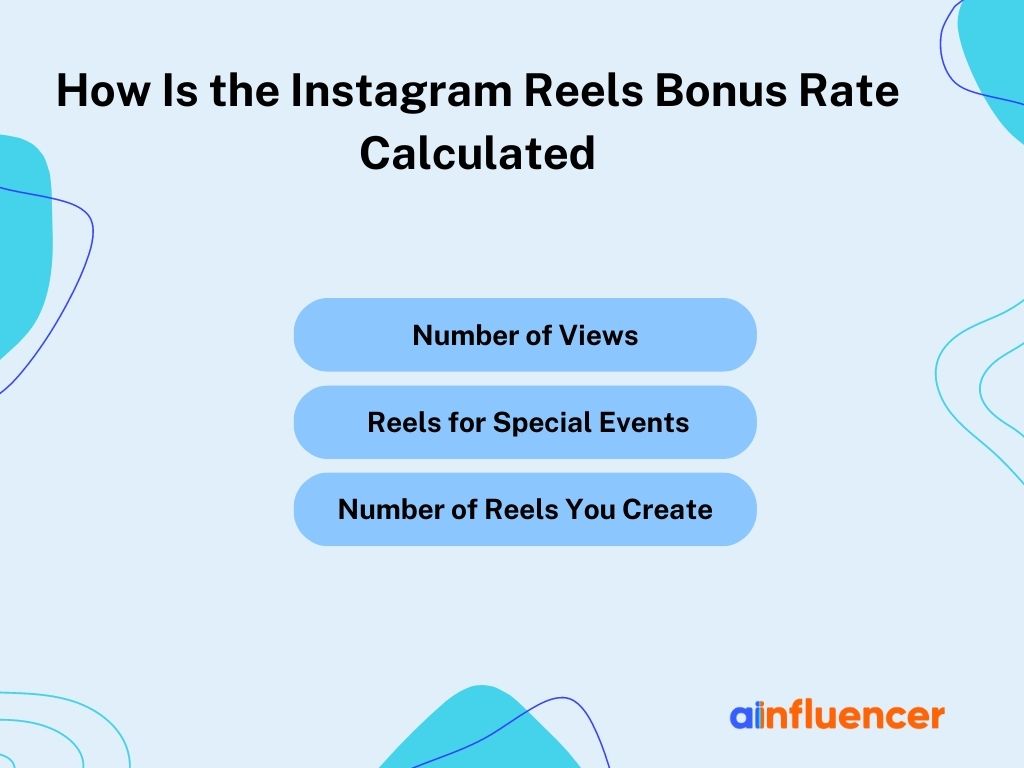 Therefore, as you see, the bonus rate is not fixed for all types of content. Different factors can affect this payout, including:
Number of views,
Themed reels for special events,
Number of reels you create.
Waiting for the interesting part, right? Is the payout worth taking your time creating engaging and amazing reels? We will see next…
How Much Can You Earn from Reels Play Bonuses?
First, you should know that this bonus earning might be different for each account. It means someone might have to receive more views to reach the maximum payout. However, the minimum is 1000 views for everyone. But the payout for 1000 views might vary from account to account.
Since this feature is new, it is not yet clear how much each account can receive due to this bonus. However, people who have received bonus invitations have been told that the maximum bonus they can receive is $8500 for 9 million views!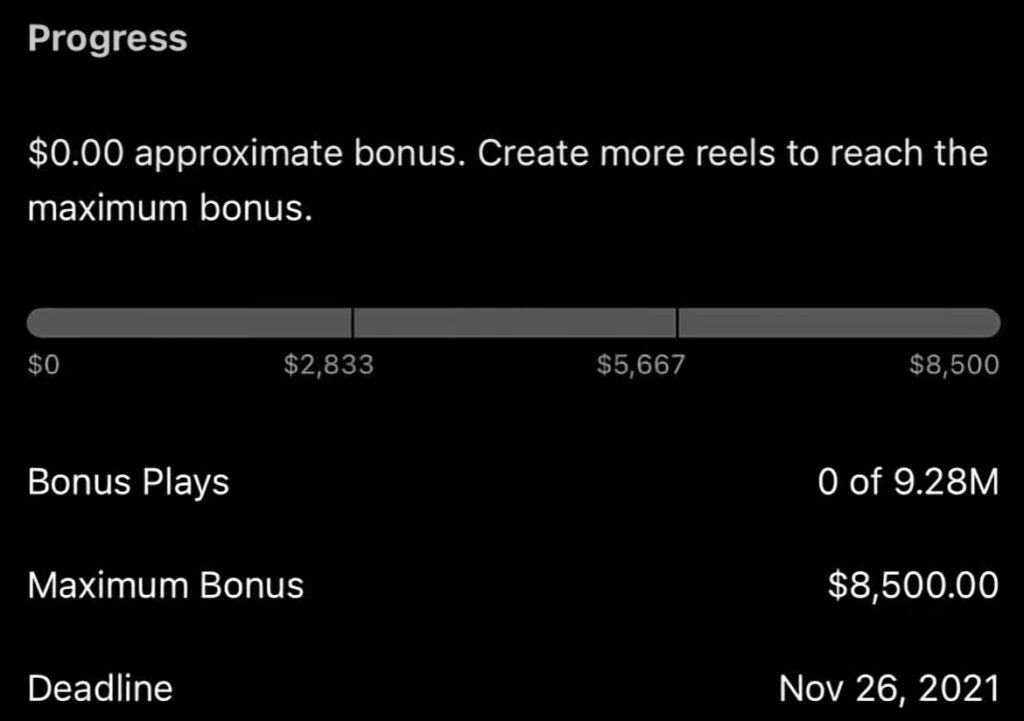 Although each bonus program has a deadline, you don't have to worry about reaching the maximum views. You get paid for at least 1000 views or as many plays as you receive.
How to Set Up Bonuses
Well, it's time to start enabling this bonus and get ready to earn money on Instagram. After receiving the notification and invitation:
Go to the Professional Dashboard on the Instagram app.
Review and accept the Terms of Services.
Select your business type, content creator, or business owner. Note that business owners should confirm their business by entering tax information.
Add the payout method. Note that it is possible to come back and enter your payment information in the future but:
If you don't add a payout method for up to 5 months, you will not be able to monetize with bonuses.
Additionally, if you have earnings of $500 in your account but haven't chosen the payout method within 6 months, you may lose all rights to receive the payment. So, take care of this step to prevent losing money.
In the next step, read the bonus description and click Activate Bonus.
Your bonus is not activated. So, create reels and get paid.
How to Get More Views?
As reels views become increasingly important when it comes to the Instagram Reels bonus program, it's important to know how to get more views within 30 days.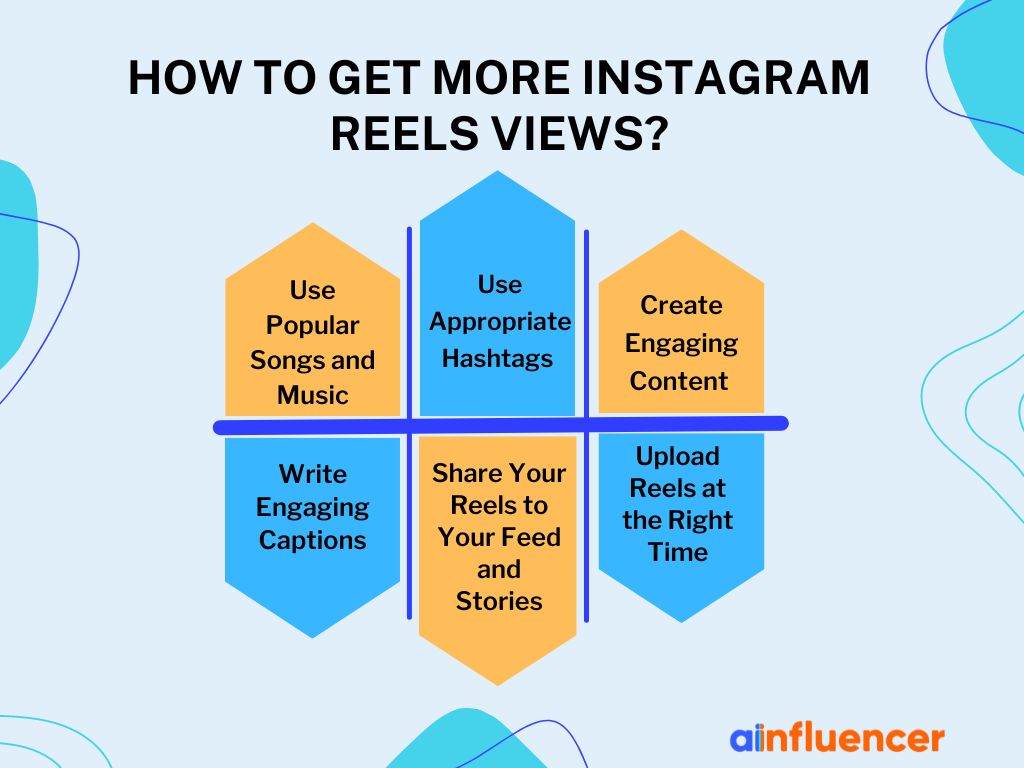 Here are some of the common tips to increase your Instagram Reels view:
1.Use Popular Songs and Music
Find the trending Instagram Reels and create your video using one of the popular songs that your audience is familiar with. Moreover, pick a song that is relevant to your Reels story.
2. Create Engaging Content That Tells a Story
People watch Instagram Reels that sound entertaining or interesting to them. Therefore, you should have a story in your mind for your video. Apart from following the trends, try to make a unique and creative story dedicated to yourself. So, your content seems new to your audience, and they watch it until the end to find out what happens. But if you copy the story of others, people won't bother watching the video to its end because they know the story.
3. Use Appropriate Hashtags
Your discoverability depends on the hashtags you choose for Instagram Reels because Instagram users check the hashtags or sometimes follow the ones they like, so every time new content is published with that hashtag, it will be visible to more people. Try to find trending hashtags that are more relevant to your content or business. Use hashtag generators to find appropriate hashtags effortlessly.
4. Write Engaging Captions
The more engagement you receive can give your content a chance to become one of the Reels people see on Explore Page. Therefore, try to write captions that make people take action. For example, ask questions, answer, or react to their comments with emojis.
5. Upload Reels at the Right Time
Check your Instagram insights to discover the best time to share content on your account. Accordingly, share your reels when most of your followers are online. This will give you a chance to get more views or shares.
6. Share Your Reels to Your Feed and Stories
Some of your followers might not be online when you post your Reels. Therefore, wait for the next time that you have more views on your account, then share the Reels into your Stories or Feed. This will expose your reels to more of your existing followers and potential new ones.
Get More Followers, Reach More View on Your Reels
You should get a certain number of views to be able to receive a bonus rate, and you don't have much time. Therefore, you can get help from Influencers. They can promote your account, and more people will go to your profile and check the content you share. Thus, you will get more followers and views in a short period.
You can easily sign up on Ainfluencer for free, set your budget, and create your campaign. Then, Influencers who are satisfied with your project will send you a message. You can also search for Influencers based on their gender, location, category, and hashtags they use and invite them to collaborate. Don't forget that it's free, so join today and use the platform whenever you want.
Bottom Line
Social media is making people rich. Until now, it was only possible for celebrities and influencers. But now, with a new option on Instagram, users can simply make money by sharing creative Instagram reels. Although it's only available for US users now, other users may soon be able to access this option on their Instagram account. Therefore, it's critical to understand how to get paid on Instagram Reels so that you can easily use it when it becomes available on your account.
Additionally, gaining more followers can help you get more views on Instagram Reels. Therefore, sign up on Ainfluencer to start influencer marketing and Increase your Instagram followers.
FAQs
How Many Views Do You Need to Get Paid on Instagram Reels?
The minimum number of views that makes you eligible for receiving a bonus rate is 1000 views, which you should gain in 30 days. Therefore, you have enough time to spread your Reels as much as you can.
How Do I Get Invited to Instagram Reels Bonus?
The invitation is sent randomly by Instagram to business or creator accounts in the US. So if you haven't received an invitation yet, check your Instagram location and account type. If they both qualify for the Instagram Reels bonus, wait until you receive an invitation. Since this plan is new, it may take some time for all users to be invited and participate.
Can I Earn Money from Instagram Reels?
Instagram has announced a new option for its users in the US who have business or creator accounts on Instagram. From now on, they can earn money for Reels' views. The minimum number of views is 1000. However, you should note that this is an invitation-based option, so you have to wait for the invitation to work with this plan.