Deep Social was a freemium influencer ranking, discovery, and AI-driven analytics platform. It was also used to provide deep insights into their audience demographics, level of reach, engagement rates, etc.
Unfortunately Deep social is not working anymore and the website is down but the good news is it was not the only program that allows you to do Influencer marketing yourself. Below, we'll introduce you to top Deep social alternatives.
What are alternatives to deep social?
Since the Deep Social platform is not offering services anymore, you can try other influencer marketing platforms that do the same. Here are the top five Deep social alternatives we have covered for you to know about their features and pricing, and read customers' reviews.
1. Ainfluencer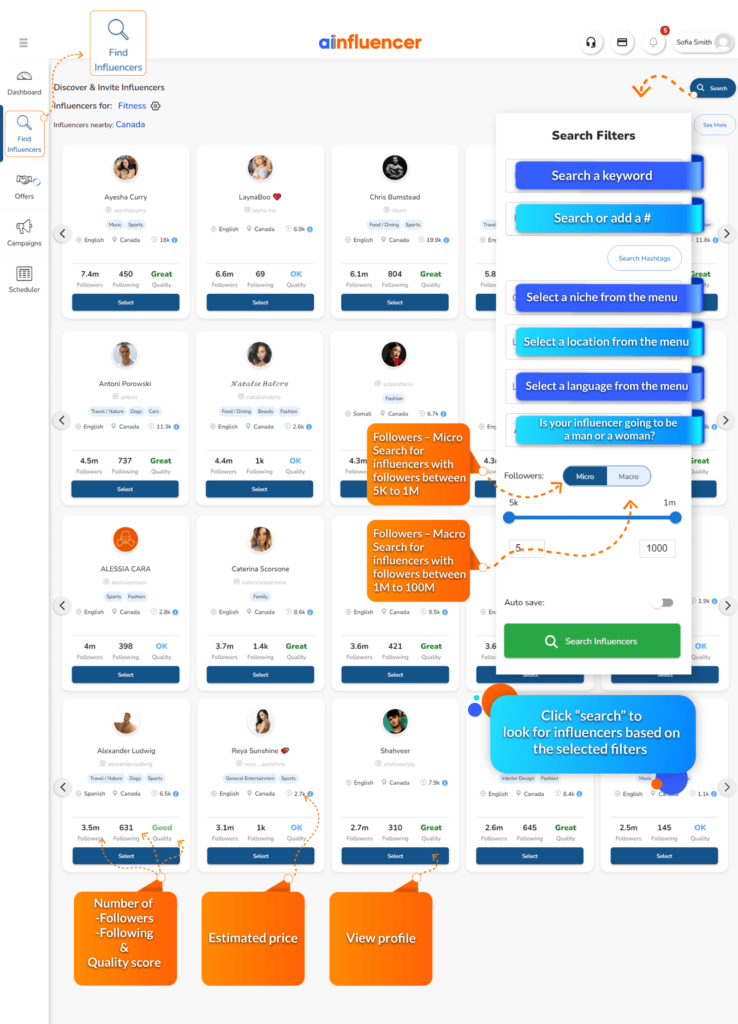 Ainfluencer is a free Instagram influencer marketplace that helps both brands and influencers easily collaborate and make money on Instagram. 
As a brand, you can explore and find Instagram influencers which helps you get closer to your marketing objectives, increase conversions, sales, and brand awareness, and develop your influencer marketing strategy.
As an influencer, you can download Ainfluencer's app to explore thousands of brands and send them invitations to collaborate.
Ainfluencer is a complete solution that makes it possible for you to find, communicate with, and manage campaigns with influencers from all over the world. Additionally, it handles tracking, payments, and ROI calculations.
Check out the following YouTube video to see how this unique influencer marketing platform helps brands create marketplace ads and get access to thousands of qualified influencers.
Features:
Post Ads on the influencer marketplace.
Simplify collaboration using automated workflow and built-in chat.
Manage payments to influencers based on success criteria.
View real-time campaign analytics.
Discover influencers via AI-powered search engine, artificial intelligence, and custom search filters.
Pricing:
Ainfluencer is one of the best Deep social alternatives not only because of the features it offers but because it's entirely free to use. Ainfluencer is a DIY influencer marketplace where marketers can search for, interact with, negotiate with, and close deals with potential influencers all for free.
Ainfluencer solution for those agencies and brands that don't have enough time and energy to do the process themselves is to leave everything up to Ainfluencer itself and utilize paid plans. Here are three paid plans that Ainfluencer offers: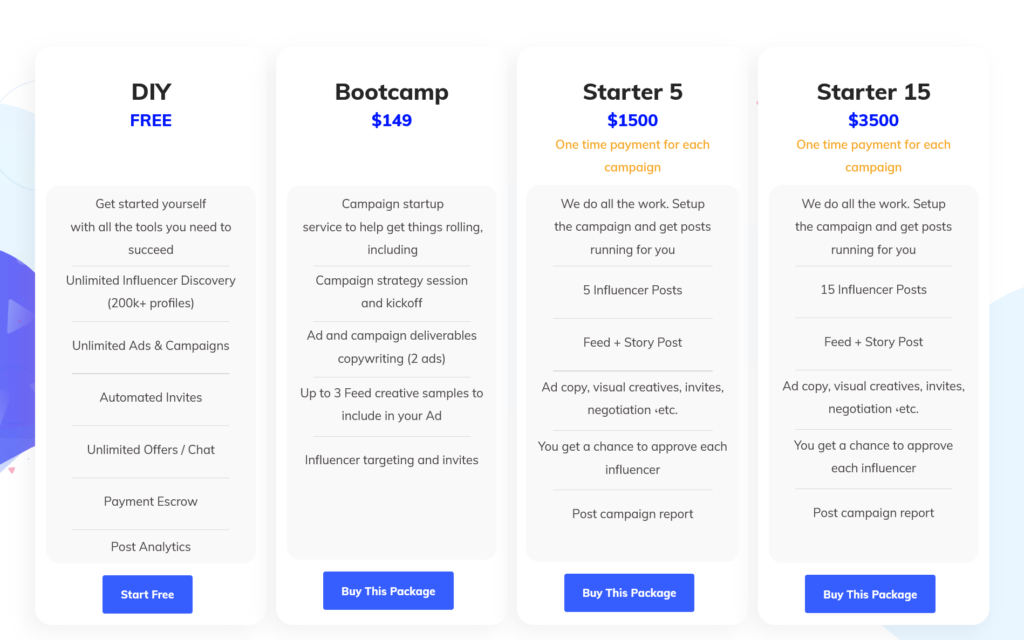 Bootcamp
This plan costs 149$. Here is what this plan offers:
Campaign strategy session and kickoff
Ad and campaign deliverables copywriting (2 ads)
Up to 3 Feed creative samples to include in your Ad
Influencer targeting and invites
2. Starter 5
This plan will do all the work for you to set up and run five campaigns for only 1500$. This plan offers you:
5 Influencer Posts
Feed + Story Post
Ad copy, visual creatives, invites, negotiation, etc.
You get a chance to approve each influencer
Post campaign report
3. Starter 15
"Starter 15" costs 3500$. With this plan, Ainfluencer does all the following for you:
15 Influencer Posts
Feed + Story Post
Ad copy, visual creatives, invites, negotiation, etc.
You get a chance to approve each influencer
Post campaign report
Reviews:
Ainfluencer has a high review rating on the review websites due to the perfect customer experience. Now let's read some users' reviews on Trustpilot to measure its performance: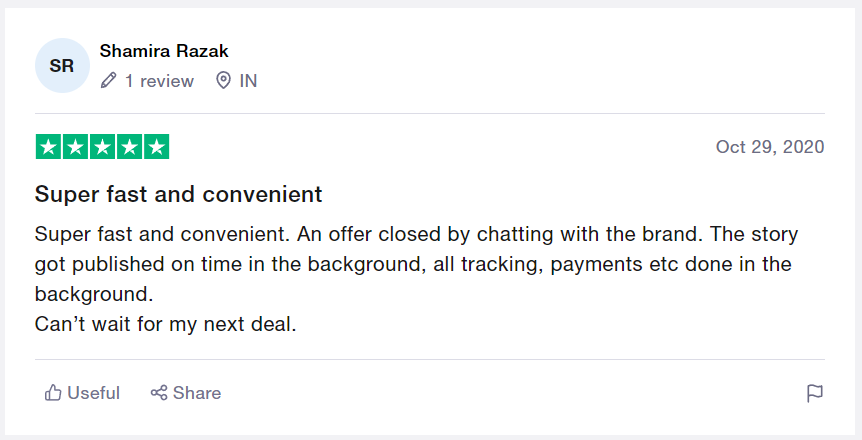 "Super fast and convenient. An offer closed by chatting with the brand. The story got published on time in the background, all tracking, payments etc done in the background. Can't wait for my next deal."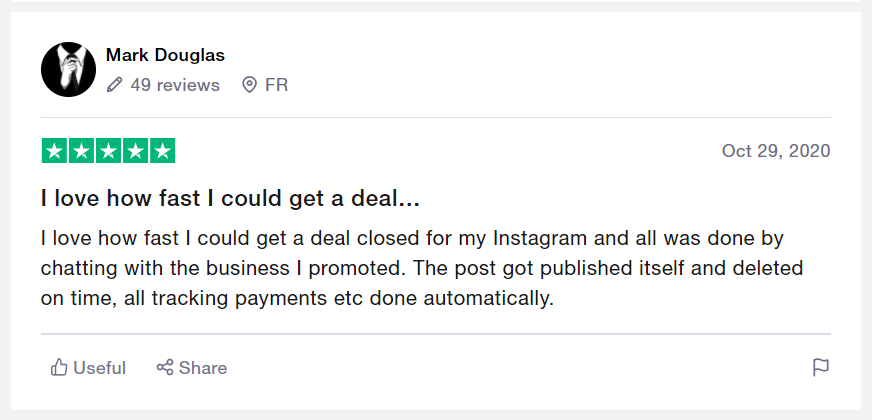 "I love how fast I could get a deal closed for my Instagram and all was done by chatting with the business I promoted. The post got published itself and deleted on time, all tracking payments etc done automatically."
2. Hype Auditor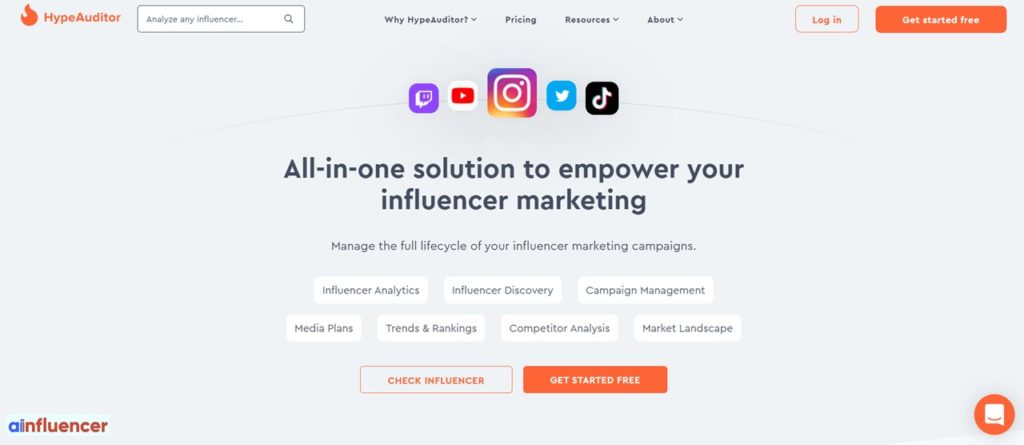 You can use Hype Auditor to rank the top Instagram influencers based on the number of quality followers who interact with the page.
Hype Auditor thoroughly analyses ranked bloggers with quality followers and credible engagement. It collects data from various sources. And only consider real followers and real likes. The algorithm then ranks the influencers.
Finally, it compiles a list of global influencers which are getting updated daily. You can choose from a list of top Instagram influencers that cover all countries. Or select a plan that only includes Instagram influencers from one specific country.
Features:
Influencer Recruitment
Audience Analysis
Influencer Collaboration
Workflow Capability
Influencer Analytics
Pricing:
HypeAuditor offers two types of plans: Free and Basic. The free plan provides basic features and limited ability to pull data.
The basic subscription plan is 399$ per month and gives you access to a range of premium features:
30 account analytics every month
Access to an influencer discovery tool with a database of more  than 20 million accounts on Instagram, YouTube, TikTok, and Twitch
Campaign management tools
Instagram account comparison that allows you to compare up to 5 influencers at a time
Dedicated customer support
Besides these two plans, users can purchase Pro Add-Ons in addition to the basic plan for accessing more details and features:
Pro filters for using the influencer discovery tool
Auto-tracking and auto campaign management
Custom integrations with your existing software tools through APIs
Reviews:
Finally, let's read customers' reviews from g2 to know more about the platform's performance: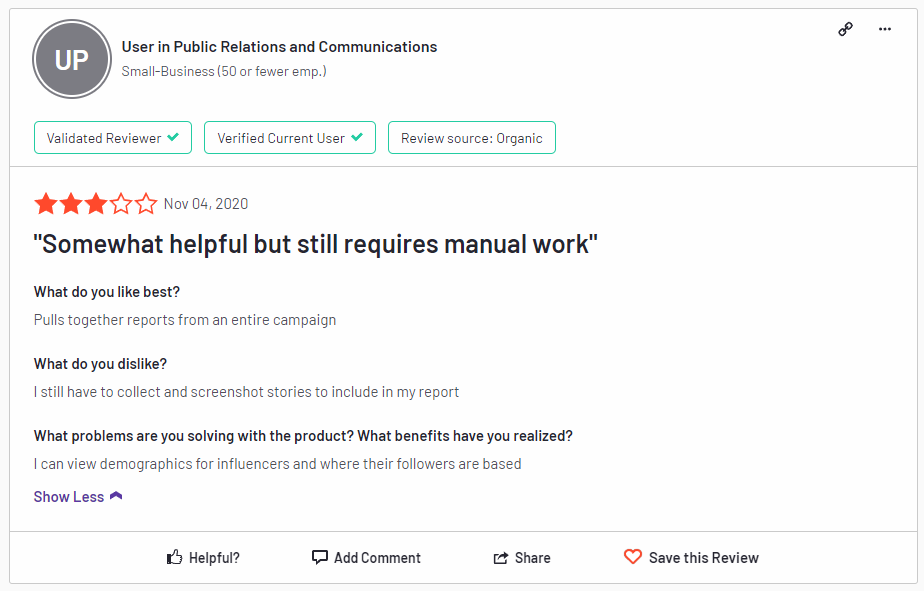 "Somewhat helpful but still requires manual work"
What do you like best?
"Pulls together reports from an entire campaign"
What do you dislike?
"I still have to collect and screenshot stories to include in my report"
What problems are you solving with the product? What benefits have you realized?
"I can view demographics for influencers and where their followers are based"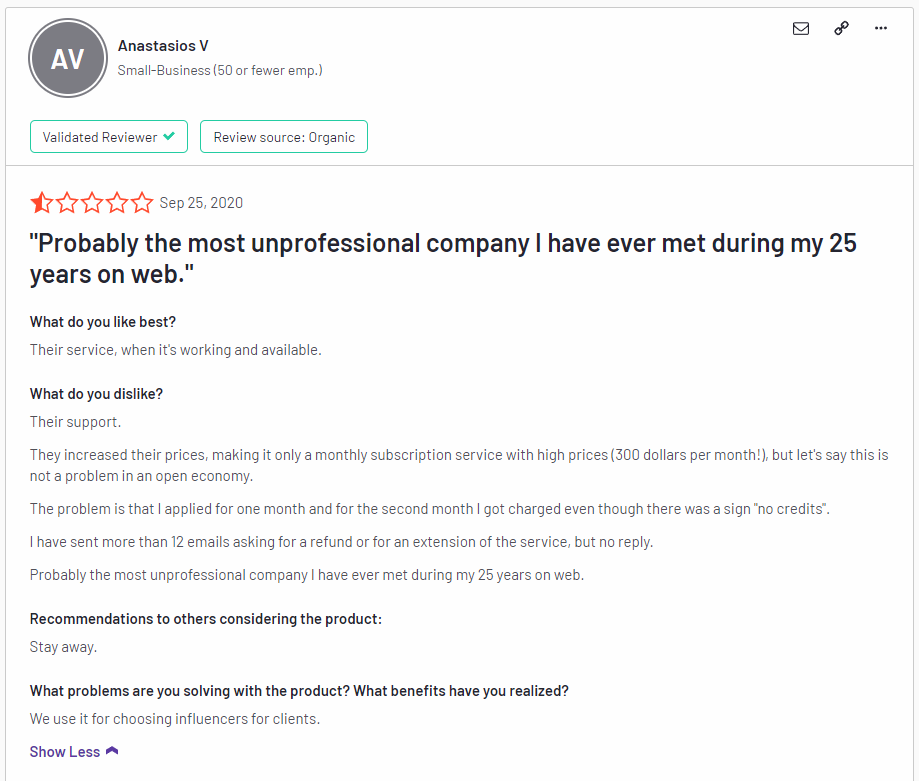 "Probably the most unprofessional company I have ever met during my 25 years on web."
What do you like best?
"Their service, when it's working and available."
What do you dislike?
"Their support.
They increased their prices, making it only a monthly subscription service with high prices (300 dollars per month!), but let's say this is not a problem in an open economy.
The problem is that I applied for one month and for the second month I got charged even though there was a sign "no credits".
I have sent more than 12 emails asking for a refund or for an extension of the service, but no reply.
Probably the most unprofessional company I have ever met during my 25 years on web."
Recommendations to others considering the product:
"Stay away."
What problems are you solving with the product? What benefits have you realized?
"We use it for choosing influencers for clients."
3. Affable.ai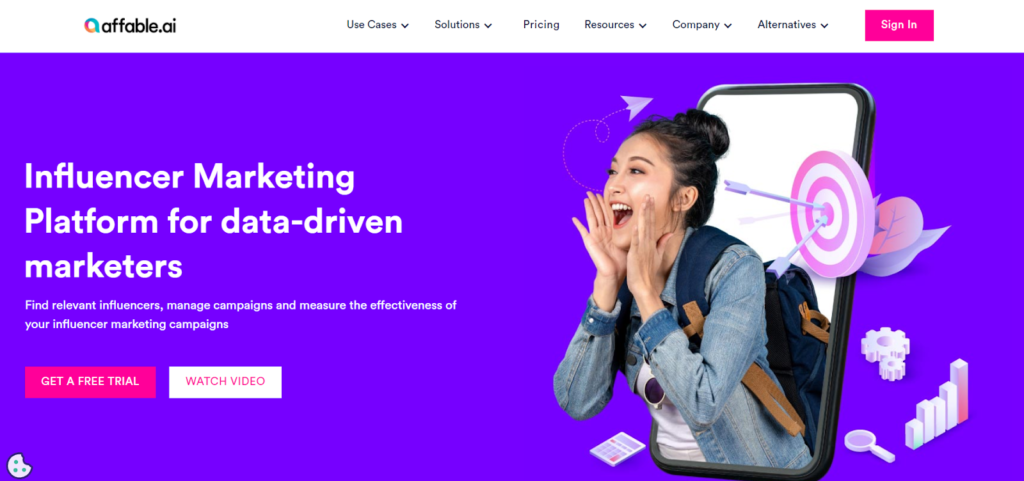 Affable is an influencer marketing platform that automates connecting brands with Instagram influencers. The company indexes potential influencers by their follower count, the number of posts, and engagement on their posts. Brands can then use Affable's platform for finding the most relevant influencers to measure their impact.
Features:
Affable can be one of the Deep Social alternatives due to its great features. Here are the main features of this platform:
Find and discover influencers through different channels: Instagram, Facebook, TikTok, and Facebook
Manage campaigns
Analyze influencers and track their Stories
Measure influencer campaign ROI
Track competitors' campaigns and trends 
Pricing:
Affable offers three different levels of pricing plans: Simple, Pro, and EnterPrise. You'll need to contact them for a quote to know the exact pricing through their website.
Reviews:
Now that you know this platform and its features perfectly, let's read some of the customers' reviews from the g2 website.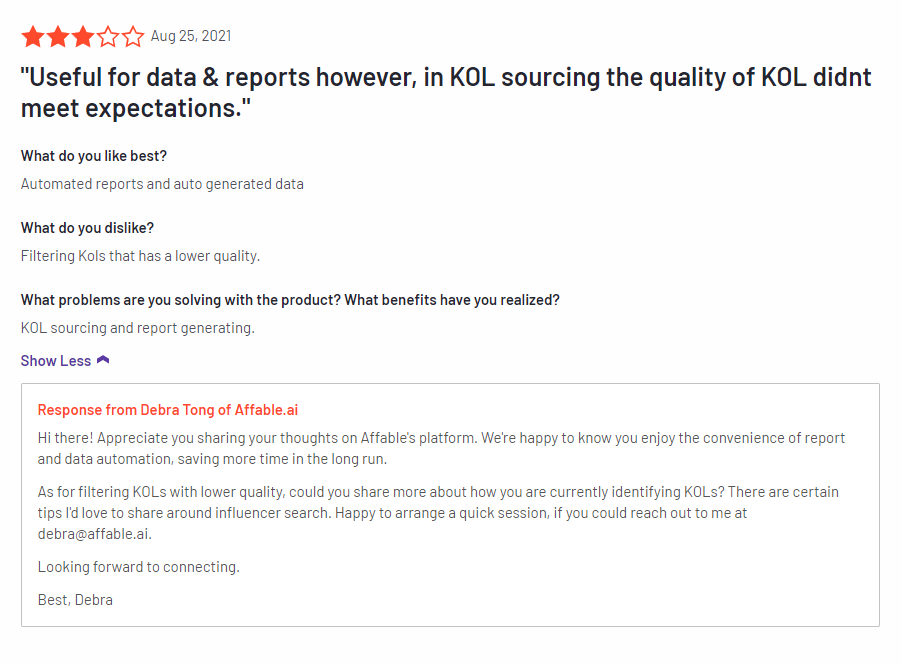 Useful for data & reports however, in KOL sourcing the quality of KOL didn't meet expectations."
What do you like best?
"Automated reports and auto generated data"
What do you dislike?
"Filtering Kols that has a lower quality."
What problems are you solving with the product? What benefits have you realized?
"KOL sourcing and report generating."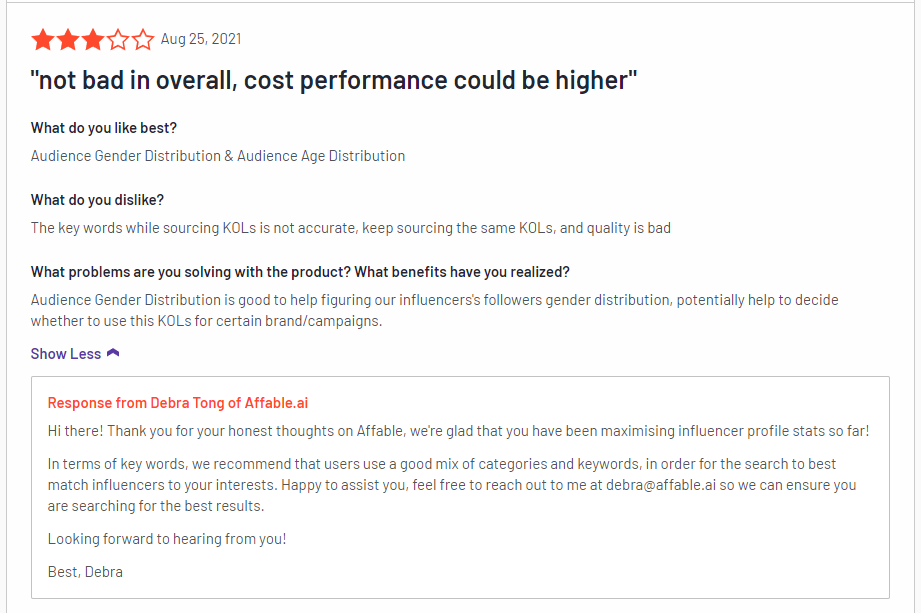 "not bad in overall, cost performance could be higher"
What do you like best?
"Audience Gender Distribution & Audience Age Distribution"
What do you dislike?
"The key words while sourcing KOLs is not accurate, keep sourcing the same KOLs, and quality is bad"
What problems are you solving with the product? What benefits have you realized?
"Audience Gender Distribution is good to help figuring our influencers's followers gender distribution, potentially help to decide whether to use this KOLs for certain brand/campaigns."
4. CreatorIQ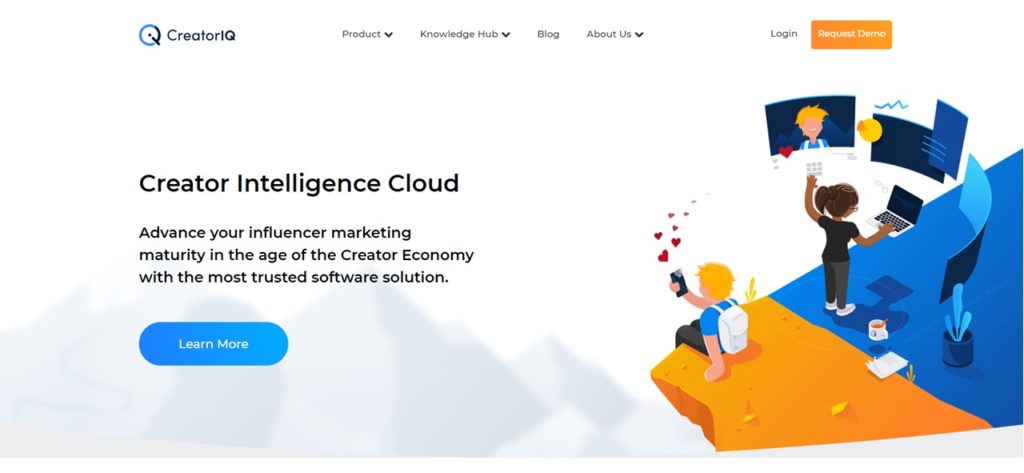 CreatorIQ is a company that helps businesses create and manage their online presence. They offer various services, including web design, social media marketing, and search engine optimization. This tool is one of the best solutions for companies seeking to advance their influencer marketing maturity in the age of the creator economy.
Features:
Influencer recruitment and scoring
Audience analysis
Influencer segmentation and collaboration
User-generated content management
Campaign analytics
Data importing and exporting tools
Pricing:
CreatorIQ doesn't provide pricing plans on its website. You need to schedule a call with one of the platform specialists to discuss your marketing needs; After that, they will recommend the best package to achieve your influencer marketing goals.
Reviews:
One of the best ways to compare this platform with Deep social is by reading customers' reviews. Here are some CreatoreIQ reviews from the g2 website: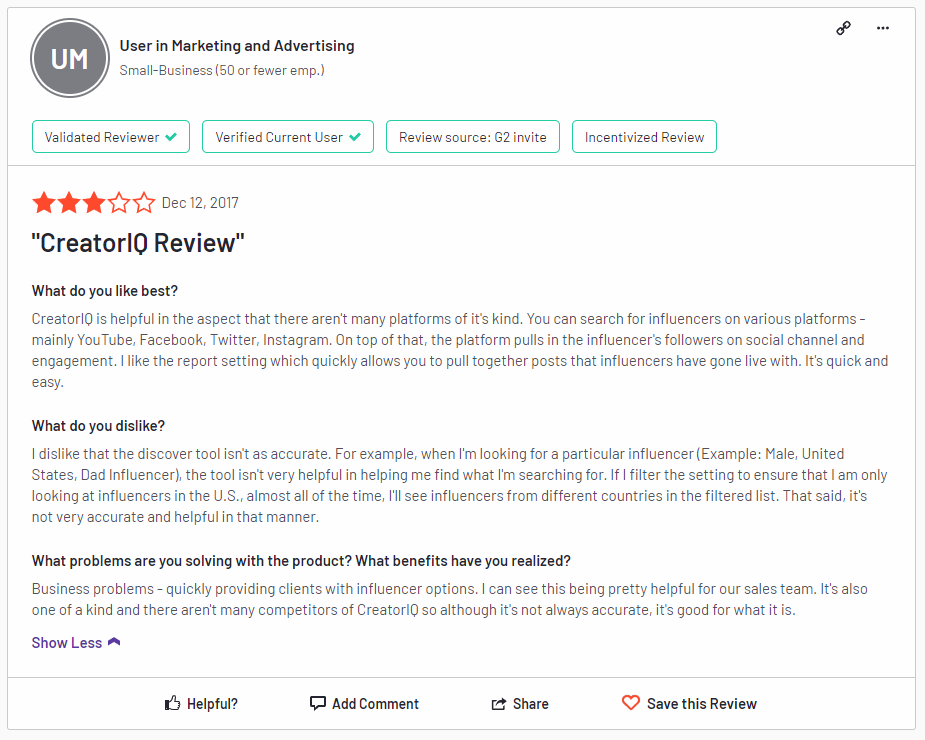 What do you like best?
"CreatorIQ is helpful in the aspect that there aren't many platforms of it's kind. You can search for influencers on various platforms – mainly YouTube, Facebook, Twitter, Instagram. On top of that, the platform pulls in the influencer's followers on social channel and engagement. I like the report setting which quickly allows you to pull together posts that influencers have gone live with. It's quick and easy."
What do you dislike?
"I dislike that the discover tool isn't as accurate. For example, when I'm looking for a particular influencer (Example: Male, United States, Dad Influencer), the tool isn't very helpful in helping me find what I'm searching for. If I filter the setting to ensure that I am only looking at influencers in the U.S., almost all of the time, I'll see influencers from different countries in the filtered list. That said, it's not very accurate and helpful in that manner."
What problems are you solving with the product? What benefits have you realized?
"Business problems – quickly providing clients with influencer options. I can see this being pretty helpful for our sales team. It's also one of a kind and there aren't many competitors of CreatorIQ so although it's not always accurate, it's good for what it is."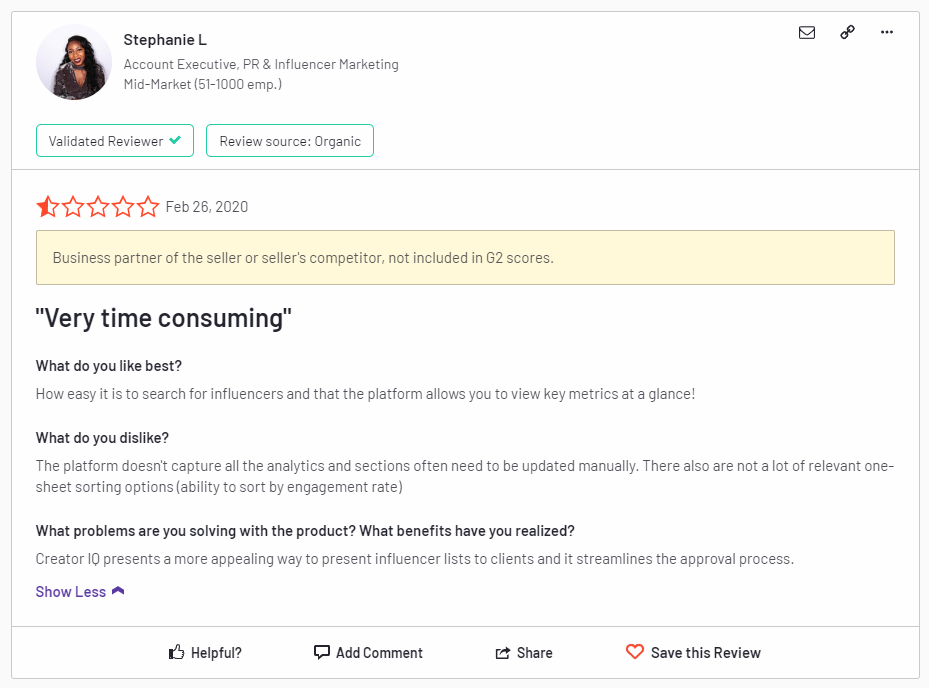 "Very time consuming"
What do you like best?
"How easy it is to search for influencers and that the platform allows you to view key metrics at a glance!"
What do you dislike?
"The platform doesn't capture all the analytics and sections often need to be updated manually. There also are not a lot of relevant one-sheet sorting options (ability to sort by engagement rate)"
What problems are you solving with the product? What benefits have you realized?
"Creator IQ presents a more appealing way to present influencer lists to clients and it streamlines the approval process."
5. Klear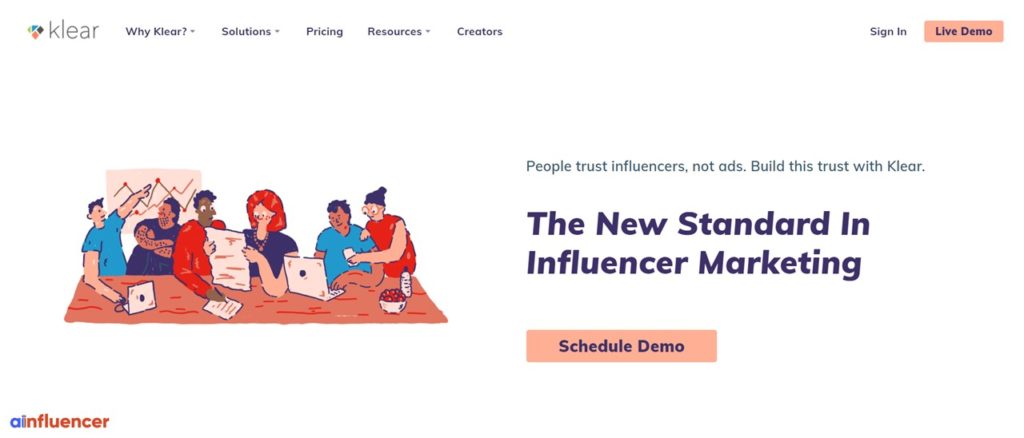 Klear is a social media management tool that allows users to identify and analyze influencers on social media. Klear's user-friendly platform makes it easy to find, connect with, and track influencers. It also offers users the ability to measure the impact of their content and campaigns.
Features:
With a wide range of features Klear provides, it can be one of the best Deep social alternatives:
Influencer recruitment and segmentation
Influencer scoring
Reporting and dashboards
Influencer collaboration
Data importing and exporting tools
Audience and campaign analysis
Pricing:
This platform doesn't provide a pricing plan on its website. You need to contact the software provider to know the cost of their plans based on your business.
Reviews:
In the last part of our comparison, let's read some reviews of Klear from g2 and compare them with Deep Social reviews.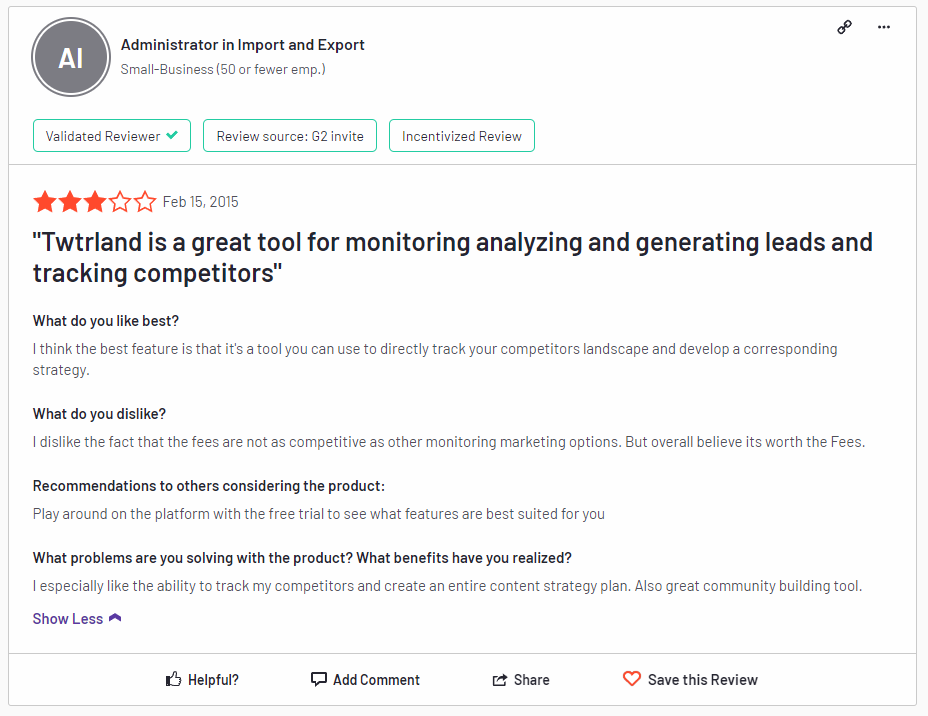 "Twtrland is a great tool for monitoring analyzing and generating leads and tracking competitors"
What do you like best?
"I think the best feature is that it's a tool you can use to directly track your competitors landscape and develop a corresponding strategy."
What do you dislike?
"I dislike the fact that the fees are not as competitive as other monitoring marketing options. But overall believe its worth the Fees."
Recommendations to others considering the product:
"Play around on the platform with the free trial to see what features are best suited for you"
What problems are you solving with the product? What benefits have you realized?
I especially like the ability to track my competitors and create an entire content strategy plan. Also great community building tool."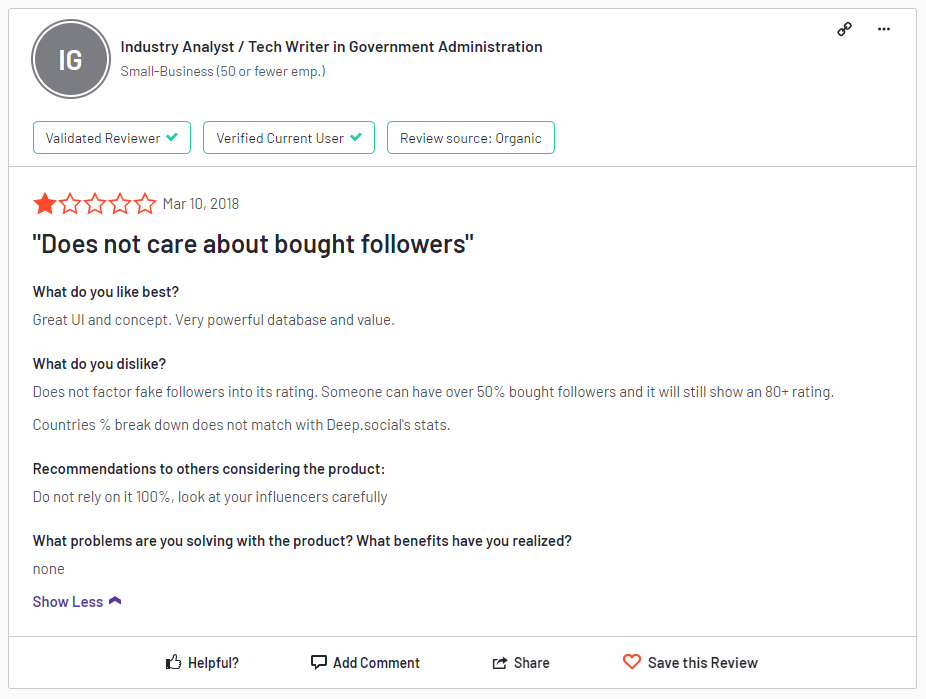 "Does not care about bought followers"
What do you like best?
"Great UI and concept. Very powerful database and value."
What do you dislike?
"Does not factor fake followers into its rating. Someone can have over 50% bought followers and it will still show an 80+ rating.
Countries % break down does not match with Deep.social's stats."
Recommendations to others considering the product:
"Do not rely on it 100%, look at your influencers carefully"
What problems are you solving with the product? What benefits have you realized?
"none"
Conclusion
In conclusion, while Deep Social is down, there are several great Deep social alternatives to choose from. These platforms provide users with various features and tools to help them connect with their niche influencers and collaborate with them. So, if you're looking for a new influencer marketing platform to try out, be sure to check out some of these Deep social alternative options like Ainfluencer.
1- What is Deep social?
Deep social media influencer marketing is a tool businesses can use to identify and target influential social media users.
2- How do I find an influencer?
Finding an influencer can be tricky. It would help if you found someone relevant to your brand who has a large, engaged following. Here are the top ways to discover influencers:
Search hashtags on social media platforms
Do a google search
Use influencer marketing platforms
3- What do influencers do?
Influencers have a large social media following and can persuade their followers to do things, such as buying a product. They can be beneficial to companies when it comes to marketing their products.