It's always frustrating when your favorite app loses functionality. If you're an Instagram user wanting to share a simple photo with your friends and family, or a marketer wanting to share an Instagram Story ad, you may experience an Instagram Story glitch. Recent glitches in Instagram's Stories feature have been causing a lot of confusion and frustration for users around the world.
Fortunately, there are a few simple steps to IG glitches, so you can get back to sharing Stories with your followers. Keep reading to see the most common Instagram Story bugs and solutions to fix them.
What is an Instagram Story glitch?
An Instagram Story glitch can disrupt a user's experience on this popular social media app. When it occurs, users may be unable to share Stories from their phones or they may experience issues while trying to upload content.
Furthermore, they may find that their Instagram Stories are not showing to their followers or see that Stories IG not working properly. Users may also face Instagram showing old Stories again and again, or see that Instagram Stories are repeating.
This can be extremely frustrating but fortunately, there are ways to troubleshoot these glitches so that users can get back up and running quickly.
How to fix Instagram Story Glitches?
In any case, with every IG glitch or bug that you encounter, after a simple search, you will realize that based on the user experience, there are some simple solutions to do to solve the problem. In the following, we will introduce some of the top solutions to help you solve the Instagram Stories glitches.
1. Check the internet connection
If you're experiencing Instagram Story glitches and want to get back to sharing photos and videos, the first step is to check your internet connection. A strong internet connection is essential for a seamless experience on Instagram.
If you're using Wi-Fi, try switching it off for a moment before turning it back on. This can often reset the connection and help fix any issues you may be having with your Story.
You can also switch to a different network. If using Wi-Fi, try a cellular data connection as well.
2. Check if there is a general Instagram Glitch
When facing Instagram Story Glitches, it's important to determine whether the issue is due to a general Instagram glitch or if something else is happening. Before doing anything, it is best to check if there's a known issue with this social media platform.
To do this, start by searching online for recent reports of an IG glitch. You can also check Twitter or Reddit for mentions of "Instagram Glitch" or "Instagram Story Glitch." Be sure to also review any notifications sent out by Instagram themselves as they will alert users when there are known issues.
3. Force stop the Instagram app (Android users)
Using forced stop is one of the other methods that can solve the Instagram Story problem for you.
To do this, you must go through the following steps:
Go to your phone's settings.
Open the "Apps" section.
Find the Instagram app among others.
Select the "Force stop" option, which is usually located next to "Uninstall."
Go back to the program and check if the problem is resolved.
4. Clear Instagram's cache
Whether you're having trouble uploading a photo or video, experiencing difficulty in watching Stories, or dealing with other Instagram glitches, clearing your Instagram app's cache may be the solution.
Clearing your app's cache on a regular basis can help prevent any future problems. The process is simple and only takes minutes to complete. All you have to do is clear all data stored in your device's memory which is then replaced by new information when you relaunch the app.
This will help ensure that any unnecessary data that has built up over time is removed from the system so that your device runs smoothly while operating Instagram Stories.
5. Restart your phone
Restarting your phone is an easy fix for many Instagram Story glitches.
Press and hold down the power button until you see the menu that allows you to restart your device. This will shut down all processes on your phone so it can boot up fresh and free from any errors.
Restarting also helps clear out any unnecessary data stored in the background which could be slowing down performance. With a quick reboot, you'll probably be back to sharing IG Stories with ease in no time.
6. Log out of your Instagram account
When facing Instagram Story glitches, try logging out of your Instagram account. Doing so will help refresh the app and resolve any issues you may be experiencing.
After logging out, wait a few minutes before re-entering your login information and trying again. This will give your device time to complete its reset process and help fix any existing glitches with Instagram Stories.
7. Update your Instagram app
One of the other most important steps in solving Instagram Story glitches is updating your Instagram app. Because many problems are fixed in the latest version of the application.
Use official sources such as Google Play for Android phones and the App Store for Apple products to update your app.
8. Reinstall the Instagram app
Reinstalling the app can also help resolve Instagram bugs and issues. It clears out any temporary files or corrupted data that could be causing the problem.
All you need to do is uninstall the app and reinstall it from Google Play or App Store after a few minutes. Then, log back into your account to access all of your old content.
9. Try another version of the Instagram app
You deleted the program and reinstalled it and again nothing happened? Many users' personal experience shows that using another version of Instagram can solve your problem. To use another version, you must first uninstall the app from your phone and then search the internet to download older versions.
Maybe the Instagram Story glitch is only related to the latest version, which is installed on your phone.
10. Report the problem
And the last solution for Instagram Story glitches is to report the problem to Instagram and wait for them to investigate and fix your problem.
This can be done by accessing Instagram's Help Center and submitting a request for assistance. By doing so, you will receive support from a member of Instagram's team who can help diagnose and solve any issues that are encountered.
You should provide as much detail as possible when reporting problems with Instagram Stories. This includes providing screenshots of any errors or related messages you may have seen while using the feature. Additionally, you should also include your device model, operating system version, and other information relevant to your issue in order to give Instagram's team more insight into what could be causing the IG glitch.
Common Instagram Story glitches
One of the popular features of Instagram is its Stories, which often have glitches that make them difficult to use. Here are some of the most common Instagram Story glitches that you may run into while using the app:
The Red Exclamation Mark In The Instagram Story
The red exclamation mark usually appears when your Story is not published on Instagram.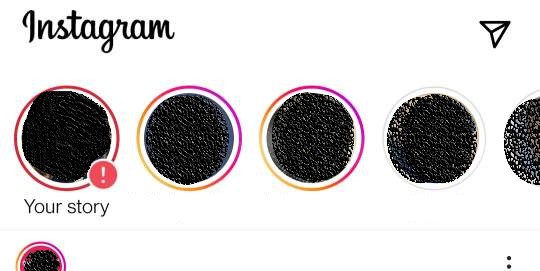 Usually, the most important thing is the poor internet connection. But sometimes, this Instagram Story glitch happens for no reason.
In this case, it is best to put your phone on airplane mode and disconnect from any internet connection. Then close the app and open it again. If it didn't work, try the other ways mentioned above.
The Instagram Story Highlights Bug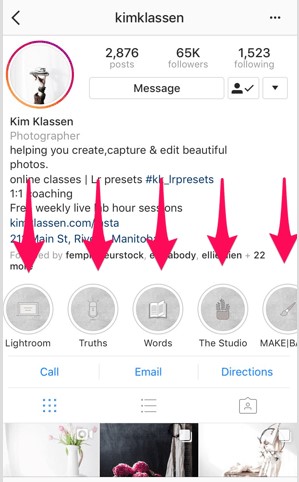 Problems in the highlight Story section of Instagram are also very common.
For example, you may not be able to add a new highlight to your account.
To solve this Instagram glitch, you should use the methods described earlier in this article to finally solve it.
But if you cannot see other people's highlights, and you are sure that they're using this section, there is a guess that they have put you on their hide list.
They may have hidden their Stories from you and there is no solution to this problem. You can not access the Stories and highlights of such accounts unless they want to.
Your Instagram Story Does Not Appear To Others
If your Story does not appear to others do not worry, this is a common Instagram Story glitch that may happen to many users.
First, check your internet speed. If you are sure that your internet connection is not a problem, just use an IP changer software.
Then log in to Instagram again and your problem will be probably solved. If not try the other methods described above.
The Music And Location Issue In The Instagram Story
Some Instagram features, such as using music and location in your Story, are banned in some countries.
It's a common problem, but don't worry – there are ways to get around it. You just need to change your IP address. Changing your IP address allows you to create content from anywhere in the world without being restricted by geographical boundaries or other restrictions imposed by Instagram. This can be done easily with a Virtual Private Network (VPN).
Instagram Filters Not Working
This problem is the same as the previous Instagram Stories glitch. Just change your IP to another country and then try again. The issue will probably get solved!
Conclusion
In conclusion, the Instagram Story glitch is not a major issue and can be easily fixed in a few simple ways. With the help of the above recommendations, users will be able to get back to their Stories as normal. It's important to remember that if the glitch persists, it may be necessary to get help from the Instagram support team.
How do I fix glitching on Instagram?
1. Check the internet connection
2. Check if there is a general Instagram Glitch
3. Force stop the Instagram app 
4. Clear Instagram's cache
5. Restart your phone
6. Log out of your Instagram account
7. Update your Instagram app
8. Reinstall the Instagram app
9. Try another version of the Instagram app
10. Report the problem
Is Instagram glitching right now?
At the moment, there is no general Instagram Glitching reported by Instagram.
What does clearing cache do?
The cache is a storage system that holds certain data from websites you have visited. This data can range from images, text, or other web page elements that the browser has stored to help speed up future visits to the same site. By regularly clearing this data, you can make sure your online experiences are running as smoothly as possible and reduce potential issues related to the app loading times and lags.
In addition to improving app performance, regularly clearing your cache also helps protect your privacy by ensuring that no sensitive information is stored on your device for longer than necessary.