Social media advertising has become an integral part of online marketing in the last decade. Instagram has been developing rapidly in recent years and is now one of the top social marketing platforms in the world.
Advertising on Instagram has become a trend these days. Therefore, you should become familiar with different types of ads on Instagram in order to succeed. One of these types is having Instagram Story ads, which we will discuss in detail in this article.
Instagram's Story feature, which can be seen by more than 1 billion users every day, is its best feature. It encourages users to share casual and spontaneous everyday content.
Stories are an incredible way to connect with your audience in fresh and authentic ways. But creating attractive Instagram Stories can be challenging and time-consuming. To solve this and save time, you can use Instagram Stories templates to create better and faster stories on Instagram.
So, let's dive into an ultimate guide to creating and running Instagram Story ads for your business in 2023. We'll also examine some best practices to make your ads as influential as they can be.
What are Instagram Story Ads?
The Instagram Story ads appear in between the organic stories posted by Instagram users. Story ads are full screen, vertical, and will display up to 15 seconds for videos and up to 5 seconds for single images each time they're served.
The "sponsored" label is what makes these ads distinct. They also give you the ability to have a swipe-up link and make your ad clickable.
Like any other Facebook or Instagram ad, you can choose the length of your Story ad so that it won't disappear after 24 hours, like organic Instagram stories. Another important point is that you don't need users to follow you in order to show your Story ad to them.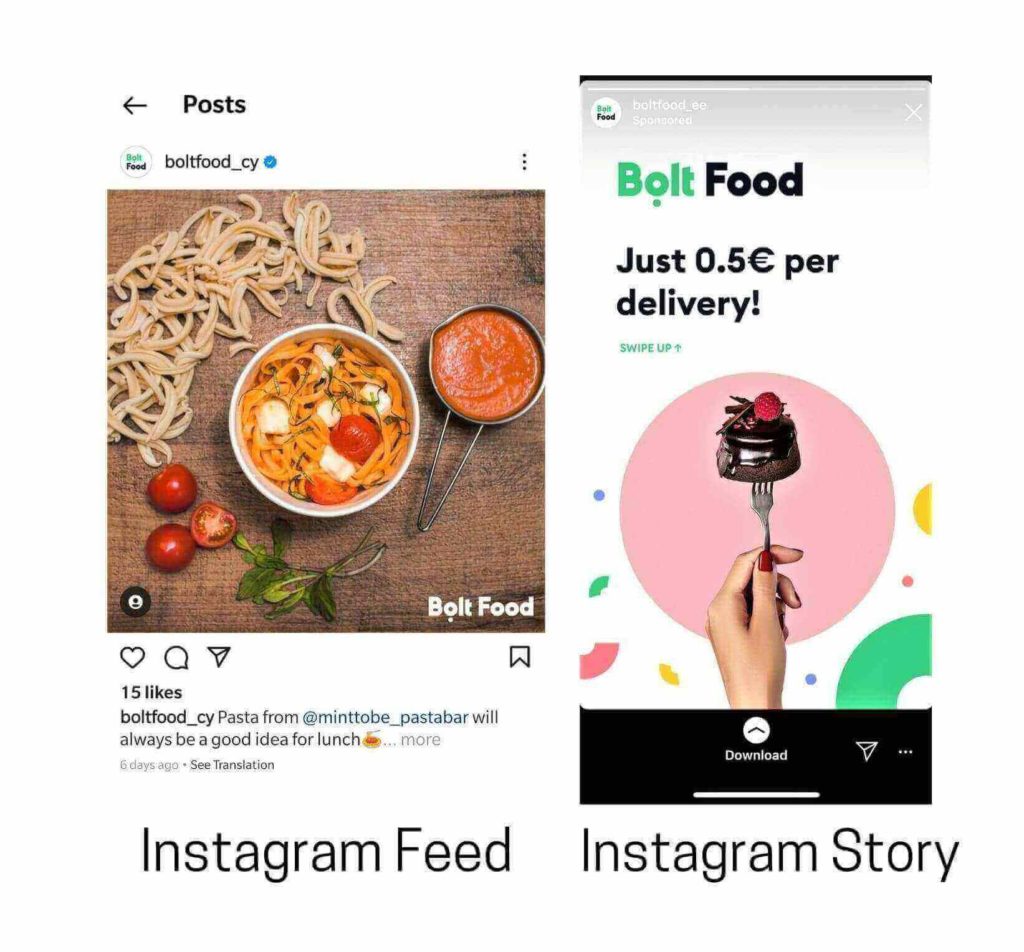 Why Story Ads Are Important
Instagram Story ads are a great way to increase brand awareness, reach out to potential customers and build an excellent rapport with your existing ones. So, if you are not using Story ads for promoting your brand, you might be missing out on a great opportunity.
Aside from the "Sponsored" denotation, and, presumably, an increase in production value, they look just like organic posts.
Instagram Story ads also have another great feature, which makes them outstanding. CTA, or Call to Action button, gives your audience the ability to access your landing page, which can be your product page, your blog, or even your profile. CTAs are easily noticeable and result in higher engagement.
So, all in all, using Instagram Story ads has the following objectives:
Brand Awareness: Increasing awareness about your brand by finding people who are more likely to be interested in your business.
Reach: Show your ad to the maximum number of people.
View: Get more people to watch your content.
Conversions: Drive valuable actions on your app or website.
App installs: Get more people to install your app.
Lead Generation: Attract people who are potentially interested in buying your products or services.
Traffic: Send more people to your website.
Types of Instagram Story ads
You can create your Instagram Story ads in three different formats, including Image ads, Video ads, or Carousel ads.
#1 Image Ads
Instagram Image ads run for five seconds and deliver the brand's message in a single image. High-quality images, designs, and short texts make the ad more eye-catching.
#2- Video Ads
Instagram Video ads are also a great way to inform users of your products and services. Although it's allowed to post 60-second videos in your feed, you'd better use the shorter ones to be more effective. Make sure to catch the audience's attention within the initial three seconds. You should also write an attractive caption for your videos.
#3- Carousel Ads
Instagram Carousel Ads allow brands to have multiple images or videos in a single Story. Brands can also add a call-to-action button and change the text below each image.
In each Carousel ad, you are able to share up to ten photos or videos.
How to Create Instagram Story Ads?
You can create your Instagram Story ad in two different ways: a) Facebook ad manager, b) Ainfluencer.
A) Facebook ad manager
Look at the following steps for creating Instagram Story ads. Before going through the following steps, make sure you have an Instagram business account connected to your Facebook account.
1- Head to Facebook Ad Manager
In order to run an ad on Instagram, you will need a Facebook page for your business, because all advertisements for both platforms are routed through a single portal, the Facebook Ad Manager. Open Ads Manager and click "Create."
2- Set your goal
What do you want to accomplish through your ad campaign? You can choose from several objectives for Story ads, including reach, brand awareness, traffic, engagement, app installs, video views, lead generation, and conversions.
If you are not sure about the objective of your ad, there's also a link to help you choose it.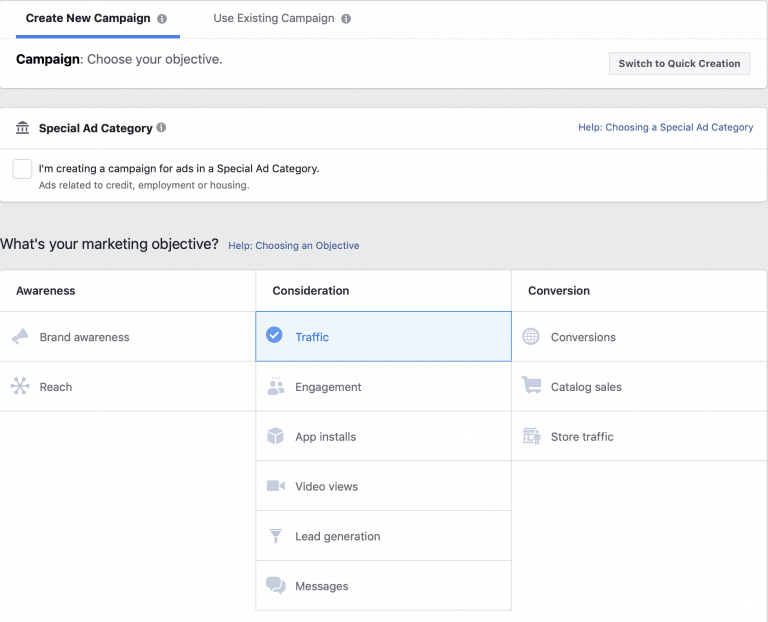 Name your ad campaign and go to the next step.
3. Select audience
In the next step, choose your target audience for your ad campaign. You can create a new audience or choose "saved audience." You can also choose locations, interests, age, gender, and other options that best suit your targeted customer.
Use Facebook Custom Audiences to target Instagram users based on the five following segments:
Customer File: Email addresses, phone numbers, or any other information you've acquired in lead generation.
Website Traffic: The number of people who have visited your website, blog, or a specific landing page.
App Activity: The number of people who have interacted with your app.
Offline Activity: The number of people who have interacted with your business, either in-store or by phone.
Engagement: The number of people who have engaged with your content on Facebook or Instagram.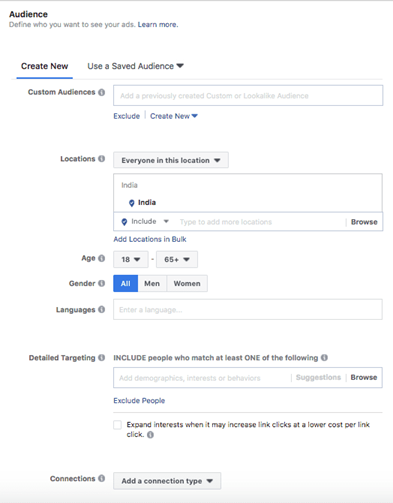 4. Ad placements
There are two ways to set your ad placement. Choose the automatic placement and let Facebook decide where your ads should appear.
Or you can choose the manual placement, which we recommend here. While it's easier to let Facebook do all the work, you know better where to place your ads given your business goals and knowing your targeted audience.
This is how it looks: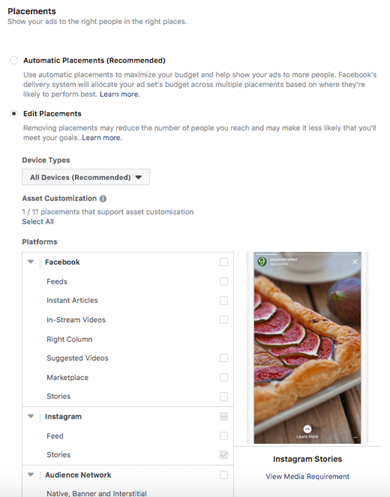 5. Set your ad's budget and schedule
Decide how much you want to spend on your Instagram ads campaign. You can choose a daily or lifetime budget to set a maximum price for your entire ad.
Then determine how long you want your ad to run. Schedule the starting and ending dates of your ad campaign. There is also an option of running the ad all the time.
6. Create your ad
The next step is to create ad content that will fulfill your objective. This could either be a single image or video or a carousel.
You have three sizing formats to choose from when creating your story ad: Square (1:1), Landscape (1.91:1), and Vertical (4:5). The recommended resolution is 1080 x 1920 pixels, but you can also go as low as 600 x 1067 if you have to.
Other specs to be aware of:
Image Creative:
File type: .jpg or .png
File size: 30MB max
Length: Images show for 5 seconds by default
Video Creative:
File type: .mp4 or .mov
File size: 4GB max
Length: Up to 120 seconds
Supported codecs: H.264, VP8
After adding your images or videos, write a headline and description (optional), and at the end, add your CTA's URL.
7. Track and confirm
Turn on your Facebook pixel to track how your ads will perform.
In the end, select confirm to publish your created ad on Instagram Story.
B) Ainfluencer
Another way of creating Instagram Story ads is through marketing platforms such as Ainfluencer.
Ainfluencer is an easy, fast, and secure way to run Instagram influencer marketing campaigns. On Ainfluencer, you can have different types of Instagram ads and promote your brand in both Stories and posts.
Use its AI-matching system to find Instagram influencers or powerful filters to refine your search. It offers over 20 metrics to help you determine whether an influencer is right for you.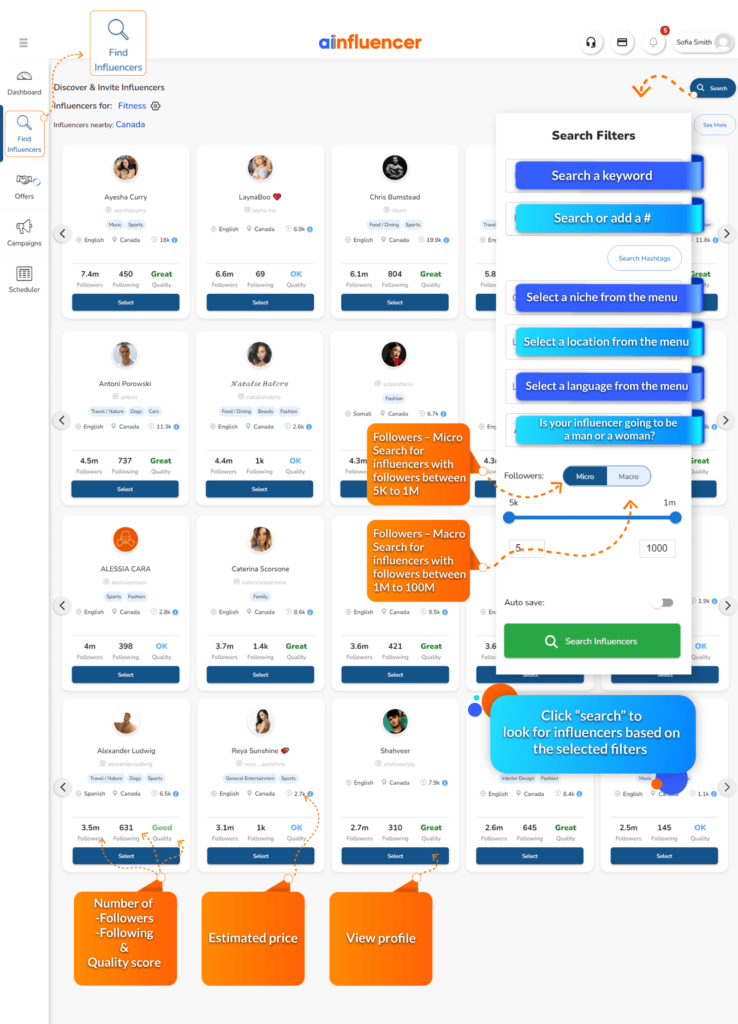 After finding the top Instagram influencers in your niche, invite the influencers by clicking a button, and then ask them to make an Instagram Story ad for you. They can then accept your offer or request to refine the details of the ad. In this way, you can easily have a sponsored Instagram Story.
Instagram Story Ads Best Practices
With millions of Story advertisements, being able to stand out and produce the desired results takes a lot.
Here, we provide you with some of the best practices for designing highly effective and successful Instagram Story ads.
Keep your ad short and simple
Since you only have a few seconds to capture the viewer's attention, avoid complex and lengthy messages. Let the viewers understand what's going on right away.
Include your logo in your ad
Using your logo lets the viewers know whom the ad is for.
Include motion in your ad
Using motions in static images can help you deliver your message faster and promote your Instagram Story ads.
Include sound in your ad
Most Instagram users view Stories with the sound on. You can use music, voice-over, or sound effects to provide optimal value to your audience.
Include text in your ad
Text can help you emphasize your key message. Try to keep it short and to the point.
Include CTA
We have so many Instagram Story ad examples using a CTA button. Use a meaningful call to action related to your goal. For instance, you can use "Learn more" if your goal is to build brand awareness.
Conclusion
These basic rules and best practices can help you create successful Instagram Story ads that convert. But that doesn't mean you should stop there. To see what works best for your brand, keep testing different ad formats, messaging, visuals, targeting options, etc.
How do you get the best ads on Instagram stories?
1. Keep your ad short and simple
2. Include your logo in the ad
3. Include motions
4. Include sounds
 5. Include texts
6. Include CTAs
How much does an Instagram Story ad cost?
There are so many factors that can affect the price of each Instagram Story ad. On average, an Instagram Story ad costs between $0.20 to $6.70. Instagram cost-per-click ranges from $0.20 to $2 per click, and for cost-per-impressions, advertisers pay about $6.70 per 1000 impressions.