Imagine having the power to connect with over 1 billion active users and showcase your products or services in a visually stunning way! Sounds like a dream, right? Well, with Instagram, it's a reality. And the best way to take advantage of this opportunity is by creating an Instagram Carousel.
This feature allows you to showcase multiple images or videos in a single post, giving you the chance to tell a story or show off your products from different angles.
In this article, we will show you how to use Instagram carousels to make engaging content, the best size and dimension, and the top ideas to try.
Are you a content creator looking for brands to work with? Ainfluencer is the influencer marketing you are looking for. With this tool, you can find brands of all sizes in your niche and collaborate with them easily to monetize your content.
How To Earn Money From Your Content On Instagram?
It's every content creator's dream to earn money from their Instagram and work with brands; But how to do it? Ainfluencer is the perfect platform for content creators who have at least 5,000 followers and are interested in earning money through brand collaborations.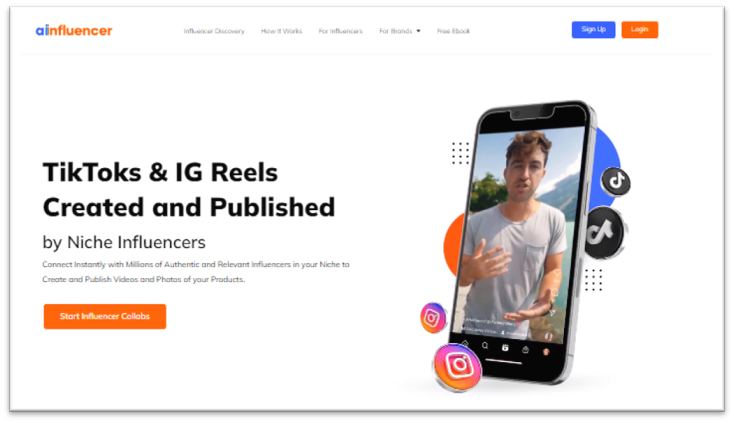 No matter what your niche, Ainfluencer connects you with brands that are looking for influencers just like you. This means that you can find collaborations that are relevant to your audience and that allow you to create content that you're truly passionate about.
Sign up on Ainfluencer as an influencer now and start your collaborations. All the signup processes and searching tools are available for free to help you take your collaboration to the next level.
What Is An Instagram Carousel?
Have you ever wanted to share more than one photo/video on an Instagram post? An Instagram carousel is the answer! This feature was added to Instagram in 2017 and allows users to share up to 10 photos or videos in a single post to avoid spamming.
You can swipe left or right to view each single image or video. Carousels can be created in both Instagram's main feed and Instagram Stories (it's a bit different on each one). The ability to add multiple photos or videos in a single post has given users more creative control and flexibility in how they share their content on the platform.
Instagram Carousel Sizes And Specs
Almost everyone knows about the power of sharing high-quality content on Instagram to maximize their reach. But how to achieve that? There are specific size and spec requirements for different types of posts in order to ensure optimal viewing on the platform.
The recommended size for Instagram carousel posts is 1080 pixels by 1080 pixels and the aspect ratio should be 1:1 (square),
For portrait photos, the recommended dimensions are 1080*1350px,
For Landscape, the dimensions are 1080 x 566 pixels or a 1.9:1 aspect ratio,
Up to 10 photos or videos are allowed per carousel post,
The maximum file size for each photo or video is 4GB,
Video formats should be MP4 and MOV,
The maximum length of videos can be 60 seconds.
How To Create A Carousel Post On Instagram?
Instagram Carousels are a perfect way to share multiple pictures at once. The process is not different from how you share Instagram posts. Follow these steps to share an Instagram carousel:
Open your Instagram app and tap on the "+" icon at the bottom of your feed page to start creating a new post.
Select "Multiple" from the options at the bottom of the screen.
Choose the photos or videos that you want to include in your carousel post by tapping on them. You can add up to 10 photos or videos to a single carousel post.
Once you have selected all the photos or videos you want to use, you can adjust the order by tapping and holding on a photo or video and dragging it to a new position.
Edit each photo or video by tapping on them individually. You can add filters, adjust brightness and contrast, and make other edits to each individual photo or video.
Add a caption for your carousel post and any relevant hashtags.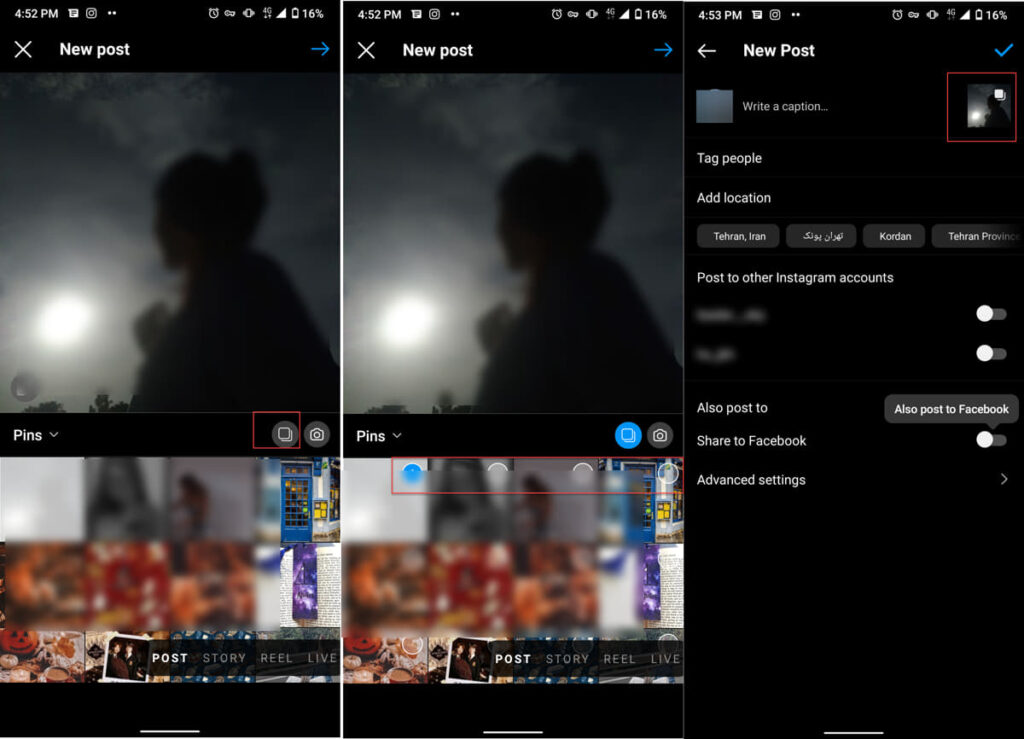 Tap on "Tag People" to tag any relevant users in your post.
Choose a location for your post if relevant.
Tap "Share" to publish your carousel post to your Instagram feed.
Also Read: The Best Time To Post On Instagram In 2023
How To Use Instagram Carousels To Engage Your Audience?
Based on research by Hootsuite, Instagram carousels receive higher engagement rates than regular posts ( 1.4x more reach and 3.1x more engagement). So, as a content creator, you can use this cool feature to enhance your performance on Instagram. Here are some ideas for using Instagram albums (carousels):
1. Showcase Your Products Or Services
Instagram carousels are a fantastic way to showcase your products or services and highlight their features. Rather than relying on a single image to highlight your offerings, a carousel post allows you to feature multiple photos or videos, providing a more comprehensive look.
You can use each slide to share photos of the product from different angles, share a short video of how to use them, ingredients, reviews, and other details your customers need to hear.
So, by sharing more details using Instagram carousels, you can engage your audience and be a step ahead of your competitors.
2. Share User-Generated Content
One of the best ways to engage your audience and build a community around your brand is by sharing user-generated content (UGC). Instagram carousels make it easy to showcase multiple pieces of UGC in one post.
Sharing UGC on Instagram also helps to humanize your brand. It shows that you value and appreciate your customers and that you're more than just focused on promoting your products or services. Plus, it can be a great way to build relationships with your customers.
3. Tell A Story
Another cool idea for using Instagram carousels is to tell a visual story. You can use each slide to build on the previous one, creating a narrative that engages your audience.
When telling a story with your carousel, it's important to think about the sequencing of the slides. Each slide should build on the previous one, creating a sense of momentum and flow. You also want to make sure that the story is coherent and easy to follow by using consistent colors, themes, and fonts throughout the carousel.
And don't forget to add a call-to-action at the end of your story, encouraging your audience to engage with your brand in some way.
4. Share Educational Content
Sharing educational content on Instagram through carousels can be a great way to showcase your expertise and provide valuable information to your audience. Each slide could focus on a different channel, with the final slide summarizing the key takeaways.
When creating educational content with your carousel, it's important to keep your audience in mind. You want to make sure that the content is relevant and valuable to them. You also want to make sure that it's easy to understand and visually appealing. Here are some of the educational content ideas you can try to share:
Infographics
How-to guides
Tips and tricks
Q&A sessions
5. Highlight Customer Reviews
Social proof is a powerful tool in marketing, and Instagram carousels provide a great way to showcase customer reviews. In each slide you can share a different review, highlighting the positive experiences that your customers have had with your brand.
When highlighting customer reviews with your carousel, it's important to make sure that the reviews are authentic and genuine. You also want to make sure that they're visually appealing and easy to read. This way you can build trust for your brand and boost your sales.
6. Create a Step-by-Step Tutorial
If you want to showcase your expertise in a particular area, creating a step-by-step tutorial using an Instagram carousel is a great option. You need to make sure that your instructions are clear and easy to follow. To make your tutorial more engaging, you can use a combination of images and text to break down each step of the process.
7. Show Behind-the-Scenes Footage
Another idea for using Instagram carousels like a pro is sharing behind the scene content. You can use each slide to showcase different aspects of your business such as your workspace or your team members.
You want to give your audience a real sense of what your business is like and what goes on behind closed doors. This way you are showing the human side of your business and can build trust for your brand.
8. Promote a Sale or Offer
It's that time of year again – time for the big sale event of the season! Whether you're a small business owner or a large corporation, a sale is a great way to increase revenue and attract new customers. For these events, you can use a Carousel to promote a sale or offer. Showcase different products or services that are included in the promotion in each slide.
Make sure to use eye-catching colors and bold fonts to attract users' attention. Also, you can share the post on your Stories to boost its reach.
9. Highlight a Partnership or Collaboration
Collaborating with another brand or influencer on Instagram can be an exciting opportunity to reach new audiences and build relationships within your industry. If yon't know how to start your partnership with other brands/influencers? Ainfluencer made it easier than anytime before
If you're working with another brand or influencer, use a Carousel to highlight the partnership and showcase the collaboration.
You can use each slide for showcasing how you've come together to create something unique and valuable for your followers. Also, to make this partnership post more engaging, you can share behind-the-scenes content, product shots, or even user-generated content featuring both brands.
10. Share Before and After Photos
People love seeing visual evidence of progress and improvement, and it can be a powerful motivator for them to take action and try your offering for themselves. Instagram carousels with the ability to change the slides made sharing these types of content so much easier.
So, use Instagram Carousels to showcase a before-and-after transformation. This is especially effective for beauty, fitness, or home improvement brands.
It's also helpful to include a caption that explains what was done to achieve the transformation and any other relevant details.
Conclusion
With so many content creators and influencers on Instagram, it can be tough to stand out from the crowd. However, using different Instagram features can help you to boost your chance. One of these features that almost everyone is aware of is Instagram carousels.
In this article, we showed you how to share carousels, the best size and dimensions, and top content ideas to try. So, what are you waiting for? Let your creativity run wild and start sharing your story with the world. Other than that, we introduced you to the best influencer marketing platform, Ainfluencer, to connect with brands and earn money!
FAQs
What Is An Instagram Carousel?
An Instagram carousel is a feature that allows users to share up to 10 photos or videos in a single post that can be swiped left or right to view each individual image or video.

How Do I Create An Instagram Carousel?
To create an Instagram carousel, simply select the "carousel" option when creating a new post, choose up to 10 photos or videos, and arrange them in the order you want.

Can I Use Instagram Carousels On My Business Account?
Yes, carousel posts can be used on both personal and business accounts.
What Kind Of Content Is Best Suited For Instagram Carousels?
Instagram carousels are great for sharing multiple images or videos that tell a story, showcase products or services, share before and after photos, highlight a partnership or collaboration, share educational content, or showcase user-generated content.

How Can Instagram Carousels Benefit My Brand Or Business?
Instagram carousels can help increase engagement, showcase more content in a single post, tell a more cohesive story, and provide more flexibility and creativity in content creation. This can ultimately lead to more followers, website traffic, and sales.