Are you looking for a way to quickly improve your brand on social media? You may find it difficult to stand out among other brands and competitors on social platforms like Instagram and TikTok. That's when a social media agency can help you elevate your brand on targeted social media.
You may wonder what a social media marketing agency does and if you really need its help. In this article, we'll help you discover the benefits of social media agencies and find the top agencies in your area.
What Does a Social Media Marketing Agency Do?
A social media agency is a company that provides social media marketing services to businesses. These services can include:
Creating and managing social media accounts,
Creating and posting content,
Running social media ads (Read 8 best advertisement examples in influencer marketing),
Building and engaging with online communities,
Developing and implementing social media marketing,
Measuring and optimizing social media performance,
A social media marketing agency can help businesses create an online presence with a better social media marketing strategy, generate leads, boost conversions, or increase brand awareness,. They can also advise businesses on choosing the right platforms, tools, and assist them in collaborating with influencers.
As a brand that is new to social media like Instagram or TikTok, you should be aware of the power of influencer marketing too. You may find it difficult to find the right influencer for marketing your products and brand. Don't worry, Ainfluencer has made it easier for brands to find influencers to collaborate with.
Sign Up On Ainfluencer To Find the Top Influencers In Your Area
Ainfluencer is a marketplace for small to medium-sized businesses that want to reach more customers and attract millions of users through the influence of micro-influencers on TikTok and Instagram with high-quality content. As a business, you can boost your brand awareness, and drive sales with the help of influencers in your niche.
Join our community today and start collaborating with talented influencers to create compelling content that resonates with your audience.
How Can A Social Media Marketing Agency Help Brands?
The question is: why do brands need to find a social media agency? In an increasingly competitive digital world, it's not enough to simply have a social media presence. To truly elevate your brand and differentiate yourself from the competitors, you need a comprehensive social media marketing strategy.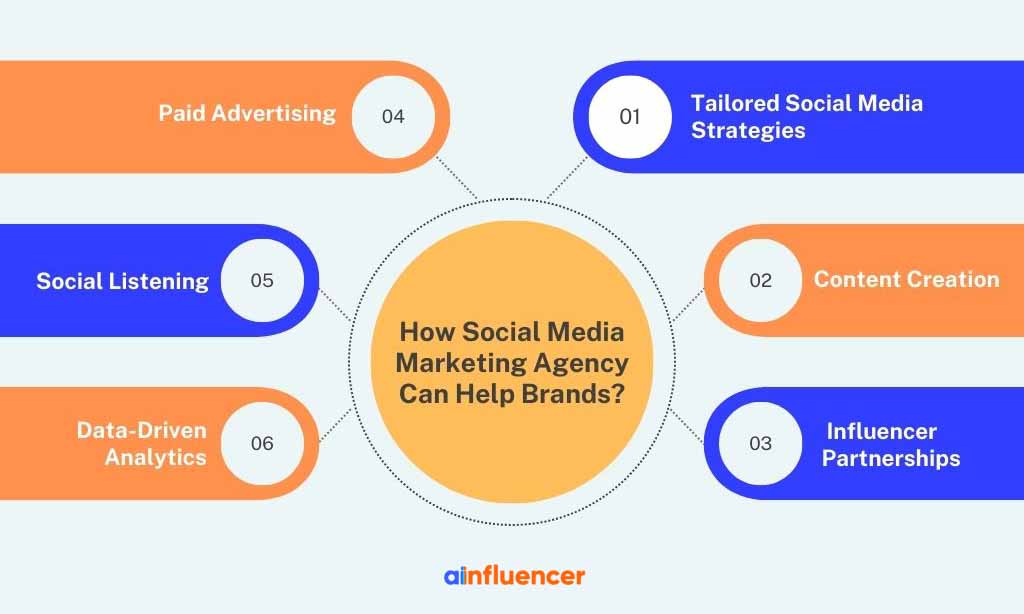 That's when you need to find a social media management agency to provide you with the necessary tools, insights, and expertise to transform your brand's online presence.
However, you should not forget organic methods to boost your Instagram reach or likes, such as creating Instagram reels.
Here are some key ways a social media management agency can help you:
1. Tailored Social Media Strategies: Stand Out from the Crowd
Social media is a crowded world. In order to distinguish yourself from your competitors and effectively connect with your intended audience, it is important to have a social media plan that reflects your brand's identity and objectives. A social media agency will work closely with you to understand your brand's values, target audience, and objectives.
Our team will develop personalized social media plans that help you differentiate yourself from others and have a lasting influence on your followers.
2. Content Creation: Engaging and Shareable
There is no double that content is at the heart of any successful social media marketing campaign. Content creation seems the easiest part of social media presence, but it is not! Every word used as captions and the image or video created to introduce your business needs to be captivating and engaging. Thus, a social media agency will ensure that your content is optimized for maximum reach and engagement.
3. Influencer Partnerships: Leverage the Power of Influence
Influencer marketing has become a powerful tool for brands to connect with their target audience. A social media management agency will help you identify relevant influencers in your industry and develop strategic partnerships, for example if your company is a travel agency, you can find top travel influencers to work with.
By leveraging the power of influencers, you can expand your brand's reach, build trust with your audience, and drive conversions.
4. Paid Advertising: Maximize Reach and ROI
While organic reach is essential, paid advertising can significantly boost your brand's visibility and drive measurable results. A great social media marketing agency has the expertise to create and manage effective paid advertising campaigns across various social media platforms. They will analyze data, identify target audiences, and optimize your ad campaigns to maximize reach and return on investment (ROI).
5. Social Listening: Understand Your Audience
Understanding your audience is key to developing a successful social media marketing strategy. That's why it is necessary to know when is the best time to post your videos or learn about what is trending on social media. Trends can give you more chances of being seen in Instagram explore.
Social media management agencies usually utilize advanced tools, such as Instagram hashtag generators, to create better content for your target audience, and analyze your performance. By analyzing insights, you can better understand your audience's needs, preferences, and pain points, allowing you to customize your messages and offers based on your preferences.
6. Data-Driven Analytics: Measure Success and Optimize
One of the significant advantages of social media marketing is the ability to track and measure the success of your campaigns in real time. Since you require comprehensive analytics reports that highlight key performance indicators (KPIs) such as engagement, reach, conversions, and more, you will need the help of a social media agency who can analyze these metrics and give you a better strategy.
Top 6 Social Media Agencies
Every social media advertising agency offers special services. We've listed the top 5 social media agencies so that you can find the right one for your business:
Ainfluencer
As we mentioned earlier, Ainfluencer is also a social media agency that can help you promote your brand on Instagram and TikTok. Our marketplace connects brands and influencers on these platforms, and its sign-up is 100% free. Therefore, it is worth signing up as a brand and searching for the top influencers in your market.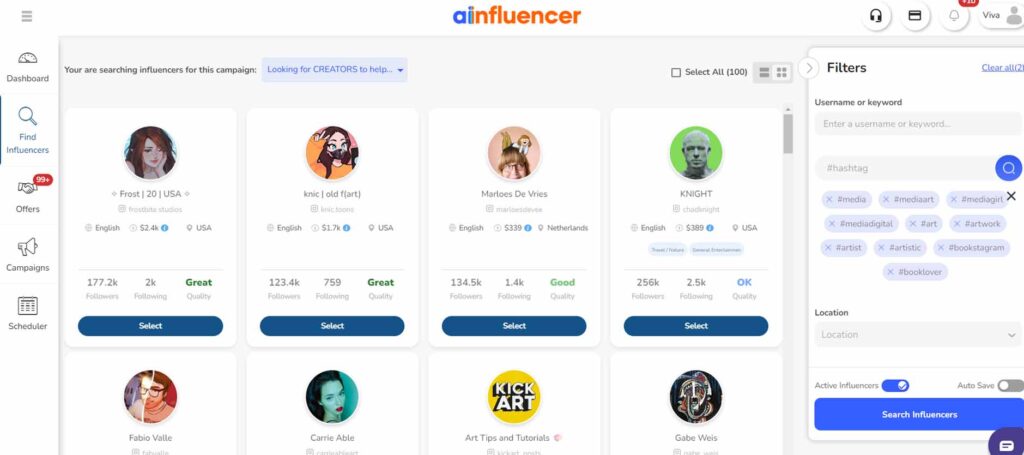 With over 500,000 creators who have already helped over 30,000 brands, Influencer can elevate your brand's presence on Instagram and TikTok in a quick, free, and reliable way.
SocialBee
If you search for a company to manage your social media accounts on different platforms, such as TikTok, Instagram, LinkedIn, and Facebook, Social Bee can be one of the best social media marketing agencies. Some of the services include:
Managing social media accounts
Writing captions for posts
Creating and publishing posts
Analyzing growth
Besides all the useful services this company offers, it lacks a free version.
SmartSites
As the best social media marketing agency in 2022, SmartSites provides different services, from driving traffic to your website to improving likes and followers on social media.Here are some of the services this agency offers:
PPC advertisement
Social media management
Website design
It offers free proposals for brands, but it doesn't have any service related to influencer marketing.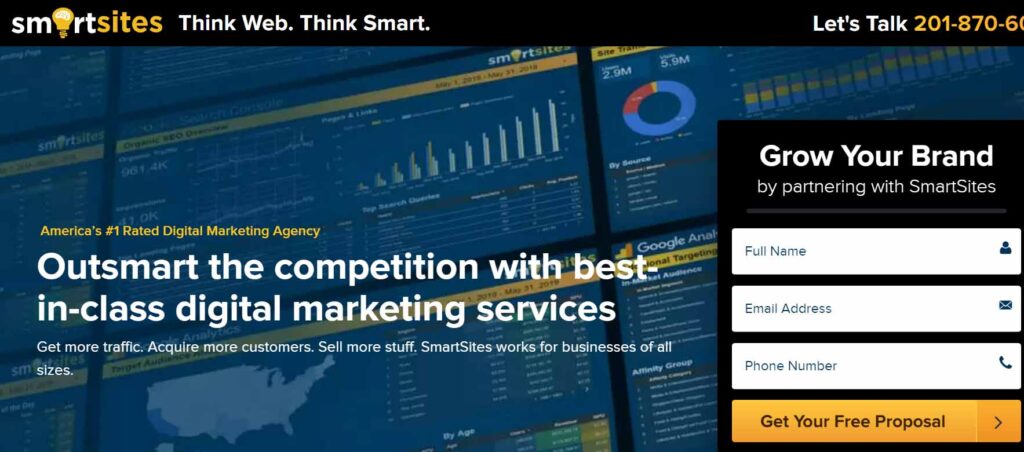 ALT- Smartsites is a website that offers different marketing services
SociallyIn
There are many social networks out there, and some agencies, like SociallyIn, only cover some of them. It might be difficult to master marketing on all platforms. Therefore, SociallyIn decides to only work on LinkedIn, Facebook, and YouTube. Therefore, companies who want to promote their brand on these platforms can count on this company.
The services offered by SociallyIn include:
Social media management
Influencer marketing
Social media strategy
Community management
Content production
Paid social advertising
Social selling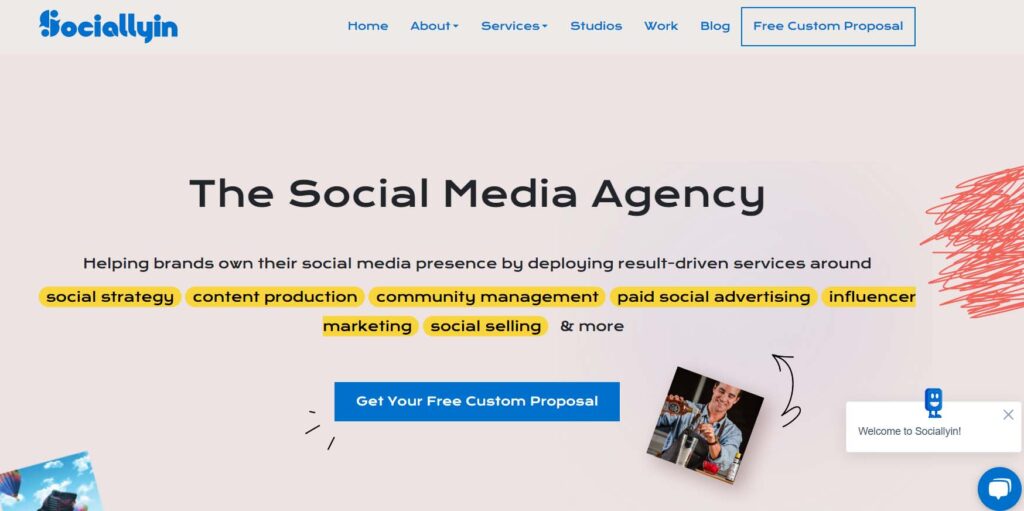 Sprout Social
Do you want to elevate your brand on several social platforms? Sprout Social offers you social media management services for Instagram, TikTok, YouTube, Facebook, Twitter, and almost any platform that has potential users. This agency offers the following services:
Social management
Customer care
Social commerce
Social amplification
The good news is that you can try Sprout Social for free with a 30-day trial.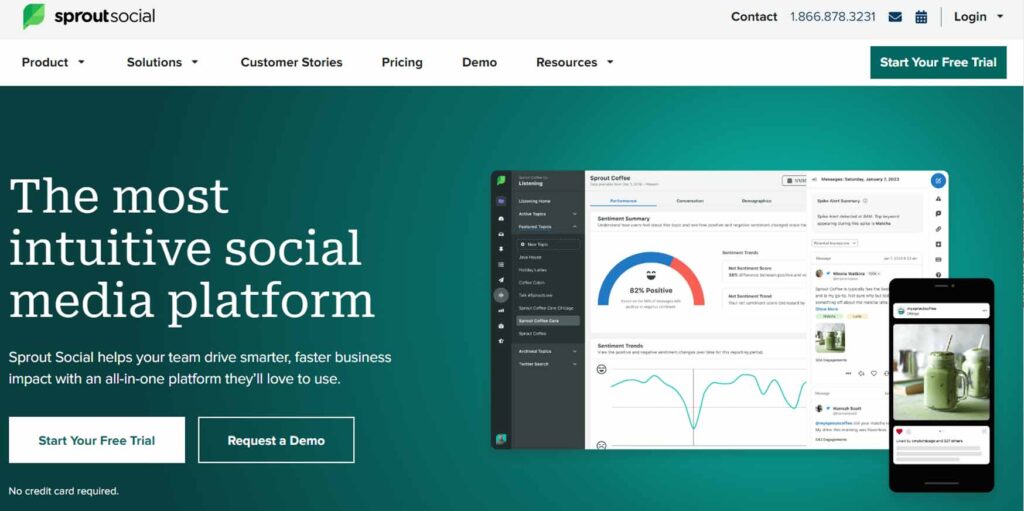 LYFE
This agency is known as one of the best social media agencies that offer services for top social media platforms including Instagram, Twitter, LinkedIn, and Facebook. However, LYFE lacks TikTok management. The services this agency offers are as follows:
Social media management
Social media advertising
PPC management
Email marketing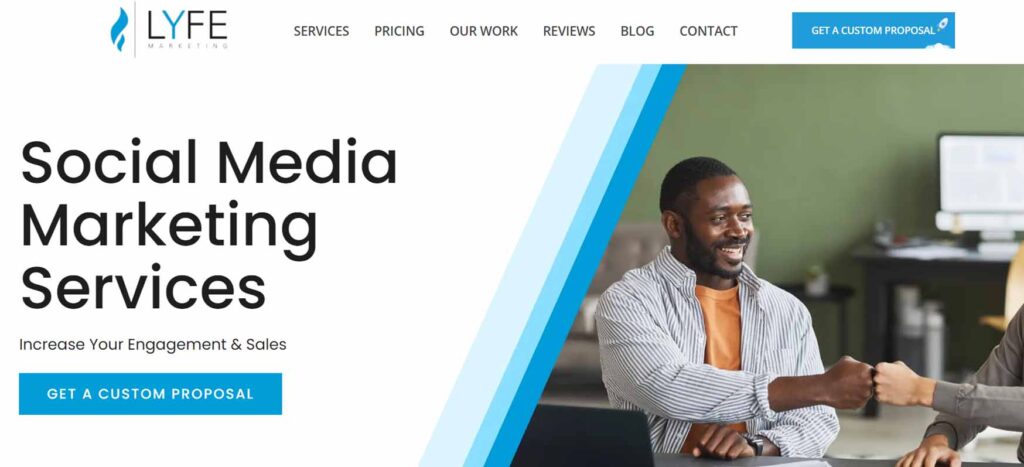 Factors Affecting The Cost Of A Social Media Marketing Agency
Hiring a social media marketing agency comes with the costs that may concern you. Therefore, you should know the different factors that can affect this cost. Understanding these factors will help you make an informed decision and allocate your budget accordingly. Let's explore the key factors that can affect the cost of a social media marketing agency. Shall we?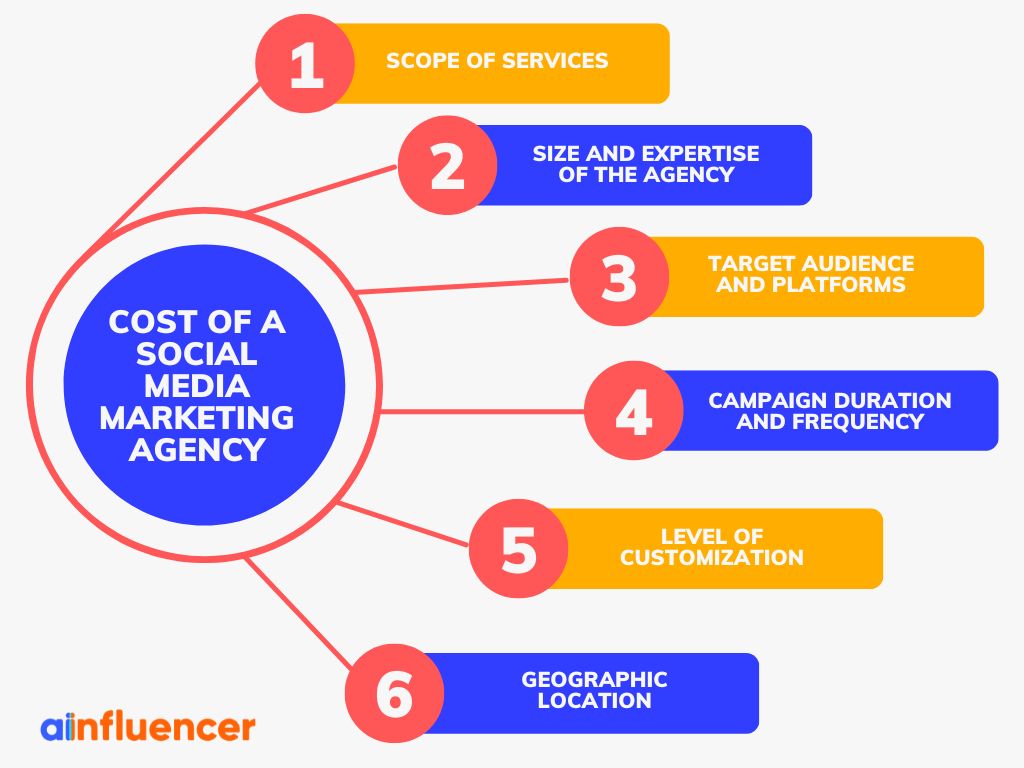 1. Scope of Services
The scope of services you require from the agency will play a significant role in determining the cost. Different agencies offer different packages and levels of service. Some may provide basic social media management, while others offer more comprehensive services such as content creation, influencer partnerships, paid advertising, and analytics. The more extensive the scope of services, the higher the cost is likely to be.
2. Size and Expertise of the Agency
Larger agencies with a strong reputation and a team of experienced professionals tend to charge higher fees. However, smaller agencies or freelancers may offer more competitive pricing while still delivering quality results. Therefore, the size and expertise of the social media marketing agency can also impact the cost.
3. Target Audience and Platforms
The target audience you aim to reach and the social media platforms you intend to utilize will significantly impact the expenses of hiring a social media marketing agency. You may not need to be active on all platforms. You should choose the ones that your target audiences use. Certain platforms may demand specific expertise and resources to efficiently interact with your intended audience.
If your brand targets a younger audience, it might be necessary to hire agencies with expertise in platforms like TikTok or Snapchat. This could increase the cost, but it's important to consider the potential benefits.
4. Campaign Duration and Frequency
How long do you want to run your campaign? The duration and frequency of your social media campaigns can also impact the cost. Short-term campaigns or one-time projects may have a different pricing structure compared to long-term partnerships. Most ongoing campaigns need to be constantly monitored and require regular content creation, and optimization, which may affect the agency's pricing. Additionally, more frequent campaigns or higher posting frequency may involve additional costs.
5. Level of Customization
If you require a high level of customization and tailored strategies for your brand, you may need to expend more. Customized campaigns often involve in-depth research, audience analysis, and the creation of unique content. This level of personalization requires additional time and effort from the agency's team, which can influence the overall cost.
6. Geographic Location
It is also important the consider where the social media marketing agency is located. Because the location of the social media agency can also impact the cost. Agencies based in major cities or regions with a higher cost of living may charge higher fees to cover their operational expenses. On the other hand, agencies based in locations with a lower cost of living may offer more competitive pricing.
Bottom Line
No matter what your business is about, nowadays, most of your target audiences are online using different social platforms, such as Instagram and TikTok. To effectively introduce your brand and products, it is recommended that you increase your activity on these platforms. A social media management agency can help you speed up this process. If you are looking for a social media agency near you, check Ainfluencer out.
Do you want to grow your brand's awareness, leads, and sales on Instagram and TikTok? Sign up on Ainfuencer for free, and connect with top influencers and streamlines the entire workflow, from receiving offers to making payments and leaving reviews.
FAQs
How can a social media marketing agency benefit my business? 
From preparing a social media marketing strategy to managing your accounts, analyzing the insights, running campaigns, collaborating with influencers, and using different tools to improve your engagement and presence, all are the things a social media agency does. However, you can customize the services you want to receive from these agencies.
Why do companies need to work with a social media agency?
Standing out among all competitors in the crowded world of social media is not that easy. Acquiring followers and converting them into customers organically can be a lengthy process. You will need the help and experience of experts in this field, especially if you are new and want to grow your market online.
How long does it take to see results from social media marketing? 
Once you have analyzed your target audience and confirmed that you've selected the appropriate platform, you can proceed with your marketing strategy. Good social media marketing can give you great results between 6 to 9 months. Your activity, creativity, and continuity are the most important things to consider to reach your goals. Additionally, working with a professional social media marketing agency can increase your chances of achieving results in a shorter timeframe.