What makes you more discoverable to your audiences? If you have worked on social media before, you will be familiar with hashtags. The Instagram algorithm considers hashtags as one of the most important parts of the content that makes you visible to your audiences. Instagram users search hashtags to find what they look for. Therefore, you should always choose hashtags that make you discoverable among all your competitors.
However, finding the appropriate hashtags for every post can be a challenging task. How can we make it easier? That's when hashtag generators come to help us. In this article we are going to introduce tools that can help you find better hashtags.
Why Are Hashtags Important On Social Media?
According to the Instagram algorithm, one way to put your content in front of the eyes of your target audiences is by choosing the hashtags they search for. That's why you should always add the proper hashtags for your posts and be aware of what hashtags are trending in your field, such as top fitness hashtags for Instagram.
However, you should also note that there are millions of hashtags on each social media platform, and thousands of content have been posted for each of them, which may make it more difficult for your content to stand out.
Although it is not impossible, using only hashtags to find new audiences can be time-consuming. That's when influencer marketing can help you reach your goal of attracting more followers more quickly. The method is easy, sign up on Ainfluencer as a brand and find the right influencer for your market to collaborate.
What Are Hashtag Generators?
Hashtag generators are online tools or applications that help you generate relevant and effective hashtags for your social media posts. These generators analyze your input, such as keywords, and provide you with a list of popular and trending hashtags related to your topic.
The Benefits of Using Hashtag Generators
Hashtag generators can help you improve your social media posts in different ways:
1. Discover Trending Hashtags
Hashtag generators keep you updated with the latest trends and popular hashtags in your niche. By incorporating these hashtags into your posts, you increase the chances of your content being discovered by a larger audience.
Staying on top of trends also demonstrates your relevance and helps you connect with current discussions and events.
2. Enhance Reach and Engagement
Using relevant and targeted hashtags can significantly improve your reach and engagement on social media platforms. Hashtag generators provide you with a wide range of options, allowing you to choose hashtags that put your content at the sights of your audiences. This targeted approach ensures that your posts reach the right people, leading to increased interactions, followers, and potential customers.
3. Save Time and Effort
Manually researching hashtags can be a time-consuming task. Hashtag generators streamline the process by automatically generating a list of hashtags tailored to your specific needs. With this tool, you no longer have to spend much time doing research manually. Instead, you can concentrate on producing interesting content and interacting with your followers.
4. Boost Content Strategy
Hashtag generators not only provide you with hashtags but also offer valuable insights into their performance. You can analyze the popularity, usage, and engagement levels of different hashtags, allowing you to refine your content strategy. By understanding which hashtags your audiences search for, you can optimize your posts and increase their visibility and impact.
Top 15 Instagram Hashtag Generators [in 2023]
As mentioned, hashtags are critical on social media, especially Instagram. You can use these online tools to find the best hashtags for your content. Some of these tools can be used as a TikTok hashtag generator too.
1. HashtagsForLikes
One fantastic tool that helps you find the most relevant and trending hashtags for your Instagram posts is HashtagsForLikes. By simply entering a keyword or a few words related to your content, this generator provides you with a list of highly targeted hashtags. These hashtags are specifically chosen to boost your post's visibility and attract the right audience. With HashtagsForLikes, you can maximize your reach and engagement on Instagram.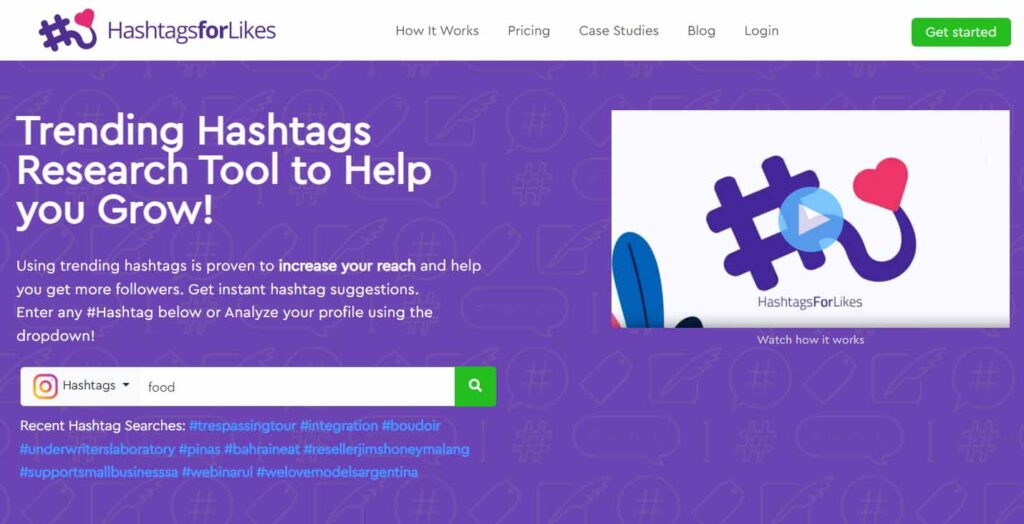 2. All Hashtag
You can enhance your Instagram marketing strategy with All Hashtag. This tool allows you to generate hashtags based on your primary keyword and provides you with multiple variations and related hashtags.
Additionally, All Hashtag provides analytics on hashtag usage, including top posts, recent posts, and real-time updates. This valuable information can help you refine your hashtag selection and stay ahead of the competition.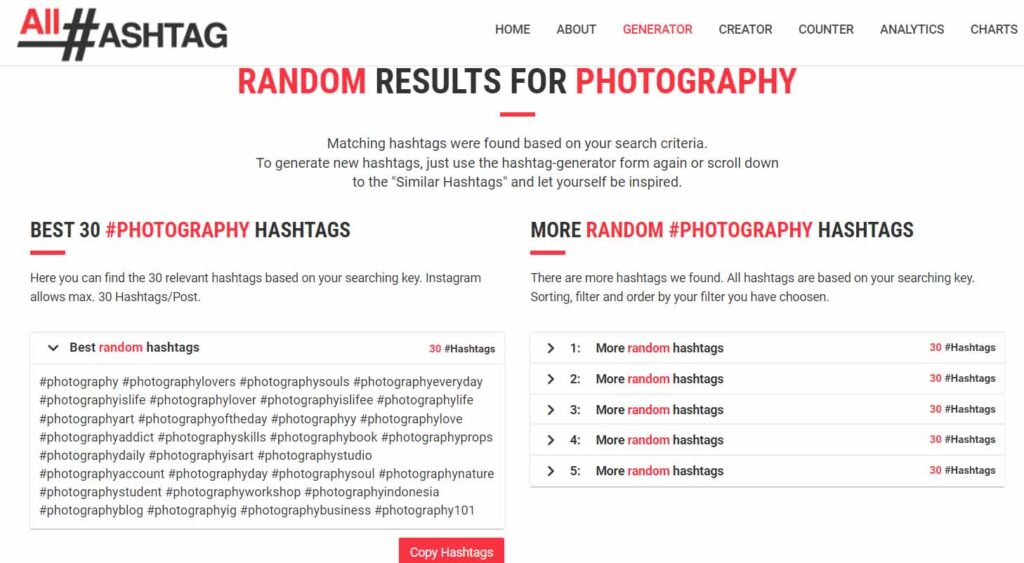 3. Kicksta
Not only is Kicksta a well-known Instagram growth service, but it also generates comprehensive hashtags to enhance your Instagram experience. This tool enables you to discover highly relevant hashtags based on your niche, target audience, and content.
Kicksta's hashtag generator ensures that you are using the most effective and impactful hashtags to increase your post's visibility and attract genuine engagement from your desired audience.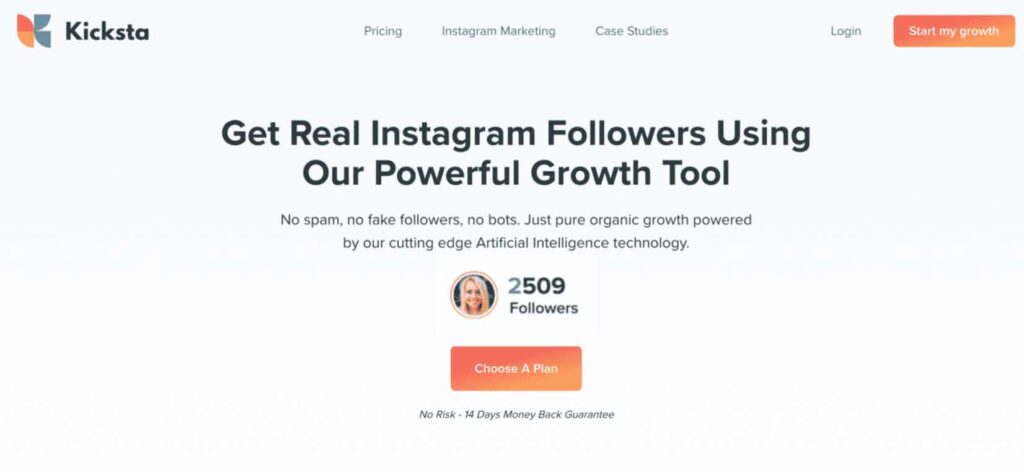 4. Ingramer (Inflact)
Are you looking for an all-in-one Instagram marketing platform that offers a wide range of features, including a powerful hashtag generator? Ingramer is the right tool for you, which allows you to generate hashtags based on a single keyword or a combination of words. It provides you with relevant, niche-specific hashtags that are tailored to your content and target audience.
You can search the word or a URL, or upload a photo. This tool can analyze the objects in the photograph and suggest hashtags according to them. Additionally, It gives you preview of the frequency of a hashtag usage. Thus, you can select hashtags that are easier to promote with. Ingramer is now known as Inflact.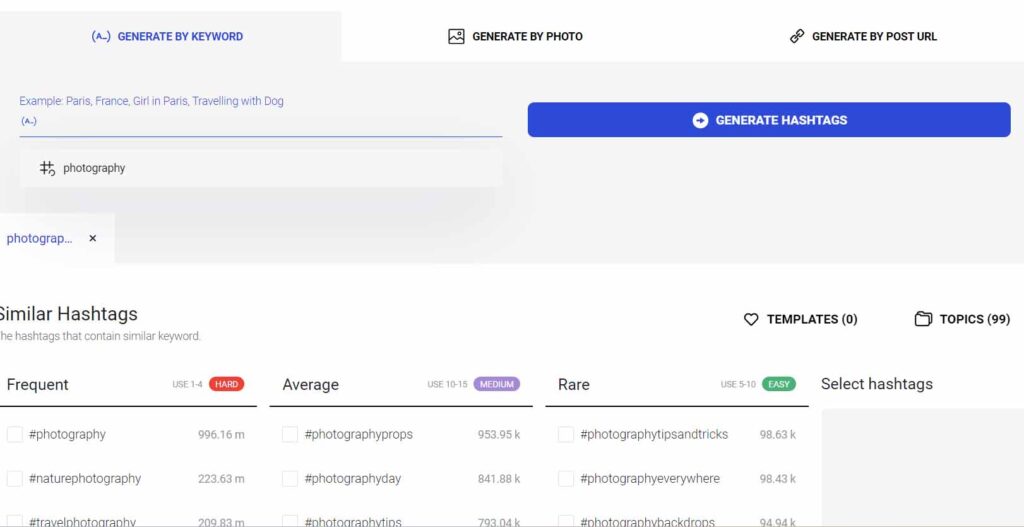 5. Display Purposes
If you look for a user-friendly hashtag generator that helps you find the perfect hashtags to amplify your Instagram reach, Display Purposes can be a great tool. By entering a relevant keyword, this tool generates a list of related hashtags that are highly popular and actively used by Instagram users. Display Purposes has a feature that allows you to filter out hashtags that are banned or considered spam. This helps you make sure that your content follows Instagram's guidelines and policies.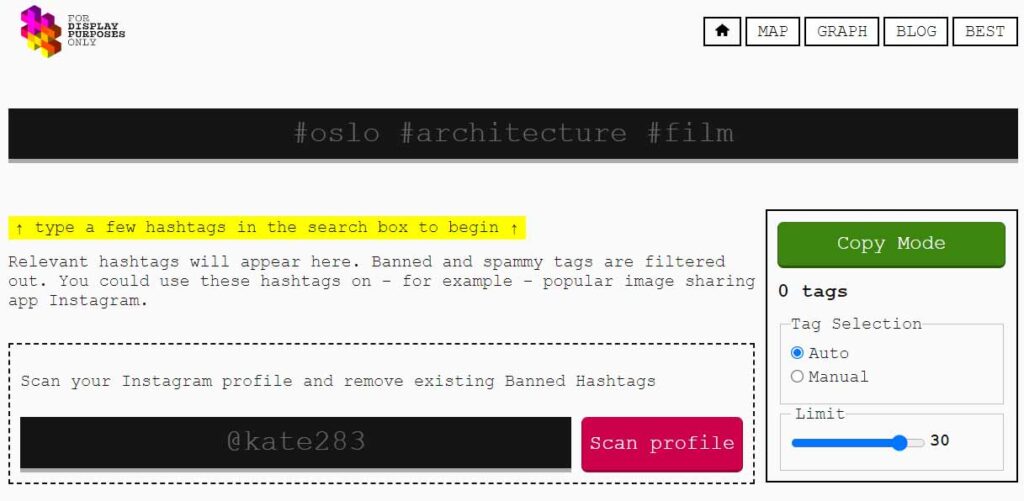 6. Tags Finder
Findings hashtags using Tags Finder is so simple. You can add up to 10 hashtags to its search field. This tool will let you decide how you want to find hashtags. The recommended method is finding the related hashtags. You can also combine related and similar hashtags.
Furthermore, it is also possible to skip some hashtags or words in hashtags. You can write as many skipping words as you want to make it more accurate for this tool to find related hashtags.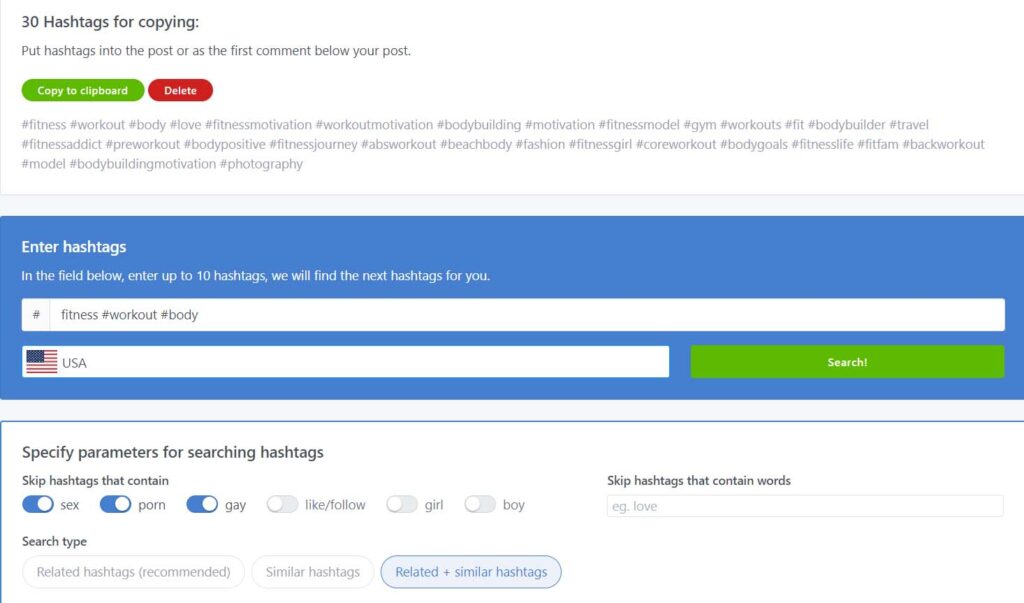 7. Sistrix
The database of this Instagram hashtag generator has more than 15 million hashtag-combination. Therefore, you have a great chance of finding the best hashtags in your market using Sistrix. You can only add one hashtag, and this tool will discover all relevant hashtags. Therefore, you only need to find the main hashtag of your market, for example, if you want to find the best art hashtags, you can enter #art and let Sistrix give you other hashtags. You should also note that Sistrix has a limited free edition.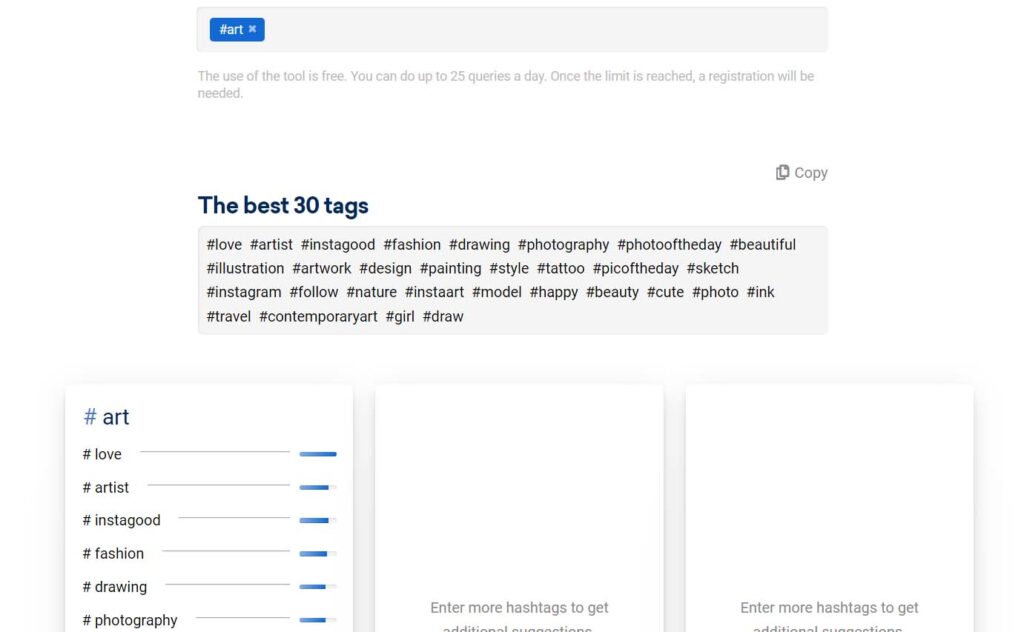 8. Ritetag
The best thing about Ritetag is that it has a mobile app and Chrome extension besides its web version. Therefore, you can work with it the way that is more efficient for you. However, Ritetag is not a free hashtag generator. You can sign up for the free trial, but you have only a few free hashtag searches.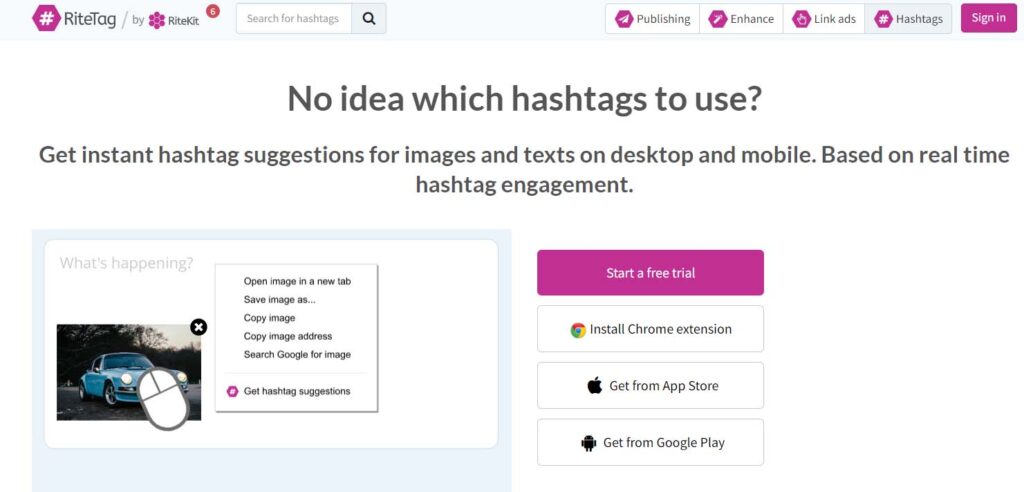 9. Flick
There are lots of tools you can use to find trending hashtags. Flick is one of them that shows the analysis of each hashtag it generates, such as the average likes each hashtag receives. However, it is not a free tool, but it will be useful if you want to choose hashtags with better performance. You can try it for free for up to 7 days.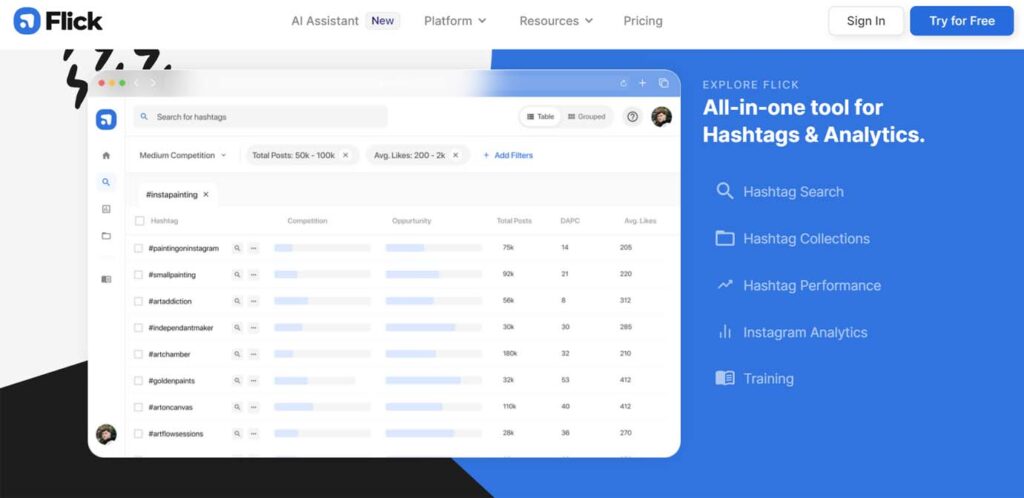 10. Tailwind
There is something different about the Tailwind hashtag generator. This tool is not just a hashtag generator for Instagram, it also ranks among the top generators for Pinterest. To start using this tool, you should either sign up with your Instagram or Pinterest account. Then, this tool analyzes your Instagram posts to find out what your posts are mostly about and what hashtags can improve them.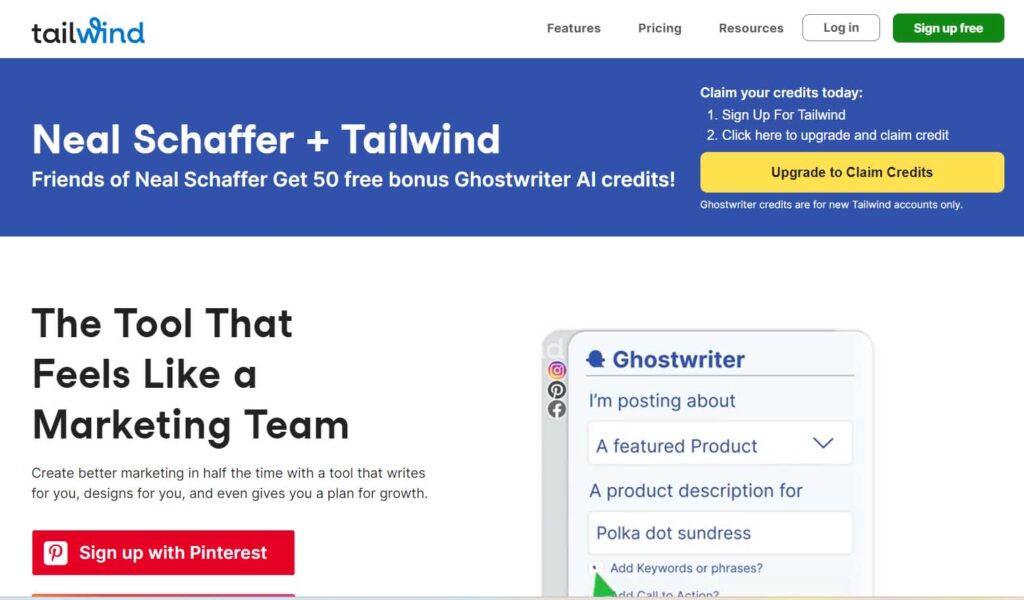 11. Influencer Marketing Hub
Have you ever wondered which hashtags to use for a photo? The Influencer marketing hub is a creative and smart tool that receives the photo and suggests hashtags based on what it sees. You can also select each hashtag to see more related suggestions.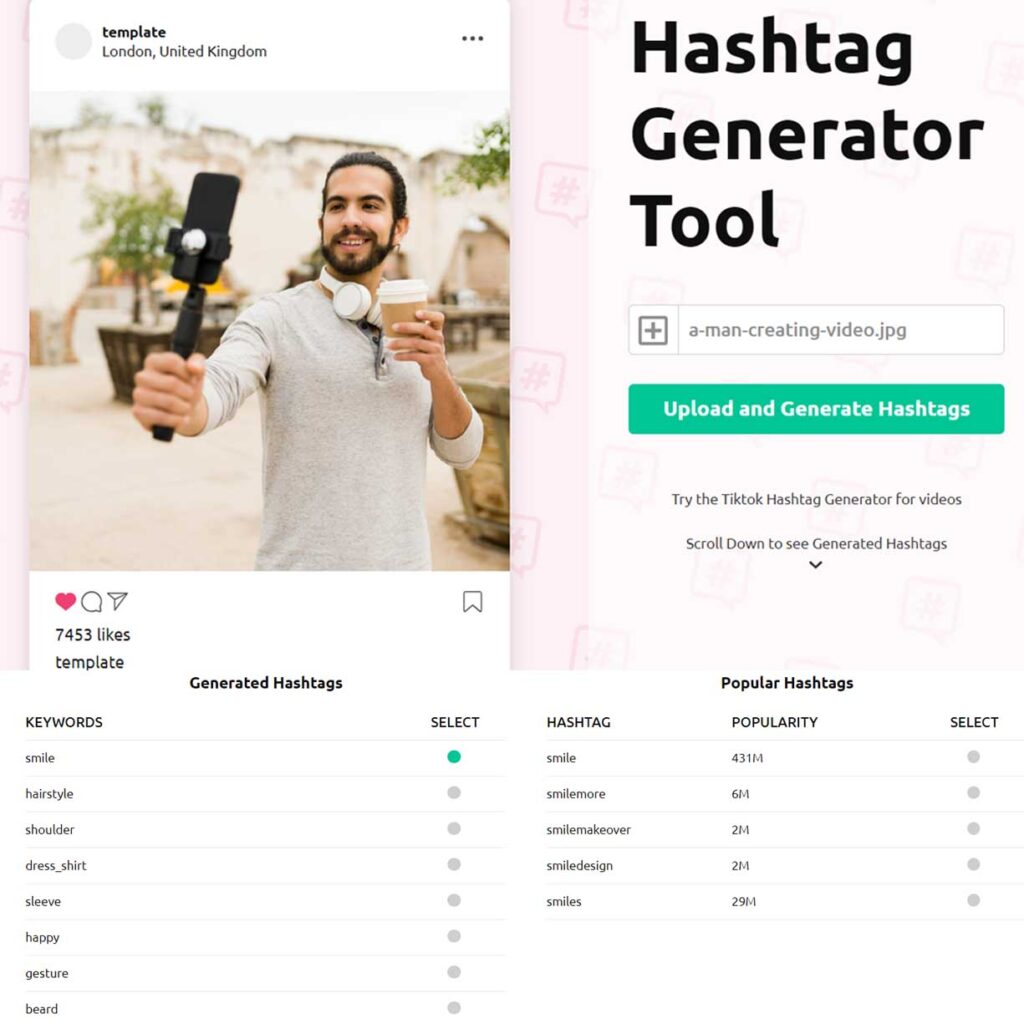 12. Photerloo
Like Influencer Marketing Hub, Photerloo also suggests hashtags based on what it sees. Therefore, you should upload the photo you want to share on Instagram or other social networks and wait for this AI tool to analyze the photo and show suggestions. Meanwhile, you should note that this powerful tool is not free.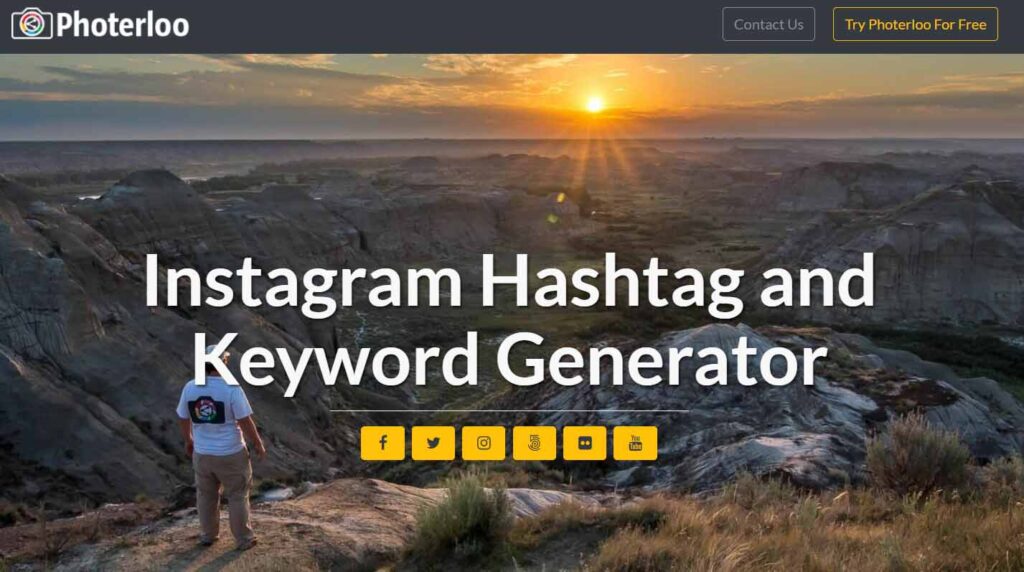 13. Hashtagify
One of the greatest tools to generate hashtags for Instagram is the Hashtagify website. You can also search Twitter hashtags, which makes this website more powerful for social marketers. An essential aspect of this tool is its ability to analyze every hashtag searched and recommend related hashtags. Thus, you can find out which hashtags are recently more popular on Instagram or Twitter.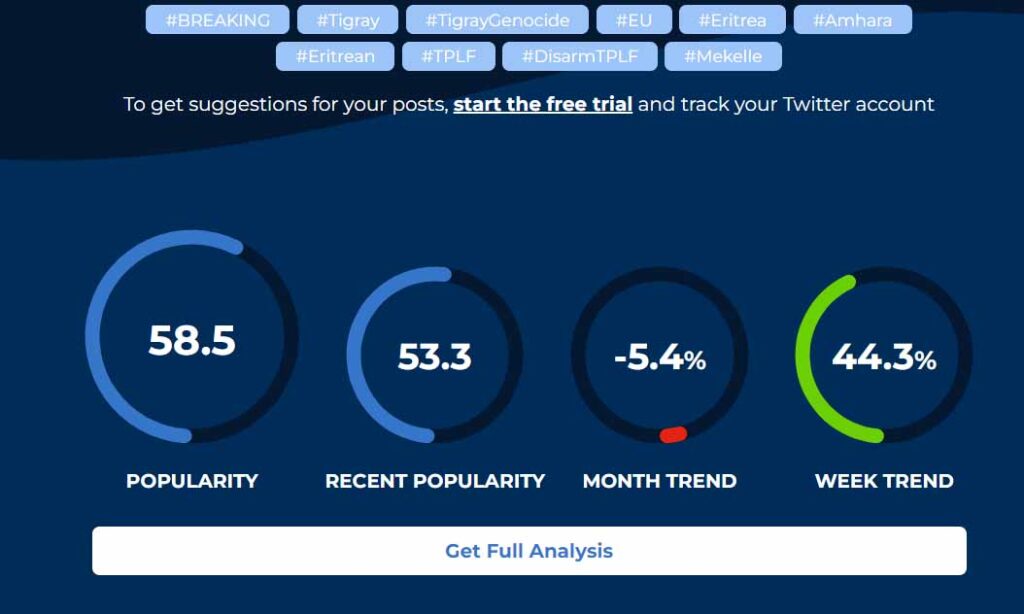 14. Toolzu
You can search for hashtags based on the keyword or URL you enter on Toolzu. Furthermore, it can also analyze the photo you upload and give you suggested hashtags. Therefore, it is one of the top hashtag generators for Instagram.
Additionally, it can show the difficulty of each hashtag based on the number of posts carrying that hashtag, which makes it more difficult for new posts to be seen.
15. Keyword Tool
One thing that makes Keyword Tool a popular hashtag generator is the analyses it gives about each hashtag. You only need to enter a word and wait to see what this tool offers. Then, you can see how many posts are available on Instagram with each hashtag. This will help you find the difficulty of each hashtag. Meanwhile, you should know that Keyword Tool also has limitations. Sign-up is required to receive more information.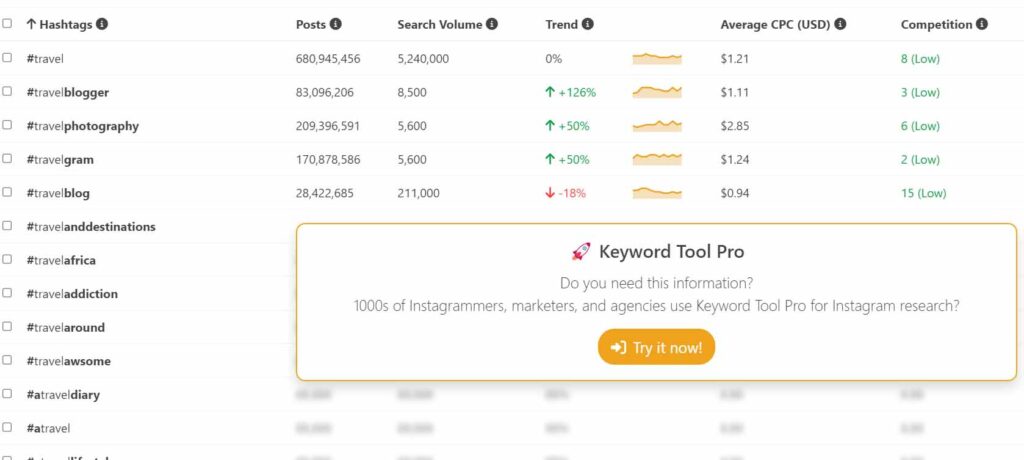 Bottom Line
Instagram stands out as one of the most popular and influential channels for reaching a large number of users. To effectively leverage Instagram's potential, utilizing hashtags is key. Hashtags help categorize content and increase its visibility to a broader audience. In conclusion, leveraging the power of hashtags on Instagram is crucial for maximizing your reach and engagement. You can also grow your business on Instagram with collaboration and sponsorship. To start your influencer marketing, sign up on Ainfluencer and search for influencers based on category, gender, location, or hashtags.
FAQ
1- How Do I Find My TikTok Top Hashtags?
You can either search for hashtags on the app and analyze their performance or speed up this process by using a hashtag generator. Among all the hashtag generators mentioned on this post, you can use Hashtagify, HashtagsforLikes, and Ritetag as a hashtag generator for TikTok to find the best hashtags on this platform.
2- What Is the Best Free Hashtag Generator?
There are lots of hashtag generators online which help you differently. But if you are searching for a free Instagram hashtag generator, All Hashtags can be the right tool for you.
3- Are Hashtag Generators Useful?
Depending on which hashtag generator you use, you can learn a lot about the performance of the hashtags, trending hashtags, or the new hashtags related to your market. Therefore, hashtag generators are the most useful tools to improve your Instagram engagement.