Are you planning to speed up your influencer marketing efforts with Heepsy? Since you're here, that's definitely a yes! We take it you already know the nuts and bolts of influencer marketing, so there's no need to get into that discussion.
You're just here to pay the right agency, Heepsy in this case, to put to work that influencer marketing strategy you've drawn up. This article will provide you with all the details you need regarding Heepsy's performance.
It'll cover reviews, pricing, features, and other viable alternate platforms so you can make the best possible choice.
So let's cut the intro short and get to the sweet stuff.
What Is Heepsy?
Heepsy is an influencer marketing tool that assists you with finding the right influencers. It was established in Bilbao, Spain, in 2016. Well over 7 million influencers are listed on the platform, all ranging from nano to macro.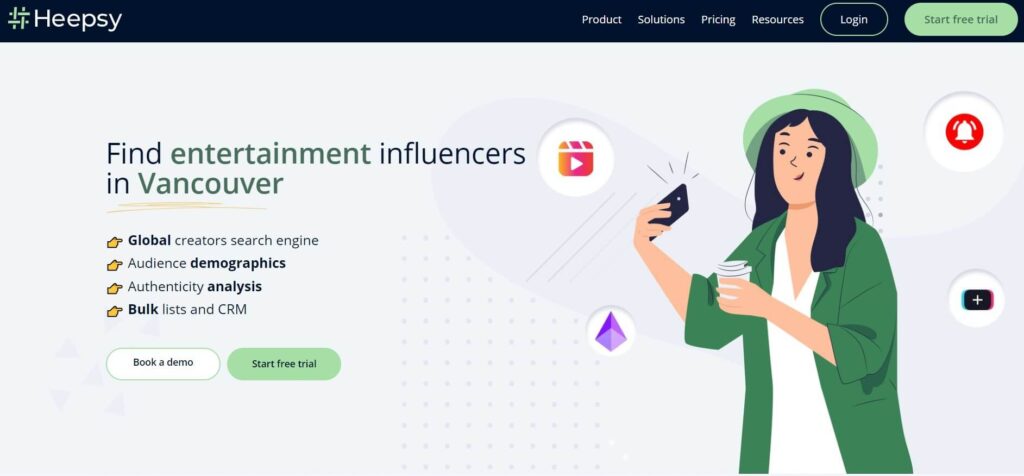 Heepsy is a search tool for influencers on Instagram and other social media platforms. You can set some filters and search for the influencers. And they try to give you some information about the engagement rate and authenticity of the influencer. But there is no way to find out how credible the data is.
For example, they give you some information about the influencer's account like when was the last time they posted or the demographics of their followers. But when we checked the quality of the data, it wasn't very heartwarming.
Heepsy analytics showed that the last time the user posted was 2 days ago, but when we checked for ourselves, we found out that the influencer haven't been posting for at least six days.
It really made us wonder if they can't even provide accurate data about something as obvious as that, what other things are they not accurate about?
We elaborate more and Heepsy pros and shortcomings in the following sections. But for now, let's take a look at its features.
Heepsy Features
As the first core Heepsy features, we can point to Heepsy's user-friendly interface that makes it simple to find influencers. Even though it's not a feature, it's a positive for Heepsy.
The second key feature that's worth noticing is that you can conduct and generate downloadable influencer audits.
With this option, if the data is reliable, Heepsy claims that you can gain deep insights into the quality of each influencer's followers using a set of measurable metrics such as likes, comments, engagement rates, etc.
And finally, you get to each influencer's pricing rates on Heepsy. However, the prices are only estimated and in most cases, influencers are going to ask for much higher prices. So, the prices are not reliable.
Heepsy Search Filters
The main purpose and feature of Heepsy is its searching. You can filter influencers based on the number of followers, number of publications per week, location, engagement, and niche.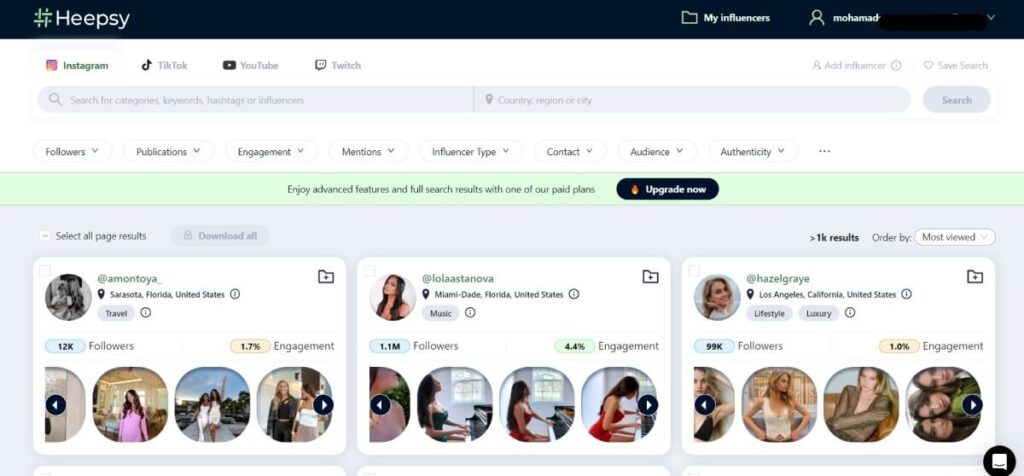 Plus, Heepsy claims you can filter the influencers based on their follower's age, location, and language.
However, the problem is that Heepsy finds Instagram users and all users are not necessarily influencers. For example, you can find Instagram's original account, Cristiano Ronaldo, and the Rock in Heepsy's search and we are pretty sure they are not open to receiving collaboration offers from random brands.
Basically, everyone is included in their search. Every user who has 5K followers or more is not necessarily an Instagram influencer. They are just regular people. And that's one of the main issues with the Heepsy search tool.
Keep learning: How To Find Local Influencers To Grow Your Brand
Other Heepsy features include:
Influencers' history and records,
Custom search filters,
Audience demographics,
Campaign analytics.
Heepsy Pricing
Heepsy offers 4 pricing packages for users:
Free: $0/month
Starter: $49/month
Business: $169/month
Gold: $269/month
With a free account, you get to discover only a handful of influencers, making it difficult to understand how this platform actually works. In other words, Heepsy's free plan is so limited that you can't actually make any use of this platform.
So this means you need to pay a minimum of 49 dollars a month to broaden your access to the influencers on it.
Heepsy Reviews
Now that you know everything about Heepsy and its features let's look at users' thoughts to help you decide better. Here are some Heepsy reviews from Trustpilot, G2, and Capterra.
This unsatisfied user is pointing at the main problem with Heepsy, not excluding normal users with actual influencers. In addition, she is complaining about nonexistent and inactive accounts that appear in Heepsy's search results.
In this Heepsy review, we can see that the user is complaining about some of the filters not working. Careful searching is the main thing Heepsy is proud of. So, it can be very disappointing to realize that their main feature is not working properly.
This review speaks for itself. Heepsy can get the job done, but it's gonna cost a fortune. If you are on a budget, free influencer marketing platforms can be lifesavers for you.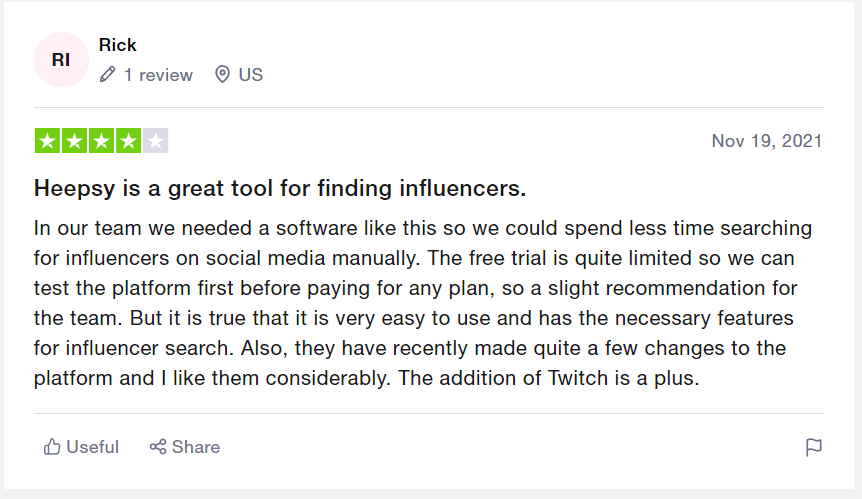 "In our team we needed a software like this so we could spend less time searching for influencers on social media manually. The free trial is quite limited so we can test the platform first before paying for any plan, so a slight recommendation for the team. But it is true that it is very easy to use and has the necessary features for influencer search. Also, they have recently made quite a few changes to the platform and I like them considerably. The addition of Twitch is a plus."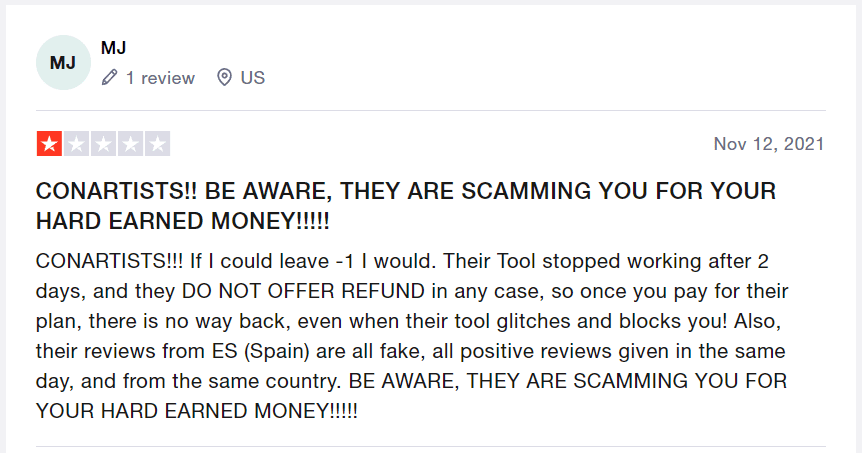 "CONARTISTS!!! If I could leave -1 I would. Their Tool stopped working after 2 days, and they DO NOT OFFER REFUND in any case, so once you pay for their plan, there is no way back, even when their tool glitches and blocks you! Also, their reviews from ES (Spain) are all fake, all positive reviews given on the same day, and from the same country. BE AWARE, THEY ARE SCAMMING YOU FOR YOUR HARD EARNED MONEY!!!!!"
"Good database, less optimal user experience"
"Overall: It does the job for now, but I'm searching for a better site to replace it.
Pros: It has a good database with affordable pricing tiers. Friendly to small businesses and freelancers.
Cons: The site is a little wonky and needs constant reloading, which makes all the previous searching progress lost."

"Overall: Customer service automation bot is pointless – they are losing the quality of product/platform because they refuse to invest into a CSR TEAM. I'm going to try to get my money back and use a new platform. I'm currently paying for a platform I can't use. Highly frustrated especially for work.
Pros: I enjoy that you can discover new creators across the world in a matter of seconds. Get good new solid leads and also depending on the dollar you are willing to spend – it can be very useful.
Cons: I hate customer service. You charge over $200 a month per user – only to respond a day later. My bank account has been getting debited and when you reach out – the response is lackluster and also effortless. Because they didn't understand taxes and different currency – without any effort they came to the assumption that it's not them charging and it says the name Heepsy on my bank statement."
Introducing Other Alternatives to Heepsy:
Influencer marketing is a booming industry with numerous agencies and platforms trying to establish and exercise their authority.
There are hundreds of them out there, all competing shoulder to shoulder to get a larger share of this vast market.
But for the sake of avoiding confusion, we'll stick out to introduce the top five Heepsy alternatives starting with Ainfluencer.
1- Best Heepsy Alternative: Ainfluencer
Ainfluencer is the fastest, easiest, and most cost-effective way to grow your business in every aspect through connecting you with the right influencers.
It's distinguished itself among other competitors as the leading global influencer marketing marketplace.
Hosting thousands of diverse Instagram influencers across the world, the platform specializes in Instagram influencer marketing.
Ainfluencer creates the opportunity to enjoy a DIY (Do-it-yourself) influencer marketing experience by linking brands and influencers.
Once the two sides are in touch, they can arrange all the details themselves using the website's built-in chat system which is a part of the smooth workflow.
Additionally, its AI-powered price calculation system helps you know how much you should pay influencers by providing you with rough figures.
What's even more interesting is that unlike Heepsy and other agencies, you don't have to pay a dime to gain full access to their database.
On Ainfluencer, you just need to go through five simple steps to see your influencer marketing strategy in action:
Explore and invite targeted influencers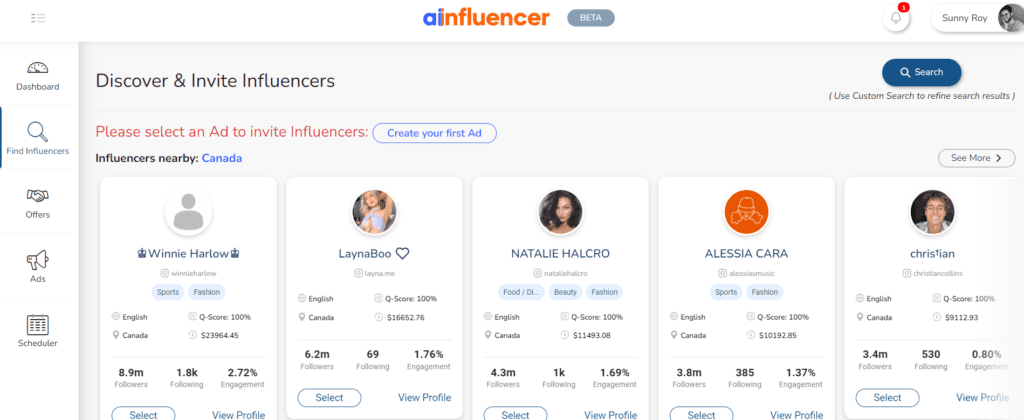 3. Lock your deals down using the chat system
4. Manage payments and verify the post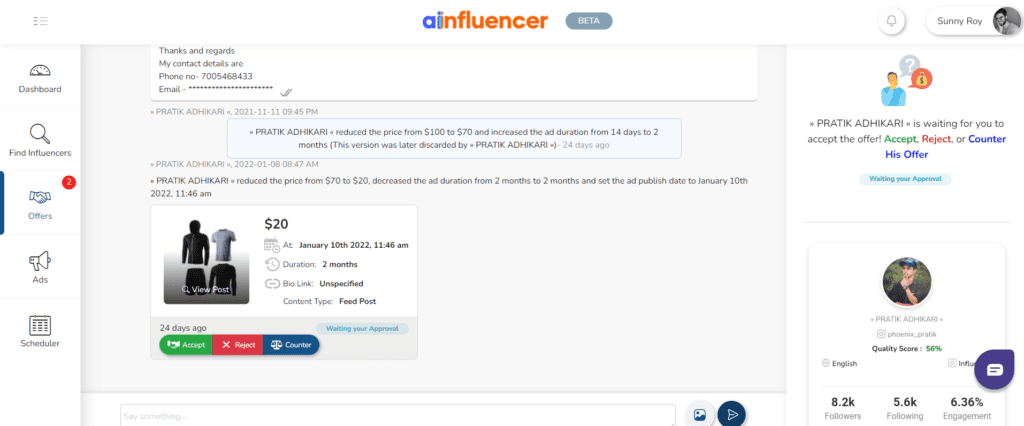 5. Track performance and measure the results
You'll feel influencer marketing was only a breeze for you after using their services. Unlike other marketing platforms, the best part is that you can use Ainfluencer entirely free to collaborate with influencers and brands.
Features:
Ainfluencer's core features are:
Free to use: they don't ask for any money right upfront.
Secure payment: the platform will freeze your funds until you verify the requested post(s).
Large database: you can access a broad, diverse range of influencers for free.
Easy to use: their website makes it simple for anyone to do everything from finding influencers to measuring the final results.
Custom search: by including filters such as keywords, hashtags, category (niche), location, and followers, exploring influencers is easy to do.
Profile metrics: you get to see each influencers' social media account metrics such as likes, comments, and engagement rates.
Campaign manager: this feature allows you to upload and schedule the contents you want to be published during your campaigns.
2- Socialbakers
The next tool in our list of Heepsy alternatives belongs to Socialbakers. Socialbakers is an AI-powered social media marketing platform that also includes an influencer marketing feature built-in within it.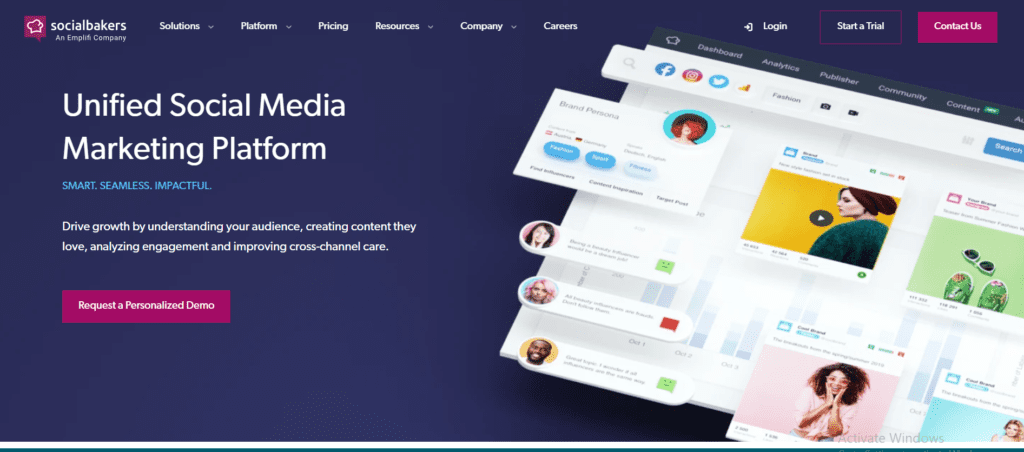 So you can see it's not a dedicated influencer marketing platform you'd expect. However, this doesn't mean the platform is not as qualified as other rivals. The main features of Socialbakers' influencer marketing service include:
Socialbakers Features:
Produce content that receives people talking by investigating engagement over social.
Find the right influencers and manage across teams in one place to estimate schedules and share.
Arrange millions of conversations on social media to spot trends and tap into topics that involve your audiences.
Engage audiences with a social media customer administration platform that estimates as you grow.
Its AI can define the personas for you and moves you closer to your client. Then you will learn their behaviors and habits.
3- Upfluence
Your third alternative to Heepsy is Upfluence.
The platform has made significant changes to its services over the past year, narrowing the scope of its services and focusing on areas that it believes are its strengths.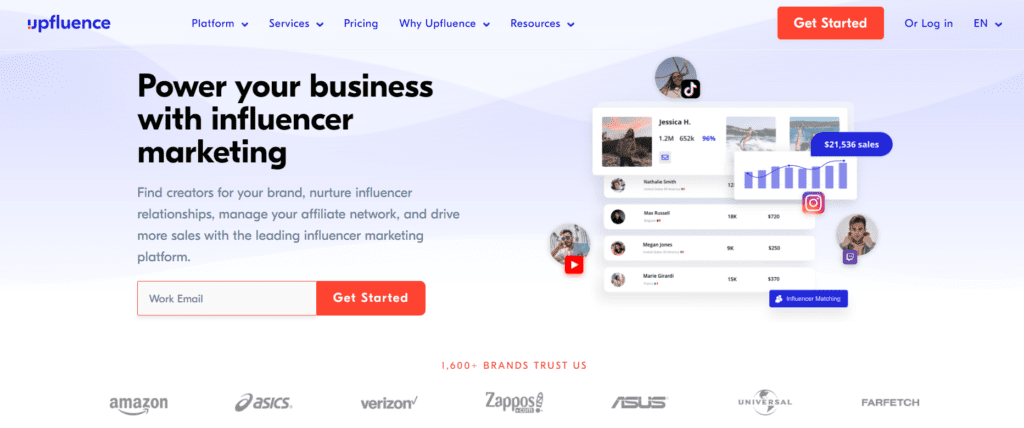 It's got a massive database with about one million influencers.
Their profiles are updated in real-time, and all their content is analyzed to ensure maximum engagement and value-richness.
You can find the right influencer by using specific search filters like related keywords.
What's really helpful in your search is that you can base it upon the qualities of your target market, such as their cultural interests.
Upfluence Features:
Influencer Recruitment
Influencer Segmentation
Analytics
Reporting and Dashboard
4- HypeAuditor
Finally, you can use HypeAuditor to do influencer marketing.
Similar to other platforms, HypeAuditor provides its users with in-depth analytics for successful influencer marketing campaigns.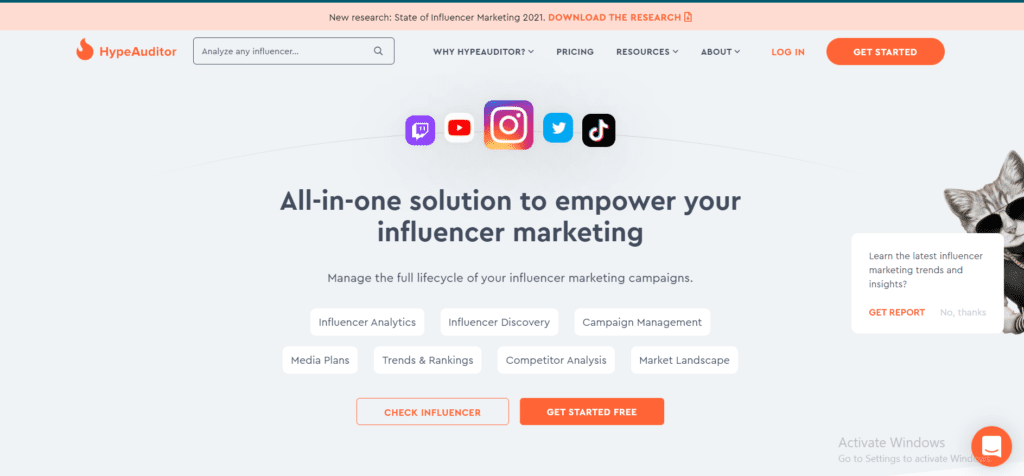 By using these analytics, you can audit influencers' accounts more accurately.
HypeAuditor's inclusion of Twitter and YouTube influencers is by far its best feature.
Like Ainfluencer, it's driven by AI systems to differentiate between authentic and fake accounts.
HypeAuditor Features:
Score Instagram influencer
Influencer Audit
Reporting and Dashboard
5- Grin
The next platform in our Heepsy alternatives list is Grin. Grin is an all-in-one influencer marketing software for e-commerce companies to help them build a valuable brand through partnerships.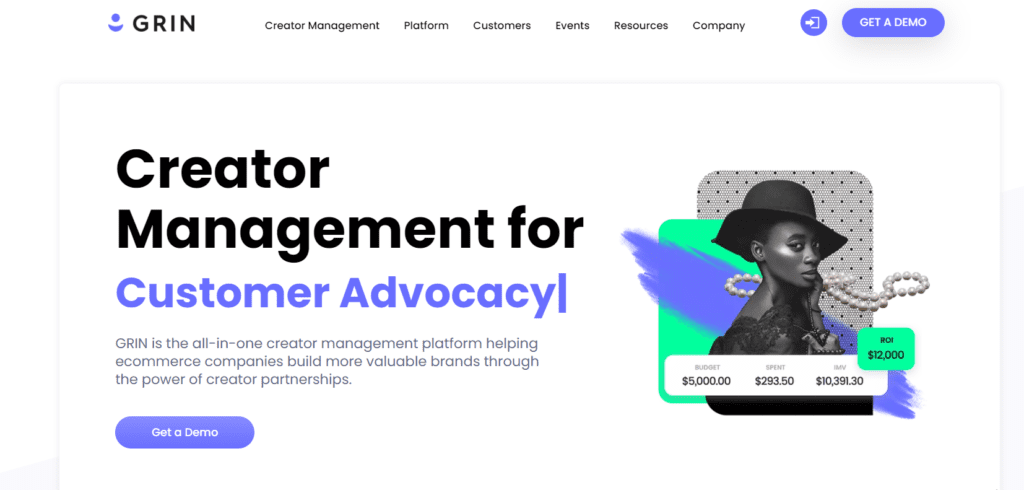 With these Heepsy alternatives, you can quickly discover your niche influencers and connect them while managing your campaigns and influencer relationships.
Grin Features:
E-commerce Integration
Influencer Recruitment
Content Creation System
Relationship management
Reporting & Attribution
Partnership Workflow
Conclusion
Talking about Heepsy features, this platform is powerful enough to compete with other rivals. It indeed provides an all-encompassing tool that you can use to reap the benefits of influencer marketing. Aside from the alternatives we discussed, there are other ones you can use instead of Heepsy.
1- Is Heepsy worth it?
Even though Heepsy works perfectly to connect influencers and businesses, it's overpriced ( 169-269$ per month). You can find and use better options. 
2- How do you become an influencer on Heepsy?
There is no way to sign up on Heepsy as an influencer. If you have more than 5k Instagram followers or 1k YouTube subscribers, the AI engine will add you automatically. 
3- How do I find an influencer?
There are two ways to find your industry influencers; either do a google search or try influencer marketing platforms which is much quicker and easier.