Influencer marketing is a vital part of every business's marketing budget. It's essential for every brand to find influencers in their niche to grow their market. However, apart from being in the same category, it is important to find local influencers who are in the same location as your business is. 
You should note that the most useful way to find influencers in any location or category is using influencer marketing platforms, which are created to simplify the method of connecting to influencers.
Are you a brand looking for ways to find local social media influencers to grow your business? Then, read on. In this article, we're going to show you how to engage and find local influencers. But first, let's find out who these influencers are.
What Is A Local Influencer?
A local influencer is just an influencer that is based close to where a business operates. Since they are in the same region and mainly followed by people in that area, local influencers understand the business's target audience and can sway locals to use that business. 
But the question remains: How to find local influencers? Read on to learn more about the steps you can take to find the right influencer for your business.
How To Find Local Influencers?
If you are looking to attract local customers, working with influencers near you is the first step to take. But the problem is how to find influencers in your area. However, you don't need to worry about it because there are plenty of ways to find local influencers. 
From simply searching the Google to using hashtag research, here are 5 ways that can help you find and connect with local influencers in your area: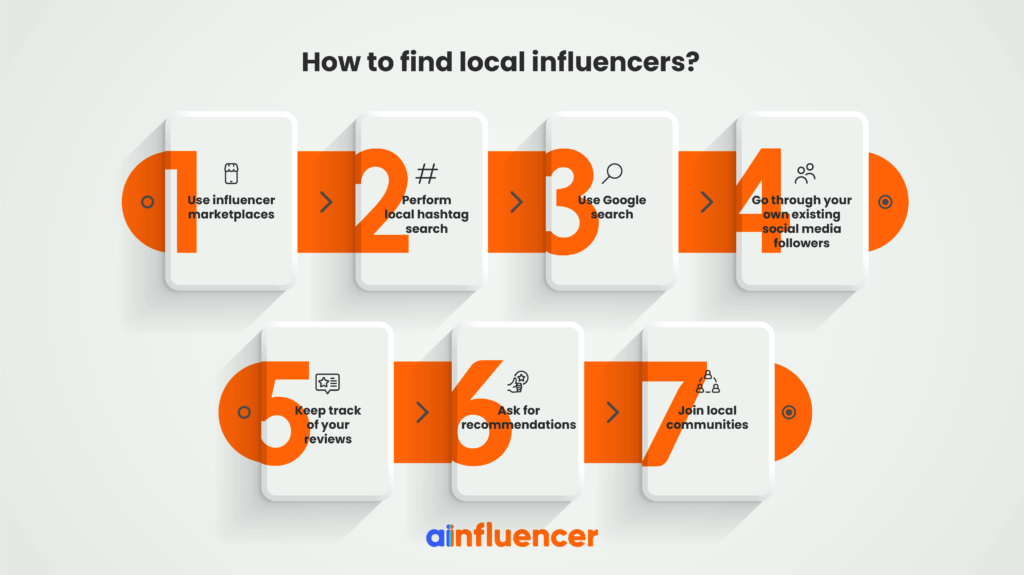 1. Use Influencer Marketplaces
The first thing that most marketers do to find any influencer or content is searching Instagram. However, it can be very time-consuming to find local influencers manually. As you have to check the profile of thousands of users to find the one that might be right for your business. 
Luckily, influencer marketplaces are there to simplify the process of searching for influencers. An influencer marketplace is an online platform that connects marketers with influencers in similar industries or social channels. It can help you find and collaborate with influencers who match your brand, audience, and goals.
Marketplaces like Ainfluencer have influencer finder tools to help you find Instagram influencers to promote your product or services in just a few clicks. 
Ainfluencer: the Best Influencer Marketplace to Find Local Influencers
Ainfluencer is a 100% FREE marketplace. You can explore and find local influencers near you, reach out to them, make offers, and invite them to work with your brand easily, or you can have influencers reach out to you with very little effort involved. 
To find influencers in your area, filter for location and find nano or micro influencers through the follower-size filter. Ainfluencer's AI search engine also provides you with more custom search filters such as language, gender, hashtag, bio, etc.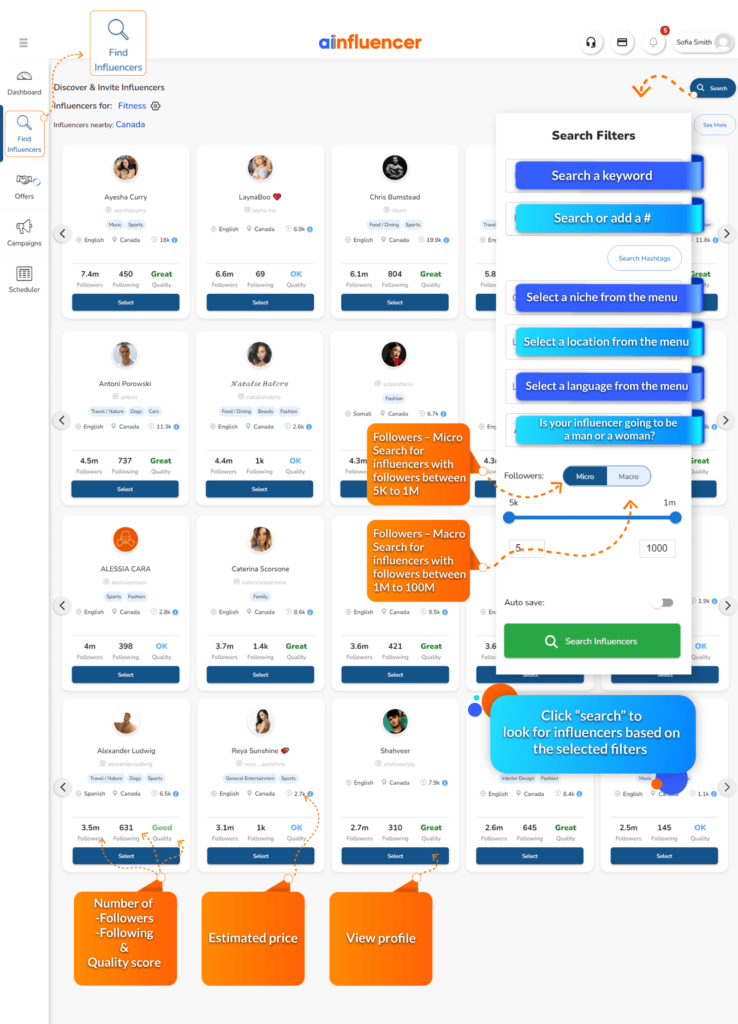 Ainfluencer's advanced search engine helps you find the most relevant influencers in your niche and negotiate with them using a smart built-in chatbox. Check out this video to learn the process of finding influencers on Instagram using Ainfluencer:
2. Perform Local Hashtag Search
Hashtag searches on Instagram, Facebook, or any social media platform are simple but powerful influencer finder tools that help you find relevant local social media or micro influencers.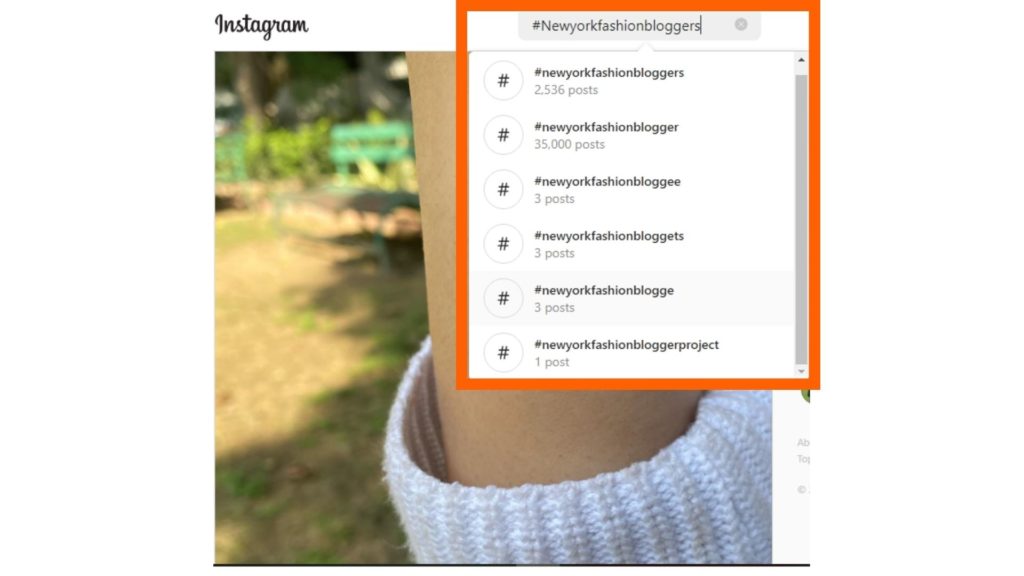 When you search influencers by using targeted keywords related to your business, you can see what popular content or influencers are out there. Among all social media channels, Instagram is the most popular channel for influencer marketing. So, start finding Instagram influencers or local influencers, using specific hashtags related to your business or location.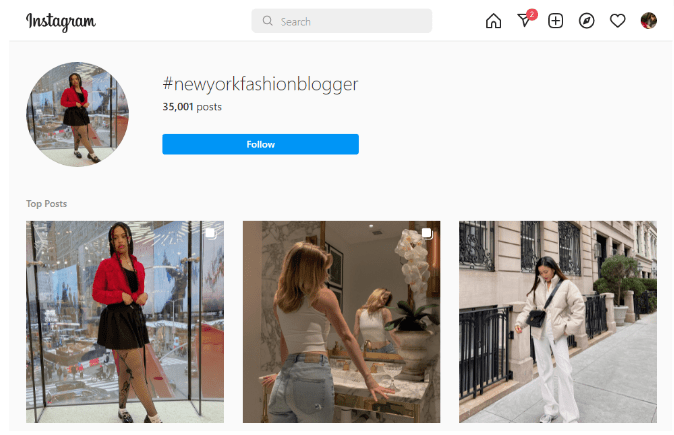 3. Use Google Search
Another useful way to find influencers to promote your product is Google. For example, search "Local influencers near me, or if you are looking for fashion influencers or bloggers in New York, search "New York fashion bloggers" or "fashion bloggers in New York." and you'll find local influencers in this niche.
You can then compare the names that show up and, based on their content, location, audience, engagement rate, etc., decide if they can bring value to your brand or not.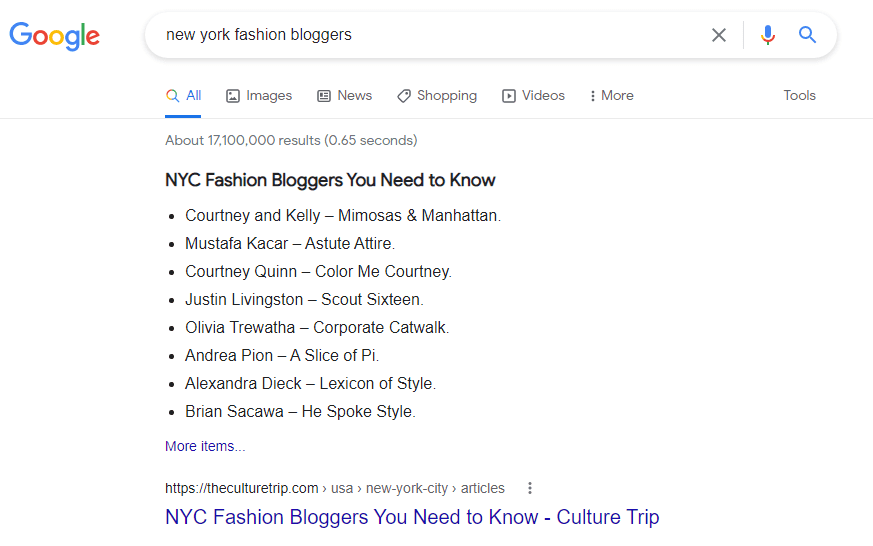 4. Go Through Your Own Existing Social Media Followers
Scan your own social media platforms like Instagram, Facebook, or Twitter. It doesn't matter if you have a strong online presence or not. You might be pleasantly surprised how many local influencers are already following you. 
In addition, your followers may have followed influencers who are a good fit for your campaign. You should know that since your followers are interested in your content, they are more likely to follow influencers with similar content. So, take your time to check out your followers' followings!
You just might find micro influencers that align with your business goals. If you find local influencers that you'd like to work with, don't hesitate to reach out. However, in this step, you should know how to reach out to influencers for collaboration to get the best result in the quickest way.
5. Keep track of your reviews
Find micro influencers who may have already given your company positive reviews before you start to find local influencers in your area. These people are already proven supporters of your company.
Finding social media influencers that already value your business can help you feel confident that you've made the right choice when picking your influencers.
6. Ask for recommendations
When searching for local influencers near you, consider asking friends and family for recommendations. They may know someone in the area who is an expert in your industry or niche.
You can also ask professionals on social media networks such as LinkedIn, Facebook, and Twitter if they know some local influencers in your targeted city or area.
7. Join local communities
Networking with the local community is also among the other top ways to find local influencers and begin building relationships that can help you further grow your business.
The best way to start networking is by attending events within the local community where you'll have the opportunity to meet with potential influencers face-to-face and find out more about them. Once you've identified someone who fits what you're looking for, reach out and explain why they would be a good fit for promoting your brand or product.
8. Analyze Your Competitors' Campaigns
It's an essential part of your marketing strategy to keep an eye on what your competitors do. Especially if you are new to this market, your competitors can tell you a lot about your next step.
Therefore, analyze their campaigns and see who they work with. Although you might not be able to collaborate with the same influencer, you can find similar influencers for your brand. Furthermore, it can help you with the type of campaign and content you should create.
What Are The Benefits Of Working With Influencers?
Modern influencers have redefined word-of-mouth marketing. Having a trusted source supporting your business can guide people toward your company and sway those on the fence. An influencer with an engaged audience can easily re-direct customers your way as well as help with: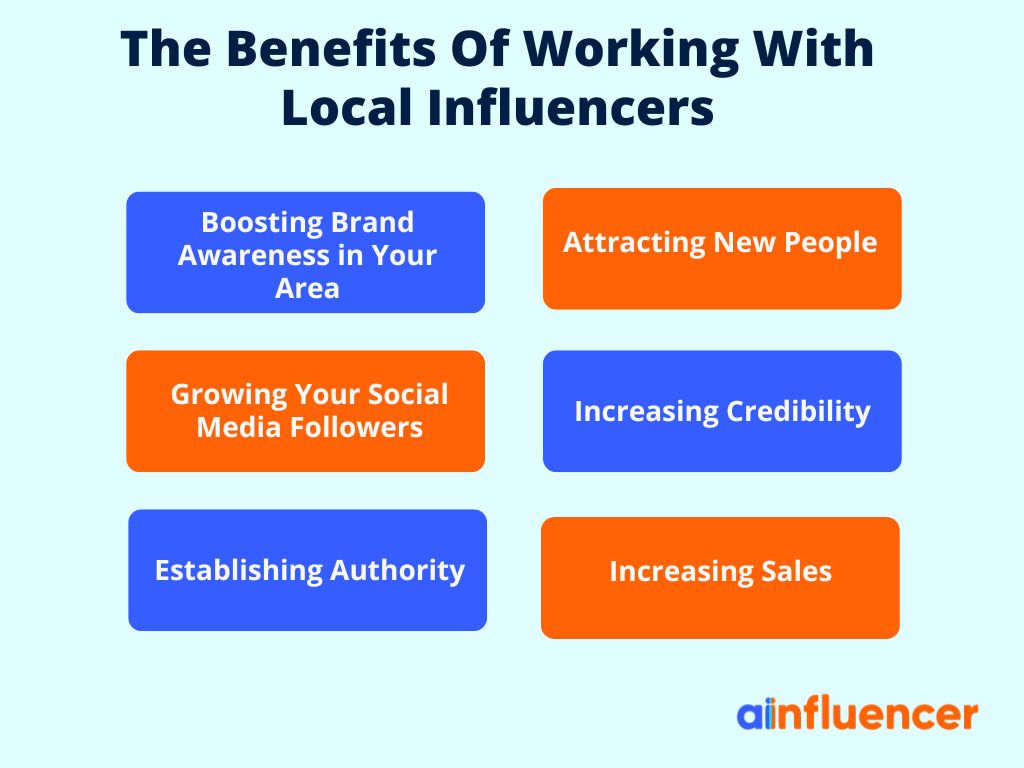 Attracting New People
Growing Your Social Media Followers
Increasing Credibility
Establishing Authority
Stimulating Sales and Amassing More Profits
Note: Before finding local social media influencers, reaching out to them, and starting your local influencer marketing, make sure you've gone through the following step:
Create A Local Influencer Marketing Strategy
You should note that running influencer marketing campaigns isn't limited to large corporations. The power of local influencer marketing for small businesses is evident. By finding local social media influencers and working with local Instagram influencers, small companies can take advantage of word-of-mouth marketing for brand awareness. 
Therefore, it is essential to start this journey by setting up an effective strategy that outlines all the details of your local influencer marketing efforts. 
Before you find local influencers for your campaigns, you need to be specific about the market you want to reach, the goals you want to achieve, and the amount of money you want to spend. 
Most marketers consider hiring micro-influencers for their local influencer marketing because they can bring more followers to their business. However, it doesn't mean influencers with fewer followers are not good. Choosing between a micro and nano influencer depends on your budget and goals.
Now let's see how creating an influencer marketing strategy is done.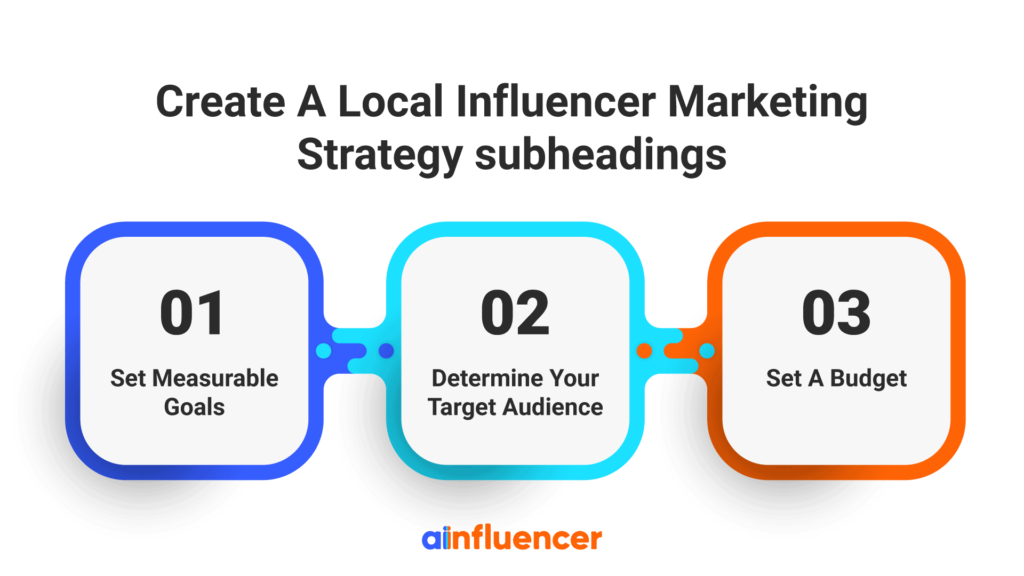 #1 Set Measurable Goals
In any strategy, the first step is setting clear, actionable, and measurable goals.
Most believe goals should be SMART, meaning they should be Specific, Measurable, Attainable, Time-bound, and Relevant.
However, you can use other methods and formats to set goals for your small business as well. The whole idea comes down to one thing: determining where you want to take your small business with influencer marketing.
You can generally include goals like increasing your outreach, generating better leads, or/and boosting sales.
But remember, influencer marketing works best when wanting to achieve long-term goals. So you may want to adjust your goal-setting efforts in a way that is more long-term focused.
#2 Determine Your Target Audience
Next, one of the very important factors you should be aware of, before finding local influencers to promote your product, is researching the market you want to reach.
It doesn't matter whether you're using influencer marketing or some other tactic; your target audience is less likely to change in any situation.
In this phase, you need to develop imaginary characters that stand for your ideal customers.
In Marketing Science, this process is called creating buyer personas.
Often times asking the right set of questions will lead you to come up with the best buyer personas:
Are they primarily male or female?
How old are they?
What do they do for a living?
What are their interests?
What problems do they have?
What products do they need?
#3 Set A Budget
Finally, you should determine how much you want to invest in your local influencer marketing plan. Setting the proper budget will help you further in finding the right local influencers.
So in our case, since small businesses typically have small budgets, they'd probably reach out to local nano or micro influencers.
The reason for this is obvious; these two types of influencers charge less; therefore, they're the ideal choices for most small businesses and brands.
How to Choose a Local Influencer?
Knowing the ins and outs of an excellent strategy to find local influencers and engage them in your campaigns, it's time to manually run an influencer audit by checking three factors:
#1 Profile Engagement
First, you want to make sure the account you're auditing also has an acceptable engagement rate.
A high engagement rate means the local influencer is doing a great job of attracting his/her audiences' attention. As a result, enticing them to take some sort of action.
This is why small businesses pay attention to ERs to decide who is their ideal local blogger.
It's possible to calculate the engagement rate for each post but not for the whole account. For instance, for an Instagram account, divide the number of likes and comments of each post by the number of followers and multiply it by 100 to get the percentage.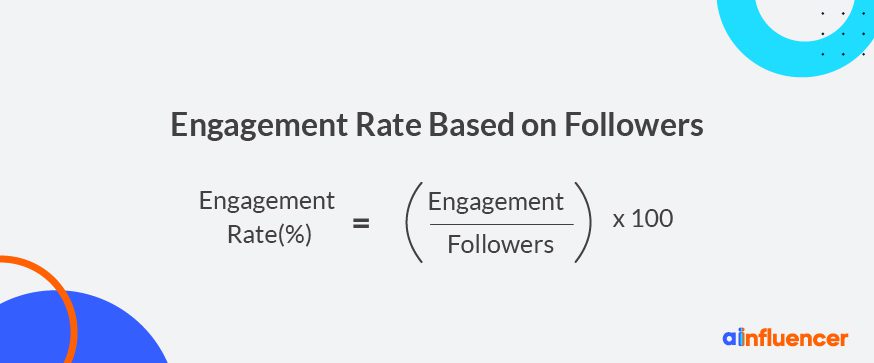 As a rule of thumb, accounts with fewer followers have higher engagement rates, even as high as 10%, which is super. And accounts with a large following count typically have lower engagement rates, say approximately between 1-4%.
Pro Tip: Ainfluencer shows you the whole account's quality score and engagement rate's quality. So why not take a shortcut and make it easy for yourself?
#2 Audience Quality
Second, you need to check the quality of the influencers' audience. You can do this by briefly going through their followers and identifying fake users.
However, this can't be done for large accounts. It's better to use a tool that provides you with this option.
These influencer marketing tools use a set of measurable metrics, such as likes, comments, shares, etc., to assess audience quality.
#3 Niche Relevancy
And finally, check to see whether or not the local influencer's niche fits well with your small business. Your intention is to engage local influencers to promote your small business.
So it's highly essential that the ones you want to collaborate with work within your niche.
This way, you'll align yourself with the local influencers who have the same target audience you're planning to reach.
For example, if you are a fitness brand, it's best to partner with fitness influencers, as they attract the people you plan to reach.
Conclusion
A key marketing tactic for local businesses is to find local influencers because they can introduce you to more audience at the same location as you are. There are different methods to find the right local influencer for your business. However, to speed up this process, we recommend you use our influencer search engine on Ainfluencer.
You should note that it is free to join Ainfluencer and use its influencer finder tool or create campaigns. Therefore, join now to connect with thousands of potential influencers and start growing your outreach today. 
FAQs
1- How to Find Local Influencers on Instagram?
Use specific hashtags and location searches on Instagram. Go through your own Instagram followers, Do relevant Google searches, scan your competitor's followers or use influencer marketing platforms.

2- What Is a Micro Influencer?
Micro-influencers are social media influencers that tend to have between 10,000 to 100,000 followers. As small influencers, they often cater to specific niches and highly engaged audiences.

3- How Do I Become a Local Influencer?
First, you should select your niche so the brands find your audience more relevant to theirs. After that, use location-related hashtags so brands can find your post by searching those hashtags. Don't forget to follow the trends to get more views. 
In the end, the best place for you to make yourself discoverable to brands looking for local influencers is by joining a marketplace like Ainfluencer. Since it's free, download the app and join today and take one step closer to becoming a local influencer.