Thinking about Influencer marketing with little biz resources has taken the social media world by the storm.
Nowadays, by having a high marketing potential, influencer marketing can significantly impact others' purchasing decisions. Local influencer marketing grows businesses on any scale by establishing authentic relationships.
When data shows that local influencer marketing helps people discover new products and companies from their family and friends. Why not consider it as an effective marketing method for big brands and even small businesses?
It is interesting to know that 82% of consumers read reviews of local businesses online. Positive reviews motivate 91% of consumers to consider local businesses trustworthy to start using a brand or small business.
Keeping that in mind, many local businesses can make the most of this massive opportunity as a powerful word-of-mouth marketing strategy.
The exciting fact here is that you can successfully do local influencer marketing even with little biz resources.
So let's dive in to find out more about doing local influencer marketing with little biz resources.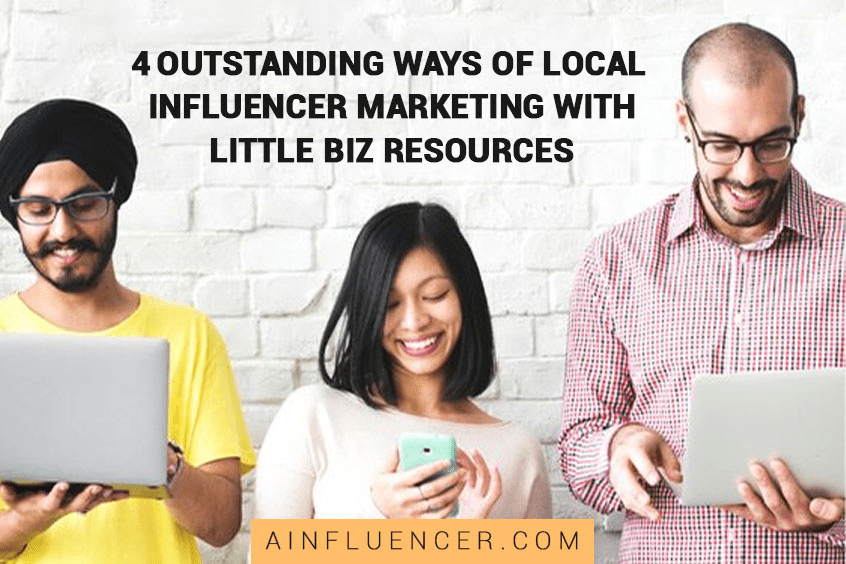 4 outstanding ways of local influencer marketing with little biz resources
When it comes to local influencer marketing, small businesses can meet significant growth regarding their brand awareness.
Fortunately, influencer marketing includes various effective ways to promote your local business at the right time.
Separate from featuring products, the primary goal of local influencer marketing is to find influencers who have established themselves near your shop/store. This makes them have a fantastic ROI compared to other types of influencers.
Here are four excellent ways to help you get started to do local influencer marketing efficiently and attract new customers.
1. Use influencer ad marketplace
The best way to do local influencer marketing easily and smartly is to use a fantastic influencer discovery tool. These tools can help you find the right Instagram influencers at the minimum possible time.
To reach your business goal fast, find the right relevant Instagram influencer, analyze their audience based on your business niche, budget.
To do these, you can simply use Ainfluencer for free, with no hidden costs.
Build your brand's image in any location
By custom search, Ainfluencer offers you useful influencer search filters such as keywords, hashtags, categories, location, and followers.
Scale your marketing efforts with Micro and Nano Influencers
Hundreds of Micro and nano influencers are available on Ainfluencer, to collaborate with local brands and help them create a higher engagement rate
Discover and invite niche-relevant influencers to your campaigns
You can browse through thousands of influencers using an AI-matching system to find influencers and ask them to join your campaign.
Unlike all the other Instagram influencer marketing platforms that charge expensive usage fees, with Ainfluencer, you can create your free ad, discover, invite, and collaborate with influencers.
2. Pay with product
The second most popular way to grow your local business is by inviting niche experts to share essential tips for your products and give them free products in return.
This type of collaboration is mainly recommended for those with a low influencer marketing budget.
Also, it would be best if you start small but plan for more meaningful interaction.
"Offering [no payment] and wanting a huge amount of work shows that they don't respect you or value your work, in my opinion," says lifestyle influencer
Therefore, I do not mean that product exchange for advertising your business products or services makes no sense.
But brands that like to run free product campaigns should follow some prerequisites.
A valuable product
A popular or viral product
ongoing, long-term relationships that result in multiple campaigns
3. Use local influencer marketing to do affiliate marketing
Taking advantage of affiliate marketing can be a great addition to your local influencer marketing strategy.
Affiliate marketing is a type of marketing by which an affiliate receives a commission for marketing another person's or company's products.
It is another available proven way for local influencer marketing.
One of the primary benefits of this marketing method is increasing reach and sales.
It comes in handy for local businesses to use social proof such as positive reviews, word-of-mouth marketing, and leads and referrals to grow your business.
It is worth noting that both marketing strategies are breathing life into promoting your products and services through brand advocates.
4. Invest in long term collaborations
Brands know their values and messages better than anyone, but it's vital to identify when to invest in a local niche expert to get the best results and efficiency.
Long-term collaboration with local influencers can bring you more authenticity.
But first, you need to test out pre-existing relationships with a different local influencer for various marketing campaigns to get better decisions for your long-term business partnerships.
On the other hand, while measuring the return on investments, you see that influencers prefer to invest in building long-term relationships with their audiences. So brands need to have the prospect to invest in long-term influencer relationships too.
Building connection with influencers is reliant on finding the right platform and trusted people.
Ainfluencer can work best to build your brand awareness at a local level and drive great engagement considering influencers' metrics.
Recap
Local influencer marketing is going to have a great impression on the future of online marketing.
Indeed, micro and nano influencers do not have many followers. Still, they can surpass every type of influencer soon since they can make a much better chance of reaching your target audience.
Using influencer ad marketplaces, paying with products, affiliate marketing, and considering long-term collaborations are four excellent ways to do local influencer marketing when with little biz resources.
If you know another different way, I would appreciate knowing to share it with us.