With the rise of social media platforms, influencer marketing budget has become an important issue. Businesses use social media platforms such as Instagram and Facebook to reach their target markets and gain opportunities to connect with potential customers.
One increasingly popular way to reach consumers through social media is through influencer marketing. An influencer is someone who has a large audience and is thought to be influential in terms of purchasing decisions. Businesses can work with influencers to promote their products or services on social media.
There are different types of influencer marketing campaigns and influencers, which affects the cost of influencer marketing.
typical influencer marketing budget
When it comes to influencer marketing, many businesses are still unsure of how much they should allocate to their influencer marketing budget.
According to influencer marketing statistics, 30% of brands spend between $10K and $50K annually on influencer marketing.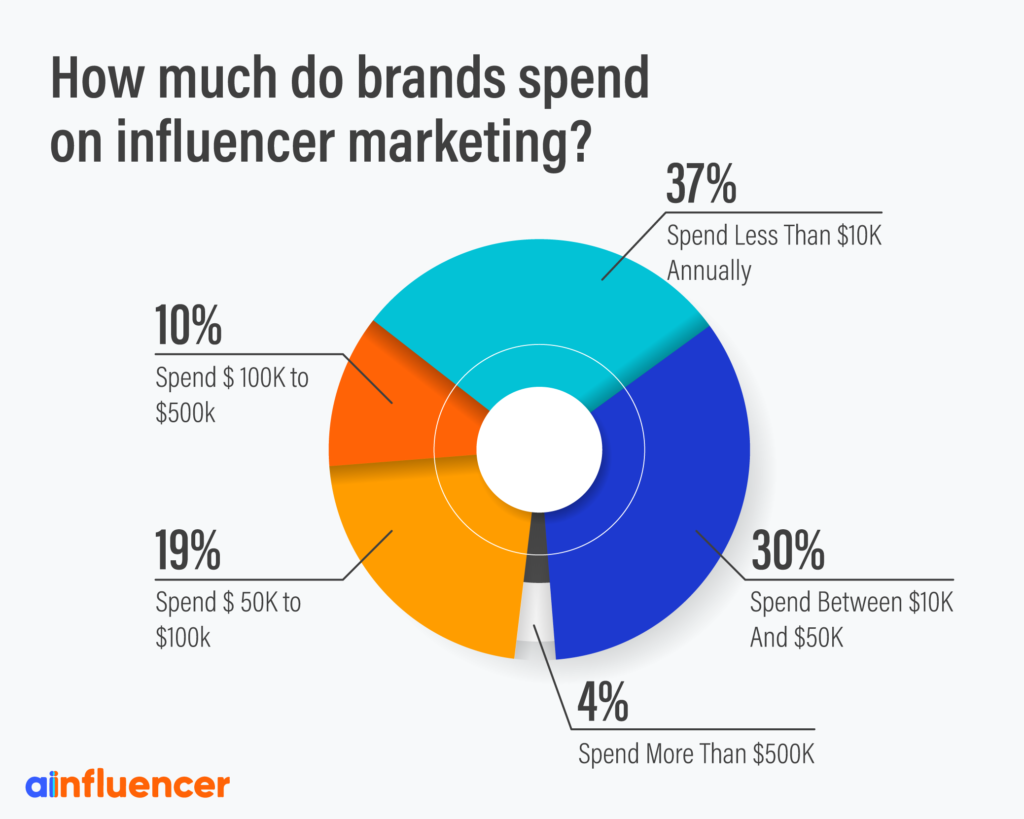 The truth is, the amount you spend on influencer marketing will vary depending on your goals and the size of your business.
Your influencer marketing budget also varies depending on the influencers' reach, audience demographics, and level of engagement. Celebrities can charge tens of thousands or even hundreds of thousands of dollars per post, while nano and micro influencers may only charge a few hundred dollars per post.
Some brands may set a smaller influencer marketing budget and only work with micro or nano influencers, while others may set a larger budget and work with celebrities.
The influencer marketing pricing models also vary. It can be pay per post, pay per click, cost per engagement, etc.
planning for influencer marketing campaigns
Launching an influencer marketing campaign can be challenging and risky. But there are different ways to do it without making losses.
The DIY method
One approach is the DIY (Do It Yourself) method, which involves putting together a campaign plan and executing it yourself.
The first step in launching an influencer campaign using the DIY method is to develop a plan. This plan should include details such as defining the target audience, influencer marketing budget, goals, and strategy. It's important to be realistic and set achievable goals when creating this plan.
Once the plan is developed, the next step is to find influencers who can be a good fit for your campaign. There are many ways to find influencers, including using social media platforms like Instagram, searching on Google, or using a marketplace, such as the Ainfluencer marketplace.
On Ainfluencer you can easily run and manage all the steps of your campaigns for free with no hidden fees.
Scalable influencer marketplaces
In recent years, the number of influencer marketing platforms and marketplaces for launching influencer campaigns has multiplied. This can be attributed, in part, to the growing demand for influencer marketing as a means of reaching consumers. But it's also a reflection of the fact that different businesses have different needs, and no one platform can meet them all.
That's why there's been such growth in the number of influencer marketplaces. These platforms allow businesses to connect with a large number of influencers quickly and easily, without having to go through the time-consuming process of finding and vetting them one by one. They also offer a wide range of services, from campaign planning to post-campaign analysis. Ainfluencer is one of the best marketplaces that does all that for you.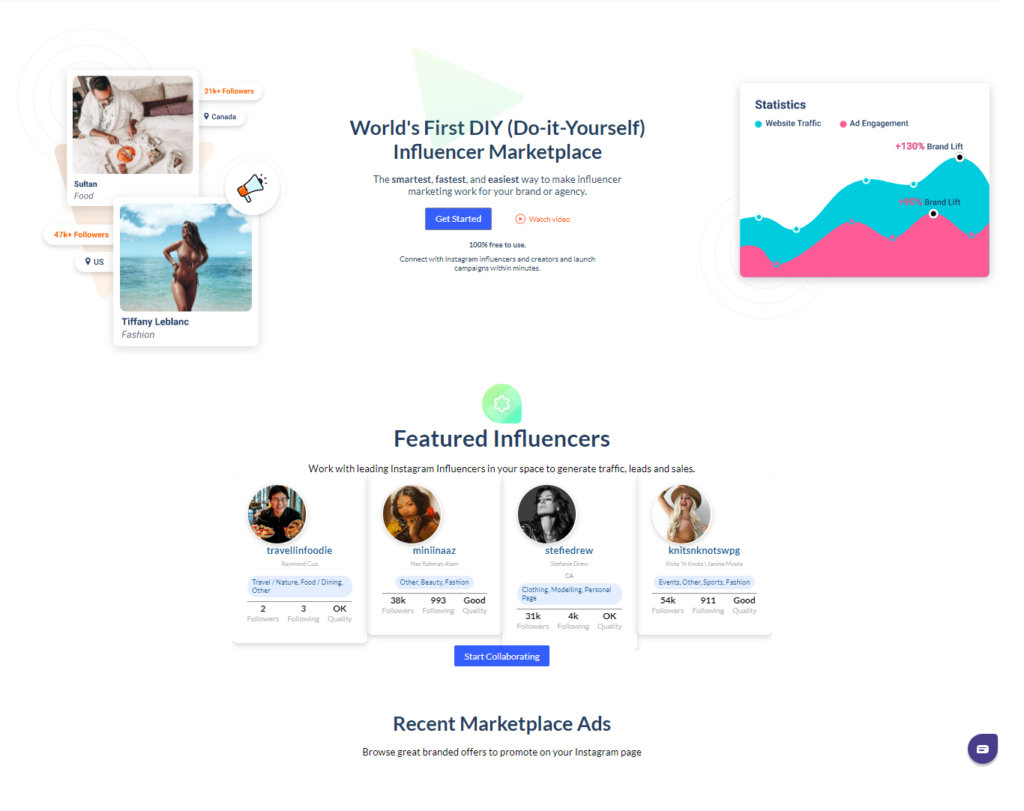 Ainfluencer
Ainfluencer is a safe, secure, and easy-to-use influencer marketplace. Aside from its DIY plan, it presents three different paid plans with various features for running your influencer marketing campaigns and managing your influencer marketing budget.
Let's see each pricing plan and its own features:
Bootcamp
The first plan is named "Bootcamp" and is a great choice for starters to get things rolling.
You just need to pay $149 in order to get the following privileges:
Campaign strategy session and kickoff
Ad and campaign deliverables copywriting (2 ads)
Up to 3 Feed creative samples to include in your Ad
Influencer targeting and invites
Starter 5
One of the other plans that Ainfluencer presents to its clients is "Starter 5." In this plan, Ainfluencer will do all the work for setting up and running five campaigns for only $1500.
You'll get:
5 Influencer Posts
Feed + Story Post
Ad copy, visual creatives, invites, negotiation, etc.
You get a chance to approve each influencer
Post campaign report
Starter 15
And the last paid plan to set your influencer marketing budget the right way is "Starter 15," in which Ainfluencer will set up and run 15 campaigns for you for just $3500.
You will get:
15 Influencer Posts
Feed + Story Post
Ad copy, visual creatives, invites, negotiation, etc.
You get a chance to approve each influencer
Post campaign report
You just need to sign up on Ainfluencer and select your favorite plan to start and manage your campaigns successfully.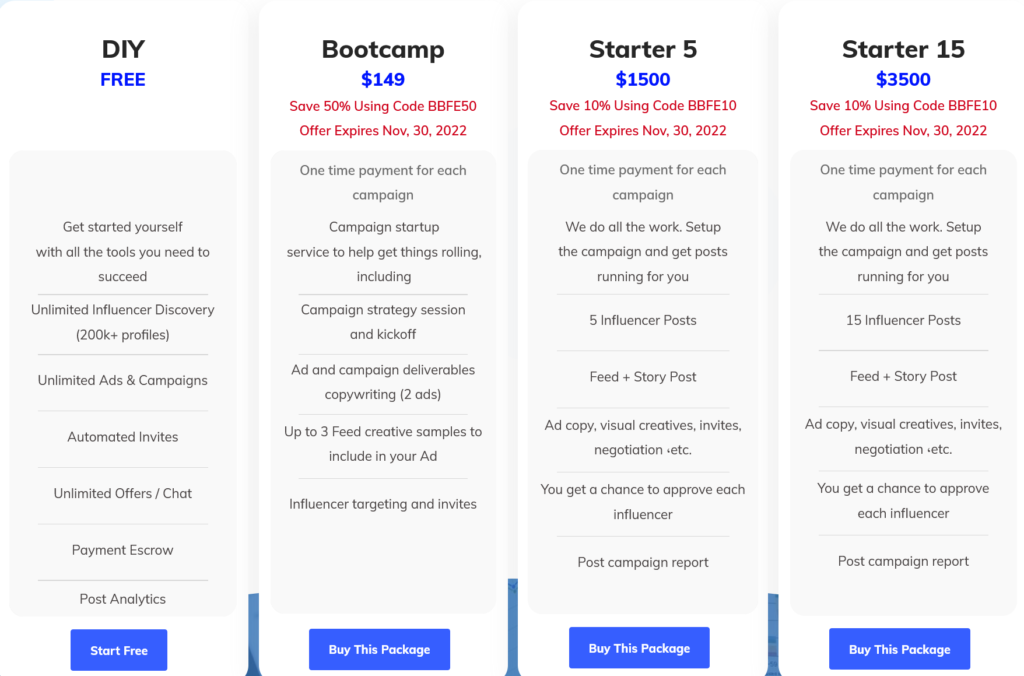 Tips to plan your influencer marketing budget
It's true that you should pay attention to influencer marketing stats, but when it comes to setting your influencer marketing budget, it's not about how much money you have, but rather how much your influencer marketing spend is. In other words, a small budget can go a long way if it's used correctly.
Here are some tips for allocating your influencer marketing budget:
Set realistic goals: To identify how much your influencer marketing budget can be, you need to identify your goals and target audience. What are you trying to achieve with your campaign? Who are you trying to reach? Are you looking to drive brand awareness, increase website traffic, or boost sales?
Once you have determined your goals, you can start figuring out which type of influencers will help you reach them. Defining your goals will also help you calculate the influencer marketing conversion rate.
Specify your budget: Estimate how much money you want to spend on the campaign. This will increase influencer marketing effectiveness and as well help you determine the type of influencers you can afford to work with. Set a realistic budget that fits your needs and goals. Don't overspend on campaigns that may not generate your desired results.
Find your ideal influencers: Research different types of influencers and their corresponding rates. Consider factors such as demographics, reach, and engagement rates. This will give you an idea of what's affordable for your influencer marketing budget.
Pitch potential partnerships to influencers: You need to find those influencers with high engagement rates who can be a good fit for your brand. Then it will be time to reach out to them with a proposal. Explain what you have to offer and why you think they would be a good partner.
Monitor your campaigns: Moreover, make sure you track the results of your campaigns so you can learn what works and what doesn't.
Consider the hidden costs: As brands, big and small, continue to invest in marketing, it's essential to consider all of the costs that go into a campaign before setting their influencer marketing budget. There are some obvious costs, like payments to influencers, but there are also some hidden costs that can eat into your budget if you're not careful. Here are some of these hidden costs that you need to be careful about:
The right value proposition: When setting an influencer marketing budget, most people do not consider the free products, discounts, and VIP benefits that they give to the influencers to build better relationships.
Influencer marketing software: One other factor that impacts your influencer marketing budget is the money you pay for the marketing tools and software you use to manage and track your campaigns.
Media campaigns: With paid media campaigns, you can increase the reach of your influencer campaigns. But do not forget to apply its cost to your influencer marketing budget.
Consider these six tips for making your influencer marketing budget influential.
Conclusion
In conclusion, finding the cost of influencer marketing and planning your influencer marketing budget is important to ensure that you are getting the most out of your campaign. By following the mentioned tips in this article, you can create a budget that will help you reach your desired results.
Additionally, remember to be always prepared to adjust your budget as needed based on the results you are seeing.
You can always use influencer marketplaces such as Ainfluencer to help you manage your campaigns easier.
1. How much should I budget for a marketing plan?
There is no definitive answer to this question as it depends on a variety of factors, such as the size and scope of your business, your marketing goals, and the types of marketing campaigns you plan to run. However, a good rule of thumb is to budget around 7-15% of your annual revenue for marketing expenses.
If you're just starting out or have a limited budget, you may want to allocate a smaller percentage (5-10%) of your revenue for marketing expenses. On the other hand, if you're looking to invest in more expensive initiatives like influencer marketing, you may want to budget closer to 15-20% or more.

2. Do you need a big budget for influencer marketing?
No, you don't need a big budget for influencer marketing. In fact, most businesses can get started with just a few hundred dollars. The key is to find the right influencers to work with and to create compelling content that will resonate with their followers.
You can also use free tools like Ainfluencer to help you identify popular content and influential people in your industry.