If you are planning to become a beauty blogger on Instagram, you should know that it's not easy. Growing on Instagram, like almost any other social network, requires a lot of patience, effort, and perseverance. But it is possible. Others have succeeded, and you too can succeed in this space if you have the right strategy.
What are Instagram Beauty Influencers?
A beauty influencer is a person who has knowledge and information about the beauty industry and posts useful content on social networks or reputable blogs. The activities of a beauty blogger can be in the form of cosmetic reviews or tutorial videos. These people generally talk about the quality and durability of cosmetics and share any experiences they have with their audience.
The beauty field on Instagram has a lot of fans and followers. Beauty has a bigger audience to engage than most other topics, so that's a great opportunity. If you want to know how to become a beauty micro-influencer on Instagram, read on…
How Much Do Beauty Influencers Get Paid?
Beauty influencers can make a lot of money on Instagram. Some of the most famous beauty influencers' income even reaches several billion. It's worth remembering, however, that this job requires a lot of expertise and experience, and that this level of income has been earned by their effort.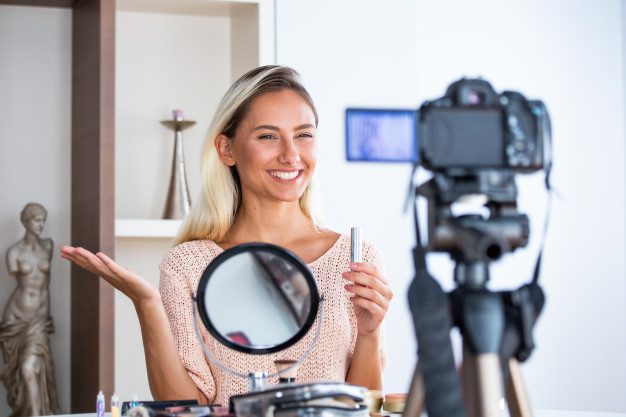 How to Become a Beauty Influencer That Works With Brands?
Instagram is a platform of endless content. To produce the type of content people want to engage with, you have to be creative and different. You also need to have a clear strategy.
Choose your beauty niche
Defining a niche market means focusing your marketing activities on a smaller segment of the larger market that you have identified. This will help you to quickly establish your brand as an expert among your followers.
Beauty is a huge topic with a large audience. To start producing beauty content, it is better to start with a small part of this topic. For example, only review products that help clear acne on your page, or exclusively use organic beauty products. Choosing the right niche market can speed up your growth several times over. All you have to do is choose a niche, do your research, and get to know the needs of your audience.
Choose a good name
Choosing the right name is very important. Try to choose a name that can be used on all different social networks, and one that is memorable so your followers can easily find you.
Make unique visual content
Instagram is a visually driven social network. Your page's aesthetic is what will catch an audience's attention, including the quality and style of your videos and photos. The type of photography and video, the filters you use for your posts, and the colors you choose for your page are important components of your profile's unique visual identity. It's this visual identity that helps your audience recognize your post from others' at a glance.
Tell a story
The best storyteller wins. Know your ultimate goal and based on that determine the specific features of your content. Use your content to build out a story that captures your audience. Are you going to check out different beauty products? Tell the story of your experience of using these products. Want to offer beauty tutorials? Make each tutorial a story.
Make a small marketing plan
Where are you at the end of a month of activity? Where are you going to be in the next six months to a year? Having a small plan will help you find a way to evaluate your performance at the end of each month and determine exactly what you expect to achieve with the amount of time and money you're able to spend on it.
Generate efficient content
To build a successful beauty page on Instagram, to be a good storyteller and make unique visual content, you also need to spend a lot of time building original content and giving your audience a reason to follow your page.
The trust of your audience is gained when your tips are effective over time and your content is proven to be accurate.
How do you find reliable brands looking for beauty micro-influencers?
Use the Ainfluencer app to find and connect with brands looking for beauty micro-influencers. Ainfluencer includes a bustling marketplace of worldwide brands and Instagram influencers ready to connect and collaborate. Get the App to browse the marketplace and make offers.
For each post you can create a checklist to answer your audience's questions and ensure your content meet their needs.
Engage deeply with your audience
To be successful on Instagram, it is not enough to just have a good program and publish content regularly! Social networks, as their name suggests, are a platform for interaction and communication between people. So to turn your audience into fans, you need to establish a deep connection with them.
Take care of their problems and questions, respond to their messages, and sometimes get involved with their content. Taking the time to make such connections is as important as the amount of time you spend creating content.
Get help from influencer marketing
Eventually, after you find a routine and reach a certain level with your audience, growth can start to slow down. Maybe you have a specific budget for faster growth or you are looking for a way to grow faster. You can get help from other influencers.
Other beauty influencers can expose your brand to larger audiences and help grow your following. Try to work with different brands and create exchanges that are useful for everyone. For example, you could introduce a brand's products and that brand will offer gifts from their product line to your audience in return. This is a great way to attract new audiences to your page faster.
Study the rules of Instagram well
The Instagram algorithm is constantly changing. Always try to stay up to date on Instagram's rules. This will help you steer clear of trouble and optimize your page. For example, what are the reasons Instagram might block your page? What is the correct way to use hashtags? What kind of posts are trending?
The answers to these questions are changing rapidly and require your constant study.
Use the right beauty hashtags
Using the right hashtags can instantly gain you more followers. When we say "right" hashtags, think of specific and trending ones that will show that you know the industry well. To get the attention of brands, using their branded hashtag(s) can also help a lot. Many beauty companies looking to collaborate will reach out to influencers via Instagram.
Top Beauty Influencer Secrets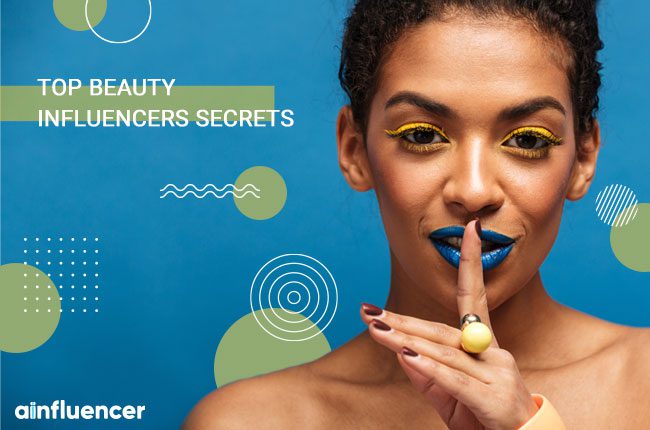 If you look at the path of successful Influencers, whether beauty bloggers or other influencers, you will probably find common tips. These tips include the following:
Patience, the magic formula for success
How many beauty influencers do you know who have become famous overnight? Being a blogger on Instagram seems like a very easy job; someone sits in front of a camera, talks to us a little, and receives a significant amount of money from sponsors. Easy, right?
Not quite. Few influencers are discovered that easily, and there's more work to it than meets the eye. Several hours of filming probably went into that few minutes you see in the post. Most of them, like you at the beginning of the journey, probably did not know much about film and image editing and spent a lot of time gaining experience in the space. Do not rush! To succeed in this space, the most important thing you need is patience.
Avoid comparisons, stay calm
You can't be patient and compare yourself to others. Especially when comparing yourself to successful bloggers, what results do you expect other than discouragement?! When we compare ourselves to others, we ignore our achievements and forget that these successful influencers weren't created overnight.
You don't know how much time and money others have spent, or what went into the production of the content you see. Each person's situation is different. The backgrounds of these people are different from yours. Stick to your own brand and use these successes as inspiration.
Investing in education is key to success
Becoming an influencer requires a lot of different skills, from shooting and editing videos and photos to basic marketing and beyond. Participating in courses to learn these skills is an investment in yourself that will help you progress faster and ultimately make more money. Try to invest in training and acquiring new skills in any way you can.
Avoid imitation, the best way to attract an audience
One interesting aspect of becoming an influencer is that you truly have to discover yourself more and more. No successful blogger in the world has succeeded through imitation. To find your audience, you have to find yourself and your unique voice. It may be difficult to find your style in the early days, but with a little trial and error you can develop a brand that's all your own.
Who are the biggest beauty Influencers?
There are tons of beauty influencers on Instagram, from celebrities to professional beauty influencers. Here are the top 5 beauty influencers:
Huda Kattan
Huda Kattan, better known as the founder of cosmetics company Huda Beauty, is the top beauty influencer on Instagram in terms of earnings. Her account @hudabeauty boasts a staggering 34.5 million followers!
Chiara Ferragni:
An Italian entrepreneur, fashion influencer and designer, Chiara Ferragni started her fashion blog The Blonde Salad in 2009 and has since leveraged it into a global retail business.
James Charles
James Charles Dickinson is an American internet personality, beauty YouTuber, and make-up artist. In 2016, he became the first male ambassador for CoverGirl.
Becky G
The pop princess Becky G is a versatile entertainer who sings, writes songs and has acting talent. She started rapping at the age of 11 and few years later, she was among the thousands performing covers on YouTube. Becky G is also one of the top makeup influencers, and the shining face of cosmetics brand CoverGirl.
Nikkie de Jager
Nikkie de Jager is a 24 year Dutch makeup artist with her own YouTube channel. By grossing over 13 million subscribers on YouTube, she is one of the top beauty influencers on the internet. Inspired by American TV shows, she started uploading makeup tutorials to YouTube and the rest is history.