Makeup influencers, also known as beauty bloggers or beauty influencers, are undoubtedly among the most popular types of influencers who have taken various social media platforms by storm.
The most recent statistics show that customers are more likely to trust beauty influencers than company advertisements; 62 percent of women follow beauty influencers on social media and rely on these beauty gurus to make product decisions.
Who are Instagram Beauty Influencers?
A beauty influencer is a person who has knowledge and information about the beauty industry and posts invaluable content on social networks or reputable blogs.
The activities of a beauty blogger can be in the form of cosmetic reviews or tutorial videos on makeup, hairstyles, or skincare. These people generally talk about the quality and durability of cosmetics and share their experiences with the audience.
It is worth mentioning that most of the top beauty influencers launched their own line of cosmetic products.
How much do Instagram influencers make?
Beauty influencers can make a lot of money on Instagram. Some of the most famous beauty influencers' income or generally influencers' income reaches several billion. But since their job requires a lot of experience and time, it's admitted that their effort has earned this level of income.
But to answer the question "how much do Instagram influencers make?" we must mention that their income varies depending on the quality of their content and also the number of their followers.
In the following list, made by Mediakix, you can see the estimated amount of each sponsored post for each type of Instagram influencers.
Nano influencers, with less than 10k followers: Free products or nominal amounts of money (up to $500).
Micro influencers, with 10k to 100k followers: A couple hundred to a few thousand dollars ($200-$4,000).
Macro influencers, with 100k to 1 million followers: A few thousand to several thousand dollars ($5,000-$25,000).
Mega influencers, with more than 1 million followers: Several thousand to hundreds of thousands ($10,000-$150,000).
How to find Instagram beauty influencers?
Since the field of beauty on Instagram has lots of fans and followers, the number of beauty influencers is increasing rapidly. The number of people who want to find Instagram influencers to reach out to them has also jumped. They use different ways such as Google, hashtags, influencer databases, influencer marketplaces, etc. to reach out to their desired influencers, collaborate with them, and execute influencer marketing campaigns.
So, if you don't know where to find the top beauty Instagram influencers, this article will help you.
Ainfluencer
On Ainfluencer, you can easily find influencers through advanced search features such as gender, location, hashtags, number of followers, etc., and collaborate with the top ones.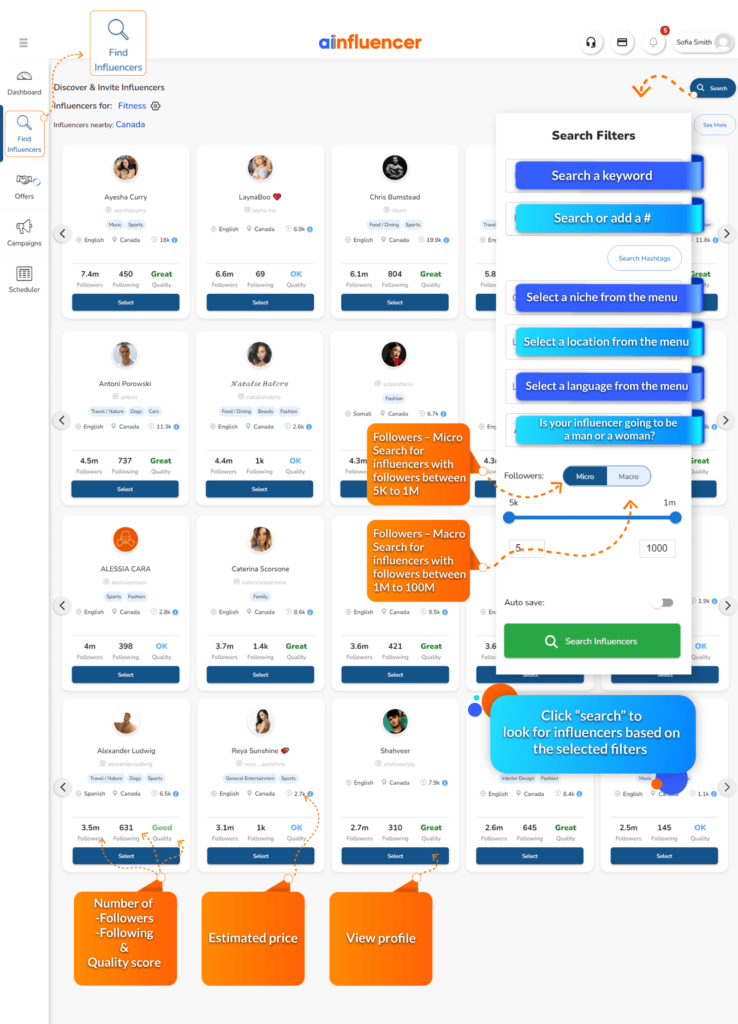 Ainfluencer includes a bustling marketplace of worldwide brands and Instagram influencers ready to connect and collaborate.
Sign up on Ainfluencer and get access to everything you need to know about beauty influencers.
Top Beauty Influencers on Instagram
There are all kinds of beauty bloggers on Instagram, from celebrities to professional and successful beauty influencers. Here, we provide you with a list of top beauty influencers on Instagram:
1. chiaraferragn
An Italian entrepreneur, fashion influencer, and designer, Chiara Ferragni started her fashion blog, The Blonde Salad, in 2009 and has since leveraged it into a global retail business. In 2017, she was ranked first on the Forbes' Top Fashion Influencers' list.
2. nohastyleicon
Noha Nabil is a Kuwaiti social media influencer and beauty blogger born in 1983. She was among the top 10 most influential Arab women on social media, by Forbes, in 2017. Noha is the founder of Noha Nabil Beauty.
3. sadaf_beauty
Sadaf Masaeli is an Iranian makeup artist and one of the best beauty influencers. After starting her makeup training career on Instagram, she instantly attracted the attention of lots of famous brands across the globe, such as Huda Beauty and Jeffrey Starhe. France Forbes and Vogue Magazine named her the second most influential makeup artist.
4. victoriabonya
Victoria Bonya is a Russian model, actress, TV presenter, and social media celebrity. She is passionate about makeup, beauty, fashion, and modeling and posts makeup tutorials on her Instagram account. Victoria is also the founder of Bonya Beauty.
5. nahcardoso
Nah Cardoso, an Instagram and Tik-Tok star, was born in Brazil. In her Instagram bio, she introduces herself as a lifestyle, makeup, and fashion influencer.
6. camilacoelho
Camila Coelho is a model and one of the biggest beauty influencers on social media platforms. She rose to fame due to her makeup tutorials on her YouTube channel. In addition to being a successful beauty blogger, Camila has founded her own beauty brand, Elaluz.
7. ticipinheiro
Ticiane Pinheiro was born in Brazil in 1976. She is mainly known for her acting career, beauty tips, and tutorials on YouTube and Instagram.
8. tata
Tata Estaniecki Cocielo is a Brazilian social media star and among the best Instagram beauty influencers. Posting beauty tutorials has earned her more than 8 million Instagram followers. Tata is also the founder of Tata shop.
9. sandraciresart
Sandra Cires was born in Cuba in 1976. She is an artist, a musician, and also a famous beauty blogger on Instagram, YouTube, and Tik-Tok.
10. iluvsarahii
Karen Sarahi Gonzalez's name is among the top makeup influencers. She has worked with E! News Network's Style Collective, posting articles related to makeup and fashion. She became popular by posting photos with inspirational captions and Reels on Instagram.
11. narins_beauty
Narin Amara, born in 2000, is a beauty and fashion content creator on YouTube and Instagram. By making easy-to-understand beauty tips, she has attracted people of all ages.
12. lilitcaradanian
Lilit Caradanian, born in 1984, is a successful businesswoman and a famous makeup influencer. She is also an entrepreneur and the CEO of Elcie Cosmetics.
13. beautyybird
Another top Instagram beauty influencer that should be mentioned is Yasamin Maya. She is a Mexican beauty blogger who posts videos about fashion and makeup on both YouTube and Instagram. She has also launched her fashion beauty brand called Birdy Lashes Beauty.
14. pautips
Paula Galindo is a Colombian social media figure who is known as Pautips. She creates lifestyle, beauty, and fashion content on different platforms like Instagram, YouTube, Facebook, and Twitter.
15. huda
Huda Kattan, better known as the founder of cosmetics company Huda Beauty, was ranked the top beauty influencer on Instagram in 2021.
16. Kyliejenner
Kylie Kristen Jenner, currently the most followed woman on Instagram, is an American media model and businesswoman. She is the founder of Kylie Cosmetics, Kylie skin, and Kylie baby. She was named the most influential celebrity in the fashion industry, by New York Post, in 2018.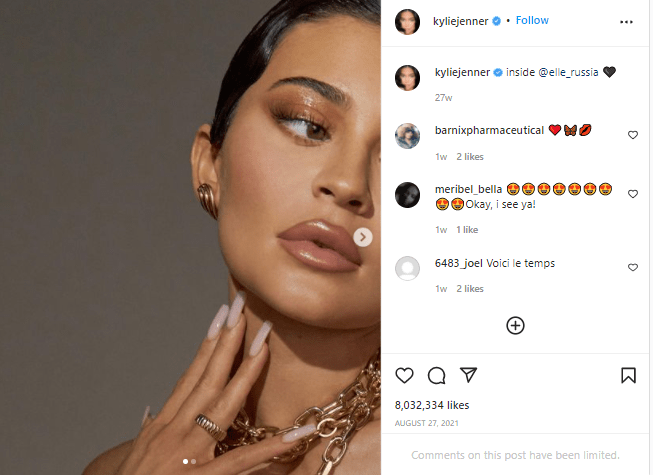 17. jamescharles
James Charles Dickinson is one of the great American beauty influencers and a top makeup artist. In 2016, he became the first male ambassador for CoverGirl.
18. iambeckyg
The pop princess Becky G is a well-known actress and singer who started rapping at the age of 11. She created Tresluce Beauty. Becky G is also one of the top Instagram makeup influencers and the shining face of cosmetics brand CoverGirl.
19. nikkietutorials
Nikkie de Jager is a 27-year-old Dutch makeup artist, with her own YouTube channel reaching almost 14 million subscribers. She is the founder of Nimya and was named the first-ever global artistry advisor by Marc Jacobs in 2019.
20. gigihadid
Jelena Noura Hadid is a 26-year-old American fashion model and one of the most famous Instagram makeup models. Hadid has walked for many high fashion brands over her career so far and gained 35 appearances on international Vogue magazine covers over only four years of her professional career.
21. mannymua733
Manny Gutierrez, known as Manny Mua, started his influencer career on Instagram. He is one of the most followed male bloggers and was the only man mentioned in People's Most Beautiful list in 2017. Manny is the first male ambassador for Maybelline and also the founder of Lunar beauty.
22. Katy
Katy DeGroot, also known as Lustrelux, is an American Instagram and YouTube beauty influencer. She became famous for her makeup tutorials and tricks, makeup tips, and product reviews.
23. gabrielzamora
Gabriel Zamora is a famous American figure born in 1993. Being a makeup artist, he is best-known for uploading makeup tutorials, beauty tips, product reviews, and vlogs.
24. xthuyle
Thuy Le is an English makeup artist who became a popular blogger on Instagram by sharing her makeup techniques. She is also one of the Mac Cosmetics makeup artists.
25. nabela
Being a well-known YouTube and Instagram star, Nabela Noor is an American figure born in 1991.
She started her activity on social media by sharing makeup tutorials. After a while, she used her accounts to promote self-love.
26. kiitana
Kiitan Akinniranye is a black makeup model and blogger based in Los Angeles. Born in Nigeria, she inspires her followers to pursue their dreams fearlessly by sharing many aspects of her life, from fashion to beauty and travel.
How to Become a Beauty Influencer That Works With Brands?
Instagram is a platform of endless content. To produce the type of content people want to engage with, you have to be creative and different. You also need to have a clear strategy.
1. Choose your beauty niche
Defining a niche market means focusing your marketing activities on a smaller segment of the larger market that you have identified. This will help you to quickly establish your brand as an expert among your followers.
Beauty is a huge topic with a large audience. To start producing beauty content, it is better to start with a small part of this topic. For example, only review products that help clear acne on your page, or exclusively use organic beauty products. Choosing the right niche market can speed up your growth several times over. All you have to do is choose a niche, do your research, and get to know the needs of your audience.
2. Choose a good name
Choosing the right name is very important. Try to choose a name that can be used on all different social networks, and one that is memorable so your followers can easily find you.
3. Make unique visual content
Instagram is a visually driven social network. Your page's aesthetic is what will catch an audience's attention, including the quality and style of your videos and photos. The type of photography and video, the filters you use for your posts, and the colors you choose for your page are important components of your profile's unique visual identity. It's this visual identity that helps your audience recognize your post from others' at a glance.
4. Tell a story
The best storyteller wins. Know your ultimate goal and based on that determine the specific features of your content. Use your content to build out a story that captures your audience. Are you going to check out different beauty products? Tell the story of your experience of using these products. Want to offer beauty tutorials? Make each tutorial a story.
5. Make a small marketing plan
Where are you at the end of a month of activity? Where are you going to be in the next six months to a year? Having a small plan will help you find a way to evaluate your performance at the end of each month and determine exactly what you expect to achieve with the amount of time and money you're able to spend on it.
6
. Generate efficient content
To build a successful beauty page on Instagram, to be a good storyteller and make unique visual content, you also need to spend a lot of time building original content and giving your audience a reason to follow your page.
The trust of your audience is gained when your tips are effective over time and your content is proven to be accurate.
7. Engage deeply with your audience
To be successful on Instagram, it is not enough to just have a good program and publish content regularly! Social networks, as their name suggests, are a platform for interaction and communication between people. So to turn your audience into fans, you need to establish a deep connection with them.
Take care of their problems and questions, respond to their messages, and sometimes get involved with their content. Taking the time to make such connections is as important as the amount of time you spend creating content.
8. Get help from influencer marketing
Eventually, after you find a routine and reach a certain level with your audience, growth can start to slow down. Maybe you have a specific budget for faster growth or you are looking for a way to grow faster. You can get help from other influencers.
Other beauty influencers can expose your brand to larger audiences and help grow your following. Try to work with different brands and create exchanges that are useful for everyone. For example, you could introduce a brand's products and that brand will offer gifts from their product line to your audience in return. This is a great way to attract new audiences to your page faster.
9. Study the rules of Instagram well
The Instagram algorithm is constantly changing. Always try to stay up to date on Instagram's rules. This will help you steer clear of trouble and optimize your page. For example, what are the reasons Instagram might block your page? What is the correct way to use hashtags? What kinds of posts are trending?
The answer to these questions is changing rapidly and it requires your constant study.
10. Use the right beauty hashtags
Using the right hashtags can instantly gain you more followers. When we say "right" hashtags, think of specific and trending ones that will show that you know the industry well. To get the attention of brands, using their branded hashtag(s) can also help a lot. Many beauty companies looking to collaborate will reach out to influencers via Instagram.
Conclusion
So, you can use our guide to find top beauty or makeup influencers and connect with them by signing on Ainfluencer. You can also use the mentioned tips on how to become a beauty influencer that works with brands.
Who is the most popular beauty influencer?
Huda Kattan is the most popular beauty influencer. She has got 49.3m followers on Instagram and 4.15m followers on YouTube. She is the founder of the Huda Beauty cosmetics company.
What is the most-followed makeup brand on Instagram?
Kylie Cosmetics, an American cosmetics company founded by Kylie Jenner, was ranked first as the most popular beauty brand on Instagram in 2021, with more than 25 million followers.