We've continued to look to influencers to pave the way when it comes to fashion, fitness, and beauty trends. Many of us are continually looking for fun ways to change our appearance in the rapidly evolving world of fashion! Fortunately, finding the inspiration we need is not too difficult if we have the correct resources and tools.
Thanks to social media platforms, specifically Instagram, we are only a few swipes away from discovering our favorite new haircut or being inspired to try new hair colors.
If you are looking for hair influencers to either get inspired to change up your appearance or to collaborate with them and end up increasing your brand awareness and making the most of influencer marketing campaigns, you are at the right place.
In this blog post, we've provided a list of 25 hair influencers. Are you ready to know them? Let's get started.
But before getting started with the list of famous hair stylists on Instagram, we'll let you know how to easily explore and find them.
How to find hair influencers on Instagram?
Finding hair influencers and famous hair stylists on Instagram can be difficult, but with a little effort, you can easily find Instagram influencers. While some of these accounts may be private, many are open to being found by searching for keywords related to hair (such as "hair stylist" or "hairstylist") and including the specific hashtag requested.
Google can be a great tool for finding influencers on Instagram. Start by typing "Instagram influencers" into the Google search bar. You can also use keywords and phrases to narrow down the list of potential influencers.
There are other possible ways, but it is a kind of time-consuming and tedious job to manually explore influencers. One of the fastest and easiest ways is to take advantage of an influencer marketplace.
Ainfluencer is one of the high-quality marketplaces that acts as a middleman for both brands and influencers to help them connect and collaborate. 
As a brand, you can find relevant influencers using custom search filters and Ainfluencer's Ai-powered search engine, which will help you reach your marketing goals quicker.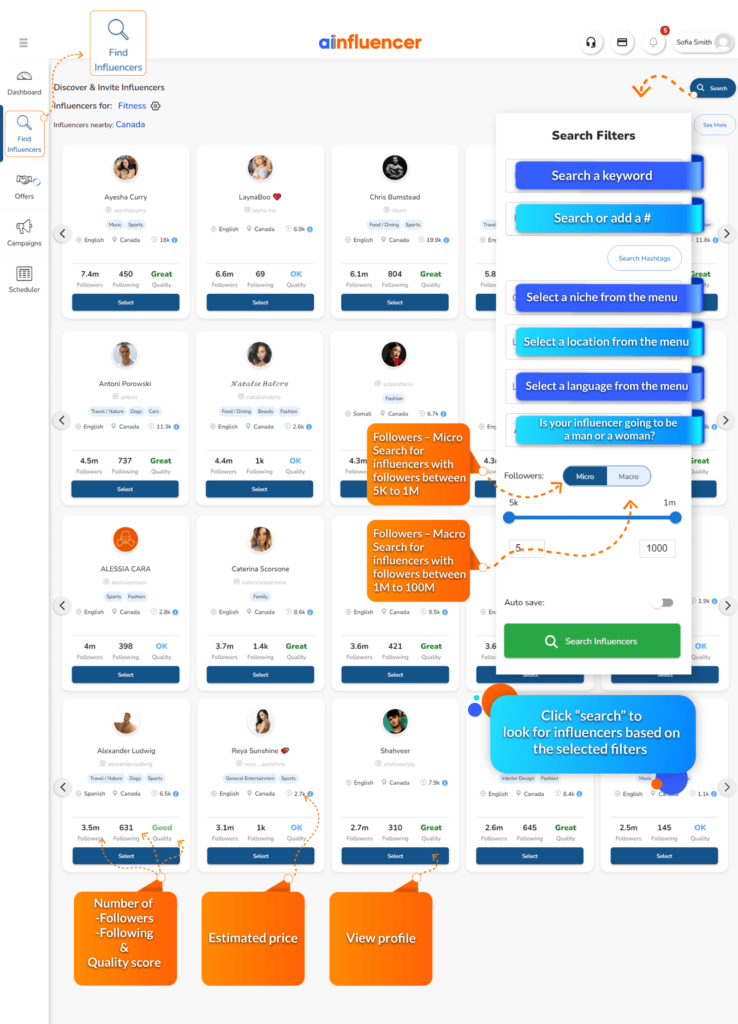 In addition to increasing conversions, sales, and brand engagement, it helps you develop your influencer marketing strategy.
As an influencer, you can download Ainfluencer's app to explore thousands of brands and send them invitations to collaborate.
In short, Ainfluencer is a complete solution that enables you to find, get in touch with, and manage campaigns with influencers from all over the world. It also manages payments, tracking, and ROI calculations.
25 top hair influencers on Instagram
1- Miggz Hernandez (@miggzxbarber)
Miggz Hernandez is one of the successful hair influencers with a following of more than 62.9K on Instagram. He has a fun, upbeat style that is popular with millennials. He applies enhancements with new & improved application brushes designed to create sharp lines & a longer-lasting Canvas.
2- Chuy Blendz (@chuyblendz)
Chuy Blendz is one of the famous hair stylists on Instagram with 102K followers. This licensed professional barber shares videos and images of his professional haircut designs on his IG account. He is also active on YouTube, where he shares full in-depth haircut tutorials.
3- Servak Markosian (@sevakmarkosian)
Servak Markosian is one of the famous hair stylists on Instagram who has gained 10.6K followers thanks to his perfect and professional hair cuts and hair colors.
4- Sofie Pok (@staygold31)
Award-winning hair stylist and influencer who earned the title of Best Female Barber of the Year at Barbercon in 2017. She has amassed a considerable following on Instagram, where she often shares her most recent hairstyles with her 444K followers.
5- icolorhairinc (@icolorhairinc)
Having been in business since 2016, iColorHair is now Burbank's most renowned hair salon and is dedicated to providing you with the look you've always wanted. They offer a wide range of services, so you can pick the one that best suits your needs. Hair care influencers can get inspired by taking a look at the suggested hair care products on their website, hairstyles, extensions, hair colors, etc.
6- Jayne Matthews (@jayne_edosalon)
Are you looking for a hair inspiration Instagram account? Jayne Matthews is one of the best hair influencers who has amassed 173K followers on her Instagram account and shows a new way of thinking about hair.
With nothing more than a straight razor, he specializes in framing faces while embracing natural texture, highly influenced by the styles of 1960s Paris and 1970s Rock and Roll. I currently work as an international educator teaching advanced cutting techniques to hairstylists. She has also been featured in the New York Times, Forbes, and CNN.
7- Chris Weber Mirlach (@chrisweberhair)
Chris is one of the famous hair stylists on Instagram with 106K followers. Chris is best known for his dimensional beach blondes & "effortless" looking brunettes; he enjoys creative styles and specializes in lived-in haircuts. In order to maintain his artistic development and ensure a wide range of creative opportunities, he employs a variety of color lines and products and attends countless classes and educational seminars.
8- Katie D'Souza (@bridalhaircouturebykatie)
As one of the hair influencers Instagram accounts, Katie's Instagram account has 10.5K followers. She is one of the best Instagram hair influencers who is professional at refined bridal hairstyling and specializing in polished upstyles & waves. Her hairstyles are carefully designed around her clients' natural beauty and personal style and aim to elevate their look beyond the aisle to the red carpet.
9- Negar (@negarbeautybox)
Negar has over 20 years of experience as a professional makeup artist, hairstylist, and influencer. As a talented hairstylist who does stunning haircuts and various styles, she has gathered 28.2K followers on her IG account and is considered one of the famous hair stylists on Instagram.
10- Lisa Dinh Hair Studio (@lisadinhhairstudio)
If you are one of the hair care influencers looking for new hair care services or superior standard of professional cut, color, etc., Lisa Dinh Hair Studio can be a premier full-service salon that offers them all.
11- Balayageombre (@balayageombre)
Balayageombre is a hair care account with over 576K followers that offers balayage, ombre, and other services such as highlights, LOB haircut, extensions, shadow root, etc.
12- Evoque USA (@evoqueusa)
Natural hair influencers and hair care influencers always look for accounts that top professional hair product manufacturers. Are you looking for the same? Then don't miss the chance to take a look at Evoque USA Instagram account.
13- Guy Levi (@hairbyguylevi)
Guy Levi's Instagram account with 149K followers is what you need if you are looking to get some hair inspiration on Instagram. He professionally does haircuts, colors, and extensions.
14- Mirko Vergani (@mirko_vergani)
Mirko Vergani is one of the best hair influencers on Instagram. This creative color specialist has amassed 92.3K followers thanks to his tutorials, works, and events he shares with his followers.
15- Sohea Hyun (@sohea_hyun)
Sohea Hyun is one of the blonde influencers who is a blonde and Asian hair color specialist from the United States. She has created an international following with her unique takes on hair color. Her Instagram, with 151K followers, is where she shares her work with others.
16- Kacie Nguyen (@hairbykacie1)
Kacie Nguyen is the owner of Sunkissed Salon in the Bay Area who pursued being a hairstylist at the age of 19 and now is one of the famous hair stylists on Instagram with 66.4K followers.
17- Maria Milanes (@mariamilaneshair)
Maria Milanes has been in the beauty industry for 30 years and is a certified Balayage specialist and incorporates Ombre, Highlights, Babylights, Color Melting, and Vivids~Rainbow colors on her clients. If you want to see her hair colors and hairstyling photos and videos, take a look at her Instagram account.
18- Carlina Ortega (@carlinaortega1)
Carlina Ortega is a hair colorist who specializes in hair dyeing. Her clients range from individuals who just want to change their look for a day to those who want to completely overhaul their appearance.
19- Sarmad Najem (@hairbysarmad)
Sarmad has been doing hair for over 12 years. His many years in the salon and working particularly with long, dense, dark hair has helped him learn and develop her own techniques that work for all different hair types to create the results his clients want. He is one of the most successful hair influencers on Instagram, with 510K followers.
20- Audrey Anne J (@audreyannej)
Audrey is one of the most famous hair stylists on Instagram and has gained 945K followers. Her hairstyles are easy to learn and do and, of course, are so simple and beautiful.
21- Kim Kimble (@kimblehaircare)
Kim Kimble is one of the well-known natural hair influencers and hairstylists with 540K Instagram followers. She is considered one of the hair care influencers since Kim's philosophy is that healthy hair and great style should co-exist, and to that end, she has created the Kim Kimble Signature Collection of hair care products.
She started out as a shampoo girl for her mother at the family salon in Los Angeles. Kim opened her first salon in 1995 and has worked with celebrities like Beyonce, Shakira, Mary J. Blige, and even the iconic Miss Piggy. She has appeared as a hair expert on numerous TV shows and stars on her own reality show, LA Hair, on WeTV.
22- Harry Josh (@harryjoshhair)
Harry has developed a variety of styles that may be used at meetings, work, parties, etc. Visit his Instagram page to see how beautifully he displays his work.
He does hair for Lily Aldridge, Karlie Kloss, and Taylor Hill. His page demonstrates how to achieve the model-like catwalk hair that the Victoria's Secret Angels have.
23- Justine Marjan (@justinemarjan)
Justine is a hair pro who uses her Instagram account to walk you through countless hairstyles so you can do them yourself at home.
24- Adir Abergel (@hairbyadir)
Adir Abergel is a remarkable superstar hair specialist and one of the successful hair influencers on Instagram, with 790K followers. He was the person who did Amber Heard's hair when she visited the James Cordon Show.
25- Kayley Melissa (@kayleymelissa)
Our last hairstylist on the list is Kayley Melissa, who is a well-known YouTube beauty vlogger & a professional hairstylist.
Conclusion
In conclusion, it is evident that Instagram has become a powerful tool for all influencers, and hair influencers are no exception. These individuals have the ability to reach a large audience and share their expertise with the world. By following them, you can learn about the latest trends and products. Using the right hair influencers on Instagram can also help you grow your brand. By choosing wisely, you can connect with a larger audience and create more awareness for your business. So, be sure to do your research and find the right people to work with!
1- Who is the highest-paid social media influencer?
Christiano Ronaldo, with 468M followers, is the most followed IG influencer, and his Estimated Average Price Per Post is $880,259 – $1M. So he is also the highest-paid social media influencer.
2- Who is the biggest makeup influencer?
Huda Kattan is regarded as one of the biggest makeup influencers and top Instagram beauty influencers in the world, with over 50 million followers.