Even on days when we do not feel like wearing a full face of makeup, a touch of lipstick is often preferred. Whether it's a nude or a bold, vibrant color, lip makeup not only showcases our personality but also reflects our emotions. It's a means of self-expression and a confidence booster. So, understanding the best lipstick brands can help you enhance your natural beauty without applying a full face of makeup.
No matter you're a regular person or a beauty influencer, you need to choose the best brands for your makeup and skin. So, this article will help you find the top brands for choosing both your perfect lipstick and makeup.
What Are The Best Lipstick Brands?
You might be curious about brands that offer a broad selection of premium, high-quality lipsticks. That's why we're going to discuss the world's best lipstick brands.
15 Best Lipstick Brands
As you might be thinking, not everyone can afford the world's most luxurious brands. That's why in this section, we are going to introduce both well-known and budget-friendly brands, so you can keep your options open.
1. Chanel
There is no chance that you haven't heard of this one before. Chanel is recognized as a top makeup brand globally and is also known for its influential role in the fashion industry. As you might guess, this is one of the best and of course luxury lipstick brands, their lipsticks feature a creamy texture reminiscent of lip balm, offering hydration to your lips while ensuring the lip color remains vibrant for an extended period.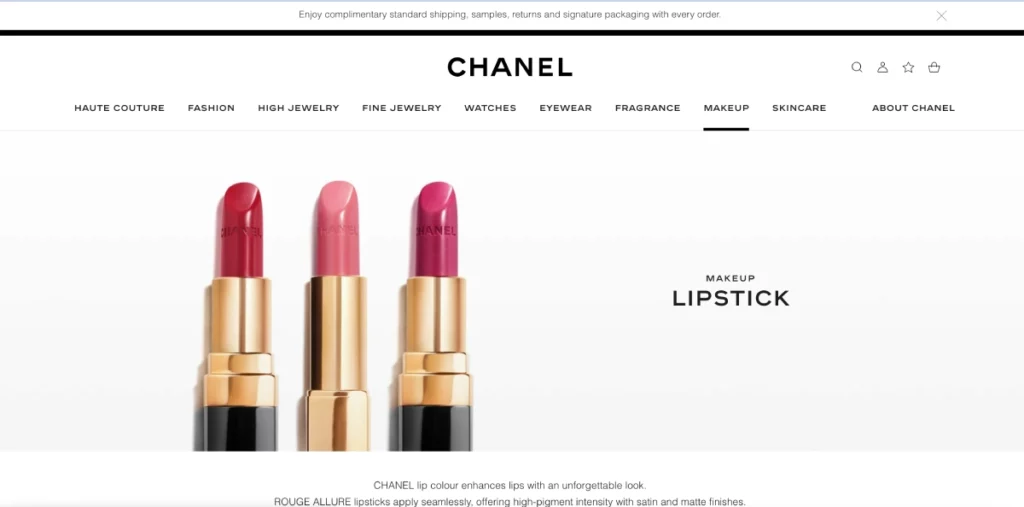 Chanel's lipstick ranges are also formulated to be compatible with all skin types and tones and offer rich pigmentation and a broad color section.
The Most Popular Shades
The Rouge Allure Velvet Luminous Matte Lip Colour,
Chanel Rouge Coco Ultra Hydrating Lip Colour,
Luminous Matte Lip Colour Tri Set.
2. Rare Beauty
Selena Gomez's Rare Beauty stands up against unrealistic beauty standards. Their products, like the popular Soft Pinch Liquid Blush and best-selling Liquid Touch Weightless Foundation, enhance your natural beauty without hiding your uniqueness. Imagine lightweight, breathable, and skin-friendly formulas for a fresh, natural look. Plus, we're always vegan and cruelty-free.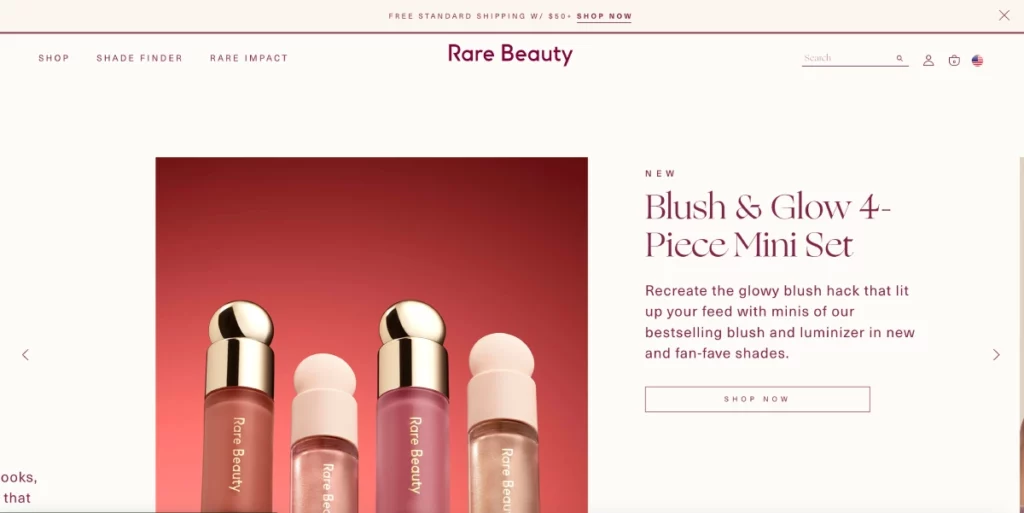 Their lipstick shades come in a variety of colors, and they also offer matching glosses for different skin tones This will make this become one of the top lipstick brands. What's cool about their lipstick is that you can even use it as a blush.
The Most Popular Shades
Rare Beauty Kind Words Matte Lipstick,
Rare Beauty by Selena Gomez Lip Souffle Matte Cream Lipstick,
Rare Beauty by Selena Gomez Lip Soufflé Matte Cream Lipstick.
3. Fenty Beauty
Rihanna started Fenty Beauty to make sure every woman feels included. She offers a wide variety of shades for all skin tones, formulas for all skin types, and colors that look great on everyone. Her main goal is to inspire people: 'Makeup should be fun, not stressful. It's not one-size-fits-all. So, go ahead, be bold, try new things, and be yourself.'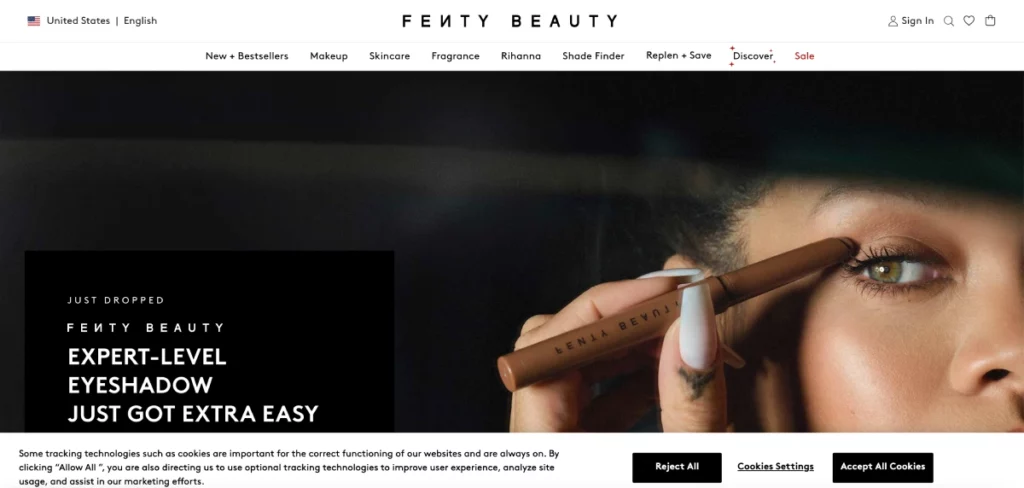 People all over the world admire the icon Rihanna and aspire to use the products she uses on her face. Fenty Beauty's lipstick shades stand out from the rest of the brands with their unique variety. Many are eager to shop for lipsticks from Fenty Beauty by Rihanna, whether it's their bold lip paints, hyper-glitz lipsticks, or classic matte options. Fenty Beauty can certainly be considered one of the most luxurious lipstick brands available.
The Most Popular Shades
The Fill Semi-Matte Refillable Lipstick,
Fenty Icone Velvet Liquid Lipstick,
Fenty Beauty Slip Shine Sheer Shiny Lipstick,
Fenty Beauty Stunna Lip Paint.
4. Kylie Cosmetics
Kylie Jenner started Kylie Cosmetics to share the makeup products she personally loves and uses every day to create her looks with her fans. Whether she's getting her makeup done by her glam team for a photoshoot or doing her own makeup at home, she believes that makeup can boost confidence and make you feel beautiful.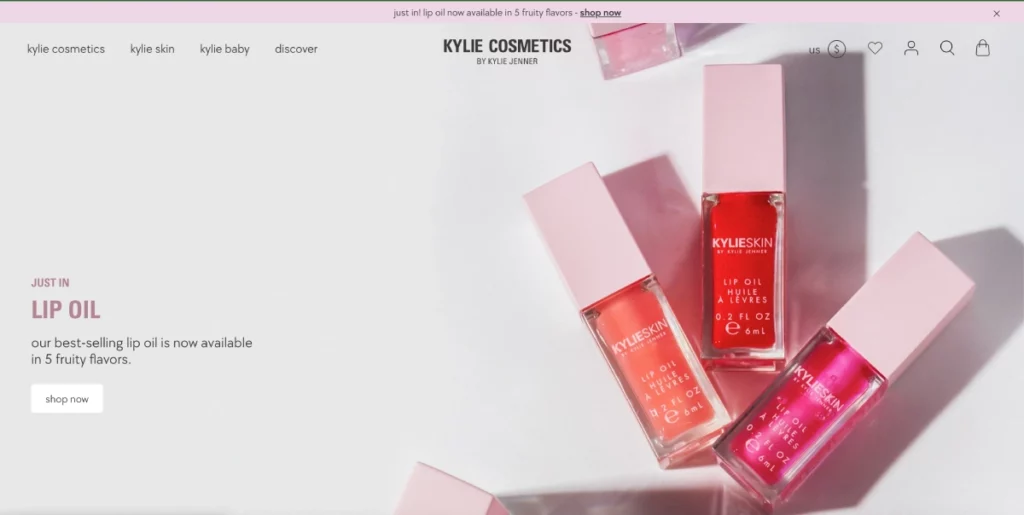 One of the standout items in the entire lineup is undoubtedly the lip kit, which includes a liquid matte lipstick and a matching liner. These products truly impress with their long-lasting performance. The Kylie Cosmetics Matte Lip Kit is a convenient combo, featuring a full-size Matte Liquid Lipstick and a full-size Pencil Lip Liner. You can use the Lip Pencil to shape your lips and then fill them in with the Matte Liquid Lipstick for a complete look.
The Most Popular Shades
Kylie Cosmetics Clap Back Matte Liquid Lipstick,
Kylie Cosmetics Kylie Friday Matte Lip Kit,
Kylie Cosmetics Velvet Lip Kit.
5. Maybelline
One of the top lipstick brands is of course Maybelline. Maybelline is a high-quality makeup brand available globally, offering a diverse collection of lipsticks, including options like ink crayons, matte liquid lipsticks, and semi-matte lip colors to suit various preferences. You can consider this as one of the best affordable lipstick brands.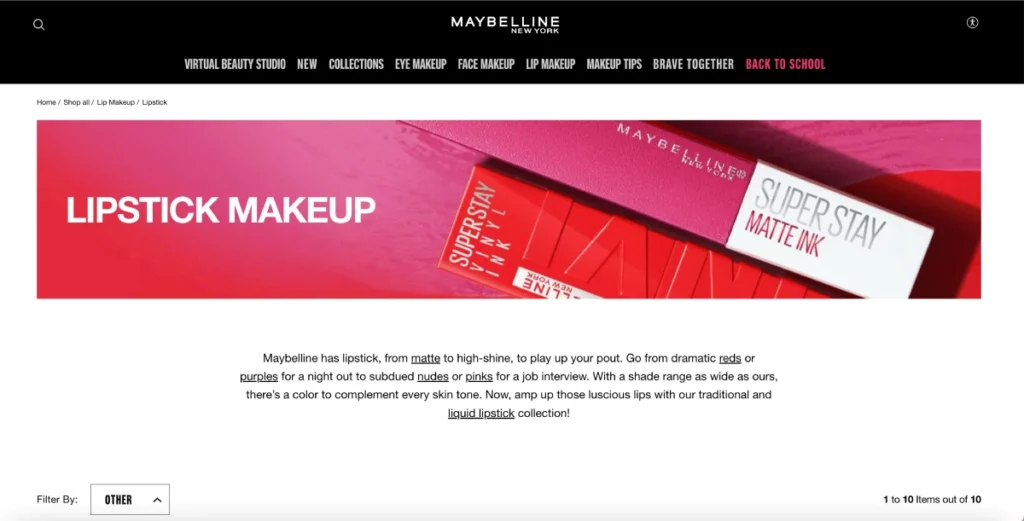 Maybelline is known for its stable super-stay lipsticks that are resistant to transferring, and once you let them dry for 5-10 minutes after applying, they can last for 10-16 hours without smudging or leaving stains.
The most popular shades
New York Color Sensational Satin Lipstick,
Super Stay Matte Ink Liquid Lipstick,
Lip Studio Color Jolt Intense Lip Paint.
6. MAC Cosmetics
MAC is a makeup brand known for providing lip shades that match various skin tones, including fair, medium, and brown. They're also famous for creating vibrant, long-lasting red lip shades.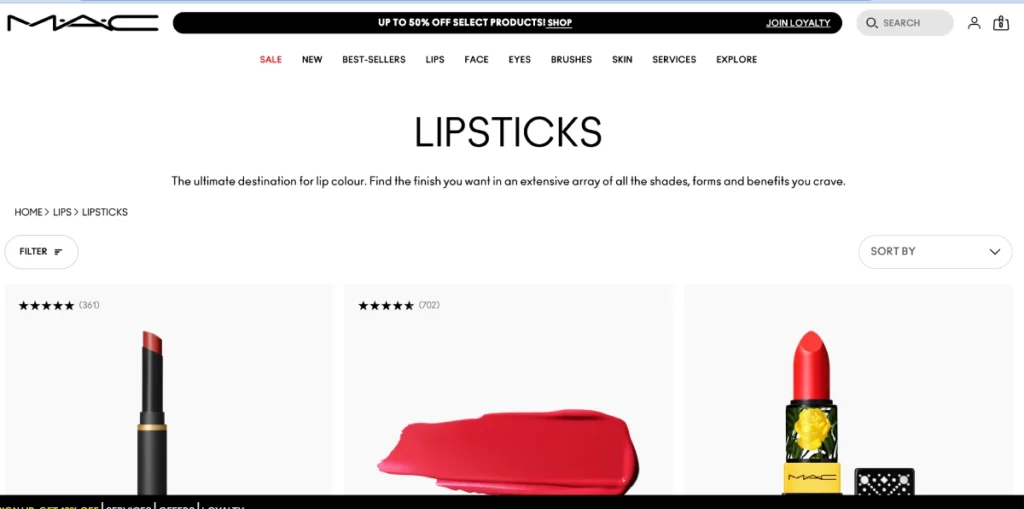 MAC is recognized for its environmentally friendly practices and cruelty-free products. Furthermore, while MAC stands among the pricier makeup brands globally, its products offer excellent value due to their long-lasting nature. MAC Cosmetic is one of the best organic lipstick brands that you can use.
The Most Popular Shades
Matte Lipstick in Velvet Teddy,
MAC Cremesheen Lipstick,
MAC Retro Matte Lipstick Ruby Woo,
Viva Glam Lipstick.
7. HudaBeauty
Huda Beauty, a cosmetics brand introduced by Huda Kattan in 2013, gained significant recognition. In 2017, Time named Huda Kattan one of 'The 25 Most Influential People on the Internet. 'Additionally, Forbes acknowledged her as one of the wealthiest self-made women and among the top three beauty influencers.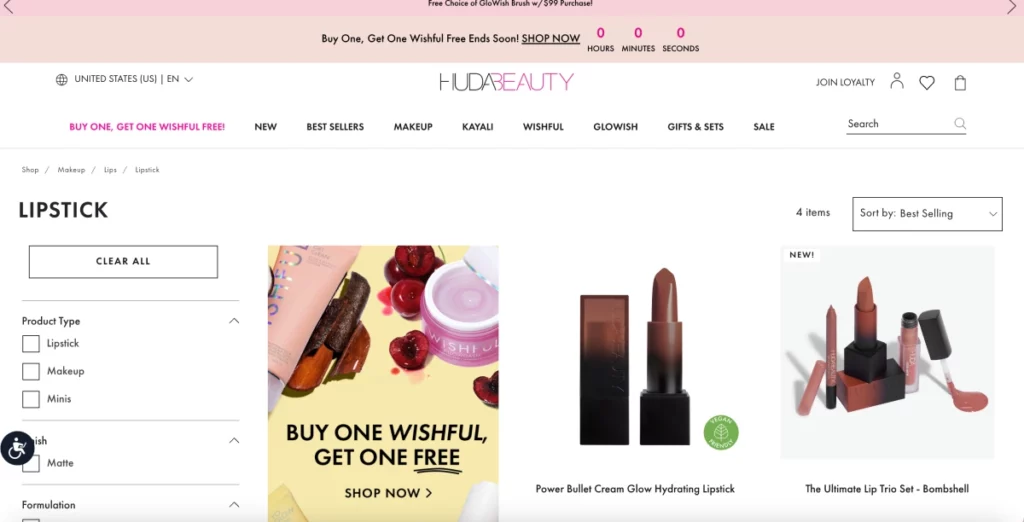 Huda Beauty provides a diverse range of over 140 products available online and in stores. Their product lineup includes lipsticks, highlighters contour palettes, and false eyelashes.
You'll absolutely adore the lipsticks by Huda Beauty. They offer highly pigmented, long-lasting liquid lipstick shades suitable for all your makeup looks. Whether you're searching for the perfect matte nude lipstick or a stunning cherry-apple red shade, you'll find it here.
The Most Popular Shades
HudaBeauty Power Bullet Lipstick,
HudaBeauty Power Bullet Cream Glow Lipstick,
Huda Beauty Liquid Matte Ultra-Comfort Transfer-Proof Lipstick,
Hudabeauty 's The Ultimate Lip Trio Set.
Read Also: The Ultimate Guide To Brand Awareness
8. NARS
NARS Cosmetics, established in 1994 by makeup artist and photographer François Nars, is a French company known for cosmetics and skincare. The brand's journey began with just twelve lipsticks available at Barneys New York. Over time, NARS has expanded its product range to include versatile beauty items and is currently a subsidiary of Shiseido. NARS Lipsticks provide immediate color vibrancy while nourishing your lips for a remarkably lightweight and comfortable feel.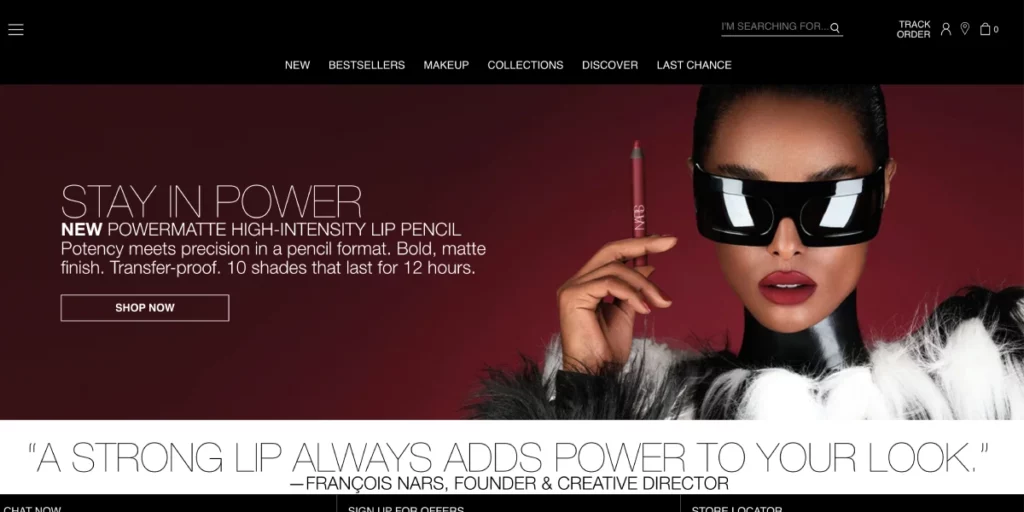 The Most Popular Shades
NARS Powermatte Lipstick,
Nars Lipstick – Morocco 3.4g/0.12oz,
NARS Air Matte Lip Colour.
9. Lancome
You can consider this one as a very luxurious lipstick brand. Lancôme mixes French elegance with modern trends in its luxurious skincare and makeup. Their lip colors make you look fresh, brighten your complexion, and come in different styles. These lipsticks flow smoothly, keeping your lips hydrated and looking lovely for a long time.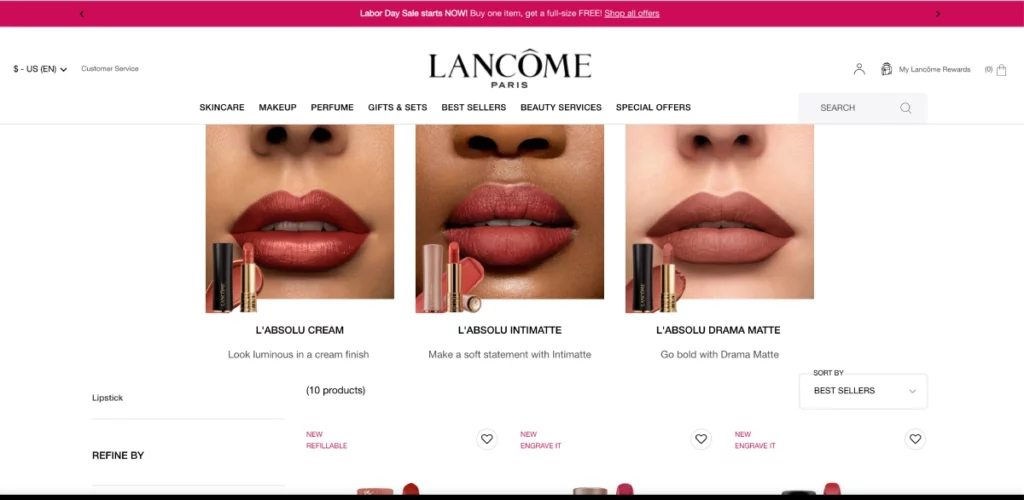 The Most Popular Shades
Lancome L'Absolu Rouge Cream Lipstick,
Lancôme L'Absolu Rouge in Crushed Rose,
Lancome Lipstick L'Absolu Rouge Intimatte.
10. Dior
Similar to Chanel, Dior is a fashion brand that creates top-notch and trendy makeup. It's ranked among the best lipstick brands, offering lipsticks that give women a fresh and appealing appearance.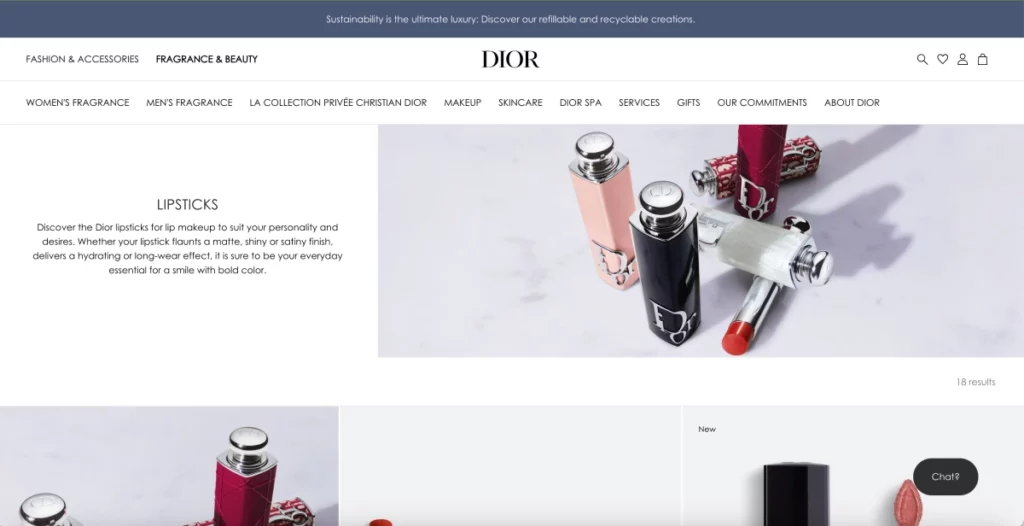 Dior Rouge Liquid Lip Satin stands out as a favorite among their lipsticks. With more than 15 shades available, Dior crafts lipsticks in three textures including, matte, metallic, and satin. Furthermore, all their lip colors have creamy pigmentation and are waterproof, ensuring your makeup remains intact for hours.
The Most Popular Shades
Rouse DIOR Liquid Lip Stain,
Dior Addict Stellar Halo Shine,
Dior Couture Color Comfort,
Dior Rouge Matte Metal Color.
11. NYX
A very popular lipstick brand that you often come across is NYX. It offers an affordable yet high-quality lineup of makeup products globally, gaining particular popularity in India, which highlights how well this American brand tailors its cosmetics to Asian individuals.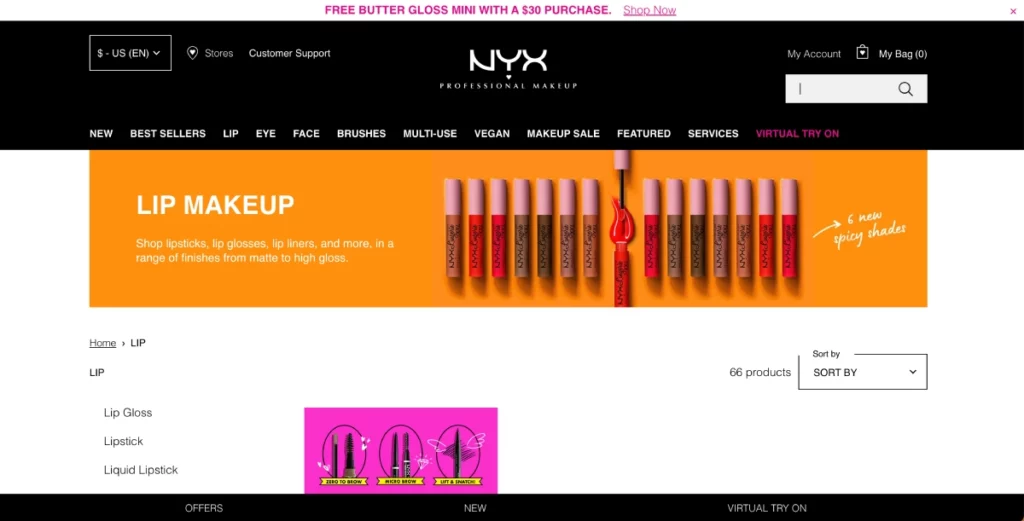 Within NYX's collection, you'll discover not only a variety of lip products such as lipsticks and lip liners, but also a range of eye and face makeup items like foundations, eyeshadows, and eyeliners. Additionally, the brand is committed to producing products that are both vegan and cruelty-free.
The Most Popular Shades
Lip Lingerie Push-Up Long-Lasting Lipstick,
Nyx Frappucino,
Nyx Tea Rose,
Liquid Suede Cream Lipstick.
12. Revlon
This one is recognized for its offerings in cosmetics, skincare, perfumes, and hair care. Notably, Revlon stands as one of the premium brands crafting dependable lipsticks, available in a collection of colors and shades. Among these options, you'll find those with a matte finish and others that provide a lustrous shine.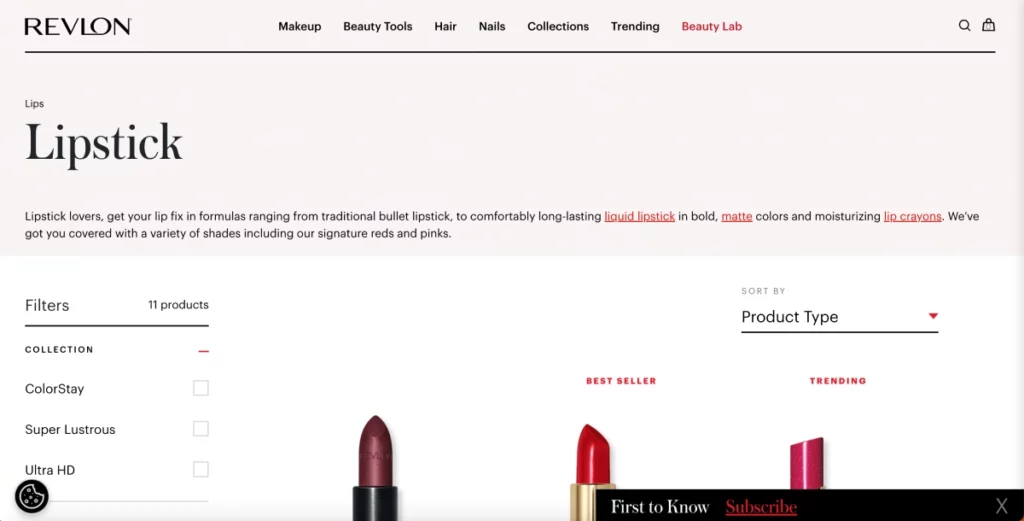 Furthermore, the brand creates distinctive lipstick shades that are uncommon in the market. One example is the Lime Green Conga, which Lime produced in the 1970s. Their lipsticks offer a lightweight and comfortable feel on the lips.
The Most Popular Shades
Revlon Super Lustrous Lipstick in Kiss Me Coral,
Revlon Color burst In Hazelnut,
Revlon Ultra HD Matte Lipcolor,
ColorStay Ultimate Suede Lipstick.
13. Sugar Cosmetics
Sugar Cosmetics, established in 2012 by Vineeta Singh and Kaushik Mukherjee, stands as a premium cosmetics brand. What sets Sugar Cosmetics' lipsticks apart is their unique crayon lipstick collection, featuring a wide range of exceptional shades that cater to all preferences, from subtle nudes to bold and daring reds. Additionally, Sugar Cosmetics offers a diverse selection of shades that complement every skin tone.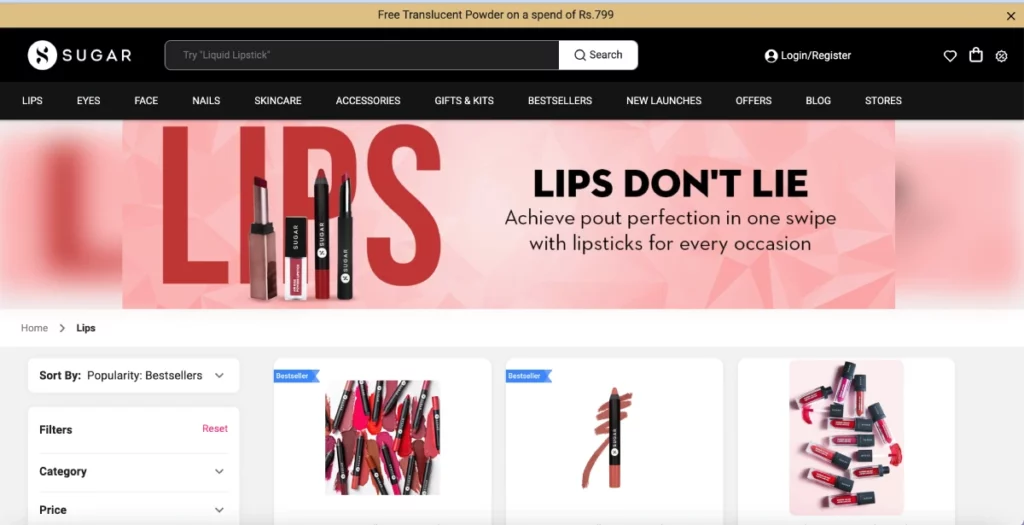 14. Beauty Counter
This one stands as one of the best lipstick brands in the USA and is a direct-to-consumer company specializing in the sale of skincare and cosmetic products. Beauty Counter's lipsticks come in gorgeous packaging, boasting stunning aesthetics. These lipsticks feature a glossy and astonishing gloss that matches all skin types.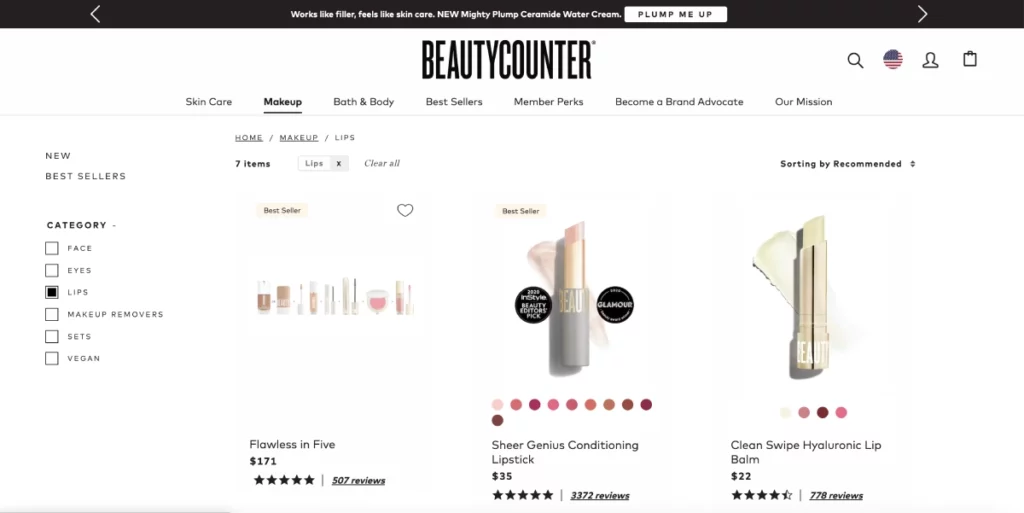 15. Refy
Instagram plays a significant role in the world of social media, and as we all know, bloggers and influencers take center stage on this platform. Many people aspire to emulate their actions, even dressing in the same clothes as them.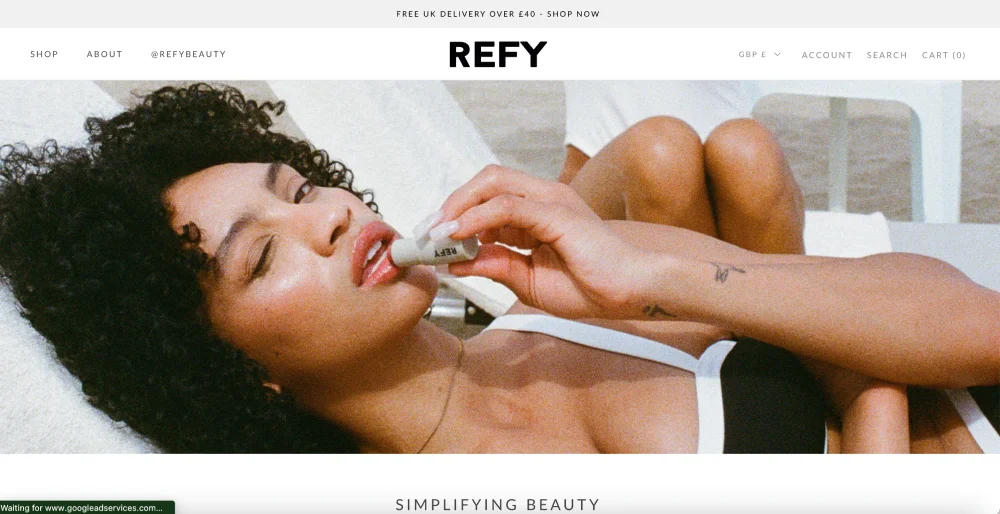 Now, imagine one of your favorite influencers or bloggers started their own fashion or makeup brand. Well, that's exactly what Jessi Hunt did in 2020, and it's creating quite a buzz. Her brand Refy, known for its special packaging and high-quality products, recently launched a range of lipsticks with shades from subtle nudes to bold reds.
Their packaging is simply charming, boasting a stylish gray design that's delightfully minimalist. Being available at Sephora has turned this brand into one of the most popular startup brands, all thanks to its Instagram fame.
Conclusion
Finding the perfect lipstick goes beyond trends and time. Best lipstick brands stand out as confidence boosters, offering beautiful shades, lasting formulas, and top-notch quality. Whether you prefer classic reds, subtle nudes, or bold colors, these exceptional brands deserve a spot in the Beauty Hall of Fame.
FAQs
1. What Are The Best Lipstick Brands?
Among the renowned best lipstick brands, you'll find names like L'Oreal Paris, Maybelline, Revlon, Estée Lauder, MAC, Chanel, Dior, Tom Ford, Gucci, and Yves Saint Laurent (YSL). These brands are celebrated for their enduring formulas, vibrant shades, and moisturizing benefits.
2. What Is The Oldest Lipstick Brand?
In 1870, the famous Guerlain Maison in Paris created the first lipstick ever. This interesting story is about a pink lipstick that could be refilled and has a really cool history. One day, a worker from Aime and Gabriel Guerlain were walking when they found a shop that made candles. The bright colors and waxes in that shop gave them a great idea that changed the way lipsticks would be made in the future.